In many cities and states, e-bikes are limited to 750 watts of motor output. If you're looking for the biggest, fastest, and most powerful e-bikes you can ride on the road, check out this list of today's top models. 
With styles ranging from powerful outdoor workhorses to light, nimble commuters, we've showcased a diverse selection of bikes in order to ensure that every rider can find the right bike for them.
Below you can find a table containing some of the most important characteristics of these 750W electric bikes.
750 Watt Hybrid  Electric Bikes
Rad Rover 6 Plus
The RadRover 6 Plus is an inexpensive fat-tire e-bike designed to compete with dedicated commuter electric bikes. It's got hydraulic disc brakes for extra stopping power, a 7-speed Shimano drivetrain, front suspension, and full fenders, but no racks are included by default. Instead, this bike has extra-wide 4″ tires that help smooth out even the roughest of roads.
The RadRover 6 Plus weighs about 72 lbs. It gets around 28 miles out of a single charge on max pedal. The motor delivers 750 watts of nominal power, although Rad Power Bikes is careful to disclaim that the motor tends to be limited by the controller in order to stay in line with e-bike regulations.
Unlike many other e-bikes, the RadRover 6 Plus is limited to 20 miles per hour, not 28 (although this can be changed in the menu system). 
The battery nests partially inside a thick down tube, while a slight downward curve in the top tube makes mounting easy. The RadRover 6 Plus is available in a step-through frame as well. Riding-wise, it seems very slightly more upright, with handlebars that curve very slightly back.
The thick tires on the RadRover 6 Plus make it much easier to ride on rough terrain than other commuter e-bikes. The downside to these thick tires would normally be range and efficiency, but the limited top speed and big, heavy battery help offset these drawbacks. 
Juiced Ripcurrent S
The Juiced Ripcurrent S' got a standard somewhat angular and straight frame, it's got a big motor, a big battery, and big fat-tire wheels. It comes with racks and fenders in the box.
The battery sits on top of the down tube and is somewhat exposed. It's visually similar to a large, angular water bottle in terms of appearance. While the down tube is quite thick, most of the other tubes are more normal in width.
The RipCurrent S weighs 80.4 lbs.
The bike features 180mm hydraulic disc brakes, midrange Shimano derailleur, and a front suspension fork with 80mm of travel and lockout. It comes with a 26″ x 4″ wide Kenda tires.
The RipCurrent has a small, drab black and white LCD display that might remind you of an old digital watch. It definitely gets the job done, but not in style.
The RipCurrent S is fast and powerful, but it's got a bulky hardware. The 750W motor peaks at 1300W, while the battery provides 19.2 amp-hours of 52-volt power. 
In terms of range, expect 60 something miles out of the lowest pedal assist setting and 20 something out of the highest. 
Aventon Aventure
The Aventon Aventure is a fat-tire e-bike that offers comfort and durability while enabling you to tackle any sort of terrain. It's got a huge motor, a big battery, and an incredible range for its power and weight. It's priced competitively, but it's definitely not the cheapest e-bike on the market.
The Aventure has the standard swooping top tube and a battery sitting on the underside of the down tube. The frame seems thicker and bulkier than on some other e-bikes, but that's likely due to the big 4″ wide tires making the whole package seem hefty. 
It weighs 73 lbs and is available in small, medium, and large sizes.
It features 180mm hydraulic disc brakes, midrange Shimano derailleur, and a front suspension fork with 80mm of travel and lockout. It has 26″ x 4″ wide Kenda tires
The Aventure has a full-color LCD display with some pretty cool stats displayed by default. 
The Aventon Aventure'll maintain class 3 speeds with ease with a minimum of pedal effort. It will maintain mid-double digit speeds going uphill on very steep hills with no pedal power. Expect to get about 20 miles on pedal assist 5 and about 50 miles on pedal assist 1. 
The Aventure has a 15 amp-hour battery and a 750W motor that peaks at 1130W. In practice, it feels like it's got even more. The controller on this bike is extremely well configured.
Velowave Ranger
An all-terrain fat-tire electric bike, the Velowave Ranger offers little in the way of surprises. Instead, this multipurpose bike delivers value for money. 
The Ranger comes with a 48 volt and 15 amp-h power battery which can get you with a single charge on the lowest pedal assist 20 miles and around 40 miles on the highest pedal assist.
With a 750-watt motor, 4″ wide Kenda tires, a 7-speed Shimano drivetrain, hydraulic disc brakes, and front suspension, this bike gives you the power, traction, and stopping power you need to conquer dirt trails over the weekend.
While it's great at going fast and keeping the ride smooth, the Velowave Ranger's inefficient fat tires and lack of racks and fenders make it a less-than-ideal choice for commuters. 
Worse, the frame is incredibly similar to a number of bikes from other manufacturers, meaning the Ranger is a bike that you'll definitely want to scrutinize the details on. 
The Ranger is very inexpensive, especially if you can snag a coupon code or two, but the components are also slightly less nice than a bike like the Aventon Aventure. This means that you'll want to compare current prices and deals before you pull the trigger and buy a Ranger.
Himiway Zebra
The Himiway Zebra is a fairly heavy (79lb) "4 fat-tire e-bike that is equally at home on light trails and pavement. It is available with step-through frames or in more conventional hi-step variations and comes with front and rear fenders and a rear rack included 
It is the updated version of the successful Cruiser. The Zebra offers better performance, and a longer range, it is a much slicker and modern-looking bicycle thanks to its integrated battery.
The Zebra offers mountain-bike-style flat bars, which makes the bike handle really nicely at high speeds that you're likely to reach with the big rear motor.
The Zebra comes with entry-level components which include over-the-bar Tourney shifters, smooth faux-leather handlebar grips, and an LCD display that's reminiscent of a digital watch from the early 2000's.
The powerful motor (max torque 86nm)  makes getting up hills and sustaining high speeds a breeze and the 180mm hydraulic disc brakes provide plenty of stopping power to bring you to a halt.
The Zebra has a 48volt and 20-amp-hour battery that advertises up to 80 miles.
The Zebra's torque sensor is pretty tightly configured and starts delivering power to the rear wheel quite quickly. 
On the Zebra, hidden configuration options allow you to change exactly how much power you get in each pedal assist level and how long it takes the motor to hit full strength, enabling you to tweak the ride to your liking.
TurboAnt Nebula N1
Like the Velowave Ranger, the TurboAnt Nebula N1 competes with budget-friendly fat-tire e-bikes without reinventing the wheel. It's got the same reliable, budget-friendly components that you'll find on similar bikes, from the Tektro Aries disc brakes to the 7-speed Shimano drivetrain. 
Unlike the Velowave Ranger, however, this bike comes standard with fenders, making it a lot more convenient for riding at high speeds on terrain that might be covered in dirt, grime, or water.
The Nebula N1 delivers a great, comfortable ride, with the fat tires and front suspension working beautifully in tandem to smooth out mild bumps in the road. The 750-watt motor helps you hit speeds of 25+ miles an hour with ease, and the battery is long enough for 20+ miles of operation without any pedaling at all.
If you're after a budget-friendly fat-tire e-bike, the Nebula N1 should definitely be a bike you consider. It might not be the bike you buy, however. E-bike prices fluctuate fairly rapidly and many manufacturers have sales, coupon codes, and other deals that you can take advantage of. Check the prices of similar bikes before deciding on your final purchase.
Juiced CrossCurrent X
The Juiced Crosscurrent is a well-equipped commuter-style bike with one of the biggest batteries on the market. A 750-watt rear hub motor pairs with the massive 19.2 amp-hour 52-volt battery, enabling you to go fast for just about as long as you'd like. 
This is the perfect e-bike for anyone who wants to go on 60+ mile trips without stopping to charge or ride for 30-40 miles without using your legs to pedal.
As far as components go, the CrossCurrent X has everything you'd expect from a well-equipped commuter. 
Hydraulic disc brakes, a 9-speed transmission, and a front suspension fork make this bike easy and fun to ride. A rear rack and front and rear fenders are included, ensuring you can carry cargo with ease and stay clean on wet days.
The biggest departure from standard e-bike fare is the somewhat narrow 1.75″ tires, which improve efficiency at the cost of comfort. It's a smart tradeoff that reinforces the CrossCurrent X as the best choice for city riders who value range.
Ride1Up LMT'D
With one of the most powerful street-legal hub motors on the market, the Ride1Up LMT'D offers an incredible blend of price and performance. 
The 750-watt motor delivers a whopping 100 newton-meters of torque, which is some of the most you'll see from a hub motor of any size. This means that it's punchier and more fun to ride than other 750-watt hub motor bikes, making it an excellent choice for anyone who values fun over convenience.
The big tradeoff here is parts. The Ride1Up LMT'D has the same 8-speed gearing, hydraulic disc brakes, and front suspension fork that you see on most city e-bikes, but it's lacking when it comes to fenders and racks. 
While these components are optional when it comes to riding for fun, they're borderline mandatory for commuting and errands. While the LMT'D is affordable without these accessories, adding these on will quickly push its price higher than many of its hub-motored peers.
Still, if you're after the best performance you can get out of a hub motor, the LMT'D is probably it. While it won't outperform mid-drive bikes, it's cheaper than most and it's got plenty of charm.
750 Watts Cruiser Electric Bike
Ride1Up Cafe Cruiser
The Ride1Up Cafe Cruiser is quite similar to the Ride1Up 700 series in terms of specs, power, and even price. It's a 65 lb e-bike with an 8-speed Shimano drivetrain, 26″x3″ thick tires, included rear rack and fenders, and plenty of power.
The big difference between the Cafe Cruiser and the commuter-style 700 series above is the riding style. This bike has tall, swept-back handlebars and a thick, cushy seat. It's designed to be extremely comfortable to ride, whether you're cruising along the boardwalk next to the beach or riding down the road to visit a friend. The thick tires, coupled with a front suspension fork ensure that you will be riding in royal comfort.
You can absolutely commute on this bike, especially when you consider the included fenders and rear rack, powerful 750w motor, and nearly 30-mile range on max pedal assist. 
In fact, for some commuters, the more relaxed riding style and thicker tires will make it a perfect option. For others, however, the swept handlebars and more upright ride will make it feel a bit too comfortable, making it harder to add power with your legs and more awkward to make sharp turns at high speeds.
If comfort is the name of your game, the Cafe Cruiser is the best ride in town. It's fast, powerful, and will let you ride in both style and comfort over pavement, gravel, and smooth trails. If you prefer sharper handling at the high speeds this class-3 e-bike offers, however, you might be better off with the 700 series above.
Himiway Cruiser
The Himiway Cruiser has the classic e-bike design with the battery mounted on the frame. In order to save on production costs, it also lacks fenders.
Himiway Cruiser comes with a 6061 aluminum frame, Tektro Aries mechanical disc brakes, and front fork suspension.
It has a 7-speed Shimano Altus drivetrain and a front fork suspension. This in itself is a concern about Hmiway with components like the brake levers, fork, derailleur and 
It has a 750-watt motor, a 17.5 amp-hour, and a 48-volt battery which makes it go between 35 and 60 miles on a single charge. The motor is a brushless hub drive motor with 80nm of torque which gives the needed power to handle the roughest terrain.
Himiway Cruiser is also an agile ebike, it can help you reach 28 mph. This electric bike feature lights, charging ports, and beautiful displays.
The setting of Himiway is a bit more sophisticated: the pedal assist levels are originally programmed on both from 0 to 5 but in the case of Himiway you can change that to 0 to 10. It even allows you to determine what percentage of power you want to get from each level of pedal assist. Himiway's settings are highly customizable and programmable.
The Cruiser is offered in high step and low step models. In both models, the seating position is upright and comfortable making it easily approachable for riders of all styles and abilities. 
Ride1Up 700
The Ride1Up 700 comes with features like lights, fenders, and cargo racks. Only one frame size makes it less comfortable for some riders, however. This bike weighs 62 lbs.
It has a front suspension fork, removable battery, and a frame style with a Nike-swoop-styled top tube. Despite its low price, the 6061 aluminum alloy frame is sturdy, supporting riders with a modest amount of cargo with ease. 
The Ride1Up 700 has an impressive 100 mm of travel on its front fork, giving riders the best of both worlds in terms of comfort and efficiency. It has a lockout feature, enabling riders to lock the fork in place for more power and control on smooth terrain.
The lithium battery offers 48 volts and 14 amp-hours power and is fully shielded by the frame which contributes to the frame seeming a bit bulky.  It has hydraulic disc brakes, an 8-speed Shimano Acera derailleur, and a 11-30 cassette.
The Ride1Up 700's 500W Shengyi Motor electric motor is now upgraded to 750W. It can easily reach 28 mph on flat ground. 
The Ride1Up 700 has a left-side thumb throttle and a couple of buttons that sit on the right-side LCD screen. It has a colorful LCD display with some fancy metrics.  It is electronically limited to 20 miles per hour without human help and 28 miles per hour with it. It makes them subject to some local regulations.
750 Watt Moped-style Electric Bikes
Rad Runner Plus
The RadRunner Plus moped-style bike with its 74.4 lbs weight is quite heavy, compared to other electric bikes on this list. It offers suspension, fenders, racks, lights, gears on the pedal assist, and noisemakers.
It's got solid frames, puncture-resistant tires, and plenty of attention to detail in both the general design and the subtle engineering of individual components. All of these should last for years.
You can get by with the mechanical disc brakes that the bike comes with. The RadRunner is easily more than three times the weight of a fairly normal road bike. Some extra stopping power, provided by hydraulic brakes, would certainly be appreciated by most riders.
The front lockout suspension fork can tackle the occasional dirt trail with ease.
The RadRunner Plus has 7 gear options on the rear derailleur, having 34 teeth on the freewheel. It can get out of some human-powered assistance, especially if you want to maintain 20 mph speed, so the Shimano Acera derailleur is much appreciated. 
In real riding conditions with max pedal assist, you'll struggle to average 20 miles per hour, although some of that comes from starting and stopping. Still, expect a comfortable 16-17 mph and about 26 miles of range on the highest pedal assist level.
Juiced Scorpion
The Scorpion is extremely well equipped, it has dual suspensions, included lights, fenders, noisemakers, and a generous rear rack. The design is clearly influenced by motocross, mopeds, and motorcycles. 
The weight of this bike is simply a reflection of what's on the bike. Juiced has doubled down on the bulky, moped-style bike (step-through frame) and slapped a huge motor on instead. While electric motors aren't instant, the Scorpion's 1800W peak hub motor lets you zip around with throttle power alone. 
The Scorpion plants a rear rack behind a long, flat seat cushion that works well with the rear suspension to keep riders comfortable. It's got solid frames, fat 20″ puncture-resistant tires, and plenty of attention to detail in both the general design and the subtle engineering of individual components.
It comes with hydraulic disc brakes for more stopping power, which is a welcome addition to a bike weighing 100 lbs. 
The Scorpion's hydraulic front fork comes with a lockout and is paired with a spring-based rear suspension system, giving you an impressively smooth ride. It offers 8 gear options on the rear derailleur with actually a gearing range, capping out at 32 teeth on the rear cassette. 
This bike is heavy enough and conservatively geared enough that it'll struggle to do a full 20 miles per hour uphill, even with pedal assist. For this electric bike, 24 mph is a very achievable speed on the highest level of pedal-assist and up to 28 mph in ideal conditions. 
As far as range is concerned expect about 25 miles on the throttle or 40 miles on the pedal assist.
Velowave Prado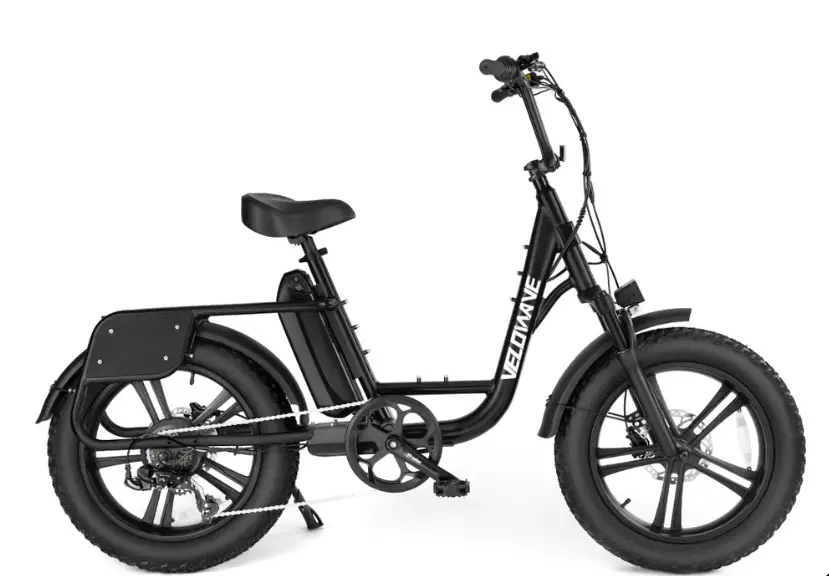 The Velowave Prado is a step-through fat-tire e-bike with a 750-watt rear hub motor. It's got a great combination of features for casual riding and commuting, letting you use it as a way to get to work on the weekdays and a source of relaxing fun on the weekends. 
The 4″ tires and front suspension fork keep the ride smooth at all times, while the step-through frame ensures that this bike remains accessible and fun for all riders.
The components on the Velowave Prado are all solid, normal choices, from the 7-speed Shimano drivetrain to the hydraulic disc brakes. 
The battery offers a very optimistic 40 miles per charge, which will definitely get reduced by factors like tire inflation, temperature, rider weight, and cargo. An included rear rack makes carrying things simple, while fenders enable you to get the most out of the fat tires and push the bike through dirt and puddles without kicking up grit. 
The only downside is the display on the right-hand twist shifter, which can be quite hard to read while you're riding the bike.
750 Watt Electric Hunting Bikes
Bakcou Mule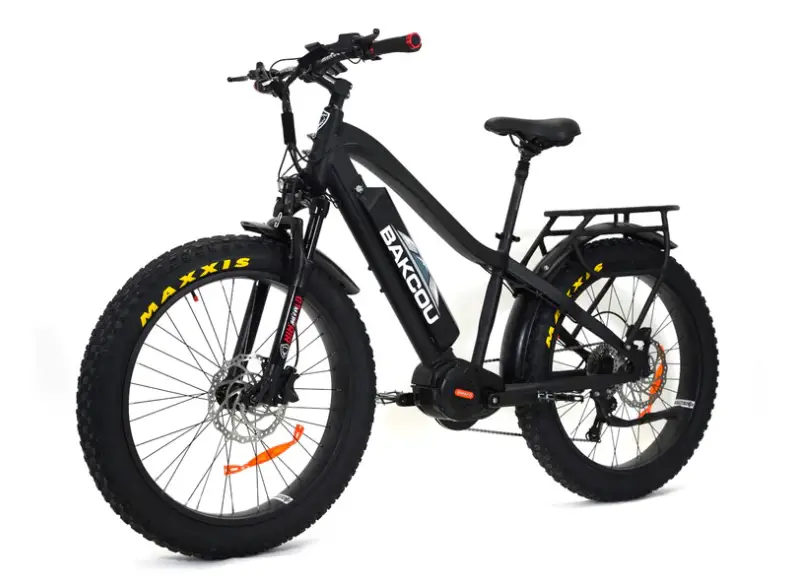 Designed for backcountry use, the 1000W mid-drive on the Bakcou Mule can be limited to 750W in order to stay street-legal, and Bakcou outfits this motor with a special controller that limits its output for city use. 
The Bafang Ultra mid-drive installed next to the crank on this bike can deliver an impressive 160 newton-meters of torque in any configuration, making this bike one of the best bikes for hill climbs. 
It's coupled with a Shimano Alivio 9-speed transmission that's set up for long, uphill sections in the wilderness, ensuring you can haul cargo or pull a trailer without any problems.
As far as the other components go, the Bakcou Mule maintains a similar standard of excellence. Between the full-color LCD panel, the removable throttle, the 4″ wide Maxxis wheels, the 4-piston hydraulic disc brakes, and the 100mm front fork, this bike uses quality tech that puts most other e-bikes to shame. 
The downside here is the price, which is quite high, but you definitely get what you pay for. This is a serious bike that can change how you view outdoor excursions forever and give you access to all sorts of trails and terrain that a normal bike would struggle with.
Rambo Bushwacker
While it's not quite as over-engineered as the Bakcou Mule, the Rambo Bushwacker still manages to deliver incredible torque from the same Bafang mid-drive motor. 
This time, however, the motor is more limited, with only 750 watts of power out of the box. While this means that the bike is slower in theory, it also means that you're much less likely to run afoul of local regulations when taking this beast on public roads.
Of course, this bike isn't designed for road use. The big fat tires, front fork, massive motor, and hydraulic disc brakes are all perfectly suited for hunting excursions, off-roading, and the occasional mountain bike trail. 
An optional 8-speed gearing system can multiply the output of the big motor and help you fly up hills, even with plenty of baggage.
Just like the Bakcou Mule, this bike isn't cheap. It's a bit less expensive than the Mule, however, making it an ideal choice for anyone who'd like to save a bit of money in exchange for components that are nice, but not top-of-the-line. 
The Bushwacker is perfect for hunting, camping, and exploring the wilderness, no matter how wild and untamed that wilderness might be.
750 Watt Single Speed electric bike
Rambo ROOSTER
If you're after accessibility and freedom, the Rooster has got your back. This affordable 750-watt fat-tire e-bike comes with a step-through frame, included fenders, an integrated rear rack, and front suspension. 
This combination of features makes riding easy and smooth in all conditions, whether you're blasting down well-maintained sidewalks, rough asphalt, dirt or gravel roads, or even the occasional rocky trail.
The Rooster separates itself from the pack with one notable feature: it's a fixie. This means that this bike leans heavily on the burly 750-watt rear hub in order to ascend hills and power through straights. 
In order to compensate, the motor is geared for higher torque and the battery is somewhat larger than other units on the market. These considerations mean that this bike behaves more like an electric scooter than an e-bike in many respects, although you're certainly free to pedal with your feet whenever you choose.
The accessibility considerations on the Rooster make it ideal for riders who are more interested in transportation than exercise. It's reasonably budget-friendly, making it an affordable way to get around the city without a lot of effort while having a blast.
750 Watt Folding Electric Bikes
RadExpand 5
The RadExpand 5 is a folding bike that's designed for comfort, range, and speed over compactness. With a rear rack, fenders, 4″-wide fat tires, and a big 750w motor, it's surprisingly comparable to the RadRover 6 Plus above.
It's worth noting that folding bikes get compact, not light. The RadExpand 5 is a 62.5 lb e-bike that folds to 29″ by 25″ by 41″, which is definitely not tiny. It is, however, quite easy to store in a vehicle or garage.
Folding bikes almost universally have a very relaxed upright riding position and the RadExpand is no different. The small wheels tend to make the ride bumpy, but the RadExpand compensates by having thick tires that you can underinflate for added smoothness.
Component-wise, this is a very impressive folding bike. You get a 7-speed MicroShift drivetrain, mechanical brakes, and the aforementioned 750w motor. Expect about 25 miles per charge on max pedal assist.
The RadExpand 5 makes a great commuting option if storage space is a concern at any point along the way. It's easy to fit into the trunk of an Uber, a bus, or a train, giving you more options for transportation along your route. While it's not the cheapest electric folding bike, it's priced quite comparably to the commuters above.
TurboAnt Swift S1
Electric bikes give you a lot of freedom, but they're big, heavy, and hard to transport. The TurboAnt Swift S1 Folding Fat Tire e-bike helps to solve this problem by putting a big hinge in the middle of the bike. 
This pivot point enables you to fold your e-bike for easy transport in a car trunk while also keeping storage at home simple. It doesn't decrease the weight of the bike (this bike still weighs 67 lbs), but it makes it a lot simpler to drive to a state park or bike trail without a complicated and expensive rack that's designed for e-bikes.
Component-wise, the Swift S1 is surprisingly similar to the Nebula N1 above. While the 4″-wide fat tires are much smaller in diameter at only 20″, it's still got Tektro disc brakes, a 7-speed transmission, and a beefy 750-watt rear hub motor. 
It's even got front suspension, ensuring that the smaller tire diameter doesn't make the ride too bumpy. This means that you get a great e-bike that's fantastically fun to ride while remaining easy to transport.
Rattan 750 Watt Folding bike
The Rattan 750 Watt is a folding bike that's designed for comfort and speed over compactness. By default, it comes with a rear seat for a passenger, fenders, 4″-wide fat tires, and a big 750w motor.
It's worth noting that electric folding bikes are rather compact than light. The Rattan 750 is a 65 lb e-bike that folds to 18″ by 28″ by 38.6", which is definitely not tiny. It is, however, quite easy to store in a vehicle or garage.
Folding bikes almost universally have a very relaxed upright riding position and this bike is no different. The small wheels tend to make the ride bumpy, but the Rattanan 750 compensates by having thick tires and a front suspension fork that will keep the ride smooth.
Component-wise, you get a 7-speed drivetrain, mechanical brakes, and the aforementioned 750w motor. Expect about 25 miles per charge on the max pedal assist.
The Rattan 750 makes a great commuting option if storage space is a concern at any point along the way. It's easy to fit into the trunk of an Uber, a bus, or a train, giving you more options for transportation along your route. 
Whilst it is definitely lower in quality than its counterparts on this list you will get a nice entry-level electric fat tire bike for your money that is significantly cheaper.
Cargo bike
RadWagon 4
Engineered to haul up to 350 lbs of cargo, the RadWagon 4 has a low center of gravity, a low step-over height, and thick tires for comfort and traction. It's designed to be especially adjustable, ensuring that it's an ideal bike for every combination of rider and cargo.
The RadWagon 4 has a 750w motor that's paired with a 750-watt controller and a big 672-watt-hour battery. The bike comes with a 7-speed Shimano drivetrain that's set up for maximum torque, mechanical disc brakes, and included racks and fenders to keep your cargo clean.
The RadWagon 4 has slightly curved handlebars that lend themselves to a very upright riding style. Its incredibly long chainstays give you plenty of rack space to carry more cargo. The bike is set up with a simple rear rack out of the box, but Rad Power Bikes also seels a variety of rear accessories, allowing you to take passengers, carry more freight, or even hook up a trailer with ease. Other options include a front basket and a whole complement of bags for carrying various items.
The range on the RadWagon will vary a fair bit based on the amount of cargo you're carrying. Expect to get about 22 miles out of a single charge on max pedal assist with no cargo, and expect the numbers to go down as you add more weight.