E-bikes are about reducing your stress level. Instead of having to use a car for a quick trip or tire yourself out pedaling up a hill, you can pop on an e-bike and let clean electric power supplement your body's energy, keeping you fresh and relaxed on long journeys while still giving you access to 20+ mile per hour speeds.
The Aventon Level, Ride1Up 700, and Wing Freedom 2 are designed to make this convenient stress reduction available to anyone. Priced low enough to be considered budget bikes, these three contenders offer terrific blends of features, power, and affordability. They're designed with comfort and accessibility in mind, making them ideal for riders who are still dipping their toes into the idea of commuting regularly on a bike, but their fun factor ensures that they're also perfect for riding enthusiasts who just like going fast. In other words, they're the goldilocks of city-oriented e-bikes.
These bikes aren't all the same, however. Here's a quick rundown on the important differences between these incredible e-bikes and all of the reasons why you should choose one of them over the others.
Overview of The Bikes
The Aventon Level is an accessible class 3 e-bike, available in three sizes as a cross-over frame and two sizes as a step-through. It's currently the most expensive of the bikes by a thin margin, but its solid components and included accessories ensure that it's still amazing value for your money.
Electric bikes built for everything and priced for everyone. Shop Rad Power Bikes, America's #1 electric bike brand. Get out. Go further. Ride Rad.
The Ride1Up 700 is a very similar accessible, class-3 commuter in its cross-over configuration, but it's more of a commuter/cruiser hybrid when you choose the step-through frame. The bike is very similar in terms of styling, components, and design to the Aventon Level and manages to be very slightly cheaper by being a bit trickier to assemble out of the box. More on this later.
The Wing Freedom 2 is a very distinct-looking e-bike with a totally straight top tube that extends both fore of the head tube and aft of the seat tube. It's lighter and less expensive than the other two bikes by a fairly comfortable margin, but it doesn't come with the same set of included accessories and it definitely skimps out on components somewhat.

Weight, Design, and Build Quality
The Aventon Level weighs 58.6 lbs. Its frame features a very standard design for a modern e-bike, with a curved top tube that ducks down near the seat tube for easy leg clearance.
The battery sits on the underside of the down tube and keeps the center of gravity balanced. T
he handlebars on both versions of this bike are straight, giving it a relaxed feel that's still aggressive enough to keep you feeling connected with the ride. It's got an SR Suntour fork with 75mm of travel and a lockout option.
Front and rear fenders are included in the standard package along with a rear rack for groceries and briefcases.
Aventon Level.2
An upgrade to Aventon's flagship commuter ebike, Level.2 is as innovative as it is efficient. A fully integrated battery, four integrated lights, and a front suspension fork provide ultimate comfort and safety no matter the terrain or time of day.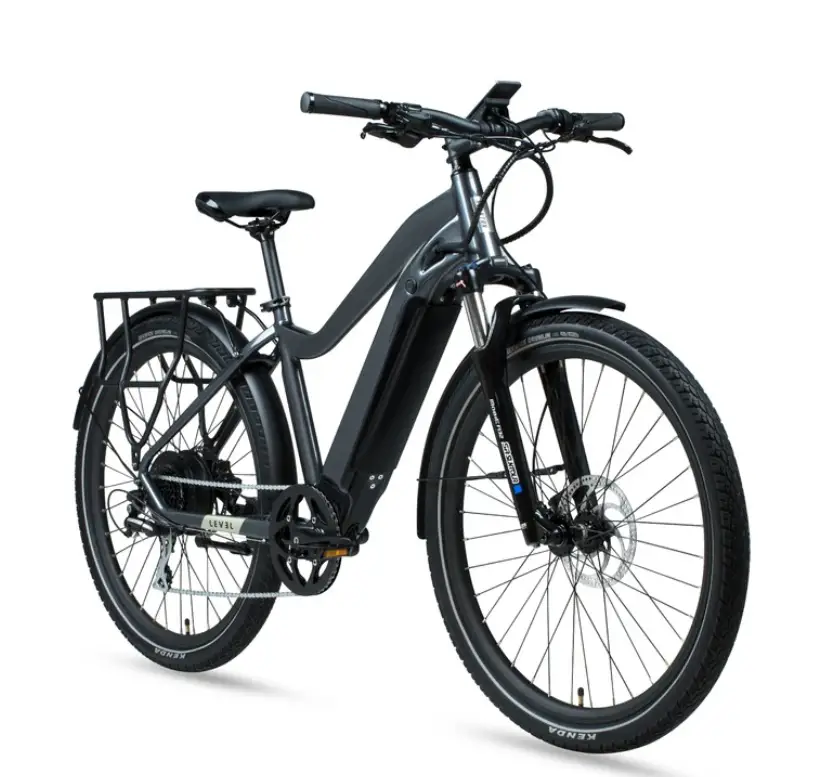 We earn a commission if you click this link and make a purchase at no additional cost to you.
Aventon is a fairly serious name in the e-bike world and tends to put trustworthy stuff on their bikes. The Level is no exception. It looks and feels great, and the parts are durable enough to last.
The Ride1Up 700 weighs 62 lbs. The cross-over frame is conceptually very similar to the Aventon Level, with a downward curve to the top tube, a thick down tube with a battery on the underside, and even a similar grey color by default.
While the cross-over frame comes with adjustable straight handlebars, the step-through frame has swept-back bars that are a bit closer to what you'd find on a cruiser.
Like the Level, it comes with fenders and a rear rack by default as well as a suspension fork with 100mm of travel and lockout and pre-load adjustments.
Ride1UP 700
An excellent electric biking experience. Hydraulic fork, hydraulic brakes, color display, 14 ah Samsung cells, Schwalbe Super Moto X tires, fully integrated aluminum frame.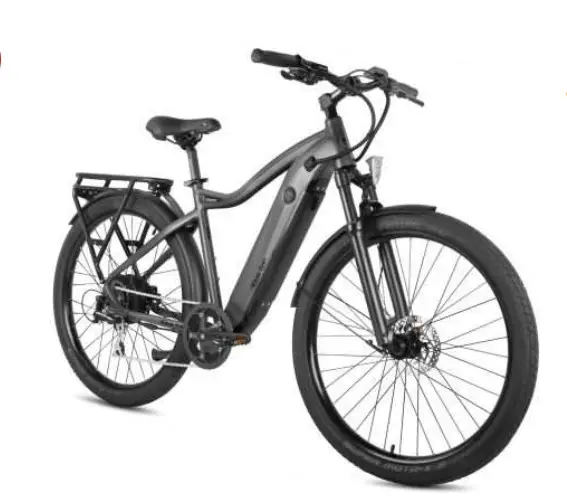 We earn a commission if you click this link and make a purchase at no additional cost to you.
Like Aventon, Ride1Up is a very reliable brand with a reputation for great customer support. The 700 series is crafted with care and fitted with durable, excellent components.
It's worth noting that Ride1Up bikes come slightly less assembled than other direct-to-consumer bikes that are shipped in the mail. This isn't necessarily a problem, as Ride1Up supplies both very good instructional material and some tools inside the box, but it does make it more likely that something will get messed up during assembly or shipping.
Things get bent or damaged in transit with bikes from all brands, and bikes can have all sorts of odd issues during assembly, so this isn't a Ride1Up exclusive problem. Honestly, it's probably best to take any shipped bicycle to your local bike shop for a tune-up after you assemble it, no matter who makes the bike. With a Ride1Up, you might find this step less optional than you would with a bike of another brand.
Wing Freedome 2
Our original flagship electric bike designed for urban riding. The Freedom 2 offers the same sleek design and ride as the newer X model, but utilizes a cadence sensor and a handlebar-mounted digital display instead.
We earn a commission if you click this link and make a purchase at no additional cost to you.
The Wing Freedom 2 weighs about 40 lbs, which is frankly ridiculous at its level of power and price. It's got a very utilitarian, minimalist design with swept-back handlebars for relaxed city riding.
The weight is helped by the lack of stuff on the bike. With no fenders, suspension, or rack in the base package, the Wing Freedom 2 might be harder to use for transportation out of the box.
You can buy many of these components from Wing, but they cost extra. Adding a rack and fenders makes this bike's cost a lot closer to the other two, at which point they're probably better options.
While it's less expensive than the other bikes, many of the decisions made in the design of the Wing Freedom 2 make it feel a bit flimsy and cheap compared to the other two. Notably, the charger has an interesting design feature that requires it to be unplugged and plugged back in with each use. The Freedom 2 is still a solid option, but don't expect much other than a basic bike with a motor, cadence sensor, and controller.
Components
The Aventon Level ticks all of the good boxes when it comes to components. It's got 180 mm hydraulic disc brakes, giving it the stopping power it needs to bring you to an abrupt halt from 28 miles per hour, a midrange Shimano Acera 8-speed derailleur, and under-the-bar rapid-fire shifters that can take the rear cassette from 12 to 32 teeth, and a standard backlit LCD display for the controls. The tires are definitely commuter-oriented in terms of their tread and live on 27.5″ wheels for a nice, stable wheelbase. It's tough to ask for more in any department.
Despite its lower price, the Ride1Up 700 manages to compete. It's got a similar set of hydraulic disc brakes with 180mm rotors, a similar 8-speed Shimano Acera gearing system that modulates you between 11 and 30 teeth, and similar under-the-bar rapid fire shifters. The biggest difference is probably the display, which is in full color and has some of the most advanced functionality you'll find on an e-bike around this price point. The 27.5″ tires are similarly commuter-oriented and are most at home on pavement, although all three of these bikes can do some limited off-roading.
The Wing Freedom 2 cuts some costs with the components. In addition to the lack of suspension, it utilizes the Shimano Tourney derailleur, which is notably lower quality than the Acera or Altus systems. The LCD unit is small and basic, while the disc brakes are mechanical instead of hydraulic. These are definitely not deal-breaking issues, but you do get somewhat worse components out of the box than the other two bikes. The tires are a bit smaller, too, at only 26″. This gives you a bit of compact nimbleness in exchange for stability and ride comfort, which might be a plus for some riders.
Range and Speed
All of these bikes are class 3 e-bikes with powerful enough motors to cruise between 20 and 28 miles per hour on pedal assist. While you'll have to put in a bit of work yourself to get over 20 miles per hour, you'll have no problems achieving that speed.
The Aventon Level goes about 57 miles per charge on level 1 pedal assist and about 25 miles per charge on level 5 pedal assist. It's somewhat underpowered climbing up hills on the throttle alone, but that's likely due to the controller's reluctance to dump huge amounts of battery charge into the rear motor without any assistance from your legs. Once you pedal a bit, it'll shoot up hills with ease. The bike feels incredibly fast on the higher pedal assist levels, making it a blast to zip around town.
The Ride1Up 700 has a rear hub motor with 60nm of torque and practically identical range, getting over 50 miles per charge on the lowest pedal assist setting and between 20 and 30 on the highest. The controller is similarly reluctant to blast out power when you're in throttle-only mode, but again, you'll have no problems shooting up hills when you add some human power to the equation. Like the Level, the bike feels very fast when you ride it on any of the higher pedal assist modes.
The Wing Freedom 2 has a rear hub motor that offers 45nm of torque and its range is limited to 35 miles on the lowest power setting with the default battery, which can be extended to 60 miles if you opt for the largest battery version. However, this comes at a 300 dollar extra price tag.
Final Verdict
The Aventon Level and the Ride1Up 700 are very competitive with each other in terms of price, components, styling, range, and speed. There are definitely a few differences, like the Ride1Up 700's more advanced display, the Level's extra fork travel, and Ride1Up's extra assembly steps, but they're honestly fairly minor. The biggest difference is probably the swept-back handlebars on the Ride1Up 700's step-through frame variant. Both bikes are excellent choices in both frame styles.
The Wing Freedom 2 is a very rideable e-bike, but it's not at the same general tier as the other two bikes. It's a lot cheaper, however, so if you're not looking to get fenders or racks and you're on a budget, it's a competitive option. While there are downsides to choosing it over the other two, none of the downsides prevent it from being incredibly fun to ride around town.