The comfort of your bike saddle greatly determines the comfort of your ride. The longer your commute, the more it makes sense to select a good saddle.  Among the seemingly infinite number of possible bike saddles, are there some features that you should be looking for when buying a bike commuting saddle? What are the best commuter bike saddles? 
A good commuter bike saddle is wide enough to support your body and narrow enough to allow you to move freely. Its shape allows you to ride in a moderately upright position, to be able to scan the traffic around you, and to maneuver. It is comfortable during and after the ride, causing no pain or chafing once you get to work or home. Its padding is firm enough to support the sit bones without creating pinch points in your soft tissue.
Here are four great saddles that make a great fit for most types of commuters:
Brooks Cambium (check price on Amazon). Premium quality, traditional yet modern saddle.
Brooks B67 (check price on Amazon). Premium quality, leather saddle.
Fabric Scoop (check price on Amazon) Classic and sporty commuter saddle
Bikeroo Dual Spring Saddle (check price on Amazon) High comfort saddle for flat, short and relaxed commutes
Best Premium Sporty Saddle: Brooks Cambium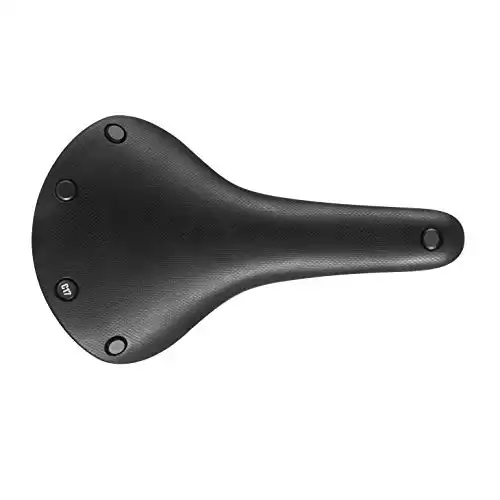 We earn a commission if you click this link and make a purchase at no additional cost to you.
Brooks established in 1866 has a long history and tradition of saddle-making. Its one-and-a-half century of history in itself is a guarantee of quality.
The Cambium is a relatively new model; its design is innovatively traditional. The aluminum "Brooks" backplate on the tail of the saddle makes it look pretty stylish and gives a traditional touch. However, the lack of padding and the pretty slim nylon-covered vulcanized rubber base gives it a modern look.
The vulcanized rubber shell is covered with a waterproof nylon cover. These saddles are durable and don't require breaking in or maintenance. Countless commuters keep it in high esteem because of its practicality, durability, and style.  
There are a few types of Cambium models: C13, C15, C17, and C19. The main difference is in the width, which ranges from 132mm (C13) to 184mm (C19). There is a small difference in their length too.

A 150-160 millimeter saddle width is considered average. You can find wider and narrower Cambium saddles. The C15 is 150 millimeters wide, and its older brother the C17 is 160 millimeters wide. If you need something even wider, the C19 with its 184-millimeter width can be a good choice.
Best for
The Brooks Cambium saddle is designed for a wide range of riding styles, including bike commuting. Every commuter finds a Cambium model that is perfect for bike commuting.
The Cambium strikes the right balance between size, shape, and functionality for bike commuters. It's wide enough to sit in a moderately upright position and at the same time enables the rider to maintain a slightly forward-leaning aero position. If you're an urban bike commuter, you need to see the traffic around you, and if your commute is longer than 5 miles it is also important to be able to keep a good pace. 
Cambium saddles fit a wide range of bikes: from cyclocross bikes to urban cruisers. It can be mounted almost on any type of bike. The C19 fits perfectly for urban cruisers or Dutch-style bikes and the C15 and C17 could fit mountain and road bikes, hybrid or fitness bikes, or gravel bikes.
Best Premium Quality Classic: Brooks B67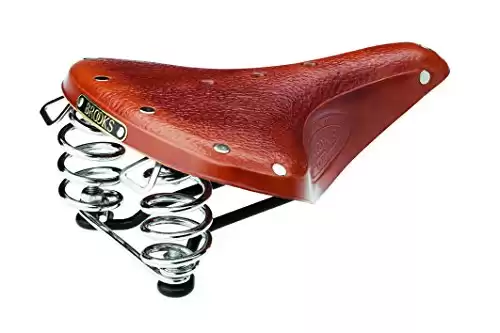 We earn a commission if you click this link and make a purchase at no additional cost to you.
This is a classic, go-to saddle for many commuters and bicycle tourists. It's made of leather, which breaks in and takes the shape of your bum as you ride it.
I use a B67 on my Brompton, and I love it. It offers excellent shock absorption with its built-in springs. It also has plenty of ventilation because of its built-in holes. I can ride it for a long time and not get a sore bum.
Since it's made of leather, it requires some maintenance, and I need to pay attention to not scratch it, but it's definitely one of the most comfortable bike saddles I've ever tried. Even though it's a wide saddle, it gets pretty narrow at the nose, which means that it doesn't result in any chafing, even though my thighs are quite bulky.
Although it's advertised as a women's saddle, it fits my anatomy perfectly. It's made for a relaxing, rather upright ride, and it doesn't suit a road bike or a gravel bike. If you have a city bike, a Brompton or a comfortable trekking bike, it's an excellent choice.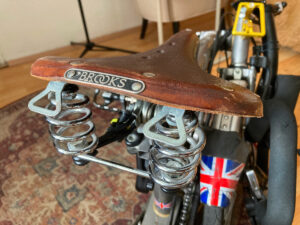 Best Value Saddle: Fabric Scoop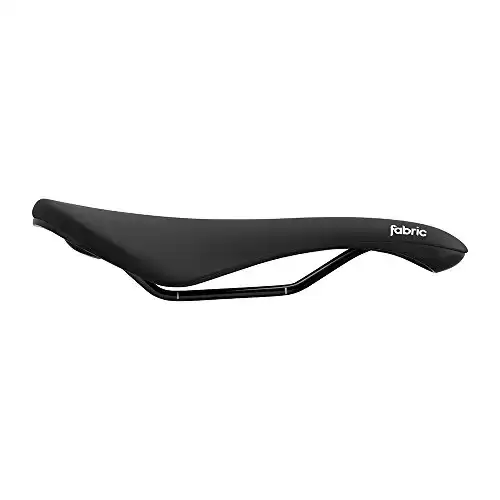 We earn a commission if you click this link and make a purchase at no additional cost to you.
A more budget-friendly choice and more "regular" in its design is the Fabric Scoop saddle (also available on Amazon). The Fabric brand was established in 2014. Its products are of excellent quality; even pro cyclists use their saddles and other products. 
The Scoop models have a pretty sporty design. They are available in three different widths: 132, 142, and 155 millimeters. The 155-millimeter width saddle comes in three different shapes: 
The Flat is flattest and has the least amount of padding, the Shallow one is rounder and squishier and the Radius is the roundest and squishiest. 
Looking at the saddle sideways what really catches the eye is the elegant way the padding (with 3 gel inserts) is bonded on the flexible nylon shell instead of the traditional compressed and stretch-covered padding. The slightly heavier and noticeably cheaper saddles with steel rails are perfect for bike commuting. 
The Fabric Scoop saddles cover the average body constructions, the small, mid, and big sit bone distances. However, if you are above average and have an exceptionally robust body construction, this saddle might not be wide enough for you.
For most bike commuters, the Radius and the Shallow would be the best fitting because they are round enough to support you to maintain a moderately forward-leaning riding position.
The wider models come with shorter noses, so if you have bulkier thighs, this might be a good option for you as there is more room for your thighs and thus prevent chafing. 
The Fabric Scoop is perfectly fit for commuting where you are in an aggressive riding position and you want to ride medium to long-distance commutes. It's a solid choice for gravel bikes, road bikes, and even some hybrid bikes, where you ride leaning forward.
Don't choose it for urban cruisers or city bikes.
Best Comfort Saddle: Bikeroo Dual Spring Saddle
What if you only ride a couple of miles on a city bike and want something squishy and wide?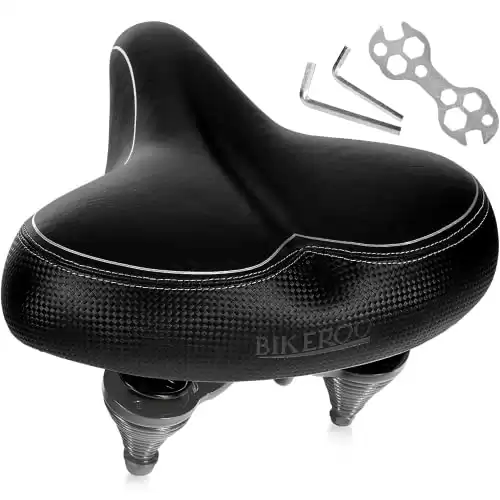 We earn a commission if you click this link and make a purchase at no additional cost to you.
This is a good option for a short and relaxed ride on a completely upright bicycle. It offers plenty of padding and it feels like sitting in an armchair.
The saddle's padding is thick and squishy and it's supported by the extra strong elastomer spring suspensions. It is an efficient shock-absorbent and a highly-resistant bike saddle. The springs are made of synthetic elasticated rubber, which absorb vibration.
The springs are reduced in height size and the saddle comes with a universal saddle adapter that will allow you to mount the saddle on any bike easily.
A waterproof cover is also included in the package, so you don't have to sit on a wet saddle after an exhausting work day. In addition, you get mounting tools and instructions with the saddle too.
The Bikeroo saddle is a good solution if you have a robust body construction and need something massive and comfortable to support your body. 
Calculate saddle width
The most important feature of the saddle that you must get right is the width, which is measured at the widest point of the saddle. It can be calculated by measuring your sit bone distance.
Sit on a piece of corrugated cardboard in the same position that you usually sit when riding. Lean forward if you sit on your saddle in an aggressive riding position; sit upright if you usually sit in an upright position.
Place your feet on something imitating the upper position of your pedal stroke so your knee is in a less than 90-degree angle. Your sit bones will leave two small, but distinct dents on the cardboard.
Take a long piece of chalk and draw over the dents with the chalk's side. This will reveal them with more clarity. Measure the distance between the center of the dents.
Add another 10-30 millimeters to the measured distance.

10 millimeters if you ride in an aggressive position (road bike, gravel bike)
20 millimeters if you ride in a forward-leaning but not overly aggressive position (hybrid, trekking bike) 
30 millimeters if you ride in an upright position (city bike).
Here is a visual explanation of how to do the measuring:
If your saddle is too narrow, it doesn't support your sit bones sufficiently and it might lead to excessive pressure in the perineum.
If it's too wide, it can lead to chafing or pinch points in the soft tissue.
It's better to choose a slightly wider saddle if you are not completely sure of the exact size. 
To avoid pain and chafing at the thighs (especially if you have strong thighs), pay attention to the width and the length of the nose of the saddle. The edges of the saddle will rub against the thighs which can lead to chafing. 
Best saddle based on riding style
Wider and rounder saddles are for more upright riding positions. They provide better support for your body. Whereas narrower and flatter saddles are for more aggressive and forward-leaning positions. Generally speaking, a rounder saddle is more useful for those who tend to keep the same riding position in a somewhat upright position.
Saddles with a dip between the tail and the nose might be more comfortable for those riders who tend to stay more or less in the same, somewhat upright position. The dip adds a bit more stability.
If you often change hand positions, lean forward, sit up, push back, in short: wiggle a lot on the saddle, as is the case in urban commuting due to maneuvering, a flat saddle without a dip will be more comfortable.
Pro-tip before buying a new saddle
Before you rush to change your saddle for a more comfortable one, it's worth checking if what you have is properly adjusted. Saddle height, and especially saddle angle, affects your riding comfort a great deal. Even an otherwise comfortable saddle can cause a lot of pain if not angled properly.
There is a huge difference between the saddle tilting up and causing a lot of discomfort, and a saddle angled properly. Take a look at the following two pictures, and the difference is visible, but even more obvious when you sit on the bike.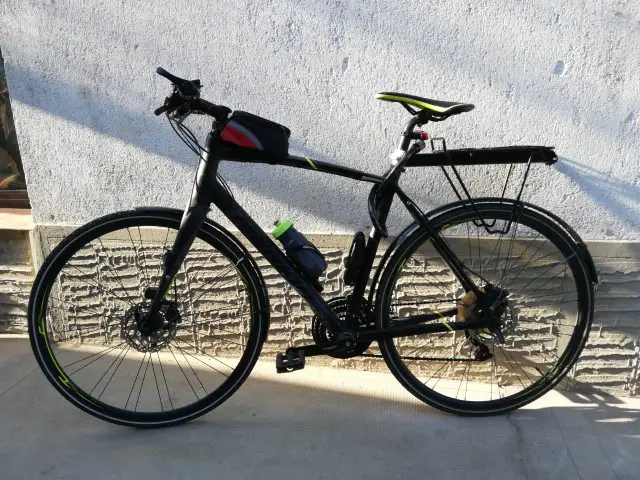 A saddle tilting too much up will push against your perineum, whereas a saddle tilting too much down will cause you to slip off the saddle and hold your weight with your hands. 
The right way to angle your saddle is to have it parallel to the ground. 
Conclusion
Saddles are indeed very personal. If it is the proper one, you might not even notice until you haven't sat on a bad one. If it is not fit for you, it becomes a real pain in the ass. This is when you realize how precious a good saddle is. I hope this guide will help you find the best one for you.
Happy riding!