Himiway's direct-order fat tire e-bikes are inexpensive, readily available, and well-equipped. Both the Cruiser and the Zebra are renowned for their powerful motors and big batteries, giving them excellent speed and performance without sacrificing range. if you're looking for a fat tire e-bike that can go the distance, you'll definitely want to consider one of these two models.
While the Himiway Cruiser and the Himiway Zebra are quite similar, there are some important differences between the two bikes.
The Cruiser is a fully-featured e-bike that's fantastically fun to ride, while the newer, more expensive Zebra offers tangible improvements in just about every area. Let's dive in and break down some of the differences so you can decide whether the added cost of getting a Zebra makes sense for you.
Here are the key differences at a glance:
| | | |
| --- | --- | --- |
| | Himiway Cruiser | Himiway Zebra |
| Motor | 750W hub | 750W hub |
| Battery | 48V 17.5Ah | 48V 20Ah |
| Range | 35-60 miles | 60-80 miles |
| Sensor | Cadence | Torque sensor |
| Brakes | 180 mm mechanical disc | 180 mm hydraulic disc |
| Capacity | 350 lbs | 400 lbs |
| Riding position | More relaxed | Sportier |
| Price | 1699 USD | 1999 USD |
Overview
Both the Cruiser and the Zebra are heavy fat-tire e-bikes that are equally at home on light trails and pavement. The 4″ tires help you feel comfortable over cobbled streets, rocky trails, and minor potholes, especially when coupled with the front suspension.
Both bikes are available with step-through frames or in more conventional hi-step variations and come with front and rear fenders and a rear rack included in the box.
Himiway Zebra
The Himiway Zebra is the updated version of the successful Cruiser. It offers better performance, a longer range, and a much more modern design compared to its predecessor.
Excellent for commuting or getting off the beaten path on your weekend rides.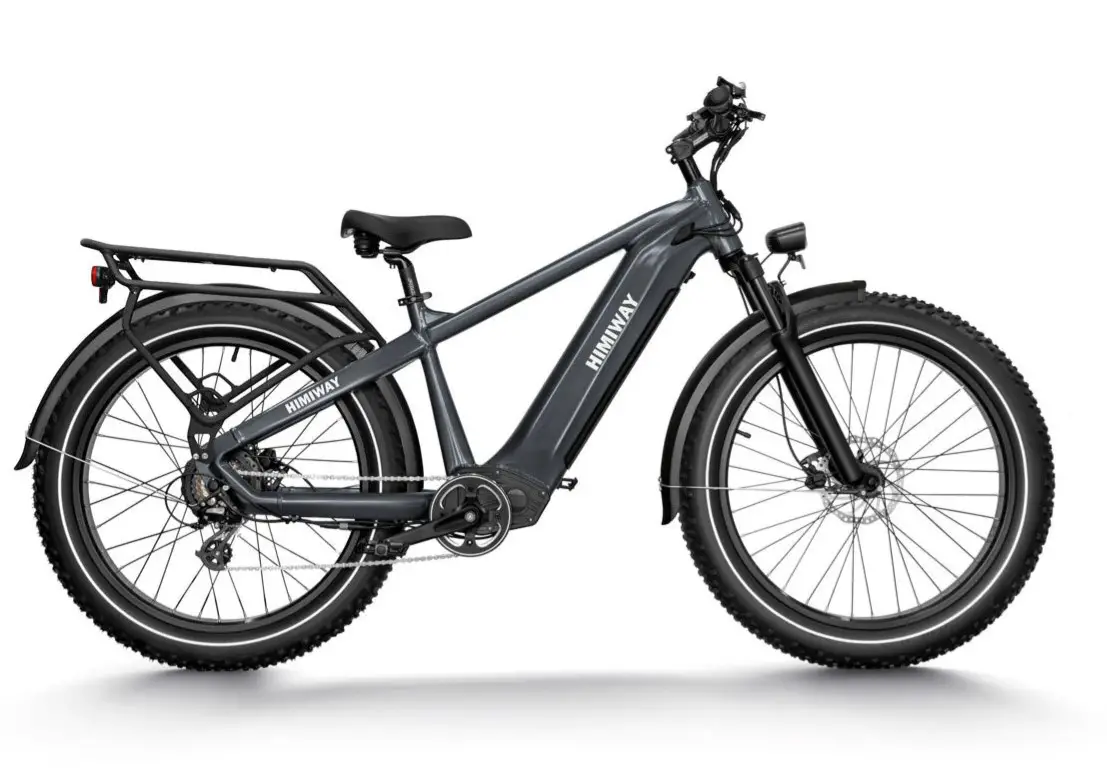 We earn a commission if you click this link and make a purchase at no additional cost to you.
You can find our detailed hands-on review of the Himiway Zebra here.
Design and Build Quality
Himiway is a somewhat new player in the direct-to-order e-bike market, so we don't have a huge amount of information about how the bikes hold up long-term.
What we do know, however, is that Himiway owners are happy with their bikes most of the time, but a few report issues with the components that they received in the mail. Himiway's customer service is not as responsive as some of its competitors, but they are willing to solve problems.
To be clear, the issue here is not necessarily that Himiway's bikes aren't up-to-par. Things get damaged while they're being shipped all the time, and even the best, most reliable direct-to-order bikes don't always come out of the box right.
In terms of design, the Zebra is an updated version of the Cruiser. It is a much more slick and modern-looking bicycle thanks to its integrated battery. The Cruiser's non-integrated battery design is showing its age, which isn't necessarily a bad thing, as it makes it less desirable for thieves. It also lends it a more robust appearance.
Bikes need to strike a balance between comfort, speed and handling. The designers opted for a slighly more aggressive riding position in the Zebra, which results in better handling at higher speeds, but if you're looking for absolute comfort, the Cruiser is a better choice.
Himiway Cruiser
The Himiway Cruiser is an affordable, yet very capable fat tire e-bike. It allows you to ride on terrains where your traditional bicycle doesn't.
The powerful motor makes getting up hills and sustaining high speeds a breeze.
We earn a commission if you click this link and make a purchase at no additional cost to you.
The Cruiser's frame is much more traditional, with an external battery mount that sits on top of the down tube, while the Zebra has a more modern and stylish e-bike frame with an integrated battery.
Finally, the Cruiser has cruiser-style handlebars (as you might expect), while the Zebra offers mountain-bike-style flat bars. The differences here aren't huge, but it does feel like the Zebra handles a bit more nicely at the high speeds you're likely to reach with the big rear motor.
Components
To keep the bicycles affordable, both the Cruiser and the Zebra come with entry-level components. This means the bikes are a bit cheaper than comparable offerings from other brands, but you'll have to live with some inconveniences that you'd miss on just about any other comparable e-bike.
This includes things like over-the-bar Tourney shifters, smooth faux-leather handlebar grips that are very slippery against sweaty palms, and an LCD display that's reminiscent of a digital watch from the early 2000's.
As far as differences go, the Zebra comes with 180mm hydraulic disc brakes, compared to the mechanically driven calipers on the Cruiser. This means that the big, heavy fat tires will come to a stop a fair bit faster on the Zebra, enabling you to come to a stop from e-bike cruising speed much more quickly.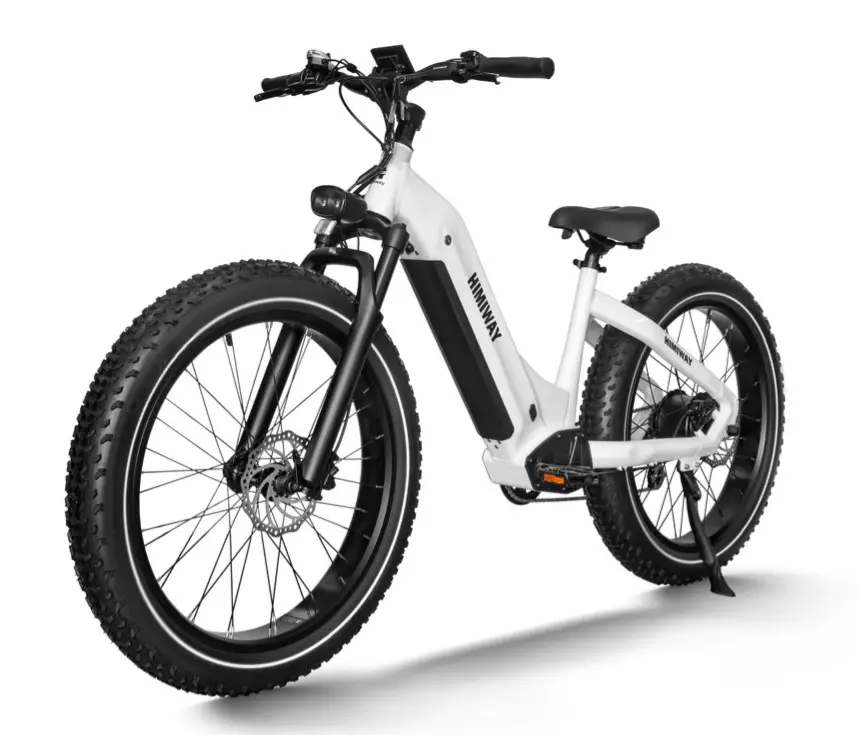 The tires on the Zebra seem to be higher quality as well, but that might just be pandemic-related supply chain issues interfering with some Cruisers that were shipped out earlier last year. Otherwise, the biggest remaining difference is probably the saddle. Both bikes have fairly unremarkable soft, wide saddles, but the Zebra's seems a bit more ergonomic and comfortable for longer rides.
Range and Speed
The Cruiser and the Zebra both feature 750W rear hub motors. While the Zebra's newer motor can deliver 86nm of torque to the Cruiser's 80nm, the raw power output of these motors seems incredibly similar in practice.
The batteries are similarly different. The Cruiser has a 17.5 amp-hour battery that advertises up to 60 miles of range, while the Zebra's 20 amp-hour battery advertises up to 80. In practice, the 7 extra pounds on the 79lb Zebra will likely cut into any range gain that you'd see from this extra battery capacity.
This means that while the Zebra will go a bit farther on a full charge in identical riding conditions, the gains and losses you'll see from a few extra pounds of gear, underinflated tires, or even different temperature conditions might have a bigger impact on your range than which bike you choose.
There is a very tangible difference between these bikes in the power department, but it doesn't come from the battery or motor. Instead, it comes from the way the motor is activated on pedal assist.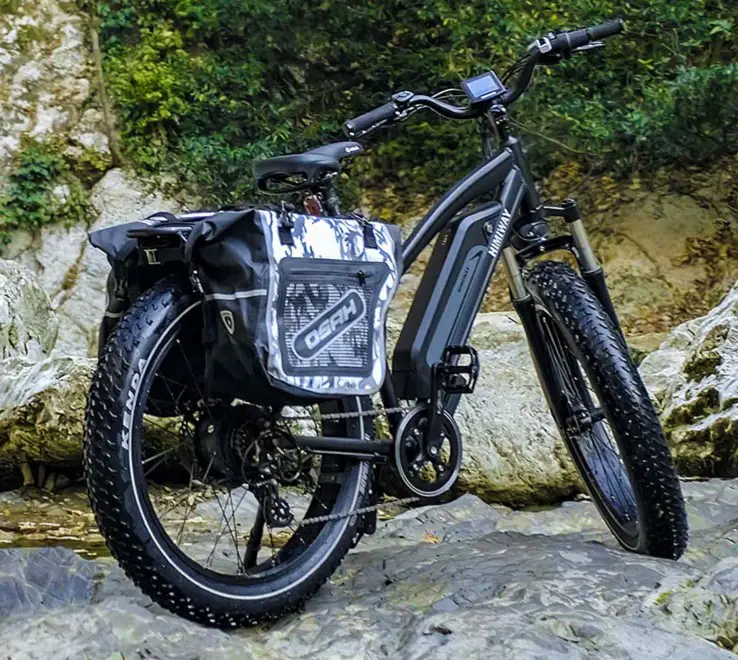 The Cruiser's cadence sensor can take a bit of time to activate, meaning you'll find yourself spinning the pedals several times to get the bike's motor to kick in. Given the size and power of the rear hub motor, this can be awkward to get used to at first. The Zebra's torque sensor is much more tightly configured and starts delivering power to the rear wheel much faster. It's a very nice sensor that blends the best of both worlds, allowing you to casually spin the pedals in a lower gear to activate the pedal assist or give them a much smaller rotation in a higher gear to start things off.
On both models, hidden configuration options allow you to change exactly how much power you get in each pedal assist level and how long it takes the motor to hit full strength, enabling you to tweak the ride to your liking.
Closing Thoughts
Overall, the Zebra's improved torque sensor, updated geometry, and hydraulic brakes mean it's likely worth the extra cost for most riders.
If you're on a budget, however, the Cruiser is very similar in most ways, making it an excellent option for anyone looking to get an inexpensive fat-tire e-bike. Both the Zebra and the Cruiser feature big batteries, big motors, and big tires, allowing you to cruise on any terrain comfortably.
Whether you're looking to commute over rough roads or just ride for fun, both of these bikes are great budget-friendly choices that can help you enjoy cycling with plenty of motor assistance. If bumpy roads, big hills, or fear of sweating on the way to your destination is keeping you from biking, the Himiway Cruiser or the Himiway Zebra are great options to get you in the saddle.