I've been riding the Himiway Zebra for about a week, and I've put over 50 miles on it. It's an impressive piece of engineering that's brilliant at what it does. 
The Himiway Zebra is a powerful, long-range fat tire e-bike that's great for smooth, relaxed riding on pavement or dirt. I'll give you a full breakdown of the bike's important features, what my experience was like, and whether or not you should purchase one for yourself. We'll start things off with a quick rating, then we'll delve deep into my experience so you can get an idea of how the Zebra performs.
This Zebra was sent to us by Himiway to review. We've got full control over what we post, however, and we're under no obligation to sing the bike's praises. In other words, this is an unbiased review. I won't hold back my criticism.
Himiway Zebra
The Himiway Zebra is the updated version of the successful Cruiser. It offers better performance, a longer range, and a much more modern design compared to its predecessor.
Excellent for commuting or getting off the beaten path on your weekend rides.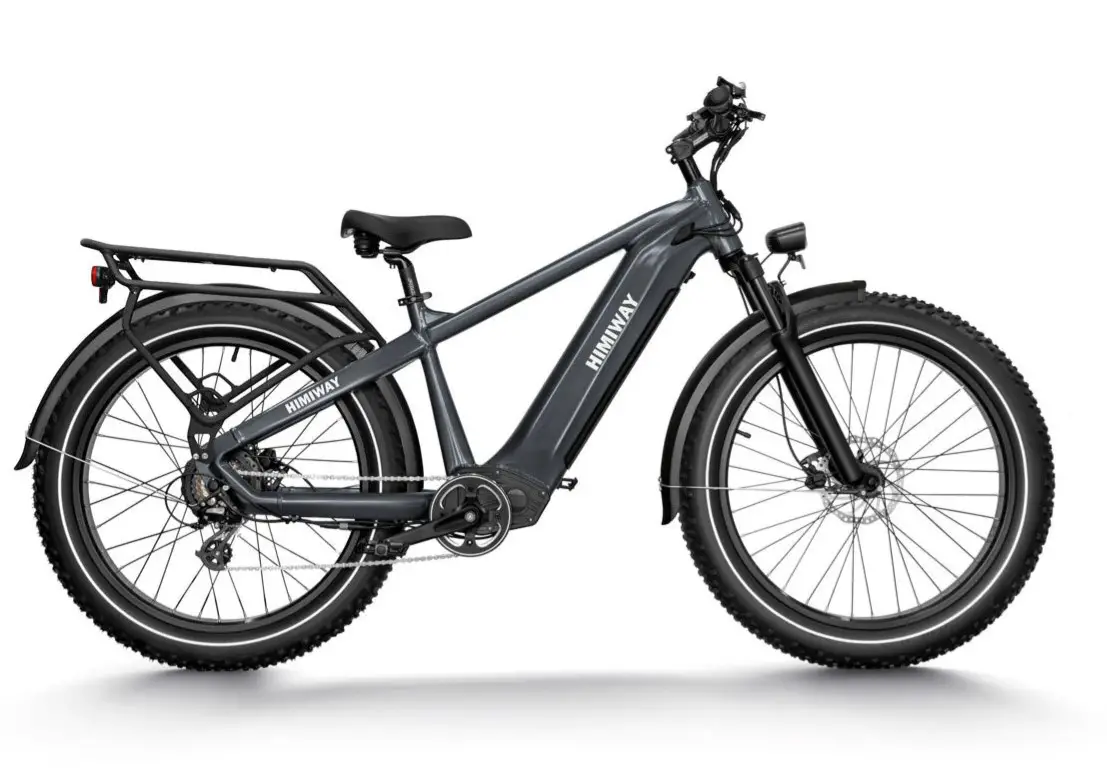 We earn a commission if you click this link and make a purchase at no additional cost to you.
| | |
| --- | --- |
| Himiway Zebra | |
| Max Speed | 28 mph |
| Motor | 750W |
| Battery | 20 Ah |
| Brake type | Hydraulic disc brakes |
| Range on Max Pedal Assist | 35 miles |
| Class | Class 3 ebike (comes with twist throttle) |
| Weight | 79 lbs |
| Carry Capacity | 400 lbs |
| Tire | 4″ fat tire |
| Price | $1,999 |
| Included in the price | fenders, front, and tail lights, rear rack |
If you're looking to purchase a Zebra and you find my experience was useful in your purchasing decision, it'd help us out a lot if you could use our link below. If you decide that a Zebra isn't for you, be sure to check out the other reviews on our site. We've spent a lot of time riding and researching e-bikes of all shapes and sizes, so we'll hopefully have something that's right up your alley.
You can find my review of the best electric bike for adults here
You can find my review of the best 750W electric bikes here
You can fin the my review of the best Class 3 Electric bikes
So, without further ado, here's a quick rundown of my personal rating of the bike.
THE BIKE OVERALL – 4 / 5
The Zebra is powerful. It's very smooth on dirt, gravel, and city streets, and it feels very stable. If you're trying to relax and enjoy going fast on a powerful e-bike, there's not much else you can ask for.
So why no 5 / 5? My biggest complaint is definitely the seat. I found myself struggling to adjust things in a way that allowed me to pedal comfortably without putting a lot of weight on the handlebars. 
This meant that my wrists and shoulders got sore a lot after riding the Zebra. The good news is that seats are easy to replace, so this shouldn't hold you back much on your purchasing decision.
THE BATTERY – 5 / 5
My Zebra did 35+ miles on a single charge with practically no pedaling. Admittedly, this is much lower than Himiway's advertised 60+ miles, but I'm not the lightest rider, and I rode on hilly terrain on cold days. It's worth noting that the included charger isn't super fast, but this is likely a long-term plus, as it'll help you get a few more charge cycles out of your battery.
THE MOTOR – 5 / 5
The Zebra was honestly more powerful than I was expecting. I knew the 750-watt motor would let me cruise along at high speeds with ease, but it did pretty well on hills, too. I was able to throttle up several very steep dirt hills at well over 10 miles an hour, even without a lot of run-up time. 
The bike had no problems doing 16+ miles an hour on every paved hill I tried it on, and it usually was comfortable cruising uphill at its maximum throttled speed of 20 miles an hour.
BUILD QUALITY – 4 / 5
The Zebra uses very standard, easy-to-service bike components. You won't find a super-high-end groupset on the bike. Instead, it's got components that are very easy to find parts for. Take this bike to any local bike shop, and they'll be able to help with any issues you experience. 
So why 4 / 5? Two issues: the rear brake is inside of the chainstay and is very difficult to access, and there's a big bump in the frame on the bottom bracket inside of the chainring that makes fixing a dropped chain difficult. 
These aren't things that you're necessarily going to have issues with as a rider, but they will cause a headache if you have to attend to these two areas of the bike yourself.
COMFORT – 4 / 5
The Zebra is, overall, a very comfortable bike. For me personally, however, if I was locked into using the stock seat on the Zebra, this number would be MUCH lower. 
As far as the rest of the bike goes, the tires felt very stable and comfortable on the pavement, gravel, and manicured dirt. On rough dirt trails, the bike felt very, very bumpy. I would recommend sticking to maintained trails on this bike and leaving the technical mountain bike stuff to something that's a lot lighter.
I'll elaborate on my experience with the seat below. To briefly summarize, however, I am 6'2", I'm not a fan of cruiser-style seats in general, and I spent very little time actually pedaling the bicycle. If you're shorter, you enjoy wide, plush seats, or you're putting more of your weight on your feet, you'll likely have a different experience.
PRACTICALITY – 4 / 5
This one is a bit of a doozy. If you said "hey, how practical is it to commute to work or buy groceries on a Zebra" I'd give you a clean, unqualified 5 out of 5. My issues with the bike have to do with its size and weight. When you're not riding the bike, the Zebra is cumbersome, big, and heavy. 
It feels wider than my other bikes despite having similar raw dimensions, mostly because I'm not as enthusiastic to pick the bike up to make a small positioning adjustment. This is something you'll get used to and plan around as you spend more time with the bike. Expect to have some growing pains at first, however.
Himiway Zebra
The Himiway Zebra is the updated version of the successful Cruiser. It offers better performance, a longer range, and a much more modern design compared to its predecessor.
Excellent for commuting or getting off the beaten path on your weekend rides.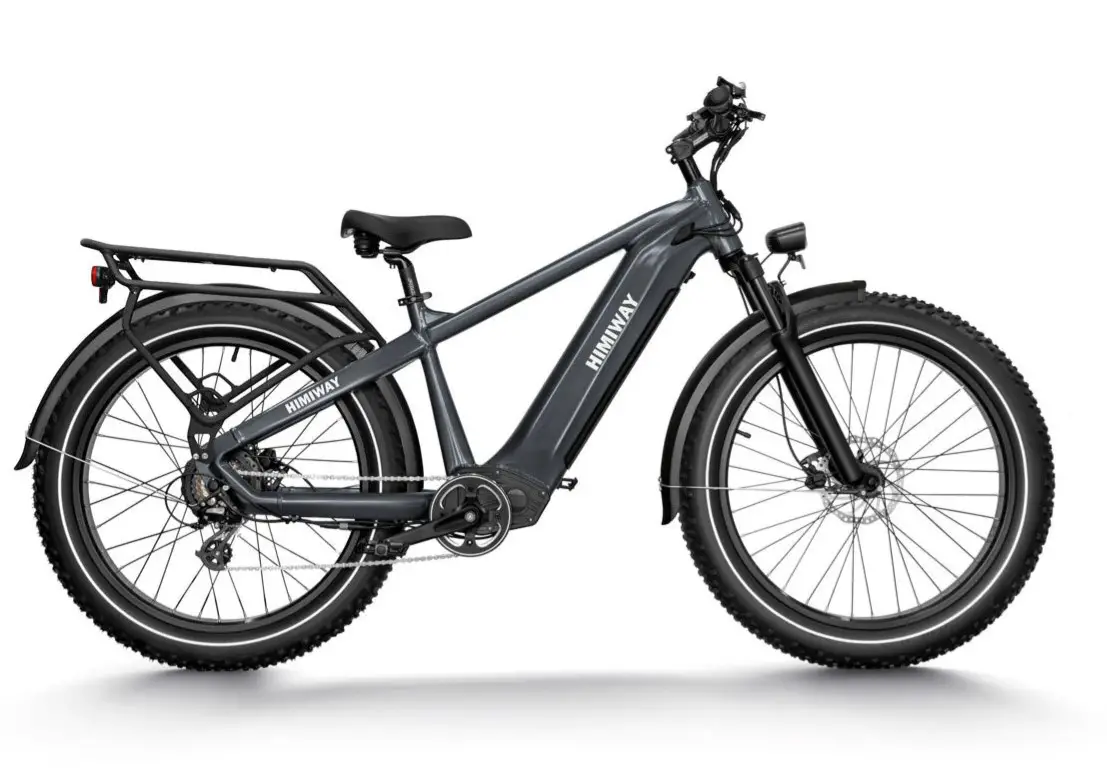 We earn a commission if you click this link and make a purchase at no additional cost to you.
DETAILED, HANDS-ON EXPERIENCE
Unboxing / Assembly
I regret to inform you that I did not take pictures of the unboxing and assembly process.
The good news here is that you're not missing much. The bike was fairly easy to assemble, with a handful of caveats. I will mention before I get too into things that the process is much easier with two people. 
There's not a lot to do, so your helper won't have to stay for very long, but there are two parts of the assembly process that massively benefit from another pair of hands.
My Zebra came with a fairly nice alan key set that even comes with a socket wrench attachment. This alone will do almost every part of the assembly process, but the fenders will require you to have something to hold a nut while you use an alan key to turn a bolt. 
The wrench bits on the included alan key can do that job wonderfully, meaning you can use an alan key set you have lying around the house as your only other tool.
The assembly process is fairly simple. You need to put on the handlebars, front wheel, pedals, rear rack, and fenders. That's it. Himiway recommends you put on the handlebars, flip the bike upside down, drop in the front wheel, then flip the bike back right-side-up and finish the process.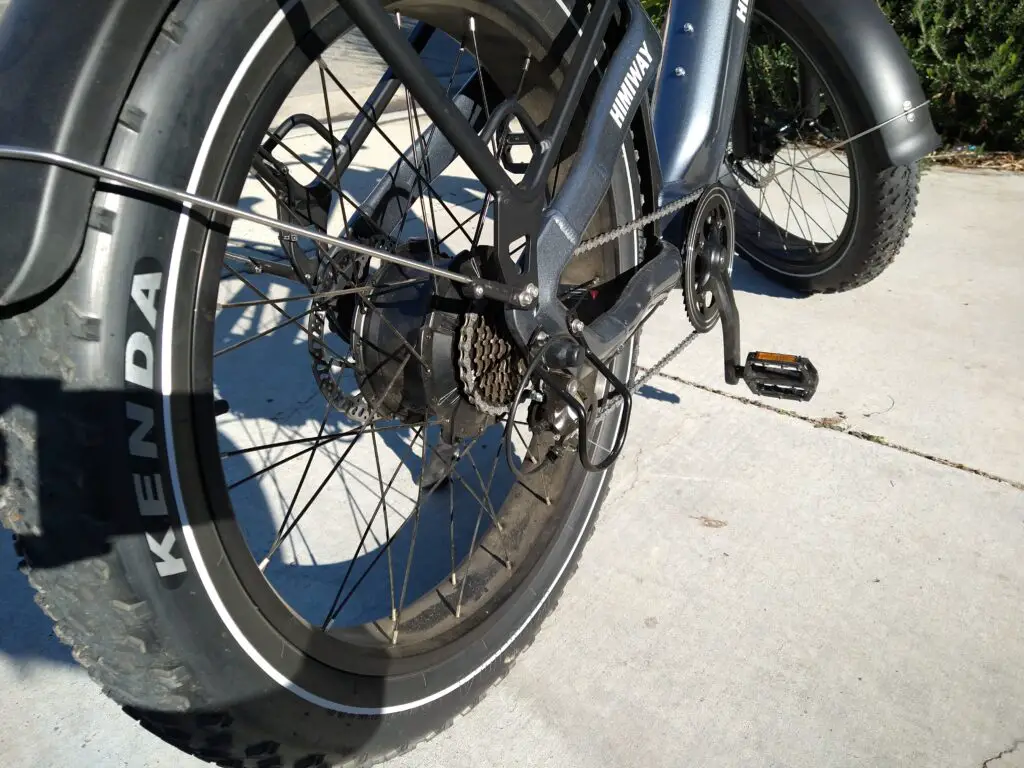 Quality, Shipping
I was impressed with how much effort Himiway put into first impressions. The bike was wrapped up in plenty of protective material, and I was immediately struck by how nice the rear rack looked. 
The included alan key set is honestly nicer than the one I have sitting in my laundry room, and the tray of spare screws, bolts, and washers gave me confidence that Himiway cares about the quality of the assembly experience.
The bike came charged but not fully charged. The battery meter on the display is not very good at giving exact percentages, but I would guess that the battery came with between 60% and 80% of a full charge. The charger has a built-in fan to keep it cool and automatically shuts off once the bike is charged, meaning you can leave the bike plugged in overnight.
The rear brake on my Zebra came in a less-than-ideal state. The brake made a soft hissing (not screeching or whining) noise immediately. As I rode the bike more, another, more interesting noise began to emanate from the rear of the bike. 
When I used the rear brake, the bike gave of a sort of bubbling, creaking noise that some riders have described as a "flushing toilet." It's not super loud, but it's definitely audible to people a few feet away from you. The noise only occurs when you're braking with some force, so it's not constant, but it's definitely annoying.
A few points: first, the rear brake was shipped intact. This is not something that I had any control over at any point. Second, the hissing started immediately, even when I attempted to bed the brakes in on my first ride. Third, the brake seems to work totally fine in spite of the noise.
I haven't personally experienced this issue before, but apparently, it's somewhat common for store-bought bikes with midrange hydraulic brakes to have this exact problem. Many riders just live with it. The cause seems to stem from a vertical alignment issue. 
In other words, the pads are contacting parts of the rotor that vary as the rotor spins, causing vibrations that make the noise. That's the theory, anyway. Fixing the issue seems to involve lots of fiddling with the exact position of the rotor, calipers, and even the wheel in some cases until the noise finally disappears.
Himiway Zebra
The Himiway Zebra is the updated version of the successful Cruiser. It offers better performance, a longer range, and a much more modern design compared to its predecessor.
Excellent for commuting or getting off the beaten path on your weekend rides.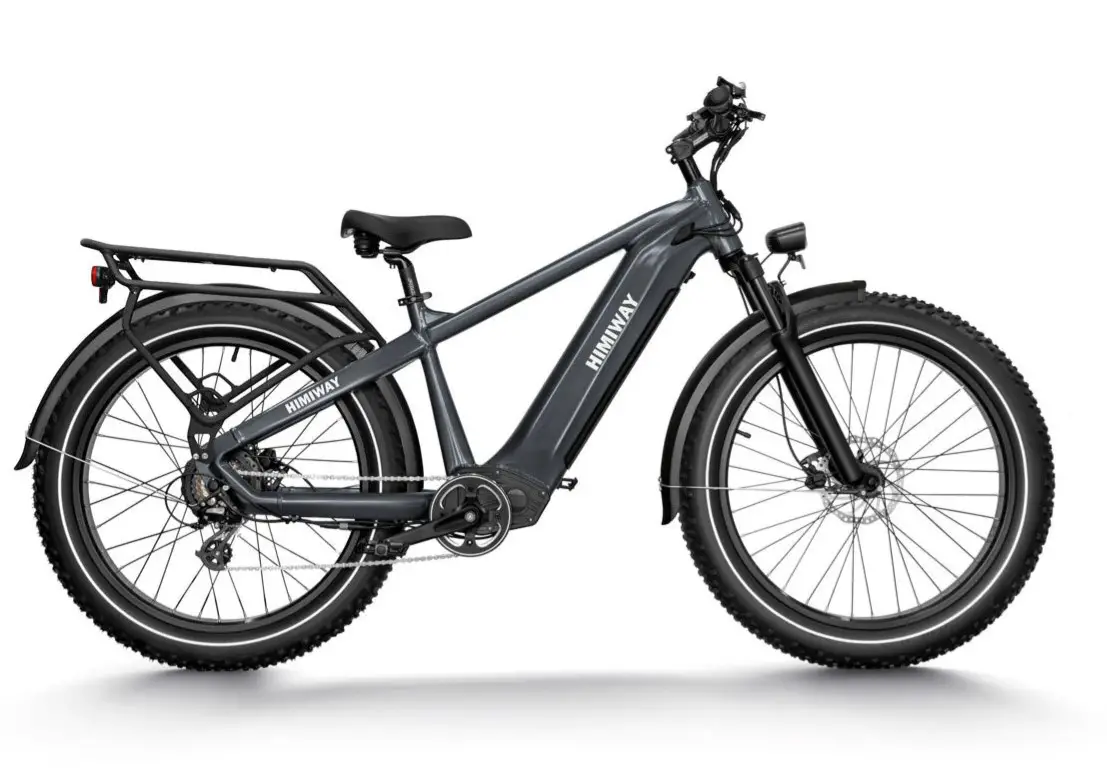 We earn a commission if you click this link and make a purchase at no additional cost to you.
I shot Himiway an e-mail about this, and they gave me a boilerplate response telling me to clean the brake, make sure that stuff was tight, and take the bike to a mechanic. I definitely tried the first two before sending the e-mail.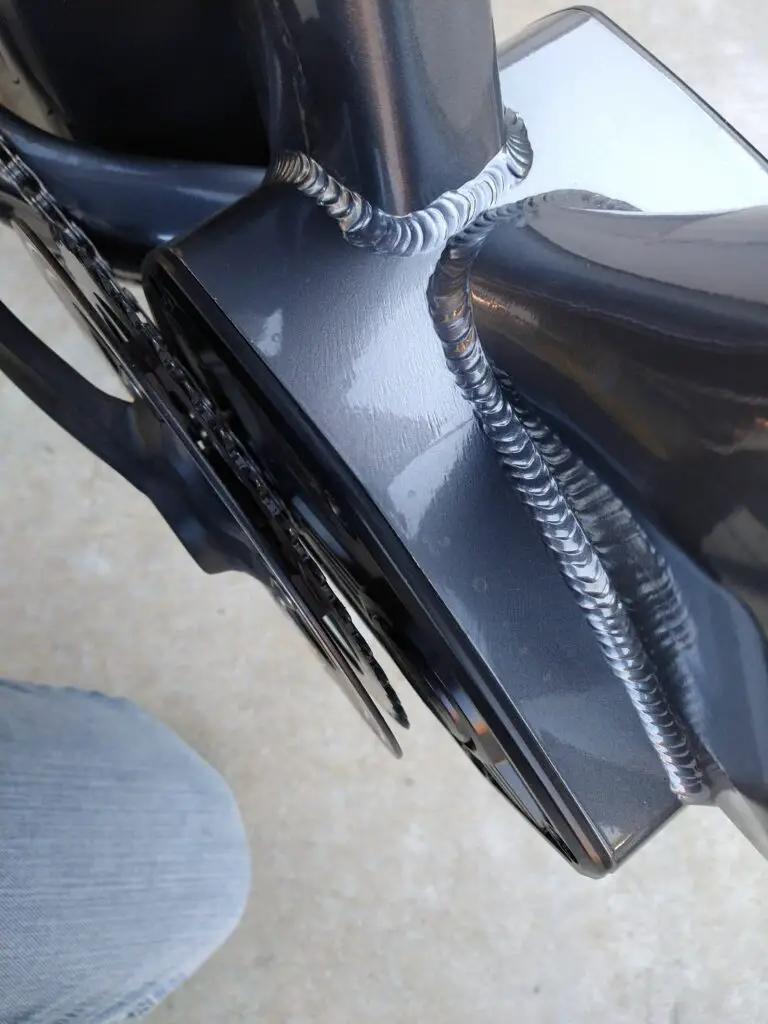 I mentioned above that the rear brake is in between the chainstay and the wheel. Accessing it is quite difficult. While I did some basic checks to ensure that the rotor and calipers were secure, I didn't spend a lot of time attempting to fine-tune their positioning to try to fix the noise. I felt that it wouldn't be fair to review a bike after spending a lot of time messing with it myself. I'm not sure how many of our readers would be comfortable adjusting a brake at home.
Many riders will tell you that the rear brake is not safety-critical, nor is it useful for standard riding. I am not among them. I find myself using hand signals as I approach intersections very frequently, and since I use my left hand to signal, I have to use my right brake to slow down. This is the rear brake.
I rode the bike for quite some time with the brake in this condition. There's no visible wear on the rotor and it continues to brake fine, albeit noisily.
Before I move on, I'd like to mention that, as a general rule, it's a good idea to budget for a professional tune-up if you're having a bike shipped to you. Things bend in a box. Even if you're comfortable adjusting derailleurs or even truing wheels, it's not a bad idea to have some room in your budget for having a mechanic look at your bike and help you fix anything that's damaged in transit. 
The brake issue I experienced is the exact kind of thing that a tune-up can help fix. I wanted to test the condition of the bike as it was shipped to me, so I chose not to pursue that option, but you can bet your bottom dollar that if I had purchased this bike I would have set aside money to fix this exact type of problem.
The Battery
The Zebra comes with a massive 20 amp hour battery. It lives in the bottom of the down tube and can be removed from the bike for charging or swapping. It's quite heavy. My bathroom scale thinks it weighs a full 10 lbs.
The gigantic battery on the Zebra means that it has more range than many of its closest competitors. I checked e-bikes similar to the Zebra from Aventon, Rad City Bikes, and Ride1Up. 
None of the options I surveyed had batteries with more than 15 amp hours of capacity – and, importantly, they're all priced very comparably to the Zebra. In other words, you get a bigger battery (and more range) without spending more money.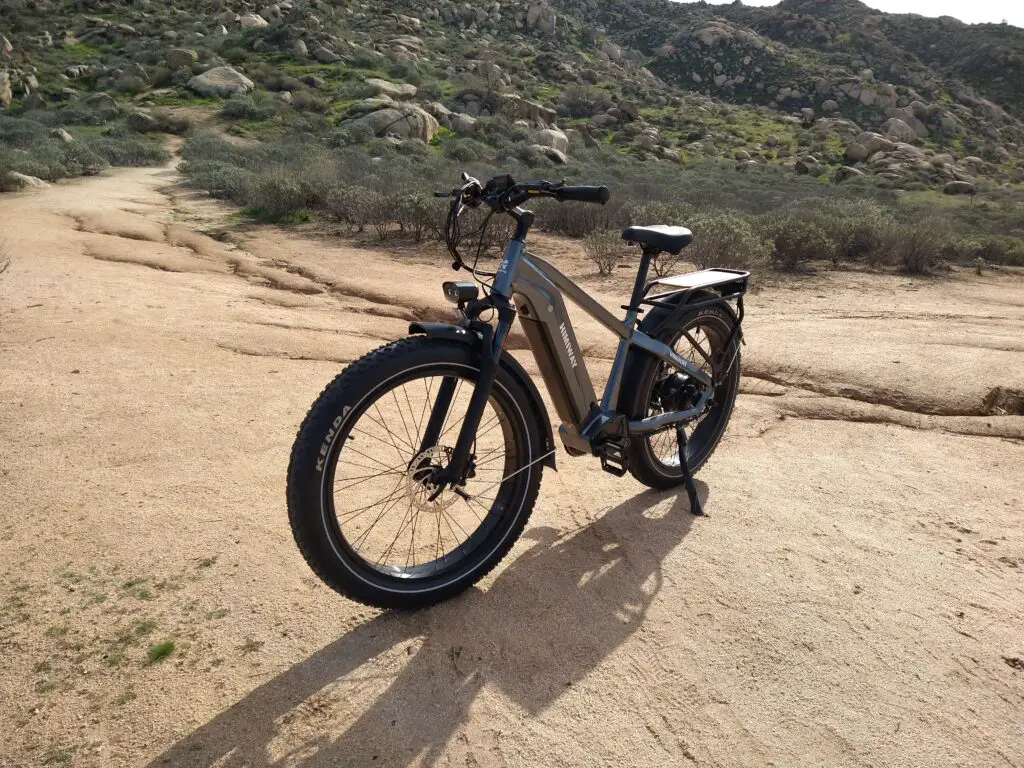 The extra capacity on the Zebra translates into more range than you might think based on the numbers alone. It's rare to find an e-bike that will do 25+ miles on the throttle alone. The Zebra can do more than 35. E-bike range can vary based on temperature, tire inflation, rider weight, and terrain, but you're probably looking at a range increase of about 40% over a 15 amp-hour battery.
Riding
Powerful
The bike is powerful. I mentioned this above, but it bears repeating. The bike shoots off like a rocket if you let it, racing to high speeds with ease. I had no issues climbing any hill on any street at 15+ miles an hour, and the bike did 20 mph with zero help from me up most of the hills in my neighborhood.
Himiway Zebra
The Himiway Zebra is the updated version of the successful Cruiser. It offers better performance, a longer range, and a much more modern design compared to its predecessor.
Excellent for commuting or getting off the beaten path on your weekend rides.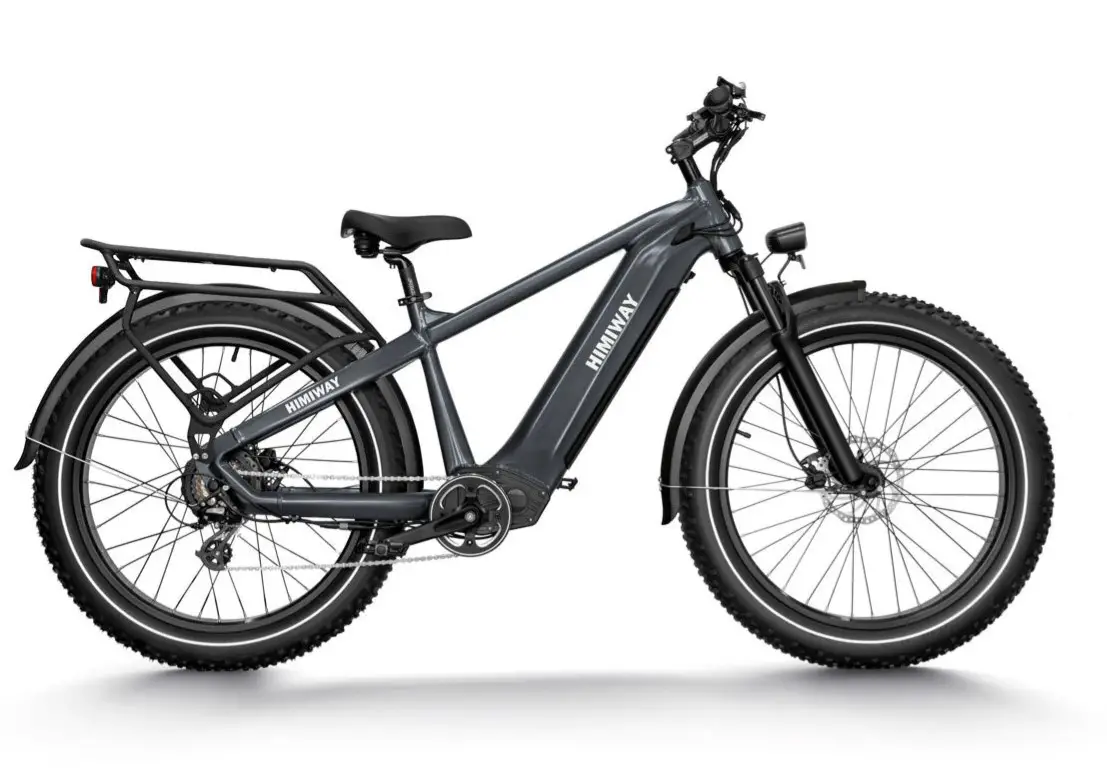 We earn a commission if you click this link and make a purchase at no additional cost to you.
Briefly, I'd like to mention that Himiway's modern displays will let you set your own top speed of up to 25 miles an hour. I actually lowered the top speed to 20 mph on my Zebra to make extra sure that I was following local regulations regarding multi-use trails. 
I tried my best to challenge the motor with a fairly involved stint off-road. Steep, poorly-maintained trails were not a challenge for the bike. 
The Zebra had no problems maintaining speeds of 10+ miles an hour on twisty, rutted hills that were probably over 18% grade. These hills were not super duper long, but they were long enough that I would have struggled to pedal the Zebra uphill myself at all, let alone at speed. Despite the loose dirt on the trails, the tires maintained traction the whole time.
While the bike could maintain speed up these hills with no problem, it did need a short run-up period or some help from my legs. The Zebra couldn't start on these off-road hills without help. Once it was going, however, the throttle had no problems sending the bike rocketing up the trail.
E-Bike Stuff
The Zebra is definitely an e-bike. This means that it has a normal set of oddities and limitations. For one, the motor doesn't do a very good job at low-speed torque. Turning the pedals once or twice will help massively when it comes to getting the bike started, especially up a hill. This is totally normal and applies to just about every e-bike out there.
The other thing that's worth discussing is the cadence sensor. The Zebra's sensor isn't the most precise thing I've ever experienced. It sometimes takes a few turns of the pedals to get the motor to kick in on pedal-assist modes. 
It'll also turn on the motor after a very small motion at times, giving you unexpected power when you're simply trying to adjust your feet. Again, these are very normal issues that happen on every e-bike I've ridden.
The Controller / Display
The Zebra has a customizable display that is stuffed with settings that you can change. Frustratingly, the manual in the box mentions very few of these. I e-mailed Himiway asking for the display manual and got a disappointing boilerplate response, but I was able to find the full manual hidden away on their website after a little bit of searching. 
There are a LOT of settings you can change, and I'm sure that some of my minor gripes with the bike could be solved by tweaking these to fit my preferences.
In terms of pedal assist, you can change the total number of pedal assist levels to 3, 5, 7, or 9. You can also make the bike's lowest pedal assist level 1 (or make it, so the motor is always on) and adjust the "power" of each pedal assist level. 
Himiway's default numbers are weird, with not a lot of power gain between PAS 1 and 2 and a huge jump between 4 and 5. I'm sure there's a reason for these settings, but it's worth mentioning that you can customize them if they're not to your liking.
I was initially keen on finding a manual to adjust the "SSP" or "slowly start-up" setting. The bike felt like a rocket at low speeds at PAS 1. Adjusting this number to its slowest setting didn't help much, but it did seem to do something and gave me a bit more control when I was starting out from a stop.
Despite me monkeying with the settings a little, I found it difficult to find a happy medium where the bike and I split the work. Pedal assist felt like less of an adjustment of motor power and more of an adjustment of how fast the bike needed to go before the motor stopped working altogether. 
In other words, PAS 1 gave me huge amounts of assistance below 10 miles an hour or so but seemed to cut out completely above that. On PAS 3, the bike didn't want to help me at all at 18 miles an hour, but PAS 5 would aggressively use the bike's full power if I ever dipped below 20. 
It's definitely possible that my monkeying made things worse, but it feels like I needed to constantly switch the PAS level if I wanted the bike to give me a bit of a push at varying speeds.
As mentioned above, the Zebra's display won't let you adjust the top speed beyond 25 miles an hour. This is probably a good thing if I'm being honest. While the bike's motor is strong enough that it's likely able to get the Zebra going up to nearly 40, it's not a great idea to ride a bike at 40 miles an hour on mixed-use trails or even residential streets. 
The somewhat-low number here keeps both you and Himiway out of trouble. It's not impossible to bypass the display entirely, but you'll need to swap out some parts if you've got a real hankering for speed.
Himiway Zebra
The Himiway Zebra is the updated version of the successful Cruiser. It offers better performance, a longer range, and a much more modern design compared to its predecessor.
Excellent for commuting or getting off the beaten path on your weekend rides.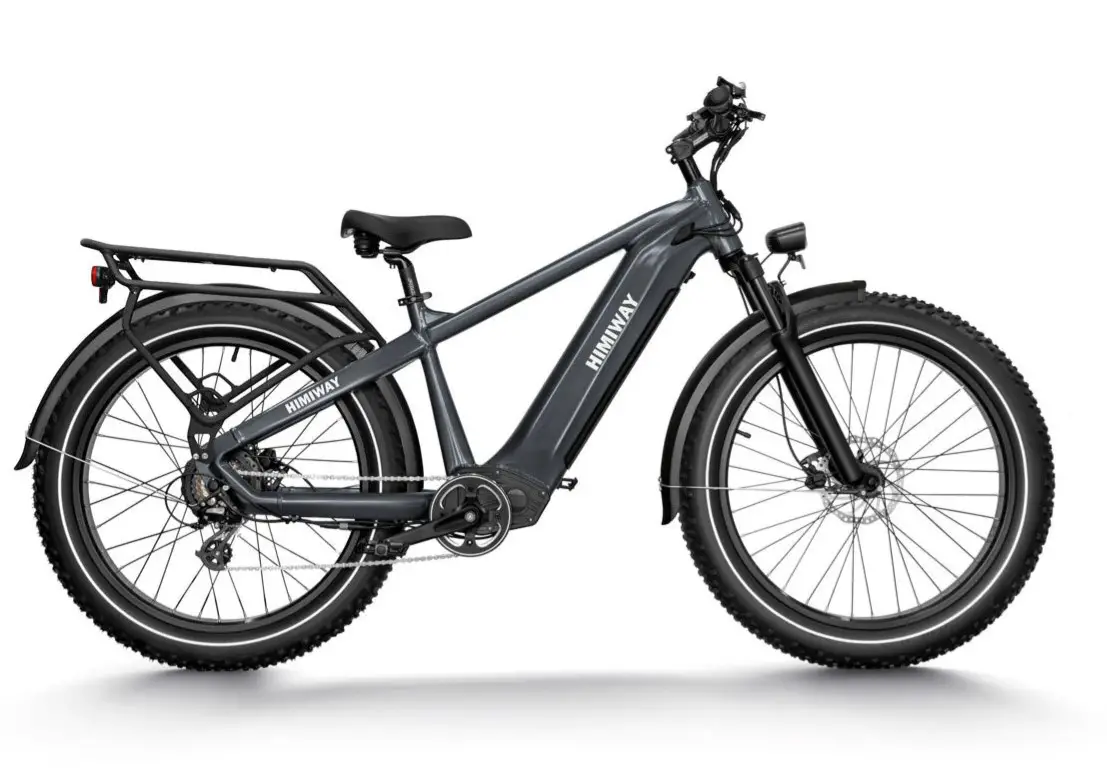 We earn a commission if you click this link and make a purchase at no additional cost to you.
I Hate The Seat
Seats are modular components. If this wasn't a bike I was riding to review, I would have absolutely taken the seat off of the Zebra within a few minutes and replaced it with something else. I chose to tough it out, however, as I felt like it was only fair to give the Zebra a chance to grow on me.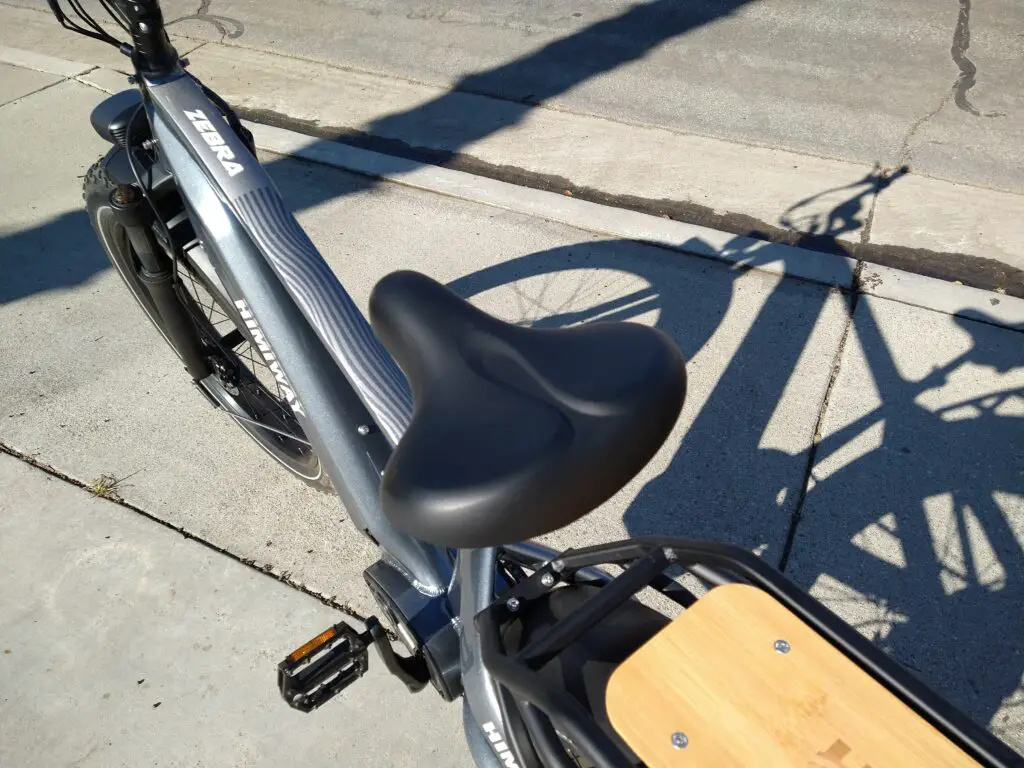 The seat is broad, well-cushioned, and has a raised back. This ostensibly makes it ideal for relaxed riding. I found it to be slippery. The back is raised somewhat, and I felt like I was constantly sliding off the nose.
This caused me to put a lot of weight on my hands, which is not a thing you generally want to do. The front of the saddle felt narrow, not because it's more narrow than other saddles (it's wider than the other saddles I've got at home, actually), but because I found myself slipping far forward of the part of the saddle I was supposed to sit on.
In addition to these gripes, the width of the saddle made pedaling awkward when I was actually seated all the way back. My legs need to move up and down. If I was far enough back to put my weight on the seat and not my hands, I found that my thighs were making far more contact with the seat than I would have liked.
I am not a big fan of cruiser-style seats in general and have never ridden a bike with one for more than one or two miles at a time, let alone the dozens I put on the Zebra. It's possible that I had things adjusted wrong, although I tried just about every seat height within a full four inches of my initial estimate and found them all to be distasteful. Higher was worse, Lower was slightly better.
As I mentioned above, I'm 6'2". It's tough to call this tall, as there's always a person taller than me in any group, but it's definitely not below average. Some amount of my issues may be related to handlebar height. 
Another contributing factor is my comparative lack of pedaling. I spent more than half of my riding time testing out how the motor performed without human assistance. This meant that less of my weight was on my feet, causing me to use the seat in a slightly unconventional way.
All of this is to say that it's probable that many of you will not hate the seat as much as I did. Most other e-bikes in the fat-tire cruiser niche have similar seats, so it's likely that you're not going to escape this issue by popping over to another brand. This is the one I've been riding for the last week, however, so this is the one I'm going to complain about.
Range
I rode the Zebra for several miles to get a feel for the pedal assist modes, then charged it to full and went as far as I could while pedaling as little as possible. I helped the bike get started from stops and that was pretty much it. I did get bored occasionally, so this wasn't the purest test ever, but I'm confident that the total effort I put in would have moved the bike far less than a single mile.
The Zebra's battery died after 36.7 miles. I should clarify that by "died," I do not mean that the bike was 100% drained, but rather that I was satisfied with the results of the test. The bike was technically still kicking, although it could only manage about 7 miles an hour doing laps around my neighborhood. 
For reference, I weigh about 190 with shoes, a sweater, and a water bottle. I was biking in temperatures of 45 to 55 F (it's freaking cold here in Southern California) and I spent probably 60% of my time on roads, 30% of my time on hard-packed gravel, and 10% on dirt. My area is a sort of gentle valley, so most of my riding was up or down a gentle slope of some sort. The tires have a range of 5 to 30 psi, and I inflated them to a bit over 20.
35 miles is about 50% more than the standard for a hub motor e-bike, which is impressive. I have no idea how Himiway got its advertised range of 60 miles. Temperature and rider weight are definitely big factors, but my guess is that you'd have to have a very light rider in absolutely ideal weather to even have a chance of making 60.
The bike's battery meter has 5 bars. It took me 18 miles to go from 5 bars to 4 bars. After this, however, it began to flicker unpredictably between charge levels. While it never went from 4 to 5, it started going from 4 to 3 before the 20-mile mark and dipped to 2 shortly after. It couldn't seem to decide which level to stick to until I got to around 28 or 29 miles, at which point it remained at 1 bar of battery until I decided to let the poor thing inside for a charge. 
Honestly, this is very expected behavior. I'm not an electrical engineer, but my understanding is that the bike is guessing at the battery's charge level based on voltage.
This can vary based on temperature, and the battery generates varying levels of heat based on the load being placed on it. Additionally, you're supposed to charge these things to a max level of about 80%. This means that you might prefer your display to register 80% charge as "full," which would explain some of the behavior above.
The included charger is not fast. It took about 8 hours to get the bike from its' "dead" state to reading 5 bars of battery. This isn't likely to be a huge issue and may help prolong your battery's total lifespan, as it's gentler on the components. If you need a fast charger, you always have the option of purchasing one separately.
Himiway Zebra
The Himiway Zebra is the updated version of the successful Cruiser. It offers better performance, a longer range, and a much more modern design compared to its predecessor.
Excellent for commuting or getting off the beaten path on your weekend rides.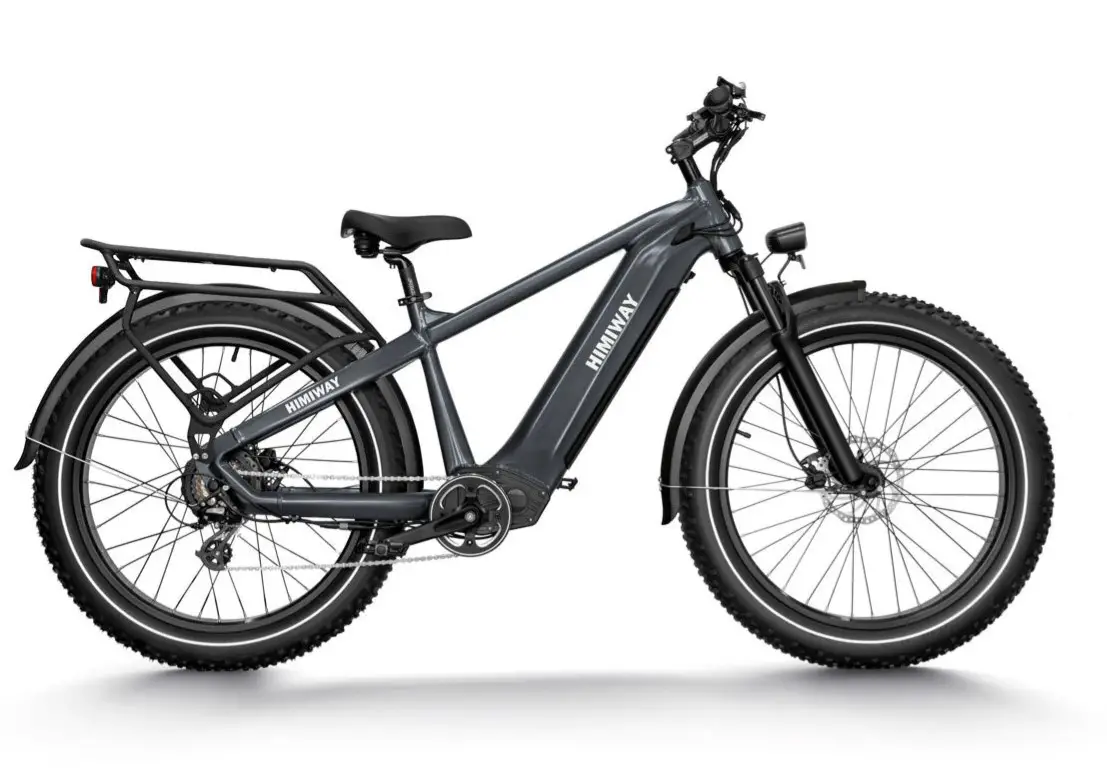 We earn a commission if you click this link and make a purchase at no additional cost to you.
Shifters, Brakes, and Drivetrain
The bike has a very normal Shimano shifter. You shift up by pressing a button. You shift down by cranking a lever. I found upshifting to be fine but downshifting to be very annoying compared to the setups that I'm used to. The lever is a bit sticky and needs a lot of force to actuate. Nevertheless, you'll find this same shifter on just about every other direct-to-consumer e-bike. There's no escaping it.
The front chainring is pretty big. The lowest gear in this bike is uncomfortably high for starting the bike up hills unassisted. The highest gear is more than big enough for me to blast past 20 mph with my legs. You'll definitely want to make sure that you drop to a low gear whenever you stop to ensure that it's easy to help the motor get the bike back up to speed.
I dropped the chain twice. The first time was within a few minutes of assembling the bike. The chain popped off the smallest cog in the back to the outside. It remained in a captive state and shifting down solved the issue. I tried my best to replicate this and could not get it to happen again.
The second time, the chain popped off the front chainring to the inside. In the bike's defense, it got caught in my pants. Getting the chain back on proved to be massively inconvenient, however, as there's a big divot in the bottom bracket that prevented me from easily pulling the chain out. 
The gap between this divot and the chainring was slightly smaller than the chain. At home, I was able to coax it through eventually, although my first time coaxing it through actually brought the OTHER side of the chain between this divot and the chainring.
(don't try to put your chain back on the way it looks like I'm doing it in the pictures. You want to gently push the rear derailleur forward to create slack and then just pop it over the chainring. I'm only using the caveman approach here so I can use my hands to hold a camera)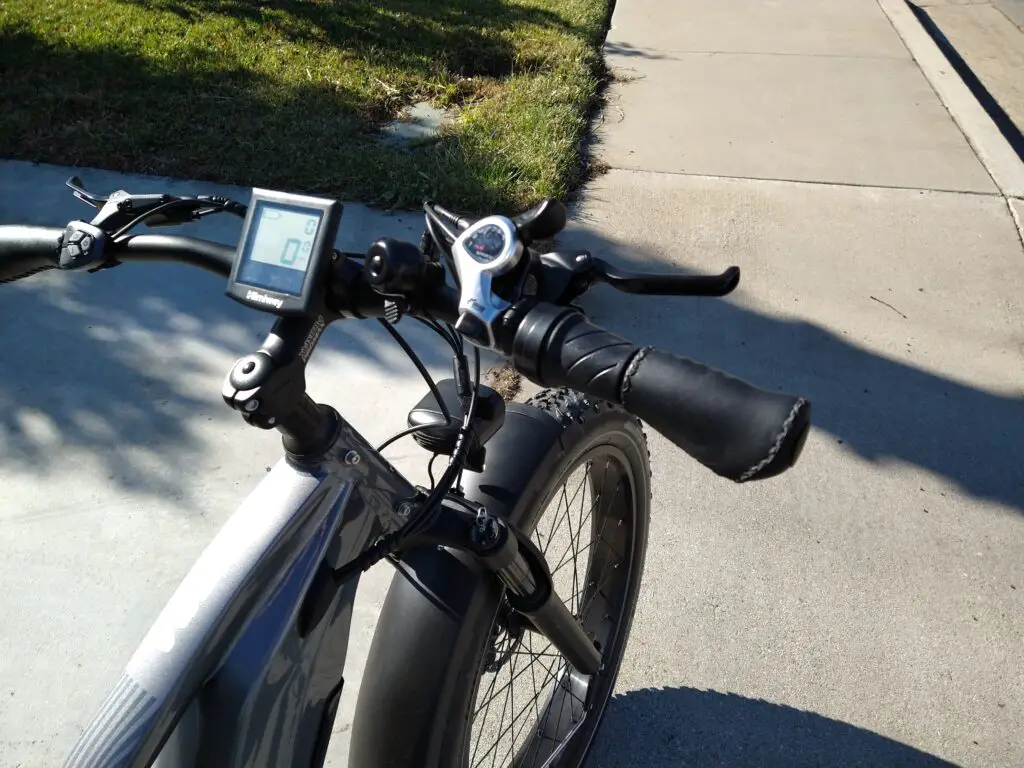 I'm not going to rehash the issues I had with the rear brake making noise. I would like to mention, however, that the hydraulic disc brakes can easily bring the bike to an abrupt stop with one finger on each brake. 
There's a lot of play before the brakes engage, but this seems deliberate, as tapping either brake slightly will disengage the motor. It seems Himiway has intentionally built in some slack so you can turn off the motor without slowing down the bike.
Ride Feel
I rode my Zebra with the tires inflated to a bit over 20 psi. This felt fine on pavement and compact sand. If you wanted to ride the bike on a beach, however, you'd probably want to let the tires cushion you more and let some air out, running them at 10 or even 5 psi. This will likely give you a different overall ride feel than the one I experienced.
The bike felt great on the streets and fine on gravel. It felt awful on bumpy dirt and rocks. Part of it had to do with the heavy bike and the noise the racks and fenders make when the bike goes over bumps. Another big factor was how fast I was going. The Zebra goes up hills faster than I go down hills in many circumstances, so it makes sense that the bumpiness increases proportionally. 
The bike definitely didn't feel unsafe, but I'd want to remove as much stuff as I could if I was going to use this as an adventure bike primarily. Not only would this decrease the clanging, but it would also make the bike a few pounds lighter and help it feel more nimble.
While the bike is smooth, it does not feel agile. I felt stifled in the bike lane while I was passing cars making right-hand turns. You can feel the zebra's weight as you ride it, whether you're pedaling, coasting, or letting the motor do the work. It's not a bad experience, but if you're used to lighter bikes, it'll take some getting used to.
Himiway Zebra
The Himiway Zebra is the updated version of the successful Cruiser. It offers better performance, a longer range, and a much more modern design compared to its predecessor.
Excellent for commuting or getting off the beaten path on your weekend rides.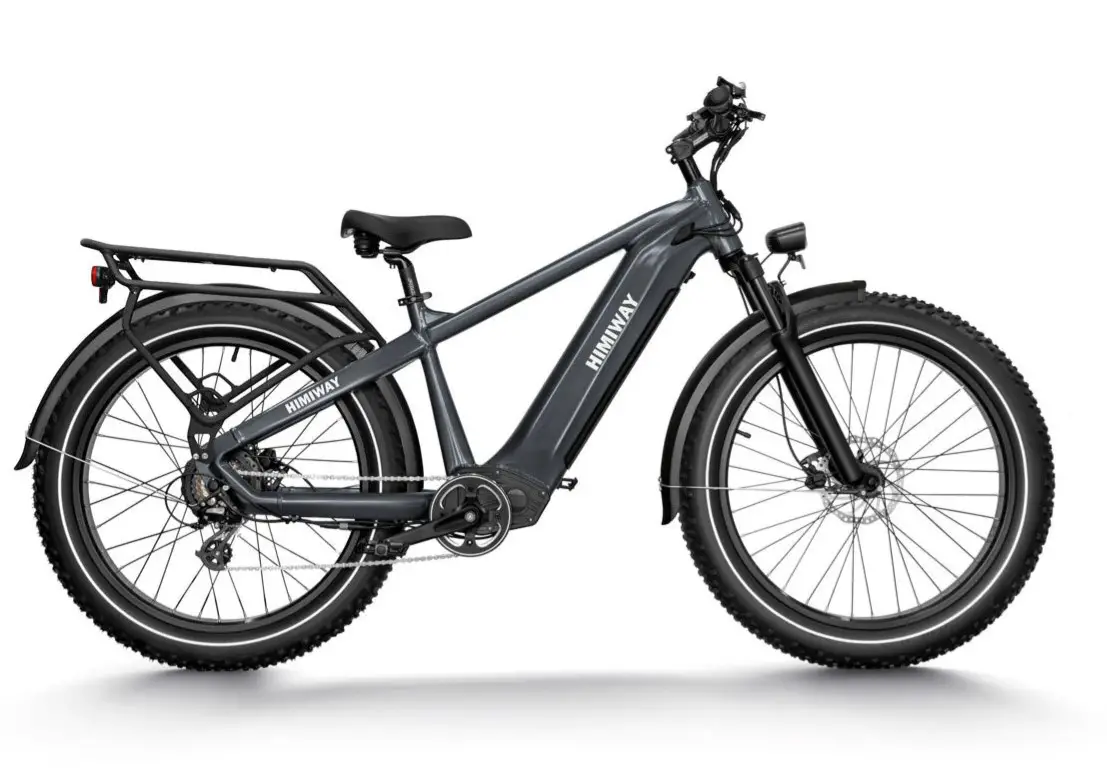 We earn a commission if you click this link and make a purchase at no additional cost to you.
Conclusion
The Himiway Zebra is very good at what it does. It's a powerful, stable fat-tire e-bike that offers lots of flexibility. The fenders did a great job of shielding me from dirt and water as I rode, while the very nice rear rack gave me the option to use the bike for grocery runs and takeout trips. While I'm not a fan of the seat, I'm taller than most and it's definitely a replaceable part.
This doesn't mean that the Zebra is right for everyone. The Zebra is quite heavy. While it's great on sand and gravel,  it's definitely not a mountain bike. I found that it sometimes felt more like a motorcycle than a bike. 
I struggled to work in tandem with the motor and found that while it absolutely crushed hills and sent me zooming along, it tended to either work at full blast or not at all. This means that it delivers an experience that's firmly in the e-bike camp instead of simply making it feel like you're a powerful cyclist.
Overall, the Zebra is very nice. The range is incredible, with my actual experience of 35 miles coming in at about 50% more than most other e-bikes. It's perfect for desert and beach trips, a great option for relaxed commuting, and the incredibly powerful motor means you never have to pedal at all. If you want power, range, and stability, it's a great choice that won't disappoint you.