I've been secretly testing the Ride1up Turris for a couple of weeks prior to its official release. The Turris is an entry-level e-bike that's designed to be accessible and affordable. It's done a brilliant job of achieving that goal. 
Ride1up Turris
With an upright yet responsive geometry, touring tires, hydraulic brakes, and a powerful class-3 capable motor, the Turris is an all-around comfort ebike equipped to explore and built for adventure.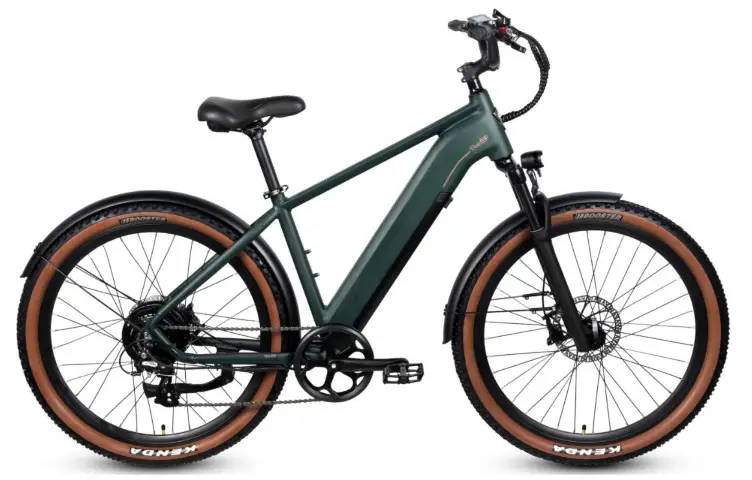 We earn a commission if you click this link and make a purchase at no additional cost to you.
| | |
| --- | --- |
| Ride1Up Turris | |
| Max Speed | 28 mph |
| Motor | 750W |
| Battery | 12.8 Ah |
| Brake type | Hydraulic disc brakes |
| Range on Max Pedal Assist | 25 miles |
| Class | Class 3 ebike (comes with thumb throttle) |
| Weight | 57 lbs |
| Carry Capacity | 300 lbs |
| Tire | 2.4″ |
| Price | $1,295-$1,460 (depending on the accessories you pick) |
| Included in the price | fenders, front, and tail lights, heavy duty kickstand |
I stuck one of my friends on the Turris and took him on a long, scenic ride he would never have completed before. At the conclusion of our adventures, he told me that they were "completely sold on the idea of electric bikes."
The Turris is a goldilocks bike. It's approachable for riders of all skill levels and backgrounds, with tires that allow you to go on tough outdoor trails without slowing you down too much on the pavement. We'll go over the bike's features in-depth, talk about my experiences with it, and go over a few factors that might help you decide if the Turris is right for you.
The Turris was sent to us by Ride1up so we could write this review. Despite this, we do not have to say good things about it. I am free to share my full, honest, and unfiltered opinion on the bike – and I will. I think it's very important to give you, our readers, an accurate depiction of the products we discuss. The Turris is a great bike, but I'm definitely going to say some bad things about it.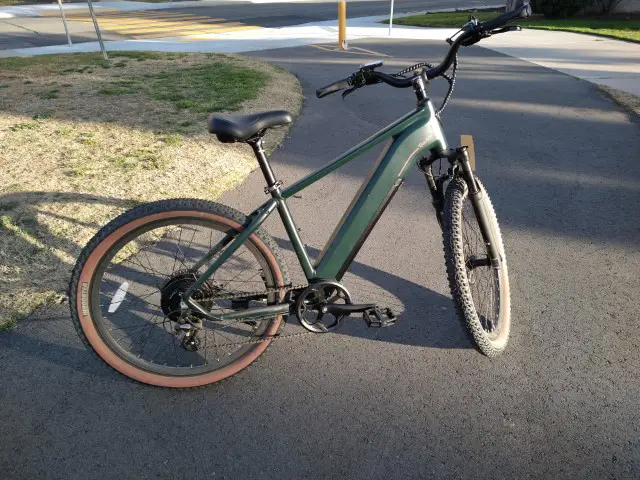 If you're looking to purchase a Turris and you found this review helpful, it would mean a lot to us if you could use our link below. If you find this review helpful in your decision to NOT buy a Turris, be sure to check out our other reviews and resources on the site. We've got a lot o resources, reviews, and research that you can use to find the best bike for your needs and budget.
You can find our review of the best electric bikes for adults here
You can find our review of the best 750 Watt electric bikes here
You can find our review of the best Class 3 electric bikes here
Ride1up Turris: By The Numbers
Bike – 5/5 *
From my perspective, the Turris does a great job of trying to fill an unusual niche. This is a bike that's designed for everything. It's got fenders for city riding, mountain bike tires for off-roading, and a powerful motor that lets you go fast regardless of your fitness or experience. 
If you're newer to biking, prefer more upright riding styles, and need a bike that can excel in different situations, the Turris is one of the best bikes around. When you factor in its low price, it's close to a 6 on a 5-point scale.
The issue with the Turris, in my opinion, is that it does too good of a job of finding that middle ground. It's more than adequate for most types of riding – but it's going to be beaten by a more expensive, dedicated bike in any specific category. 
If you don't need a bike that can handle trails, for example, you're going to be better off with a bike with skinnier tires. Likewise, while the geometry is designed to be accessible, the Turris lends itself to a relaxed riding style that might not be ideal for a more experienced cyclist who wants to push themselves while they ride.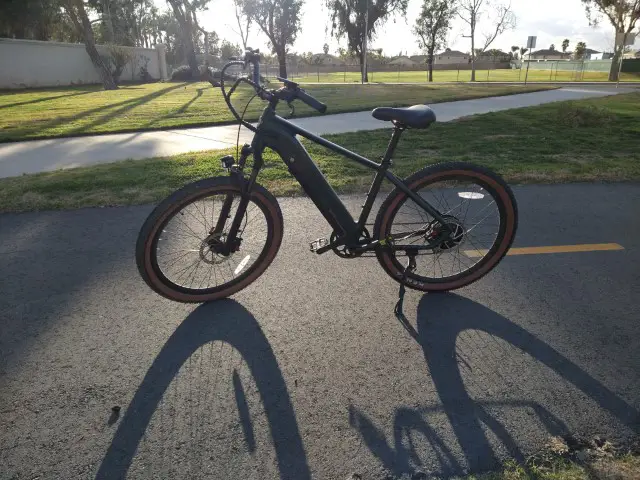 Again, the Turris is good enough at everything that you're not losing out on much. It's cheaper than most of the competition, too, so saying that it's not as nice as a bike that's two or three times more expensive isn't saying much. 
Ride1up Turris
With an upright yet responsive geometry, touring tires, hydraulic brakes, and a powerful class-3 capable motor, the Turris is an all-around comfort ebike equipped to explore and built for adventure.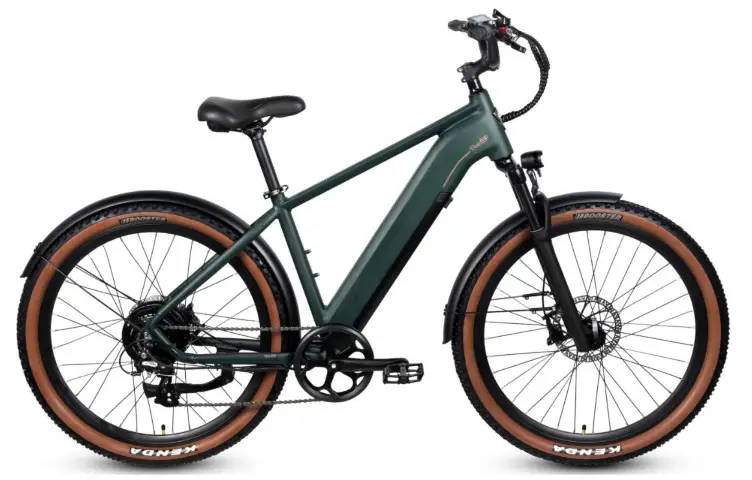 We earn a commission if you click this link and make a purchase at no additional cost to you.
I feel like these factors are more than enough to give the bike a 4 out of 5 for some riders. Average this out with the 6 out of 5 above and you get a meager 5 – a perfect score.
Battery – 4/5
The Turris isn't a super lightweight bike, but it's definitely an e-bike that tries to keep its weight down. The battery offers 12.8 amp-hours of power. Based on my testing, this is enough to get an industry-standard 25 miles out of a full charge on pedal assist 5. You'll find that most e-bikes on the market get very similar ranges. The few exceptions are much heavier than the 57-pound Turris.
Motor – 5/5*
It is hard to emphasize how impressed I was with the Turris' motor when I rode it for the first time. This is a big 750-watt motor on a little sub-60-pound bike. The Turris rockets along to the legal limits (and a little bit past them) with ease.
There is a small caveat here: the Turris' motor is mediocre at best when it comes to torque. I'll expand on this in detail in a bit. For now, let me just say that the torque is not a problem at all for normal riding.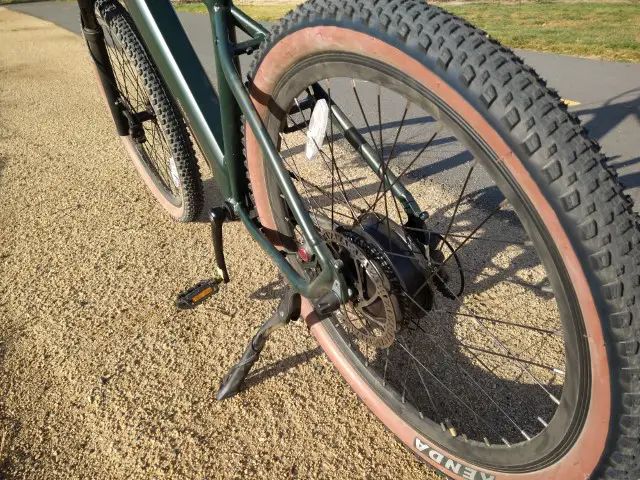 I'm likely only noticing it because I've been deliberately testing a bunch of other e-bikes on the same set of hills. If I'm not pedaling at all, the Turris does 15 mph up the biggest hill in my neighborhood. When I pedal, I can easily keep the speed above 23.
Build Quality – 4/5
The Turris uses the same standard components you'll find on most other direct-to-consumer e-bikes. This includes a Shimano drivetrain, Tektro brakes, and Kenda tires. The frame seems solid and well-made.
Ride1up ships their bikes in a less-assembled state than most of their competition. You'll have to put the fork in, assemble the headset, and even mount the front disc brake. This means that it's more important than usual to plan to have the bike checked by a professional after it's shipped.
I had issues getting the fenders on my Turris to fit. I'm not sure whether this is because it's a very early model (the bike still isn't out yet as this review is written), because I'm bad at reading directions, or because of other factors. 
I live in a very dry climate where fenders are unnecessary so I chose to simply remove them. I don't think that having to bend a fender to get it to fit warrants a drop of more than one point, so I'm sticking with 4 out of 5.
Comfort – 5/5
The Turris is super comfortable for me to ride as long as I adopt a very upright, relaxed riding style. The seat is wide and cushioned and the bike goes very fast with the motor, meaning that I can set things up for comfort instead of biomechanics.
You may note that I'm using language that suggests that I don't want to ride the Turris hard or with a more aggressive riding posture. I am 6'2". If you're under 5'10", then I think you can definitely do these things with the Turris, especially if you're willing to swap the seat out for something narrower. 
I don't think it's fair to ding the Turris' score because I'm unusually tall, so I'm content to leave this score as 5/5. I'll talk about my thoughts on the Turris' geometry in depth a bit later.
Practicality – 5/5
The Turris lacks a rear rack out of the box. I'm not 100% sure what cargo-carrying solutions Ride1up plans to offer on day one, but it's likely that you will be able to find a rack that will fit the bike. Given the incredibly low price of the Turris, I think it's quite reasonable for the bike to come without a rear rack out of the box.
Other than that, I think this is an ideal bike for just about every circumstance. On the road, I found myself passing slow traffic without breaking a sweat. Off-road, it had no problems dealing with some of the gnarlier trails out in the hills by my house.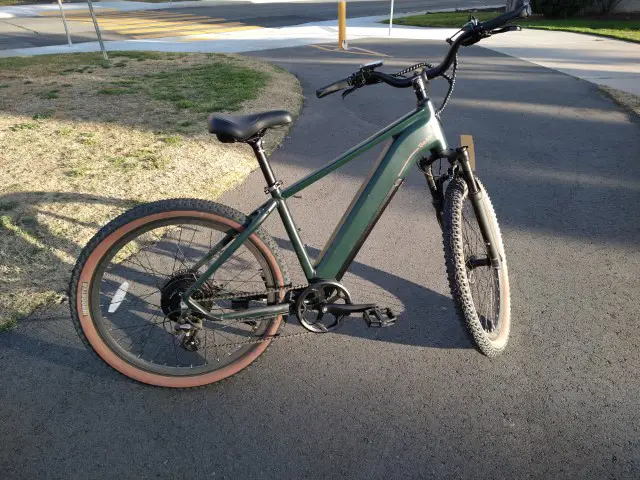 The Turris has enough range to handle a shorter commute on a single charge and is light enough that you can pedal it without help when you need to. The fenders give you the ability to ride through puddles without getting drenched, too, meaning that you don't need to worry about picking up a set before commuting in wet weather (or past overzealous sprinklers).
Ride1up Turris
With an upright yet responsive geometry, touring tires, hydraulic brakes, and a powerful class-3 capable motor, the Turris is an all-around comfort ebike equipped to explore and built for adventure.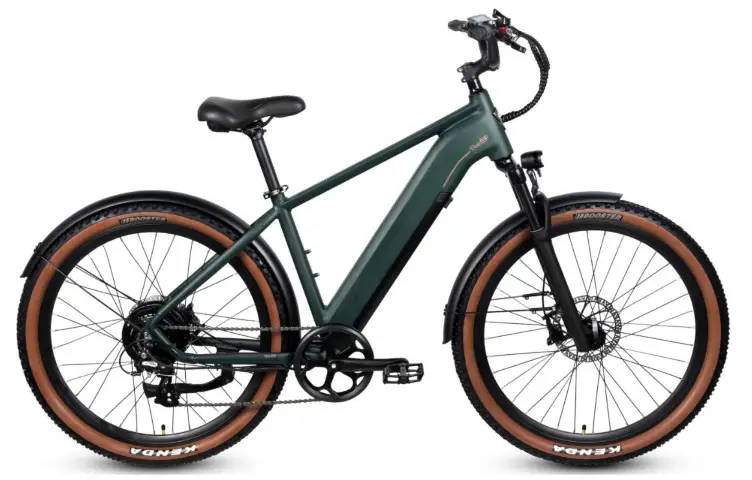 We earn a commission if you click this link and make a purchase at no additional cost to you.
My Detailed, Hands-on Experience with the Ride1up Turris
Unboxing / Assembly
The Turris came in a smaller box than I expected. Ride1up ships their bikes in a somewhat unusual way, requiring you (and me) to do more work to assemble the bike. This helps to reduce prices since the bike can be packed smaller and is cheaper to ship. It also means that you're forced to carefully examine the bike before you ride it, giving you more chances to catch damage caused by the shipping process.
In addition to the things you'd expect, my Turris came with a generous kit of extra parts, a very nice alan key set, a dollop of bike grease, and a beanie.
Before I rode the bike, I needed to: 
put the front fork on, 
assemble the headset, 
affix the handlebars, 
put on the front brakes, 
align the front brakes, 
attach the crank, 
put on the pedals, and 
put on the front fender. 
This went pretty smoothly, other than the last step. The one small pain point I encountered before the fender has to do with the positioning of the display. In order to align the front brake, I flipped the bike over onto its handlebars. I wasn't thinking about the display and scuffed it up a good bit during this process. It's still fine, just scratched.
Both the front and rear fenders for my Turris offered very small amounts of clearance for the wheels to spin. I spent about a half hour trying to figure out how to get the front fender to stay in the right place before I gave up and took it off. 
Having made that decision, I figured I should take the rear fender off as well. I live in a very dry climate and I planned to take the Turris on more than a few bumpy trails, so I figured this was the right decision regardless of assembly difficulties.
Quality (of assembly)
We firmly believe that you should budget for a professional tune-up for any bike shipped to you. Things can get wonky in the shipping process, and while you can probably fix most of them on your own, it's always a good idea to plan for the worst. 
I think that this guideline is even more important for a Ride1up bike. Even if you can get through the initial assembly on your own, taking the bike to get a tune-up after you've ridden it for 25, 50, or 100 miles will let a professional help you with normal maintenance tasks like wheel truing, chain cleaning, and more.
I have had no issues with the Turris or any of its parts. The bike is very well made.
Battery and Range
The Turris has a standard lithium battery in the down tube. It is removed with a key and a latch. The bike has a covered charging port so you can leave the battery in while you charge it, but you can also take it inside or easily switch it out.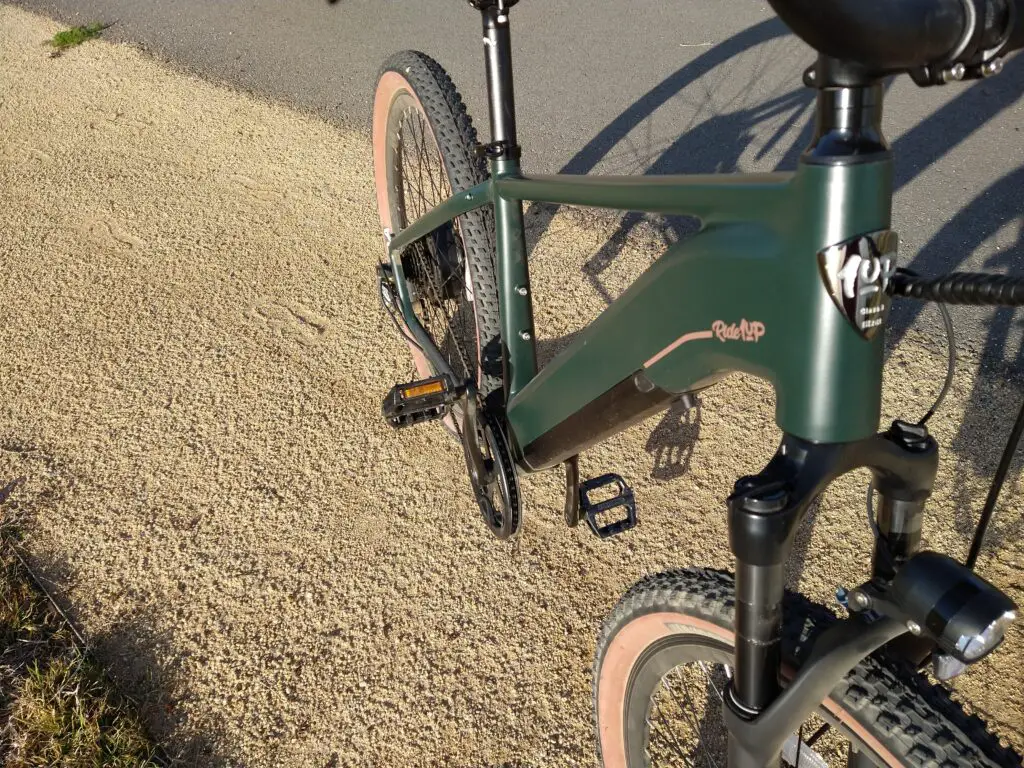 According to my scale, the battery weighs 7.6 pounds. The Turris got a bit over 25 miles in my range test. During the test, I did my best to stick to riding on pedal assist 5 and throttle only, with a few short stints at lower pedal assist levels when I needed to keep my speed down for safety. 
I have no doubts that the Turris can get 35+ miles from a charge if you're willing to use the motor less and do more work with your legs.
Riding
Power
The first thing I noticed about the Turris was its power. The Turris is a light bike weighing 57 lbs with the fenders off, and it took off like a rocket from the end of my driveway. The throttle effortlessly took the bike to 20 miles an hour on flat pavement, then slowly tapered off until the bike was doing nearly 22. 
This is a welcome change to how most bikes approach the legal limit. Instead of giving you a hard throttle cutoff at exactly 20, the Turris gives you a little bit of wiggle room. It behaves similarly around the class 3 speed limit of 28 miles an hour. The Turris will give you a little power between 28 and 30, meaning you won't have a sudden cliff when the bike hits the legal top speed.
The Turris' motor easily surpassed my expectations while riding at higher speeds on flat ground. It feels like one of the fastest and most powerful e-bikes I've ridden. Considering it's one of the least expensive, this is a big deal.
Torque, Climbing Hills
I mentioned earlier that the Turris struggles a bit with torque. This is a very normal thing. Electric motors are great at going fast, but they're bad at delivering torque. You can add gearing to the motor to help alleviate this problem somewhat, but it's not a magic fix.
Ride1up Turris
With an upright yet responsive geometry, touring tires, hydraulic brakes, and a powerful class-3 capable motor, the Turris is an all-around comfort ebike equipped to explore and built for adventure.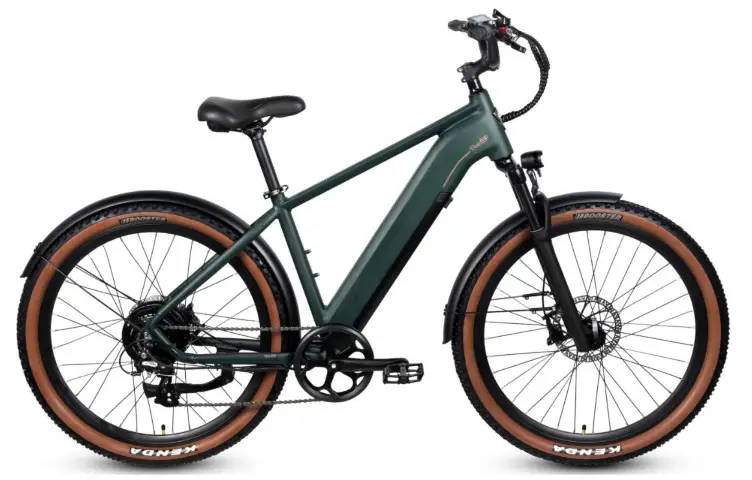 We earn a commission if you click this link and make a purchase at no additional cost to you.
If you give the Turris a tiny bit of help when you start, the motor feels incredibly powerful. When you use the throttle alone at lower speeds, however, the bike feels more average. The motor feels noticeably weaker when you're going slower. At 16 miles an hour, the bike will effortlessly take itself to 20. At 10 miles an hour, the bike's motor seems comparatively sluggish.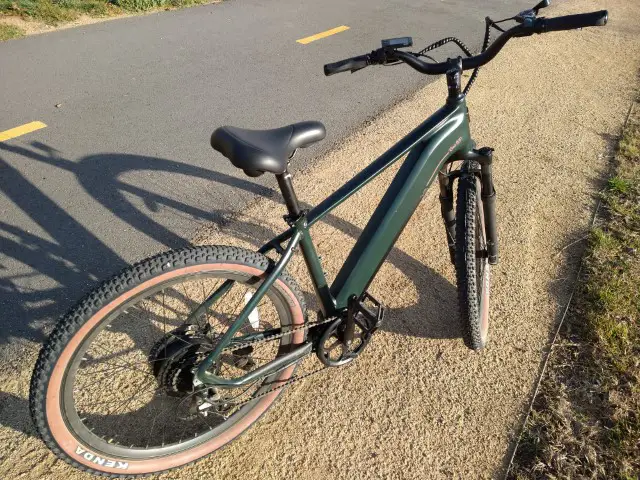 In terms of hill climbing performance, the Turris performs stunningly well on mild inclines. On the hilly road I've been using for testing, the 750-watt Turris never dropped below 15 miles an hour on throttle alone. It maintained more speed in the flatter section of the hill than I expected, but it felt like it would have struggled to maintain its low speed of 15 miles an hour if the steep section had continued. 
With help from me on pedal assist level 5, I was able to climb the same hill without dropping below 22 miles an hour. The motor was definitely doing a lot of work here. While I was putting in a nontrivial amount of human effort, it felt like my legs were able to keep the motor in a power band where it was happier.
The Turris' mountain bike-style tires have allowed me to do some (very unfair) off-road tests to explore the bike's hill-climbing abilities further. There's a mixed-use soft dirt trail near me that's got a lot of very short, brutal hills that are quite difficult without an assist motor. 
The Turris was able to deal with these on the throttle alone, but it got down to 8 miles an hour at several points.  When I work with the Turris' motor, I'm able to crest the hills at speeds well into the mid-double digits. 
A bit beyond the maintained trail, there's a local hill with some rough off-road trails. I had a lot of fun exploring these with the Turris. I knew that the bike would be able to help me get back home no matter how tired I became, so I was a lot more comfortable exploring beyond my normal limits. 
Some of these trails featured inclines that unfairly challenged the Turris' torque. At one point I found myself doing 4 miles an hour in pedal assist 5 despite standing up and adding a lot of human effort. 
I want to be clear here: the above tests are ludicrously unfair to the Turris. You are likely not going to be going up 25-degree dirt inclines on a regular basis. Even if you are, due to limitations on how electric motors work, very few (if any) e-bikes can handle that sort of thing gracefully. 
My point here is not to bash the Turris, but rather to ensure that you have realistic expectations. Ride1up has elected to optimize for top speed rather than torque here, which is fine, but it's definitely something you should know before you buy the bike.
I've been going up and down these same trails on the last several e-bikes I've reviewed. I'd like to offer the following comparisons to contextualize the above tests. First, the Turris' motor and light weight allow it to go noticeably faster on flat ground than the 750w Zebra or the 350w Soltera. It gets to 20 (or 28) incredibly fast as long as you don't linger at low speeds without adding just a bit of human help.
Second, the Turris' motor feels less torquey than the 350w Soltera. The Turris still goes faster on mild hills, but the Soltera didn't drop below 16 on the same hill that the Turris struggled to maintain 15. This isn't a huge difference by any means, but it's a good reminder that nominal wattage is a limited metric.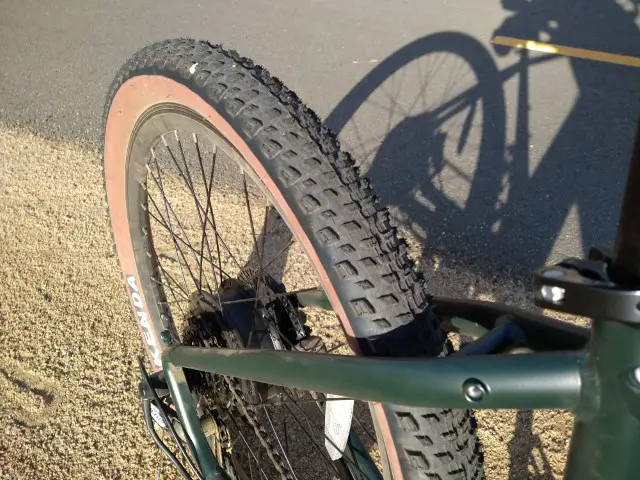 Bear in mind that the Soltera takes considerable human effort to hit 24 miles an hour, however, while the Turris can do 30 on flat ground with a surprisingly small amount of help from me.
So, should you avoid the Turris if you live in a hilly area? In my opinion, the answer is no. I think that the Turris' price is low enough to compensate for any mild torque issues. I also think that the motor delivers more than enough raw power to get you where you need to go at reasonable speeds, even without help. 
The Turris (and just about every other e-bike) will work a lot better if you're willing to help it out with your legs while you're climbing up steep hills. If you're willing to keep the wheel spinning so the motor can live in its optimal power band, you'll fly up hills with no problems at all.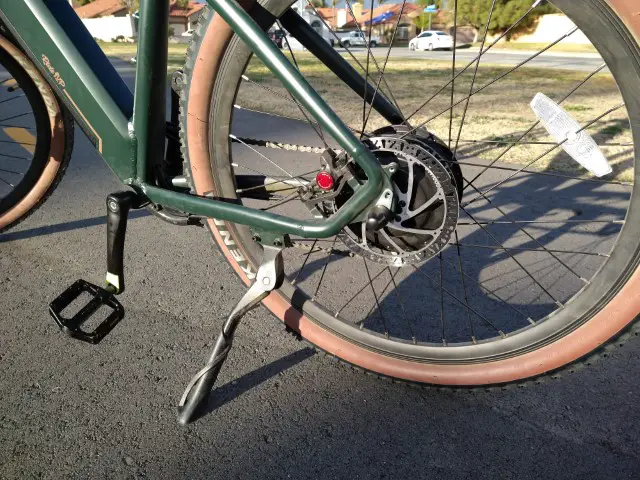 Accessible, Comfortable
The Turris is a bike that's very comfortable to relax on. The seat is wide, cushioned, and quite comfortable to sit on for long periods of time. While the frame is a bit small for me, I found that dropping the seat and sitting totally upright was quite enjoyable. 
The bike's powerful motor means that I haven't felt compelled to push out a lot of human power very often, so I haven't minded the lower seat as much as I thought I would.
I mentioned above that I'm on the taller end of the spectrum. At 6'2", I'm almost never the tallest person in a gathering, but I'm definitely taller than most people I meet. I think that the Turris' frame is a couple of inches too small for me, meaning it's probably perfect for anyone who's 5'10" or below. 
Ride1up Turris
With an upright yet responsive geometry, touring tires, hydraulic brakes, and a powerful class-3 capable motor, the Turris is an all-around comfort ebike equipped to explore and built for adventure.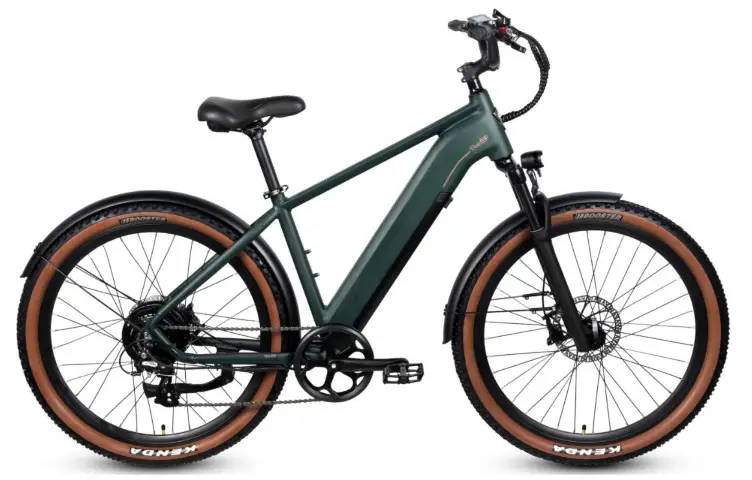 We earn a commission if you click this link and make a purchase at no additional cost to you.
Considering how comfortable I managed to make myself, the bike is probably fine if you're a couple of inches taller – as long as you don't expect an aggressive riding position.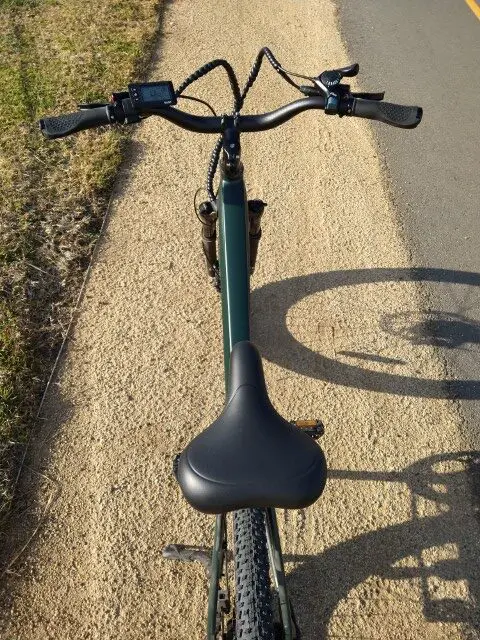 The Turris was especially convenient for me when it came to convincing other people to go on rides. My friends are shorter than me, ride bikes less often, and in some cases have back or neck issues that cause them to prefer upright riding positions. In other words, the Turris is perfect for them – and they've loved it. 
I did not hear a single negative thing about the Turris, only surprised comments on how comfortable and accessible the bike was.
The Turris is totally great if you're a more experienced biker, too. The bike has been excellently designed so that it can be used by just about anyone for any style of riding. 
I found myself standing up whenever I was pedaling hard in order to get my legs clear of the wide seat, but this is definitely a thing that you can fix by simply slapping a different saddle on the bike. Alternatively, you can take advantage of the bike's powerful motor and keep your level of effort to a minimum. 
Pedal Assist, Controller, and Throttle
The Turris has a very straightforward pedal assist. At pedal assist 1, the motor gives you a little bit of added boost, no matter how fast you're going. At pedal assist 5, the motor gives you a lot of added boost, no matter how fast you're going. Many other cadence-sensor e-bikes have pedal assists that control the speed at which the motor cuts off, not its effort level.
The Turris' control style means that you can set your level of effort quite precisely. On the other hand, it also means that you have to adjust things with both hands. There are definitely pluses and minuses to both styles of pedal assist. 
While I appreciated the control offered by the Turris' assist levels, I think that the bike's lack of low-speed torque means that it feels like the motor isn't doing much at lower speeds on lower assist levels. I found myself holding down the throttle at low speeds a lot more than usual.
Speaking of the throttle, I have a sneaking suspicion that the Turris' controller doesn't give you full power at low speeds on PAS 5 alone. It feels like jamming the throttle down helps the bike accelerate faster below 15 miles an hour or so.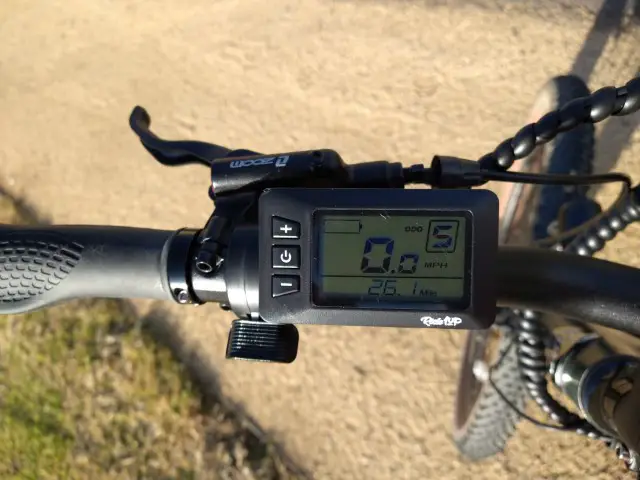 The Turris has a thumb throttle on the left-hand side. I found it quite comfortable to use. I think I prefer these thumb throttles to twist throttles by a big margin.
Components
The Turris felt great pretty much all of the time. It's worth noting that the trails I was riding on in the hill climbing section were fairly rough. The Turris handled everything great. The tires felt grippy, the front fork put in a lot of work to keep my ride stable and comfortable, and the brakes handled everything I threw at them.
Ride1up Turris
With an upright yet responsive geometry, touring tires, hydraulic brakes, and a powerful class-3 capable motor, the Turris is an all-around comfort ebike equipped to explore and built for adventure.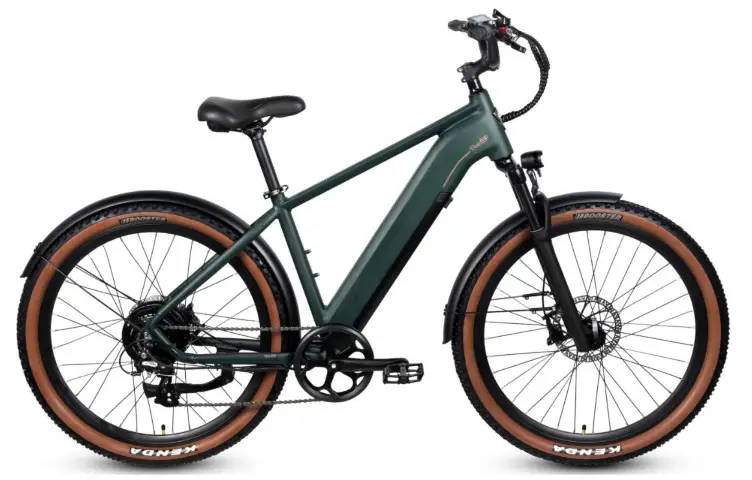 We earn a commission if you click this link and make a purchase at no additional cost to you.
As far as raw componentry goes, the Turris is best described as being bland and standard. The brakes, drivetrain, and tires are all very normal direct-to-consumer e-bike fare. While I prefer the lever-and-button shifter on the Turris to many of the other entry-level Shimano shifters I've used, it's not that big of a departure.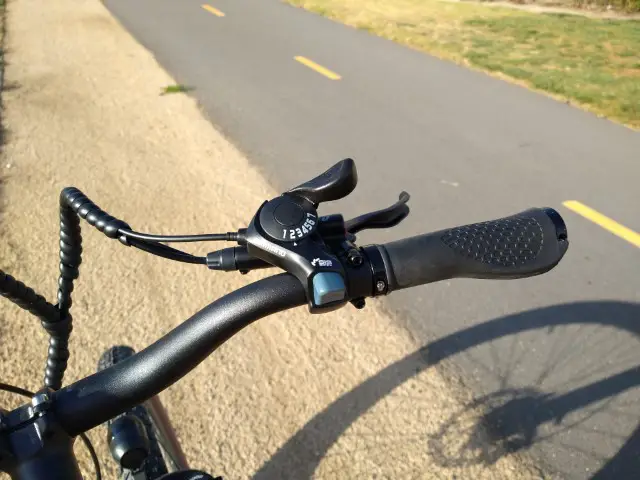 You're not getting anything better or worse than what you'd find on other bikes, you're just getting it a lot cheaper.
Conclusion
I think the Turris is a pretty darn perfect starter bike for a lot of people. It's fast, powerful, and reasonably light, meaning that you'll get to have lots of fun zooming down roads and trails at lightning speed, no matter what your fitness level is. 
It's got tires that perform great in off-road conditions while staying skinny enough to go fast on roads without a lot of effort. While the battery, range, and components are all average and unremarkable, they offer the exact same performance as most other e-bikes in the field, and the Turris is incredibly cheap for its specs. 
This is one of the cheapest 750-watt e-bikes I've seen, let alone from a US-based company.
So who isn't the Turris for? I think there are a couple of categories of people who should look further than this bike. First, if you're an experienced biker who's used to bikes with aggressive riding positions and you like using your legs a lot, the Turris might not be the best choice.
This goes double if you're tall. The Turris' high handlebars, wide seat, and short reach make it accessible to lots of people, but it's definitely not set up to be a bike for people who prefer aggressive riding positions.
Second, if you're looking for a dedicated trail bike or a dedicated city bike it's worth looking beyond the Turris and examining other options. There are a lot of very good dedicated e-bike commuters that are going to outperform the multipurpose Turris, including the Ride1up 700 series. 
Similarly, when it comes to tough trails, you might want oversized brake rotors, a better fork, and a dropper post. The Turris can serve as an entry point, but it's not going to compete with more specialized bikes for specific types of riding.
For me, the thing that impressed me with the Turris was not its price, its specs, or its speed. Instead, it was how quickly it was able to show my friends how fun electric bikes could be. A single long ride on the Turris has been enough to win people over and sell them on the idea of e-bikes. 
It's simple, comfortable, and fantastically fun, making it a perfect bike to introduce anyone to the hobby.
If you're looking for an entry-level e-bike, I think the Turris is one of the best choices on the market today. The bike's versatility, the amount of fun it provides, and its incredibly low price make it a great option. Throughout my experience with the bike, I've remained thoroughly impressed with how well the whole thing meshes together to produce a brilliant riding experience.