Between cycling's recent surge in popularity and advances in both battery and motor technology, e-bikes are becoming faster, lighter, and more affordable than ever. 
For bike commuters in hilly cities, outdoor riders who want to zoom over light trails, and cycling enthusiasts who just want to go fast, e-bikes are a wonderful option that makes cycling an almost effortless experience.
The RadCity 5 Plus, Aventon Level, and Ride1Up 700 are all similarly priced midrange e-bikes that are perfect for a daily commute. With ranges of 30-50 miles, cushy 27.5″ wheels, front suspension, 48V 14 aH batteries, and included fenders for high-speed city riding, they're all very comparable at first glance. 
So which one should you choose?
Electric bikes built for everything and priced for everyone. Shop Rad Power Bikes, America's #1 electric bike brand. Get out. Go further. Ride Rad.
About The Bikes
RadCity 5 Plus
The latest improvement on the RadCity platform, the RadCity 5 Plus is a reliable choice from a reputable brand. A dedicated class-2 e-bike, the RadCity 5 Plus offers incredible quality in both build, design, and materials while bringing plenty of quality-of-life features.
RadCity 5 Plus
Reimagine your ride with the all-new RadCity 5 Plus! Getting around on this comfortable, European-styled electric city bike is so easy and so fun, you'll choose it over your car. Every time.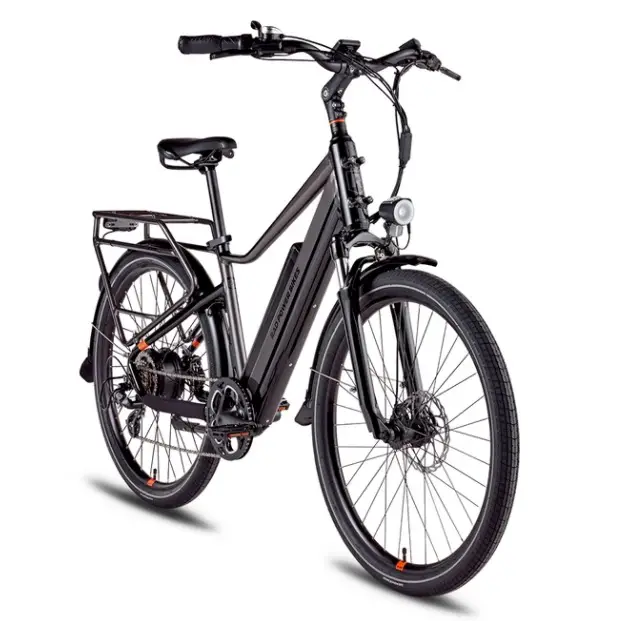 We earn a commission if you click this link and make a purchase at no additional cost to you.
Aventon Level
A beautiful e-bike with multiple frame sizes, the Aventon Level offers some class-3 functionality while pedaling. A powerful 750W peak power motor gives plenty of oomph for hills, while 75mm of front suspension travel keeps roads feeling smooth.
Aventon Level.2
An upgrade to Aventon's flagship commuter ebike, Level.2 is as innovative as it is efficient. A fully integrated battery, four integrated lights, and a front suspension fork provide ultimate comfort and safety no matter the terrain or time of day.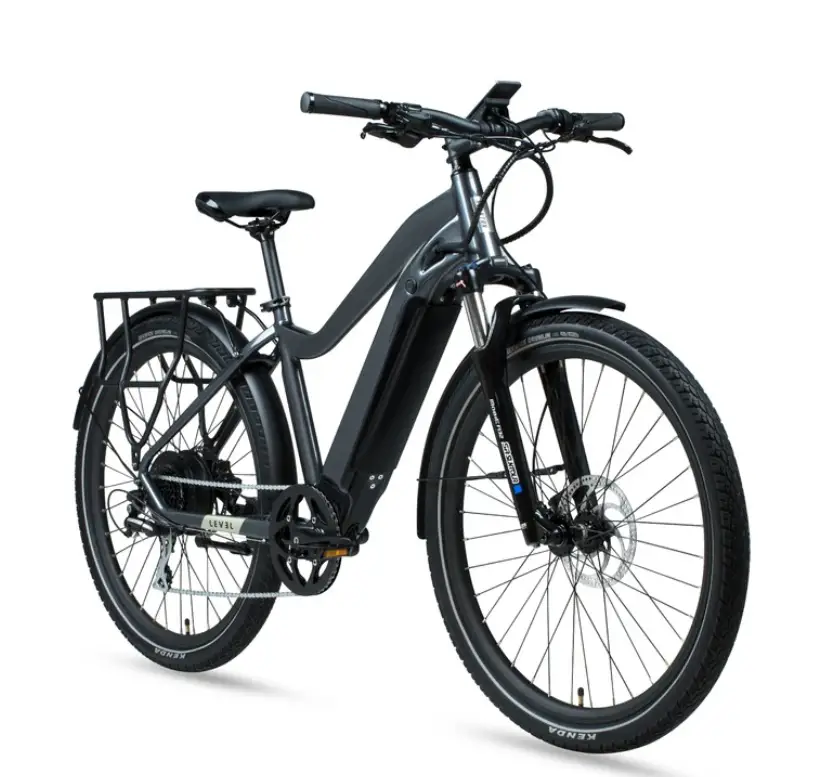 We earn a commission if you click this link and make a purchase at no additional cost to you.
Ride1Up 700
The cheapest of the three options here, the Ride1Up 700 somehow comes loaded with features like lights, fenders, and cargo racks. Only one frame size makes it less comfortable for some riders, however.
Ride1UP 700
An excellent electric biking experience. Hydraulic fork, hydraulic brakes, color display, 14 ah Samsung cells, Schwalbe Super Moto X tires, fully integrated aluminum frame.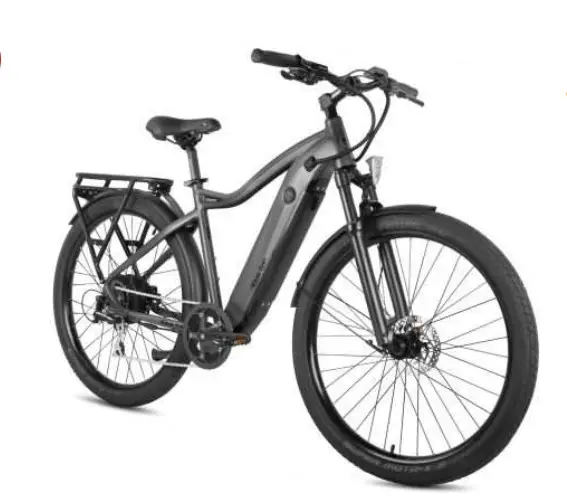 We earn a commission if you click this link and make a purchase at no additional cost to you.
Weight, Design, and Build Quality
E-bikes can be heavy. These three bikes are no exception. Between the motor, the battery, and accessories like fenders and cargo racks, all three bikes weigh between 62 and 65 lbs. The difference in weight is smaller than a big water bottle, meaning it probably shouldn't be a big factor in your decision.
As far as base design goes, all three bikes look similar enough that you could easily get them confused from a distance. 
All three bikes have front suspension forks, removable batteries, and similar frame styles, even down to the Nike-swoop-styled top tubes. Despite their low price, the frames are sturdy, supporting riders with a modest amount of cargo with ease. 
All three bikes use the same 6061 aluminum alloy for their frames, meaning they should have very similar strength and longevity.
While the battery goes in the same place on all three frames, it's fully shielded by the frame on the 700, partially exposed on the Level, and most exposed on the RadCity 5. This contributes to the frame seeming a bit bulkier on the 700 and the Level, although the difference is minor.
The RadCity 5 and the 700 are offered in a single size. The Level, on the other hand, comes in small, medium, and large, enabling it to better accommodate riders of different sizes.
Aside from subtle frame and sizing variations, the biggest difference between these three bikes involves the suspension forks. 
The Ride1Up 700 has an impressive 100 mm of travel on its front fork, giving riders the best of both worlds in terms of comfort and efficiency. The Aventon Level offers 75mm of travel, while the RadCity 5 Plus offers 50mm. 
All three bikes have a lockout feature, enabling riders to lock the forks in place for more power and control on smooth terrain.
Components
Global supply chain disturbances continue to affect bicycle manufacturers around the world. In some cases, bikes may not come with the exact same components, as manufacturers will sometimes choose to give you better parts and ship their bikes sooner rather than waiting for the "correct" component to arrive.
The Aventon Level and Ride1Up 700 have the same Shengyi Motor 500W electric motors. Both have peak outputs of 750W and can reach 28 mph on flat ground while the rider pedals. 
The RadCity 5 Plus has a unique Rad Power-manufactured motor that's somewhat stronger on hills but is electronically limited to 20 miles per hour, no matter how fast you pedal.
All three bikes offer hydraulic disc brakes, although only the RadCity 5 comes with ceramic brake pads. 
The RadCity 5 has a 7-speed Shimano Altus derailleur, which is arguably slightly nicer than the 8-speed Shimano Acera derailleurs on the Aventon and the Ride1Up. Likewise, the RadCity 5 has an 11-34 tooth freewheel, while the Level and the 700 have 12-32 and 11-30 cassettes respectively. 
Overall, the RadCity has a very, very slight edge in components. You're unlikely to notice these differences while riding, but if everything else comes up equal, pick the RadCity 5.
As far as accessories go, all three of these bikes are well kitted from the outset. You get fenders and a rear rack by default on all of the bikes, enabling you to commute with a bit of cargo with a greatly reduced risk of kicking mud up on your clothes. 
The Aventon Level lacks a light, which is somewhat surprising for an e-bike of this price range, but it's definitely something you can add on yourself for a few bucks after you purchase the bike.
The Aventon Level has a button-based controller for 5 levels of pedal assist and a throttle lever you control with your thumb. It's available in two versions, one which requires a pedal stroke to begin to provide power and one which does not. 
Similarly, the Ride1Up 700 has a left-side thumb throttle and a couple of buttons that sit on the right-side LCD screen. 
The RadCity is unique in using a half-twist throttle to complement its buttons, found on a lighted battery indicator panel. Just like in most other metrics, it's a bit more fun to ride than the other two bikes, as you can control the bike's speed without using your thumb.
While the Level and the RadCity use older backlit displays for their speedometer, the Ride1Up 700 has a colorful LCD display with some fancy metrics. 
This probably isn't a big deal for most riders, as you can mount your phone on your handlebars for full-color GPS, but it's a nice added feature from the cheapest bike of the bunch.
Range and Speed
While the RadCity 5 Plus has a max speed of 20 miles per hour, the motor is quite possibly the strongest of the three. It seems to perform noticeably better on steep hills without pedal assist. 
In practice, the motors on all three bikes should be quite comparable, as you're unlikely to go up half-mile stretches of hill without pedaling at all. 
Consumers can theoretically disable the 20 mile-per-hour governor, although this runs afoul of both their warranties and some local legislation.
The Aventon Level and the Ride1Up 700 have the same Shengyi Motor 500W motors, with up to 750W of power during peak performance. They're electronically limited to 20 miles per hour without human help and 28 miles per hour with it. 
This makes them faster out-of-the-box, but it also makes them subject to some local regulations that the RadCity 5 Plus dodges.
Gearing-wise, all three bikes are quite similar. 
While the 700 has a slightly smaller chainring (45 tooth vs 46) the smaller cassette in the back makes the gear ratios almost identical. 
The RadCity 5 is notable in having the biggest range of gearing despite having one less speed than the other two bikes, making each shift more meaningful. Combined with the unique motor, this should give you faster and smoother rides than the other two bikes.
The range on e-bikes is difficult to measure, as the amount of time you spend pedaling, your weight, and the terrain of your ride will have big implications on how long your battery lasts.
 All three bikes have very similar lithium batteries, offering 48 volts of power for 14 amp-hours. The manufacturer-listed ranges are quite similar, ranging from 30-50 miles. 
None of the motors seem more efficient than the others, and with very similar weights and no fancy features like regenerative braking, you'll probably get very similar ranges out of all three bikes.
Final Verdict
Overall, there are two standout conclusions that we can draw between the RadCity 5 Plus, the Aventon Level, and the Ride1Up 700. While all three bikes are excellent e-bikes that won't let you down for commuting or pleasure riding, the Ride1Up 700 is definitely a bit cheaper than the other two. 
Despite its low price point, it's fully loaded with features and has great build quality, making it the best choice on a budget. Be sure to actually check the prices on the other two, however, as online sales might change this comparison. 
All three bikes are close enough in terms of features that you're totally safe to choose the cheapest one if budget is a concern.
If you're not concerned with budget, however, the RadCity 5 Plus is probably the bike to choose. It's got a number of very slightly nicer features, including a half-twist throttle, ceramic brakes, a wider gear range, and a more reliable derailleur. 
The motor is different and seems to perform better on hills, giving you a bit more help during the times when you need it most. The RadCity5 Plus isn't very much more expensive than the other two, meaning you won't pay a lot of extra money for these features. 
They are, however, very slight, and while you might notice them while you ride, it's totally understandable if you don't think they're worth several hundred dollars.
Finally, if you frequently ride on rough terrain, the Ride1Up 700 has the most travel in the front fork of all three models. The Aventon Level comes in a close second, but the RadCity 5's 50mm of travel may feel inadequate on rough streets or mild trails.
If you're not going to stick to smooth concrete, consider the Ride1Up 700 over the other two bikes.
Again, these bikes are very similar. Feel free to choose your favorite frame design or make your choice based on subtler features like the controls, displays, or how the battery fits in the frame. No matter which bike you choose, you'll get a wonderful machine that will be a dream to ride.