I've had my hands on a 7-speed Soltera for about two weeks now, and I've been looking for as many excuses as I can to ride it. The Soltera is an incredibly fun bike that gives me total control over my rides. It's been brilliantly designed to make it feel like a normal bike while backing you up with a surprisingly powerful electric motor.
The Aventon Soltera is a simple, light bike designed for rides on the pavement. I'll give you a comprehensive breakdown of the bike's features, what my experience was like, and what factors might influence your purchasing decision.  We'll start off with a quick overview and then go over my experience in detail so you can get an accurate picture of how the Soltera stacks up.
Soltera Ebike by Aventon
A sleek, single-speed electric bike (also available in a 7 speed) that is nimble and powerful enough to weave through the jungles of the city yet lightweight enough to carry up a flight of stairs after a day's work.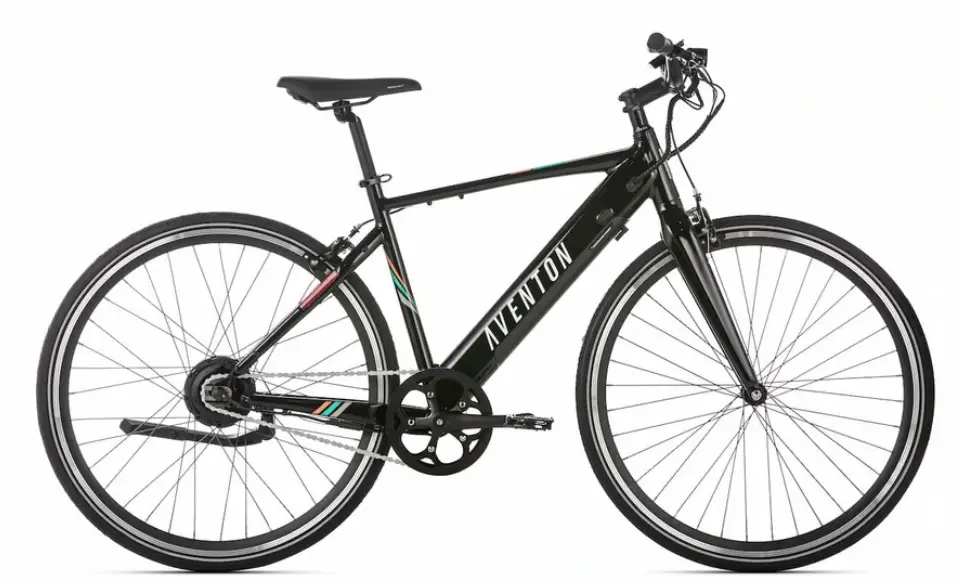 We earn a commission if you click this link and make a purchase at no additional cost to you.
| | |
| --- | --- |
| Ride1Up Turris | |
| Max Speed | 20 mph (can be increased to 25 mph) |
| Motor | 350W |
| Battery | 9.6 Ah |
| Brake type | Mechanical disc brakes |
| Range on Max Pedal Assist | 25+ miles |
| Class | Class 2 (comes with throttle) |
| Weight | 43 lbs |
| Carry Capacity | 300 lbs |
| Tire | 35mm |
| Price | $1,199 (for +$100 you can get fenders and a rear rack) |
| Included in the price | fenders, front, and tail lights, heavy duty kickstand |
This Soltera was sent to us by Aventon to review. We are not under any obligation to be positive here, however, so I'm free to share my unfiltered opinion of the bike. In other words, this is an unbiased review. I will not hold back any negative opinions.
If you're looking to purchase a Soltera and you find this review helpful, it would be a big help if you could use our link below. If you find this review helpful in the other direction (if you decide the Soltera isn't the right bike for you), be sure to check out the other reviews and resources on our site. 
You can find our review of the best electric bikes for adults here
You can find our review of the best 750 Watt electric bikes here
You can find our review of the best Class 3 electric bikes here
We've spent a lot of time riding, researching, and comparing e-bikes of all sorts, so we'll be able to point you in the right direction and help you find the best bike for your needs and budget.
So, without further ado, here's how I rate the Soltera in the most important categories:
Aventon Soltera: By The Numbers
Bike – 5/5
I genuinely could not ask for more from the Soltera's general design. It's a simple, lightweight bike designed for fairly upright city riding. The frame looks nice, with tasteful lines and solid color choices. I was pleasantly surprised to find integrated rear lights when I went riding at night as well as a built-in bell. 
It's clear that Aventon's team put a lot of thought into making a bike that's convenient to use while being as light as possible. So how light is that? My scale thinks the Soltera is 45 pounds with the battery in. You can find non-electric bikes at your local bike store that are heavier than this.
The result is a bike that feels just as fast and nimble as a standard bicycle while giving you a huge amount of power on demand. The bike feels almost effortless to pedal, even with the motor off. I'm quite happy riding the Soltera around at 20+ miles an hour without any electronic assistance.
Battery – 4/5
The Soltera has a fairly small 9.6 amp-hour battery. It's located in the down tube and can be removed quite quickly with a turn of a key and the press of a lever. 
On one hand, this battery is quite light. It weighs 5 pounds according to my scale, which helps keep the overall weight of the bike down. On the other hand, the battery's small capacity means that the Soltera doesn't have a huge amount of range – by some metrics. This is a bike that I enjoy pedaling, so my effective range is determined by my level of effort more than the bike's battery.
I'm giving the Soltera's battery a 4-star rating here because I think 5 pounds is a very arbitrary cutoff. Don't get me wrong, I love the Soltera's lightweight, but I don't think that a 7 or 8 or even 10-pound battery would have ruined the bike. I think adding two or three pounds to fit in a battery with 50% more capacity would be a reasonable tradeoff. 
Motor – 5/5
The Soltera has a 350-watt sustained rear-hub motor. This sounds underpowered when compared to the "750-watt" behemoths you'll find on some competing e-bikes, but remember that the Soltera is light and has skinny road tires with very little rolling resistance. It doesn't need a lot of help to go fast.
The Soltera's controller is designed to give you power slowly. It's got a very smooth, gradual application of power in all assist modes. This is a big departure from some other e-bikes. It goes  a long way towards helping the bike feel like you're in control, however, as you don't get a sudden burst of power in pedal assist 5.
The Soltera can get to 20 mph on the throttle alone on flat ground. The bike takes some time to reach this speed. I'm pretty sure that most of this delay is the result of the controller gradually applying power and not the maximum output of the motor. 
Without any help from me, the Soltera maintained a speed of 16 mph up the steepest hill in my neighborhood. With minimal help from me, the Soltera was doing between 22 and 24 miles an hour after I raised its internal speed limit.
Build quality – 5/5
The Soltera has very standard e-bike components, from the Shimano Tourney derailleur to the Tektro disc brakes and LG battery cells. The frame is solid and well-built, and the overall fit and finish of the bike seem excellent.
Comfort – 4/5
The Soltera is very comfortable to ride, with one small caveat: the bike doesn't have a front suspension fork. The Soltera definitely does not need a suspension fork for the kind of riding it's designed for, but I'm also used to taking on the rough pavement patches on my normal riding routes with the assistance of front suspension. 
Perhaps I'm spoiled, but I definitely noticed the difference in ride quality on imperfectly maintained pavement (and when riding off curbs).
Honestly, I'm not sure if I would prefer the Soltera with a front fork. The omission here is a weight-saving decision I can get behind. I do think it's appropriate to give the bike a 4 out of 5-star rating here, however, as you'll feel the bumps in the road a bit more.
Practicality – 4/5 *
For me, the Soltera is an incredibly practical bike that's well deserving of a 5/5 rating. I am very happy with how fun the bike is to ride, how fast it goes, and how easy it is to lift when putting it on a bike rack or maneuvering it through a doorway. The small battery charges super quickly, too, letting me go on back-to-back rides with minimal downtime.
I am not everyone, however, and I recognize that my biking habits aren't necessarily the same as yours. The Soltera does not come with a rack or mudguards. These accessories would make the bike heavier in exchange for giving you a lot more flexibility in terms of usage.
I generally don't need to carry anything on my bike that won't fit in a backpack, and I'm used to working within that set of constraints, but having a rack makes it much easier to carry a stack of textbooks or a takeout order, or even heavy groceries. Similarly, mudguards make riding in the rain much less messy.
You can purchase cargo-carrying solutions and fenders for the Soltera from Aventon. The bike does not come with them by default, however, so I feel it's appropriate to give the bike a 4 rather than a 5 for practicality. Can you commute on this bike? Absolutely, and you'll have a blast doing it. You just might want to shell out for some extra stuff.
Detailed, Hands-On Experience
Unboxing/Assembly
The Soltera is light enough that I was shocked to find the delivery driver literally threw the package on his shoulder to walk it to my door. 
Inside of this package, the bike was solidly protected by layers of foam and a few plastic doohickeys on top of the more sensitive components. I found assembling the bike by myself to be quite easy. 
I needed to put on the handlebars, pedals, and front wheel. Aventon included an alan key set and a wrench in the box, making assembly mostly tool free. Frustratingly, one of Aventon's alan keys had a little dollop of metal protruding from the end that rendered it unusable in tight-fitting sockets. 
This was only an issue with one of the several keys, however, and I definitely have a few spare alan key sets around the house. 
Aventon included a small package of bike grease in the box and a spare derailleur hangar. This is a very nice inclusion. E-bikes from other manufacturers often instruct you to lube parts as you assemble the bike and just assume you have bike grease lying around. 
Aventon includes the stuff it wants you to use. Similarly, derailleur hangars often get warped in transit, so having a spare ensures that you've got a backup if yours breaks while you adjust it.
I had two issues related to assembly. First, the front brake calipers were quite misaligned after I got the wheel on. I was able to manually align it without too much trouble. 
Shipping bikes is an imperfect process and I strongly recommend budgeting for a professional tune-up for similar issues that may occur during shipment. You'll likely be able to iron out most issues yourself, but it's a good idea to plan for the worst.
Second, there was a plastic protector attached via c-clamp to the freewheel that snapped when I tried to remove it. Aventon acknowledges that this is a common issue in their instructions and suggests carefully removing the clamp with a pair of pliers. This took me longer than the rest of the assembly process. 
The plastic protector on my Soltera had the structural integrity of a crayon. Tugging on it with any force resulted in me ripping off bits of the plastic. I eventually gave up removing the clamp in any conventional way and simply tore off pieces until it fell off of the hub.
Quality
I mentioned this above, but I was pleasantly surprised by a handful of features on the Soltera when I saw them in person. 
The rear lights are a nice touch, the display was much nicer than I expected from an e-bike at this price point, and I genuinely prefer the twist-shifter to lower-end paddle shifters found on other e-bikes. 
After aligning the front brake calipers, I have encountered zero issues with the bike.
Battery and Range
The Soltera has a small, light battery. It's got a maximum capacity of 9.6 amp-hours and weighs about 5 pounds. The battery can be removed, but it's light enough that I'm not super concerned with the extra weight, even if I'm not planning on using the motor. It charges quite quickly, reaching 100% from 0 in under 5 hours.
Aventon is probably the best in the industry in terms of advertising real-world ranges. From 100% charge, I got 25 miles from the bike while doing as little work as I could in pedal assist level 5. 
I definitely pedaled about half the time in an appropriate gear, but I deliberately kept my effort to a level where I could comfortably maintain a conversation. 
I also did a bunch of testing that resulted in non-standard riding during these 25 miles, including throttling the bike to 20 and then slamming on the brakes repeatedly and riding the bike up hills on the throttle with no help from me. 
The battery has been draining much, much slower on subsequent rides, as I'm enjoying the motor's boost without relying on it as much. I've been keeping the battery charged between rides as recommended to extend its lifespan, but some rough math suggests that if I keep riding at my current personal power contribution, I'm looking at closer to 60 miles per charge.
The Soltera's display gives you the battery level as a percentage while you ride. I stopped my range test when the battery hit 0%, expecting it to be dead. As soon as I stopped the bike, however, the battery meter popped back up to 8%, then crept to 9%. 
While riding, the battery level did not display this level of inconsistency, but it did jump around when I started and finished rides under a variety of circumstances. This is congruent with my understanding of the way batteries work, but it's also a bit odd that whatever logic Aventon's display uses to guess at the battery's charge level doesn't smooth out these jumps. 
Riding
Lightweight, Fast
Aventon has pulled out all of the stops when it comes to decreasing the weight and rolling resistance of the Soltera. The bike wants to go. I have turned off the pedal assist, forgotten about it, and thought that the bike's motor was assisting me more than once. It's fantastically fun to ride, with or without the electric assist.
The bike is quite reasonably geared. I have no trouble starting the bike up hills in lower gears, while the higher gears allow me to get the bike up to about 30 miles an hour. The motor cuts off at around 24. 
The Soltera uses a very basic Shimano Tourney 7-speed drivetrain, which is very commonplace and very unremarkable. You'll have no issues finding parts or maintenance resources for the non-electric parts of the Tourney's drivetrain.
There's a subtle, creeping misconception about e-bikes that the electric motor is for people who are less fit. This is not the case. Don't get me wrong, motors are great at making bikes more accessible to people of all fitness and ability levels. 
The misconception here is that they're *only* good for people who aren't in good shape. I don't think this is true at all. I think that the inclusion of an electric assist on a bike is super useful for riders who are enthused about adding human power to the pedals. 
The Soltera is fast and fun without its motor. With it, you can fine-tune your level of effort on the fly. If you're after some light cardio, you can spin the pedals for an hour or two while still zooming along with very little effort. 
If you're trying to get a more intense workout, you can simply pedal at your desired level of intensity and let the motor kick in whenever the bike is slowed by a hill or headwind. My favorite part is my ability to ride hard for a long time without worrying about budgeting my stamina. 
The battery on the Soltera means that I can still maintain 20 miles an hour, even if I'm completely out of gas myself.
How Powerful Is The Soltera's 350-Watt Motor?
The Soltera has a rear hub motor with 350 watts of nominal power output. There's a fair bit of intentional fudging with this number. It essentially means that the motor's manufacturer suggests keeping the output below 350 watts if you're running it for a long time. 
In reality, most modern controllers and motors can work together to deliver bursts of power well over their nominal output.
You'll find a lot of sources online saying that the Soltera isn't super powerful. They're lying. The motor is ridiculously powerful. When both bikes were operating on their throttles alone, the 350-watt Soltera climbed paved hills faster than the 750-watt-nominal Zebra I had the pleasure of testing late last year. 
The Soltera's motor has zero issues getting the bike up to 20 miles an hour without help from me. It never dropped below 16 miles an hour on the steepest paved hills in my neighborhood with my feet totally off of the pedals. When I'm willing to give it help, it feels like the bike literally ignores hills.
There's one small caveat here, and that's that the Soltera's controller feeds you power very gently. The bike is slow to start without your help. All of the pedal assist modes give you a very gradual application of motor power as you start to turn the cranks. The throttle is no different. 
This means that if you're used to a more aggressive e-bike, the Soltera might feel sluggish at first. I am personally a big fan of its gradual power application. It's a lot more subtle, and it gives me time to control the bike's speed with my legs before the motor kicks in. 
If I start pedaling and then stop, for example, the motor will barely give me any power, letting me navigate mixed-use trails without needing to drop my pedal assist level. There's no jolt of acceleration when I unleash the motor's full power, either, making the bike super comfortable (and fun) when it's time to go fast.
The Soltera's top speed is limited to 20 miles an hour when you first turn it on. You can download an app and pair your phone with the display via Bluetooth to change that. The app is very limited in terms of its integration with the display. I am frustrated at the fact that I needed to download an app and confirm my e-mail address to modify a setting on my bike. 
I am more frustrated that there are a total of two settings I can monkey with: top speed and display units. It's possible that there's a combination of button presses on the display itself that give you configuration options, but Aventon's resources are all written to funnel you toward their app.
Aventon's app lets me adjust the top speed all the way up to 51 km / h, which is about 31 miles an hour. Even with this setting cranked up all the way, the bike does not seem to want to give me any motor assistance above 24 miles an hour, and the level of assistance seems to drop sharply above about 22 miles an hour. 
Not only do the little blue bars on the screen that indicate the motor's effort level go away, but the motor stops making noise. Additionally, raising the top speed seems to change the speed caps on each pedal assist level, meaning that levels 3, 4, and 5 will all get you to about the same speed. Still, you can definitely get the bike to help you a little bit above the Class-2 cap of 20 miles an hour.
I definitely would have enjoyed seeing how fast the motor and I could go together. I'm okay without that ability, however. Being able to do between 22 and 24 mph with as little or as much effort as I'd like to put into pedaling is totally fine with me.
More On The Controller And Display
The Soltera has a cadence sensor and a speed sensor. The pedal assist levels work more like a speed setting. At each level, the bike has a preset speed. Drop below that speed, and the motor kicks in. Go above that speed, and the motor turns off.
On heavier e-bikes, this is not a feature I enjoy. On the Soltera, it's totally fine. There are many factors operating here in order to turn this into something I like. The Soltera's power ramps up gradually, for one, so it's not like you get a big kick of acceleration when you start to dip below the target speed. It also seems to ramp off power gradually, giving you a bit of wiggle room where the motor does some, but less. 
More importantly, however, I don't mind pedaling the Soltera. This means that I can pedal at a level where I'm comfortable. If the bike goes faster than the pedal assist speed, great. If my level of effort stops being sufficient to go fast, however, the bike will turn on the motor and pick up the slack. 
This works for any combination of speed and level of effort. I had a lot of fun staying at a moderate level of exercise at the bike's top speed in PAS 5. Most of the time, the motor gave me just a little bit of oomph to help the bike feel weightless. 
When I started to go uphills or race against the wind, however, the motor had no problems kicking in and keeping my effort constant, even though I was working against powerful external factors.
The Soltera's display looks beautiful when you're indoors. Outside, the color and fancy features get somewhat hard to read. The sun is really bright. I found the numbers on the display very easy to read, but the motor's output level was more difficult to pick out from the background while riding during the day.
Not An Off-Road Bike
The Soltera has very skinny road tires and does not have a suspension fork. It would be silly to expect it to perform well off of pavement. Nevertheless, I felt compelled to test it in a variety of less-optimal conditions to report my findings. 
The Soltera is not an off-road bike. This should not surprise anyone. The bike itself works fine; I did a couple of miles on gravel and another mile or two on loose dirt. I did not find either experience enjoyable. 
On gravel, the lack of front suspension sends every bump through your wrists, arms, and body, making the ride extremely bumpy. On dirt, the narrow tires slide around a lot if you're not extremely careful with how you distribute your weight. This could be fun if you're expecting it, but it's not the sort of thing I'd view as a plus in a bike I intend to use on dirt.
Seat and Comfort
The Soltera has a drab, narrow seat. It is very flat, lacks a pressure relief channel, and is neither comfortable nor uncomfortable. I had no issues with it while riding. 
The extreme flatness and lack of a pressure relief channel mean that it's definitely a saddle that will cause issues for some riders. Bike seats are quite easy to switch out, however, so this probably shouldn't influence your purchasing decision much in either direction.
I mentioned this in the rating section, but it's worth repeating that I was somewhat surprised by how much I miss my usual ride's front suspension. There are a couple of curbs that I ride over while I'm transitioning between streets and mixed-use trails, and I definitely have more fun taking those drops with a fork. 
Similarly, there are a few patches of road near me that are bumpy enough that I miss the fork on my hardtail. I think that omitting a suspension fork to save weight is likely the right call, but it's definitely something you might want to think about if your local roads are particularly poorly maintained.
Despite the caveat above, I found the Soltera extremely comfortable to ride on pavement. At no point did I find myself avoiding parts of my city due to bumpiness. Instead, I found myself (and still find myself) looking for more excuses to get in the saddle so I could experience the joy of riding without having to worry about wind, gravity, or my personal stamina.
Conclusion
I really, really like the Soltera. You probably guessed that. The bike is fun without the motor. The inclusion of a motor gives you the power to ignore any factors that might slow you down or limit your rides. 
The result is the freedom to bike however or wherever you like in a way that feels almost unparalleled. Sure, other e-bikes might have bigger motors or longer range, but most of them don't work *with* you the way that the Soltera does. 
The bike does a wonderful job of seamlessly blending its motorized assistance with your human power output.
This does not necessarily mean the Soltera is right for everyone. For one, I think that the Soltera offers a Goldilocks-esque riding style – it's somewhat upright, but you're still on something resembling a road bike seat, and you're definitely not riding a cruiser. 
If you're on the more serious end of the cycling spectrum, you might lament the short reach and flat handlebars. If you're on the more casual end of the spectrum, you might prefer an even more relaxed cruiser-style riding experience with a softer seat and higher handlebars.
Second, the Soltera is a bit sparsely equipped to work as a commuter out of the box. You can buy some extra bits to help you carry cargo and stay clean, but you should definitely factor these things into your purchasing price if they're important to you. 
The Soltera is quite cheap for an e-bike, so this probably isn't a huge issue, but it's worth doing the math so you can properly compare it to more dedicated commuters that have more utility without purchasing extra stuff.
Finally, the Soltera is in the middle of the range spectrum if you're not helping it out with your legs. I definitely do not mind giving the Soltera most of the power it needs to go and letting the motor help me out on hills, but this might not be your preferred riding style, especially after a hard day of work.
 If you've got a long commute, you can't charge your bike at work, and you want to avoid effort during your journey, you might find yourself stretching the Soltera's battery to its limits. 
You can get 20 miles an hour out of a full charge, but you should try to make sure that your typical use keeps the battery between the recommended 80% to 20% band. In other words, if you're doing more than 14 miles at a time and you want to take full advantage of the motor, you might want a different bike.
Aside from those caveats, however, I very strongly recommend the seven-speed Soltera. If you're looking for an e-bike that's enjoyable to ride on both human and motor power, it's definitely a great choice. 
Its small motor is deceptively powerful, it's got surprisingly long range given how small the battery is, and I remain impressed with how attractive and stylish the frame is. I've ridden a lot of e-bikes. The Soltera has reinvigorated my love of cycling in a wonderful way that has me excited to take the bike outside whenever I can.