Himiway's new Rhino is a big, powerful all-terrain e-bike with a colossal 1000-watt motor. Rather than settle for the reduced range that normally comes with such a high-output drive, Himiway has set the Rhino up with dual batteries that give you 30 total amp-hours of power. The result is a bike that's perfect for off-road adventures, offering realistic ranges of well over 40 miles per charge.
Himiway Rhino & Rhino Pro
With two batteries and a 1,000-watt mid-drive motor that delivers an incredible 160 Newton meters of torque, it's got everything it needs to conquer the wilderness.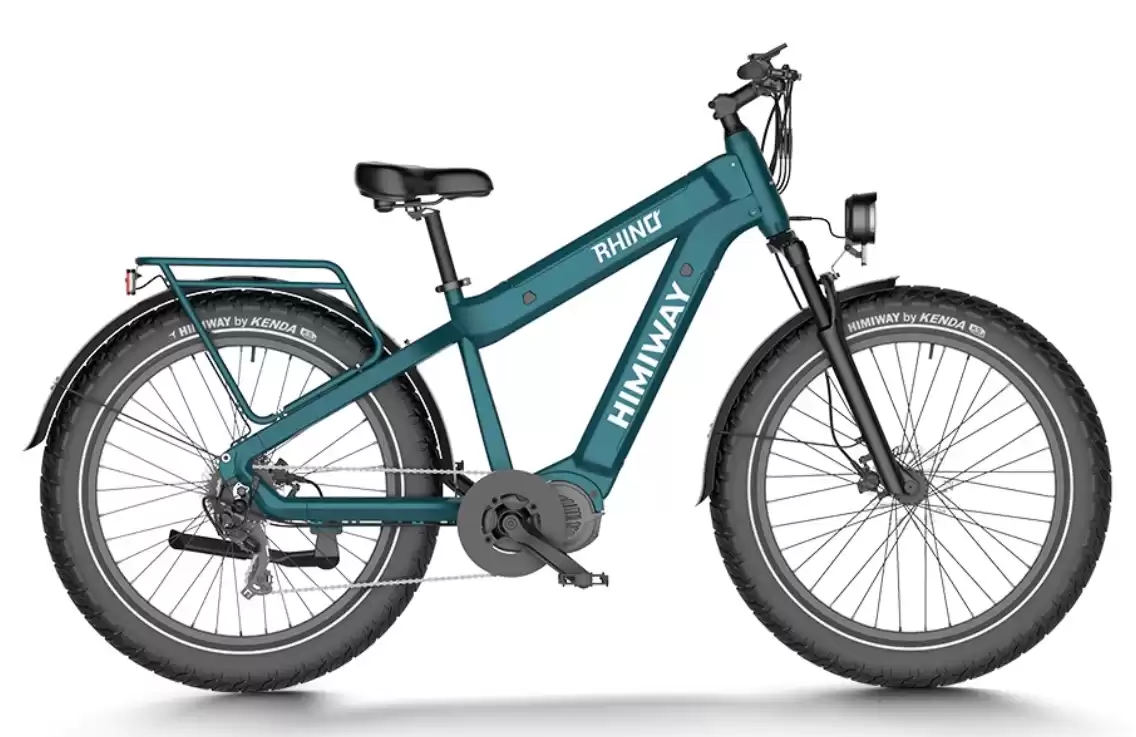 We earn a commission if you click this link and make a purchase at no additional cost to you.
What the Rhino Does
Before we get into specs, components, and specifics, let's take a minute to talk about exactly what it is that the Himiway Rhino does. 
It's definitely not your typical e-bike. Instead, this is a bike that's built for the more discerning customer who knows exactly what it is that they want.
The Rhino is big, heavy, and powerful. The bike weighs 97 pounds. This is a lot. This is not a bike that you want to be carrying up stairs or even putting on an elevated bike rack on the regular. 
It's also not a bike that will feel like a normal, non-electric bicycle. The huge 1000-watt motor, two batteries, fat tires, and reinforced frame all make this feel almost like a motorcycle.
While this means that you probably don't want to be pedaling the Rhino around with the power off, the massive electric motor in the rear hub means that it feels fast and fun to ride. 
It's heavy, of course, and it won't feel the same as a normal bike, but it'll go fast. It'll go up steep hills with ease, too, with 90 Newton meters of torque available on demand.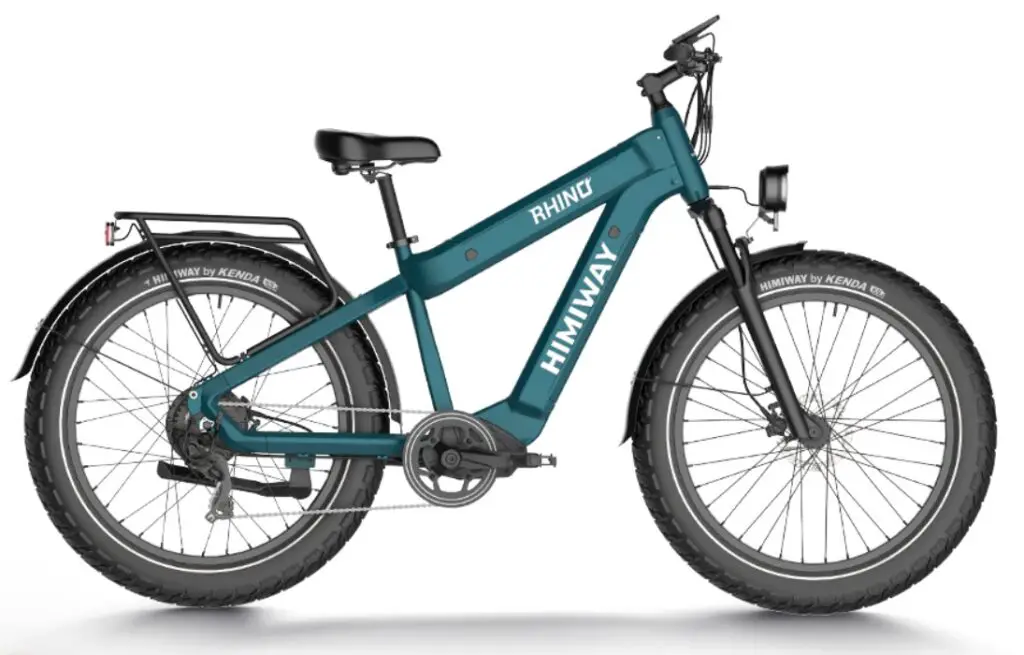 It'll also go far. Himiway inflates their range estimates in ways that aren't particularly realistic, but we can extrapolate that the Rhino should probably get over 45 miles per charge on motor power alone – and you should be able to do 28 miles an hour the whole way.
This means that the Rhino is best suited for exploration and adventure. It's the perfect bike to bring on an outdoor trip. 
The fat tires and suspension make it ideal for romping around on dirt roads or untamed plains. It's great for trails, too, although you should probably leave jumps, drops, and other technical stuff for a bike that weighs less than 90 pounds.
The Rhino is no less powerful on pavement, although it's less efficient than other options. The sturdy rack, comfy tires, and front suspension make it a suspiciously good all-purpose bike. 
If you're in a city with rougher pavement and you've got a long, hilly commute, it's a fairly good contender for city rides, too – where it's legal, that is. 
The Rhino is clearly designed with off-roading in mind. The big 1000-watt rear hub motor means that it's not legally classified as a standard e-bike in several states, including California.
When writing this article I did a substantial amount of research to verify that the California legal limit is 750 watts. 
I found that several law firm blogs that quoted the law as 1000, but I could not find a single official government source or news article that backed up that claim. Instead, I found many .gov websites that echoed the 750 watt limit. 
This presents a major challenge as far as its legal operation on roads goes. Please research your local e-bike laws and figure out if the Rhino is legal to ride on roads and bike trails in your area before making an informed purchasing decision.
Himiway Rhino & Rhino Pro
With two batteries and a 1,000-watt mid-drive motor that delivers an incredible 160 Newton meters of torque, it's got everything it needs to conquer the wilderness.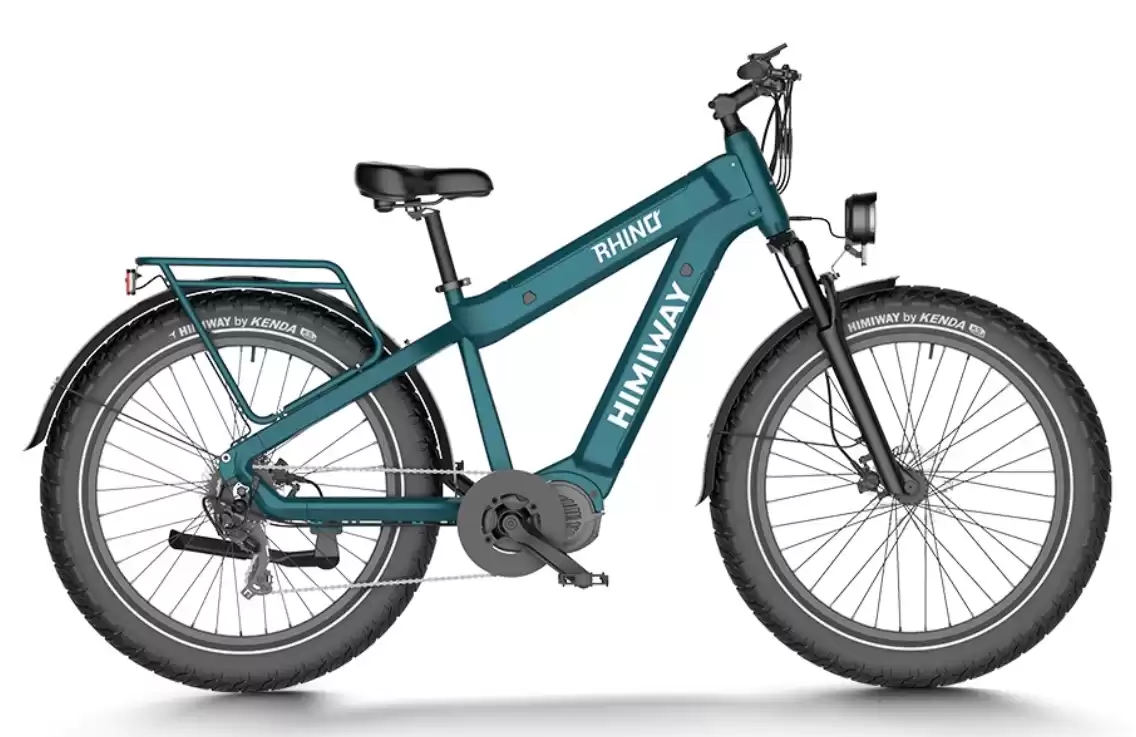 We earn a commission if you click this link and make a purchase at no additional cost to you.
What makes the Rhino different?
If you're comparing the Rhino with another e-bike, here are the three biggest factors that are likely to separate the Rhino from the rest of the pack.
The Motor
A 1000-watt, 90-Newton meter motor is far from typical. 
The Himiway Rhino has a motor that's more powerful than the normal limit of 750 watts, giving you more output when you want it. 
Unfortunately, this motor may also be over the legal power limit in your area, so be sure to understand your local laws before buying.
The Batteries
Big, heavy bikes need lots of power to go. In order to keep the Rhino's range high, Himiway has split the power across two 15 amp-hour batteries. This is an ideal solution, frankly, as it ensures that you'll never need to pedal this heavy bike without the motor's help.
Despite the two big batteries, the Rhino looks just like any other rugged e-bike. The batteries live inside the top tube and down tube, keeping things smooth, elegant, and aesthetic.
The Gears
I can't tell you how many times I've launched into tirades about how e-bike manufacturers should be putting 9 and 10-speed drivetrains on their bikes. 
The Rhino has a 9-speed Shimano system, giving you extra gears and overall nicer components. This means that it'll feel nicer to ride overall and provide you with a free choice of how much effort you'd like to expend as you pedal.
In-Depth: Design and Components
The Rhino has a sturdy, thick frame. It's not a step-through bike, nor is it available with a step-through frame at this time. 
It's set up for relaxed, casual riding, with a somewhat wide seat and fairly high handlebars. It's not a full-on beach cruiser by any means, but this is definitely a bike that wants you to relax and sit up instead of leaning forward for aerodynamics.
As mentioned above, the bike's twin batteries are fully integrated. The Rhino has a few bells and whistles that aren't guaranteed on non-electric bikes, like fenders and lights, but the motor and battery aren't immediately obvious to a casual observer. 
The fat tires are, however, and the fact that this bike's frame is so thick and wide is definitely a giveaway that there's something special about the Rhino.
Components
For the most part, the Himiway Rhino comes equipped with the same components you see on other modern e-bikes. 
This means you get hydraulic disc brakes, a front lockout fork, and lights that draw power from the bike's massive batteries. These are all very nice components to have – you'll really need the hydraulic brakes with a 97-pound bike – but they're also very standard.
The Rhino comes with 4.5" Kenda tires, which are a bit wider than the tires you'll find on fat-tire e-bikes from many other manufacturers. These are especially good at comfort and traction on unpaved terrain, especially if you let a little bit of air out. 
The flip side is that they make the bike a lot heavier and increase drag, causing the bike to be less efficient. You can slightly reduce rolling resistance by putting more air in the tires, but the bike will still feel hard to pedal without the motor running.
I mentioned the gearing earlier. The Rhino uses a somewhat standard 9-speed Shimano drivetrain. Again, this is a big feature that more e-bike manufacturers should consider standard. 
It's jarring to spend well over $1000 (or $2000) on a bike and get a super basic 7-speed system – especially since you don't have a front derailleur on most e-bikes. Most e-bike motors need the most help at low speeds, necessitating functional low gears, but they also cut off at 28 miles an hour for legal limits. 
Himiway Rhino & Rhino Pro
With two batteries and a 1,000-watt mid-drive motor that delivers an incredible 160 Newton meters of torque, it's got everything it needs to conquer the wilderness.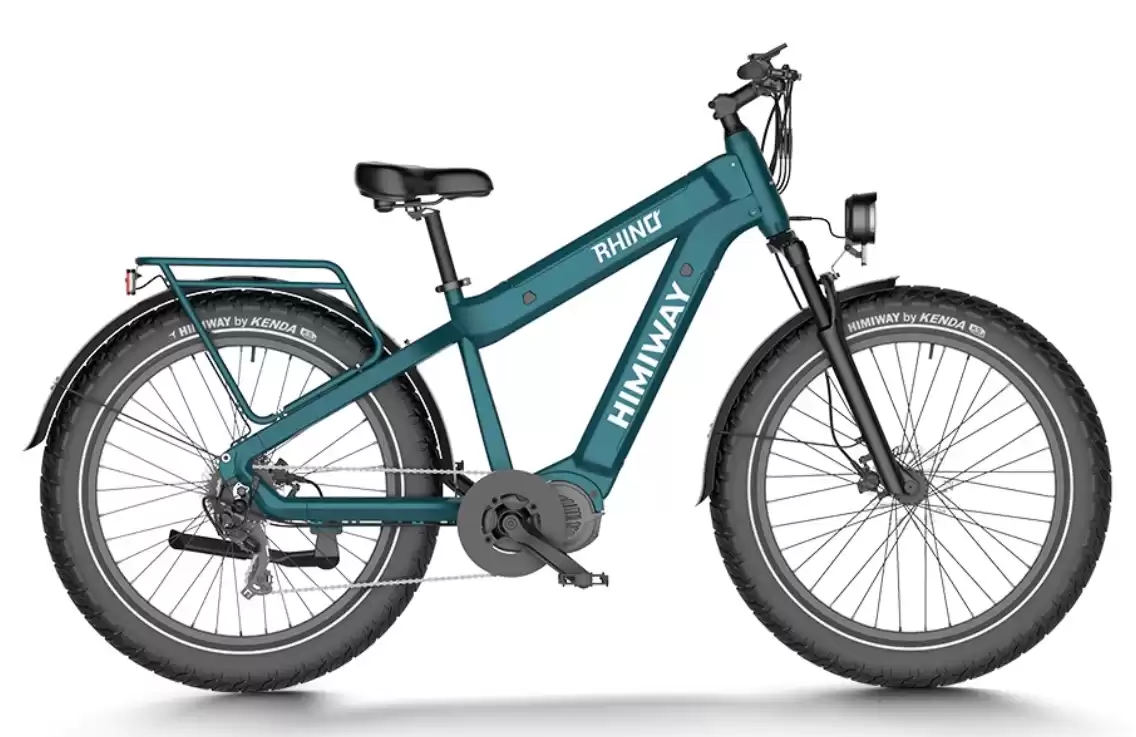 We earn a commission if you click this link and make a purchase at no additional cost to you.
This means it's incredibly advantageous for e-bikes to have big gear ranges. The Rhino's massive motor and rebellious legal status means that it needs this gear range less than most other bikes, but it's still really, really nice to have. Plus, the shifters feel a bit nicer.
Performance
There hasn't been a lot of hands-on independent testing of the Rhino, but we've got plenty of data from other Himiway bikes. As far as speed goes, the Rhino will be an absolute speed monster, capable of blowing past class-3 speeds with ease.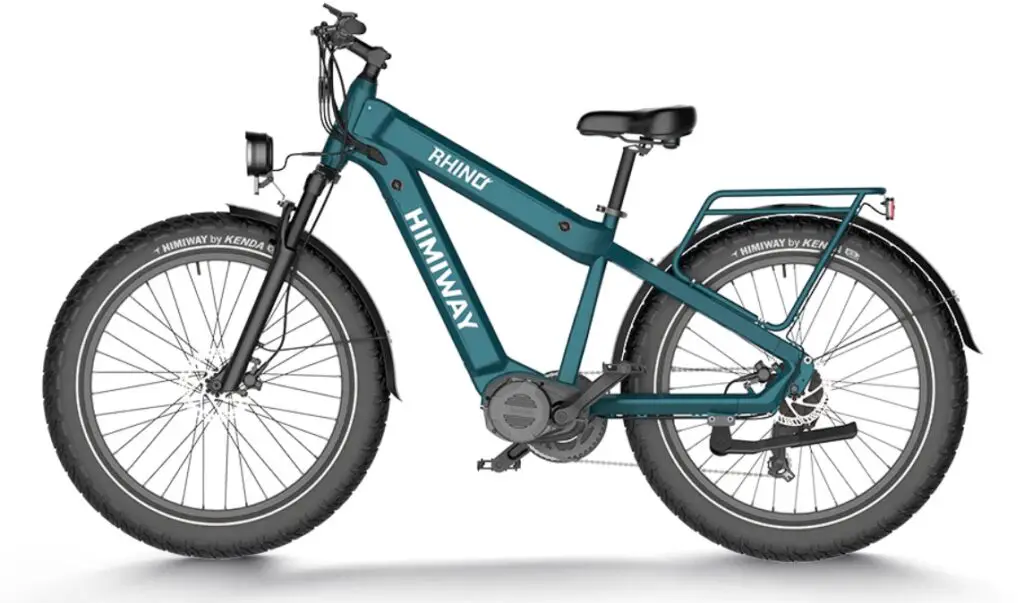 It's got enough torque to blast up hilly roads with ease. Off-road obstacles may challenge the motor, but you should be able to throttle the Rhino up any hill you could pedal up with a normal bike.
As far as range goes, I'm incredibly skeptical of getting 100 miles out of the Rhino on throttle alone – and I'm not sure how much pedaling a 100-pound bike helps. 
I'm estimating that we'll get real-world reports of throttle-only ranges between 40 and 55 miles per charge. On lower pedal assist modes, you may technically be able to ride the bike for 100 miles per charge, but you'll be doing a lot of the work yourself.
Cost
The Rhino is pretty pricey. At the time of this writing, you can get a pair of entry-level commuter e-bikes for the cost of a single Rhino – and that's the hub motor version. The mid-drive Rhino Pro is even pricier.
While I can't say whether or not this cost is worth it, I can mention that you're getting a lot for the price. The Rhino comes with an extra battery, for one, and the batteries are about $500 each to buy new. 
When you factor in the fat tires, the 25 amp controller, and the oversized 1000-watt motor, it's pretty easy to see exactly where the Rhino's cost comes from.
Verdict
If you're looking for a powerful bike for conquering the outdoors (or just a fun way to get around on your camping trips), the Rhino is a fantastic option. 
So powerful it's illegal for road use in some states, this bike has plenty of range and a surprising amount of utility. While it's not the best choice for people who want to feel like they're riding a normal bike with a boost, the Rhino is nevertheless a fantastic vehicle for adventure.