When I was a kid I used to think that the reason the rear rack is mounted on the bike is to carry my brothers and friends on it. Nowadays it's one of the favorite parts of my bike that enables me to be a bike commuter.
At first glance, the shape and size of a rear bike rack might make it seem a less than obvious choice for carrying cargo on it, but don't be fooled, because it's versatile enough to carry a lot of cargo with some accessories.
How to use a rear bike rack?
After mounting the rear bike rack on your bike you can use it for carrying cargo weighing 25-115 lbs depending on the model. Because of the limited room, it means you can only place smaller items on it directly. For larger items, you can hook on a special bag called a pannier or mount a basket on the rack.
Not all types of rear bike racks are fit for all bikes. There are several types depending on what kind of bike you have, and what activity you want to use them for. If you want to know more about carrying stuff on your bike's rack let's dive in!
There are three ways in which you can carry things on your bike:
Placing them directly on the rack
Using a pannier
Using a basket
Place stuff on it directly
If your rack has a spring clamp and you want to carry something small and light like a sweater or raincoat, you can place it on the rack and the clamp presses it down holding it in place.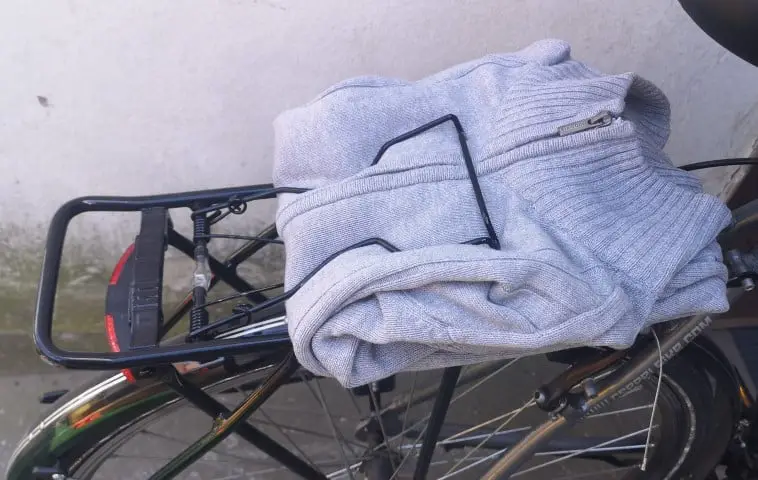 Use a pannier
Panniers are special bags designed to carry cargo on bike racks. They have an average volume of 15-25 liters and have a decent carrying capacity of 40-60 lbs. 
If your ride takes more than 15 minutes perhaps the simplest and most comfortable way to carry your stuff is using a pannier. Actually you can hook a pannier on both sides of the rack if you need to carry bigger and heavier cargo.
They offer plenty of room for commuting, grocery shopping or even for touring.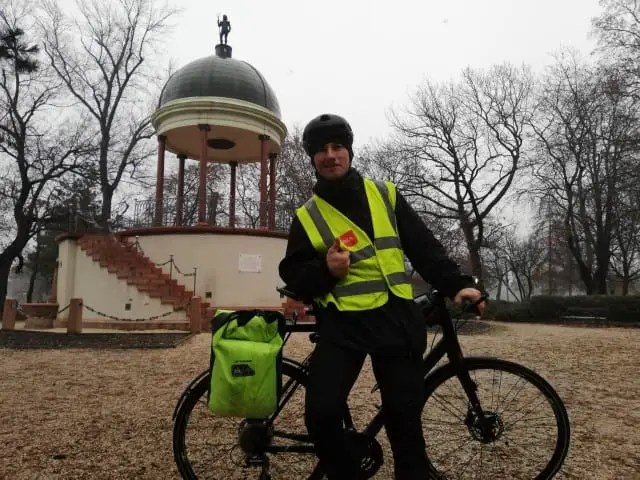 I use only one for commuting. At first this might sound like it makes steering more difficult due to uneven weight distribution. But don't worry, it won't. 90% of the time you won't even notice it's there.
Some panniers are double panniers, which means that there are two bags attached to your bike rack. This doubles your cargo capacity. It's perfect if you have a lot of things to carry or a lot of groceries to buy.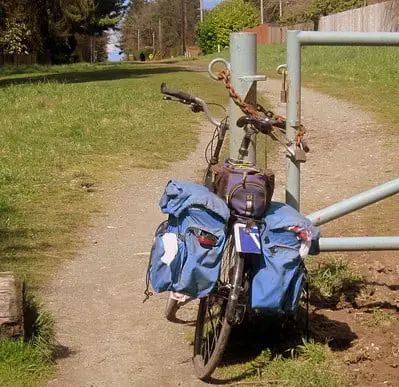 Not only is a pannier convenient, but it's also a safe way of transporting even sensitive or fragile things, such as your laptop for example. I haven't had a single issue despite carrying a laptop in my pannier all the time. Here is an in-depth article I wrote about safely carrying a laptop on your bike.
If you would like to know more about panniers you can read this article. Here are my tips for the best panniers:
Best Convertible Backpack Pannier
The Arkel Bug is spacious, practical, stylish, highly water resistant, holds on to your rack like a tank. This is the best for most commuters! Check it out at here. I use it all the time and I love it. Read my review of it here.
Best Large Panniers
We earn a commission if you click this link and make a purchase at no additional cost to you.
The Rockbros pannier with its large volume of 27 liters is capable of carrying a lot of cargo without braking the bank. Check it out on Amazon.
Best Rugged and Waterproof Panniers
We earn a commission if you click this link and make a purchase at no additional cost to you.
Ortlieb panniers are extremely rugged and waterproof. Check out here the Ortlieb Back-Roller City Panniers on Amazon.
Use a basket
Another way of making use of your rear bike rack is mounting a basket on it. 
A basket is great for grocery shopping as well as for those who prefer using a backpack instead of a pannier but don't want to ride with the backpack on. 
Some baskets offer ample room and have the same cargo capacity as panniers with even higher weight limits.
Baskets come in different sizes, shapes, and materials: there are some that are sold in pairs and are mounted on the sides of the rack, while others mount on top of the rack.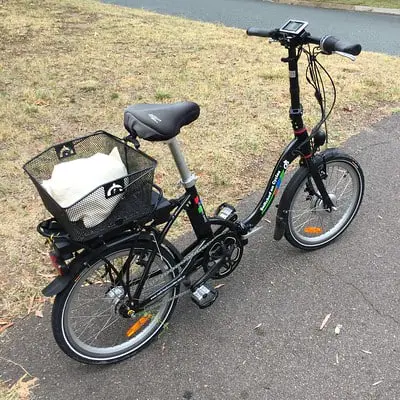 Some riders use a milk crate as a basket and they attach it to the bike rack with cable ties. That works just as fine as a specifically designed basket for a rear rack. Mounting might be trickier and it might be less aesthetic but it gets the job done.
Some racks are designed as a rack-basket combo. This means that your basket is permanently mounted to your bike. It's only advisable to get one of these if you know that you will only want to ride with the basket.
If you want to use a basket and you want to use your bike for commuting and/or touring too then you should look for one that is mountable on the rack to not limit yourself.
How does the rack mount on the bike? Where can I put the cargo?
Some bikes have mounting points or eyelets where you can mount the rear rack. If the bike has mounting points the rack is in contact with the bike in three points: on the rear part of the frame and on two sides of the wheel axis.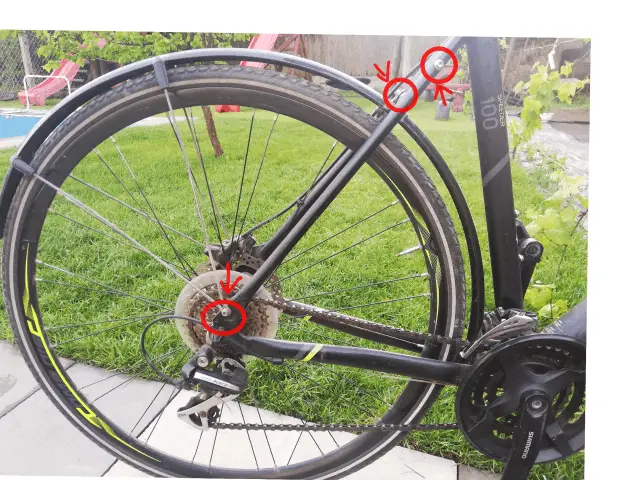 Some racks have a flat horizontal part in the middle, some don't, but all have rails running on the outer part of the rack on both sides. This is where you hook the panniers.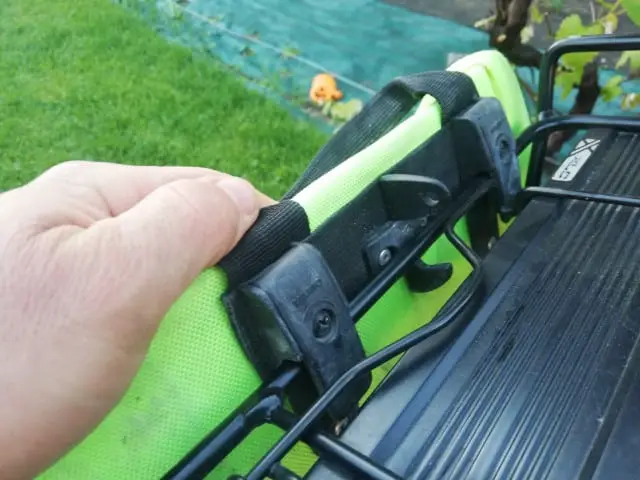 Rails in a U-shape run down parallel on both sides of the rear wheel. These rails are meant to sustain the hard back of the panniers preventing them from getting stuck in between the spokes.
There are no mounting points for the rack on my bike?!
Cyclocross and road bikes are great for commuting or touring but most of them don't have mounting points. You can still mount a rear rack on them if you use a a seatpost mounted rack.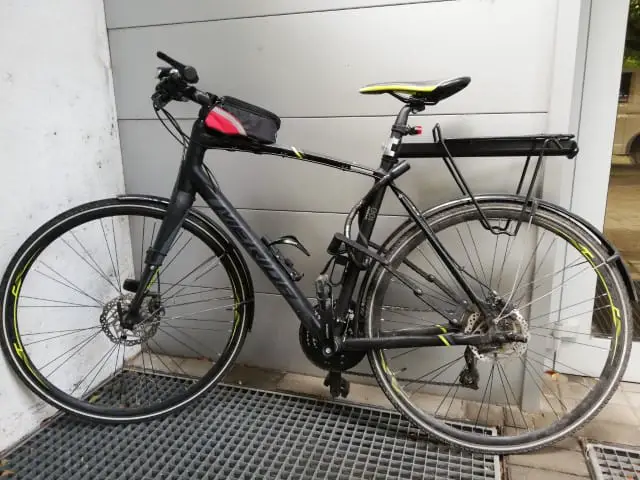 One of its advantages is that it is very easy to mount and remove. They mount on the bike with a clamp on the seatpost.
They work just like any other rear bike rack: you can mount panniers on them as they have rails to hook the panniers on, guards that prevent the pannier from touching the spokes.
Some seatpost mounted racks come with additional mounting arms that mount on the frame if you want to carry something heavy. Their cargo weight limit is 25 – 115 lbs (10 – 52 kg) depending on whether they have the arm or not.
If you need a seatpost mounted rack keep in mind a few things: 
if you have a carbon seatpost you need a special rack – carbon fiber can snap if the force is not in the intended direction
you need enough heel clearance, and so you might need one that is adjustable in length. Pull it out and you will have more room between the pedals and the pannier mounted on the rack
if you have an oddly shaped seatpost this might not fit on your bike 
mount the rear light on your seatpost in such a way that it can be seen from behind
Here is an article in which I reviewed a seatpost mounted bike rack. You may find some valuable information in it.
Mounting a backpack directly on the rear bike rack?
Placing the backpack directly on the bike rack with bungee cords is possible, but can be risky because the spokes can catch the strap and block the wheel. When I started bike commuting I tried it a few times. It wasn't long before the bungee cord got unhooked and stuck in between the spokes. The rest is history… 
I would discourage you from habitually carrying your backpack on the bike rack. It might be a solution if you're stuck, but don't rely on this method long term. 
As mentioned earlier, if you are a backpack user you can put a basket on your rack and place the backpack in it. This is completely safe and hassle free. 
If keeping a basket on your bike feels weird, you can find backpacks that convert into a pannier. I haven't used them personally, but people seem to like them. They look just like a regular backpack but have a pair of clips which allow you to attach them to the rack.
2 bonus tips to carry oversized cargo
Cargo bikes are designed to carry heavy loads and big items. You can even fit larger musical instruments, several crates or big boxes on them. If you regularly carry large things, you should consider whether a cargo bike is a worthwhile investment for you.
If you don't want to spend thousands of dollars on a cargo bike but want to bring heavy and bulky items you can also use a bike trailer. This is a method I'm familiar with as I often ride my bike with the trailer attached to do shopping. I can carry a whole week's worth of groceries for our family of 7. This would be impossible with a pannier regardless of its size.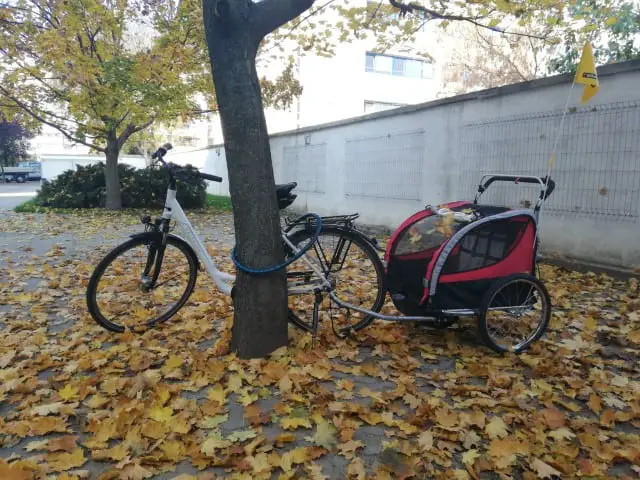 My favorite bike commuting products
Here are some of the products I love using for bike commuting. They make riding so much more fun and enjoyable.
Ergon GP5 Bar End Grips: These are super comfortable, ergonomic grips that offer me two extra hand positions on my flat bar bicycle. They also offer a much more comfortable grip that helps distribute my weight on the handlebar better.
Bar end mirrors: If you ride much among cars then a bar end mirror can make riding much safer. You don't have to turn around every single time to check on the traffic coming from behind.
Bike lights from Cateye. This is essential year-round. I recommend going for a more powerful light than just a to-be-seen light. I like the 800-lumen ones from Cateye because they are affordable, portable, and still, give out plenty of light so I can see where I'm going even in pitch dark. The battery lasts for a long time too, and it's USB rechargeable.
Bike rack. This bike rack from Dirza is great because I can put it on almost any bicycle regardless of whether they have mounting points for racks or not. I can leave it on my bike for commuting or take it off for weekend rides or whenever I don't need a rack.
If you want to check out my full list of recommended products, you visit my recommended gear page.
Happy Pedaling!