Your pedals are two of your five contact points with your bike, which is 40% of your contact points, and 100% of the power is transferred through them to the wheels. They play a central role in your overall riding experience. 
If you have spent 600-700 dollars on a new commuter bike then an extra little money can go a long way to take your ride to the next level. Entry-level bikes are usually equipped with plastic platform pedals, which are ok to get started on, but they can easily break and quickly show their limitations after some time, especially in certain conditions.
Just to name a personal example, my feet have slipped off my pedals on a few occasions, leaving me with an injured shin.
Best Platform Pedals for Safety: MEETLOCKS Bike Pedal
These Meetlocks pedals are more than just the bare bones minimum you need for a commuter bike (check availability on Amazon). 9 pins on each side of each pedal ensure that your feet won't slip off them, and each pedal is equipped with a reflective stripe to ensure visibility. Since your pedals are in constant motion when you're riding, a small reflective detail can draw a lot of attention to you as a cyclist at night. 
They offer a large, 4"x4" platform to support your feet, which makes them comfortable even on longer rides because they don't concentrate all the pressure on a small area. 
As for the construction, the material used sets them apart from their competitors. They are made of magnesium alloy, which is lighter and yet more durable than most other pedals on the market, which are made of aluminum alloy. In terms of weight, each pedal comes in just 4g shy of 200g (196g each).
The pedals come with ultra sealed bearings to keep the rotation smooth and friction to a minimum. 
With the package you also get some replacement pins as well as a small wrench to replace them.
Best Value Platform Pedals: RockBros Pedals
The RockBros pedals come in slightly cheaper than the previously mentioned Meetlocks (check availability on Amazon). This is mainly due to the choice of material. The RockBros are made of nylon fiber, which makes them remarkably light: they weigh in at 365g each. Despite being of a lighter material, it is remarkably shock-proof and has abrasion and corrosion resistance features.
The platform is really large, offering a whopping 4.7"x4.1" surface, which makes them ideal for riding with any shoe or even large boots.
You will love the choice of colors that RockBros offers. You can really customize your bike's appearance if you choose a matching or complementing color.
Even if you ride in mud, you don't need to worry about your feet slipping off, because the studs poke through the layer of mud and offer sufficient grip. If you use your bike for trail riding on weekends, you will like this feature.
Best Platform Pedals without Studs: AARON Urban Bicycle Pedals 
After having tried several other pedals, I have finally settled with the AARON Urban Bicycle Pedals for my commuter bike (check availability on Amazon). 
This pedal shines at offering great grip despite not having studs, making it ideal for shoes with thin soles, or even for flip-flops. You could even ride this barefoot if you wanted to. 
If your bike is a dedicated commuter, and you don't use it to ride off-road and don't give it any abuse, you will love this pedal. 
An added bonus to the good grip and the reasonably large 3"x3.85" platform surface, are the reflectors placed on the side of the pedals, which place them among the safest pedals for night riding in poorly lit urban areas.
The pedals have sealed bearings and smooth action. They are a joy to use.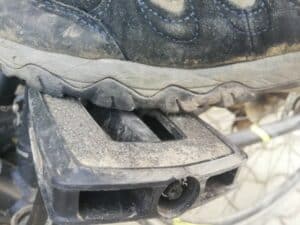 The Aaron pedals are made of nylon, which makes them light, weighing in at 362g. Since there's no fiber reinforcement, it isn't the best choice if you want to ride your bike on a trail or want to use it for a race.
Best Toe Clip Pedals: COZYROOMY Bike Pedals with Clips and Straps 
These Cozyroomy pedals are made for those who want to keep their feet anchored firm on the pedal and generate power throughout the entire range of motion without needing special clipless specific shoes (check availability on Amazon). They allow for more control over your bike when in motion.
These pedals are well thought out, well-constructed, and best in their class. The pedals are made of aluminum alloy, and the cage is made of nylon. The pedals will likely outlast the cage, it can be replaced if broken.
The platform's teeth are part of the platform's mold and are made of the same aluminum alloy. They are not as sharp as the small studs on the previous pedals. This means that some shoes may slip off them more easily. You will rely more heavily on cinching down on the strap.
You will appreciate the attention to detail such as the reflective stripe on the pedal for better visibility at night or the spare strap that is included in the package.
Just know that toe clip pedals are not for everyone and come with a few caveats.
You can make the cage tighter or looser with the nylon straps attached to the pedals. This makes it easier to use with different size shoes. Don't expect to fit in large boots though, as both the strap and the platform size have their limitations. 
You also need to keep in mind that if you put your foot on the non-cage side of these pedals, then you run the risk of the cage hitting the ground and being broken. This isn't a weakness of these particular pedals, but rather of all pedals with toe clips.
Best SPD pedals: Shimano PD-M520
If you are ready to go full-time clipless, these Shimano SPD pedals are hard to beat (check availability on Amazon). They are designed to take a lot of beating and still last forever. This is an appealing option for those who want the benefit of clipless for commuting, but they also want to have a good selection of shoes that they can even wear to the office without having to carry (or keep at work) a change of shoes.
Their bearings are fully sealed so no water or mud will enter and damage them, keeping the action smooth and low-friction. Another advantage of the SPD design is that you clip in easily even if there is a lot of mud thanks to its open design. 
Even if you're a beginner these pedals will serve you well since you can adjust the tension settings with an allen key so you can unclip easily. There's still a learning curve to riding with them, but once you get the hang of it, it becomes second nature.
The double-sided design of these pedals means that they always face the right way up, so you can always clip in easily even when the light turns green.

The package also contains the pedals as well as the cleats that attach to your shoes (which need to be SPD specific, like these Tommaso Milano shoes that you can wear even at the office). 
Since SPD pedals are designed for MTBs, you may be wondering if you can use SPD pedals on a road bike or other bikes. Even though SPD pedals are not the intended pedals for road bikes, they can be used on road bikes as well as any other bike, such as hybrid, gravel, cyclocross, trekking and touring bikes.
Best SPD-SL pedals: SHIMANO PD-R540
SPD-SL pedals are generally not the best option for commuting, unless you ride a road bike on a long commute without carrying much on the bike, except maybe a light backpack.
These pedals are designed for road bikes and longer rides. They offer a wide area of contact for efficient power transmission. They also have a wide bearing distance, which translates into a more even distribution of load, thus being easier on your ankles and feet. You can check availability on Amazon.
Shimano takes pride in their high-quality sealed bearings, which make this pedal low maintenance and smooth to ride. 
Keep in mind that if you opt for these pedals, you will also need clipless specific shoes like these Venzo Shoes available on Amazon.
Best Hybrid (Best of Both Worlds): Shimano PD-EH500
If you love the idea of going clipless, but you don't want to commit to only being able to ride in cycling-specific shoes, you can choose the best of both worlds.
Shimano has you covered with the PD-EH500 (check availability on Amazon). These pedals come with a  nice, wide, flat platform on one side and SPD-specific cleats on the other.
Now all your shoes are cycling shoes again, and your cycling-specific shoes with cleats give you the benefit of extra power and control.
The pedals' advantage is also their biggest disadvantage because you can only clip in on one side and you can only use them with regular shoes on the other. Since there is an imbalance because the pedals are not perfectly symmetrical, they may spin to the wrong side at a red light, making it somewhat annoying to flip over each time. 
This is the dark, more sporty looking and considerably lighter version of the M324 (also available on Amazon).
How to use clipless pedals?
Here's a good video from GCN that explains how you can use clipless pedals if you're new to them.

Clipless vs platform: the main difference
You will notice immediately the difference in appearance between them.
The term clipless is a little bit confusing because actually this type of pedal comes with a clip, and it is to be used with a matching shoe which also has a matching part. Your feet and your shoes are securely attached to each other. In order to take your feet off the pedal you have to unclip by twisting your ankle.
Flat or platform pedals, on the other hand, can be used with any shoe. They are the pedals that you are used to seeing on most bikes.
There are some flat pedals that come with toe clips or toe cages. 
Which one is faster or more efficient?
If you ride your bike with clipless pedals, you will be able to generate power not only on the downstroke but also on the upstroke of the pedal. This makes them more efficient than platform pedals. If you commute on hilly roads then you will be able to take advantage of the extra power that you can generate and you can go a bit faster, especially uphill.
This is not to say however that you cannot ride fast with platform pedals or that you can't climb hills. In fact, in urban environments you will barely notice any difference in speed because you will be limited by traffic signals, pedestrians and road conditions.
Which one is more convenient?
The big advantage of platform pedals is that all your shoes are cycling shoes. You can ride them in tennis shoes or even in your office shoes. Heck, you could even ride them in sandals if you wish. This makes them very appealing to bike commuters. 
If you don't need to get changed for your commute then it's hard to beat the convenience of getting off your bike and walking into the office in the shoes that you will be wearing for the rest of the day. 
In the winter you can wear warm boots and in the summer you can wear tennis shoes if you want to.
Do you want to take out your bike for a weekend spin? No problem! Every footwear is appropriate for platform pedals.
There are two downsides to flat pedals. One of them is that they are slightly less efficient than clipless pedals, and the other one is that your feet can slip off. For the average commuter the lack of efficiency is not a big issue, but hitting your shin against the pedal and scraping off your skin is definitely unpleasant. This is why you have to pay attention to how good the pedal's grip is.
Clipless pedals, on the other hand, require clipless specific shoes to ride. This means that you only have as many pairs of shoes to ride your bike in as many you have purchased separately. 
You also need to know that there is more than just one type of clipless pedal. 
SPD pedals are used on mountain bikes, and are designed for easy clipping in even when covered in mud
SPD-SL pedals are used on road bikes, and are designed to distribute the pressure more evenly, allowing for more comfort on longer rides. 
You can put SPD pedals on road bikes or SPD-SL pedals on mountain bikes. The treads are compatible. 
As mentioned before, clipless pedals make a lot of sense if you have a hilly commute. They are also super helpful if you tend to place your foot on the pedal incorrectly because when you clip in your feet are always held in the right position. Clipless pedals may relieve you of some knee pain and they can be easier on your joints.
Be aware that there is a learning curve to clipless pedals. It takes some practice to learn how to clip in. When you stop you also need to twist your foot to unclip and put it down (some first-time users have actually fallen over at red lights because they haven't developed this muscle memory). If you're completely new to cycling in general, it's a good idea to become confident on platform pedals before moving on to clipless ones.
I'm confused. Can you help me pick a good pedal?
If you're confused about what you need, go with something you know you will be happy with. You don't have to marry your pedal for life.
If you have a dedicated commuter and you don't fancy testing new waters, you can't go wrong with either the Meetlocks or the Aaron platform pedals. 
If you've decided to go clipless, I recommend the SPD pedals (Shimano PD-M520) over the SPD-SL ones.
If you want to test the waters without fully committing, go for the dual-platform pedal.
The main thing is to have fun and to enjoy the ride!
Happy Pedaling!