Today's E-bikes are divided into three classes. Class 3 e-bikes are the fastest street-legal electric bikes in most places in the US today. With an assisted top speed of up to 28 miles per hour, you can easily keep pace with city traffic on a class 3 e-bike without breaking a sweat.
If you're looking to pick up one of these powerful bikes, here are some of the very best options on the market today. We've split up the bikes into several categories to make your search easier: 
Folding and fun-sized bikes to fit in your car for an outdoor ride, 
City bikes and commuters to get around without a car, 
Fat-tire e-bikes to comfortably conquer any terrain, 
Light bikes to have fun to ride with or without the motor, and 
Cargo bikes built to haul cargo. 
If you would like to read in more detail about how to pick the right electric bike for you, you can read my ultimate electric bike buying guide.
Find the section you're interested in to jump straight to the best bikes for you or skim through to get an idea of the full range of options on the market today!
FOLDING / FUN-SIZED BIKES
Juiced Rip Racer
Single-speed Shimano drivetrain
4" wide fat tires 
Hydraulic disc brakes
66 lbs
25 miles range
750W nominal power and 1300W peak power motor
Great customer service
Juiced's Rip Racer is a compact fat-tire e-bike with a ridiculously powerful motor. While it's ostensibly capped at the US legal limit of 750 watts, this small bike uses a combination of an overvolted controller and a massive battery to squeeze up to 1300 watts of power out during tough situations.
That means that the Rip Racer packs a massive punch for its size. It can send full-sized adults zooming up hills at well over 20 miles an hour, and its 4" wide tires give it plenty of off-road oomph.
All three bikes in this category (the Rip Racer, the Rhino, and the XPremium) are perfect for weekend getaways in the wilderness. The Rip Racer doesn't fold, but its smaller size makes it easy to fit in a car or RV. The small frame isn't ideal for hour-long of city rides, but when you're standing up and blasting over bumpy trails, it's incredibly fun.
The Rip Racer really shines in terms of price and performance. Despite its massive oversized rear hub motor, it's an incredibly inexpensive bike – and it's nominally the most powerful. It'll cruise at 28 miles an hour on fairly flat ground with ease.
If you're looking for less powerful (and even cheaper) options, be sure to check out the Rip Racer's class-2 model. This model downgrades a few of the fancier components and will give you less range and speed, but it'll save you a few hundred dollars while still giving you the ability to do 20 miles an hour on any terrain. 
Lectric XPremium
7-speed Shimano drivetrain
Hydraulic disc brakes
20″x4″ fat tires + 82mm front suspension for comfort
Dual battery
Built-in lights
Built-in rack
75 lbs
Up to 100 miles of range
500W mid-drive motor
Great customer service
The Lectric XPremium is a combination of price, features, and performance that really shouldn't exist. It's cheap for a folding e-bike on its own, but it's also got an incredibly torquey mid-drive motor, a torque sensor, and a pair of batteries that give it incredible range. Despite this, the bike comes fairly well-equipped with a rack, fenders, hydraulic disc brakes, lights, and more. 
Having a mid-drive motor allows the XPremium to run the power from its 500-watt motor through its 7-speed transmission. This gives you, the rider, control over how much torque and speed the motor puts out. This is a big boon that gives the XPremium a big edge on hill climbs and other situations where torque matters. Even on flat ground, mid-drive bikes allow you to work with your motor, enabling the XPremium to feel more like a bike and less like a mini motorcycle.
That doesn't mean that the XPremium requires you to pedal. It comes with a throttle, letting you give it gas whenever you want (as long as you're below 20 miles an hour). This means it's just as fun in motorcycle mode as the bikes above while also giving you more options when you'd like to cooperate with the machine instead of letting it do the work for you.
It folds, too. The XPremium is over 75 pounds and probably won't fit in a backpack, but it's pretty easy to throw it in the back of a truck or even the trunk of a car. If you want more options for your getaways, it's definitely a bike to consider.
Lectric 3.0
7-speed Shimano drivetrain
3" wide fat tires 
Mechanical disc brakes
71 lbs
20 miles range
500W motor
Great customer service
The Lectric XP 3.0 is a great, inexpensive entry-level fat tire electric folding bike. It comes with a 7-speed Shimano drivetrain and a Shimano Tourney derailleur in the rear. The bike weighs 71 lbs and comes equipped with fenders and a rear rack that has a carrying capacity of 150 lbs. The cushy and knobby 3" tires offer excellent traction and, together with the suspension fork, smoothen out the bumps.  
The battery you get with the bike by default has a 10 Ah capacity. For an extra $150, you can upgrade the battery to 14 Ah and thus increase by 10 miles its range to 30 miles. For a couple of extra hundred dollars, you can get upgrades like a cargo pack, a suspension seatpost, and a passenger package that includes a passenger seat and foot pegs. 
The new upgraded 500W nominal output rear hub motor with its 1000W peak output and its 55 nm of torque can quickly move the rider even if it carries a lot of cargo or needs to go uphill.  Its new motor is super quiet, leaving behind that old familiar noise generated by electric motors in the past. 
This bike is a great choice for anyone looking for a quality ebike on a budget.
You can find our detailed hand-on review of the Lectric XP 3.0 here
CITY BIKES AND COMMUTERS
Juiced CrossCurrent
9-speed drivetrain
Hydraulic disc brakes
1.75″ tires
19.2 Ah beefy battery
65 lbs
35+ miles of range on max pedal assist
750W mid-drive motor with 1300W peak power
The CrossCurrent is a fully-featured city commuter with the full package of extras you'd want for daily rides to professional environments. Included mudguards help to keep your clothes clean, while the default rack is ideal for carrying a briefcase or other cargo.
The 1.7" wide tires give you plenty of traction on asphalt in all states, while the front suspension fork ensures that you've got a relaxed, comfortable ride to work.
That said, you'll find similar features on most of the bikes in this category. What really sets the CrossCurrent apart is the ridiculous combination of power and range offered by its motor and battery.
It's a bit heavier than some of the other bikes here, but it's also got 1300 watts of peak power and a 19.2 amp-hour battery. This means that you'll be able to effortlessly maintain 28 miles an hour (or whatever you program the bike's max speed to) while only having to charge the bike every few days. Expect to get well over 35 miles per charge while letting the bike do all of the work for you.
You pay for this privilege. The CrossCurrent is a bit pricier than some of the options on this list. That makes sense – batteries and motors are expensive – but if you've got a shorter commute or you're happier going a bit slower up hills, you might want one of the other options here.
Ride1Up Cafe Cruiser
8-speed Shimano drivetrain
26″x3″ wide tires for comfort
Hydraulic disc brakes
65 lbs
30 miles range
750W motor
Great customer service
Ride1Up's Cafe Cruiser is an incredible steal for its price. It's a 750-watt rear hub motor ebike with a rear rack, fenders, and a very relaxed, upright riding style. While the bike doesn't lend itself well to aggressive pedaling, its motor is more than powerful enough to propel you along at the legal maximum on flat ground without you breaking a sweat.
This means that the Cafe Cruiser definitely isn't the bike for everyone. If you're biking with exercise in mind, you probably want something a little bit more aggressive in terms of seat, handlebar placement, and geometry. Its motor is also somewhat less powerful than many of the "750-watt" motors on this page. Expect the Cafe Cruiser to be less torquey and a bit slower overall than options like the CrossCurrent.
If you're budget conscious, however, or you want to relax on your city rides, the Cafe Cruiser will be perfect. It's incredibly comfortable to ride, with front suspension and big 3" wide tires that you can underinflate for more cushioning. It's a perfect bike for people who want to sit back and enjoy the ride.
Aventon Pace 500.2
8-speed Shimano drivetrain
2.2″ wide tires for comfort
Hydraulic disc brakes
52 lbs
25 miles range
500W motor
Great customer service
The two Aventon options here are quite similar in overall specs. Both are fairly light (50 ish lb) 500w e-bikes designed for city riding. The Pace 500.2 gives you the interesting option of purchasing options like fenders and a rack separately. This means that you'll save a few hundred dollars when compared to the fully-equipped Level.2 below.
In terms of riding style, the Pace is still fairly relaxed, but it'll feel a lot more aggressive than the Cafe Cruiser above. As noted earlier, it's very light for an e-bike, which means that it's a total blast to ride. You've got the ability to drop to a lower pedal assist level and totally forget that you're on an electric bike. You're riding a simple, nimble commuter, feeling the wind as you breeze past traffic.
As far as power, range, and equipment go, it's worth noting briefly that the Level has a small edge on the Pace in every category – and you can totally remove the rack and fenders to cut even more weight. That said, the low price of the Pace 500.2 makes it a great option for budget-conscious riders who want a fun city bike without the extra bells and whistles.
Aventon Level.2
8-speed Shimano drivetrain
2.1″ wide tires for comfort
Hydraulic disc brakes
54 lbs
30 miles range
500W motor with 750 peak power
Great customer service
The Aventon Level is quite similar to the Aventon Pace 500.2 – it's just better in almost every way. The Level has a bigger battery, a motor with higher nominal output, a front suspension fork, and skinnier tires that offer less rolling resistance and give it a little bit more range.
Most interestingly, adding the fork, the bigger battery, and the included fenders and rack only add 2 pounds of weight. This means that even if you don't want these options, stripping the mudguards and cargo rack off of the Level.2 gives you an even lighter, more powerful bike than the Pace 500.2 above.
There are two "downsides" here. The first is cost, which could be argued either way. The Level.2 is certainly more expensive than the Pace, but it comes with a lot of stuff that you'd have to buy separately. This means that you can justify most of the difference in purchase price if you're interested in suspension, mudguards, or a rack.
Second, the Level.2 has a totally different frame design. It looks a lot more like an e-bike and a lot less like a standard city bike. It doesn't exactly scream "look at me I've got an electric motor" to absolutely everyone, but it does have some major similarities to other common e-bike models from many manufacturers. If you're looking for a "stealthier" bike, the Pace might actually be better.
Overall, the Level.2 is an incredibly light, fun, and fully featured commuter with a mostly upright riding style. It's not quite as relaxed as the Cruiser, though, so it's perfect for someone who wants something that's fun to pedal. It's one of the best options for budget-friendly commuters on the market right now and should definitely be on your short list of bikes to consider.
Trek Allant+ 9.9S
12-speed Shimano Deore
2.4″ wide tires
250 W Bosch mid-drive motor
Hydraulic disc brakes
49 lbs
25 miles
available range booster
Excellent customer service
The Trek Allant+ 9.9S is many times more expensive than the bikes above. It's also way, way, way nicer in many important ways. This is a city bike first, electric bike second. This shows in both the design and the weight.
The Allant+ is virtually indistinguishable from a non-electric Trek, meaning nobody will know that you're getting a powerful electric boost, and it's notably lighter than the other bikes on this list. This means that it feels more agile and nimble as you weave through traffic or navigate right-hand turns at intersections.
As far as components go, the Allant+ murders everything else on the list. It's got a fancy Shimano 1×12 drivetrain that pairs with the name-brand Bosch mid-drive motor to give you whatever combination of torque and speed you're feeling at any given moment. The bike is geared to do well over the 28-mile-an hour class 3 limit if you're so inclined, making it ideal for anyone who wants a workout with their city rides. 
While its nominal output is smaller than the bikes above, remember that the Allant+'s Bosch gets multiplied by the advanced drivetrain. A fit cyclist's average power output might be around 350 watts, so when you add the 250 from the Bosch with your legs, you'll be able to climb hills like a Tour de France champion. The mid-drive motor can be configured to give you anything from a subtle boost to a massive power multiplier, letting you choose exactly how hard you want to work while you ride.
If you're a more serious cyclist, the Allant+ is definitely worth some heavy consideration. You'll get a great bike with great high-end components that will deliver some pretty serious performance. It's not a cheap bike by any means, but you definitely will get your money's worth.
FULL-SIZED FAT TIRE BIKES
Cyrusher Kuattro
7-speed Shimano drivetrain
4″ wide tires for comfort
Hydraulic disc brakes
66 lbs
20 miles range
750W motor and 1200W peak power
The Cyrusher Kuattro is a deceptively light fat-tire e-bike. While it's got a full-sized frame, the step-through design ensures that everyone can get on the bike easily, all while offering a big frame for taller riders. It's a somewhat unusual combination that ensures that the bike is accessible for just about everyone.
It's also super powerful. The Kuattro has a 750-watt rear hub motor (the legal maximum), but its controller can sneak up to 1200 watts of power to the rear hub for strenuous situations like hill climbs and starts. When you combine this with the bike's fairly low weight of 66 pounds, it feels super fast and very nimble – for a fat-tire ebike.
The Kuattro isn't all pluses. It's got a smaller battery than the other two options here, which you might feel more than you expect. Getting more power from the motor means you'll drain the battery faster, and the wide 4" fat tires have a fair bit of rolling resistance. Expect this bike to get notably less range than the Zebra or the Brawn.
Like the Zebra, the Kuattro comes with a rack and fenders. This means that it's very well suited for comfortable city rides. Don't expect to have a lot of fun pedaling this bike around without the motor, though – you'll really miss the 750 watts of power in the back.
Himiway Zebra
7-speed Shimano drivetrain
4" wide fat tires 
Hydraulic disc brakes
79 lbs
35+ miles range
750W motor
400 lbs carry capacity
The Himiway Zebra is a well-equipped fat-tire e-bike that offers a LOT of range. It's a heavy bike, weighing almost 80 lbs with the rack and fenders equipped, but it's also able to go nearly 40 miles with an adult rider without using the pedals at all. This means that it's perfect for someone looking to go on long excursions on just about any terrain.
When considering the range of the Zebra, don't forget that lithium batteries like to be between about 20% and 80% charge. This means that you should try to use about 60% of an e-bike's maximum range during regular rides. The Zebra's massive increase over standard e-bike ranges means that you'll get more charge cycles out of the battery, ensuring that the bike will stay healthy and operational for longer.
As far as power goes, the Zebra doesn't have the same voltage as the Kuattro, but it's still super powerful. You won't notice that this is an 80-pound bike when you've got pedal assist engaged. Instead, you'll zoom around town (or the outdoors) at comfortable class 3 speeds.
I tested and wrote a review on the bike. Read my detailed hands-on review of the bike here.
Heybike Brawn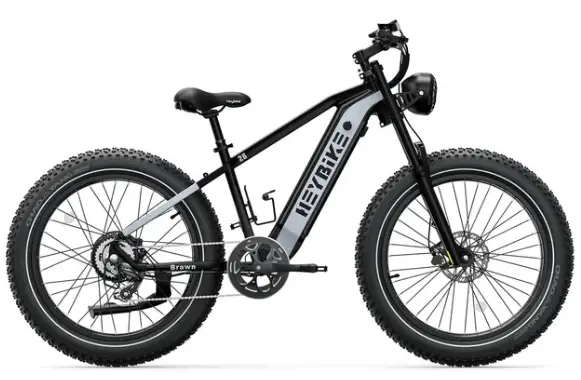 7-speed Shimano drivetrain
4" wide fat tires 
Hydraulic disc brakes
97 lbs
30 miles range
750W motor
400 lbs carry capacity
The Heybike Brawn is a solid budget contender to the bikes above. While it lacks city considerations like racks and fenders, it's got a hydraulic dropper post that makes mounting and dismounting easy and lets you feel more comfortable taking the bike off of big drops. It's still a 77 lb e-bike with a fork that's probably questionable for big jumps, but the option is there if you're comfortable exploring it.
The Brawn's bigger selling point is probably the 19 amp-hour battery. This bike doesn't have quite the same range as the Himiway Zebra, but it's very, very close. It's quite a bit less expensive, too, meaning that you can save a lot of money without losing a lot of performance. You'll lose a few accessories, however, so be sure to price in anything you'd want to put on the Brawn before making final comparisons. For city riding, the Zebra might wind up being the cheaper option when you consider everything that it comes with.
Like the Zebra and Kuattro, the Brawn is big, heavy, and not super fun to pedal without the motor on. It's got similar 26" x 4" fat tires, a similar 7-speed drivetrain, and a similar 750-watt motor. If you're looking for a budget-friendly option that doesn't sacrifice range, it's a great choice.
BIKES FIRST, EBIKES SECOND
Ride1Up Roadster v2
Single-speed Shimano drivetrain
belt drive
1.75" wide tires 
Mechanical disc brakes
33 lbs
20 miles range
350W motor
The Ride1Up Roadster v2 is a 33 lb e-bike. This is an incredibly impressive feat – the bike has to include a heavy lithium battery, a powerful hub motor, a complex controller, and a bundle of electronics to govern the motor's output. The fact that it includes all of these things while still weighing less than many normal bikes is honestly impressive.
So how does the Roadster do this? For one, it's incredibly simple. This is a one-speed bike with a belt drive. It's also less powerful than the 750-watt behemoths above. The Roadster has a tiny 350-watt motor and a small 7-amp-hour battery. It's got plenty of power to help you shoot up hills with a bit of power from your legs, but it's not going to do all of the work for you. 
The result is a bike that's super fun to ride, even with the motor off. With the motor on, the Roadster feels like you're cheating in real-life. You've got the feel and experience of riding on a light, nimble fixie, but you've also got a fit cyclist worth of extra power from the rear hub motor. This means you'll feel like you've always got a tailwind, letting you shoot along at incredibly high speeds with an unusually low amount of effort.
While the Roadster probably shouldn't be your choice of commuter if you don't want to sweat on the way to work, it's an excellent way to make your workout rides more fun. With its incredibly low price, it's definitely a great bike to pick up if you're looking for something to add more enjoyment to your rides.
Cannondale Topstone Neo Carbon Lefty 3 – REI
11-speed Shimano SLX
42mm wide tires
250 W Bosch mid-drive motor
Hydraulic disc brakes
39 lbs
30 miles
Excellent customer service
The Cannondale Topstone Neo Carbon Lefty 3 is a ridiculously nice gravel bike that happens to have a name-brand mid-drive motor in the bottom bracket. The bike's carbon fiber frame is loaded with high-end components, from the 1×11 Shimano drivetrain to the very nice hydraulic disc brakes and tubeless-ready tires. Even without the motor and battery, this bike would easily be one of the most expensive options on this list.
Like the Allant+ above, the mid-drive motor on the Topstone Neo Carbon Lefty adds power at your pedals, not your rear wheel. This means it's multiplied by your gears, enabling you to have the torque you need to conquer hills without sacrificing top speed. The Bosch system has a great torque sensor and several programmed options that help you feel like you're working together with the bike. While it's only got 250 watts of nominal output, expect to cruise along effortlessly in the higher pedal assist modes.
Also like the Allant+, this bike can go way faster than 28 miles an hour with an athletic rider. Expect to get a lot of mileage out of the motor while climbing hills, but be prepared to outpace the legal limits of your bike's assist system on flat ground. Even if you're not quite at that level of fitness yet, the Topstone Neo Carbon Lefty 3 can help ease you into a fun routine that enables you to build the stamina, endurance, and power you need to conquer the roads and trails near you.
Aventon Soltera
Single-speed or 7-speed Shimano drivetrain
Caliper brakes (single-speed) or hydraulic disc brakes (7-speed)
41 lbs
22 miles range on max assist
350W motor
Great customer service
Designed to be both a fashion statement and a capable e-bike, the Aventon Soltera is a remarkably affordable ode to old-school time trial bikes. It's available as both a fixie and a 7-speed, it's fantastically light, and if you didn't know any better, you wouldn't know it was an e-bike. While the Soltera is very much a city road bike and the motor isn't particularly large, it's incredibly fun to ride.
The Soltera is a class-2 e-bike, with a top speed of 20 miles per hour. The geared variant has a 7-speed Shimano drivetrain, while the fixie variant does not. The 350W motor is strong enough that you'll be able to climb steep hills on the fixie version, but it's not necessarily going to get you up to 20 miles per hour without a fair bit of effort from you and your legs.
The Soltera is one of the lightest e-bikes around. Coming in at 41 lbs, it's slightly heavier than a standard road bike, but not by much. You can remove the battery, too, which means you'll be able to shave off a few pounds if you'd like to just ride it around the city without the assist motor.
Given that it's light weight, the Soltera has a very surprising max range of about 22 miles on maximum pedal assist. The thin, efficient road bike tires and lack of any unnecessary pounds on the bike help you get the most out of every bit of power in the battery. That said, the fixie variant can be difficult to ride uphill without the motor, so you'll probably want to avoid running out of juice mid-ride.
The brakes on the Soltera vary based on the version you choose. The 7-speed has mechanical disc brakes, giving you a bit of extra stopping power, while the fixie comes with rim caliper brakes. Both are more than adequate at stopping this light road bike, but you definitely stop faster with the 7-speed.
Despite its road-bike looks, the Soltera still rides fairly upright and comes with flat handlebars. It's got about 15″ of reach, which is about 1″ more than the Aventon Level. Still, it feels very fast and nimble when you ride it.
Between its light weight, its aesthetics, and its incredible fun factor, the Soltera is a fantastic weekend bike. If you're after an electric road bike that's a bit faster and more aggressive, however, check out the Trek Domane variants below.
You can find a detailed hands-on review of this awesome bike here.
Ride1Up Turris
7-speed Shimano
2.4" wide tires
Hydraulic disc brakes
57 lbs
25 miles range
750W motor
Great customer Service
The Turris is an entry-level e-bike that's designed to be accessible and affordable. The Turris has fenders for city riding, mountain bike tires and a suspension fork that smoothens our bumpy roads, and a powerful motor that lets you go fast regardless of your fitness or experience. It comes with a Shimano drivetrain, Tektro brakes, and Kenda tires. 
The Turris weighs 57 lbs.  The battery offers 12.8 amp-hours of power. This is enough to get an industry-standard 25 miles out of a full charge on pedal assist 5, which can be increased to 35+ miles if you're willing to use the motor less and do more work with your legs.
The motor of the Turris is just like the Ride1Up 700 and seems to be tuned more for speed than for torque. This might be a problem if you are looking for a bike for hilly rides. The Turris' motor 750W motor feels less torque than the 350W Soltera. It still goes faster on mild hills, but the Soltera is more agile on steeper hills than the Turris. 
The wide, cushioned, and quite comfortable saddle and the relaxed upright riding design make the Turris very comfortable, even on longer rides. This ebike is available in both step-over and step-through frames. 
The Turris has a very straightforward pedal assist. At higher pedal assist levels, the motor always gives a little bit more added boost, no matter how fast you're going. Many other cadence-sensor e-bikes have pedal assists that control the speed at which the motor cuts off, not its effort level. This is very nice in comparison to other ebikes we tested. 
The Turris is one of the cheapest 750-watt e-bikes I've seen, let alone from a US-based company. It is fast, powerful, and reasonably light, meaning that you'll get to have lots of fun zooming down roads and trails at lightning speed, no matter what your fitness level is.  It's got tires that perform great in off-road conditions while staying skinny enough to go fast on roads without a lot of effort.
You can find a detailed hands-on review of the Ride1Up Turris here
CARGO BIKES
Electric Bike Company Model R
7-speed Shimano drivetrain
hydraulic disc brakes
Battery available: 12Ah, 21 Ah, 30 Ah
46 lbs
with 30 Ah battery 60+ miles range on max assist
350W motor
Great customer service
420 carry capacity
The Electric Bike Company Model R is a very different bike from the other options on this page. With a plethora of customization options, including countless color combinations and securely attached cargo holders, it's a bike that you can tailor to fit your needs. The Model R has been lovingly designed for durability, stability, and longevity, ensuring that your purchase will give you the freedom and flexibility you need for errands, commutes, and more.
The Model R arrives fully built. You pay a small premium for this inconvenient shipping option, as well as the fact that the options you choose are installed at the factory. When combined with the slightly pricier, more durable components, this is a bike that's surprisingly expensive. It's very easy to justify, however, with the thick, sturdy frame and powerful 1250W peak motor.  Don't forget that you'll get a bike designed just for you, too. You'll get exactly the options that suit your riding style and use case.
Perhaps most importantly, the Model R is designed with actual bicycle travel in mind. The rack and basket are designed for easy loading, high weight capacity, and minimal impact on how the bike rides. You'll notice the extra weight you're carrying a little, but it won't impact your steering or handling in an unpleasant or unsafe way.
While it's definitely pricier than some alternatives, the Electric Bike Company Model R is a quality, well-featured e-bike that's perfect for someone who uses their bike to haul stuff – or just someone looking for a custom e-bike. It's solid, durable, and strong, letting you haul plenty of stuff at high speeds with ease.
Tern HSD S11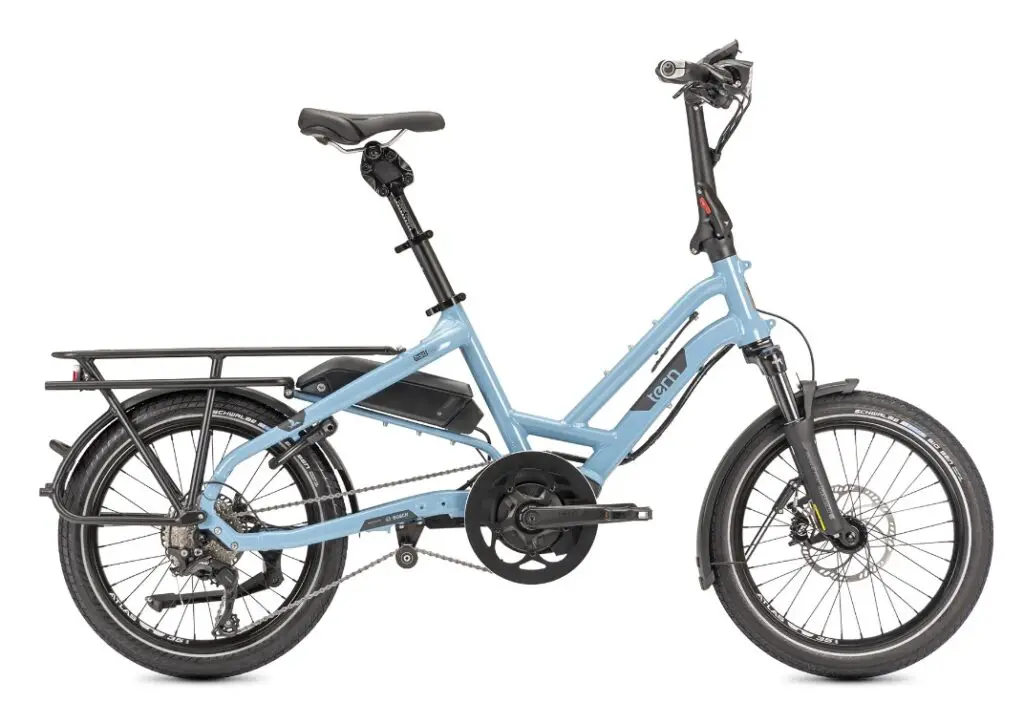 The Tern HSD is a high-quality, well-made folding cargo bike that's designed to blur the line that separates possible from impossible. The S11 isn't the highest-end model in the HSD range – those have futuristic features like belt drives and infinite-speed transmissions – but it's not the lowest, either. Instead, the S11 offers a goldilocks-style combination of features that allow you to use your bike for anything.
For starters, let's talk about the drivetrain. This isn't a simple folding bike with a plebeian 7-speed derailleur. The S11 comes with a very modern 1×11 groupset that allows you to pedal up hills with lots of stuff on the rack without limiting your top speed. You're not going to have torque issues, either, as the Bosch mid-drive motor outputs its 75 NM torque through this system. The result of this is a bike that's fast, fun, and easy to ride, whether you're just looking for a relaxing trip to the market or you want to keep up with your local road cyclists on a group ride.
Despite having all of the features you'd expect from a workhorse city e-bike, like a sturdy rear rack, fenders, hydraulic disc brakes, and even a color display, the HSD S11 weighs a scant 57 pounds. This is a lot less than the fun-oriented folding bikes above – and those bikes aren't designed to carry 100 lbs of cargo and a 270 lb rider. The HSD S11 still isn't a bike you're going to want to carry in a backpack, but the lower weight makes stowage a bit easier while helping the ride stay as fun as possible.
The S11 is fairly pricey. It's a brilliantly designed bike, however, with classification-defying capabilities that let you use it for just about anything. Whether you're looking for a bike for commuting, a light and powerful e-bike for fun rides, or something to pull a heavy trailer or haul groceries, the S11 is an excellent pick.