After giving this bike a few days' worth of riding in my hilly neighborhood, I have begun to fall in love with it. It has so much going for it and is a ton of fun to ride.
The Lectric XP 3.0 (available directly from Lectric) is an excellent budget e-bike that offers great comfort, a good range, plenty of carrying capacity, and it has an excellent motor. It's offered at a price point that's hard to beat or even match. Thanks to its folding design, it can be stored or transported easily.
Let's kick this review off with the most important part, the rating, followed by an in-depth review of the Lectric XP 3.0.
| | |
| --- | --- |
| Lectric XP 3.0 | |
| Max Speed | 28 mph |
| Motor | 500W (1000W peak power) |
| Battery | 10.4 Ah (can be upgraded to 14 Ah for +$150) |
| Brake type | Mechanical disc braked |
| Range on Max Pedal Assist | 20 miles |
| Class | Class 3 ebike (comes with twist throttle) |
| Weight | 71 lbs |
| Carry Capacity | 330 lbs |
| Tire | 20″*3″ fat tire |
| Price | $999-$1,397 (depending on the accessories you pick) |
| Included in the price | fenders, front, and tail lights, rear rack |
Lectric Bikes sent us this bicycle for review so we can provide first-hand experience. They gave us complete freedom in terms of the content of this review.
Lectric XP 3.0 Bicycle
This bike is an excellent entry-level ebike with a solid motor and some features found only on its more expensive competitors.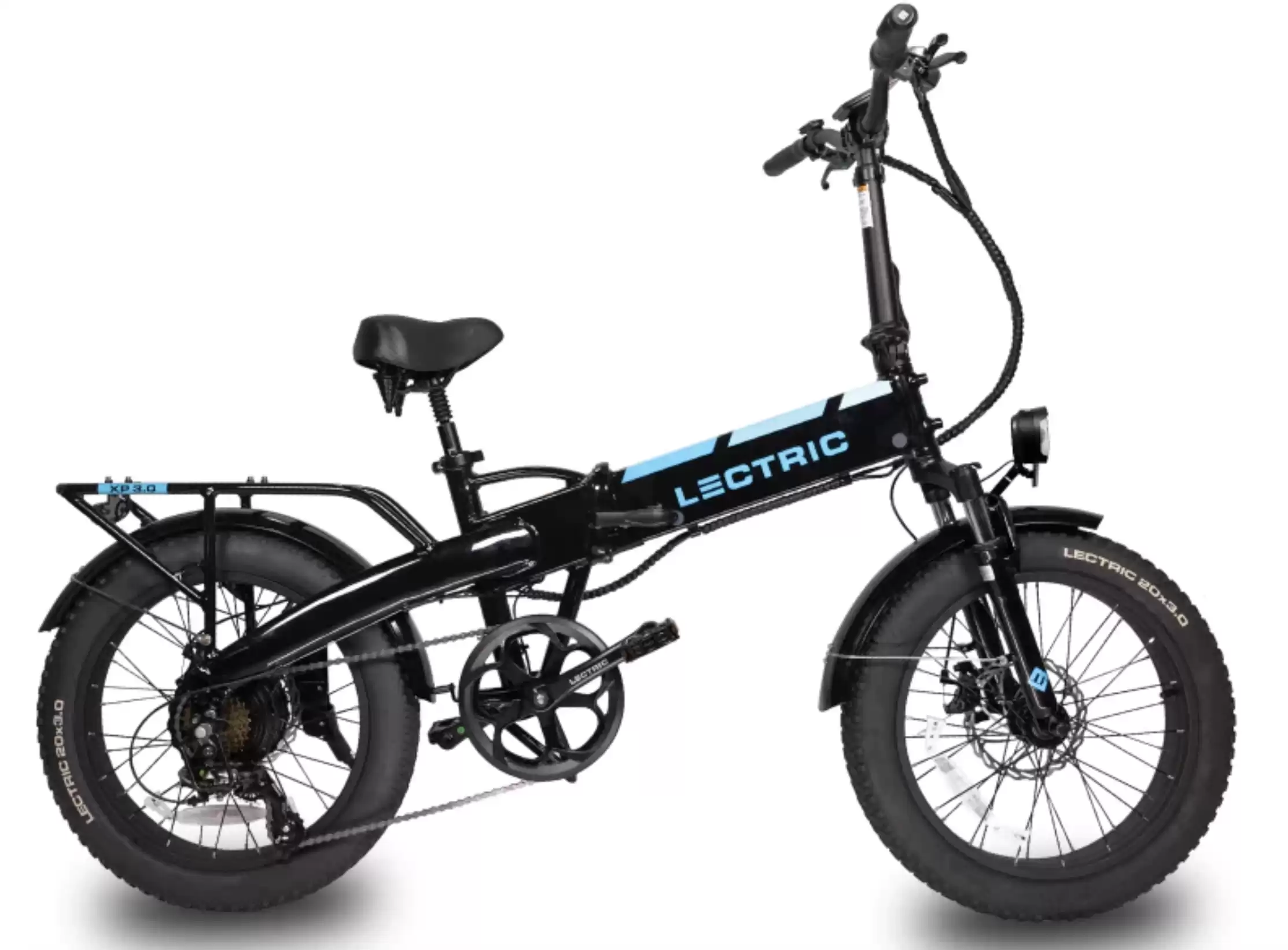 We earn a commission if you click this link and make a purchase at no additional cost to you.
Overview at a glance
The Bike: 4/5
Not much holds this bike back from a 5-star rating in my eyes. In fact, the only thing that holds it back in my mind is the less-than-ideal braking specs and the noisy nature of the bike.
I can get over some inexpensive component choices but riding a noisy bike is annoying. Other than that issue, the overall bike is awesome.
It's hard to find a decent analog bike for less than $1k, so Lectric somehow knocked it out of the park with this one!
Battery: 4/5
Despite being hard to figure out at first, I love the placement and fit of the internal battery. It makes the bike look much cleaner without having a giant tumor of a battery leeching off its back.
It is also lightweight and easy to move with a built-in carrying handle. The metallic case and branding are also cool, giving it a high-quality look and feel.
The claimed battery range of 17 miles (heavy rider, full throttle, mixed terrain) to 65 miles (light rider, minimum assistance, flat terrain), but it gives most riders sufficient juice to ride the bike the whole day.
I tested the range and got some great results. Even in our hilly neighborhood at the base of the Wasatch Mountains, I could get about 20 miles on throttle only or level 5 PAS. Drop it down a few notches and be conservative using PAS 3 with a brief burst of throttle to get through intersections and effectively double the range. I was getting closer to 40 miles on a single charge. It stands to reason that on the lowest PAS and using barely any throttle; you could easily get 50 miles out of this awesome compact bike!
My only real gripe with the battery is that you have to leave the key in to run the bike. What if it gets bent? What if I lose my key? It makes both a real possibility by forcing me to keep a key separate and on the bike at all times. This is a petty gripe, but I think it should be mentioned.
Motor: 5/5
The motor in this thing kicks butt! It's torquey and easily climbs hills while being the quietest hub motor I have yet seen.
I even thought this could be why I heard this bike a lot more than some other ebikes I have ridden in the past. Nonetheless, this motor is a solid win.
Probably the best part of the Lectric XP 3.0 and a serious upgrade from others I have seen. I weigh almost 300 lbs, and this thing was carting me up steep hills with no effort.
My only gripe with the electric system is no throttle in PAS 0. Why? But now I am just getting too nitpicky.
Build Quality: 3/5
This one pains me to give. While so much of the bike feels super high quality and is a beauty to look at, some parts are not.
The tires, grips, saddle, derailleur, shifter, frame, and battery all fall into the excellent category. It's great that these are all the important and main touchpoints.
On the other hand, the brakes, pedals, cranks, fork, etc., fall into the less-than-excellent category. Functional? Yes. Pretty to look at? Not so much. Long-lasting? Time will tell, but I suspect that they can't take serious abuse.
Cheap components tend to wear out quickly, leaving you looking for a competent mechanic or some budget upgrades.
Comfort: 5/5
This is one comfortable bike! The front fork, suspension seat post, and large saddle made for a comfortable ride.
Add in the smooth and controllable handling, and you have a huge winner in the comfort category! My aging rear end felt right at home on this bike, and hitting bumps and occasionally off-road was no challenge.
This bike is truly a comfortable ride, and anyone looking for a good neighborhood cruiser, paved trail tromper, or daily commuter would be pleased as pie!
Practicality: 5/5
It folds up! This is one of the most significant redeeming features of this bike. The ability to fold gives it a place in your car's small trunk, your cleaning closet, or under your work desk. Bring it onto the train with you! Cross-country travel! Van life!
This bike will easily fit into your lifestyle and reward you with rides in the fresh air!
Whether using it to commute back and forth to work or for recreational rides around the block. The Lectric XP 3.0's affordability and practicality make it a no-brainer when it comes to deciding on an ebike!
Overall: 4/5
Putting everything together and under a nice bow, I would easily recommend this bike to a friend or family member looking for a quality ebike on a budget.
There are many brands out there that charge a whole lot more for a whole lot less. One that pops into mind is the Rad Expand 5. It is comparable with its ability to fold, plus-size smaller diameter tires, budget price, etc.
The main difference is the Rad is 500 bucks more, and the quality is much much lower. With the Lectric XP 3.0, you get even more features, a higher quality build, and a better ride for much less of a dent in your wallet.
Lectric XP 3.0 Bicycle
This bike is an excellent entry-level ebike with a solid motor and some features found only on its more expensive competitors.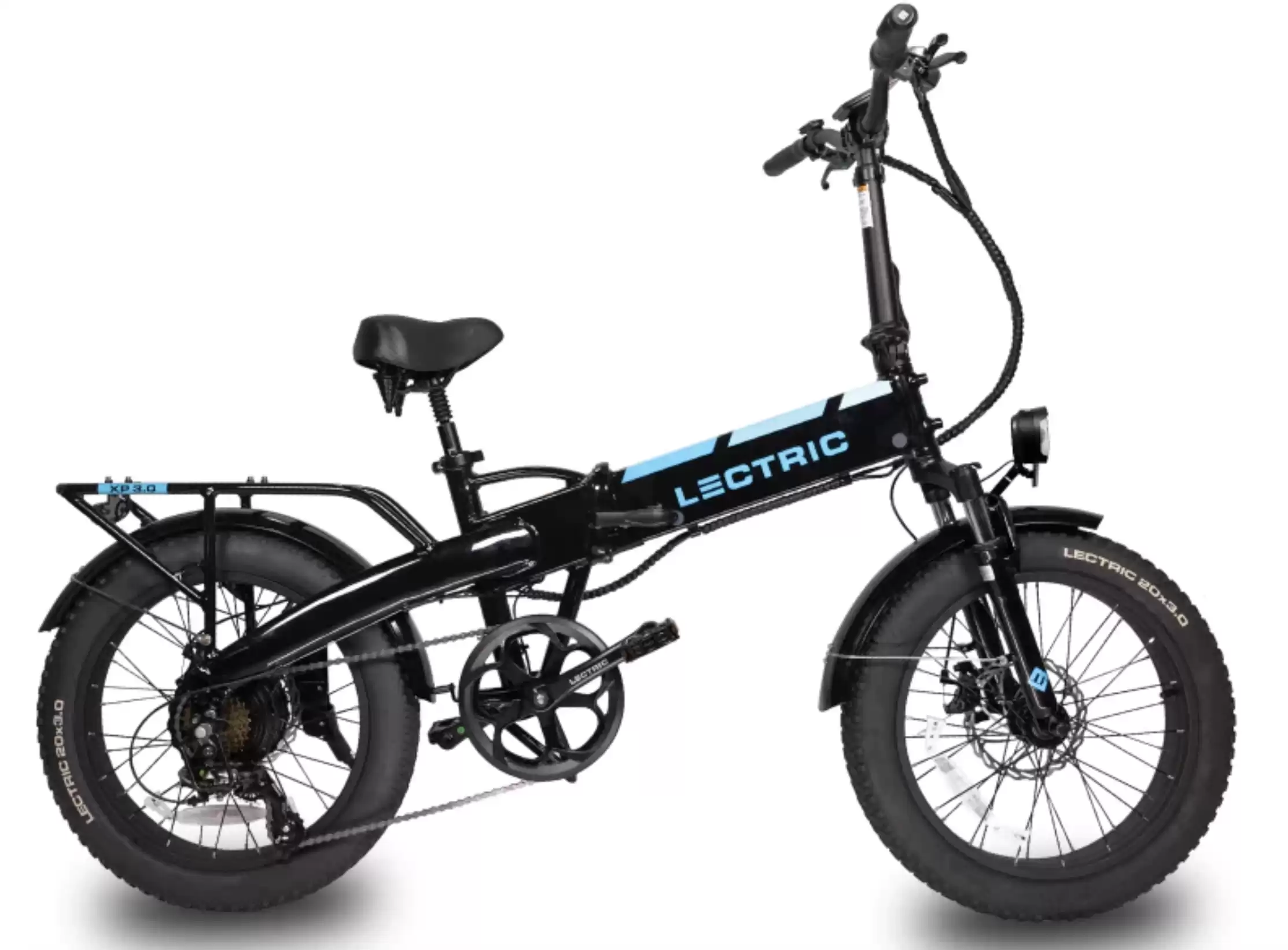 We earn a commission if you click this link and make a purchase at no additional cost to you.
Detailed hands-on review
The FedEx driver finally had the pleasure of dragging my new ebike up two flights of stairs and onto my front porch. What was neat is even though the box was large, it was not nearly AS LARGE as I was expecting, and the package arrived in perfect condition.
I own a few other ebikes and have worked in the industry for almost ten years, so I was eager to put this bike through its paces as I'd never ridden a Lectric bike before.
After dragging it in, I started snapping pics and checking out the box. One of the sides proudly stated, "No tools required for proper bike assembly." Well, let's go ahead and test that one out now…
Unboxing and Assembly
I opened the box and was greeted by a tangle of warning tags, cardboard, and packing foam. It was easy for me by myself to pull the bike out of the box and place it on my living room floor. Now it was time to get to the work of cutting off zip ties and removing packing materials which, believe it or not, can be rather tedious. 30 minutes later, we were ready to "assemble" the bike!
I use the word assemble very loosely. I am quite impressed that the base bike does not require tools for the final assembly. It pretty much went like this: unfold the bike, pop open the kickstand, put in the handlebars, and boom. This baby was ready to ride! 
First Impressions
The Good
Great looking, good tires
What a beautiful ride! Straight out of the box, this bike is already a head-turner.
The most impressive thing to me, and the one thing that caught my attention from the get-go, was the tires. I am an absolute sucker for a good set of tires, and these not only look impressive but exude quality.
The tread of the 2.0 inch wide tires looks beefy and like it would be just at home in dirt and gravel as it would be on the asphalt. They are definitely confidence-inspiring, with snowy and icy weather right around the corner.
Good shifting
The next thing to catch my eye was the 1 x 7-speed drivetrain coupled with a Shimano tourney derailleur in the rear.
Oftentimes at this price point, many companies will cheap out and use the low-end basic no-name paddle derailleur. Not this one, while it may be on the low end of the spectrum, you can be sure you've got a good derailleur that "just works" and won't give you a whole lot of guff.
Take it from me, a 30-year bike mechanic, adjusting and maintaining a tourney is a whole heck of a lot easier than the no-name pieces of junk.
Attention to detail
Other items that left me impressed were the metal fenders, the stunning headlight, the feel of the grips, and the comfort of the saddle.
I could probably go on and on about the look of this bike. It really looks fantastic and has a lot of the features that many bike commuters and ebike enthusiasts would love. It's hard to believe you get all this for under $1k.
The Not So Good
Not a whole lot, to be honest! During My initial inspection, I found one of the connections up front had been disconnected. That's an easy fix, and all I needed to do on my end was reconnect the cable. Boom! Done!
Besides that, the base bike was easy peasy and ready to ride off into the sunset. But I wanted my accessories installed, such as the included lock, pegs, passenger seat, and handlebars.
This is where the "no tool" thing stood out. While the lock had a properly sized Allen key provided, the passenger handlebars and the pegs did not. I had to use my own multi-tool and 17mm wrench to install both.
If I hadn't had these tools on hand, my options would have been to hit up a friend or go and buy them at my local bike shop. On top of that, installing these items is not user-friendly or straightforward. A provided instruction sheet or even a QR code to a video would have been nice.
The only other point of contention I had was with the battery itself. First, I was trying to pull the battery out and realized it would not come out easily.
I was a little confused as it looked like it should pull out. I went and watched a video and figured out the nuances of it. You must first unlock it, and then it can be removed. Ok, that makes sense!
However, it just seems a little clumsy to insert the key and unlock the battery, then remove the key then pull out the battery. While it makes sense after the fact, some kind of instructions would have been nice. I searched the box for a user's manual but found nothing.
A user manual and maybe a basic tool set would have been awesome! At the very least, easily provide some QR codes or links to videos or blogs to help us get this done. If these were readily available and I missed them, then be sure to make them more visible, as this will help those entering the bike world for the first time.
Lectric XP 3.0 Bicycle
This bike is an excellent entry-level ebike with a solid motor and some features found only on its more expensive competitors.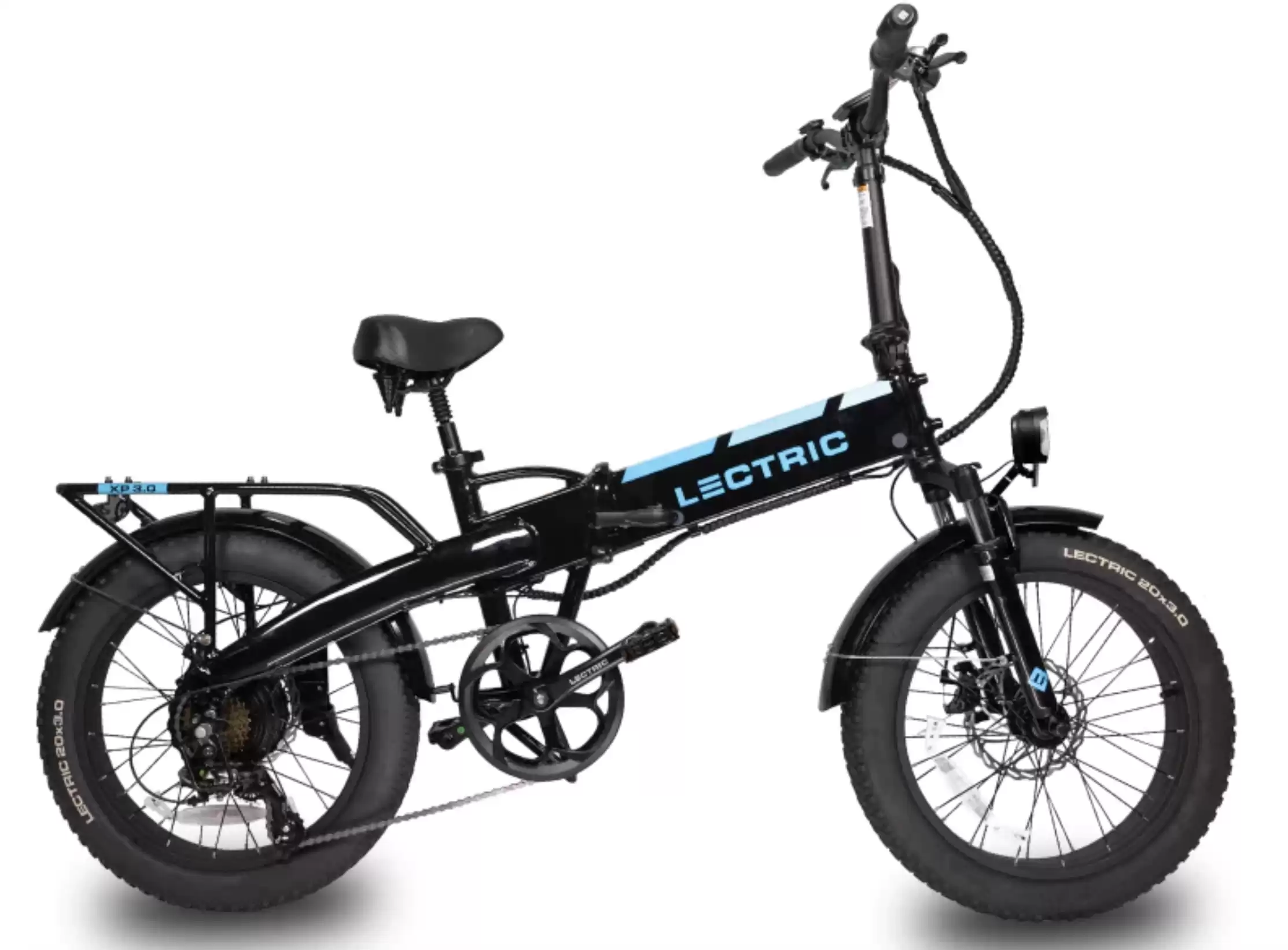 We earn a commission if you click this link and make a purchase at no additional cost to you.
First Ride
While this beauty was ready to ride out of the box, as a long-time bike mechanic, I wanted to perform some adjustments.
I ensured the tires were at a proper PSI, the chain was lubed, and the brakes felt good and tight. It is entirely possible to ride this bike right out of the box but remember it is never a bad idea to have yourself, a good friend with lots of bike knowledge, or a bike mechanic take a look at it before your first ride.
That said, it took me about two hours to unpack the bike, inspect it, install my accessories, and make some final adjustments. Now we're ready to ride!
The Good
Rides excellent
Right from the gate, this rig will put a smile on your face! The throttle is fun, and the pedal assist is peppy. I was able to tackle the hills in my neighborhood with ease.
The new upgraded 1000W peak rear hub motor with 55 nm of torque quickly moved my overweight bum and my gear with almost no effort. On top of that, the new motor is almost whisper quiet leaving behind that old familiar hum of electric motors in the past.
Speed and climbing
One word sticks out during my speed test, peppy! This bike takes off just fine with a rider and their gear on the twist throttle. No stuttering and no slow wind-up. The motor moves you up to 20 MPH at a nice consistent pace. Even better is the PAS.
On level 5, the Lectric XP 3.0 takes off like a rocket. Quickly getting up to its top speed of 28 MPH. Whether it is going to work or to the store to grab a snack, you can be sure this ride will get you there quickly!
I live in the Rockies, so my area does not lack hills. I have a pretty sweet trail that goes up into the mountains with impressive grades from 7% to 10%. The Lectric XP 3.0 handled these obstacles with relative ease and carried me up[ and over these steep hills with no issues.
Of course, the steepness can eat your battery and range, so be mindful of that. However, when it came to going uphill, this bike handled it like a rockstar. Climbing hills is just another thing this bike does fantastic!
Good gear range
The Shimano "Mickey Mouse" shifter up front, coupled with the Tourney 7-speed derailleur is crisp and smooth.
The 11-28 tooth freewheel helped to provide pedaling efficiency and a more effortless riding experience. Many companies will skimp out in this area leading to a bike with limited hill climbing and no top-end speed. This combo on the XP 3.0 meant I could easily climb the hill but also hit the high notes on flat ground. I never felt like I was missing out on a gear with this setup during my rides.
Comfortable ride
The saddle! I know this is part of the Black Friday special, but the saddle that came with my model is incredible. Super comfy and has a high-quality feel to it. The bonus is it came with a suspension seat post. Riding over bumps and crappy road conditions was no issue with this combo.
Great tires
The tires! I bet you knew this would come up again! I love the tires on this thing. Not too noisy on the road but with the added benefit of big knobs for better traction.
These plus-sized tires run like a thinner commuter tire when it comes to noise but offer the prospect of added traction in gnarly weather and taking this rig off the road. I didn't do much gravel grinding, but these tires offer the best blend of both worlds.
While I wouldn't recommend single-track mountain biking on the XP 3.0, it is safe to say that a variety of terrain can be thrown their way, and they will tackle it. Truth be told, I truly dig the tires on these bikes.
Folds small
Compact! The bike folds up into a smaller package making it easy to stash in a closet or in an unused corner.
Unlike most bikes that take up an enormous amount of room, this foldable bike can easily be collapsed and moved out of the way. It's great for those who live in a small apartment or tiny home and want to maximize their floor space without giving up a significant portion to their bike.
Another great thing about a foldable bike is being able to stash it in a corner at work. You don't have to leave your bike outside to the elements or crime and can be sure your ride is there and ready when it's time to go home.
Lectric XP 3.0 Bicycle
This bike is an excellent entry-level ebike with a solid motor and some features found only on its more expensive competitors.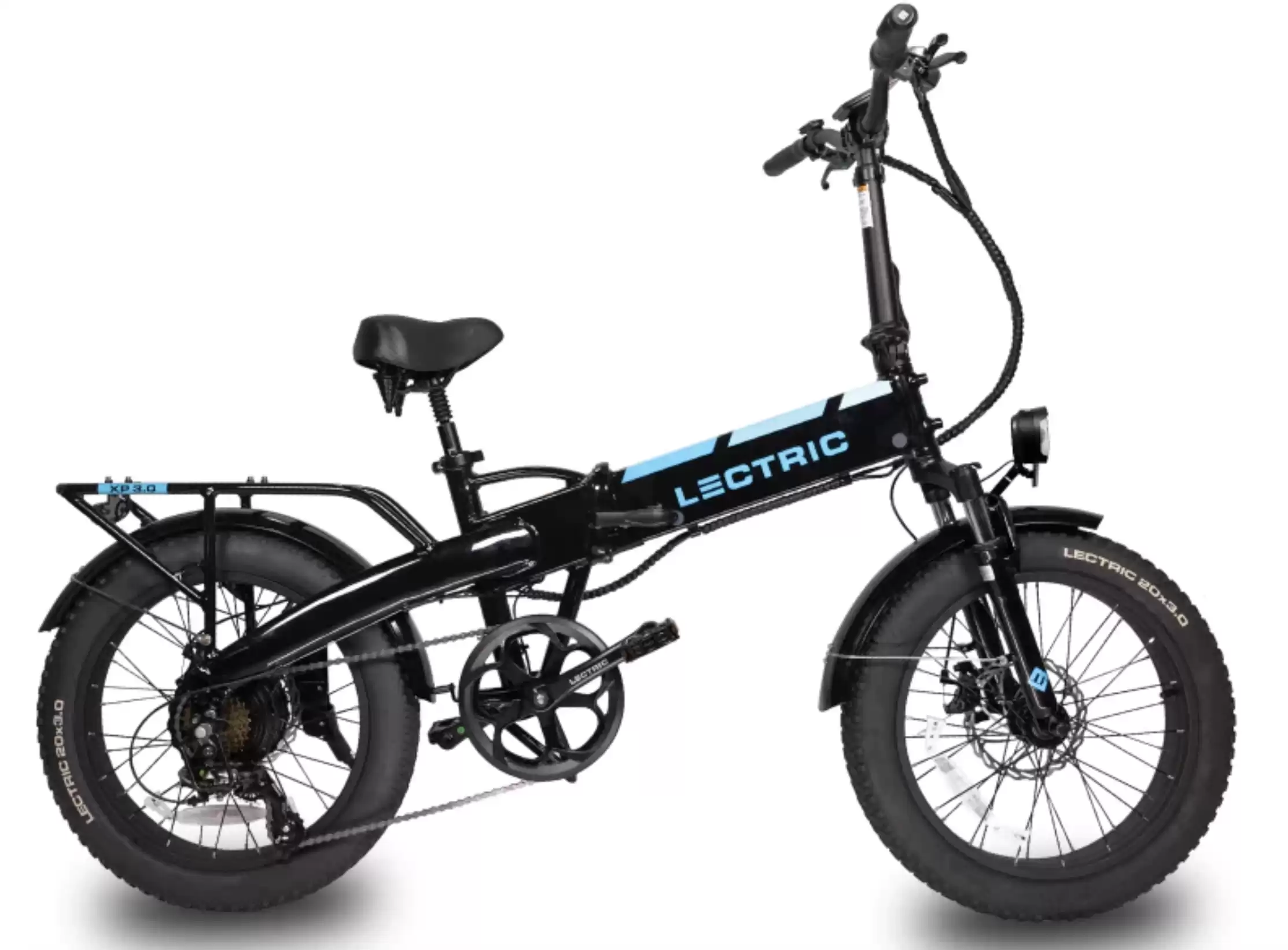 We earn a commission if you click this link and make a purchase at no additional cost to you.
Additionally, you don't need a bike rack or a particular car to fit this ride. Fold it up and throw it in the back seat or the trunk. For bonus points, get yourself a big Tupperware bin and use that to store the bike while it is folded. Makes it easier to move and keep out of the way; this is especially handy for van lifers or RVers.
Maneuverablity
Finally is the ride! This bike is super easy to handle and highly maneuverable. Its small wheels and smaller size make it a breeze when cornering or going from sidewalk to pavement and everything in between.
This bike moves easily and can slip in and out of tight spaces. Riding it is so fun with its ease of movement. Anyone looking for a highly maneuverable bike that is addictive to rip around will love this ride!
The Not So Good
Brakes
While this is common among budget ebikes, my biggest complaint is the brakes! Out of the box, the rotors rubbed on the brake pads in some spots. Nothing major, more of an annoyance, but I did my best to true them out of the box. During my first few miles, you could hear them rubbing slightly with a light "sing sing." After a few miles and bedding in the brakes, the rubbing had subsided.
Another issue was the howling that came during hard stops; however, after the first few miles, the manufacturing imperfections and factory sheen must have been rubbed off. It took about 10 miles and the brakes quieted down substantially. They still produce a high pitch whine when stopping, but I have found that to be particularly common among budget ebikes. If I were to look into upgrades in the future with this one, it would be a better set of brakes.
Noises
Creaking?? Something creaks. It sounds like it is coming from the front end, but I have not been able to locate it entirely. It's very slight and reminiscent of a campfire.
Nothing seems to be amiss, and everything works fine, so I am not concerned, but this highlights another issue prevalent in budget ebikes. The fitment is not quite as good as more expensive models, which often leads to more noise emanating from the bike itself during rides.
Some sub-par components
Some cheap components. Now I know they had to save the money somewhere to give you such a feature-rich bike for under $1k. That said, some of the components are on the lower end of the spectrum, and it shows.
The biggest offender, as noted above, is the braking system. While it does the job just fine, it does leave you wishing for a bit more.
The same can be said about the pedals. After my first ride, I noticed a chunk had fallen out of the left one. Still usable and rideable, but it must have nicked the ground and broken a piece off. It makes me wonder how long some of these items will hold over time. However, I understand there had to be sacrifices to offer an awesome entry-level ebike at an awesome entry-level price!
Conclusion
Are you looking into getting into ebikes? Do you want to see if it is the right hobby for you but don't want to go broke? Then be sure to check out the Lectric XP 3.0! This budget ebike is a tremendous ride with all the frills for under $1k!
Even if you are looking to bolster your ebike stable and want something on the more inexpensive end of the spectrum, this rig is the perfect addition to your fleet. Loaded with really cool accessories and excellent features while providing a smooth and comfy ride, this bike will put a big smile on your face!
The bottom line is that the Lectric XP 3.0 is an excellent budget ebike and one of the best I have had the opportunity to try. If you are looking for a solid ride for a price that won't break the bank, this could very well be it!
Who knows? Maybe we will ride past each other on the bike path on our Lectric XP 3.0s?
Happy Pedaling!