Ebikes are nothing new. They have been being produced since the 90s however these models were often over 100 pounds and used unreliable lead-acid batteries. These days Ebikes are much lighter and use more reliable and safer lithium-ion batteries. The electric bike world is quickly growing with many companies getting in on the action, two of those are: Rad Power Bikes and Himiway.
So which one is better: RadRover or Himiway Cruiser? RadRover is built of superior quality bike components, its geometry makes it more accessible for a wider range of riders and it has an outstanding customer service network. The electronics of Himiway is highly customizable and it has a stronger battery capable of higher speeds and longer rides. 
While these bikes do look very similar they are indeed very different in many ways. In this article, we are going to dive into what makes them different and why you may prefer one over the other. Without any further delay…
| | | |
| --- | --- | --- |
| Category | Himiway Cruiser | RadRover 5 |
| components | brake levers, fork, derailleur not specified  | Tektro and Shimano |
| electronics | 48v and 17.5 Ah battery | 48v and 14 Ah battery |
| | ->faster acceleration | ->slower acceleration |
| | ->longer range(35-60 miles) | ->shorter range (20-40 miles) |
| geometry of low step model | harder to mount (28") | easier to mount (20.25") |
| accessories | more accessories (rear rack) | less accessories but higher quality |
| brand and services | less known brand | established brand comes with excellent support service |
| price | $1,499 | $1,599 |
Our Pick
RadRover 6
Introducing the RadRover Step-Thru, a low-step electric fat bike that combines the rugged look and capabilities of our flagship model with a new frame style that meets the needs of all riders.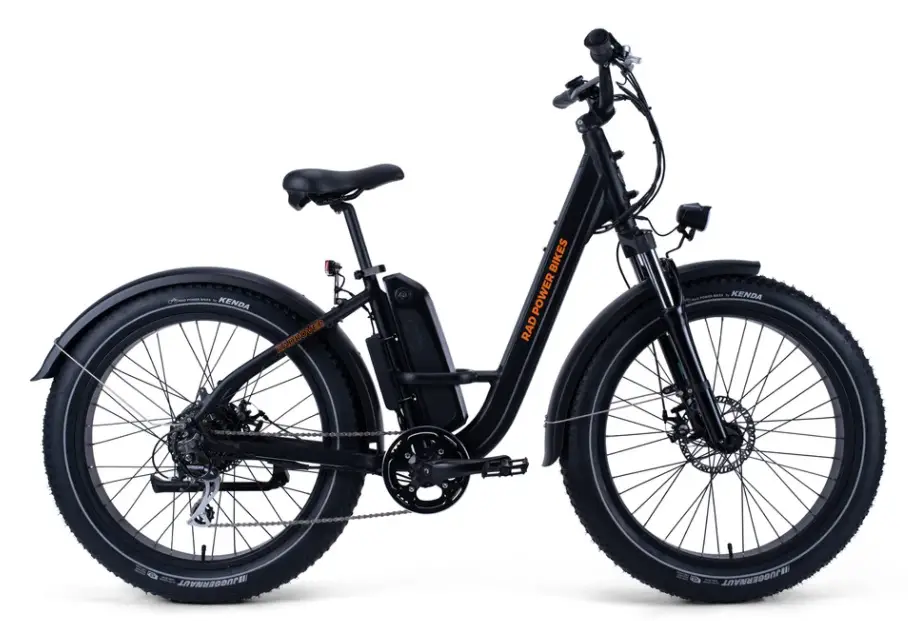 We earn a commission if you click this link and make a purchase at no additional cost to you.
Himiway Bike
Himiway makes some of America's best electric fat bikes. They can take you to places regular bikes, and even ebikes can't.
We earn a commission if you click this link and make a purchase at no additional cost to you.
Rad Power Bikes vs Himiway Bikes
Rad Power was born in 2015 from its current CEO Mike Radenbaugh. They make affordable and high-quality Ebikes.
Himiway was started in California in 2017 by another man named Mike, but this time Mike Magaruh. They manufacture of rugged Ebikes with an outdoor focus. 
Comparison of the Bike Components
A quick look at both bikes will leave you thinking that they are indeed very similar. They share a 6061 aluminum frame, Tektro Aries mechanical disc brakes, and front fork suspension. 
However, when looking closer you will quickly realize that both bikes are specced a bit differently when it comes to the bike components. 
While both bikes share a 7-speed Shimano drivetrain the RadRover 5 features the Shimano Acera whereas the Himiway has a Shimano Altus. The Acera is one step above the Altus on the Shimano hierarchy chart making it a bit more rugged and reliable when compared. 
The same can be said for the shifters with those on the RadRover being of a higher quality.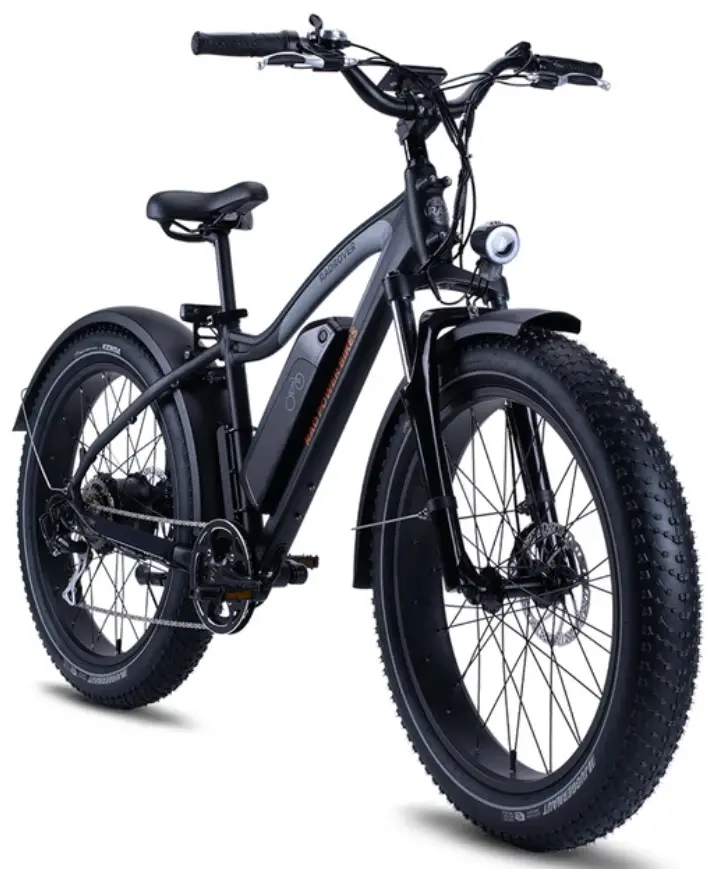 Another difference is in the front fork suspension. The RadRover features a higher quality RST fork while the Cruiser is not specified. 
This in itself is a concern about Hmiway with components like the brake levers, fork, derailleur and others not being specified in the specs which could be the biggest reason for the $100 cost difference.
When diving into the component end of things it becomes clear that although the Rad Power Bikes RadRover 5 is a hundred dollars more than the Himiway Cruiser it is a better buy. 
Trusted components can often make the difference between a frustrating bike and a loved bike. In this category, we give a clear win to Rad Power Bikes!
Comparison of the Electronics
This is another area where at first glance both bikes seem to be very very similar. They both have 750-watt motors and share a 48-volt battery so they are the same right? No! 
While the motors are nearly identical being brushless hub drive motors with 80nm of torque. This gives both the needed power to handle roughest terrain and conditions that can be thrown at them.
The huge difference is in the batteries themselves. The RadRover features a 48v battery with 14 Ah whereas the Cruiser features a 48v battery which has a heftier 17.5 Ah. This makes the Himiway's battery a tad heavier but it also gives a bit more range. 
The Himiway cruiser is said to go between 35 and 60 miles on a single charge with the RadRover getting an estimated 20 to 40 miles per charge.
Himiway Cruiser is also a more agile ebike, it can help you reach 28 mph whereas the RaRover 5 reaches 24 mph under the same circumstances.
Both models feature lights, charging ports, and beautiful displays. Fundamentally the electric components are close to being the same. The biggest difference is the extra power that is stored in the Himiway battery.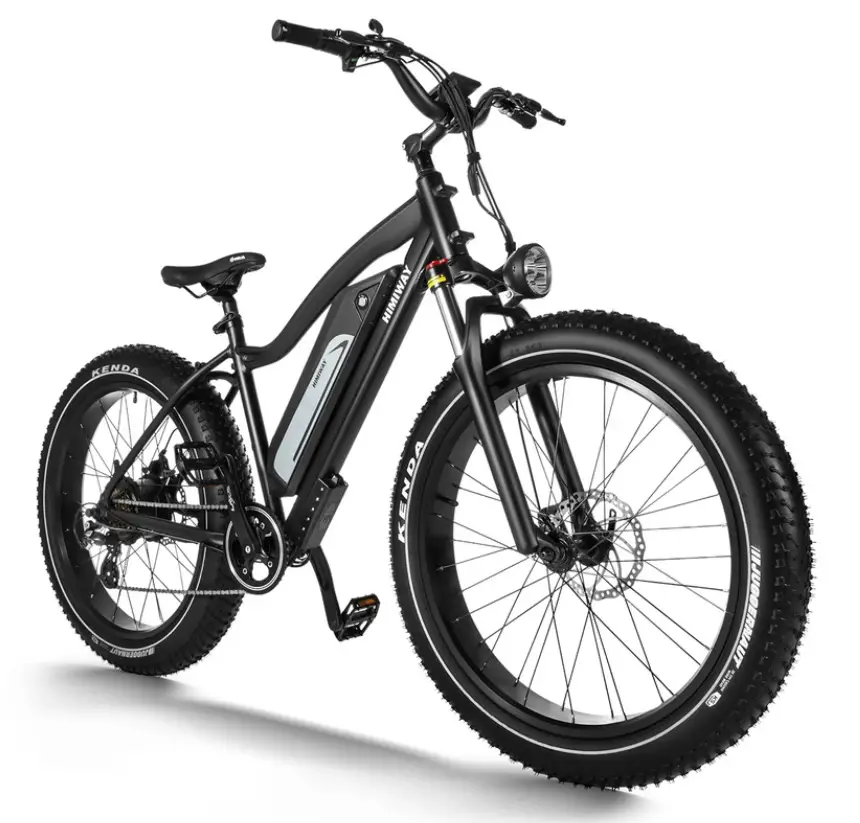 The setting of Himiway is a bit more sophisticated: the pedal assist levels are originally programmed on both from 0 to 5 but in the case of Himiway you can change that to 0 to 10. It even allows you to determine what percentage of power you want to get from each level of pedal assist. Himiway's settings are highly customizable and programmable.
So in a head-to-head comparison, we would have to go with the electronics of the Himiway over that of the RadRover. Especially if you are looking to go a little bit further or faster. 
Comparison of the Geometry
Would you be surprised if I said that these bikes are very similar in this category too? Good, cause they are. 
It would not be hard for many people to look at the RadRover 5 and the Himiway cruiser right next to each other and get them confused as the same bike. However, just like the other categories, when compared here there are differences between each bike. 
Both the RadRover and the Cruiser are offered in high step and low step models. 
In both models, the seating position is upright and comfortable making it easily approachable for riders of all styles and abilities. Although the Himiway Cruiser has a slightly longer handlebar reach resulting in a more forward leaning riding position similar to a mountain bike whereas sitting on a RadRover 5 feels more like a cruiser bike.
The difference does come down to accessibility. While the standover height for the high step is a comparable 30.5" for the RadRover and 31" for the Himiway Cruiser. The low step model on the other hand is 20.25" for the RadRover and 28" for the Cruiser. 

This means that in the low step models the RadRover is much easier to mount to newer riders or those who exhibit mobility issues. This goes hand in hand with Rad Power bikes Ebikes for all mentality.
Because of this when comparing geometry we give the clear win to the Rad Power RadRover 5. While these two bikes' geometry is very similar the RadRover low step model can be utilized by a wider variety of people making them more inclusive.
Other Factors
If you are on a very tight budget and would like to save $100 on your Ebike purchasing the Himiway Cruiser may be the right option for you. You can also save some money on not having to spend on the rear rack (60lbs carrying capacity) as it comes mounted while for the RadRover 5 you need to buy one for an extra $70 which has only 40lbs capacity.
However, in most cases, it is a better idea to spend the extra money and go with the bigger name. Rad Power Bikes has award-winning customer service in place with an extremely robust service network. Rad Power bikes have a commanding reputation for being high quality and low cost. 
Furthermore, the Rad Power Bike's official accessories such as racks, lights, fenders, and so much more are often regarded as being super high quality. 
The RadRover also comes in a choice of multiple colors making it easy to customize to your taste. Best of all Rad Power Bikes is quickly growing throughout the globe. With many retail and mobile locations popping up in major cities in the US, Canada, and Europe. This is making it even easier for RadRover owners to service and maintain their bikes.
When it comes to these other factors we give the RadRover a win. If it comes down to the hundred dollar difference we are inclined to say that spending the extra money is worth it if only for the support network. As is the case with most products it is only as good as its reputation and Rad Power Bikes has an amazing reputation for standing by its products.
Final Verdict
The Rad Power Bikes RadRover 5 takes home 3 out of the four categories making it a clear winner in our eyes! However, If you are looking for an Ebike for under $2k you can't go wrong with either the RadRover 5 or the Himiway Cruiser. 
If you are looking for a superior quality Ebike,  with a loyal following of many fans, a massive support structure, and a proven track record then look no further than the RadRover 5. For these reasons we here at Bike Commuter Hero are going to say that the RadRover 5 is the clear winner of our Ebike Showdown.
So whether looking for an awesome electric commuter rig or just a sweet ride for weekend jaunts then be sure to give the RadRover 5 a good look. If you just cannot part with the extra $100 then check out the Himiway Cruiser. But our money is on the RadRover 5!
Happy Pedaling!