Biking can get difficult as you get older. For many of us, the process of aging complicates physical activities. Changes to your body, injuries, and other factors often turn things that used to be simple and enjoyable into arduous processes that are hard, if not impossible.
Luckily, technology can help. By offloading some of the hard parts of your favorite activities onto pieces of technology, you can focus on the easy and enjoyable parts without doing as much work yourself. 
Electric bikes are a perfect example of a way to leverage technology to make things easier. These clever contraptions allow you to adjust the difficulty of your bike rides to whatever level you want while keeping pace with your friends and family. It's a great way to ensure that you're able to enjoy biking the way you want, regardless of your level of physical fitness.
I have tested several of these bikes, and I have ridden with many senior cyclists. Here are the best electric bikes for senior riders.
RadCity 5 Plus Step-Thru
RadCity 5 Plus Step-Thru
The RadCity 5 Plus makes every trip into a town a joy ride. Hydraulic disc brakes and a 750W geared hub motor help you conquer hills without breaking a sweat, while a semi-integrated battery makes recharging and storing your battery a breeze.
We earn a commission if you click this link and make a purchase at no additional cost to you.
The RadCity 5 Plus Step-Thru is first on our list for a reason – in a lot of ways, it's the Goldilocks of accessible, versatile e-bikes. While this isn't the cheapest bike on our list, it's incredibly affordable, giving you a big battery, a powerful, reliable 750-watt motor, and a set of great components, including hydraulic disc brakes and a 7-speed Shimano Altus drivetrain. 
A rear rack and fenders are included, as well as 2″ wide tires and front suspension for smoothing out bumpy roads. With a strong, comfortable step-through frame, effortlessly adjustable handlebars, and frame geometry that's set up for upright, relaxed riding, there's no reason not to live this bike.
Unlike most other e-bikes in its class, the RadCity 5 is programmed with a top speed of 20 miles an hour, not 28. This helps ensure that the bike is legal in more cities, but it also keeps your speed a bit more reasonable around pedestrians and other riders. 
20 miles an hour is quite fast, and while this bike feels incredibly stable and controllable at that speed, it's much faster than most people get on a traditional bike. In addition to keeping you safer around other road users, the lower top speed gives this bike more battery life, as the motor won't work extra hard to get you to a marginally higher speed.
The RadCity 5 Plus goes a bit farther than other bikes in its class per charge, getting about 30 miles on maximum pedal assist and slightly more than 50 miles on lower pedal assist levels. 
This is no doubt helped by the lower top speed, but it's also helped by the slightly lower weight of this bike. In a category where most e-bikes are 70 pounds or more, the RadCity 5 manages to weigh about 64 lbs. 
This helps the bike stop quickly, conquer big hills on throttle only, and get a little bit more out of the battery in between each charge.
The RadCity 5 Plus isn't cheap, but it's very inexpensive for what you get in the box. No components are wasted, either. Everything on this bike contributes to a smooth, controlled riding experience that's backed up by plenty of motor power and a deep reserve of battery life.
This bike's closest competitors, the Aventon Level and the Ride1Up 700 Series, offer very similar packages for slightly different prices. At the time of this writing, the Level and the 700 Series are both slightly less expensive, but not by much. 
The RadCity 5 Plus has a competitive edge when it comes to range, hill climbing ability, stopping power, and weight, making it a slightly better choice if you don't need a 28-mile-per-hour top speed. If you're on a budget, however, or you want to go as fast as possible, be sure to check out those bikes below.
Voltbike Elegant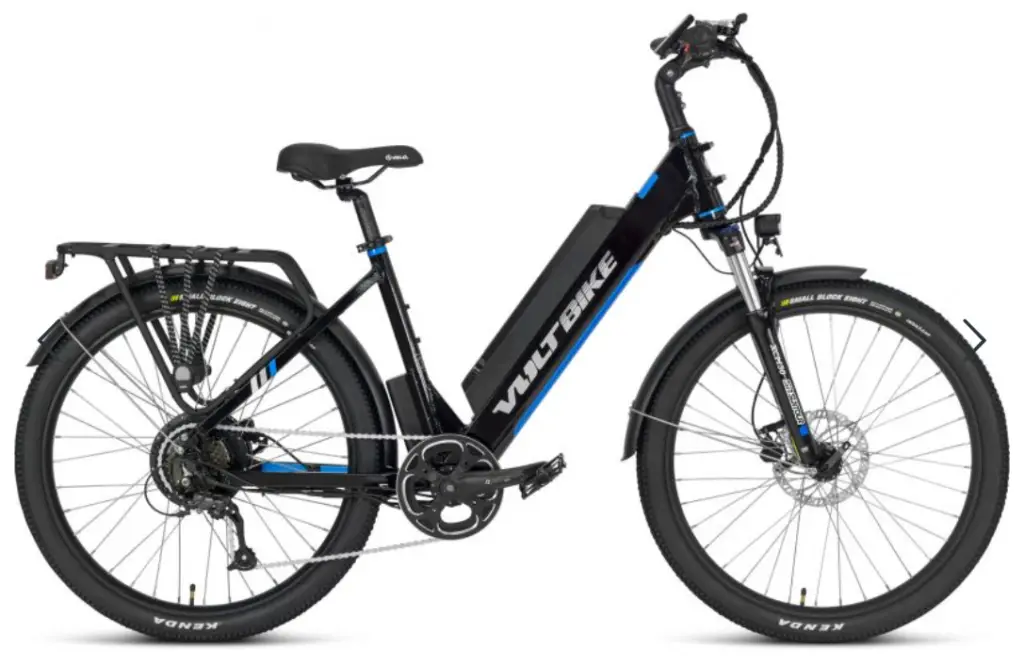 The VoltBike is one of the older bikes on this list. While it's been upgraded to use the latest technology and components, the core model has been around for several years. It's earned a reputation as a reliable, affordable commuter, with its tasteful, no-nonsense frame and solid selection of components getting bikers where they need to go.
The result is a very similar bike to the RadCity 5 above, with one important caveat: the Voltbike Elegant has a smaller motor, offering only 500 watts of nominal power. Everything else is similar, including the 20 mile an hour top speed, hydraulic disc brakes, 2.1″ wide tires, front suspension, included rack and fenders, and easily adjustable handlebars. 
The range is surprisingly similar, getting between 25 and 60 miles per charge. The Elegant has a smaller motor, a bigger battery, and weighs less (61 lbs to the RadCity 5 Plus's 64) suggesting that the RadCity 5 might have a better-optimized controller.
The Elegant is not without its perks. Its full-color LCD display is much nicer than the split display on the RadCity 5, which can be difficult to read in direct sunlight. 
It's also a bit cheaper, enabling you to save some money for accessories like front racks, pannier bags, or a fancy helmet. It's also available in two frame styles, giving you some choice in terms of aesthetics.
These differences aren't huge. While this is an excellent bike, it's probably slightly worse than the RadCity 5 Plus for most riders, and it's not that much cheaper. 
Be sure to check the price on both, but do remember that the RadCity 5 has a slightly bigger motor and an otherwise very similar set of features. If the prices are similar, you might want to go with the RadCity instead.
Ride1Up 700 series (step-through)
Ride1UP 700
An excellent electric biking experience. Hydraulic fork, hydraulic brakes, color display, 14 ah Samsung cells, Schwalbe Super Moto X tires, fully integrated aluminum frame.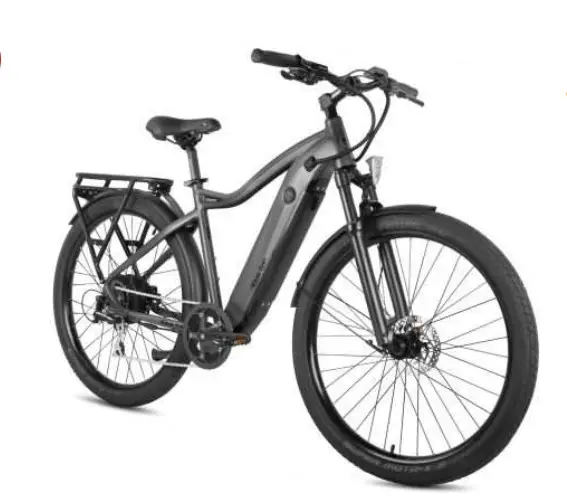 We earn a commission if you click this link and make a purchase at no additional cost to you.
If you've been hankering to go faster than the 20-mile-per-hour top speed on the two bikes above, the Ride1Up 700 series will help you get there in style and comfort.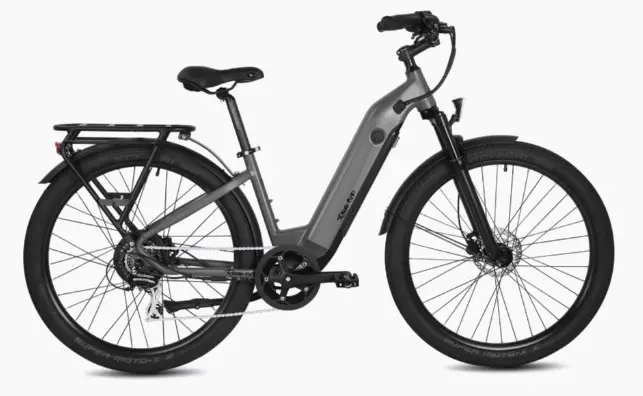 Featuring a powerful 750-watt motor, a surprisingly large battery, front suspension, 2.4″ wide tires for grip and comfort, hydraulic disc brakes, and a rear rack and fenders included in the box, this bike offers everything that you'd want on an e-bike for seniors. 
When you consider that it's actually cheaper than the RadCity 5 Plus, it's clear why this bike is such a popular choice.
Weighing 62 lbs, the Ride1Up 700 series is in the same class as the bikes above. It's got a very similar motor to the RadCity 5 above, with the biggest caveat being that this motor is allowed to unleash its assistance all the way up to 28 miles per hour. 
The 8-speed drivetrain gives you an extra gear to use while riding, helping you get the most out of the assist motor on flat ground while giving you plenty of options for climbing hills.
Speaking of hills, it's worth noting that the 700 series (and the Aventon Level below) does a fair bit worse than the RadCity 5 Plus when going up steep hills on throttle alone. 
This isn't a dealbreaker for most riders, as adding even a small amount of pushing power from your legs makes the bikes perform similarly, but it is a small downside for anyone who lives near an especially steep hill and wants to ascend without pedaling.
On flat ground, the Ride1Up 700 Series seems especially fast, hitting 28 miles per hour with ease. You can go for about 28 miles on one charge on the highest pedal assist and about 45 on lower modes, which is somewhat less than the RadCity 5 Plus above. 
It's not a huge difference, however, to the point where you're unlikely to notice a difference in day-to-day riding.
The slightly wider tires on the 700 series contribute to an especially smooth ride, even more than the other bikes above. One of the big advantages of wide tires is that you can slightly underinflate them to absorb more shocks, allowing you to customize your ride experience to your liking. 
This has the tradeoff of making the bike a bit less efficient, but you won't mind the extra effort needed to pedal this bike with the big hub motor in the back.
Unlike the bikes above, the handlebars on the 700 series require tools to adjust, meaning it's harder to customize the ride experience on-the-fly or share this bike between riders. 
In terms of other features, however, it's quite comparable. You get a similar rear rack, similar fenders, similar hydraulic disc brakes, and a lockout fork with a generous amount of travel for a bike that's designed to be ridden in the city.
Given the shockingly low price of the Ride1Up 700 series, it should definitely make it onto the short list of bikes you consider. If you're a fan of top speed, you'd like a full-color display, and you want to save a bit of money, it's an amazing choice. 
If you'd prefer slightly more range, torque, and stopping power, however, the RadCity 5 Plus may still win the day. Be sure to check out the Aventon Level as well, as all three bikes are very comparable and fluctuate slightly in price.
Aventon Level
Aventon Level.2
An upgrade to Aventon's flagship commuter ebike, Level.2 is as innovative as it is efficient. A fully integrated battery, four integrated lights, and a front suspension fork provide ultimate comfort and safety no matter the terrain or time of day.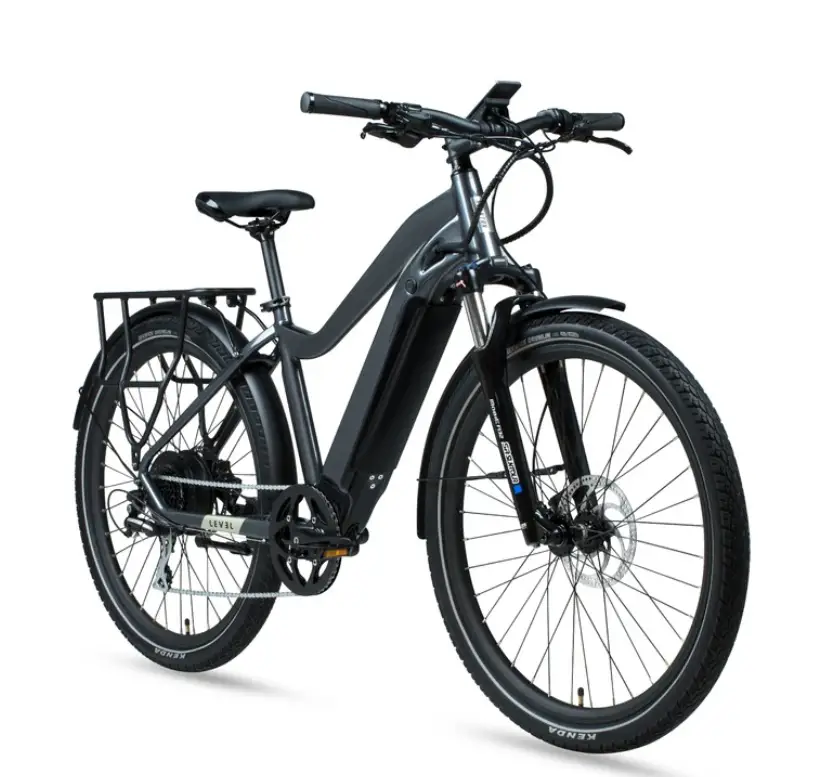 We earn a commission if you click this link and make a purchase at no additional cost to you.
A 62-lb e-bike that's remarkably comparable to the Ride1Up 700 Series above, the Aventon Level has more rounded, classical styling on the frame and a slightly less powerful motor. 
By downgrading to 500 watts of nominal output, the Level is able to squeak out a bit more battery life, offering 30 miles of range on the highest pedal assist and 65 miles of range on lower pedal assist settings. 
A similar 8-speed Shimano drivetrain gives you plenty of options for taking on hills and zooming across flat roads, while hydraulic disc brakes ensure that this bike can come to a stop in a reasonably short distance. 2.2″ wide tires round out the package, giving you lots of grip and comfort without sacrificing range or efficiency.
Like the 700 Series, the Level has a frame that supports relaxed, upright riding positions and a traditional handlebar setup that requires tools to adjust. It's got the same general step-through design, similar fenders, and a similar rear rack that makes carrying a few things for your day trip incredibly easy.
As far as differences go, the motor is definitely the biggest talking point. The Level still can get up to 28 miles an hour, but you may notice a difference in terms of acceleration and performance on flat ground. 
On hills, it suffers from similar problems due to lack of torque as the Ride1Up 700 series, although it tends to perform very slightly better if you don't pedal at all. Again, both of these bikes do quite well on even incredibly tough hills if you help them out just a little bit with your legs.
Other differences include the Level's fork, which has 80mm of travel to the 700 Series' 100mm, and the Level's somewhat basic black-and-white LCD display. Both of these differences are quite minor, meaning you should probably base your decision between these bikes on their aesthetics, range, power, and price.
The Aventon Level is normally priced similarly to the Ride1Up 700 Series, making it a great alternative for anyone who prefers range over speed or anyone who prefers the more rounded, classical styling of the Level Step-Through. 
Be sure to check the current price on both bikes before you buy, as supply chain issues and exploding demand have caused many bike manufacturers to adjust their prices in recent months.
Vale Go! EQ
Vale Go! EQ
The Vale Go! 9D EQ will comfortably handle anything from everyday errands to daily commutes to fun getaways. This e-bike features a powerful Bosch Active Line Plus motor, fully integrated battery and a step-thru frame. 
We earn a commission if you click this link and make a purchase at no additional cost to you.
The Vale Go! EQ is a bit more expensive than the other bikes on this page, but it's also a fair bit nicer. Made by Electra, a Trek-owned brand, this bike features a Bosch mid-drive motor that powers your front sprocket, not your rear wheel. 
This means that the output of the motor is multiplied by your drivetrain, giving this bike quite a bit more torque for climbing hills than a bike with a rear hub motor. It's a lot more efficient and more fun to ride due to the complex network of sensors and advanced computer that tries to boost your human efforts, not overpower them.
The Vale Go! EQ is quite comparable to the Townie Path Go! below, but it's got a less powerful Active Line motor instead of the Townie Path's Performance Line. 
The Vale has a comfortable, upright step-through frame, integrated fenders and rear rack, a 9-speed Shimano drivetrain, hydraulic disc brakes, and 2.4″ wide tires. Instead of front suspension, Electra has opted for seat post suspension, giving you a different sort of ride comfort that's delivered directly to your body.
While the motor on the Vale Go! EQ only offers 250 watts of nominal power output, remember that this motor is affected by your gearing. This means that rather than your invisible electric helper riding a fixie, they've got full access to all of the options of the 9-speed drivetrain on this bike. 
In practice, this bike can go just as fast as the bikes above and tends to climb hills more gracefully. It does have a top speed of 20 miles per hour, but you'll have no problem getting there with this advanced motor system.
Trek values stability, safety, and durability in their products, and the Vale Go! EQ is no exception. There are a number of corners that are left conspicuously uncut, from the incredibly beefy 12mm thru-axles holding the wheels in place to the ridiculously overkill color cockpit display. 
This is a premium e-bike, and it shows. You'll be constantly surprised by the little design features and innovations that have gone into the creation of this bike. The grips, seat, and rack are all noticeably nicer than the bikes above, while the classic styling and tasteful colors ensure that you'll get plenty of compliments.
The frame on the Vale Go! supports an upright, relaxed riding style, but it's got a unique twist. The pedals are positioned farther forward than most other bikes, tilting your legs slightly upwards as you ride. This means that you can keep the seat lower than on other bikes while still getting full leg extension at the base of your pedal stroke. 
In other words, you'll be able to comfortably ride the bike while also being able to rest your feet flat on the ground while you're stopped. It's a welcome user experience feature that honestly needs to be picked up by other bike manufacturers, as it makes this bike incredibly accessible for riders of all skill levels.
The range on mid-drive e-bikes is difficult to measure. These motors are set up to magnify your pedal effort, not perform independently. This means that different riders will get vastly different distances out of their bikes. Expect an average range of about 45 miles, assuming you leave the bike on a moderate assist level.
The Vale Go! can be a bit pricey. It's also not for everyone, as the lack of a throttle means that you can't rest your legs entirely while letting the bike power you forward. 
The Bosch mid-drive setup does have much better logic and sensors than the motors above, however, so the bike's assistance feels a lot more seamless and natural. If you're after a comfortable bike that magnifies your power so you can choose your level of effort, the Vale Go! EQ is an amazing option for riders of all ages.
Trek Townie Path Go! 10D EQ Step-Thru
Townie Path Go! 10D EQ Step-Thru
For those looking to explore more, ride farther and climb hills faster. The Townie Path Go! 10D EQ is the e-biker's e-bike, combining versatility, technology and style into the next evolution of e-bikes.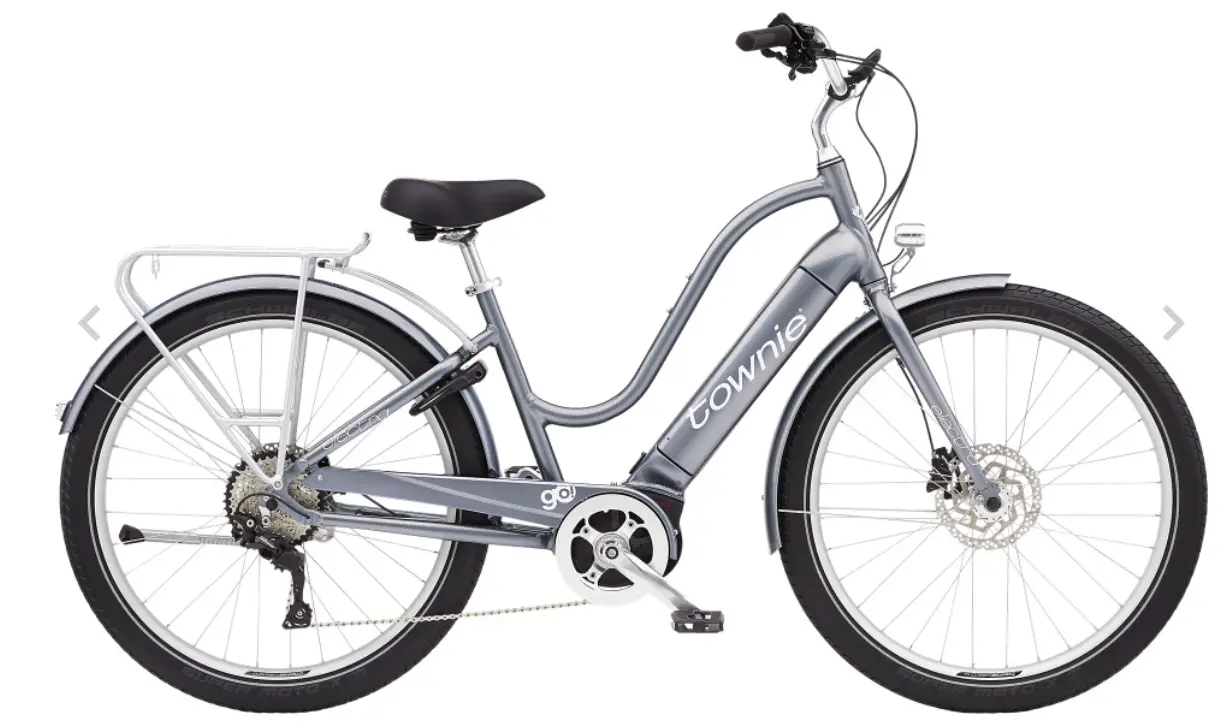 We earn a commission if you click this link and make a purchase at no additional cost to you.
The Trek Townie Path Go! 10D EQ has a handful of differences that make it a somewhat different bike than the Vale Go! EQ. 
In addition to the sportier Performance Line motor, it's also got a smartphone-based display, a 10-speed Shimano transmission, and more rounded stylings that give it an extra cruiser-ey look. It does not come with seat post suspension, however, meaning the ride can be a bit bumpier for the rider.
The Townie Path Go! has all of the features you'd expect in a great cruiser bike, including hydraulic disc brakes, included fenders and rear rack, a relaxed, upright frame, and wide tires that help smooth out little bumps in the road.
The saddle seems extra comfortable, while a beefy chainguard helps keep your trousers clear of the moving bits on the bottom of your bike. It's a fully kitted-out package that won't let you down.
The Performance Line motor on this bike gives you more torque and more power, making it even easier to customize your level of effort while you ride. The increased torque and extra gear work together to enable you to absolutely zoom up hills, ensuring that you'll never get left behind by other riders. 
Just like the Vale above, this bike doesn't have a huge amount of nominal, on-paper wattage, but you'll be able to leverage the torque generated by this motor to do a lot more than the 750-watt motors above can achieve.
Like the Vale Go! above, the range on this bike will vary greatly based on your input (no throttle assist either) and the conditions in which you ride it. Expect a similar average of 45 miles if you leave the bike on a middle assistance level and put in a modest amount of effort yourself.
The Bosch Smartphone Hub that sits at the center of this bike's cockpit leverages your full-color, high-resolution device to give you the best possible e-bike display. 
Sure, you'll need to stick your phone in the bike to take advantage of it, but you'll also have a readable, customizable display that can do just about anything you can imagine. It helps you track your fitness, play music, take advantage of modern navigation solutions, and can even notify your choice of parties if the hub thinks you've crashed. 
It's a great way to give you an almost Star Trek level of technological integration without costing an arm and a leg.
Speaking of cost, the Townie Path Go! is a little bit more expensive than the Vale Go, but not by a lot. If you're willing to live without seat post suspension, the smartphone controller and more powerful motor are probably worth the extra cost. You can always pick up a new seat post and install it later.
Evelo Compass (trike)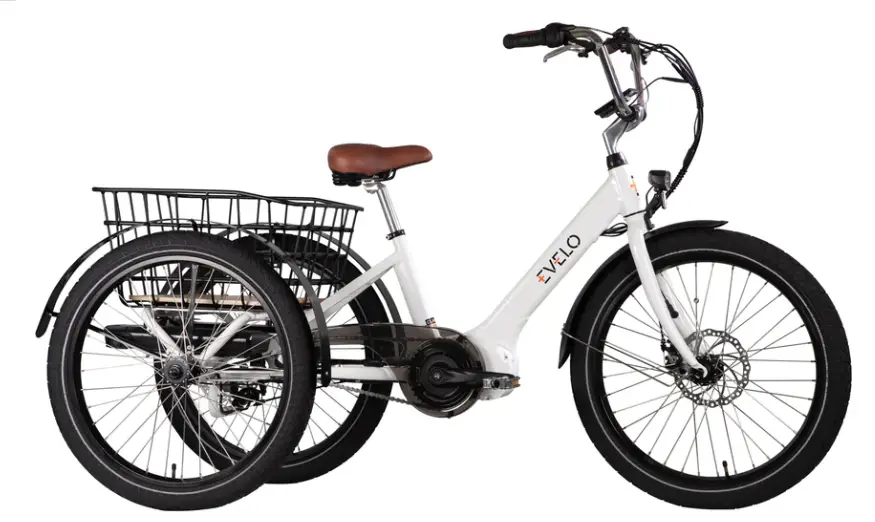 If stability is a concern, this electric tricycle gives you a modern, high-tech solution that won't hinder your mobility at all. With a rear differential, a 500-watt nominal motor, and a cargo basket, this wheeled vehicle is a perfect way to stay active without worrying about tipping over. 
The wide wheelbase and carefully placed center of gravity ensure that it's incredibly difficult to tip over, keeping you safe.
The Evelo Compass is a very unique vehicle. While it's got most of the features you'd expect from a senior-friendly e-bike, including an upright riding position, tall handlebars, disc brakes, and a 500-watt electric motor, the thing that really sets it apart is the rear differential. 
Normally reserved for cars, this little bit of engineering allows the output of the motor to be split across both rear wheels while also allowing the rear wheels to turn at different rates, making cornering a breeze.
The Evelo Compass has a 3-speed internally geared hub and a 500-watt mid-drive motor. This means that it's got lots of torque, controllable by you. 
It's surprisingly spry up hills, and while it's only got 3 gears, you're still able to get it up to impressive speeds. The Evelo Compass is a class 2 e-bike and has a limited top speed of 20 miles per hour.
The big downside of this bike is its cost. The complex design needed to make a stable tricycle, the added complexity of a rear differential, and the unusual frame all cost money. 
As a result, this is the most expensive bike on this list by a fair bit. It's a remarkable feat of modern engineering, but it's definitely not for everyone.
If stability is a big concern, the Evelo Compass is a great option that will help you stay safe and confident while giving you plenty of freedom. 
It's expensive, yes, but it's a very unique vehicle in terms of features and stability. You'll be hard-pressed to find other bikes like it.
What To Look For In An Electric Bike For Seniors
The first thing to consider in an electric bike is the range and power. Most e-bikes are electronically limited to 20 or 28 miles per hour, so top speed shouldn't be a big concern. You should, however, look for a bike with a motor that's powerful enough to make a difference up hills. 
For bikes with hub motors, look for 500 watts or more. For bikes with mid drives, anything above 200 watts is probably fine. This is because the motor in your mid-drive bike runs through your gears, allowing you to downshift on hills to increase the motor's torque.
In terms of range, bear in mind that the more you use the motor, the less range you get. Most modern bikes can get 60 miles or more out of lower pedal assist levels, but you'll struggle to find bikes that can do 30 miles on the highest pedal assist mode on a single charge. 
It's worth thinking about the types of rides you go on and how you intend to use your bike to try to figure out how much range you'll want. For short afternoon rides, the range might not be a factor, but if you'd like to go on long scenic rides you might want to look for a bike with a bigger battery.
Most modern e-bikes are set up for a casual, relaxed rider, allowing you to maintain a stress-free riding style while you pedal. This means that the geometry on most e-bikes is suited for seniors. 
Do pay a bit of extra attention to bikes that look like traditional road bikes, however, as these can have long frames that want the rider to lean forward in a more aggressive, aerodynamic position. Again, almost all other e-bikes are designed for relaxed riders, so this isn't an issue with city bikes, hybrids, cruisers, and commuters.
One thing that's definitely worth thinking about is the standover height of your bike. The standover height is a measure of how tall your inseam needs to be to clear the bike's frame when you're dismounted and standing over the bike, right in front of the seat. 
Most e-bike manufacturers make their more popular models in multiple frame types, including step-through frames that remove the top tube, making the standover height incredibly low. 
These step-through frames are much easier to mount than normal bikes, as you hardly have to lift your leg at all to step through the frame. If you can, try to look for a bike with one of these frames to ensure that it stays easy and convenient to ride.
Even if you intend to ride your e-bike on well-paved roads, it might be a good idea to look for a bike with thick tires and front suspension. These additions help make your ride comfortable and smooth over all surfaces, including the occasional section of bumpier roads, dirt paths, and gravel driveways. 
Remember, e-bikes can go fast. It's not uncommon for these bikes to do over 20 miles per hour on higher pedal assist modes, even with riders who aren't particularly athletic. Choosing a bike with a cushier ride can make a big difference in how you feel at the end of a long afternoon of cruising around at 20+ mph.
Finally, it's worth looking at the accessories that come with an e-bike. Two things that can really help improve the riding experience for casual adult riders are racks and fenders. 
Racks (especially a basic rear rack) make it easy to carry around a few things on a bike without having to wear a backpack all day. This means that you can carry a snack, a camera, extra water, or an activity to enjoy at the park very easily, adding a lot of utility to your bike.
Fenders help catch the dirt, water, and mud that your bike tires kick up as you ride, keeping you and your clothes clean. Because of the extra speed of electric bicycles, fenders make a bigger difference on e-bikes than they do on standard bicycles. 
While modern cities are expanding their bike lanes and making biking more accessible than ever, these new bike lanes are still lined with street dirt, subject to weather, and often are next to overzealous sprinklers. 
Having a set of fenders helps keep your bike rides worry-free since you'll get a lot less of this street dirt, leftover rainwater, and sprinkler runoff on your clothes.
Final Thoughts
The best part of electric bikes is the way you can customize the level of assistance the motor provides. On pretty much all modern electric bikes you'll find a pedal-assist control on the handlebars that you can use to change how hard the motor works while you pedal. 
This means that you can decide halfway through a ride that you want to get more of a workout and tell the motor to back off a bit. Alternately, if you get tired, you can increase the level of pedal assist on your way home, allowing the bike to do more of the work for you.
The result of this feature is that e-bikes allow you to be in full control of your riding experience. The ability to seamlessly switch between modes during your ride ensures that you can ride a bit farther with more confidence, as you'll always have the bike's battery as a backup if something happens on your trip.