I've had the pleasure of spending just over a week with the new KBO Flip folding e-bike, which has exceeded my expectations in many ways. 
The KBO Flip (available directly from KBO) is yet another entry into the growing electric bike market. The KBO attempts to differentiate itself by offering commuter-friendly standard equipment and a very competitive price point. Did I mention that it is also a folding bicycle?
I was sent the KBO Flip to review and provide my unbiased opinion. The manufacturer has not influenced my review of this bicycle, and my views are my own. I've been given complete freedom in terms of the content of this review.
Folding Electric Bike KBO Flip
Folding electric bike KBO Flip is equipped with 15.6Ah battery which allows for 30 miles of pure electric ride on a single charge.500W sustained brushless geared motor ensures excellent performance, which makes road, beach and trail a piece of cake.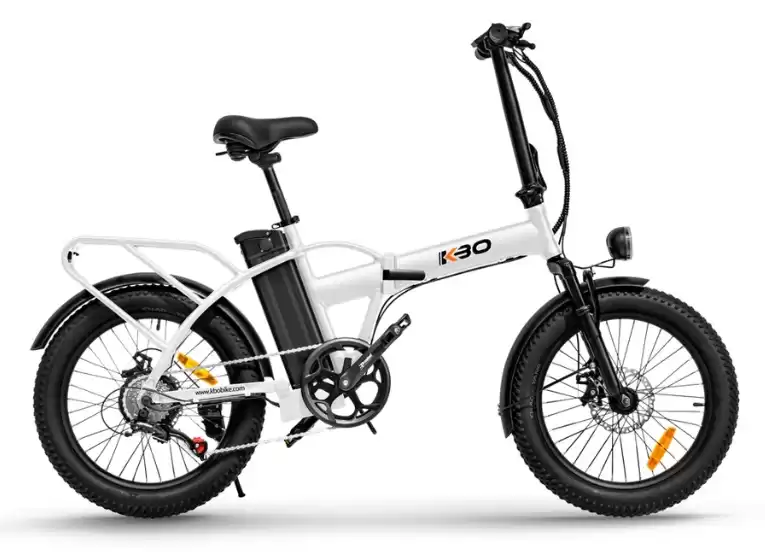 We earn a commission if you click this link and make a purchase at no additional cost to you.
| | |
| --- | --- |
| KBO Flip | |
| Max Speed | 20 mph |
| Motor | 500W |
| Battery | 15.6 Ah |
| Brake type | Mechanical disc brakes |
| Range on Max Pedal Assist | 35 miles |
| Class | Class 2 (comes with throttle) |
| Weight | 57 lbs |
| Carry Capacity | 275 lbs |
| Tire | 20″*3″ |
| Price | $8,99 (for +$100 you can get fenders and a rear rack) |
| Included in the price | fenders, front, and tail lights, febders, kickstand |
If this article helps you decide to buy the Flip we would appreciate it if you could use our link, that is no extra expense for you, and we earn some commission after each sale which will enable us to provide you with more articles like this. If this article helps you figure out that the Flip is NOT for you and you need something else, then you can check out our articles about electric bikes we wrote.
You can check our review of the best Electric bikes for adults here
You can check our review of the best 750W electric bikes here
You can check our review of the best class 3 electric bikes here
Overview at a glance
The Bike: 4/5
Overall, the KBO Flip is an excellent bike for most people if you come into it with the right expectations. 
Folding bikes generally have trade-offs with full-sized bikes, and the KBO Flip is no exception. However, this bike does so much right that the minor detractors I have to say about it seem minuscule. 
Good analog bikes are hard to find under $1000. Still, the KBO Flip offers not only an incredible electric bike under $1000 but also folds, making it extremely versatile and great for those who have a limited amount of storage space for bikes.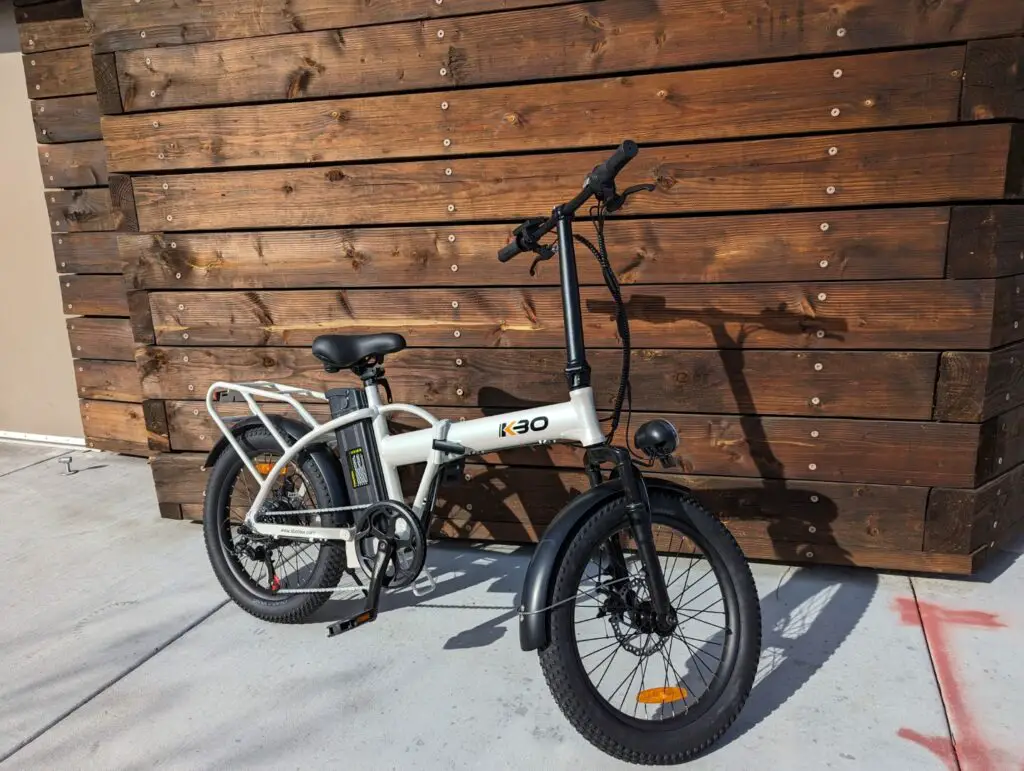 Battery: 4/5
KBO's spec sheet says that the Flip is equipped with a 15.4Ah battery, and their press release quotes a 35-mile range on a single charge using only the throttle and 55+ miles using pedal assist. 
I will admit that I did not test the very limits of the battery, but I am confident that their claimed battery range is not an extreme exaggeration. I took the KBO Flip out on several trips over my testing and found that the battery still claimed a healthy 50+% after 15-20 miles of mixed throttle and pedal-assist use. 
Remember that the claimed battery range is probably in ideal conditions with a light rider on flat terrain. My first-hand experience with the bike shows that the 15.4Ah battery is sufficient for a regular commute or weekend riding. 
I appreciate the battery's location on the bike. It is situated behind the seatpost, offering a great center of gravity that is kept low so the bike does not feel overly heavy while maneuvering.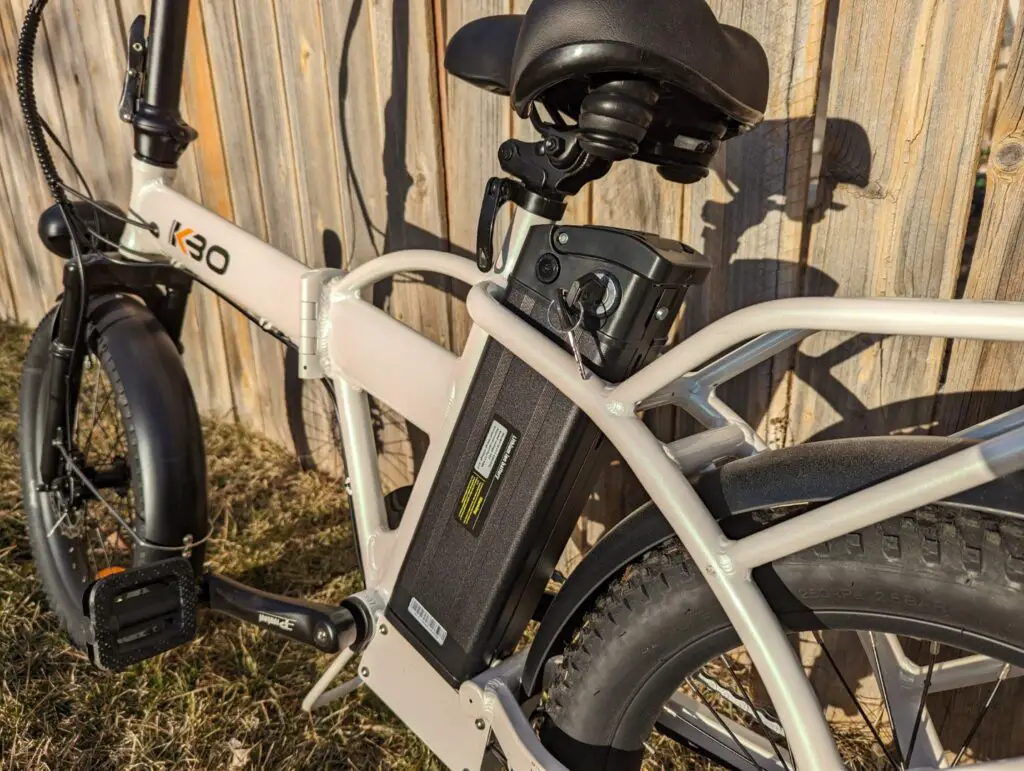 Another excellent feature is the ease of removing and charging the battery. I appreciate a removable battery on an e-bike because it allows users to take the battery into their home or office to charge without bringing the entire bike. It's a great solution if you use the bike to commute to work to ensure a full charge by the end of your day. 
My biggest complaint about the battery is the use of a key to not only lock it in place but that you need to leave the key inserted during operation. While I did not experience it firsthand, I have concerns about the key getting lost or damaged while inserted and how that affects the operability of the bicycle. 
Motor: 4/5
Like most electric bikes in this price category, the KBO Flip has a hub motor meaning the motor is integrated into the rear wheel. It has a 500w geared brushless hub motor that KBO claims can get the bike up to 20mph.
The 20mph that KBO claims may be on the generous side. In my tests, I could only get the bike up a little above a sustained 14mph. Granted, I am a heavier rider, so 20mph may not be too big of a stretch if you're on the small side.
I can't make any claims about the longevity of the 500w hub motor, but from my experience with them, they tend to have decent lasting power.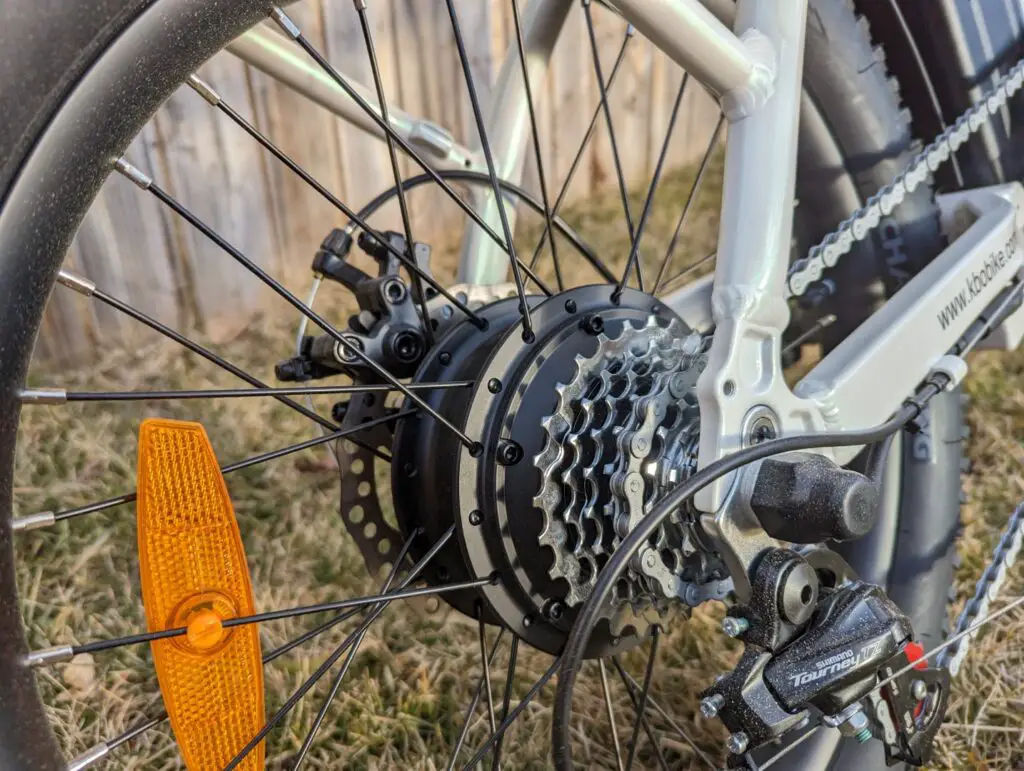 The torque of the motor was a bit lacking compared to other e-bikes I've ridden. Twisting the throttle on the highest assist setting resulted in a subtle acceleration that took a while to reach cruising speed. A more responsive motor would be expected on a full-size bike, but being what this is, the motor is more than adequate for the folding bike.
The 500w hub motor is quiet in its operation. While riding, I could barely hear it. The wide tires made more noise as they cruised over the pavement. 
Build Quality: 5/5
Whenever I take a bike out of the box, prior to assembly, I inspect all the welds and components to make sure they are good to go. The KBO Flip has some nicely done welds, so I can't fault it there.
I tested the bike in its white colorway and loved the subtle pearl effect of the paint. It's applied evenly with no defects that I could find. 
KBO seems like a company that has a high level of quality in its manufacturing side of things. All components on the bike came correctly adjusted, the chain was nicely lubricated, and I can't fault anything regarding the actual build quality.
Components: 3/5
Higher-end bikes will have higher-end components, and the KBO Flip does not entirely fall into that high-end category. For its price point, the Flip has reasonable components. To get this bike to this price point, there must be some concessions somewhere, and the components are one area where the Flip may be seen as lacking.
For example, the front fork performance is lackluster. There's no brand attached to the fork, probably because it is manufactured in-house specifically for the folding bike. KBO does not have any details on the fork's performance, but from my personal tests, it has limited travel and no adjustment.
I worry that the fork is the weak link in the bike and is likely to be the first component to require servicing. The bike, overall, would probably be better if they went for a rigid fork over a lackluster no-name suspension fork. 
The bike also features mechanical disk brakes versus hydraulic disk brakes that you find on nicer bikes. The rear mech is a Shimano Tourney 7-speed. 
Once again, these are concessions you'd expect to get this bike to this price point, and I'm not faulting it too much overall for these things because you find these quality components on every bike in this price category. 
Folding Electric Bike KBO Flip
Folding electric bike KBO Flip is equipped with 15.6Ah battery which allows for 30 miles of pure electric ride on a single charge.500W sustained brushless geared motor ensures excellent performance, which makes road, beach and trail a piece of cake.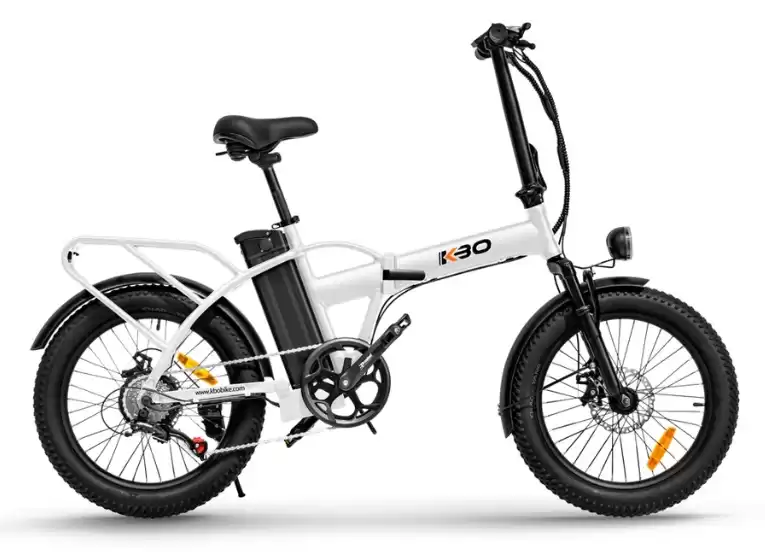 We earn a commission if you click this link and make a purchase at no additional cost to you.
Comfort: 4/5
The KBO Flip is a comfortable bike but suffers from limited adjustability. The handlebar height is static and cannot be changed. The only thing that can be changed is the seat height. 
I am taller than average at six-foot-four, and KBO is clear on their website the heights that the KBO Flip is recommended for. They state that the Flip is recommended for a person between five-foot-one and six-foot-two.
I question the top end of that recommended range. My five-foot-nine friend was left with less than stellar leg extension with the seat fully extended. 
Keep in mind this is a folding bike geared towards commuters, and it is assisted by the motor, so a full leg extension may not be required, but if you're on the tall side, you may be left wanting for additional room on the bike.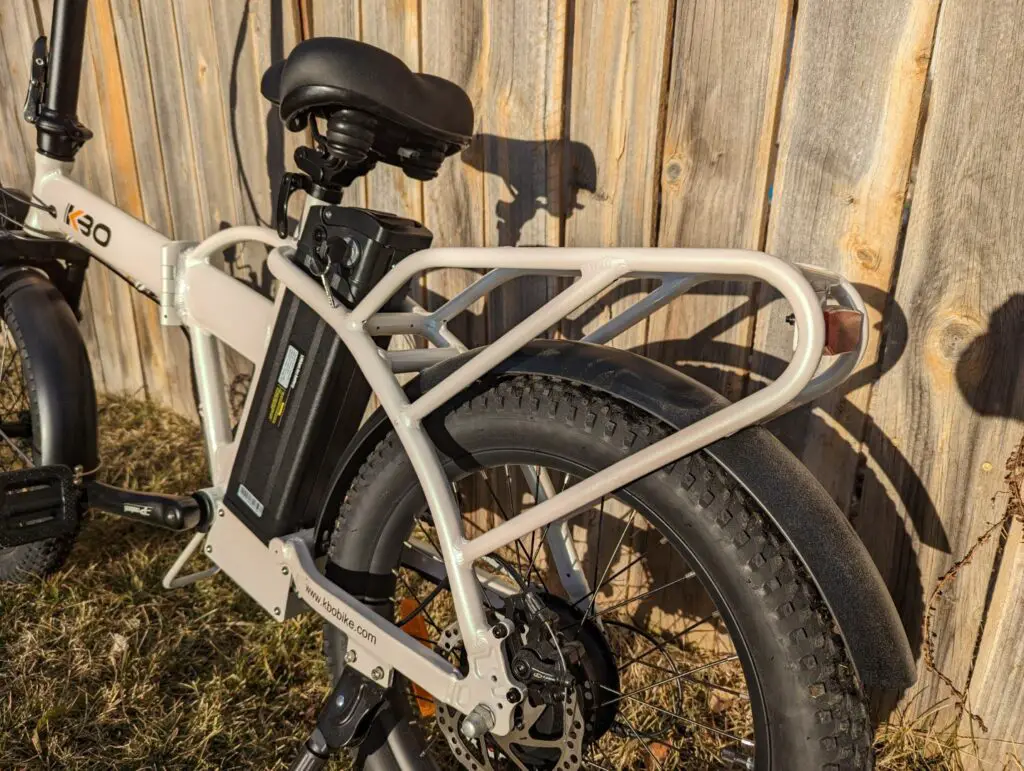 That aside, the KBO Flip is still a very comfortable ride with a plush seat and wide tires that absorb a lot of pavement vibrations. 
Practicality: 3/5
Here is where we get to what really defines this bike and where I feel it falls the flattest.
Yes, the bike folds up, but I was left asking if it was really practical at all. Folding and unfolding the bike is extremely simple, but I have some gripes about it. 
When folded, there is nothing holding it together. No latch or locking mechanism that keeps it from unfolding. This makes it extremely cumbersome to carry.
In addition to its lack of a locking mechanism for the folded bike, it's just too gosh dang heavy to really be toted anywhere other than a short distance. The KBO Flip weighs 57 pounds. That's significantly more than two regular bicycles. Coupled with it wanting to flop open as you carry it makes for a wrong time.
Additionally, you must be very careful of the pedal position when folding it. If you have the pedals in the wrong position, the front wheel mashes into the pedals, and I could see the spokes or the included fender getting damaged very easily. 
While folded, it fits nicely in the trunk of my car, and it takes up much less space in my garage than any other bike in my stable. It packed nicely in the car when I took it on a local trail to let a friend test-ride it as well.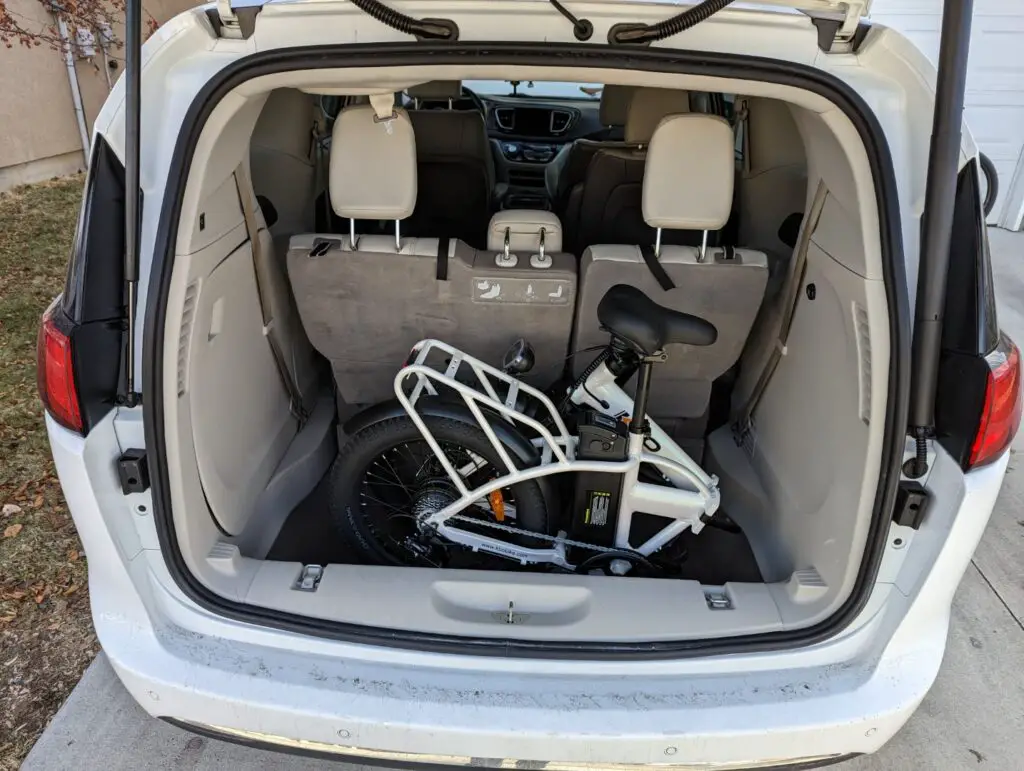 However, it is still pretty wide, and carrying it on a crowded bus would be extremely cumbersome. It doesn't have the lightness or the compactness of higher-end analog folding bikes.
Overall: 4/5
I recommend this bicycle to anyone who is interested in it, and I am happy to add it to my stable of bikes. 
Would I make this bike my daily commuter? To be honest, probably not. It has many excellent features, but its cumbersome nature doesn't make it any more appealing than a standard e-bike for commuting for me. 
Although it is lighter by more than a couple of pounds than its competitors in its category, the Lectric XP 3 or the Rad Expand 5, it is definitely not fit for multimodal commuting. It's not a bike you will shove into your backpack and carry around easily.
However, I think it's an excellent choice for those on a budget looking for an entry-level electric bike for fun occasional rides.  It takes up very little space in the garage and when transporting it. Its controls and 1×7 drivetrain are very approachable to people who haven't ridden a bike in a long time or maybe have never ridden an e-bike.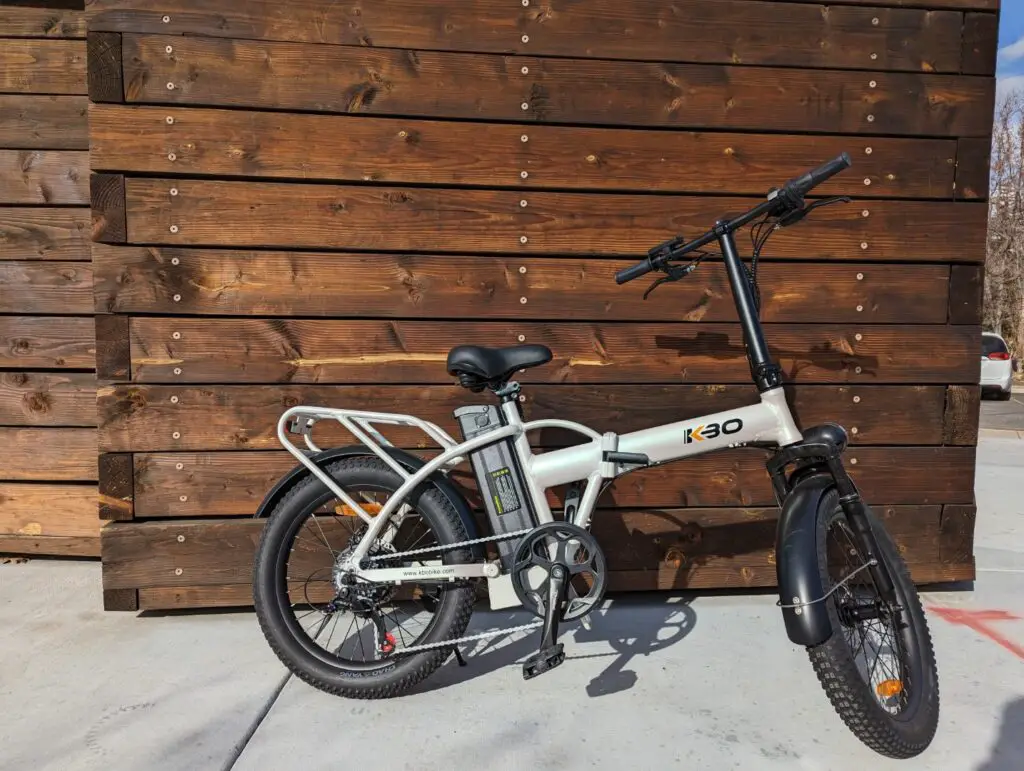 If you're an apartment-dweller with limited space and don't want to keep a full-size bike inside, this e-bike would make the perfect commuter. The KBO Flip saves a lot of space when folded up and not in use.
Detailed hands-on review
Ahead, I will break down my detailed thoughts on the bike, including what I liked about it, where I think it can be improved upon, and who I think this bike is a good fit for. 
Unboxing and Assembly
The delivery driver dropped the box off on my front porch, and I was initially surprised by the size of the thing. The box measured 15x30x37 inches and weighed approximately 70 lbs. The box is smaller than full-sized bike boxes I've received, but definitely heavier were my initial thoughts on that. 
Upon opening the box, I was glad to see the bike was very well packaged and protected. The outside of the box had some damage, but thanks to the careful packaging from the manufacturer, there was no harm to the bike.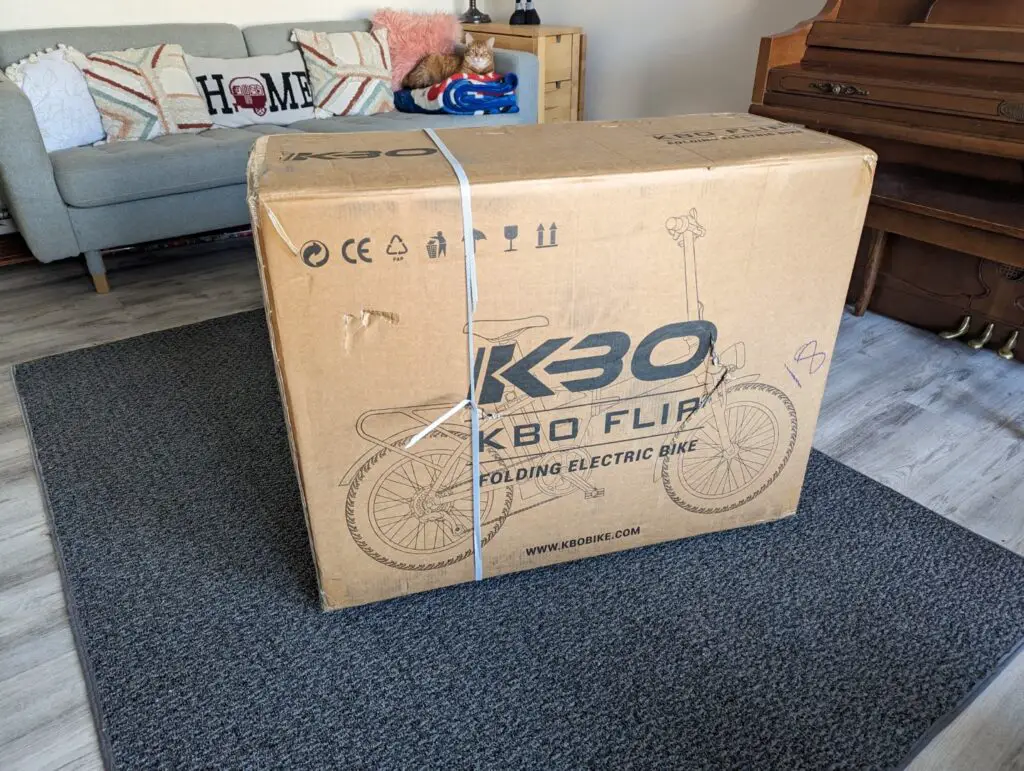 Putting this bike together out of the box differed from other bikes I've assembled. Honestly, saying this bike needs assembly feels untrue because all you need to do is take it out, snip off the packing foam, slide the seat post in, and install the pedals. 
That is truly all that needs to be done to get the bike ready to ride. Any tools required for doing this come in the box. The bike also arrived with a very nice multi-tool that has most of the hand tools needed to do simple maintenance on the bike.
The manual that came with the bike was lacking, and the instructions for unfolding it weren't entirely clear. However, once unfolded, it made a lot more sense. The handlebars fold up and lock in place, and the middle of the bike folds out and then locks in place. They're secured in a locked position by a metal button that needs to be pushed in to unlock, ensuring that the bike is securely locked open without any possibility of unlocking while riding. 
Folding Electric Bike KBO Flip
Folding electric bike KBO Flip is equipped with 15.6Ah battery which allows for 30 miles of pure electric ride on a single charge.500W sustained brushless geared motor ensures excellent performance, which makes road, beach and trail a piece of cake.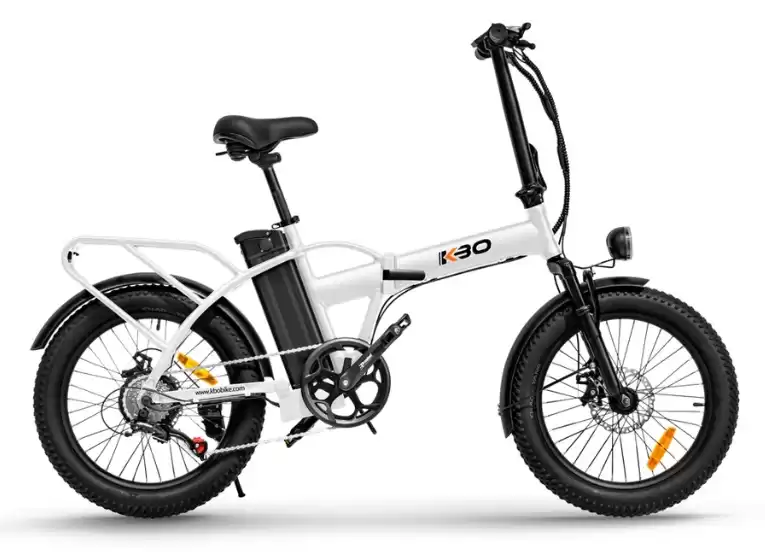 We earn a commission if you click this link and make a purchase at no additional cost to you.
First Impressions
The Good
Stellar looks
I was surprised by how nice and refined the bike looked out of the box. It is clear that the manufacturer has a lot of attention to detail. From the well-thought-out packaging to the ease of assembly, it is clear to me that KBO wants the consumer to have the easiest time getting started with this bike. 
The paint finish especially wowed me. I requested the bike in the white color, and the way it catches the light gives it a unique pearlescent finish. Throughout the bike, the finish is even with no damage from shipping. 
Great gearing setup
As I was unboxing and assembling the bike, I made mental notes about what stood out to me. Going into this review, I did not know about the KBO Flip, so I did not have any idea what kind of drivetrain it would have. When I saw a 1×7 setup, my initial thought was, "that's so smart!"
I say this because you must have something simple and intuitive if you're gearing this bike toward a casual commuter or trying to convince a car driver to become a bike rider. On my most recent mountain bike purchase, I got a 1×11 setup and have proclaimed the simplicity of a 1x setup from that day forward. 
The rear mech on this bike is a Shimano Tourney, which is a pretty common choice among bikes in this price range. It offers trusted performance, and being near the bottom of the range for Shimano hardware means it helps to keep the cost down.
What really surprised me about the drivetrain was that the chain looked to be adequately lubricated, the shifting was adjusted nicely, and it was truly ready to be ridden out of the box. I was able to get it put together and out the door in about 30 minutes for an initial test ride. 
Attention to detail
Often, it's the little things that make the most difference, and on this bike, the extras that are included make it a stellar value. The KBO Flip comes equipped with fenders, an extremely bright front headlight, a tail light, and an integrated rear rack for storage. 
These are all things that make commuting on a bicycle much nicer and safer. The fact that they come standard on this bicycle without paying extra makes this an excellent choice for someone looking for a commuter bicycle out of the box.
The Not So Good
Lack of instructions
My biggest detractor was the need for more instructions during the initial setup. The provided booklet has less-than-helpful pictures to instruct you. While they referenced a video in the assembly instructions to assist, I could not find it online. 
The other thing that could have been better for me was the customer service when I contacted them with a question. When I test out bicycles, I like to contact their customer service with a question to see what kind of response I get. 
When I contacted KBO, it took them a while to get back to me, and the answer wasn't very helpful. I didn't contact support further because my concern had already been resolved, but I am confident they could have resolved it. It's frustrating not to get a good answer immediately when you contact support. 
Folding Electric Bike KBO Flip
Folding electric bike KBO Flip is equipped with 15.6Ah battery which allows for 30 miles of pure electric ride on a single charge.500W sustained brushless geared motor ensures excellent performance, which makes road, beach and trail a piece of cake.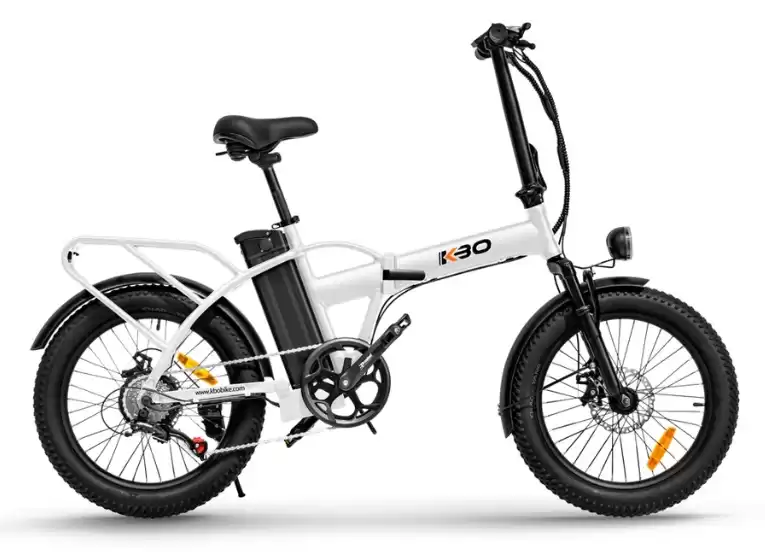 We earn a commission if you click this link and make a purchase at no additional cost to you.
First Ride
As mentioned earlier in this review, the bike came nicely packaged and was mostly ready to ride out of the box. I got the bike assembled and out the door on a test ride in about half an hour. The weather here wasn't great, but I was so excited to try it out that I couldn't wait. 
Once I got it back inside, I checked everything over meticulously. I ensured the chain was adequately lubrication, the tires were properly inflated, and the shifting was adjusted correctly.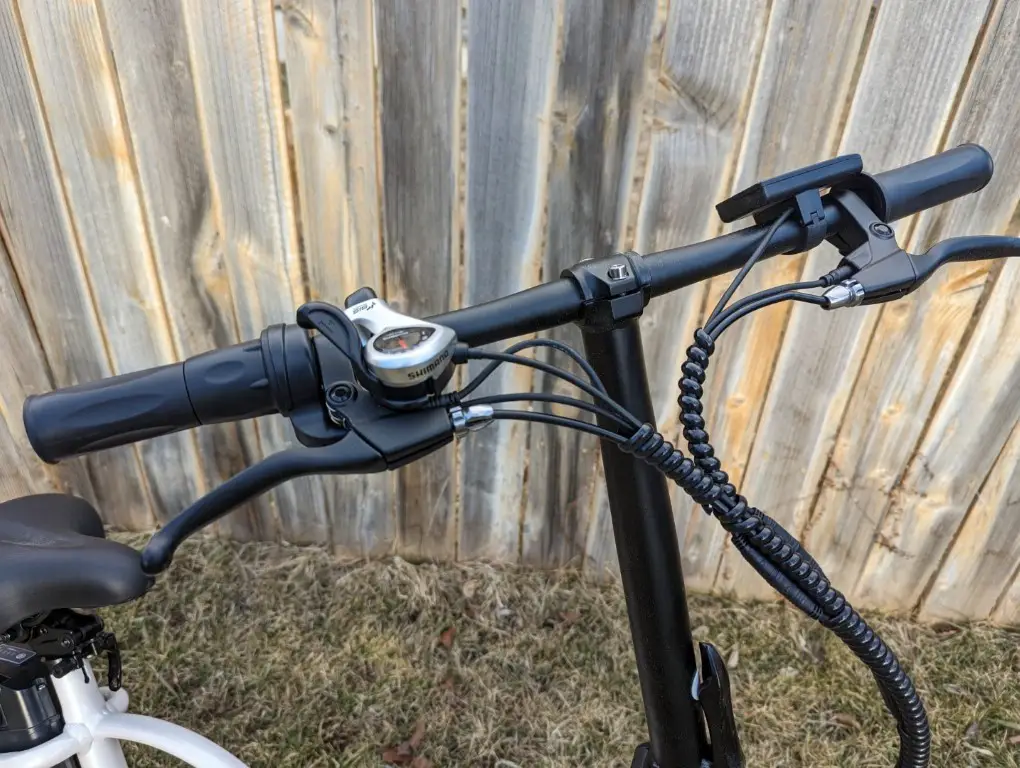 I was pleasantly surprised that everything about the bike checked out perfectly outside of the tires needing a few more PSI. The biggest thing for me was that the shifting was perfectly adjusted out of the box. This can be the most challenging aspect of setting up a bike for an inexperienced cyclist, so having it set right out of the box is a big plus for me. 
The Good
Rides excellent
Thanks to the KBO Flip, my first ride was short but tons of fun. The bike was very responsive to throttle input, and the thick tires ate up the bumps as I cruised around my neighborhood. 
I tested out the steering while on this ride and found it to handle very nicely while at cruising speed. I also tried some low-speed maneuvers and found the bike handles a little sloppy at slow speeds.
Good gear range
I keep returning to it because I like the setup so much, but I praise the 1×7 gearing on this bike. If this were an analog bike, I'd say 1×7 is a bit lacking, but the gearing is just brilliant because it is an electric bike.
Only having to worry about one shifter makes the bike very approachable and easy to get the hang of. Because the KBO Flip is an electric bike, the larger gear spacing is easier on the rider than it would otherwise be. 
Folds small
Compact is an excellent word for this bike. When it is unfolded, the bike has a very similar wheelbase to the other bikes I have in my stable, but when folded up, this thing takes up maybe a quarter of the space of a regular bike. 
When I took this bike out for a ride with my friends to show it off to them, I had to pack my other bicycles on the roof of my van, but the KBO Flip was able to be folded up and stored in the trunk with room to spare.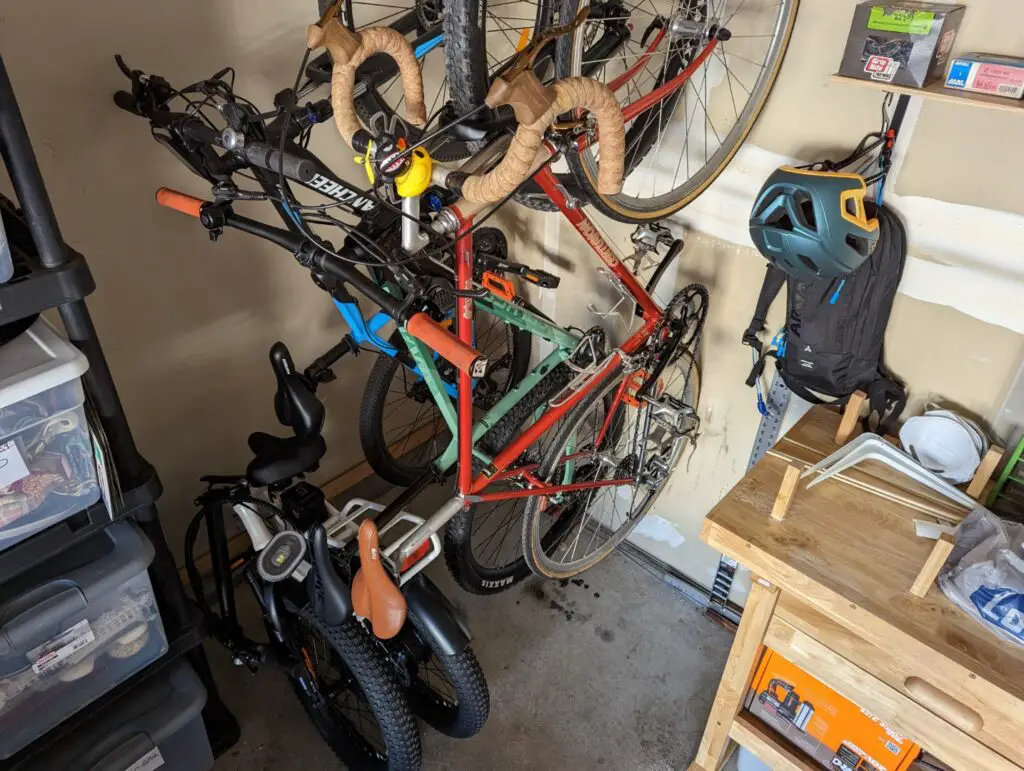 To me, the ability to fold and store compactly is a great selling point for this bike. Either in the office, in your apartment, or tucked away in a crowded garage, the KBO Flip allows you to basically store it anywhere. 
The Not So Good
Brakes
The type of brakes found on the KBO Flip is similar to other budget-friendly e-bikes and leaves a bit to be desired. Out of the box, there was some rubbing between the pads and the rotor that I was able to get resolved, and it is typical to have this on lower-end disk brake setups.
The brake levers also needed adjusting to get the most stopping power out of the bike. As it came out of the box, it was usable, but you had to really squeeze the levers to get the bike to stop. Once adjusted, the lever pull was much less, and it was easier to get the bike to come to a complete stop.
The components are less than stellar but not unexpected on a bike in this price range. As I said earlier in this review, the weakest component for me is the fork, specifically the fork shocks.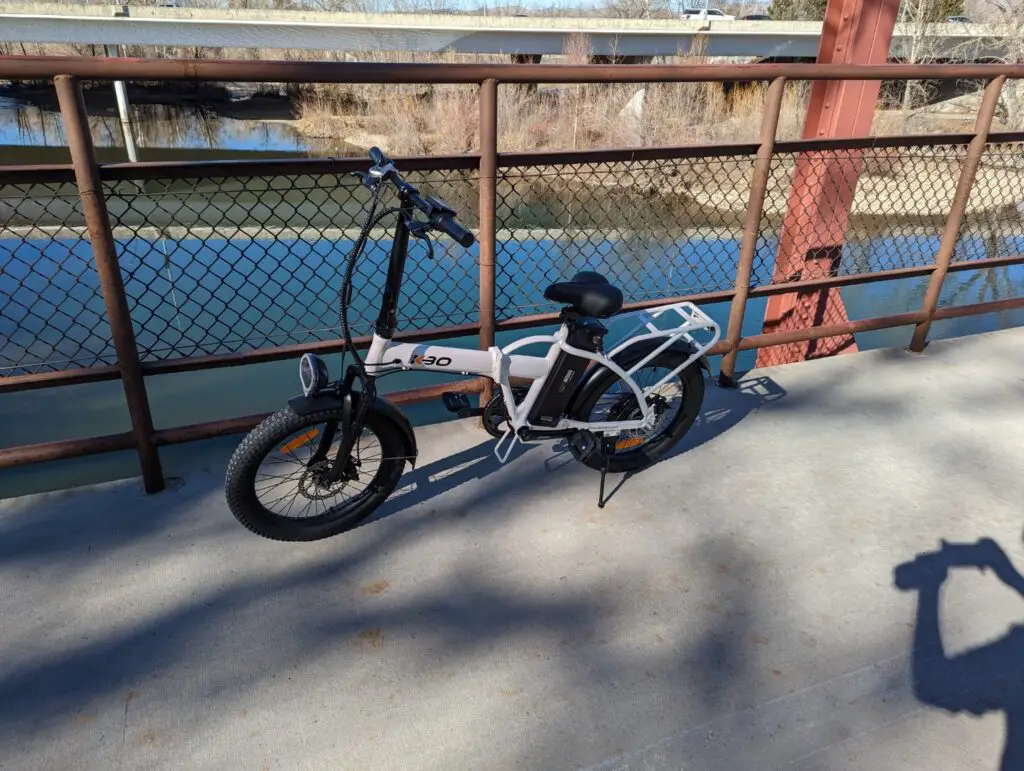 Folding Electric Bike KBO Flip
Folding electric bike KBO Flip is equipped with 15.6Ah battery which allows for 30 miles of pure electric ride on a single charge.500W sustained brushless geared motor ensures excellent performance, which makes road, beach and trail a piece of cake.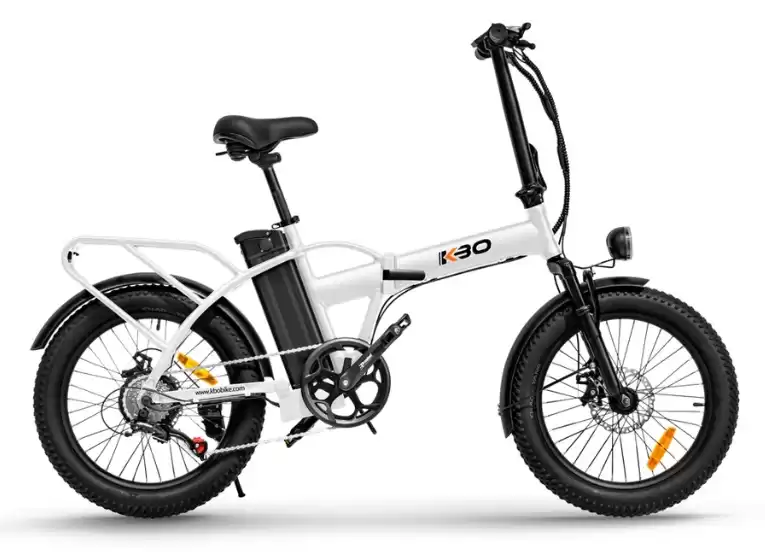 We earn a commission if you click this link and make a purchase at no additional cost to you.
The thick tires on this bike do most of the work for the suspension. They eat up vibrations and bumps in the road. The shocks have very limited travel and bottom out really quickly. Overall I think the price of the bike could have been brought down if they forewent the shocks in favor of a rigid fork. 
Conclusion
The KBO Flip is an excellent bike with only a few things holding it back from perfection, especially if you approach it knowing what it can and can't do. 
The KBO Flip will not go head-to-head against the biggest names in folding bikes, such as the Brompton, but it does offer incredible value for a folding e-bike. 
If I had to name a type of person this bike is perfect for, I'd say it would be an apartment-dweller who wants to commute on a bike but doesn't have the storage space for a full-sized bike. 
The KBO Flip is also an excellent bike to have on hand if you're the type that likes to have an extra bike for a friend to join you on a ride with. The approachability of the bike for someone not familiar with bicycles or e-bikes, in general, is a massive positive for the bike. Pair that with the ability to store it away, taking up virtually no space, and you have a no-brainer use case for this bike.