When I first started commuting by bicycle I would throw everything into a backpack and call it good. However, I quickly learned that riding with a backpack leads to a sweaty back and ultimately getting poked by tools and other hardbody objects in the most uncomfortable way. My one issue was that my first commuter bike was a road bike and I was faced with this question. Can you put a pannier on a road bike?
Can you put a pannier on a road bike? You can put a pannier on a road bike if you attach a rack to it. Some road bikes have braze-ons for a rack. If your bike doesn't have them, you can use P-Clamps or Tubus Stay mounting clamps. Alternatively, you can also find special racks that attach to bikes without the need for braze-ons.
Road Bike Mounting Options
Many entry-level road bikes from manufacturers such as Trek, Specialized, and Cannondale have braze-on mounts that allow you to mount a rack. However, there are a ton of road bikes out there that do not provide you with that option.
How to Mount a Rack If a Road Bike Does Not Have Braze-Ons?
If your road bike does not have braze-on mounts for a bike rack many options can get you set up with a sweet rack. Below I have cataloged the most reliable and functional to the least.
P-Clamps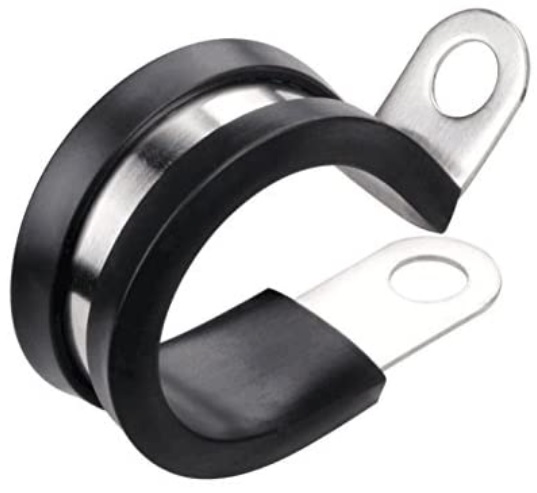 Also known as cushioned metal loop straps are an awesome alternative to bikes that have no braze-on mounts. These might just be the solution you are looking for when it comes to mounting a rack to your road bike. You can find them in a wide variety of hardware stores and they are super cheap and super simple to use. 
Finding one that fits your tube diameter is easy as they come in an assortment of sizes. They are very easy to install, simply open the clamp and place over your seat stays or fork blades and close shut tightening with a bolt attaching the rear rack at the same time. The rubber coating prevents them from slipping and they will stay where they are placed.
P-Clamps are cheap, and readily available on Amazon (check pricing).
Tubus Stay Mounting Clamps

These clamps are extremely similar to P-Clamps however they are primarily intended to mount Tubus Racks onto bikes with no braze-on mounts. The drawback is that these clamps have no rubber coating so they are prone to leave marks on the paint and frame.
Seat Post Clamps With Mounts For Racks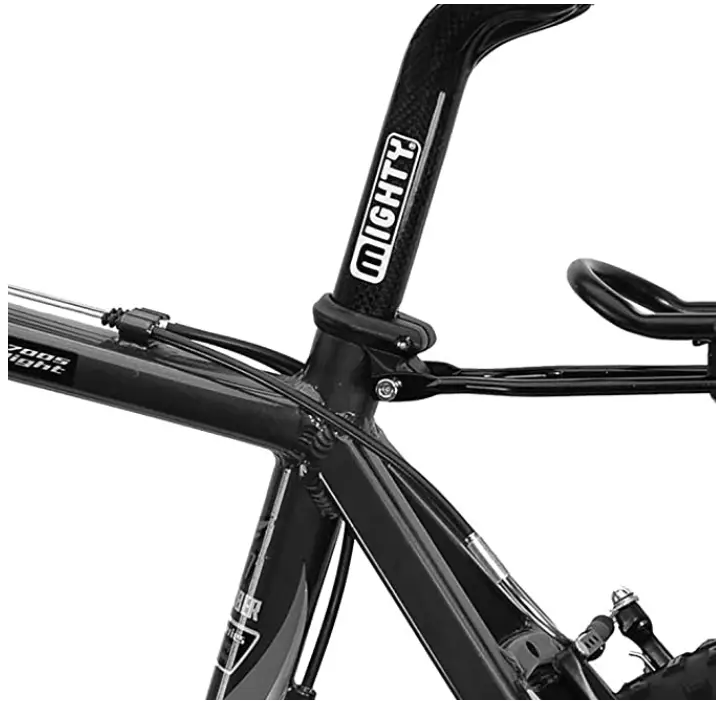 There are a variety of racks out there that are designed to work with seat post clamps with mounts for racks (like this one on Amazon). They are an excellent option for mounting racks onto road bikes with no braze-on mounts however they work best when used in conjunction with P-Clamps or Tubus stay mounting clamps.
Tubus Quick Release Rack Mounting Kit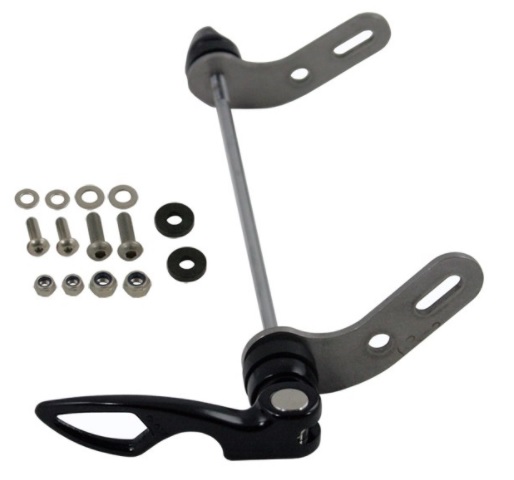 If your bike does not have a lower braze-on mount for a bike rack this can be a great option. They are primarily designed to accept Tubus racks but they can be handy for mounting other racks. They allow you to easily mount a rack to the frame of your road bike using a quick release mounting device. If you find them on Amazon, don't hesitate to get them as they are not easy to come by.
Racks that do not Need Braze-ons to Mount
Now that we have got the hard part of mounting a rack to your road bike out of the way you may be wondering what kind of rack options do I have?
Thule Pack 'N Pedal Tour Racks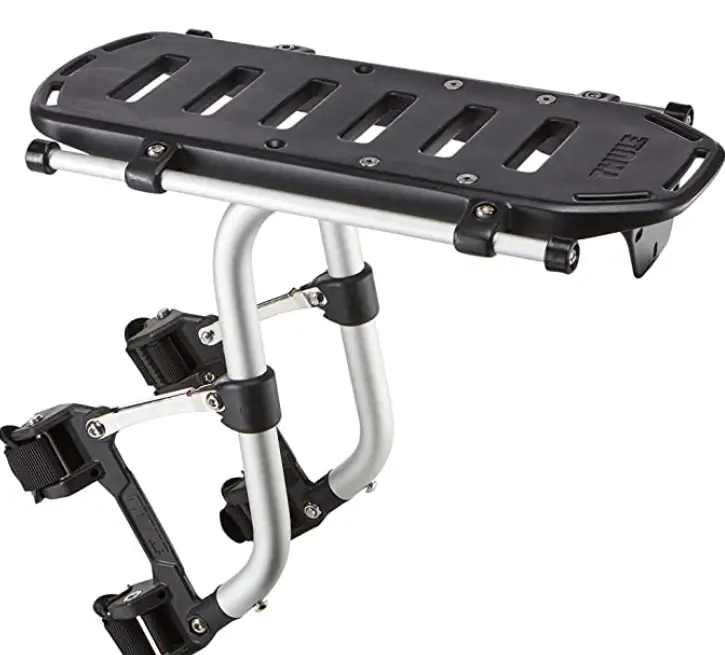 These rack options are better suited for carbon road bikes as they wrap around your fork and seat stays. They are not the cheapest option (see pricing), but they are very well designed, and very versatile. They can be used not only on road bikes, but on MTBs as well.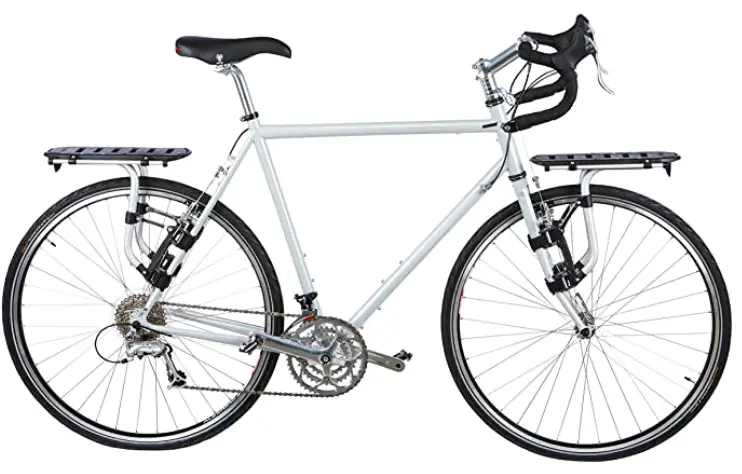 The Thule can be mounted to the front or to the rear of the bike. It's a simple, but effective way of carrying panniers on your commute. You will love that they don't leave any permanent mark on the bike and no modification is needed. The main drawback to them is you will only be able to carry smaller loads.
Axiom Streamliner Racks
These are an awesome option for road bikes as they mount onto the brake bridge and use a quick release for the lower mounting. The main advantage of these racks is they can be used on bikes with no braze-on mounts while still allowing heavier loads
Old Man Mountain
Makes high-quality racks that are perfect for almost every bike whether it has braze-on mounts or not. The racks attach to an extra-long quick release skewer (included with the rack) that replaces the original provided with the bike. 
Seat Post Mounted Rack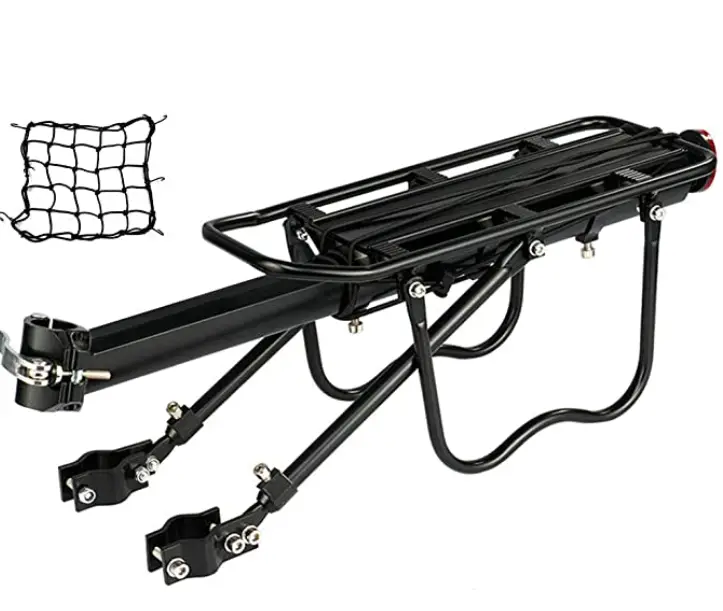 There are many seat post mounted rack options out there, such as the Dirza for example. They add some extra stress to your seat post and can be a bit unwieldy under extra weight but can still be a great option to add panniers to your road bike. When compared to a traditional rack the relative highness and weight of these can be a hindrance but they work. I would not recommend them as a long-term setup but they can certainly get you by in a pinch.
An Important Note About Chainstay Lengths
Unfortunately, traditional road bikes are not thought of with commuting in their design. Nonetheless, this should not stop you from using your road bike to commute to work or the farmers market. 
The chainstays on traditional bikes are often longer than those on road bikes which can lead to clearance issues with your panniers. You can almost always expect a clearance issue with your heals knocking into panniers when pedaling. For instance, the road bike I use to commute had braze-on mounts but my heels still hit the panniers. 
This can be compensated by moving your feet forward on the pedals just a bit or by getting yourself a set of panniers that are a bit smaller. 
Pannier Options
Once you have determined what rack and mounting system will work for you it is a good idea to look into panniers that fit your needs. Panniers are generally pretty easy to put on and take off the bike by using the hooks towards the top to wrap around the frame of the rack. 
Then you use the strap or bungee near the bottom to secure the bags into place. The systems vary between manufacturers but most make it easy to take on and off so you can even use them while shopping or at the gym without the need to unload or load them while strapped to the bike. 
See below to find out some great options once you have the mounting and rack issues out of the way.
Arkel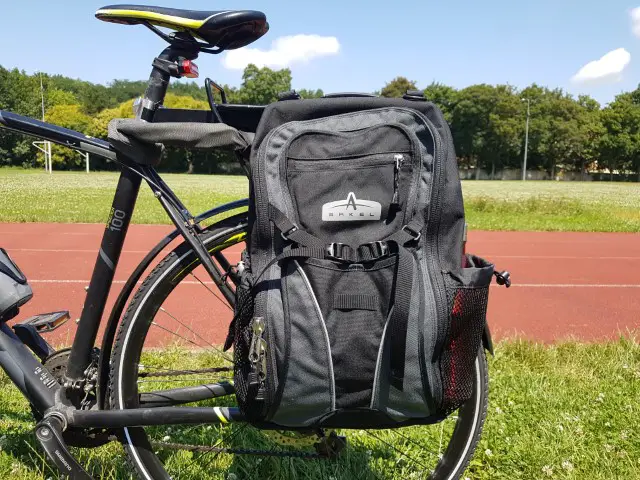 Arkel is a personal favorite of mine, and one that I personally use. This is the perfect commuter pannier that converts into a backpack within seconds. It's the perfect size for daily commuting and offers great water resistance even without the added waterproof cover.
Go to Arkel Bike Bags to see pricing and availability.
I have a full review of the Arkel Bug here.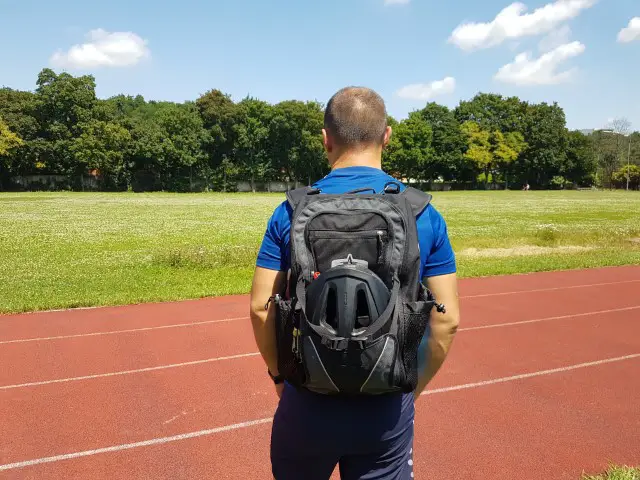 Their wide assortment of panniers and other bike bags makes it super easy to convert your road bike to a seriously awesome commuting machine.
Ortlieb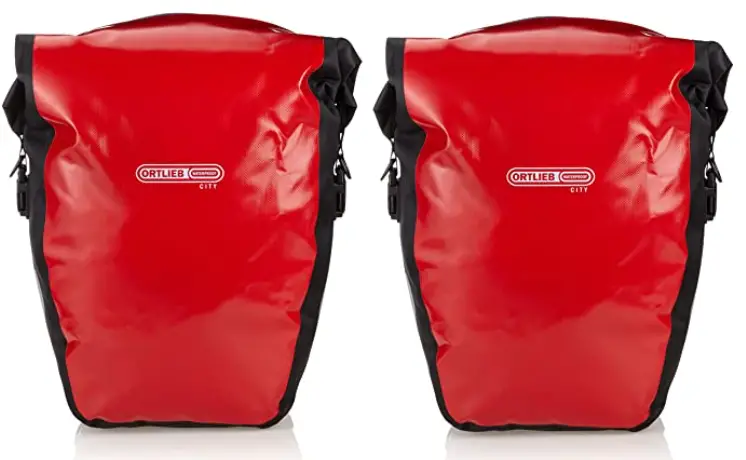 Makes some seriously durable and waterproof panniers with huge carrying capacities. They are not only awesome for commuting but also make excellent options for those interested in doing bike touring or bikepacking trips. 
One that comes highly recommended by veteran bike commuters is the Back Roller City or Classic models. Ortlieb is known by many bikers as the best of the best when it comes to panniers although they generally command a higher price tag.
Rockbros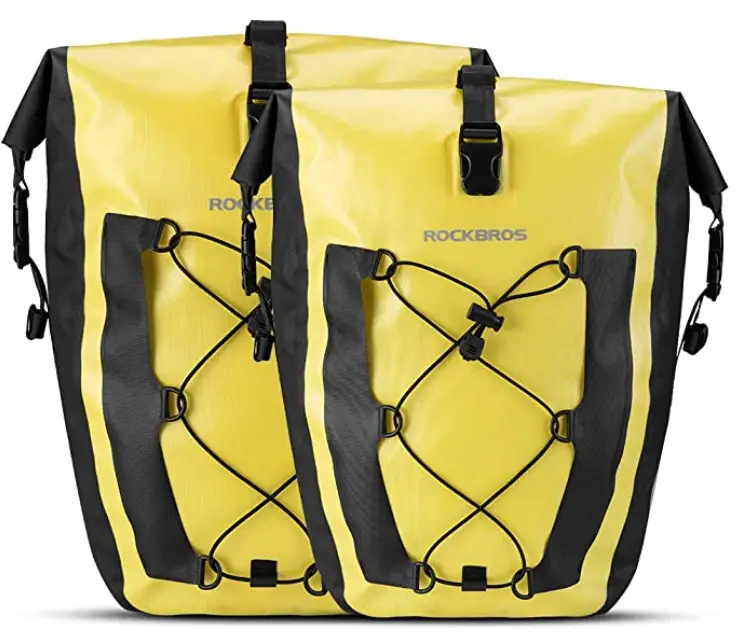 Produces a variety of panniers that are fully featured for an excellent price. One of their most popular models has an enormous carry capacity of 27 liters (see pricing). This is a heck of a lot of cargo space and will easily carry everything needed for the workday or a large trip from the grocery store. 
They are also available in waterproof and more compact models making it easy to choose the right ones for your needs.
Blackburn
It is an awesome option for basic panniers, especially when on a budget. If you are looking to outfit your road bike with panniers but do not want to break the bank this could be your best bet. If you are curious about panniers and want to see if they are the right fit for you then be sure to give these a peek. 
They might not have the fanciest hardware and are not waterproof but they get the job done for a fraction of the price of some other models. As a bonus, Blackburn products are covered under a lifetime warranty!
Conclusion
If you plan to commute to work using your road bike and are worried about storage do not fret! As you can see there is a multitude of ways to get your road bike set up with a high-quality rack and a durable set of panniers. No need to swap out the bike you already know and love.
With a little research, some know-how, and good old-fashioned elbow grease it is 100% possible to convert that road bike into a worthy car replacement.
Now excuse me, it is time to saddle up and ride over to Dunder Mifflin for some paper to pack into my panniers! Happy pedaling guys and gals!