Sometimes it's hard to decide between a backpack and a pannier for bike commuting because they both have some advantages and disadvantages. Some manufacturers have built solutions to bridge this problem with a hybrid solution. One such product is the Arkel Bug.
It's a backpack when you're a pedestrian. It's a pannier when you're a cyclist.
But can it be a perfect backpack and pannier at the same time? What is it like to use it for commuting regularly? 
And more importantly, does it deserve your hard-earned money?
The design team of Arkel has put a lot of thought into the Bug. At first, it appears as a backpack or a pannier depending on where you spot it, but a closer look reveals that every detail was designed with the cyclist in mind. Indeed, this was made primarily for bike commuters.
If you decide to purchase this product, I'd love it if you could use my affiliate link. It comes at no extra expense to you, yet it helps me put out content to help people get into bike commuting. You can find it at Arkel Bike Bags.
Cycling-specific details
The bug has reflective details that are visible from every angle. Whether you wear it as a backpack or it's mounted on your bike rack, it offers plenty of visibility for drivers even at night. 
There's a loop for a bike light on the front of the bag.
There is a helmet holder where you can place your helmet upon arrival. 
There's a U-lock holder where you can keep your lock while riding. It makes it easily accessible, yet out of the way.
When used as a backpack, the hook is kept away from your back.
When used as a pannier, the shoulder straps are tucked away.
There are two mesh water bottle holders, one on either side of the bag.
The bag is made of super strong, weather resistant Cordura fabric. 
Even without the additional waterproof cover, the Bug is weather resistant and it will keep your belongings dry for up to two hours before the water starts seeping in along the stitching. 
My favorite feature: it secures itself on the rack
Placing the Bug on the bike rack is simple, and the Cam-lock mechanism keeps it in place securely. This is probably my favorite feature of this product. When you lift the bag by its handle, it opens the spring-operated locks. Once the hooks are on the rack and you let go of the handle, the locks automatically engage, making it impossible for the pannier to fall off.
The pannier I was using before didn't have this feature and had to be secured on the rack after being hooked on. Since I regularly forgot to perform this additional step, it fell off my rack on two occasions with my laptop in it.
If you have an expensive laptop or carry sensitive, fragile items, this feature alone can be worth the premium price you pay for the Bug.
Pockets and organization
The Arkel Bug comes with three main pockets to organize your stuff as well as a U-lock and a helmet holder. 
The main pocket can be accessed from the top, from either side by pulling down the zipper or it can be fully opened as a small suitcase. This is an easy way to place your clothes or other larger items in the backpack.
It's large enough to hold a change of clothes and a pair of shoes, although I generally don't like having my shoes in the same compartment as the laptop and my clothes. But then again, I keep my shoes in the office, so it's not an issue for me.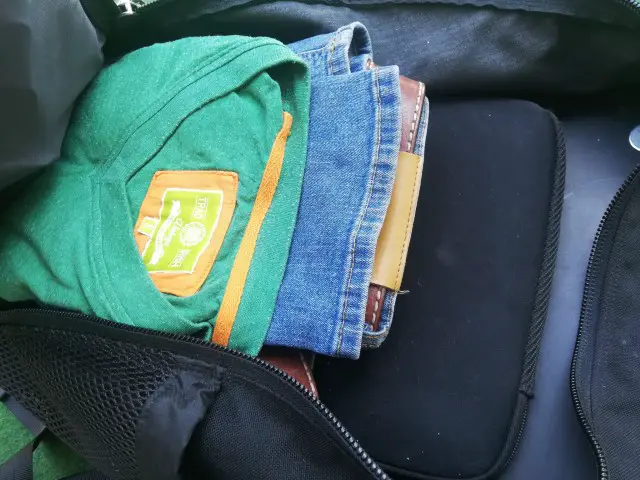 There's no dedicated laptop compartment in the Bug, but there's plenty of room in it for a laptop. If you wish, you can also purchase a separate Arkel laptop pouch. Since my laptop has a well-padded neoprene sleeve, I find that this offers sufficient protection and padding. 
What appears to be a laptop holder in the bag, is in reality only the narrow pocket of the back-plate, which is kept partially exposed, so it can be easily removed when you want to machine wash the bag.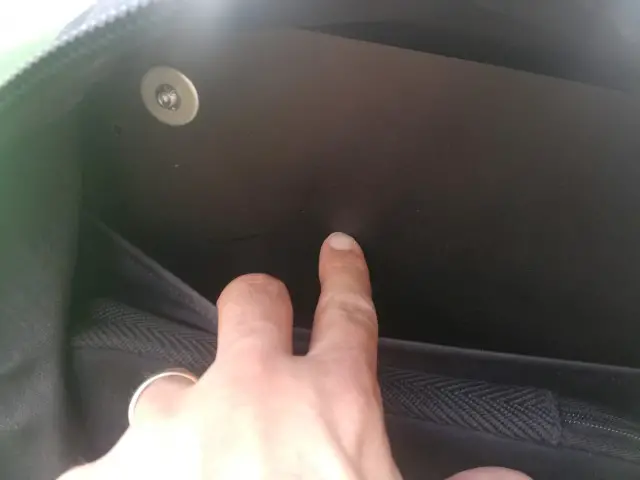 Inside the main compartment, there are two separate pockets. The larger one fits a 10" tablet, while the smaller one is a good place for your mouse and charger.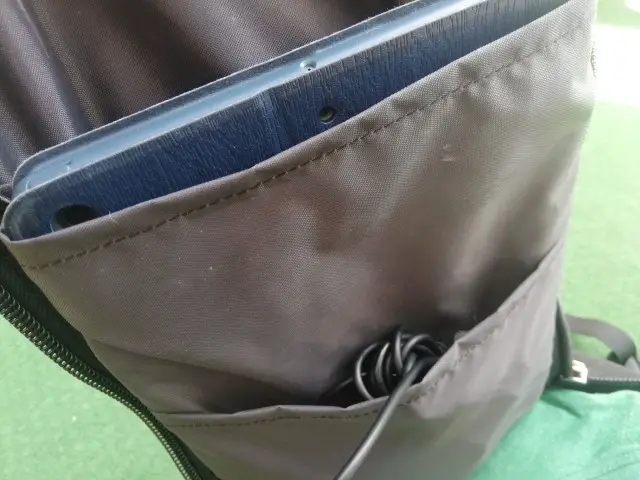 There's a tall pocket with a zip in front of the main compartment, which serves well for medium sized items, such as magazines, paper folded in half or items that you don't want to place in the main compartment because you want easy access to them. This pocket also has a clip for your keys so you don't have to reach down to the bottom of your bag to grab them.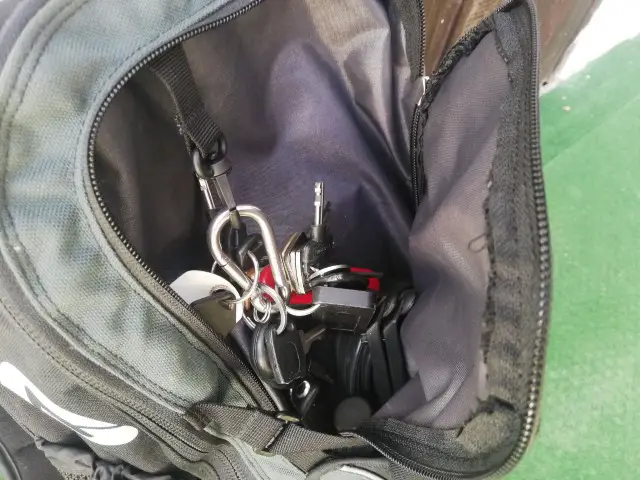 I chose to place my spare tire, repair kit, pump, and tools here. Since there's no dedicated tucked-away pocket for items like these that you don't use on a daily basis, but want to keep with you just in case, I find that this is the most convenient place to store them. 
Since I've started using the Arkel, I no longer use my frame bag with all the tools. This makes quick city stops much more convenient: I don't need to empty the frame bag to make sure that my kit isn't stolen. Everything is with me at all times.
The Bug also has a quick access pocket at the front. It's large enough to place your wallet and phone in, but it can be tricky to get them in and out when the bag is fully loaded.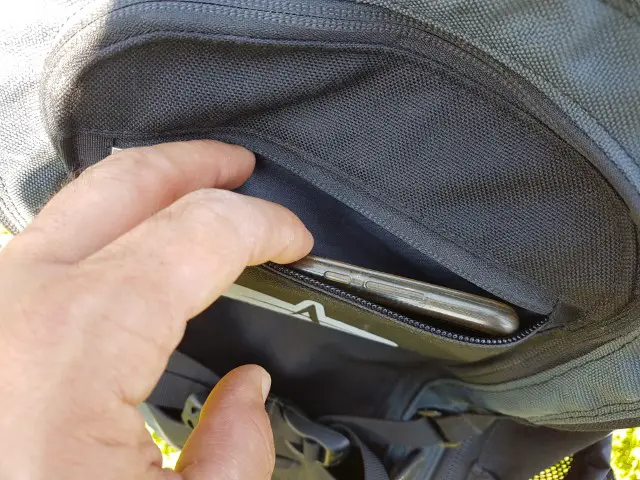 The flap on the front of the pannier is a helmet holder. It can be adjusted with two straps. It's a thoughtful answer to the question of "What should I do with my helmet now that I've arrived?". This too, can prove to be a bit tight if you have the bag loaded to the point of bursting.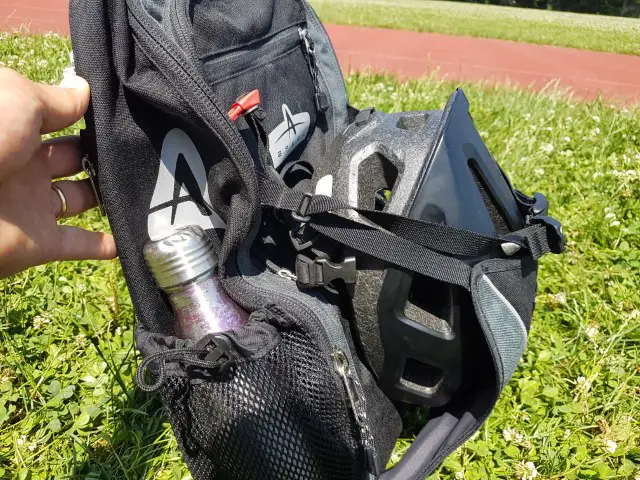 Behind the helmet holder there's a U-lock holder. Since many u-locks come without a frame mount and some are just too bulky to mount on the frame, it's a handy place to keep your lock while riding.
Quality, practicality, and comfort
This backpack pannier is not only designed with attention to detail, but also with good craftsmanship. The Cam-lock system is made of aluminum and is guaranteed to never break with normal use. The fabric is strong and durable. In fact, Arkel is so confident that this will last a lifetime that 
The Bug comes with a transferable, no-receipt needed, lifetime guarantee. 
The Arkel Bug has been thought through to provide the most practical experience for cyclists who want the convenience of a pannier when riding and the convenience of a backpack when at the destination.
Arkel did their best to create a product that is as pannier and as backpack as possible at the same time.  
It's quick to mount on the bike rack, and it takes about 15 seconds to transform it from a pannier to a backpack. 
There's enough room for your stuff for a daily commute, enough pockets to keep everything organized, handy features such as the helmet holder, the key holder, lock mount etc. These make the Bug very practical indeed.
When we speak of comfort, we must speak of the comfort of wearing the Bug as a backpack. 
The backpack mode of the Bug makes it stand out among other panniers, which you need to carry in your arms, immediately revealing that "a cyclist is here". In fact, looking at someone wearing the Arkel from behind, you couldn't tell that it's not a backpack. 
It isn't until you see its other side that you notice that you're facing a special product here. The hooks and the bungee cord remain visible in backpack mode. They are kept away from your back, so they don't cause discomfort, but they're the details that reveal the special nature of the Bug.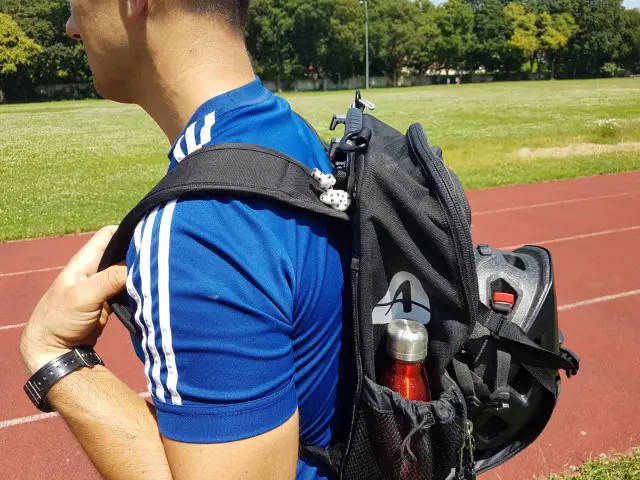 Not only does it look good, but it also makes carrying all your belongings much more comfortable.
Since it's not meant to be worn when cycling, it comes as no surprise that in backpack mode, there are no air vents, no special padding and no mesh to reduce contact area with your back and offer better breathability. The Bug is meant to be used as a pannier when on the bike. If you are looking for a dedicated cycling backpack, you can find other dedicated backpacks that are more comfortable. 
It's comfortable enough to wear for short periods of time, but it would be unrealistic to expect a premium backpack feel, where every design decision is aimed at making its wear comfortable. So if you are looking for a backpack you will ever use in all situations: long hikes, daily carry, etc. this might not be your best bet.
Pros
It's both a backpack and a pannier at the same time
Conversion takes 15 seconds
Lots of cyclist-specific details
Enough pockets to organize your stuff
Lifetime guarantee
Excellent waterproofing even without the rain cover
Cons
No dedicated laptop compartment
Some pockets can be tricky to access when fully loaded
Laptop pouch and rain cover sold separately
Pricier than some competitors (although the lifetime guarantee means that you will never have to buy another backpack pannier again)
Verdict
The Arkel Bug is a great addition to any bike commuter's essential collection. It's arguably the best all-around solution to carry your stuff to work that makes as few compromises as possible.
If you're in two minds between this and any other product, the lifetime guarantee and the super secure Cam-lock system can be two deal breakers to help you decide.
You can purchase the Bug at Arkel Bike Bags.
Happy Pedaling!