Cyclocross bikes have been around for some time. They are off-road racing bikes often used by road riders, who can't get out to ride in the winter months, but want to spice up their training and ride in the outdoors.
Cyclocross bikes are good for commuting because they make riding safe, fast and fun. Their geometry is more comfortable than that of road bikes and they offer less rolling resistance than mountain bikes. Entry level cyclocross bikes often come with commuter friendly features, such as bottle cage mounts, and eyelets for racks and fenders.
Let's see what cyclocross bikes are, how they compare against other bicycles and what makes them a good option to become a commuter bike. We're also going to see some alternatives given that cyclocross bikes are not the best type of commuter bike for everyone.
What are the characteristics of cyclocross bikes?
Cyclocross bikes were invented for road bike users when they wanted to race off road, but they preferred the general characteristics of a road bike instead of using a mountain bike. If an untrained eye takes a look at a road bike and a cyclocross bike, it will struggle to detect significant differences between the two, besides the obvious difference in tire width.
Big tire clearance
Cyclocross bikes are allowed to take part in races with a tire width of up to 33mm. Their frames are designed to accommodate these wheels and to allow for some extra room so the tires don't get seized up in mud. 33 mm tires are quite wide and don't need to be inflated rock hard to avoid punctures. These bikes can often take even wider tires than 33mm and can get up to 35-36mm too.
Wide tires are very commuter friendly indeed. Given that these bicycles come with a rigid front fork, more air volume in the tires means better shock absorption than on skinny tires. Wider tires are also less likely to get a pinch flat than their narrower cousins.
Drop handlebars
All cyclocross bikes are equipped with drop handlebars. This is a big similarity with road bikes. They offer three hand positions: in the drop, on the hood and on the top. Having three hand positions means that you are much more likely to find the perfect grip for the type of terrain you're riding on. Get in the drops on descents, grab the hoods for climbing or ride on the top when you're cruising.
Drop handlebars are no doubt more comfortable than flat handlebars, which only offer a single hand position unless you add bar end grips.
Short wheelbase
Since cyclocross bikes are designed for very challenging technical terrain with sharp corners, bumps, rocks and roots in the ground they need to be easily maneuverable. A short wheelbase ensures a short turning radius. A short chainstay means that they can get up to speed quite quickly and efficiently. A short wheelbase also means a less comfortable ride, but keep in mind that these bikes were born to serve one purpose: to participate in 1 hour off-road racing events.
Steep head angle
A steep head angle serves the purpose of a very responsive steering. It provides less comfort but more direct control. A responsive steering can be a good commuter friendly feature for someone riding in traffic and weaving around cars.
Many, but mostly low gears
Cyclocross bikes often come with a single chainring (around 40 teeth) and a 10 – 11 speed cassette at the rear, typically ranging from 11 to 42 teeth. This gives them quite a wide gear ratio selection, but they lack the high gear ratios found on road bikes. In cyclocross events the highest speeds are not near as high as on road racing events. It's a much more tactical and agility-based discipline, and high gear ratios would add extra weight, but the benefit wouldn't be taken advantage of.
Despite not having super high gears, commuters can still benefit from cyclocross bikes and they can get up to fast speeds indeed. Considering that the average bike commuting speed is around 12-15 mph, cyclocross bikes are perfectly capable in this range.
Mounting points: sometimes
A few years ago cyclocross bikes were very bare bones, and offered neither mounting points for bottle cages not eyelets for racks or fenders.
Nowadays, many cyclocross bikes can be fitted with one or even two bottle cages. Most of them still don't take fenders and racks, which is quite understandable given the nature of the sport.
Some entry level cyclocross bikes, which also want to appeal to the beginner cyclists, can also accommodate fenders and some even racks. While these are nice, and arguably even necessary features, on a commuter bike, they completely change the character of a cyclocross bike.
Disc (or canti) brakes
Since cyclocross bikes need to accommodate wide tires, a traditional road rim brake just doesn't work. They used to be made with cantilever brakes, which allow for wide tires. Nowadays, however, you'll be hard pressed to find a new cyclocross bike without a disc brake.
The disc brakes can be either mechanical or hydraulic. They both offer plenty of stopping power in all kinds of weather conditions and since they are elevated off the ground, mud sticking to the rim doesn't become an issue. Lower end models come with mechanical disc brakes while higher end ones with hydraulic disc brakes, which offer better modulation and require less maintenance.
Ample stopping power is a great commuter friendly feature. Coupled with the wide tires, these bikes are very safe to ride for commuting.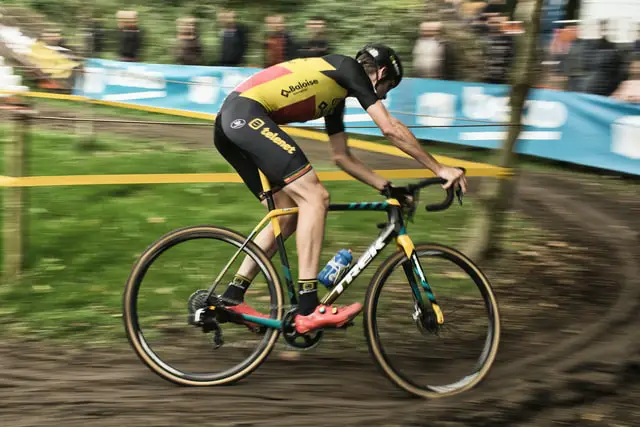 Cyclocross bike vs road bike
Every detail on road bikes is designed with the highest possible speed in mind, while every detail of cyclocross bikes is designed with racing on technical terrain in mind. Road bikes are faster on paved roads, the rider is in a more aerodynamic position, while cyclocross bikes are nimble off-road and the rider sits more upright for better control of the bike.
Road bikes come with skinny tires and some have a maximum tire clearance of 28 mm, which is way too narrow for a cyclocross bike and not suitable for riding off road. Road bikes have road specific clipless pedals, that can only be clipped in on one side, and are impossible to clip in with muddy shoes. In fact, road bike shoes would be impossible to walk or run with in a cyclocross race. Cyclocross bikes are equipped with mountain bike specific clipless pedals, which make clipping in possible even in muddy conditions, and they can be used for running because of the recessed clip in mechanism.
A major similarity between road bikes and cyclocross bikes is that they are both made with a specific type of racing scenario in mind and their top end models leave out everything that doesn't make sense in the type of discipline that they were designed for: bottle cage, rack and fender mounting points, just to name a few.
Cyclocross bike vs gravel bike
While cyclocross bikes are designed with specific racing parameters in mind, gravel bikes vary in design since there isn't a universal gravel bike race. They are often more comfortable to ride, accommodate even wider tires as well as they offer plenty of mounting points.
Gravel bikes are often used on multi-day or even multi-week trips, and comfort is a primary concern. The handlebars are mostly drop handlebars, but slightly wider and with a flare for added comfort. They have a wider gear ratio than cyclocross bikes. They are often equipped with a double chainring (48-38, for example) and a wide range of gears on the cassette. Since gravel bikes concentrate on comfort, they often add bits and pieces, which makes them heavier than cyclocross bikes.
Gravel bikes work perfectly well as touring bikes, and come equipped with several mounts for bottle cages, racks, fenders. They can also accommodate cargo on the front fork.
Gravel bikes are a little more all-rounders than cyclocross bikes: they perform very well off-road, but they share some more similarities with road bikes too, especially in the gearing. This makes them very capable for road riding with the right tires on.
Speaking of tires, many gravel bikes can take 650b tires, while cyclocross bikes can only take 700c tires, which is required for the discipline.
What kind of commutes are cyclocross bikes good for?
Cyclocross bikes are great for off-road commutes or in scenarios where the road quality is just very poor. They are suited for those who have showering facilities when they get to the office and don't mind carrying a change of clothes. They are a lot of fun, but they aren't very practical as dedicated commuters for most people.
Of course, if you want to get into cyclocross racing you can use your morning and afternoon commutes as training sessions, but if you prefer to get to the office and not have to get changed, or you'd like to have a commuter bike with commuter friendly features, you're probably better off with something less specifically racy bike, like a hybrid bike, a touring bike or even a gravel bike.
Should you buy a cyclocross bike as a dedicated commuter?
Cyclocross bikes only make sense as dedicated commuters if your commute actually involves technical terrain and you'd like to turn your commutes into training sessions.
If you'd like a bike with drop handlebars, but you don't want a road bike, you should look into picking up a gravel bike instead.
How to carry stuff on a cyclocross bike?
Since dedicated cyclocross bikes lack mounting points for a rear rack, the only sure way to carry things on it is with a backpack. Thankfully, there are some dedicated bike commuter backpacks, like the Osprey Radial, which do a great job of distributing the weight on your back without putting too much stress on your arms. They also do an excellent job at allowing for air to flow between your back and the backpack leaving your back as sweat-free as possible.
Can you convert a road bike to a cyclocross bike?
You can change a few things on your road bike to make it more suitable for rough roads, but you can't turn it into a fully fledged cyclocross bike. The limited tire clearance, the road specific geometry are the two biggest problems that you're going to encounter. These makes road bikes always stay road bikes.
Conversely, you can do a lot of things to a cyclocross bike to make it more road friendly, but cyclocross bikes can't be converted into fully functional road bikes either. The aerodynamics and the rider's position make them unsuitable for road racing. Of course, they can be ridden on paved roads just like road bikes, but if you're looking for a dedicated road bike, don't buy a cyclocross bike and try to convert it.
Happy pedaling!