I recently read a comment on a bike commuting forum that there's a natural progression from backpack to pannier. I couldn't agree with it more.
Until I tried out the Osprey Radial.
I'm the type of guy that sweats very easily, which makes me not very fond of backpacks for cycling in general, and more specifically for commuting. I started cycling to work with a backpack a few years ago, and quite quickly progressed to a pannier. It was a liberating game changer for me since it allowed free air ventilation to my back.
When I read about the Airspeed feature of the Osprey Radial, that allows airflow between the bag and your back, I was very excited to find out just how good it was. I reached out to Osprey, who sent me one to test and review. I've used it for commuting for a few weeks and I'm here to tell you all I've learned about it.
Before we get into the nitty-gritty, here's a quick summary of the backpack and who it's for.
The Osprey Radial is a backpack that's been designed and perfected with every detail with the bike commuter in mind, but it can be used for hiking and everyday carry just as well. The materials used and the outstanding build quality make it a lasting product that's worth the premium price it costs.
If you decide to purchase this product, I'd love it if you could use my affiliate link. It comes at no extra expense to you, yet it helps me put out content to help people get into bike commuting. You can find it directly at Osprey.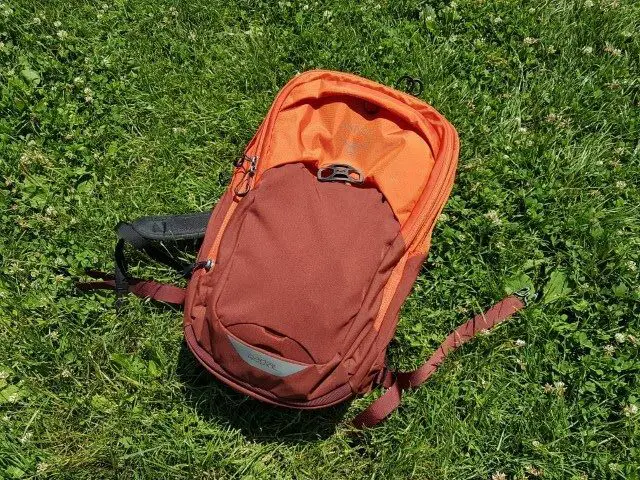 Details Commuters Will Love
Airspeed, which keeps a gap between the backpack and you, reduces the contact area and ensures that the air ventilates as freely at your back as backpackly possible
Mounting loop for light for extra visibility
Comes with a fully waterproof cover that folds tiny and conveniently tucks away in the bottom pocket when you're not using it
Comfortable and fully adjustable shoulder straps as well as sternum and waist straps for extra comfort
Light reflecting details both on the front and the back
A ton of pockets to organize your stuff: 3 main compartments, and over a dozen smaller pockets altogether
The backpack has a built-in aluminum frame with a kickstand, that keeps the backpack standing without leaning against the wall, desk or anything else
There's a whistle built into the buckle of the sternum strap to alert pedestrians
Design and Organization
Osprey updates the design of the backpack from time to time. This is a walk-through of the 2020 model.
The Radial's design is clean and simple. There are two color options to choose from: orange and black. The black appears quite minimalist despite having an identical layout and array of pockets. It's due to the fact that both the main material and the elastic mesh are of the same color. The rise orange version uses two different color tones. The main part is orange and the elastic mesh is a wine color that complements it well.
When I went cycling in the countryside and my wife came after me in the car, she complimented the visibility of the backpack even from far away in dull conditions. This is a big plus for me as a bike commuter who rides on urban roads year round.
Let's give the Osprey Radial a thorough look to see how you can organize your things in it.
The main compartment has three further smaller pockets inside: a well-padded laptop sleeve, a second sleeve for a tablet or documents, and a pocket with a zip for shoes. The laptop pocket can take a 15" laptop without problems, and it's designed to keep it off the ground for safety even if you drop the backpack.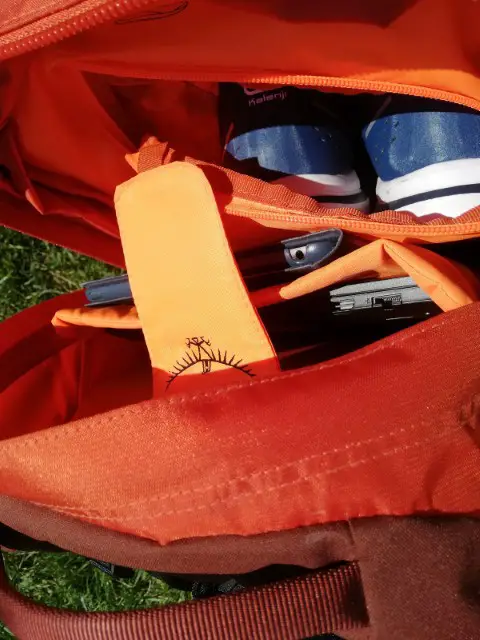 The shoe compartment is large enough to take any size shoes, and of course, it's no secret that you can store many other things in it that you want to keep separated as well.
The next zip doesn't hide another pocket, but rather by opening it, you can expand the capacity of the main compartment from 26L to a whopping 34 L. When unzipped, the backpack is really large and it can fit your spare clothes as well as gym clothes or some groceries as well. I like the zipper because often I don't need a huge backpack to carry everything I need, but when I need the extra space, it's there.
The front large compartment contains many small pockets to organize small items such as pens, pencil cases, phones, external hard drives, headphones, power banks, wallet, etc. You will appreciate the fact that you don't need to dive into the bottom of a large bag and try to find a small item deep down in the darkness. I wish that there were a few small pockets similar to these at the bottom of this compartment for these items that are almost never in use, but it's definitely not a deal-breaker.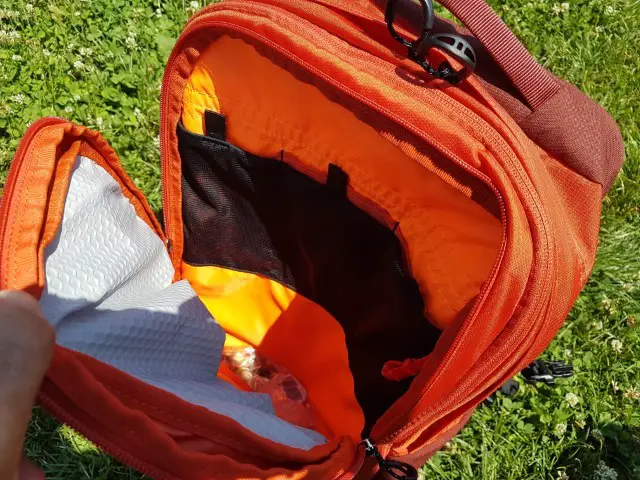 There's a quick access pocket on the front of the backpack for your phone, sunglasses and wallet. As long as you're on the bike there is no way sticky fingers can steal your things from there, but I'd be weary of keeping valuables here if I was to wear it on a busy street as a pedestrian.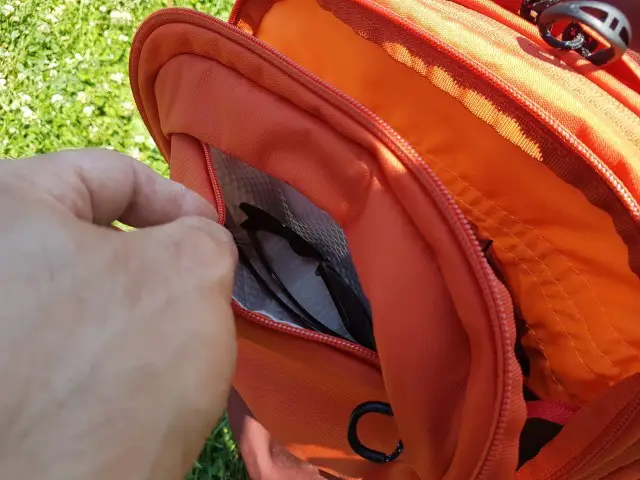 There's a large pouch on the front, which doesn't close with a zip, but it has an elastic mesh wall, which appears small, and it's capable of expanding when you place something in it. Concealed in this pocket you will find the LockLid helmet attachment. It can hold any helmet that has a reasonably large vent hole on top that it can fit through. Since it doesn't keep the helmet inside the bag, but on top of it with an elastic band, you can mount your helmet even if the bag is completely full. It's a thoughtful detail, and it's really handy because you can walk around with both of your hands free when you arrive at your destination.
On the bottom of the backpack there's another pocket hiding the waterproof cover. I'm a big fan of its bright color and reflective logo for extra visibility at night. I use this pocket to keep my spare tube, patch repair kit, multi tool and pump in.
The backpack also boasts two side pockets with elastic mesh. The one without a zip can hold a water bottle, while the other with a zip is a good place to keep your keys. Both of these pockets can be accessed while wearing the backpack.
Comfort
Besides being very well thought out in terms of organization, the Radial is also very comfortable to wear. 
Picking up the backpack by the handle is a pleasant experience no matter how heavy it is. It sits in your palm comfortably without cutting into it.
The shoulder straps are well padded and comfortable to wear and have some cutouts for air to pass through.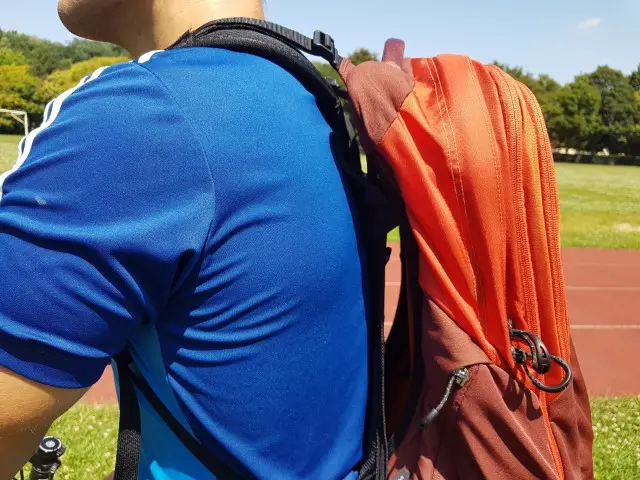 Since everyone's body proportions and preferences are very unique, Osprey designed the Radial so you can completely customize how the backpack wears. Besides the adjustable shoulder length there are two other points of adjustment.
You can select how close you want the backpack to you with the straps attached to the top of the shoulder straps.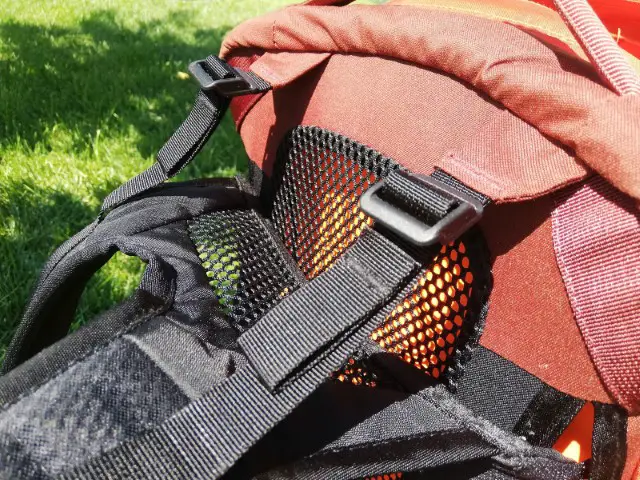 And you can also customize how high or low you want the backpack to sit on your back by moving the shoulder straps' attachment points higher or lower on the mesh. It's truly ingenious!
To further enhance the comfort of wear, there's a sternum strap and a waist strap that prevent the backpack from bouncing and slipping off.
Since the Radial's designed to be kept away from your body as much as possible, the backpack is suspended on a mesh that's in contact with you. This has two advantages:
On the one hand, the firmly extended net is super comfortable to wear, since it doesn't press against your back at specific points no matter what you put in the bag. Instead, it conforms to the shape of your back. 
On the other hand, it also creates a gap between you and the bag, which allows air to ventilate. I've noticed that the further forward I lean the better ventilation I get when riding.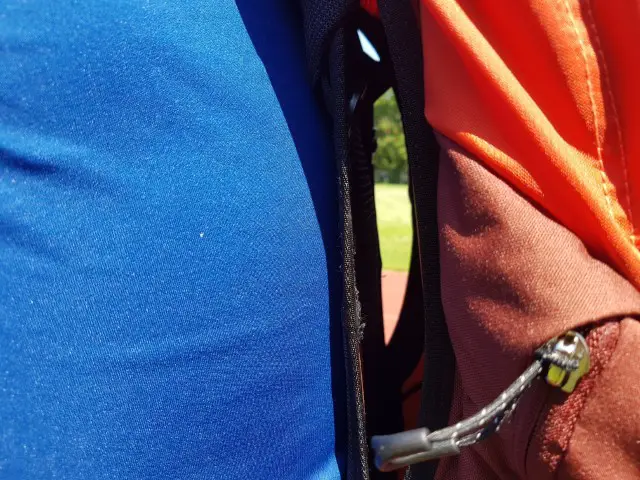 All of the above thoughtful features make the Radial arguably the most comfortable backpack to wear for cycling. In fact, I find it so comfy that I use it even when I'm out hiking with the family and as my backpack for daily carry. 
Materials, build quality and practicality
The quality of materials selected and the build quality also reflect the high standard to which the Radial has been designed. 
The durable YKK zippers have a super smooth travel as well as very comfortable loops for one finger operation. The stitching of all the seams is impeccable.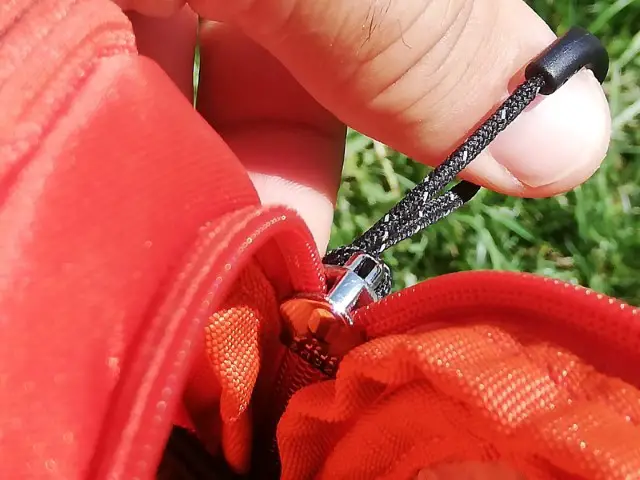 The main material of the backpack is durable and reinforced at the bottom so it doesn't wear out even where the aluminum frame meets the ground. The elastic pockets are soft but also durable.
When you take the bag in your hands, every detail screams quality, and you know the premium price you paid for the product reflects premium quality. 
In terms of practicality, the Radial is well thought out in all of its details: from the bottle holder to the key pocket that you can both access with your hands, from the easily convertible huge 34 L capacity to the whistle, from the light mounting loop to the LockLid… Everything has been cleverly placed to make it a very practical cyclist, and more specifically bike commuter backpack.
Airspeed and Sweating
My biggest question before I tried the Radial was whether the Airspeed feature would be so good that I'd be willing to ditch my pannier for commuting. 
Here's the conclusion I arrived at after having used it for several weeks commuting in 100 degrees Fahrenheit (nearly 40 degrees Celsius).
Any backpack, no matter how well designed it is, is going to make you sweat more than not wearing one. The Osprey Radial ensures that this amount of extra sweat is as little as possible. I'm truly blown away by just how well this has been achieved compared to other backpacks.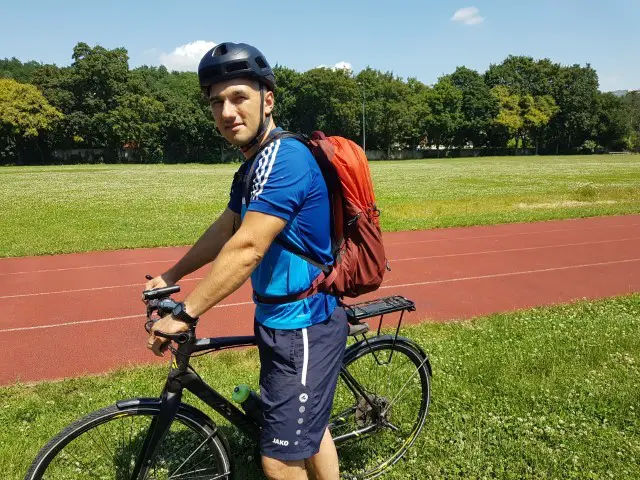 Here are two pro tips to further keep sweat to a minimum:
If you wear a cotton t-shirt when riding your bike, switch to a sport jersey. This is going to make a huge difference, as they are designed to wick moisture away from your body and allow it to evaporate. They also dry much faster than cotton. Polyester and merino wool both achieve this effectively, and the added bonus of merino wool is that it doesn't smell bad even if you don't wash it. 
For really hot days, you can also get a basket or milk crate for your rear rack to place your backpack in, or check out the Mundo Air Pannier, which you can keep in your backpack and use it in the scorching heat. It turns your Radial (or any other backpack) into a pannier, and it allows you to transport other things in it too. You can do it even if you don't have mounting points on your bike or if you don't fancy a permanent rack on your bike to ruin its aesthetics (read about it here).
Even though the Airspeed is unparalleled among the Radial's rivals, I still like being able to take it off when I'm about to faint from the heat of the Sun. With this little guy in the backpack, I'm confident that the Radial can be the only bag I will need for commuting, and I'm confident that I'll be wearing it on my back 95% of the time.
Waterproofing
Since the Radial is a commuter specific backpack, and many of us commute with a laptop, having a waterproof bag to keep the laptop (and everything else) dry is super important. 
I'm happy to report that I had the opportunity to ride in a torrential downpour that lasted 30 minutes, and not a single drop of water passed through the raincover. Not only the contents of the backpack stayed dry, but after taking off the raincover, there wasn't a drop of water on the bag itself either.
Very impressive!
Price, Value and Final Thoughts
The Osprey Radial is not cheap. It comes in at 180 dollars in the US, and around 130 pounds in the UK. How can you justify spending so much on a backpack if you can find others for much cheaper than this, you may ask the question.
When it comes to value, however, you always get what you pay for. You need to search high and low to find anything that is tailor made specifically for bike commuters as the Radial, and made with so much craftsmanship and care to detail.
If you can afford it, you won't regret your purchase. Go to Osprey to get yours today.
Well done Osprey!
Happy Riding!