Commuting by bicycle whether it is to work, a friend's house, or to the supermarket is great for a myriad of reasons. The hardest part about commuting by bicycle is often what kind of bike makes the best commuter? While just about any bike can be outfitted into a competent commuting machine we often get asked:
Are touring bikes good for commuting? Touring bikes can be excellent commuters. They are reliable, rugged, and usually designed to carry racks, panniers, fenders, and a wide assortment of accessories helpful in your daily commute. They are designed for long open road treks which share a lot in common with commutes where the rider deals with weather, traffic, and unpredictable road conditions. 
Many bicycle commuters choose to use a touring bike based on a variety of factors and features offered by the bicycle. These could be as simple as color or design or as complicated as weight and gearing. 
There is no one perfect bike that fits everybody so it is a good idea to look into an assortment of bikes that ultimately fit your needs with the right features you are looking for. 
Read on to find out more about these features and why using a touring bike for commuting might be the best choice for you!
Choosing The Right Touring Bike For Commuting
When it comes to bicycle touring or bike packing reliability and ruggedness are huge factors that go into a rider's decisions. The same can be said for bicycle commuting as just like in touring you will most likely not have a support crew to deal with repairs and problems encountered along the way. 
Another factor that carries over is the ability to carry food, water, and gear while protecting them from the weather in panniers and bike bags. This means that your work documents or laptop will make the trip without getting wet or dirty due to road grime, rain, and other inclement weather. 
Finally touring bikes usually come with many mounting options not only making it easy to install racks and panniers but also plenty of room for lights, fenders, and other accessories you might find useful during your commute. 
If you are looking into a touring bike to use as a commuter it is a good idea to give all of these factors a good thought. Here is a quick checklist that can help you quickly determine if the bike you are looking at is the right one for you.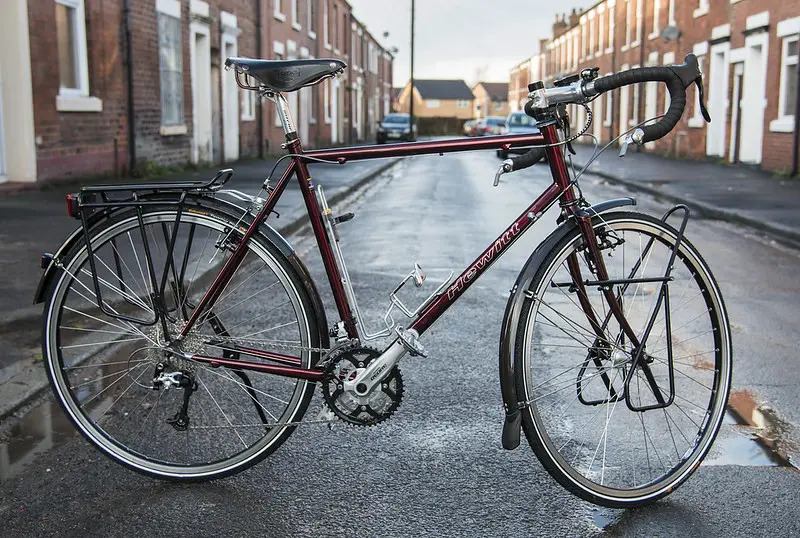 Does the bike have high reliability and get good reviews?
Is it rugged with the ability to support a heavy load of gear?
Does it have mounting points, or the ability to add mounting points for bottle cages, racks, panniers, bike bags, and more?
Can you mount fenders easily for the winter or times of inclement weather?
Is it possible to mount lights, bells, and other accessories for safety and comfort?
Is it easy to change a flat or make minor repairs as needed along the road?
These are some key things to look out for and if you answered the above questions with more nos than yeses it might be better to look at a different touring bicycle for your needs. If you answered with more yeses than nos then the touring bike you are looking at might just be the right one for you!
Sizing A Touring And Commuter Bike
Once you find the perfect touring bike for your commutes it is a great idea to look into sizing it. Sure you can get a bike fitting to assist you in finding the perfect size, the perfect fit, with the perfect saddles and grips however you can always do that later. 
Here are some basic guidelines to follow to help you narrow your choices from the get-go. See the chart below to find your size:

Touring and Commuter Bike Essentials
After picking out the right size and the right bike it is time to outfit it with your favorite gear. Oftentimes this gear is essential as it will not only make your commute easier but will also make it more comfortable. 
One of the most basic and sometimes overlooked bicycle accessories is a bottle cage. Now obviously this is a great place to store your water bottle for a quick drink on the go but It is also a great place to put your travel coffee mug for a hot drink on a cold day. 
One bottle cage is sufficient but having more than one is more versatile. On my commuter, I usually have two, one for my water and one for my coffee. 
Panniers and bags probably first come to mind when thinking of essential gear as they will carry everything you need for work or a trip to the supermarket while keeping it dry and safe. There are some excellent options in a variety of sizes from Ortlieb, Rockbros, Arkel, and Blackburn to name a few. 
But wait! Before you can install those panniers and bags you might need to install a rack. Some touring bikes will come with racks already standard however if not these are some great options to look into from Thule, Axiom, Old Man Mountain, and more. 
Water bottle cages, racks, panniers, and bags are a great starting place for a quality touring and commuting rig. One that is often forgotten though and will make your tour or commute that much better of an experience is fenders. Fenders help to not only protect you and your gear from getting wet from rain or snow but also helps to extend the life of your bicycle.
Some of my favorite fenders are those that are easy to take on and off so you can remove them for the sunshine and put them back on for the winter. On the other hand, maybe you love the aesthetic they provide and want a beautiful long-lasting option. 
No matter the choice fenders will certainly change your commute and make you fall in love with biking as your primary mode of transportation.
How to prepare your touring bike for the commute?
A key part of successfully commuting on a touring bike is to act like you are on a bike tour and learn to become self-reliant. While on a bicycle tour if you do not know how to change a flat when the time comes then you are going to have a bad time. 
Do yourself a favor, watch some videos about how to change a flat, practice it before it happens, and be sure to carry a flat repair kit such as a tube, tire levers, CO2 cartridges, and a CO2 pump. Your bicycle touring kit might differ from your commuting kit but definitely get comfortable with it to avoid being stuck like a duck out of water. 
Furthermore, it is a good idea to look up videos that concern bike touring tips and simple bike repairs that can be performed on the side of the road. These can be really useful whether on a bicycle tour of hundreds of miles or just a commute to the farmers market. 
Sure maybe leave the tuning and major repairs to a professional but it is advisable to learn how to pump up a tire, change a flat, adjust your saddle, adjust your brakes, etc. YouTube is an excellent source of videos to help you with this and bike maintenance can be almost as much fun as riding them. 
For the best experience while touring or commuting become self-reliant and never fear getting stuck on the open road!
Commuting and Touring Safety Measures
One thing to keep in mind when it comes to touring or commuting by bicycle is safety. Of course, it is a good idea to wear a helmet but did you know that lights are far more effective?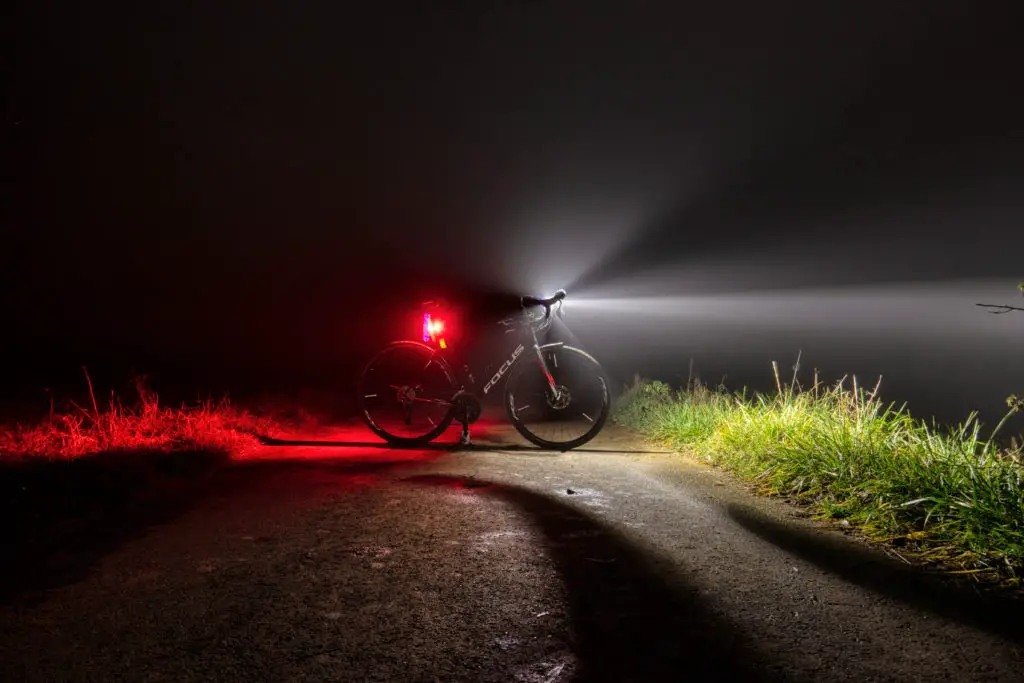 Day or night it is always a fantastic idea to have flashing lights on your bicycle. These will help to alert drivers to your presence long before they get close. 
Brightly colored clothing will also help you get noticed by drivers and put them on high alert before passing you. Being noticed is important these days especially in the age of everyone being more concerned with what's on their smartphone than on the road. 
Another excellent thing to think about is locking up your bicycle. There is nothing worse than stopping for lunch on a bike tour far from home only to find your bike gone! 
Remember bikes are not cheap so do not trust them to stay safe with a cheap lock. Abus and Kryptonite make some seriously tough locks keeping honest people honest whether out on a bike tour or close to home.
What is a touring bike used for?
Touring bikes are primarily used for bike touring or bike packing. Touring is the process of riding many miles during the day and bedding down to ride many more miles the following day. The purpose is usually to ride long distances such as across the United States, around Europe, or across the globe however it can also be relatively short distances.