Gravel bikes have been on an upward trend in popularity. They are more than just a passing fad though because they offer benefits that no other bike can by itself. Gravel bikes are the result of a mixture of characteristics taken from different bikes. The question naturally arises: if I already own a road bike, can I convert it into a gravel bike?
Road bikes, especially endurance road bikes, can be fitted with parts that make them suitable for gravel riding. Even though they won't become true gravel bikes, they will be very capable on gravel roads. This could be a great introduction into gravel riding that helps one decide whether to purchase a dedicated gravel bike.
Let's consider the parts of a road bike that need to be changed in order to make them suitable for gravel riding, but let's see the main differences between them.
Difference between road bikes and gravel bikes
Here are some of the most significant differences between road bikes and gravel bikes.
Road bike
Gravel bike
Tires
700c x 23 – 32mm
700c x 32 – 50mm
650b x 32 – 50mm
Chainring
53/39 or 50/34
46/30 or smaller
Cassette
11-25, 11-30
11 – 34, 11 – 40 or larger
Pedals
SPD-SL road bike pedals
SPD moutain bike pedals or
Platform pedals
Geometry
Stretched out, aero
Upright, gives better control
Cargo capacity
Limited
Large
Handlebars
Narrow
Wide with flare
Wheelbase
Short
Long
Gravel bikes aren't as fast as road bikes because their gears are more suitable for riding off road and climbing hills. They are also heavier and their geometry is more upright. Everything on a road bike is optimized for speed while everything on a gravel bike is optimized for tackling technical terrain.
Tires
It's no secret that gravel riding happens off road. Gravel is a loose term (no pun intended) and can range anywhere from dirt to rocks on the road and anything else in between. In fact, a lot of gravel riding is on single track and even grass.
Since the only two contact points between your bike and the ground are the front and rear tires, these need to be changed to suit the new type of terrain. Having narrow and slick tires are efficient and sufficient on the tarmac, but they are not really suitable for gravel riding.
How wide tires should you fit? As a rule of thumb the wider the better.
Road bikes, especially those with caliper brakes have a very limited tire clearance. If you own an endurance bike with disc brakes, it may be able to accomodate tires as wide as 32-35 mm. This is the beginning of gravel territory. Gravel bikes can often accomodate tires in the 40 – 45 mm range or even wider ones.
If you can't fit 32 mm tires on your bicycle, try fitting 28 mm ones. Just know that you will have to run them on very high pressures in order to reduce the chances of getting a flat tire.
The Panaracer Gravel King and the Continental Cyclo X-King are both available in 32 mm versions and are very capable gravel tires. If you prefer not to go full on gravel, but to have a good balance of off-road riding capabilities as well as low rolling resistance when riding on paved roads, you can opt for a trekking tire such as the Continental Ride Tour or the Continental Contact Plus.
If you intend to switch back and forth between road tires and gravel tires, it may be worth investing into a set of wheels that you keep your gravel tires on (like these Aeromax Wheels on Amazon). It will save time, effort and headache each time you want to change. In fact, you could keep a cassette more suitable for gravel riding on the gravel wheels.
Gearing
The gear range of gravel bikes is often just as wide as of road bikes, but since the bikes are intended for off road use with higher rolling resistance, the gear ratios are lower than on road bikes.
Many modern road bikes have a compact chainring at the front with 50 and 34 cogs. While this isn't the ideal chainring size for gravel bikes, they can still work if the cassette is changed. Cassettes of road bikes often range from 11 to 25 teeth, leaving you with a smallest gear ratio of 1.56, which translates to 35.73 gear inches on a 32 mm 700c tire.
The easiest gear on a gravel bike, however, is much smaller in order to make climbing easier, even when fully kitted out for a multi-day adventure ride. You will often find 46/30 or even smaller chainrings on the front, and cassettes with up to 40 teeth cogs or even larger on the rear. A 30 – 40 combination leaves you with a smallest gear ratio of 0.75, which translates to 20.26 gear inches on a 32 mm 700c tire.
The easiest way to get smaller gears on your road bike is by swapping the cassette for a larger one. Most road bikes won't have any issues taking an 11-28 or even 11-32 cassette, and with a simple Wolf Tooth Roadlink your rear derailleur can manage even larger cassettes.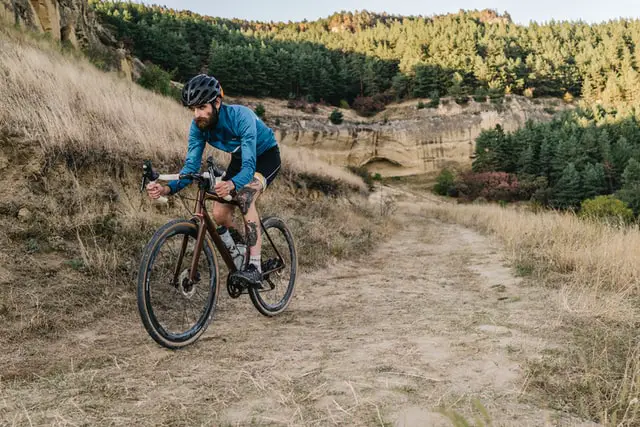 Pedals
If you run clipless pedals on your road bike, it's probably road specific. You can only clip in on one side and your shoes are nearly impossible to walk on even on pavement, let alone on gravel. These pedals are great and efficient for road use, but very impractical for gravel riding. Apart from the difficulty of walking, it's nearly impossible to clip in if there is mud stuck on the shoe or the pedals.
You need to think of upgrading your pedals and shoes to either mountain bike specific clipless ones or to platform pedals, which work with any shoe.
Mountain bike specific pedals, such as these from Shimano available on Amazon, can be clipped in on both sides. They are built to take a lot of beating and with a few kicks, you can clip into them even in the muddiest of conditions. They give you the benefits of the clipless pedals you're used to, but with the added benefit of off-road comfort.
Also, mountain and gravel bike specific shoes have recessed clips, which means that you can walk like a normal human being even with the shoes on.
Another solution you may want to consider are platform pedals, such as these lightweight Rockbros nylon ones available for less than 30 dollars. They won't allow you to exert force throughout the entire pedal stroke, but they offer plenty of grip with a decent pair of shoes. In fact, any shoe becomes a cycling shoe without having to purchase a dedicated one.
Geometry
Although the geometry of the bike frame can't be changed, but the relative contact points can. Gravel bikes have a slacker geometry than road bikes, which means that the ride is not stretched out as far. There's a difference in geometry because a more aerodynamically favorable position is an advantage on the road because it reduces the drag at high speeds and allows to go faster, while a gravel bike travels at slower speeds, but on more technical terrains.
The best way to change how a road bike rides is by changing the steering. Use some head tube spacers to raise the handlebar position, and use a shorter handlebar stem to allow for more precise control over the bike. If you have the money to spare, you can also upgrade the drop bar itself. Gravel bikes tend to have wider bars than road bikes with the drops having an outward flare.
Frame protection
Riding off-road takes a toll on the bike because of the rocks flying and hitting the frame as well as the chain slapping against the chainstay when riding on bumpy parts.
In order to protect the paintjob of your bike, consider putting a protective layer on the most exposed parts: the chainstay and the downtube. The 3M Scotchgard is an invisible protective layer that guards against scratches and scuffs, it's invisible and inexpensive, and can be found on Amazon here.
Cargo capacity
One area where gravel bikes excel is the amount of load they're capable of taking. Gravel bikes are often used for multi-day or even multi-week bikepacking adventure trips with heavy cargo including tents, sleeping bags, changes of clothes, water, camera gear, etc. Important details that accommodate these adventures are strong frames with plenty of mounting points.
Gravel bikes can be fitted with fenders, rear racks and even front racks. Many gravel bikes can take three or even four bottle cages.
Road bikes often lack mounting points for racks and fenders, which makes them bad candidates for multi-day trips. Their cargo capacity is quite limited.
There are ways to fit cargo racks on road bikes so you can carry panniers (I have a full in-depth article about it), but it's always going to be more limited.
Should you buy a dedicated gravel bike?
No matter what you do to a road bike, you won't change its essential DNA: once a road bike, always a road bike. However, by making these changes, you will be surprised just how much more capable you can render your bike to rode on dirt and gravel on your weekend rides.
Something else to consider is just how often you want to change back and forth from road to gravel riding. If you plan on doing it regularly, it may be a good idea to invest in a dedicated gravel bike, which will be far more capable on much more demanding terrains. It also frees up the time it takes to make those changes each time, and it is a good way to ensure your road bike's longevity.
If you want a gravel bike for a long bikepacking adventure trip, you're better off getting a dedicated gravel bike, which will be much more suitable for the task.
Happy Pedaling!