Having access to an electric bike changes the way you view long rides. Without a motor, steep hills and long rides can be exhausting, limiting the number of destinations you're willing to visit with your bike. 
With a bit of battery-powered assistance, however, riding for 20, 40, or even 60+ miles in a single day becomes a lot more realistic. Even if you're just turning on your e-bike's motor for the tough parts of your ride, you're able to get a whole lot farther before you get winded. 
When you use the motor for a bit of boost for the whole ride, you're able to access speeds formerly reserved for pro cyclists, turning a 20-mile ride into something that takes an hour or less.
The practice of bike touring involves long rides over varied terrain, usually while carrying a lot of equipment on your bike. With a motor, this riding discipline becomes a lot more accessible for people of all levels of fitness. 
Even the most practiced bike tourers can get a big boost from having a motor to help them up long hills when they've got a big load of cargo, while more novice tourers can use an e-bike to keep up with their touring buddies with more experience on their bikes. 
If you want to go far while hauling a lot of gear, the addition of a motor helps keep the ride fun and comfortable, especially when you're riding all day.
But which bike should you choose? 
Here's a quick rundown on some of the very best electric bikes for long-distance touring available on the market today. Before we get started, however, let's go over a few of the things you should think about when comparing these bikes. 
Touring usually involves spending a lot of time in the saddle, so it's especially important to find a bike that suits where and how you ride.
What To Look For In An Electric Bike For Long Distance Touring
Long-distance touring usually involves riding for many miles per session, and electric bikes have limited battery life. This means that you should definitely consider the range on any bike you're looking at – but not in a vacuum. 
E-bike range can be variable and complicated, with factors like temperature, tire pressure, and how hilly your ride is making a big impact on the final range of your bike. More importantly, the amount of help you provide the motor with your legs will dramatically extend your range. 
For touring, expect to use the motor as more of a boost to your pedaling power and less of a stand-alone engine that does all of the work for you. 
A light bike with a wide gear range and a bit less nominal range will probably be better for touring than a heavy bike with a narrow gear range and higher range on max pedal assist. On the lighter bike, you'll be a lot more comfortable pushing the bike to the end of its battery life.
If you find yourself liking one of the bikes with a shorter range a good solution might be to buy an extra battery that you can carry along. As you will see on some of the bikes you can mount two batteries extending thus its range. 
The second thing to consider is your riding style. Touring and bikepacking experts tend to prefer a fairly relaxed, upright riding style, but that's not everyone's preference. Going fast lets you go farther each day, and if you're used to an aggressive road or mountain bike, you might actually be more comfortable with a slightly more aerodynamic position on your bike. 
Spend some time thinking about your riding experience and what positions you're most comfortable in long-term and try to find a bike with frame geometry that matches those preferences.
Finally, think about where you intend to ride your bike. Features like suspension and off-road tires are a big help on some rides, but they add unnecessary weight and rolling resistance if you're riding on well-maintained pavement. 
If you don't intend to ride on trails at all, choosing a bike with road tires and no suspension will help you ride faster and longer. 
Most people will probably want something that splits the difference somewhat, giving them the flexibility to traverse dirt and gravel easily when it's convenient, but you'll find touring bikes with a full spectrum of tires, shocks, and other off-road considerations that can allow you to tackle technical mountain bike trails if you so desire.
The Best Electric Bikes For Long Distance Touring
Trek Allant 7s+
Trek Allant+ 7S
Allant+ 7S is a performance e-bike built for riders and commuters who want a fast, stylish e-bike with the added road-smoothing benefits of a suspension fork.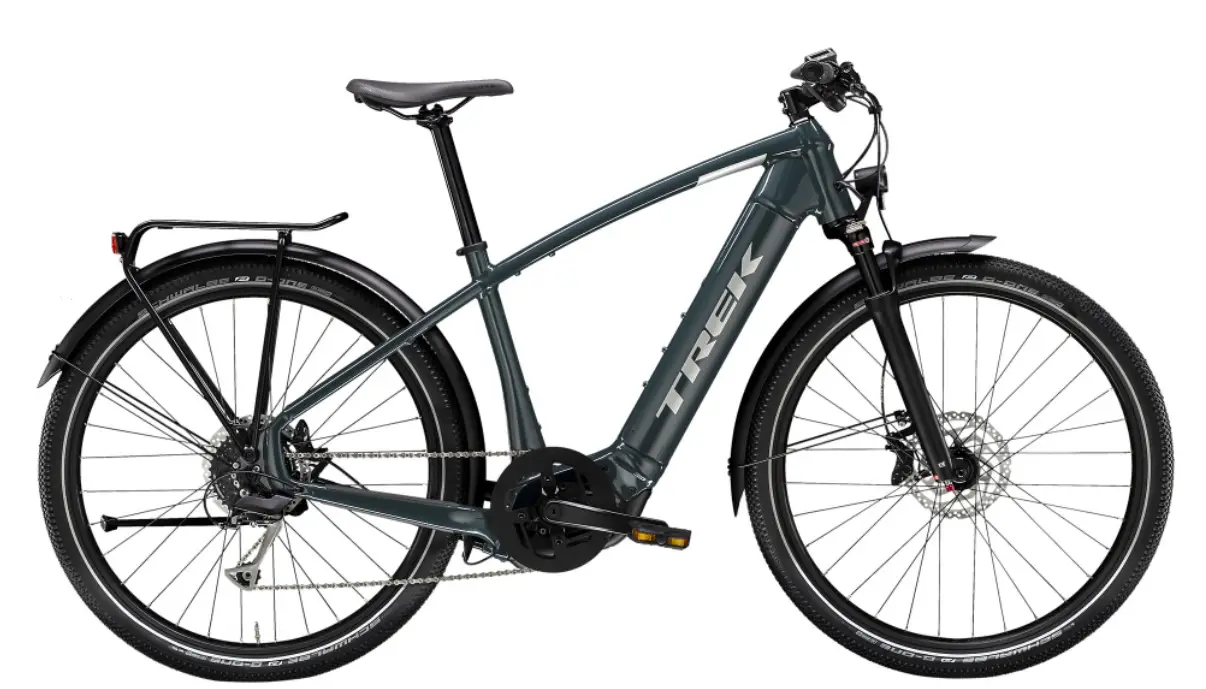 We earn a commission if you click this link and make a purchase at no additional cost to you.
The Allant 7s+ is a modern, accessible e-bike with great specs built by one of the industry's more reliable brands – and when it comes to touring, reliability is king. The Allant's rugged midrange groupset, the powerful mid-drive motor, and the cushy 2.25″ wide wheels all help ensure that it's got what it takes to carry you for miles. 
Perhaps most importantly, the Allant isn't a super heavy bike. At 54 lbs, this bike is quite light given its powerful motor and all of the included components and accessories.
The standard 500-watt-hour battery isn't the largest, but it can be supplemented with an additional battery to give the bike a big boost in range, allowing you to go up to twice as far without switching batteries or charging. 
Mid-drive bikes are quite complicated in terms of range, as your level of effort, gear selection, and external factors like temperature, tire inflation, and the hilliness of your ride will all come into play. 
Expect about 20 miles of range on the highest pedal assist level if you let the bike do most of the work, but expect something a lot closer to 50 miles or more if you turn down the pedal assist and do a bit more work yourself.
As far as power, there's plenty. The Allant 7s+ utilizes the Bosch Performance Speed mid-drive motor, which delivers 85 newton-meters of torque before it's modulated by your drivetrain. 
The engine is activated by your pedal strokes, with complex cadence sensors measuring variables like your torque against the pedals and how fast you're spinning the cranks to add just the right amount of power. 
This is not one of those bikes that shoots off when you spin the pedals lightly and then suddenly cuts out when you stop. Instead, the Allant effortlessly matches your desired level of speed and adds just the right amount of boost, making the bike feel fun and effortless to ride.
Part of what makes the Allant an especially good bike is the collection of sane, dependable design features. It's got fairly thick through axles that are perfect for long tours, an adjustable front suspension fork that lets you tune your ride for different types of terrain, and very well-designed fenders that attach solidly to the wheels and don't rattle while you go over bumps.
The rear rack is built for clip-on panniers, while the 9-speed drivetrain remains less complicated than the 1×12 you might see on a mountain bike while still giving you a huge selection of gears. 
Combine these features with the light, comfortable frame, the wider tires for gravel and dirt roads, and the powerful mid-drive motor and you've got a killer touring bike that's a perfect option for anyone looking to go for long rides.
Trek Powerfly FS9 Equipped
Trek Powerfly FS 9 Equipped
Powerfly FS 9 EQ is a full suspension electric mountain bike that's built for singletrack sessions and rugged commutes and tours. You get high-end parts, a powerful drive system, and a rad suspension setup for tackling rougher trails. 
We earn a commission if you click this link and make a purchase at no additional cost to you.
The Powerfly FS9 EQ is a specialist e-bike that combines touring and commuting features with a fairly high-end electric mountain bike, giving you a package that can shred double black diamond singletrack, haul a few dozen pounds of gear in panniers, and conquer the open road.
The package is a bit more expensive than some of the more road-oriented touring bikes on this list, but the high-quality components, modern frame, and powerful motor package make it a great deal for anyone who wants to do some trail riding while they tour.
It's worth noting that the Powerfly FS9 EQ is set up with a fairly upright riding position by default. If you're looking to race, you might prefer the frame on the Rail instead. For touring, however, the Powerfly's frame is perfect. 
It's still got a slack head tube, a long wheelbase, and big 29″ wheels (on most frame sizes) for added stability, but it's also incredibly comfortable to ride fast for long periods of time. If you're after a more aggressive riding style, Trek gives you a couple of handy adjustment points on the suspension, allowing you to slightly alter the angles of the bike without any trouble.
Component-wise, this is a very serious mountain bike. You get an SR Suntour front suspension fork with hydraulic lockout and 120mm of travel, adjustable RockShox rear suspension, and a dropper post to move your seat out of the way for drops and jumps. 
The 12-speed Shimano XT M8100 groupset delivers competitive performance under pressure, keeping your shifts clean no matter how rough your trail is. 4 piston hydraulic disc brakes are paired with 203mm rotors for virtually unparalleled stopping power, ensuring that you can be confident at the high speeds this bike is capable of.
The motor itself is a bit smaller than some other e-bikes, with 250w of nominal output, but remember that you're multiplying that power by the 12 gears on the back of the bike. You'll have to do more work with this bike than some others, sure, but the motor still puts out the watt output of an athletic cyclist, helping you push harder with less effort. 
Just like Trek's other electric bikes, this is a bike first and an e-bike second, so it's likely that you'll frequently find yourself going faster than the motor's 20 mph limit on some of your rides.
One of the more subtle features of the FS9 is the way its controller works. Rather than having a basic LCD display, it's got a host of cellphone integration features and a handy mount that allows you to charge your phone off of your bike's battery. 
A tasteful set of buttons allows you to control the bike, freeing your phone for use for navigation, music, or viewing stats from the Bosch companion app. It's an amazing way to make your long rides a little bit easier.
The Powerfly FS9 EQ might not be the best electric touring bike for paved roads, but it's surprisingly competitive. 
A full package of racks, fenders, lights and other commuting accessories gives this bike the ability to haul gear in the city, while the powerful motor, wide range of gears, and powerful suspension package help you conquer any trails or roads you encounter. 
If you want a bike that can tackle trails just as easily as it tackles tours, the Fs9 EQ is your best bet.
Cannondale Tesoro Neo X3
Cannondale Tesoro Neo X 3
Cannondale Tesoro Neo X 3 electric bike delivers the power to get in deeper and go farther, whether you're bikepacking, backroad trekking or hauling gear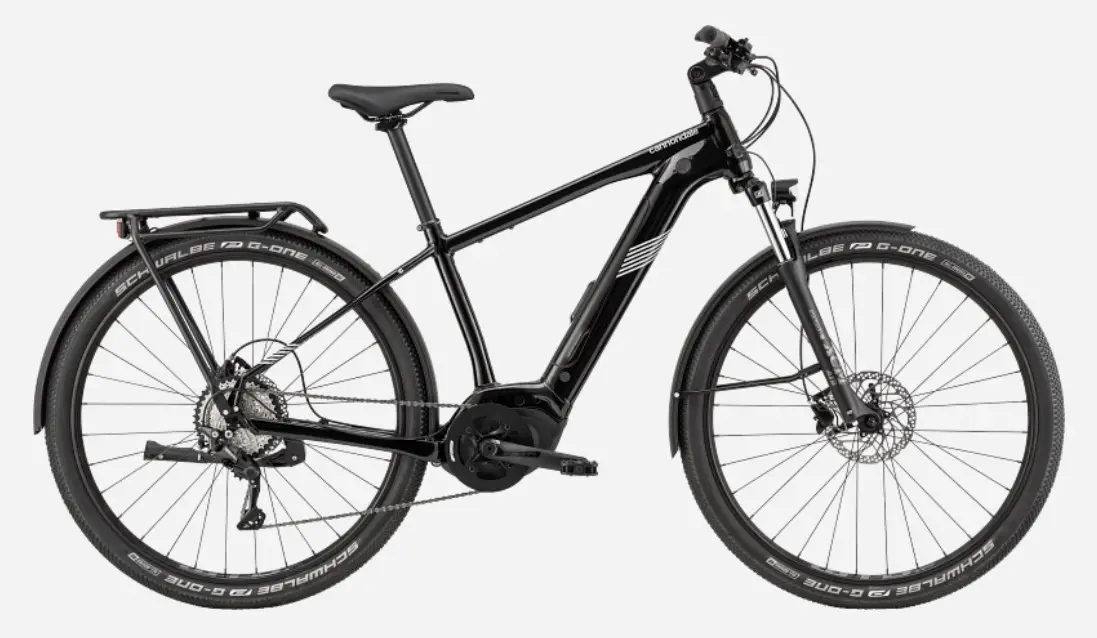 We earn a commission if you click this link and make a purchase at no additional cost to you.
The Cannondale Tesoro Neo X3 is a direct competitor to the Trek Allant 7s+. 
There are a handful of differences in terms of components, with the Trek having 4 piston hydraulic disc brakes to the more conventional two-piston brakes on the Cannondale and the Trek utilizing a higher torque Bosch motor, but the bikes are quite similar at first brush, right down to the nearly identical 54 and 55 lb weights. 
It's worth noting that the slight component downgrades make the Tesoro Neo X3 a bit cheaper than the exact Allant model featured here, but you've got plenty of similar options in both the Allant and Tesoro Neo ranges that allow you to fiddle with your balance of budget versus components from both manufacturers.
As you might expect, the frames on the bikes are different. The Tesoro Neo has a longer wheelbase, more reach, less stack, a slacker head tube, and a higher bottom bracket than a comparably sized Allant. This means that it presents a more aggressive riding position by default, although the size you choose and how you adjust the seat and handlebars will play into this equation somewhat. 
Still, if you're after a more upright ride, choose the Trek, while if you're after a more aerodynamic ride, choose the Cannondale.
Just like the Allant, the Tesoro Neo X3 is a fantastically well-equipped touring bike that's perfect for any sort of road, whether it's paved, dirt, or gravel. It's got the same adjustable front fork with plenty of travel, a 9-speed Shimano drivetrain, and a very similar Bosch mid-drive motor that's tuned for range rather than torque. 
As with other Bosch-powered bikes, the motor engages effortlessly and helps to invisibly magnify your pedaling power, enabling you to zoom along while still feeling like you're in control. Fenders, a pannier-ready rear rack, and integrated lights round out the package and make touring a breeze.
The Tesoro Neo X3 usually is a bit less expensive than the Allant 7s+, but not by a lot. Be sure to check out both options and see what's easier and cheaper to acquire in your area. 
With everything else equal, the Allant gives you slightly better components, but the upgrades are honestly quite minor for most riders. If you prefer the more aggressive riding style of the Tesoro Neo, it's definitely an excellent choice that can save you a few dollars.
Ride1Up Prodigy XR
Ride1UP Prodigy
A riding feel so natural, you will forget it's electric. Featuring a refined Brose control system, the Prodigy will take your riding to the next level at a value that is unbeatable in the industry. A true class 3, 28mph experience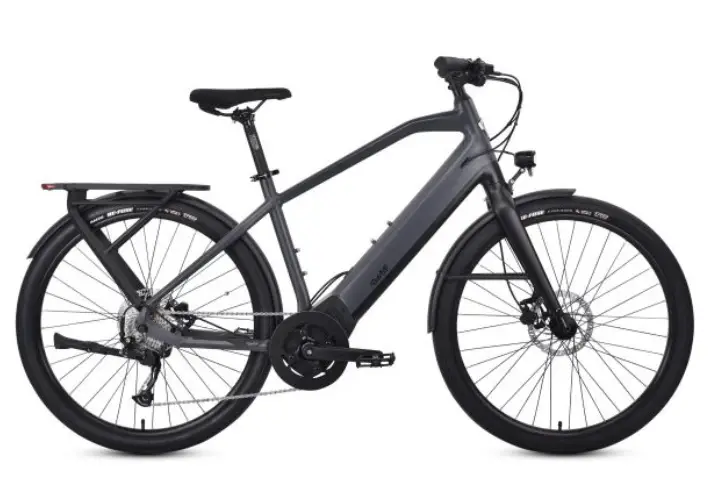 We earn a commission if you click this link and make a purchase at no additional cost to you.
Ride1Up makes inexpensive, high-quality direct-to-customer electric bikes for all styles of riding, and the Prodigy XR is no different. A mid-drive tourer that cuts a few corners to stay affordable, this bike is a terrific choice for someone who values budget over branding. 
By utilizing the German brand Brose for the motor rather than the more expensive Bosch, Ride1Up manages to deliver competitive performance while saving you hundreds of dollars. Depending on how you intend to ride your bike, this has its downsides too. 
Touring is one of the riding disciplines where it's easiest to justify spending a bit extra on a brand-name part that's more reliable, as you'll frequently find yourself many miles away from home in situations where it's awkward to deal with a sudden part failure. 
It's difficult to say that the Brose motors and thus Prodigy is more prone to failure than the more expensive bikes here, but its motor is definitely less reliable than Bosch motors.
The rest of the components, however, are competitive. The Prodigy XR utilizes a 9-speed Shimano Alivo drivetrain, Tektro hydraulic disc brakes with 180mm rotors, and 2″ wide touring tires. 
While the 250w motor is branded differently than the more expensive bikes here, it performs quite similarly in terms of range, delivering 20-25 miles on higher pedal assist levels and something well past 50 on lower pedal assist levels with plenty of human help. 
It's not too difficult to hit the regulated top speed of 28 miles per hour in higher gears, allowing you to zoom between destinations with ease.
The bike itself is similar in terms of weight, weighing 48 lbs without racks and fenders. The frame is designed for more casual riding, making it easy to pedal all day in comfort. 
A lack of front suspension helps keep costs low without lowering quality while saving weight, making this bike an especially good option for riding on hard surfaces where suspension is less required.
The Prodigy XR is a solid option if you'd like a mid-drive commuter, an affordable touring starter, or a bike with plenty of torque to help you overcome hills in your local area. 
It's definitely not as well-designed as some of the other bikes on this page, but it's fun and comfortable to ride. It's tough to find a mid-drive e-bike at around this price point, period, and while the Prodigy isn't the fanciest thing on the market, it's still a great option for anyone on a budget.
Himiway Zebra
Himiway Zebra
The Himiway Zebra is the updated version of the successful Cruiser. It offers better performance, a longer range, and a much more modern design compared to its predecessor.
Excellent for commuting or getting off the beaten path on your weekend rides.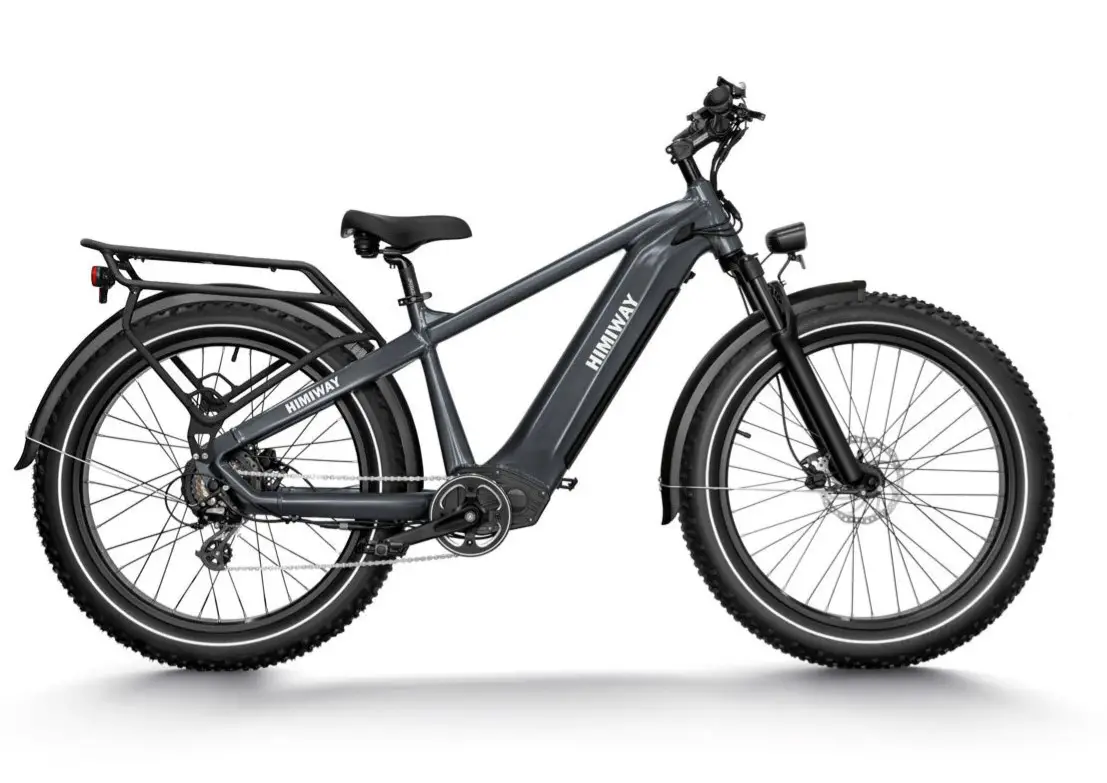 We earn a commission if you click this link and make a purchase at no additional cost to you.
The Himiway Zebra is a bike that contrasts sharply with the Prodigy XR. Rather than a smaller mid-drive motor that's multiplied by a wide drivetrain, the Zebra uses a big 750W rear hub motor to deliver plenty of power with less torque. 
4″ fat tires give you plenty of grip on dirt, gravel, and poorly paved roads, while a massive 20 amp hour battery ensures that the big motor has plenty of juice to draw from. This is a very heavy bike, weighing a whopping 79 lbs, but it's got plenty of power to back up its weight. 
Best of all, it's got a throttle, enabling you to skip pedaling altogether when you'd like to give your legs a break.
Unlike the bikes above, the Himiway Zebra is very much an e-bike first and a bike second. It's heavy, it's got fat tires with lots of rolling resistance, and its gear ratio is a lot narrower than the 9 and 12-speed bikes above. 
This makes it much more awkward to pedal without utilizing one of the higher levels of pedal assist. The big battery is helpful here, but it's not perfect. Expect to get around 25-30 miles per charge on throttle only and something in the low 50s on medium pedal assist levels.
Included racks and fenders help make the Zebra a solid option for commuting and touring, while a suspension fork rounds out the comfort package and ensures that you can ride comfortably on any terrain. 
This isn't a traditional touring bike by any means, but the additional comfort and traction provided by the fat tires make it an ideal choice for slightly shorter rides of up to 40 miles between charges over anything with lumps, bumps, or potholes. 
If your rides are more than 40 miles per leg, however, or you'd like an e-bike that feels a bit more like a normal bicycle, you'll probably want to choose something else.
Dost Kope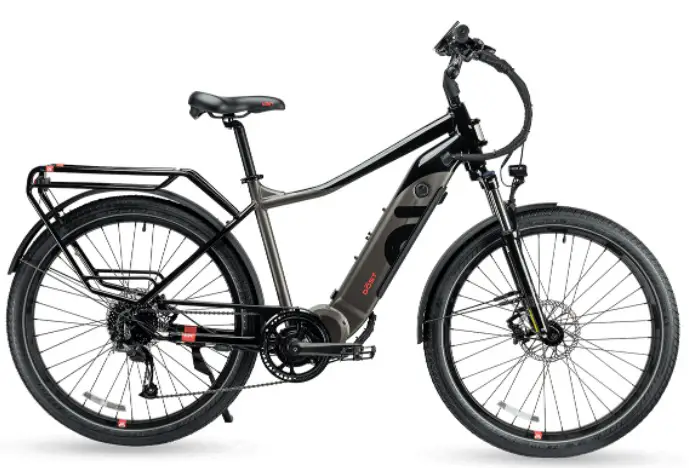 The Dost Kope combines an exceptionally powerful mid-drive motor with commuter-friendly components to create an amazing bike for commuting and touring. 
The 750w Bafang motor can output 120 nm of torque before it hits your drivetrain, allowing this bike to zoom up hills with ease. A 9-speed SRAM drivetrain allows you plenty of control over how this power is applied, allowing you to downshift to conquer hills or upshift for more speed on straights.
The Kope weighs 65 lbs with one battery. Like other mid-drive e-bikes, the range will vary dramatically based on how you pedal. Expect the same general range of 25 miles per charge on high pedal assist and something close to 50 miles per charge on lower pedal assists. 
For more range, you can purchase a second battery that sits outside of the frame, giving you up to double the range before you have to swap batteries or recharge.
The Kope really shines when hauling gear up hills. Even when you've got the rear rack loaded up to the max capacity of 100 lbs, the bike practically rockets up steep inclines with very little effort from your legs. It's a very, very welcome feature for anyone who enjoys hauling lots of stuff on their tours, especially when there are long hills involved.
Frame-wise, the Kope features a very standard e-bike frame that's quite similar to the Prodigy above. It's got a very upright riding position that's customizable via a handlebar that's much easier than normal to adjust. 
The front suspension fork has 100mm of travel and hydraulic lockout, which pairs perfectly with the 2.4″ wide puncture-resistant tires to keep you comfortable on most riding surfaces. Hydraulic disc brakes round out the package and ensure that stopping remains easy with all of the gear you've loaded on the back.
Overall, the Kope is perfect for anyone who commutes or tours and wants a more powerful bike that won't break the bank. Whether you haul gear, your routes feature lots of hills, or you just want to go fast without a lot of work, the Dost Kope is a great solution that offers incredible power and speed in a comfortable, surprisingly affordable package.
Cube Kathmandu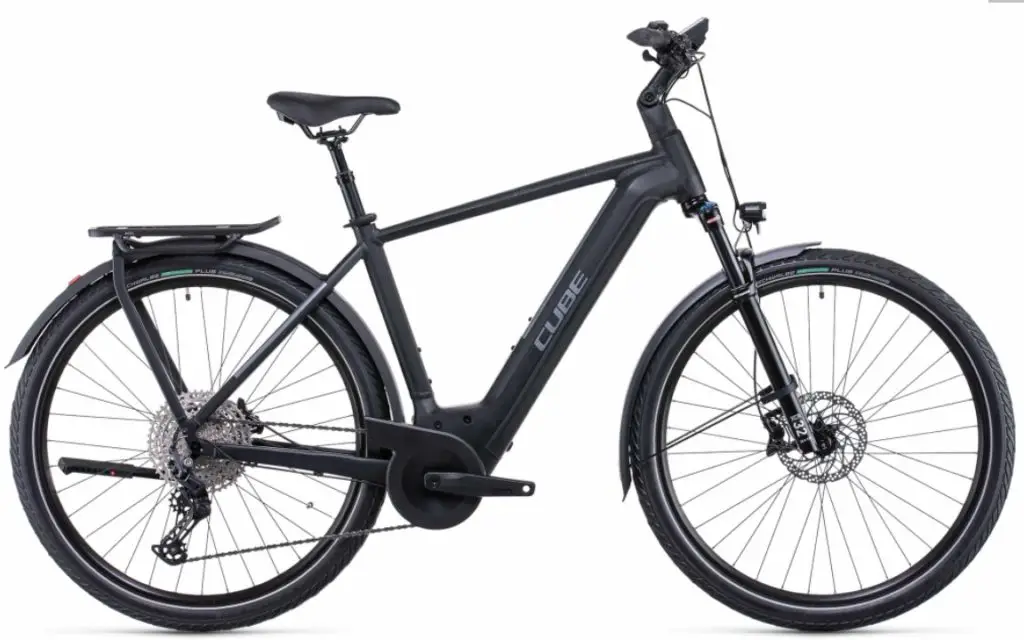 The Cube Kathmandu is a high-end electric commuter hybrid. It's got a very unique frame with an integrated rear rack, giving you the ability to carry more cargo with stability and style. 
With great components, solid design choices, and lots of nods to your comfort as a rider, the Kathmandu is an ideal bike for anyone who wants to make long rides in the city easy and fun.
While the Kathmandu excels on pavement, it's definitely not an off-road bike. Seat post suspension, wide city tires, and a front suspension fork keep rides on pavement smooth and comfortable, but the tires themselves are fairly smooth and slippery. 
You'll want to avoid trying to sprint up trails covered in mud or loose dirt on this bike. That said, the lower rolling resistance helps make this bike more efficient and easier to pedal on smoother surfaces.
The Kathmandu leverages a 12-speed Shimano mountain bike derailleur and cassette to get the most out of its Bosch 250w mid-drive motor. This allows you to get an incredible amount of torque on steep hills while still allowing the motor to carry you up to the class-2 e-bike top speed of 20 miles an hour with ease. 
A slew of battery options extends all the way up to 750 watt-hours, giving you realistic ranges of 30-40 miles on a single charge while taking plenty of advantage of the motor. At 59 lbs, the Kathmandu isn't the lightest e-bike, but the wide gearing helps ensure that you can ride this bike comfortably with or without pedal assist.
Commuter-friendly features like easily adjustable handlebars, seat post suspension, and a frame-integrated rack help make the Kathmandu incredibly pleasant to ride. Virtually every detail has been considered by Cube's engineers and solved with a neat twist. 
The rear fender, for example, hooks onto the integrated rack, giving it incredible stability without complex hooks and mounting points. A plethora of additional mounting points and compatibility considerations ensure that you can continue to accessorize and upgrade the bike for years. 
It's a bike that will definitely grow on you as you ride it and discover all of the neat little features that help elevate it above the competition.
While the Kathmandu is a bit pricey, you're paying for great quality, careful engineering, and durable components. It's an absolutely ideal bike for city riders with long commutes, touring enthusiasts who plan to stick to roads, or anyone who just wants one of the most comfortable and well-designed bikes on the market.
Riese & Müller Superdelite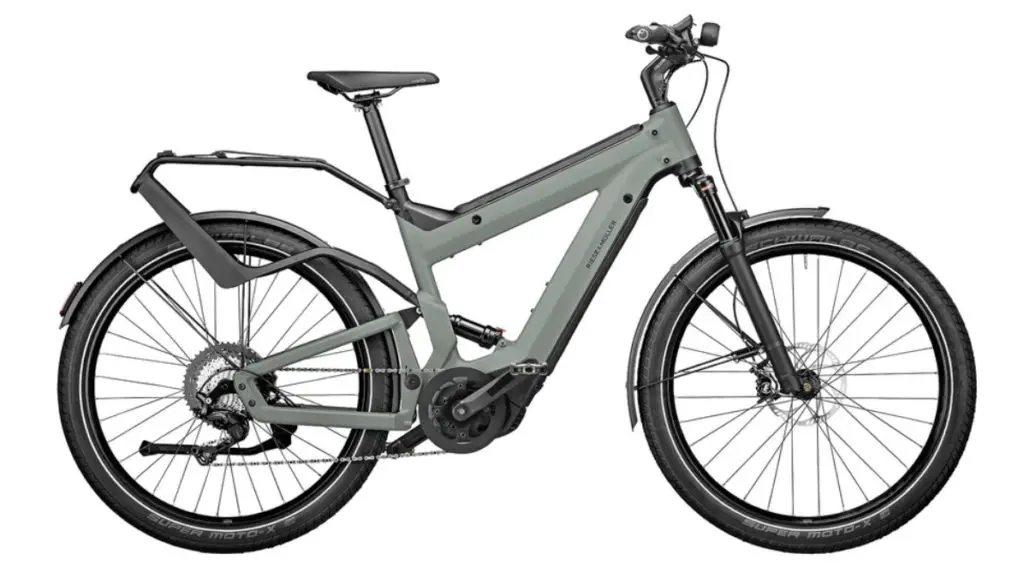 The Riese & Müller Superdelite is a handmade, customizable e-bike that comes fully kitted out with top-of-the-line features. Between twin batteries with 1125 watt-hours of total juice, a powerful mid-drive Bosch motor, and a number of advanced drivetrain options, you'll be able to ride far, fast, and frequently on this bike. 
Dual suspension with plenty of travel at both ends helps ensure that you can tackle any terrain, while a dropper seatpost makes mounting, dismounting, and riding the occasional technical section a lot easier. 
It's a near-perfect bike that's quite popular among bike shop owners, mechanics, and professional reviewers, who value the innovative design choices and meticulous engineering of this German bike.
The Superdelite is a full-suspension bike with a dropper post, a Bosch motor that can be tuned for difficult trails, and plenty of tire options that will keep your bike happy on your choice of terrain. Despite this, it's probably not best described as a mountain bike. Instead, this is a bike that's perfectly well-equipped for long wilderness expeditions, exploring urban environments, or long, comfortable rides along highways. 
All of the mountain bike features help add stability, comfort, and control to your ride on light trails, gravel, and pavement. This isn't to say that the bike can't handle hard trails (it most certainly can), but rather that this bike is best compared to a Land Rover. It's a high-end product that offers freedom, style, and comfort in any environment.
The Superdelite is a bit heavy, weighing 70 lbs, but a lot of that weight comes from the dual battery setup. The frame is a piece of marvelous engineering, neatly encapsulating the twin batteries while providing plenty of stiffness. 
The rear suspension has been carefully designed to provide plenty of stability and support while offering enough travel to absorb bumps from terrain and keep the rear wheel in contact with the ground. 100mm of travel is quite a lot, especially for the dirt and asphalt surfaces most tourers spend their time riding on.
Perhaps most importantly, the racks on the Superdelite are anchored to the frame, not the wheels. 
This means that the action of the rear suspension doesn't disrupt your cargo. Instead, your panniers and bags are insulated from shocks in the same way you are, keeping your cargo's ride smooth while ensuring that your bike's center of mass doesn't bounce all over the place. 
The optional front rack is similarly mounted to the frame, not the wheel, meaning that your cargo won't turn in front of your bike and disrupt your balance.
The Superdelite is completely kitted out, coming with a lock that uses the same key as the batteries, water bottles that clip to the front of the frame, and high-quality versions of standard features like lights, fenders, and noisemakers. 
In terms of drivetrain, tires, and motors, Riese & Müller give you plenty of high-end options, ranging from respectable Shimano groupsets to belt drives paired with geared hubs and fancy electronic actuators. 
Belt drives and geared hubs are becoming increasingly popular among European cyclists and organizations that operate large bicycle fleets, as the long-term maintenance requirements of these parts tend to be much lower. 
That said, in a touring application, it's sometimes better to have a less reliable part that's easy to fix than a more reliable part that your local bike shop might be less familiar with.
The Superdelite is one of the nicest, best-designed bikes out there, period. The only real downside is its cost. You get a LOT of bike for your money, with great components on a handmade bike that's produced by an environmentally-friendly company that aims for zero waste, but it's still a lot of money for a bike. 
If you can afford it, however, you'll get an incredible bike that's a favorite among industry insiders and professionals. It's incredibly smooth and comfortable to ride, it's absolutely decked out with quality of life features, and it's designed with reliability and sustainability in mind.