Cars are expensive. Even the best electric vehicles still have to get their power from somewhere, and in many places, that means that you're still having a big negative effect on the environment and your walet. 
Here are 6 of the best road bikes to commute on. All of these bikes are less than $2500, deliver killer performance on the road, and are rugged enough to deal with a rough patch of pavement every once in a while. 
They're durable machines from extremely well-respected brands in the cycling world, ensuring that parts last for a long time and are easy to replace when the time comes.
Triban RC 120 (BEST BUDGET-FRIENDLY BIKE)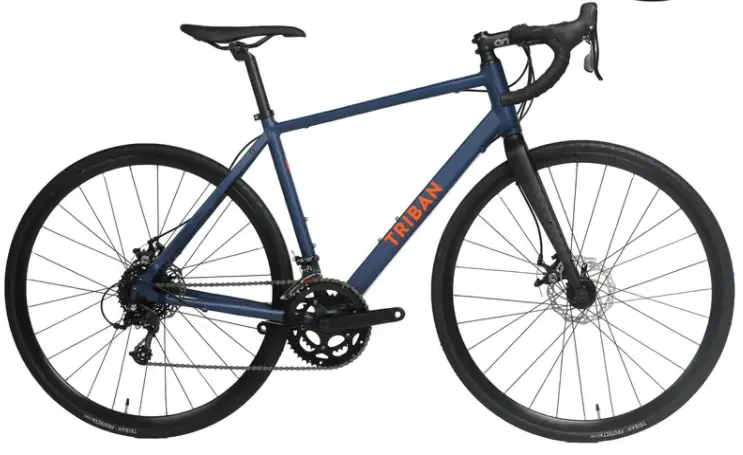 The Triban brand is owned by Decathlon, and the entire line is wonderful for anyone looking for a budget-friendly bike. 
Electric bikes built for everything and priced for everyone. Shop Rad Power Bikes, America's #1 electric bike brand. Get out. Go further. Ride Rad.
The Triban RC 120 isn't the best road bike on the market by any means, but it might be the best ratio of bike per dollar you can find just about anywhere. It's a 25 lb road bike with mechanical disc brakes, a carbon fork to help smooth out bumps, and rims that are ready to be converted to tubeless tires whenever you decide to take the plunge. 
Plenty of clearance on both the front fork and the rear allows you to switch over to larger wheels if you so choose, although the Triban RC 120 can handle dirt trails and some gravel perfectly fine as-is.
The components on this bike are exactly adequate. There's no fancy weight-reduction going on on the derailleur, nor are there hydraulic disc brakes, and the frame is slightly less comfortable than some of the more expensive bikes on this list. 
Instead, there's a collection of time-tested, durable, easy to repair components, like a set of Microshift derailleurs and Promax DSK-300R disc brakes. They'll do the job they were designed to do, and they'll do it well.
Both the front and rear of this bike are set up to hold panniers or mudguards if you so choose. Triban offers a standard lifetime warranty on the frame, stem, handlebar, and seat post. The Triban RC 120 is available in 5 sizes, giving you plenty of options to choose from in terms of reach.
Honestly, the Triban RC 120 is an unfairly good bike for the price. If you're on a budget, don't feel bad about skipping the more expensive recommendations here and go straight for the Triban. You'll be very happy with the purchase.
Marin Fairfax 3 (BEST FALT BAR ROAD BIKE)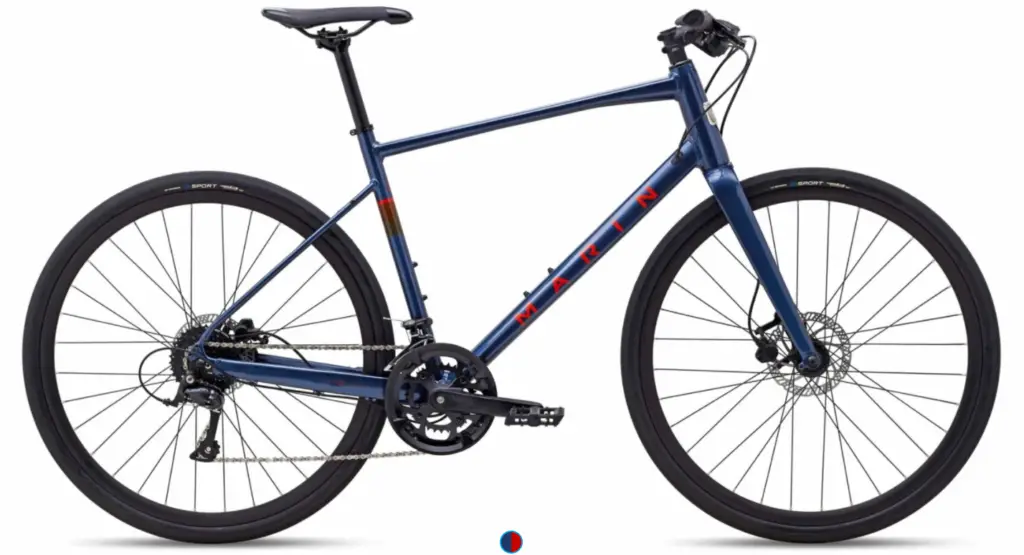 Getting low on a set of drop handlebars isn't for everyone. If you anticipate that you're not going to be a fan of using your drops (or you know for certain you dislike it), it's best to get a bike that's set up for using flat handlebars right from the start. 
The Marin Fairfax 3 is an ideal bike for this situation. It's a road bike that's set up with flats out-of-the-box so you can use a more traditional, less road-bike-style grip and posture while you ride.
Don't let this fool you about the rest of the bike, however. While the Fairfax might lack drop handlebars, you can absolutely adopt an aggressive riding style on one, especially if you choose a size with a longer reach. 
It's got hydraulic disc brakes, a carbon fork, 2×9 Microshift and Shimano shifters, and puncture-resistant tires. The bike comes with flat pedals, but it's totally normal to replace them with a set paired with your clipless cleats.
A full set of fender, rack and kickstand mounts helps to make this an ideal commuter platform, while internal cable routing makes it a bit sleeker and fancier looking than other options in its price range. 
Speaking of price, the Fairfax is just barely more expensive than the Triban RC 120, making it an almost equally excellent buy. 
It is, however, a bit pricier, and while you get hydraulic brakes and a couple more gears, the flat handlebars aren't ideal for everyone. If you're willing to give drop bars a chance, you'll probably find them much more comfortable for going fast on medium-length rides.
Co-op ADV 2.1 (MOST RELIABLE)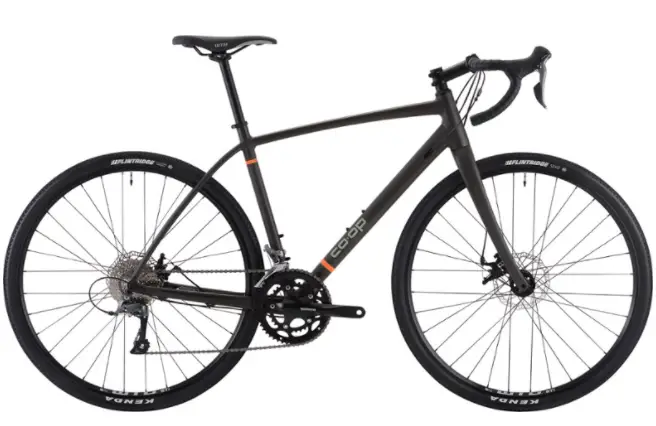 REI's Co-op brand is a selection of durable, proven products that the outdoor sporting goods store thinks are genuine benefits to its community. This bike is no different. 
It's a remarkably capable 24 lb road bike that eschews hot, new, untested components in favor of slightly older, less flashy, more reliable ones. The frame is springy enough to make the transition to gravel with ease, which is made easier by the 35mm tires and carbon fork. 
This bike is a bit of a stretch: although REI advertises it for both gravel cycling and road cycling, this is more gravel than a road bike. 
Again, it's not super flashy or super new, but it will absolutely wipe the floor with plenty of more expensive bikes in terms of durability and useability.
REI has an impressive customer support and a fairly extensive list of physical locations. Any bike sold by REI can be serviced for free for the first year of ownership. 
This means that you can get your bike's wheels trued, bearings, brakes, and derailleur adjusted, and the chain lubricated for free, as many times as you want. If you live near an REI, this can make your first year of commuting on your bike a lot smoother.
While the Co-op ADV is a bit more expensive than the Triban RC 120, it's got wider wheels and reliable parts. 
It's lighter and it comes with incredible customer service. If you're near a physical REI store and trail, gravel, or endurance riding are things you anticipate doing in the future, the ADV 2.1 is most likely a better choice. 
You'll get a tested multi-purpose frame that you won't have to modify as much to do the things you want. If you plan to stick to roads, however, you're perfectly fine saving money with the Triban RC 120.
Trek Domane AL 2 (MIDRANGE)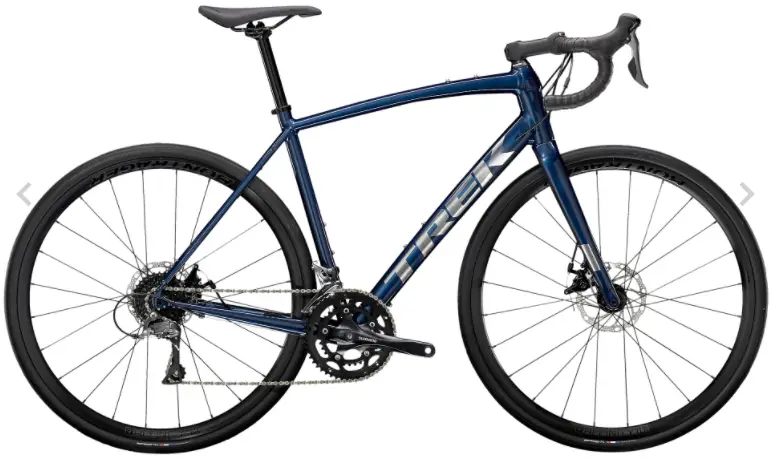 The Domane AL 2 is Trek's midrange road bike platform. It's designed to be an affordable bike with plenty of room to upgrade, with most of the price of the bike going towards the frame, rather than the components. 
This makes it fairly simple and cheap to replace the modest yet respectable derailleurs, brakes, and crankset as you progress through your road biking journey.
While the Domane AL 2 is a bit more expensive than the Triban RC 120, it's something like 4 lbs lighter. This is an absolutely insane 25% reduction on the already perfectly acceptable Triban RC 120. 
Importantly, the Domane AL 2 doesn't skimp on components, either. It's got an entry-level Shimano road bike dual set and mounts for fenders, panniers, and racks, making it reliable and convenient in all the ways that count.
The Domane is more of an endurance bike than an aggressive road bike, making it great for commutes. 
It'll keep you fairly upright in the saddle compared to other road bikes via its fairly short reach. Despite this, the bike feels nimble, with the head tube and seat tube angles working miracles to help the responsiveness. 
The upward curving carbon fork helps smooth out bumps in the road while cutting weight, contributing to a great-feeling ride.
Curiously, this bike comes with V-brakes by default. It does, however, have a Bluetooth doohickey on the rear wheel that can be married to a Bontrager ride computer whenever you're ready. This will let you track speed, distance, and more without having to zip tie a bit of kit to your rim. 
The rims themselves are tubeless-ready, which is another great place to upgrade should you feel so inclined. Finally, a smart slot on the standard road-bike-style drop handlebars lets you attach lights, cameras, and phone mounts with ease.
The Trek Domane AL2 is exactly what you want if you're after a bike you can upgrade later. It's a great frame that comes loaded with acceptable, but inexpensive components out of the box. 
This makes it incredibly easy and affordable to turn it into a fancy bike later while being fantastic and fun to ride if you choose to leave it stock. It's definitely a noticeable upgrade over the Triban RC 120 if you're willing to start replacing parts. 
Even if you plan to leave the bike totally stock, it's a bit lighter and wonderfully set up for longer rides, making it a solid choice in its own right.
GIANT TCR ADVANCED 2 PRO COMPACT (PROFESSIONAL)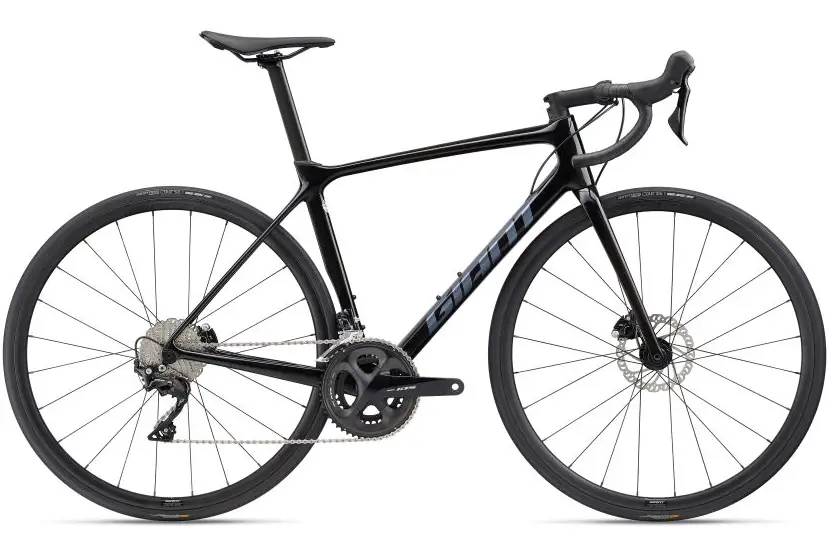 In cycling, a lot of what you pay for is weight. As the cost of a bike increases, the weight goes down. This reduction is not cheap. The Giant TCR Advanced 2 Pro Compact weighs 16.7 lbs, with some variance for sizing and variations in parts. This is significantly lighter than the other bikes.
The bike comes fitted out-of-the-gate with fairly nice hardware, too. It's got the upper-midrange Shimano 105 groupset, with hydraulic brakes and an impressive 2×11 gear range. Tubeless tires out of the box, a modern, aerodynamic frame, and comfortable geometry make it virtually race-ready the moment it's assembled.
While the TCR isn't going to explode if you take it off the road, it's a bit stiff and has a very light, very fancy frame that you don't want to damage when you hit a rock wrong. This is not a bike to take off-road. 
On the occasional jaunt on a smooth dirt path, it'll do fine, but if you plan on commuting via such a path daily you might want to consider a different bike lest you damage your very expensive bike in a crash.
The TCR Advanced 2 Pro Compact feels amazing to ride. What's more impressive is its upgradability. As mentioned earlier, it's got decidedly midrange hardware in a lot of places that can be switched out for fancier stuff should you feel the need. 
You can literally win races on this bike as-is, though, so you don't have to put another penny into upgrading it unless you want to.
The frame itself is what you're paying for, of course, and it's plenty light and aerodynamic. Semi-internal cable routing means you can service the bike at home while still getting some aero benefits. 
Lots of little details have been carefully optimized in terms of frame shape, especially where the tubes meet, helping this bike go very fast when you want it to.
Again, the big downside here is cost. This is not a cheap bike. If you're more serious about cycling and you've been zooming around on something like the Trek Domane AL 5 or the Triban RC 120 for a few years, it's a brilliant bike to upgrade to. 
If you're into going fast and want something to commute on that you can race on, the TCR Advanced 2 Pro Compact is a great choice. It's lighter, more aerodynamic, and more suited to aggressive riding on well-paved roads than the other bikes here. 
It's a fair bit more expensive, however, making it an option that might be best to hold off on if you're trying to save money or you're not sure how big your budget should be for something you're just dipping your feet in. 
For the experienced bike commuter, however, it'll deliver more performance than anything else on this page.
When is a Road Bike the Best for Commuting? 
Commuting on a road bike is definitely something you can do, but it's not for everyone. There are a few factors you should consider before taking the plunge yourself and going all-in on a road bike.
First, what's the road quality like? The best bike commuting routes have dedicated bike lanes or paths, well-paved roads, and relatively few street lights and stop signs. This is where you can take advantage of the road bike's agility, which is designed to reach and maintain high speeds with ease.
Road bikes have a stiff design, so the jostling you'll receive from an uneven stretch of road that's riddled with cracks or potholes isn't that much fun. On low-quality roads or off-road terrains, you won't be able to take advantage of the road bike's agility and you'll miss the comfort and smoothness that other bikes could offer. 
While lights might not seem like a big deal to cyclists, remember that you're the one who supplies the power to get your bicycle back up to speed. A road bike is a good choice if you have long stretches of paved roads where you don't have to stop at every corner.
While you're thinking about the route, be sure to also consider any major hills. While you'll be going downhill half the time during your commute, a long, steep grade might make bicycle commuting unbearable in one direction. Make sure that the road bike has the gear range you need to climb those hills.
Finally, consider what you need to take to and from work each day. Some road bikes can be fit with panniers and other accessories to carry some equipment, but unless you get a trailer, you probably won't want to bicycle to your job as a tuba player at the orchestra. 
If you have stuff to carry around and you don't like the idea of a backpack bouncing on your back, then look for a road bike that comes with mounting points for a bike rack where you can fit your pannier.
What Should I Look For In A Commuter Road Bike?
The first (and most important) factor to look for in any bike is purely subjective. You should like it. The more you like a bike, the more you'll want to ride it, and the more you'll enjoy the time you spend in the saddle. 
It's important to find a bike that excites you, whether it's because of its aesthetics, its parts, how comfortable it is to ride, how light it is, or how fast you can go on it. When you pick a bike you're legitimately enthusiastic about, you'll find it a lot easier to stick to commuting and you'll be a lot happier about your rides.
The next point to consider is cost. In addition to needing to fit inside your budget. you should be mindful of the cost of your bike when parking it outside or even just riding it on the street. 
Bikes can be stolen, damaged, or even lost. While you should definitely get a nice bike to make your ride more pleasant, it's probably a good idea to get a bike that doesn't look like a two-wheeled Lamborghini if you plan to park it outside. 
If you're able to park your bike in your office at work, you can probably get something a bit flashier.
Finally, think about how easy it will be to maintain the bike over time. Putting 20 miles a day on a bike adds up. Assuming you commute 5 days a week, 45 weeks a year, you'll put 4,500 miles on your bike with a commute of 10 miles each way. 
This means you'll probably replace some parts, like the chains, brake pads, and tires, at least once within the first year. Look for a bike from an established brand with a reputation for rugged, durable parts. 
Find a local bike shop that can help you with repairs and part replacements as time goes on, and budget around the idea that you'll be replacing several components before the first year is out.