For many people cycling is not just a hobby or a way of getting some exercise, but it's how they get around town and get things done. If you often find yourself making short trips alone, chances are you can replace your car for a bike for those trips. The main limitation of a bike is its carrying capacity. This is where a rear bike rack comes in handy.
The rear bike rack adds carrying capacity to your bike. It can be used for touring, commuting, grocery shopping or carrying children. A rear bike rack can carry 22-115 lbs (10 – 50 kg) depending on the type and model. Its main advantage over a front rack is that it doesn't affect the steering of the bicycle.
Let's see the most common uses for a rear rack and how you can pick the best one for your needs.
What can you carry on a rear rack?
Panniers
Panniers are bicycle specific bags that attach to a rear rack on either side of the wheel. They come in all shapes, sizes, colors and fabrics. Some are made for touring while others are great for commuting. They make riding super convenient since they free up your body from having to carry a backpack.
Touring panniers are typically large and waterproof and they can hold a ton of stuff for days, such as food, clothes, laptop, camera gear etc. The gold standard of panniers when it comes to touring are Ortlieb, which are not only durable, but they are completely waterproof too.
Best For Touring
We earn a commission if you click this link and make a purchase at no additional cost to you.
Commuting panniers are smaller in volume, and they place an emphasis on practicality to when it comes to carrying them at your destination. When you take off a commuter pannier bag from your rear rack, you can usually carry it either as a messenger bag or as a backpack. One that I personally use and love is the Arkel Bug from Arkel Bike Bags, which turns from backpack into a pannier in a matter of seconds.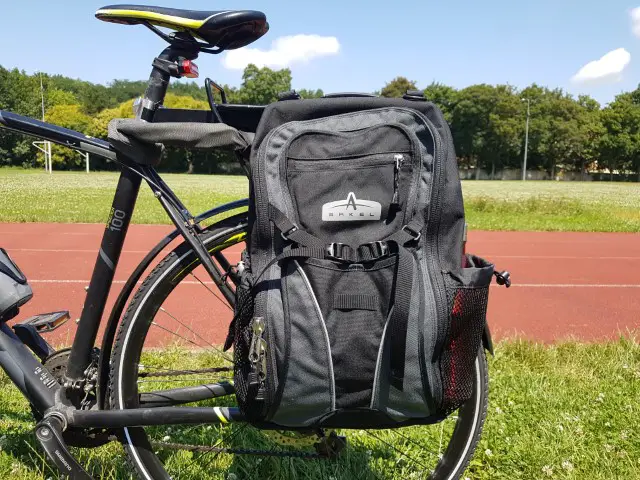 Basket
Baskets or milk crates are another simple, but very effective solution to carry stuff on your bike since you can place items in them directly. You can carry your chain, backpack laptop bag, clothes without having to fiddle with attaching anything to your bike.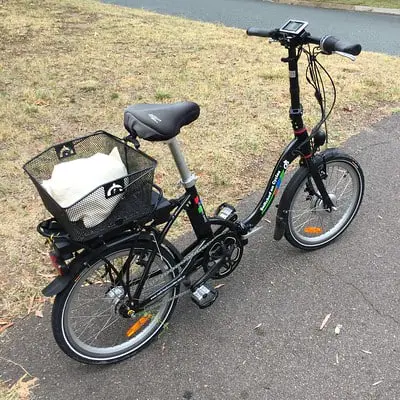 While a basket may not look particularly cool on the bike, it's hands down the fastest way of loading up your bike with extra cargo.
Tents, bags etc.
If you're into multi-day bike trips, you may want to carry a tent or a backpack with you on the bike. These can be strapped directly on top of the rear rack with bungee chords or with the spring loading mechanism built into the rack.
Some racks, like this Ibera Bike Rack on Amazon allow you to attach a pannier on either side and it still has sufficient room to carry a tent or a bag on top.
Trunk bags
Trunk bags are small bags that can be mounted on top of the bike's rear rack. They are small in volume but they give convenient access to everything inside them via the flap open top. They are great for carrying cameras, snacks, tools or a small jacket. They are useful for day-trips or commutes where you don't need to carry a laptop, but only some small items.
Some trunk bags also have pannier-like pockets built into the side pockets so they add some extra carry capacity.
Excellent for day trips
Topeak MTX Trunk Bag
This trunk bag expands into panniers on the side giving you some extra capacity when you have some extra stuff for a day-trip or a light commute.
We earn a commission if you click this link and make a purchase at no additional cost to you.
Child seat
If you want to carry a young passenger who doesn't know how to ride a bike yet, you can fit a rack mounted child seat on your bike. The typical weight limit of rack mounted child seats is 40 lbs, which means that you can carry up to an average 4-year old behind you.
Mounts directly on the rack
Burley Dash RM Child Bike Seat
Unlike most child seats, this one mounts directly on your bike rack so you don't need to attach an adapter to your bike frame.
We earn a commission if you click this link and make a purchase at no additional cost to you.
Creative ways
There are many other creative ways to use your rear rack to carry load. You can use bungees to attach backpacks, boxes, baskets etc.
Many people also carry musical instruments, surf boards or skate boards on their racks. One convenient way of adding extra carry capacity is with the Mundo AirPannier, which is essentially a net attached to two carabiners.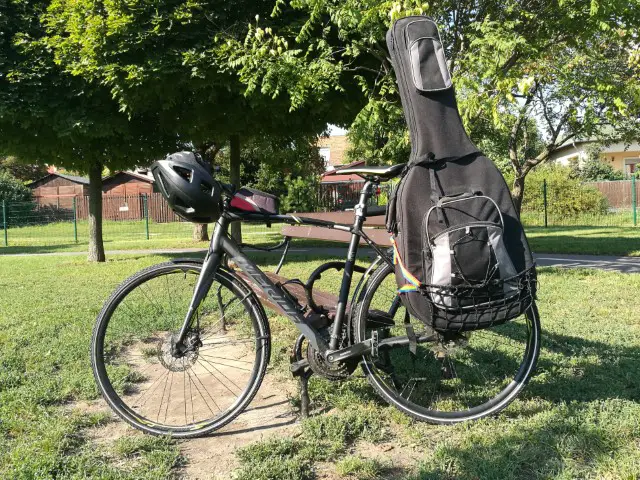 How to choose a rear rack?
Unfortunately not all pannier racks fit all bikes since bikes are not universal in their constructions. Here are the most important questions to consider to help you decide which one to purchase for yourself.
Does your bike have eyelets?
Eyelets, also known as braze-ons are the holes on your bike's frame that allow you to attach a rack to. Look for these holes around the rear axle and around on the frame around the seatpost. Most bikes, such as hybrids, trekking bikes, fitness bikes, gravel bikes, city bikes have braze-ons and attaching a rear rack to them is done simply via hex-bolts. These are considered permanent solutions because it takes time to set them up and they are meant to stay on the bicycle for a long time.
Some road bikes, cyclocross bikes or mountain bikes don't have braze-ons, which means that a permanent rack can't be mounted on them. In this case, you can either use some accessories to add eyelets to your bike by using P-clamps or other mounting clamps, or you can use a rear rack that doesn't need mounting points. I wrote an article about these options here.
Permanent or temporary
Even if your bike has eyelets, you may choose to not mount a permanent rack on your bike. For example I use my bike mainly for commuting, and I often use a pannier. However, I also like taking my bike on weekend rides where I don't want to carry a lot of things with me and I have no need of a rack.
I choose a seatpost mounted rack, which only holds up to 22 lbs (10 kg), but it's sufficient for commuting. The best thing about it is that I can remove it or put it on in less than 30 seconds.
Wheel size and disc brakes
The next thing you need to make sure is that you get the right size rack for your bike. Adult bikes' wheel sizes are either 26, 28 or 29 inches. A 26″ wheel is smaller than a 28″ one and not all racks are compatible with all wheel sizes. If you're unsure what your wheel size is, Sheldon Brown sums it up in great detail here.
Thankfully many rear racks, such as this Ibera bike rack is compatible with all wheel sizes, so you won't bump into issues.
An additional, but important detail to pay attention to is whether your bike uses disc brakes, in which case you need to make sure that the rack is in fact disc brake compatible. Since disc brakes occupy some space on the side of the frame, the rack needs to have some spacers in order to fit.
Type of use
Depending on what you're going to carry on your rack, you need to look for certain features.
For example, touring racks are sturdy and have plenty of mounting possibilities. A practical touring rack can carry a lot of load, large cargo, and it sits far back enough to offer sufficient heel clearance. If you intend to take your bike on a touring adventure though, it's a good idea to make sure that it will actually be able to support the weight and that its chainstay is long enough so you don't strike your heel against the pannier attached to the rack. Touring racks often have weight limits of 55 lbs (25 kg) or more.
If your primary use is commuting, you can use a much simpler rack than a touring rack. A rack with less features often saves you some weight and bulk, and it will make your bike look less of a workhorse and a little bit sleeker. You will lose a little bit of carry capacity as these racks usually hold less weight (40 lbs or around 18 kg). Still, this is perfectly sufficient for a commuter bike, and you can save some money too.
Conclusion
A rear bike rack is a great addition to any bike whether you're a commuter, weekend rider or a bike tourer. It allows you to go further and carry more load on your bike.
Happy pedaling!