I've spent the better part of the past few months looking for the perfect way to carry my things as a bike commuter. I tried several backpacks, panniers, and backpack panniers. They each have their advantages and disadvantages.
This is why I fell in love with the concept of the MundoAirPannier. It's a product that helps you turn any backpack into a pannier. Not only that. It allows you to transport large items, such as musical instruments or even surfboards on your bike without having to worry about it falling out or getting damaged.
Its creator, Paul is a musician and created a product to solve his own problem, which became so successful that he made it available for purchase online. 
The concept is very simple: it's a net that attaches to your bike rack via two clamps allowing you to place the cargo in the net. The net is large and expandable, and the straps are adjustable. Despite its simplicity it's a very ingenious idea, because it can hold a guitar, a backpack or even a surfboard.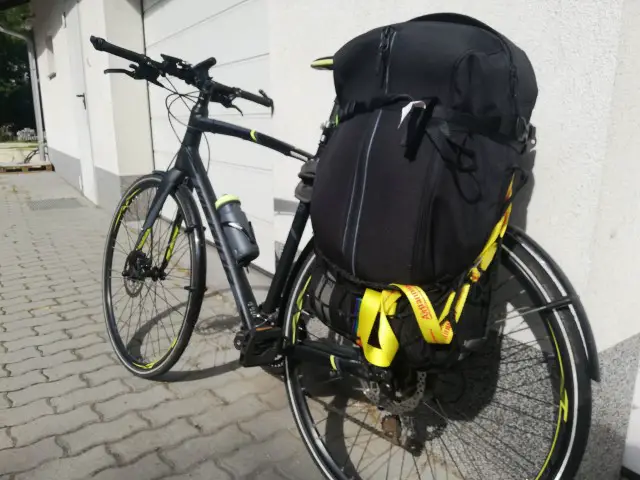 When it comes to carrying my things, especially when I'm commuting, I'm a big fan of panniers when I'm on the bike, but I'm not a huge fan of them once I'm at my destination. 
Let's just go through the options cyclists have and you will see why the AirPannier is so brilliant.
It's no secret that any backpack, no matter how well designed, is going to make you sweat sooner and more when riding your bike than riding without one. 
For example, I use the Osprey Radial, which is a fantastic commuter backpack with a ton of cleverly designed features for bike commuters. It's arguably in the top 3 backpacks for bike commuting. It has a special feature, called Airspeed, designed to allow as much ventilation to your back as possible. When you try it out after a normal backpack, it does feel like you're riding without anything on your back. Still, in the scorching heat of a hot Summer day, I just wish I could take it off sometimes.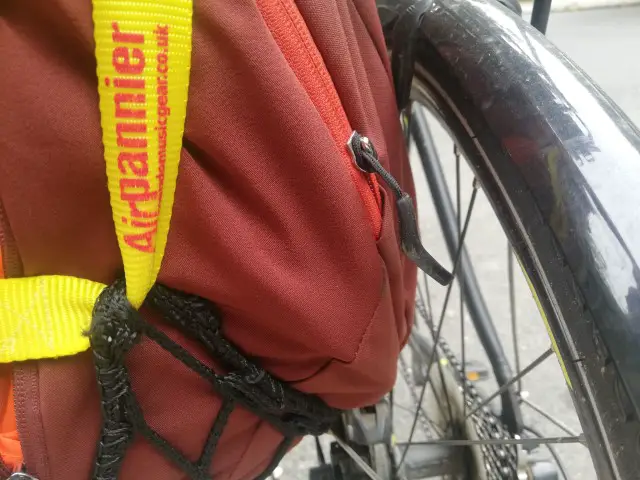 This is just the nature of a backpack: when it comes in contact with your back, it prevents air from freely moving between you and your jersey, and the padding of the shoulder straps also blocks ventilation and traps heat. 
A pannier is great because you can ride your bike and feel the air moving freely behind your back, which provides a very comfortable cooling breeze, especially when you're riding fast. It isn't without shortcomings either, though. Once you're at your destination, its main advantage vanishes, and you need to find a way of carrying it. In many of them, shoulder straps are either not present or they're just an afterthought.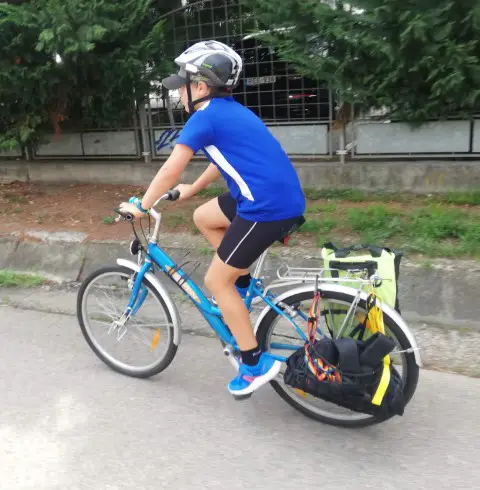 There's a special category of panniers that are also a messenger bag or can be converted into a backpack. Products, such as the Arkel Bug for example, take everything to the next level. They combine the advantage of a backpack with the advantage of a pannier, and make carrying stuff on the bike very comfortable. Investing in a good quality one for bike commuting makes perfect sense. They are premium products, but they are worth the money.
But what if you have too much to carry and can't find one of these special products that's large enough? Or what if there's a backpack that you already have and like?
The AirPannier is for those folks who want to carry any backpack as a pannier, and want to wear it as a backpack, or for those who want to carry a musical instrument such as a guitar or a keyboard, a skateboard or a surfboard on the bike.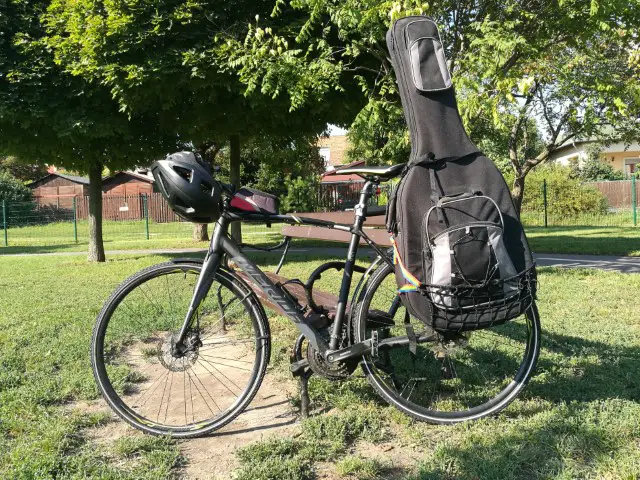 Here are the reasons that make me love this product:
It allows me to carry anything on my bike, almost anything that I can take in my hands. Even odd-shaped objects!
If I can lift it, it's not too heavy for the pannier. The bike rack reaches its limit before the pannier does.
I can put it on the bike rack or put it away in less than 10 seconds
It folds so small that it takes up virtually no room at all!
It doesn't only hold the items I place in it, but it keeps them secure! 
I could use several AirPanniers on the bike rack carrying a bunch of things.
An extra strap wraps around the item in the pannier and ensures that it can't flip over and fall out.
Since the straps of the pannier can be adjusted, you can make sure that whatever you put in it, will be held in place and won't fall out. It also means that placing things in it takes a little longer than placing them in a rack mounted basket, for example. I can mount it on my bike and put my backpack in it, in less than a minute. 
You need to make sure that there are no loose straps getting in contact with the spokes or with the tire, which could damage your cargo. When I put a backpack in it, I place it with the shoulder straps facing away from the wheel. Loose extra straps can be tucked away conveniently.
You can see just how small the Mundo AirPannier folds. It fits in my hand and can be put in a small pocket of your backpack. Since it weighs next to nothing, you can leave it in your backpack even on non cycling days. You won't even notice it's there.
The AirPannier costs slightly under 40GBP, which is around 50 dollars excluding shipping. 
If you want to purchase one for yourself, head over to Mundo Music Gear.
Happy Riding!