E-bikes are fantastically fun to take on scenic trails. These foldable fat-tire e-bikes help ensure that you can pack your bike in the car easily, letting you enjoy the best that the outdoors has to offer with ease. 
They're fast, a joy to ride, and equally at home in an urban environment as they are on a dirt or gravel path away from civilization. The freedom and flexibility that these bikes offer makes them some of the most fun e-bikes around, period.
Wondering how they stack up? Here's a detailed rundown of the key differences between these three bikes. In a nutshell…
The Rad Power Bikes RadMini 4 has more city-oriented tires, a powerful motor, and a surprising amount of range. It's not the cheapest option, but it's probably the best value per dollar.
Radmini 4
Sure, the RadMini can quickly fold when you need some extra room, but this ebike packs quite a punch when you're ready for action and adventure. Power, convenience, and versatility make this rugged space-saver a truly unique addition to any arsenal.
We earn a commission if you click this link and make a purchase at no additional cost to you.
The Lectric XP 2.0 is designed to be affordable without sacrificing quality. Its small battery means that it'll struggle to compete with the other two bikes in terms of hill climbing speed or raw range. If you're going on shorter (sub-20-miles round trip) rides for fun, though, it's a stellar option that'll save you some money.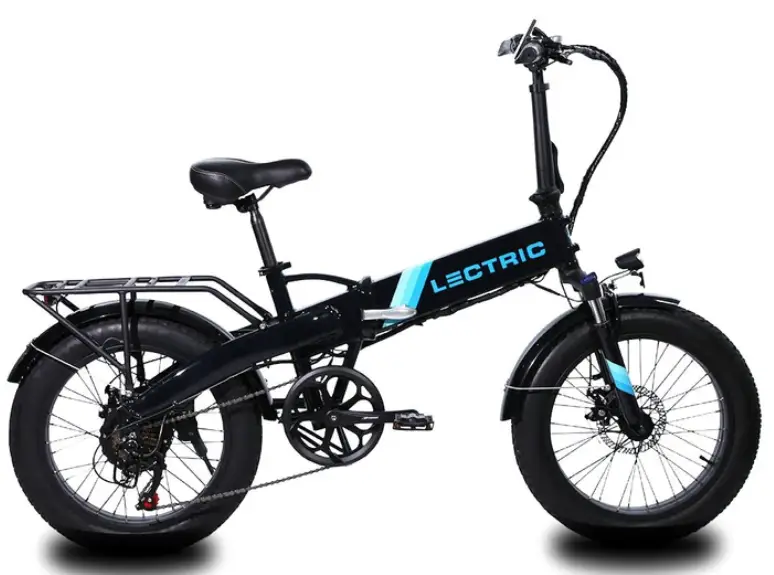 The Aventon Sinch competes with the RadMini 4 in terms of power and range, and it's probably the better-looking bike by most metrics. It tends to be slightly more expensive, however, and it lacks some accessories out of the box.
Aventon Sinch
Foldable, portable, storable, powerful, comfortable, and ready for anything, the Sinch folding electric bike lives up to the definition of "doing it with ease".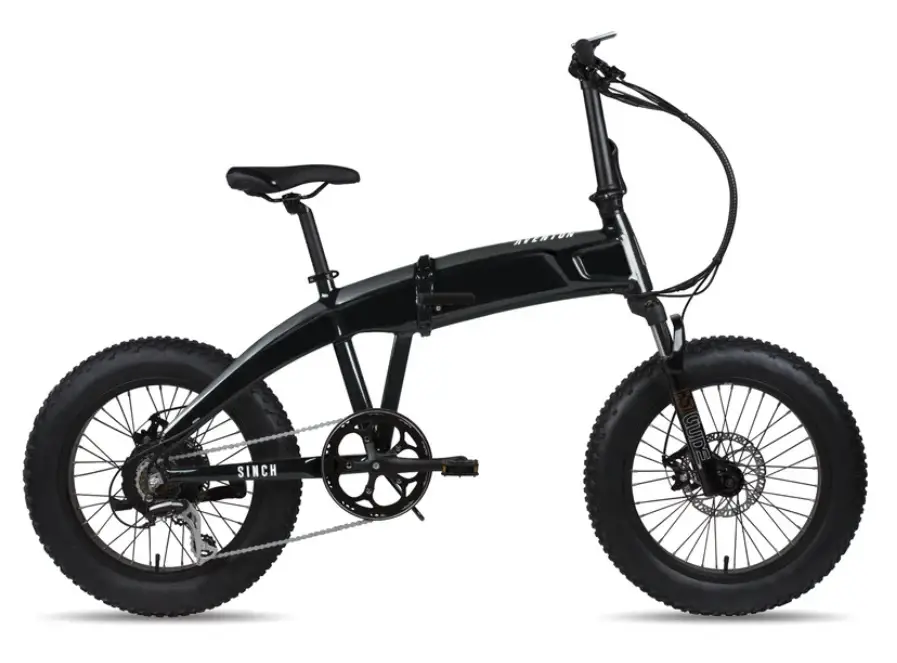 We earn a commission if you click this link and make a purchase at no additional cost to you.
Weight, Design, and Build Quality
All three of these bikes are made by reputable brands in the e-bike sphere. Aventon and Rad Power Bikes make a plethora of other excellent e-bikes, while Lectric is best known for the XP 2.0. 
All of the bikes have 20″ x 3″ fat-tire wheels, fold lengthwise in the center, and have foldable pedals and handlebars. With adjustable handlebar and seat height, all of these bikes fit riders between about 5′ and 6'3″. 
Perhaps more importantly, the ability to change your handlebar height easily ensures that riders of all heights have plenty of options in terms of their riding position. If you want to drop from a relaxed, upright position to something a bit more aggressive, it's easy to change that. 
They also all sport front suspension, which pairs incredibly well with the fat tires to deliver a smooth, comfortable ride on bumpy terrain.
It's worth noting briefly that these are heavy bikes. While they fold, they're also between 60 and 70 lbs. 
This means you're not likely to fold them up and carry them through a subway station or put them in a backpack. Folding is a welcome feature in a lot of circumstances. It helps you fit the bikes in a trunk, for example, and it lets you store them in apartments or small homes. 
While folding the bikes makes them smaller, it does not change the fact that these bikes have powerful motors, big batteries, and wide tires that all work together to increase their weight.
The RadMini 4 is 67 lbs and comes with fenders, but not racks. It's got a very metropolitan moped feel to the design, which is accentuated by the motorcycle-style tread patterns on the tires. The external battery sits vertically behind the seat tube, helping to keep the center of gravity aft.
The Lectric XP 2.0 is 64 lbs and comes with both fenders and a rear rack. It's a very interestingly designed bike, with what amounts to one thick tube between the two wheels and only the smallest hint of a frame to put the crank a bit below that. 
The internal battery sits wholly inside the top tube, keeping it safe and invisible until you fold the bike. Traditional knobby fat tires give you a bit more grip on loose terrain, but fail to provide the same traction on pavement that you get with the RadMini 4.
The Aventon Sinch is 68 lbs and comes with neither racks nor fenders. It's got a sort of a modern, space-age theme, with gentle curves, smooth welds, and some indents on the frame that help it look great up close while keeping the bike strong. 
Like the Lectric XP 2.0, the core of this design is centered around an oversized top tube. The Sinch's top tube arches up, however, staying farther above the crank and necessitating a more conventional frame layout aft of the center hinge. 
The conventional knobby fat tires are great for trails but will perform somewhat worse than the asphalt-optimized tires on the RadMini.
All of these bikes feel incredibly solid when they're unfolded and can be folded quickly, easily, and reliably. The hinges are simple to unlock and snap into place tight when it's time to ride the bikes, helping you feel secure. There's very little noise, if any, from the latches rattling around, even when you go over bumps.
Complaints from owners who have put a lot of miles on these bikes tend to center around the rear tires, which isn't surprising. Fixing a rear flat on an e-bike is a massive pain even without the additional complication of fat tires. 
If you're in an area where you think a tire puncture is likely, you may want to invest in some tire goo or a similar product before you put too many miles on one of these bikes.
Components
While all of these bikes have 7-speed transmissions, you get what you pay for when it comes to components. The Lectric XP 2.0 uses the Shimano Tourney derailleur, the RadMini 4 uses the Shimano Altus derailleur, and the Aventon Sinch uses the Shimano Acera derailleur. 
In other words, the cheapest bike (the Lectrix XP 2.0) uses the cheapest entry-level mountain bike parts, the mid-price bike uses a midrange-but-still-affordable mountain bike system, and the slightly nicer bike uses a very slightly nicer midrange line. 
This means that you'll probably find yourself adjusting the Lectric's derailleur more often, it won't be quite as durable, and it's a bit heavier than the other two. All three groupsets are incredibly popular, so your local bike shop will definitely carry both the parts and expertise needed to fix any problems.
While the RadMini 4 and the Aventon Sinch have mechanical disc brakes with 180 mm rotors, the Lectric XP 2.0 uses 160 mm rotors. E-bikes are heavy and go fast, which means you tend to want all of the stopping power you can get. 
A bit of extra size on your brake rotors might not sound like much, it can be the difference between safely avoiding an obstacle and putting yourself in danger on a ride.
In practice, the Lectric XP 2.0 has issues braking quickly, but these issues stem from the way the knobby tires interact with smooth pavement and not the brake rotors. 
You can bring the wheels to a halt easily enough, but your speed and momentum may pose challenges to the grip between the tires and the road. Expect to slide a bit if you slam on the brakes from full speed.
The RadMini 4's more city-focused tires neatly sidestep this problem. The Aventon Sinch isn't going to win any stopping distance competitions, but some combination of the tires and the bigger rotors help it to outperform the Lectric here.
Range and Speed
The RadMini 4 is incredibly powerful. It gets about 32 miles out of a single charge on max pedal assist and about 52 miles on the lowest assist setting.
It's got a clever combination of motor, controller, and programming that allows it to climb hills like an absolute beast, giving you more than enough juice to stay in double-digit speeds going up steep hills on throttle-only mode. 
The motor has a nominal output of 750 watts and the battery provides 48 volts of power for 14 amp-hours.
The Lectric XP 2.0 gets around 20 miles in max pedal assist and a bit over 30 miles on the lowest assist setting. While the motor is more than fast enough to boost you along flat ground, on long, tough hills, you'll probably want to help the motor out with some extra wattage from your legs. 
You won't have to put in a lot of work, but this is definitely not an e-bike that's going to maintain double-digit speeds up a grueling incline on throttle alone. It's definitely not the least powerful e-bike on the market, but the other two bikes here are noticeably more powerful when it comes to hills. 
The Lectric XP 2.0 has a motor with a nominal output of 500 watts and a 48v 9.6 Ah battery.
The Aventon Sinch is somewhere in between. It gets up to 70 miles out of a charge on the lowest pedal assist level, which is incredible, and 38 miles out of a charge on the highest pedal assist level. 
The controller seems to have no qualms kicking the nominal 500W motor up to its 750-watt peak when it's time to climb a hill, helping the bike to feel a lot better than the Lectric in tough situations. 
The battery has the same 48V 14Ah output as the RadMini 4, which combines with the smaller motor to give you a bit more range in exchange for a bit less power when it comes to scaling hills.
All three bikes are programmed with class-2 e-bike restrictions in mind out of the box, keeping them to 20 miles per hour. You can remove these limitations and zip around town in some places, but city and state regulations may prohibit you from using your e-bike above 20 miles per hour in some situations.
Final Verdict
If you're on a budget, the Lectric XP 2.0 is an incredibly fun, quality bike. While this review might make the Lectric XP 2.0 sound lackluster compared to the other two options, that's because they go above and beyond, not because the Lectric XP 2.0 is sub-par. It lacks range, but that doesn't stop it from being amazing for short, fun rides. 
The included accessories make this bike a great pick for short trips to the store or even a commute. If you'd like to save money while still getting one of the most enjoyable e-bikes on the market, choose the Lectric XP 2.0.
If you're after style, you want range, or you're a fan of the brand, the Aventon Sinch is the bike for you. It's definitely the most stylish of these three bikes, and the big battery and midrange motor work together to give you the freedom to go on long journeys with this bike. 
Couple that with the knobby tires, the suspension, and your ability to relax in the saddle and let the bike do the work and you've got an incredible recipe for success.
If you're after power, you prefer utilitarian stylings, or you think you'll do most of your riding on pavement, the RadMini 4 is probably the right choice. Urban-focused tires help this bike accelerate quickly, stop on a dime, and corner confidently on pavement, while the biggest motor of the bunch lets it tackle hills with ease. 
You sacrifice a bit of range in exchange for the extra power, but you're paying surprisingly little for the package overall. Despite the 750W motor and the inclusion of fenders in the base package, the RadMini 4 tends to be cheaper than the Aventon Sinch.