I love shopping for a new bike, but with so many options, the choices can be daunting, especially for gravel bikes. Gravel bikes can encompass a very wide range of disciplines and choosing your first one might seem a little bit overwhelming. But don't worry, we're here to help you choose your first gravel bike. 
When choosing your first gravel bike, you need to consider the terrain, your budget, your riding style, and how long your rides will be. When you know when, how, and where you want to ride, the choices will be easier to make. Regardless of the use, you must opt for a bike that's your size.
In this article, we'll talk about the thinking process to help you choose your first gravel bike. Then, we'll go over all of the considerations you need to think about when selecting a bike, such as where you will be riding, how you will be riding, and your budget. But, first, let's talk about your riding background. 
What Type of Rider Are You?
When choosing a gravel bike, the first thing to think about is what type of rider you are? Are you coming from a mountain biking background, a road cycling background, or none at all? Do you like to take long rides in the country by yourself, go bikepacking, climb hills, or race? Or do you just want a fun bike that will do a little bit of everything? 
If you come from a mountain biking background, you might want to look for a gravel bike with a little bit of suspension, which means wider tires, and a 1x drivetrain.
On the other hand, if you are coming from a road cycling background, you'll probably want a standard 2x drivetrain, drop bars, and medium-width tires.
If you just want a fun bike that will go over all kinds of (not too technical) terrain, then a simple, entry-level gravel bike is just the thing!
On the other hand, if you have a passion for racing gravel, you'll need something aggressive, light, and fast. 
What Type of Terrain Will You Ride? 
Gravel bikes are often called all-road bikes and adventure bikes because you can take them almost anywhere. But if you know what type of terrain you'll mostly be riding, you can pick a bike that is even more specific to what you want to do with it. 
If you stick to easy roads and trails, you don't need to be too picky about what the bike can do, and you might just prefer to find one that is a little more comfortable. If you are riding very rough terrain, you might want to focus on stability. And if you're into climbing or racing, you want to think about a bike that is light and aggressive. 
Park, trails, and grocery getter
A mix of road and gravel
Gravel events and hilly, dirty rides
Mild single-track
Bike touring or bike packing
Park, trails, and grocery getter
If you're a relaxed rider who wants to be able to enjoy the trails at your local park and pick up a few items at the grocery, you'll want a relaxed type of gravel bike.
You won't be worried about speed; you'll want to aim for comfort and utility. So look for a bike with nice, medium-width tires and a more upright position. Don't forget to look for a bike that has plenty of mounts for bags or even a rack to lug your goodies home from the store. 
A mix of road and gravel
If you're into mixing it up, but you want to keep up with your riding buddies on both tarmac and the dirt pack, you might want to consider a 2x drivetrain with a longer, more stable bike and medium tires. You could even switch to slick tires for all-road rides and keep the gnarly tires for those long days out on the gravel. 
Gravel events and hilly, dirty rides
If you're racing, riding, and climbing on your gravel bike, you'll want a more aggressive geometry with lightweight components and a 2x drivetrain with lots of gears for climbing and descending. 
Mild single-track
If mountain biking is still in your blood, you might even take your gravel bike out on some single-track adventures. For this, you might consider a long, stable bike, super-plush tires, and a 1x drivetrain that won't get bogged down with mud. You might even find a gravel bike with flat bars and dropper post, but that might make it a mountain bike, not a gravel bike. 
Bike touring or bike packing trips
Gravel bikes with a relaxed geometry are great for bike touring and bike packing. With long, stable bikes, they have smooth handling. Steel is heavy but offers a smooth ride. Wide tires offer comfort on bumpy terrain, and a two-by drivetrain with a granny gear will help you get up the hills when you are loaded down with all your gear. A drop bar will give you different hand positions to stretch out along the way, as well. 
What Is Your Budget? 
Budget is a big determination for your gravel bike. If you are new to graveling or your budget is small, there is nothing wrong with an entry-level bike. You can save money by choosing an aluminum frame with a carbon fork for comfort or even a steel bike.
You can get a decent gravel bike with entry-level components for well under 1000 dollars. In fact, I wrote an entire article listing some of the best affordable gravel bikes available.
Don't skimp on the brakes, though, as disc brakes are essential for stopping in adverse conditions when rim brakes might not cut it. 
If you have a wide budget to work with, you might want to consider a lightweight carbon frame and fork, disc brakes, and even di2. 
What Kind of Geometry Suits You? 
Although we have already touched on geometry, it is definitely an essential part of choosing a gravel bike. Gravel terrain can be rough and challenging to navigate. Take a look at the following three bits of important considerations:
Chainstay length
Bottom bracket height
Handlebar height
A longer bike with longer chainstays will give you more stability, while a shorter bike with shorter chainstays won't give you as much room for wide tires but will give you a snappier, faster ride. 
A higher bottom bracket will help your pedals clear obstacles, while a lower bottom bracket will give you a lower center of gravity, which means more stability. 
Higher handlebars will give you a more relaxed and comfortable position for long days in the saddle, while lower handlebars will give you a more aggressive and more aero ride. 
What Type of Gearing Do You Want?
Many gravel bikes come standard with a 2x drivetrain, which gives you a wide range of gears to choose from. On the other hand, you might prefer to have a simpler, lighter 1x drivetrain with a few gears, depending on the speed and terrain you'll be riding. 
There are two main differences between a 1x and a 2x drive train when it comes to gear ratios:
Your highs won't be as high (and in some cases your lows won't be as low)
The jumps between gears will be greater, so you may not find the perfect cadence between two gears
If you are climbing lots of hills, especially if you're loaded with lots of stuff, you may need a few easier gears on your bike to get you up and over. But then again, if you're primarily riding flat roads, then this might not even be a consideration. 
How Wide Do Your Tires Need to Be? 
Most gravel bikes can accommodate a significantly wider tire than a road bike, but every gravel bike is different. The sweet spot for a lot of gravel seems to be 38 to 42, giving you a little cush without making your ride too slow (you can read my previous article about the best gravel tire width). 
On the other hand, if you'll be riding very rough gravel or wandering over rocky, rutted terrain, you might need some extra-wide tires to help. In this case, you'll need to make sure that the bike you choose can accommodate wider tires.
Are You More Interested in Comfort or Speed? 
Lastly, you might need to decide whether you want to focus on comfort or speed. If you want comfort, you'll want a more upright bike with big chunky tires and a sturdy steel frame. On the other hand, if you want speed, you'll want a more aggressive body position, a carbon frame, and slimmer tires. 
Some great first gravel bikes to consider
The following five bikes pretty much cover every type of rider.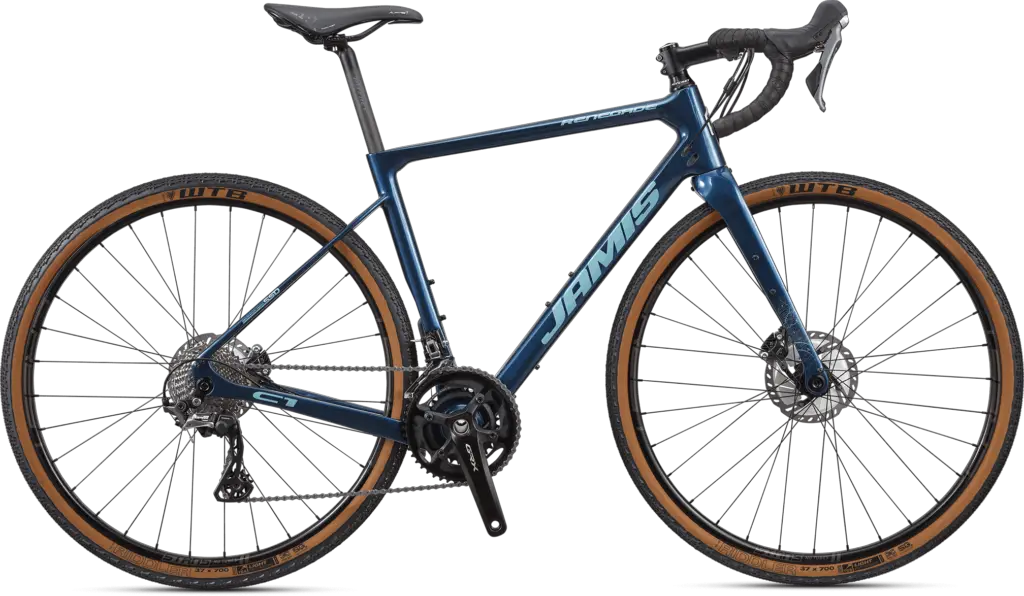 This bike is great if you are looking for a relaxed geometry and a comfortable ride.
Aluminum frame
Disc brakes 
Up to 40m tires
Lots of mounts for water bottles and gear 
2x drivetrain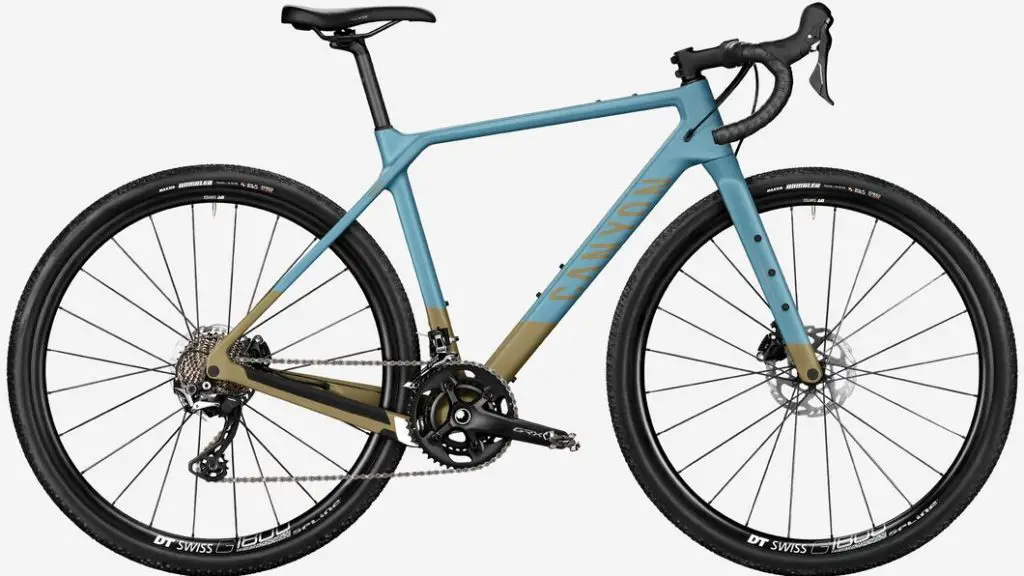 This bike is for those looking for a very capable off-road bike for their exciting adventures.
 Aluminum frame with carbon fork 
 Shimano GRX 40t chainring with 11-34 cassette
Disc brakes 
 Plenty of mounts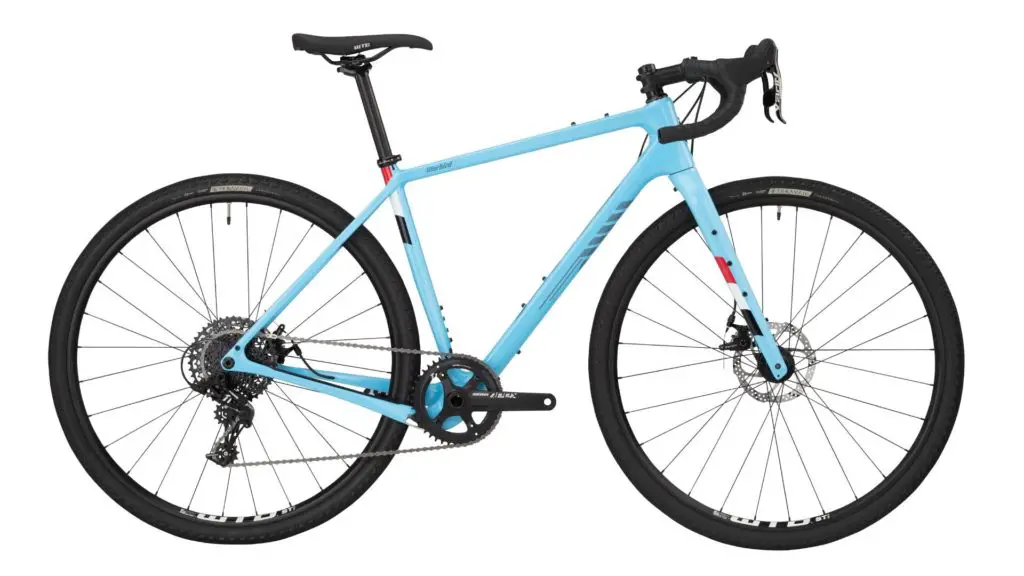 This is the bike if you are looking to ride fast, and even race. 
Carbon Frame 
Tires up to 45mm
1x drivetrain with 42t chainring and 11-42t cassette 
Mechanical Disc Brakes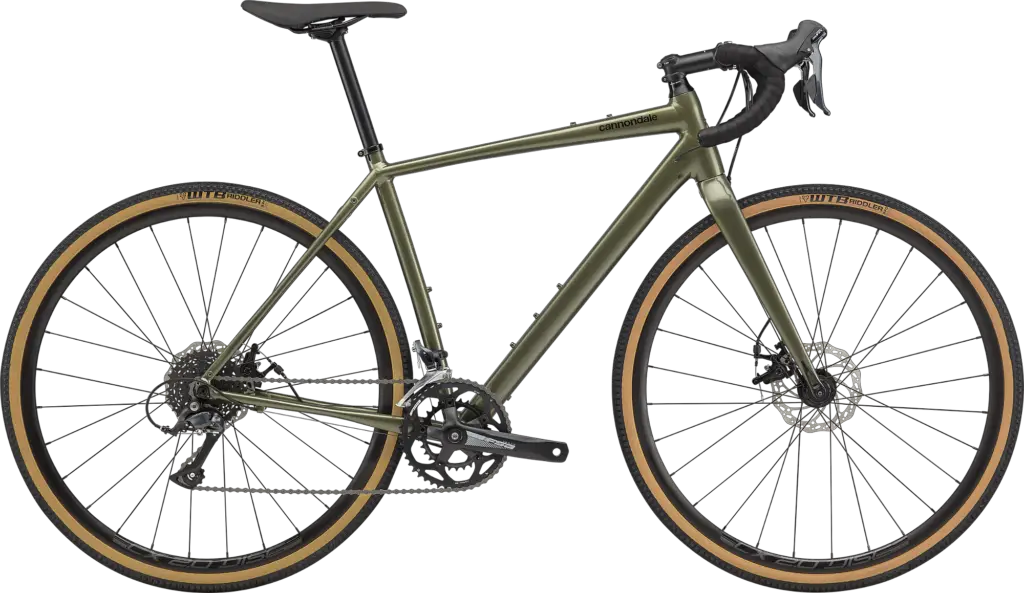 This bike can carry a ton of cargo for longer trips with lots of gear.
Lots of mounts for your gear 
Aluminum Frame 
2x Drivetrain
Aluminum Frame with Carbon Fork 
37mm tires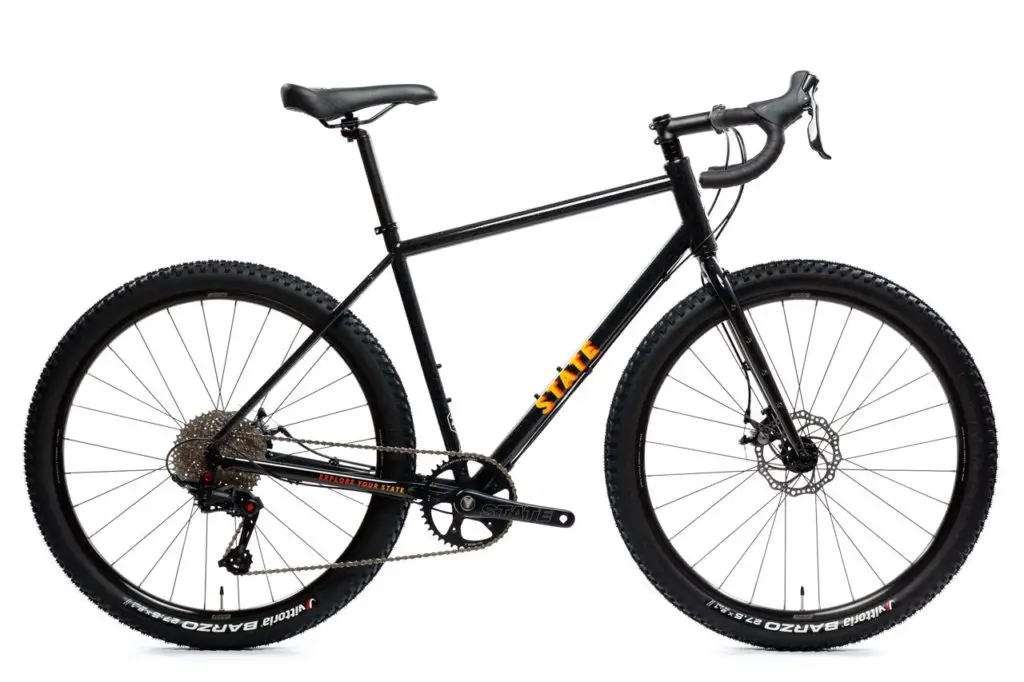 This is an amazing bike if you want to dip your toes into gravel riding at the lowest price point for a fun ride. 
Chromoly Steel Frame 
Tire Clearance up to 53c
1×11 gearing (42t chainring, 11-42t cassette)
Extra mounts 
Disc Brakes