In this article we're taking a look at two popular mid-range commuter/fitness bikes from two reputable manufacturers,  Cannondale and Trek. They are the Cannondale Quick 3 and the Trek FX3 Disc.
Both of these bikes are aimed at fitness enthusiasts and commuters, who are looking for a reliable new bike and are willing to spend more than the entry level offerings in exchange for better, more reliable components.
Let's start with the price, which is pretty similar. The FX3 Disc comes in at $899.99, while the Quick 3 sets you back $925. The extra 25 dollars isn't a significant difference to decide for one or the other.
They are also pretty similar in the choice of materials. Both of them come with aluminum frames and carbon forks. It's nice to see internal cable routing on both bikes, which reults in cleaner looking lines.
Our Top Pick
Trek FX 3 Disc
FX 3 Disc is a versatile hybrid bike that's primed for performance, comfort, and utility. It has features like a lightweight aluminum frame, a carbon fork, and powerful disc brakes that stop in any weather. It's a commuting pro if you want it to be, or the perfect fitness companion on pavement and rail trails.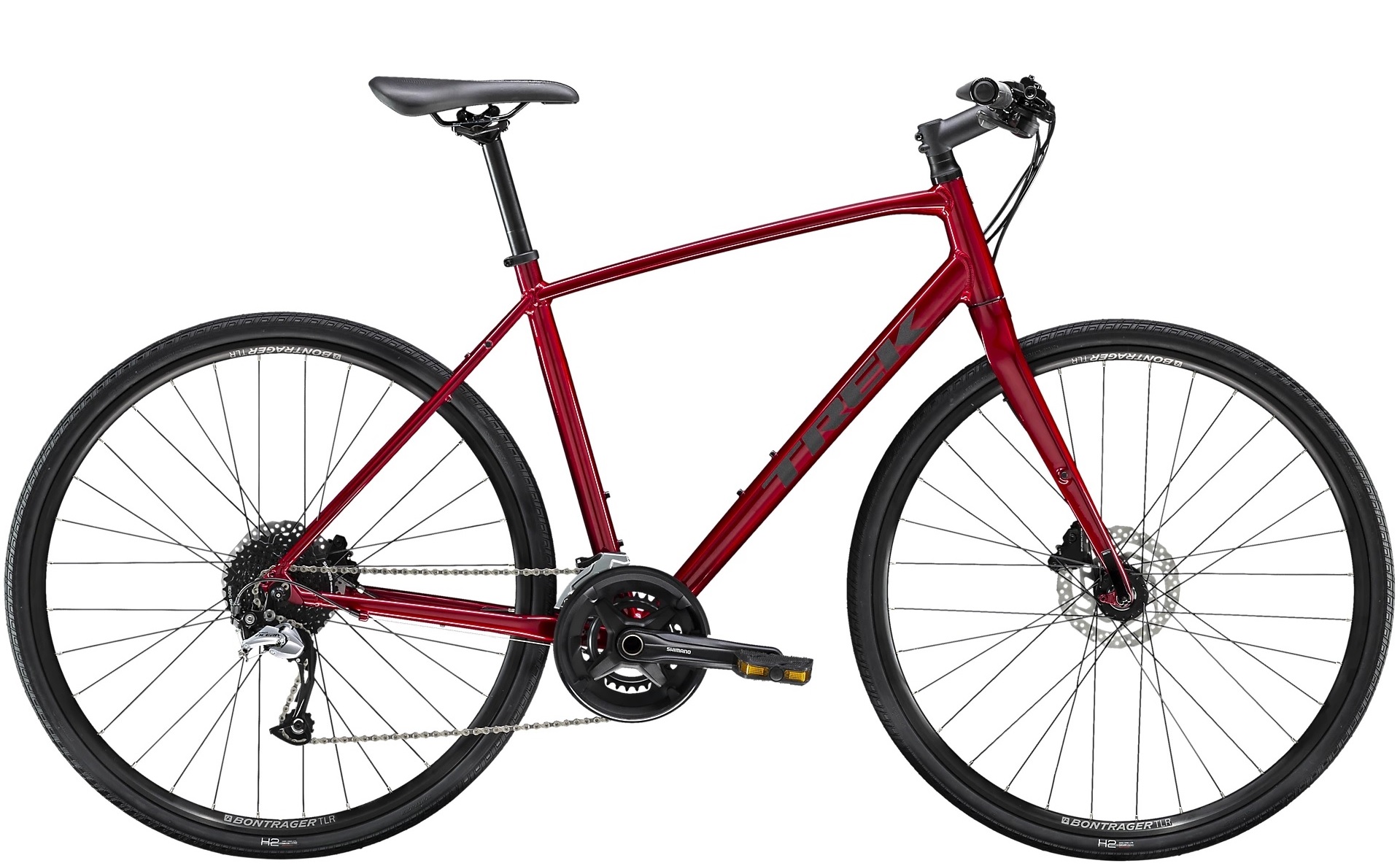 We earn a commission if you click this link and make a purchase at no additional cost to you.
Both the Trek and the Cannondale come in 5 sizes, and range from small to extra-extra large, but there is a significant difference in the maximum weight each of these bikes can carry.
The Trek has a maximum total weight limit of 300 lbs (136 kg), which includes the combined weight of the bike, rider and the cargo, while the Cannondale can carry a 300 lb (136 kg) rider and 30 lbs (14 kg) of luggage not including the bike's own weight. This is good news for heavy riders looking for a bike in the XXL range.
Both bikes are available in women's versions, which means different color variations and in the case of the FX3, it also has women specific saddles for better comfort for female riders. Both the Quick 3 and the FX3 are also availabe with low step through frames in case you don't fancy throwing your legs over the rear wheel and the saddle when getting on and off the bike.
Sadly, if you opt for other than the standard Cannondale version, you're going to pay a higher price. Here's a comparison chart of the differences.
| | | | | | | | |
| --- | --- | --- | --- | --- | --- | --- | --- |
| | Quick 3 | Quick 3 | Quick Women's 3 | Quick 3 Remixte | FX 3 Disc | FX 3 Disc Women's | FX 3 Disc Women's Stagger |
| Price | $925 | $1000 | $1000 | $1000 | $899.99 | $899.99 | $899.99 |
| Colors | Chameleon | Mercury, Rally Red | Turquoise | Turquoise | Dnister Black, Rage Red | Voodoo Trek Black, Magenta | Voodoo Trek Black, Magenta |
| Frame | Normal | Normal | Normal | Low Step-Through | Normal | Normal | Low Step-Through |
| Sizes | SM,MD,LG,XL,2XL | SM,MD,LG,XL,2XL | XS,SM,MD,LG | XS,SM,MD,LG | S,M,L,XL,XXL | XS,S,M,L | S,M,L |
In terms of groupsets and other components used, both bicycles are quite comparable.
They both come with 9 speed cassettes and double cranks, resulting in a wide gear ratio, but with a difference offered in the lowest and highest gear ratios.
Cannondale's highest gear ratio is going to provide a faster speed at the same pedal revolution, concentrating on faster speeds, while Trek's more focused on the lower gear ratios, and helps tackle steep hills better.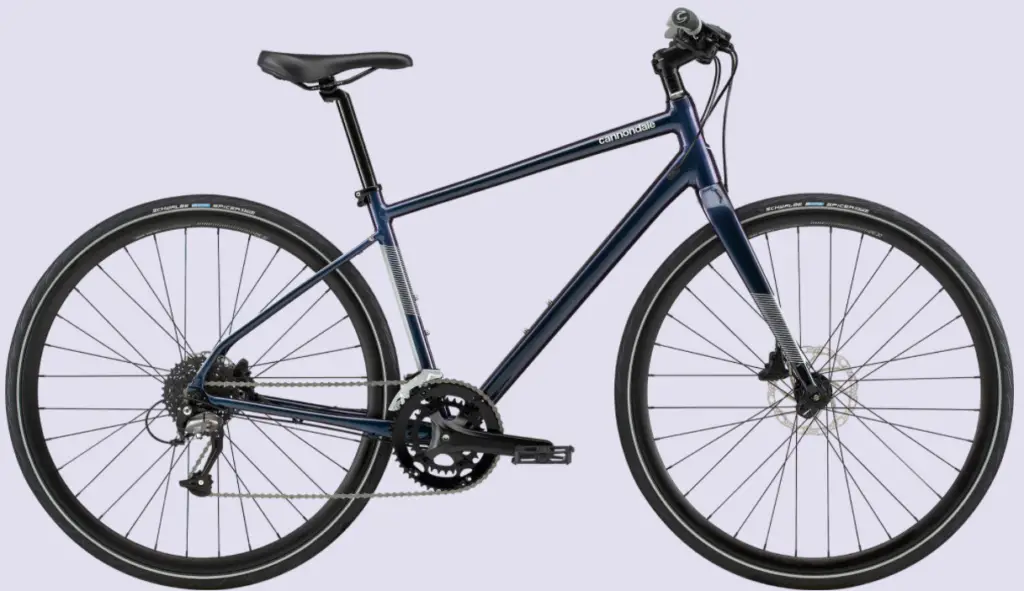 The Cannondale Quick 3 uses Shimano Altus shifters, Acera front derailleurs and Alivio rear derailleurs. For brakes it uses Tektro HD-R280 hydraulic disc brakes with 160mm rotors at the front and 140mm rotors at the rear. Even with the smaller rotor at the rear, it provides sufficient stopping power for its intended use.
The Trek FX 3 is equiped with Shimano components both for the brakes and the for the drive train. It uses Shimano Acera shifters and front derailleurs and Alivio rear derailleurs. It's not a huge upgrade over the Quick 3, but it's nice to see a higher end shifter for less price. The FX 3 uses Shimano MT201 hydraulic disc brakes with 160mm rotors both at the front and the rear, which again, is slighly better than the Cannondale offering.
In terms of weight, the Cannondale manages to keep it under 25 lbs, while the FX 3 comes in at just under 26 lbs. It's not a huge difference, especially for the type of use these bicycles are intended, but it's always nice to have a lighter bike, especially if you need to carry it up the stairs.
One area where Cannondale offers a bit more comfort over the Trek is the tire size, which is 35 mm against the 32 mm of the latter. The 3 mm difference translates into a smoother riding experience on uneven roads, and it makes getting up curbs and hitting potholes a little safer, reducing the chance of a pinch flat.
I also love that Cannondale offers Schwalbe Spicer tires with reflective strips on the wheels. They offer excellent puncture resistance (number 5 on Schwalbe's scale, which is on par with the Schwalbe Marathon, and runs up to 7). These tires perform very well on urban roads, but they don't offer much traction off road.
The Trek comes with their own manufactured Bontrager H2 tires, which aren't terrible, but they definitely offer significantly less puncture protection compared to the Schwalbe. If you want to eliminate the chance of flats, this is something you should probably upgrade as soon as you get the bike.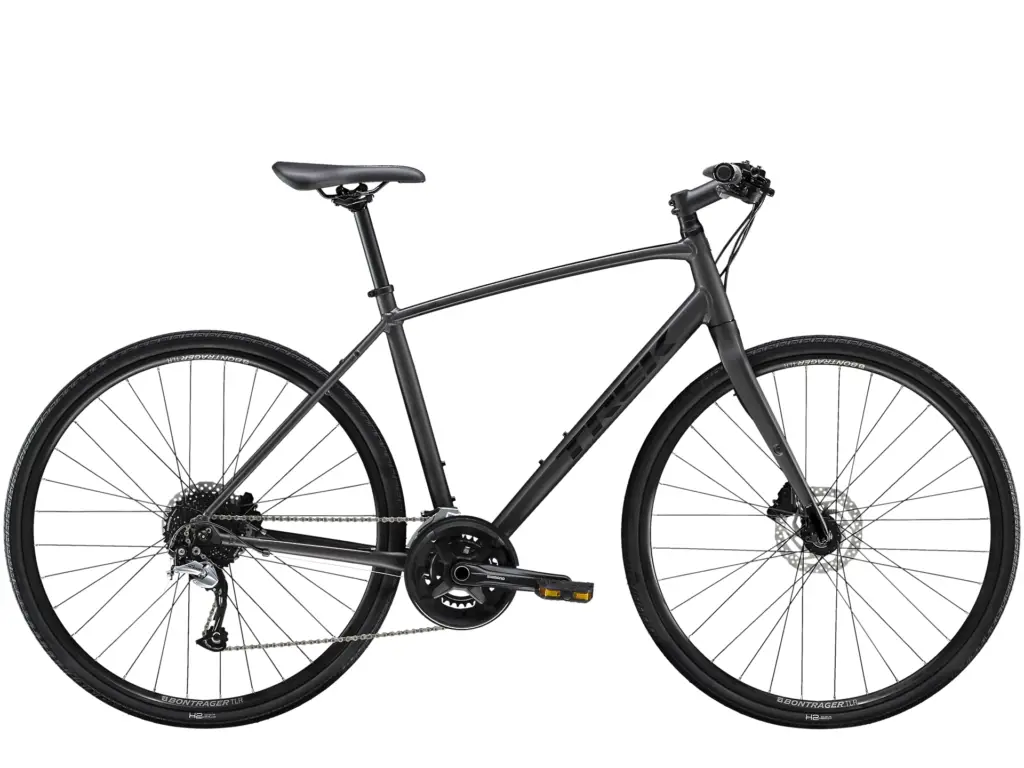 Both bicycles have mouting points for two bottle cages, fenders and racks, and the FX 3 also includes additional eyelets on the front fork.
Ergonomic grips and comfortable saddles are included in both packages. These are great for getting started, and if you spend a lot of time in the saddle, you may want to upgrade those down the line.
Both bikes come with basic plastic pedals. The Cannondale is a little more versatile, while the Trek is more geared toward city riding. Again, they are fine just to get started, but you will probably want to replace them if you use your bike a lot.
There are two additional nice details from Cannondale, which are not present in the Trek.
One of them is the inclusion of their integrated wheel sensor, which they developed together with Garmin. It pairs up with your smartphone, and provides you information about your bicycle, service intervals, speed and other useful details. Although it's not essential, but it's certainly nice to have.
The second bonus is that the Cannondale paintjob includes 360° reflective details, which makes it super safe to ride at night because it's virtually impossible to not notice. This, combined with the reflective strip of the Schwalbe tires, is a winning duo.
| | | |
| --- | --- | --- |
| | Cannondale Quick 3 | Trek FX3 Disc |
| Frame | SmartForm C3 Alloy, tapered head tube, reflective, internal cable routing | Alpha Gold Aluminum, internal cable routing, rack and fender mounts |
| Fork | Full carbon, Thru-axle, fender mounts, reflective | FX Carbon, rack and fender mounts, ThruSkew 5mm QR |
| Headset | FSA Sealed Bearing, Integrated | 1-1/8″ threadless, sealed cartridge bearings |
| Bottom bracket | Cartridge, square taper | |
| Crank | Prowheel, 48/32 | Shimano MT210, 46/30, chainguard (170mm or 175mm length) |
| Chain | KMC Z9, 9-speed | KMC X9 |
| Shifters | Shimano Altus, 9-Speed | Shimano Acera M3000, 9 speed and Shimano Acera SL-M3010, 2 Speed |
| Front derailleur | Shimano Acera | Shimano Acera T3000 |
| Rear derailleur | Shimano Alivio | Shimano Alivio M3100, long cage |
| Rear cogs | Sunrace, 11-34, 9-speed | Shimano HG200, 11-36, 9 speed |
| Front hub | Formula CRX-512, 12x100mm | Formula DC-20, alloy, 6 bolt 5x100mm QR |
| Rear hub | Alloy Disc Cassette QR, 28H | Formula DC-22, alloy, 6-bolt, Shimano 8/9/10 freehub, 135×5 QR |
| Rims | Cannondale Disc, Double wall w/eyelet, 32h | Bontrager Tubeless Ready Disc, 32-hole, presta valve |
| Spokes | Stainless Steel 14g | Stainless steel 14g |
| Tire Size | 35 | 32 |
| Tires | Schwalbe Spicer 700 x 35c, K-Guard, reflective strip | Bontrager H2 Comp, wire bead, 30tpi |
| Wheel size | 700c | 700c |
| Brake levers | Tektro HD-R280 | |
| Brakes | Tektro HD-R280 hydro disc, 160/140mm rotors | Shimano MT201 hydraulic, 160mm rotors |
| Grips | Cannondale Ergo Fitness Dual Density, Lock-on | Bontrager Satellite IsoZone Plus, Lock-on, ergonomic |
| Handlebar | 6061 Alloy Double-butted, 25mm rise, 8 degree sweep, 6 degree rise, 640mm | Bontrager Satellite Plus IsoZone, alloy, 31.8mm, 15mm rise, 600mm or 660mm width |
| Saddle | Cannondale Fitness Ergo Double Density | Bontrager H1 |
| Seatpost | 6061 Alloy, 27.2 x 350mm | Bontrager alloy, 27.2mm x 330mm |
| Stem | Cannondale 3 with Intellimount, alloy, 31.8 clamp | Bontrager Elite, 31.8mm, Blendr compatible, 7 degree 90mm/100mm/110mm |
| Weight | 11.1 kg / 24.6 lbs | 11.74kg / 25.88 lbs |
When it comes to comfort and bike geometry, there are lots of similarities, and some differences too. Let's see some of them taking the L size bikes in from both manufacturers.
The Quick 3 has a slightly longer wheelbase, which translates to a marginally more stable ride, while the FX 3 is a little easier to steer and turn.
The FX 3 has a slightly longer chainstay, which means that you may be less likely to bump into heel clearence issues if you use a pannier than you are with the Quick 3. The difference is only 15mm, but sometimes that can be the difference between hitting a pannier or not.
The Cannondale is slightly more oriented towards speed, while the FX 3 is a more balanced, and a slightly more upright bicycle.
These differences are quite subtle and probably not very noticeable to a beginner, but one would notice the difference if he sat on one after using the other one for some time
| | | |
| --- | --- | --- |
| | Cannondale Quick 3 | Trek FX3 Disc |
| Seat tube | 50 cm | 50.8 cm |
| Seat tube angle | 73° | 73.5° |
| Head tube length | 18.4 cm | 16.0 cm |
| Head angle | 71° | 71.5° |
| Top tube | 59.8 cm | 57.1 cm |
| Bottom bracket height | 28.2 cm | 29.6 cm |
| Bottom bracket drop | 6.8 cm | 6.5 cm |
| Chainstay length | 43.5 cm | 45 cm |
| Offset | 5.5 cm | 5 cm |
| Trail | 6.2 cm | 6.8 cm |
| Wheelbase | 108.6 cm | 107 cm |
| Frame reach | 41.4 cm | 39.8 cm |
| Frame stack | 60.2 cm | 58.6 cm |
| Stack to reach ratio | 1.45 | 1.47 |
Which is the better choice for you?
If you are committed to spending a lot of time in the saddle, and you want to ride at fast speeds, you should probably opt for the Cannondale Quick 3. It is better for performance riding and offers some other benefits, such as great puncture protection and the integrated wheel sensor. If you weigh more than 263 lbs (120 kg), and you intend to carry some stuff with you, the Cannondale is the only option you have between these two.
If you're not too concerned about a marginally higher top speed, and you're looking for a more upright bicycle that can get you up steeper hills, and has slightly better components, the FX 3 won't disappoint.
Either way you choose, the main thing is to get on your bike and ride it often. The best bike you can own is the one that makes you want to ride it every time you see it.
Happy pedaling!