The Trek FX 3 and the Specialized Sirrus 3.0 are both excellent commuter bikes. They have many features that both die-hard bike commuter veterans and newbies alike can get behind. These include a light but strong aluminum frame, 700c wheels, and a price that is not going to break the bank. 
If you are in the market for a reliable commuter bike no matter if you are just getting started or upgrading your current bike then you can't go wrong with one of these two. 
In this article, we will explore both in more detail and give you the tools to let you decide which is better suited for your desires and your needs. Read on as we pit the Trek FX 3 against the Specialized Sirrus 3.0.
Trek FX 3 and the Specialized Sirrus 3 are very similar: hydraulic disk brakes, lightweight aluminum frame, 9-speed drivetrain and 700c wheels. When focusing on the differences the Trek FX 3 is the winner. It comes with Shimano components throughout including shifters, drivetrain, brakes, and it is $100 less to add insult to injury.
Don't get us wrong, the Sirrus is an awesome bike but the Trek FX 3 is the better buy in this case! See below to find out why.
The Main Differences Between The Two Bikes
The biggest difference between these two bikes is of course the manufacturer. Both Trek and Specialized have been around since the 1970s and are well known for making high-quality bikes at a variety of price points. 
Our Top Pick
Trek FX 3 Disc
FX 3 Disc is a versatile hybrid bike that's primed for performance, comfort, and utility. It has features like a lightweight aluminum frame, a carbon fork, and powerful disc brakes that stop in any weather. It's a commuting pro if you want it to be, or the perfect fitness companion on pavement and rail trails.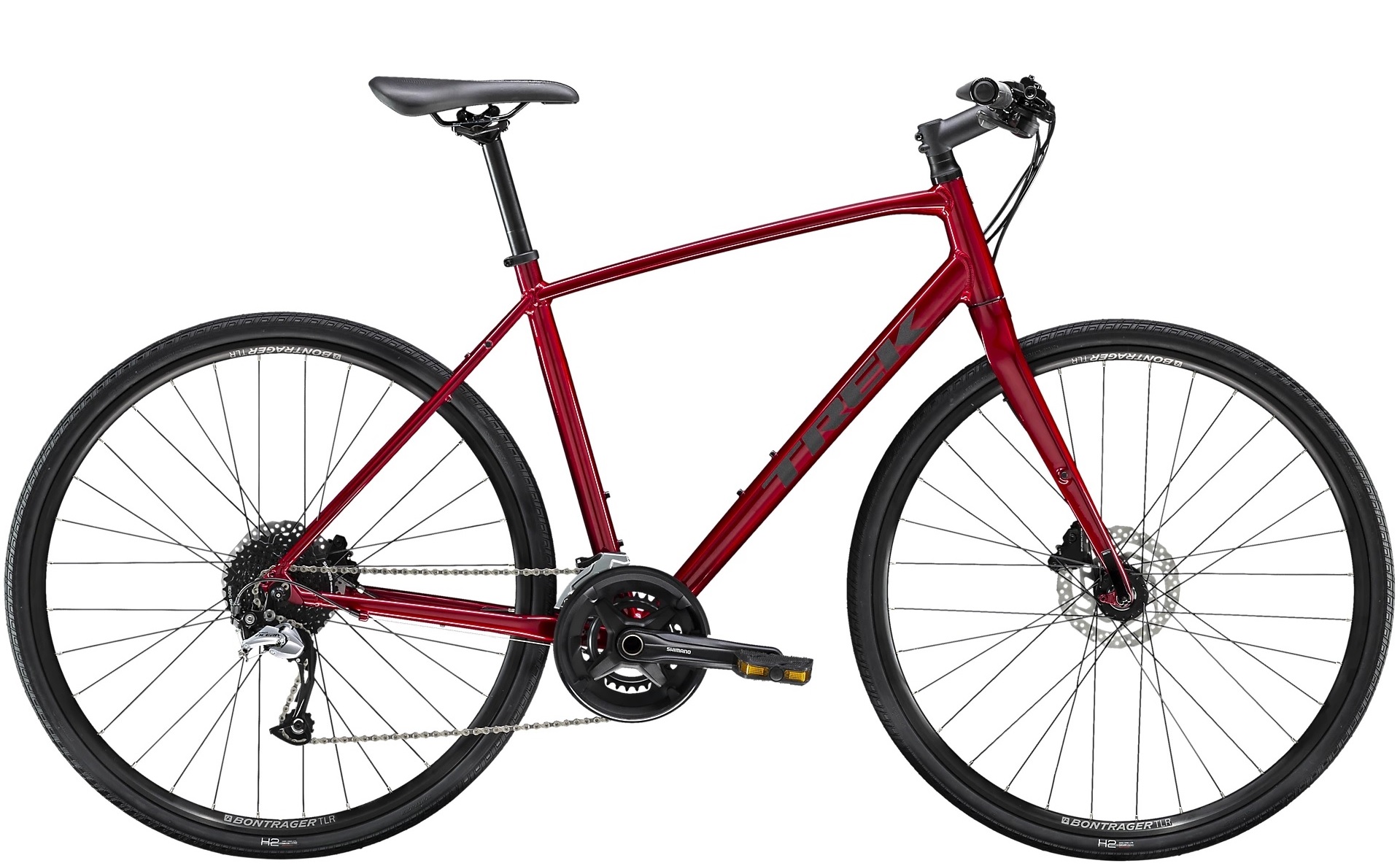 We earn a commission if you click this link and make a purchase at no additional cost to you.
The Trek FX 3 and the Specialized Sirrus 3.0 are hybrid models from each company designed to fit the customer looking for the relaxed geometry of a mountain bike with the speed and maneuverability of a road bike. Hybrid bikes are the perfect bike for the weekend rider, serious fitness freak, or avid bicycle commuter. 
Their comfortable ride and position are well suited for long or short rides and loved by many cyclists. While the FX 3 and the Sirrus 3.0 share a ton in common they do have some key differences primarily in the components. Here are some of the tech specs for each.
Trek FX 3
Frame: Alpha Gold Aluminum
Fork: FX Carbon
Tires: Bontrager Comp H2 700X32c
Shifters: Shimano Acera 2X9
Drivetrain: Shimano Acera 2-speed Front and 9-speed Rear
Brakes: Shimano MT201 Hydraulic Disc Brakes with 160mm Rotors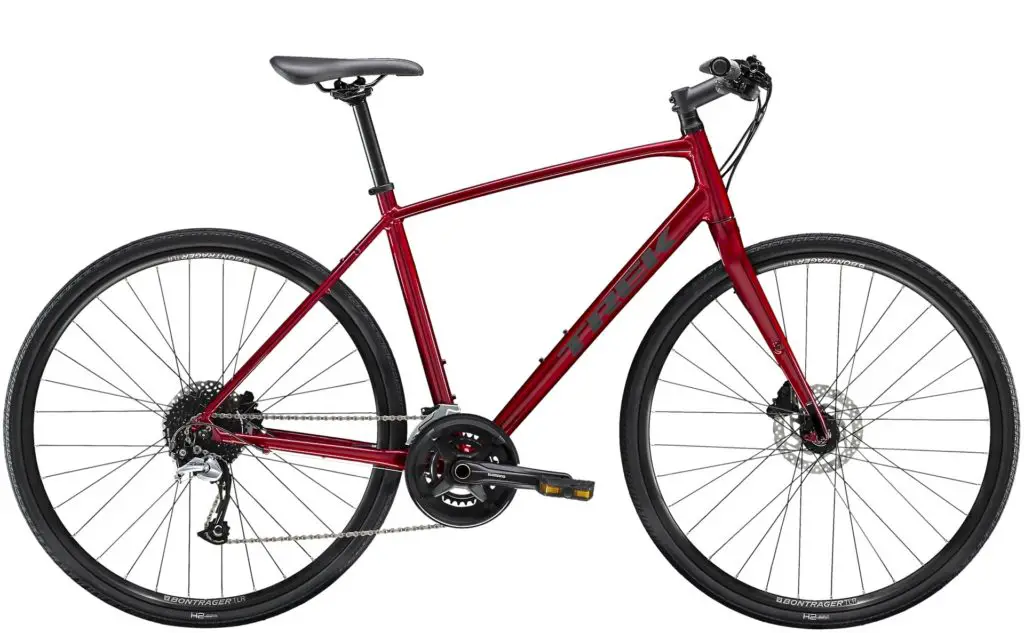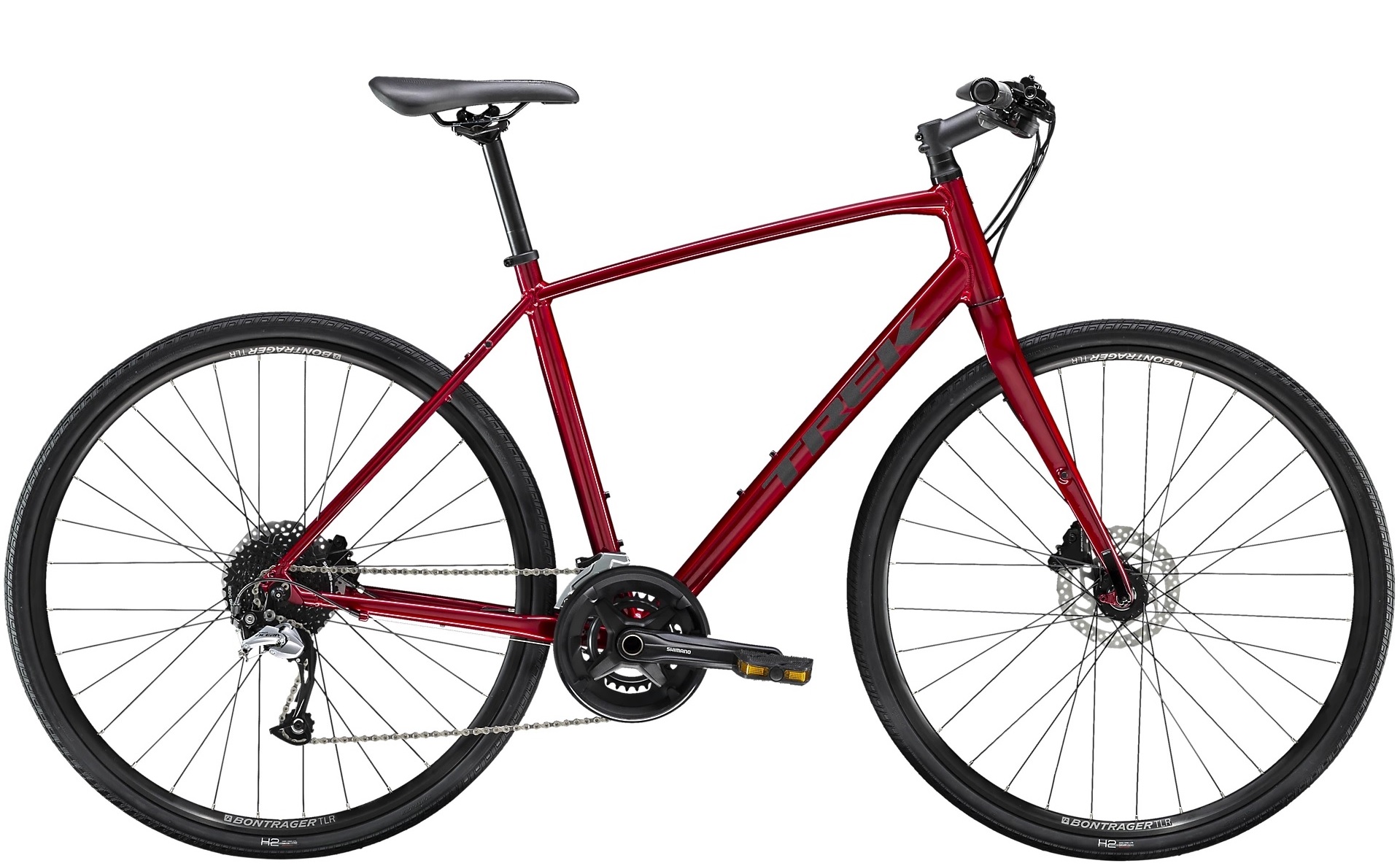 Specialized Sirrus 3.0
Frame: Specialized A1 Premium Aluminum
Fork: Specialized FACT Carbon
Tires: RoadSport Reflect 700X32c
Shifters: microSHIFT 2X9
Drivetrain: microShift 2-speed Front and Shimano Sora 9-speed Rear 
Brakes: Tektro HD-R280 Hydraulic Disc Brakes 160mm Rotor Front, 140mm Rotor Rear
Both the Trek FX 3 and the Specialized Sirrus 3.0 share a strong yet lightweight aluminum frame. However, both are made to each company's design specs and have a different aesthetic to them. Both are covered under the company's lifetime warranties so the looks are about where the differences end. 
The FX and the Sirrus also share 700c wheels and tires. They are fast and maneuverable with the ability to roll over any road conditions. Both models come equipped with 700X32c tires for a smooth and comfortable ride with just the right amount of grip.
Specialized Sirrus 3.0
Sirrus features a super light Aluminum Alloy and carbon fiber construction, as well as reliable Shimano components that are built to withstand years of daily abuse on the world's pavement.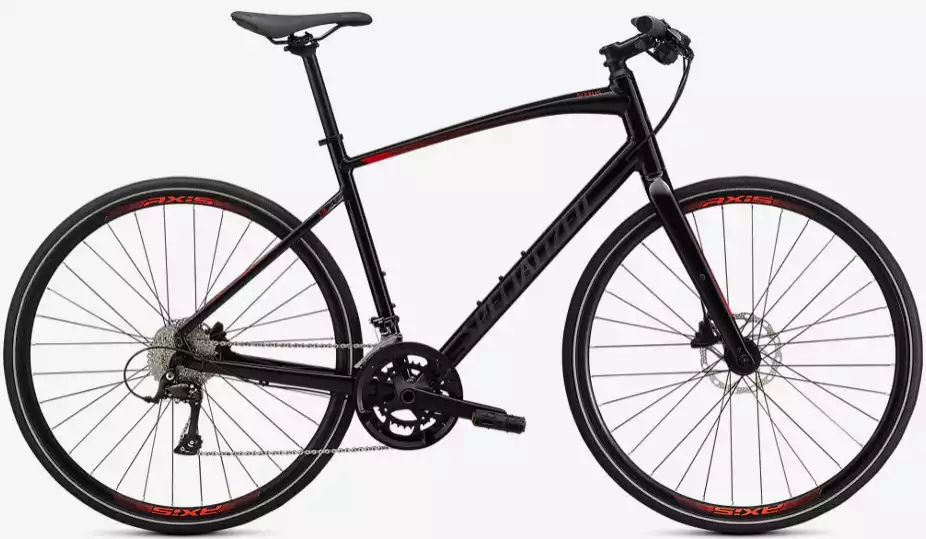 We earn a commission if you click this link and make a purchase at no additional cost to you.
One key difference between these two awesome models of bikes is in the shifters, drivetrain, and brakes. The FX 3 has Shimano equipped components through and through which we think is a nice touch. 
Of course, not the top of the line stuff but the Shimano Acera Shifters coupled with the 2X9 Shimano Acera drivetrain means a trusty and reliable setup that is well suited for daily use. 
The cherry on top is reliable and easy to work on Shimano hydraulic disc brakes. This makes the FX 3 a consistent product that is outfitted with components that every mechanic loves.
On the other hand, the Specialized Sirrus 3.0 is not outfitted with bad components by any means. It is however mismatched and some of the bike nerds within us might want to look away. 
That being said, the Sirrus does have one redeeming aspect to its drivetrain mismatch issues. It has a Sora rear derailleur which is a pretty decent step up from the Acera that the FX features. 
Another drawback to the Sirrus though is the Tektro Brakes and microSHIFT shifters. The Tektro brakes do a fine job of stopping and the microSHIFT shifters do a fine job shifting but they are not nearly as reliable and long-lived as Shimano. In this rider's opinion, the trade-off for the Sora Derailleur is not worth the downgrade in other components. 
Trek FX 3 and Specialized Sirrus 3.0 Unique Features
While the FX 3 and the Sirrus 3.0 are very similar in a multitude of ways they do have some features that make them unique. Check out these differences in both bikes:
Trek FX 3
Shimano shifters, drivetrain, and brakes: Everything is Shimano meaning you have quality components you can trust and so does your mechanic. 
Blendr stem and DuoTrap S compatible: Easily install things like lights and computers. The Blendr system gives headlights and displays the perfect spot right in the middle of your handlebars. DuoTrap S  component ports make installing a computer sensor with Bluetooth capabilities that go directly to your phone simple 
Hardcase Tires: Bontrager H2 Hardcase are some of the most puncture-resistant tires on the market. Enjoy a ride free from flats with these tough tires. 
4.8 stars out of Five: 250 total reviews with an average of 4.8 stars. This shows the love this model gets from its users each day. 
Specialized Sirrus 3.0
Shimano Sora 9-speed Rear Derailleur: A lightweight, reliable, and smooth road derailleur. This model is a step above Acera providing a bit smoother of a shift.  
Three eye-catching colors: Available in black, summer blue, and dusty turquoise this ride is sure to liven up your quiver. The FX is only available in plain old black and red. Sirrus wins us over in the color department though.
Sizes down to an XXS: For the shorter riders among us the Sirrus is available down to an extra extra small. 
2.5 stars out of Five: 36 total reviews with an average of 2.5 stars. This is one of Sirrus's biggest drawbacks. It does not share the same love and ultimately the reliability of the Trek.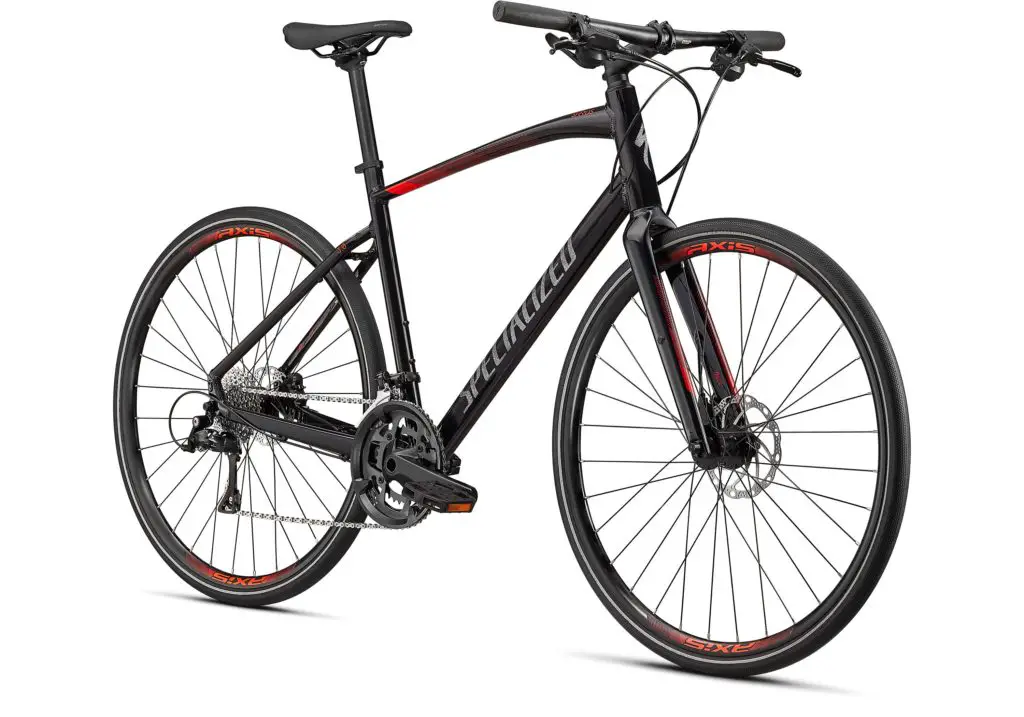 How Do These Features Affect The Ride?
The Trek FX 3 and the Specialized Sirrus 3.0 are very similar in the way they ride. This is because they share so many similarities in design. Their aluminum frames, 700c wheels, hydraulic disc brakes, and 9-speed drivetrains mean that in many ways they will feel the same. 
However, the Sora derailleur on the Sirrus 3.0 may be a bit smoother when compared to the FX 3. That being said the unique features that separate the FX 3 from the Sirrus 3.0 boil down to aesthetics and design choice. 
The truth is the FX 3 and the Sirrus are so similar it is hard to find unique differences
Who Are They Best Suited For?
The FX 3 is the perfect bike for the beginner just starting out commuting to the hardcore seasoned cyclists who wouldn't dream of ever owning a car. The FX 3 is also the best for those on a budget. For only $900 this bike comes with high-quality gear and is backed by a lifetime warranty from Trek. 
However, the Sirrus 3.0 is an excellent bike for those who love Specialized. It makes an awesome platform for the serious roadie to rep their favorite brand with a sweet relaxed geometry commuter. Other than that, stick to the Trek FX 3.
The Bottom Line
In our eyes, the FX 3 is the clear winner and takes the cake. While they both share a lightweight aluminum frame, carbon fork, 700x32c tires, 2×9 drivetrain, and comfortable geometry the FX 3 is less expensive, comes with matched Shimano parts and has a higher overall rating. The FX 3 is well-loved and ridden by commuters around the globe for good reason.
The Specialized Sirrus 3.0 is by no means a bad bike, and if you must have a Specialized or cannot stand the idea of a Trek, then it is an awesome option. That being said we here at the blog think the Trek FX 3 is our favorite in our head-to-head comparison.
Wanna Know More About The FX?
Head over to our page about the Trek FX series and learn more about this famous commuter model. Looking for an FX but not ready to spend $900? Be sure to check out the FX 1 and the FX 2 both amazing bikes without putting too much strain on your budget.
Don't let the price of these bikes fool you. They are the high quality you can expect from Trek without the cringe-inducing price. We will see you over there!
In the meantime,
Happy Pedaling!
[ays_poll id=4]