Trek has been producing quality bikes since 1976. They are well known for having a superb quality and many cyclists have come to love the FX series with an almost cult-like following for many commuters. They are an excellent hybrid style bike for both the beginner and seasoned veteran alike. With a variety of options to fit every price point, the FX series is sure to delight!
If you are new to cycling and looking for a bike that can perform well on a variety of terrains, while on a tight budget, the FX 1 is a great option. If you are already familiar with cycling and looking for a similar bike with higher-end components while still on a budget then FX 2 is an excellent choice. If you are an experienced rider with more money and want higher grade components then the FX 3 is what you are looking for!
If you love the FX lineup and you have a more generous budget, the FX Sport series also offers great performance and value for the money.
The FX Series Of Bicycles
Within the FX series of bicycles, there are many models from the FX 1 to the FX Sport 6. In this article, we are going to pit the FX 1, FX 2, and the FX 3 against each other to help you determine the best model for your needs. Read on to find out some of the key features of each. 
Electric bikes built for everything and priced for everyone. Shop Rad Power Bikes, America's #1 electric bike brand. Get out. Go further. Ride Rad.
The FX series of bicycles offer a relaxed hybrid geometry delivering the best of both worlds meaning increased comfort and performance. This upright geometry makes it easy to see the world around you while speedily getting to where you are going. 
FX 1
The FX 1 is an excellent entry-level model in the FX series for an excellent price point of only $470! Built on Trek's Alpha Gold aluminum frame making it lightweight but also strong the FX 1 is capable of tackling a variety of commutes. 
It is equipped with high-quality parts such as a durable steel fork, a Shimano Altus rear derailleur, and Tektro alloy linear-pull brakes. 
The rear 7-speed SunRace 14-34 freewheel is poised to go up and down hills with ease and speed. In the lowest gear combo it only gets about 22 gear inches and in the highest gear combo it gets 93 gear inches.
It also has all the mounting points necessary to easily add a rack and fenders and can also be outfitted with a variety of tire types and sizes. 
At a modest 28 pounds weight the Trek FX 1 is an awesome commuter for those looking to enter the scene for less than $500! 
FX 1 can also be bought in a classic high bar setup or a stagger model for easier mounting and dismounting. It can be purchased with disc brakes for an added $100 bucks for confidence-boosting stopping power.
Who is FX 1 for?
The FX 1 is a high-quality commuter for those on a budget. It is the perfect ride for the beginner looking to break out onto the commuter scene with a laundry list of features without draining your wallet.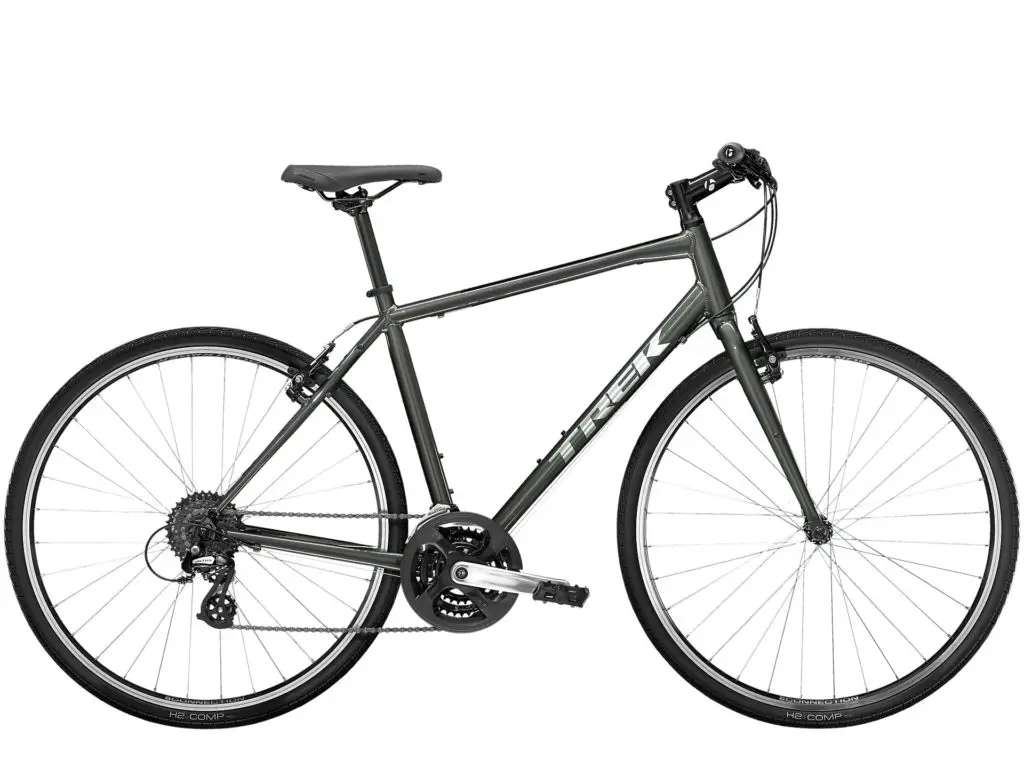 The FX 1 is covered under Trek's lifetime warranty giving you confidence in your ride on top of great value.
FX 2
The FX 2 builds upon the FX 1 by adding a few key features. It is crafted using the same strong but lightweight Alpha Gold aluminum frame however it includes an aluminum fork that cuts down the weight without losing strength. 
Hydraulic Tektro disc brakes make stopping easy and give you confidence in all weather and road conditions. 
The FX 2 is also equipped with a wider gear range 8 speed 11-32 cassettes making hill climbing and going fast even easier than the FX 1. Coupled with a Shimano Acera drivetrain you can ride far and fast with confidence that your bike is up to the task. 
The FX 2 also has a variety of features that allow connecting accessories such as DuoTrap S digital sensor and Blendr (installation system for lights, computers, etc) in addition to points for mounting racks and fenders. 
The FX 2 weighs less than 27 pounds and can support a combined weight of 300 pounds including bike, rider, and cargo.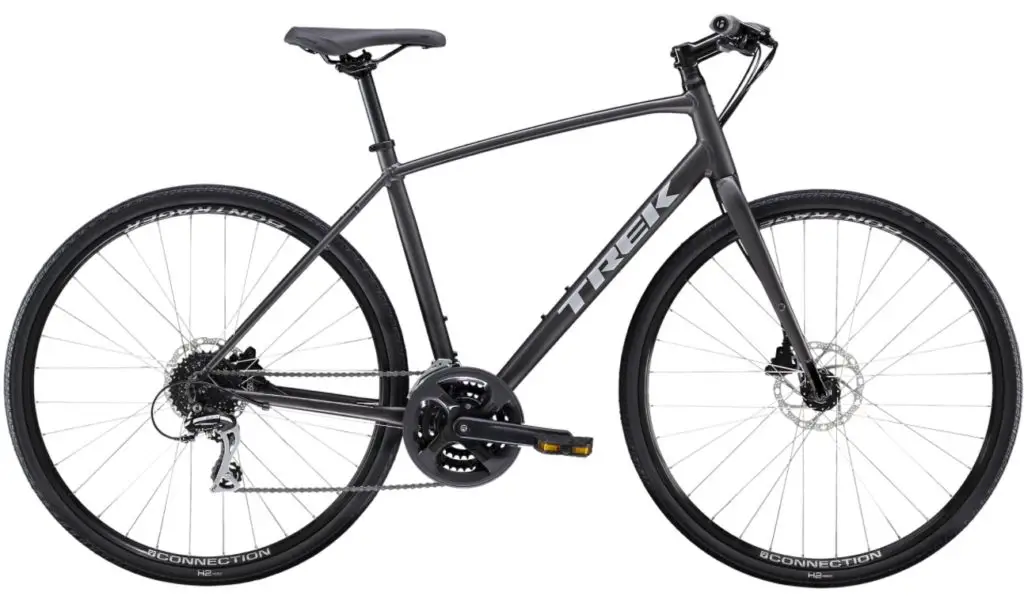 For only $650 you are getting a quality mix of parts and features for an awesome price that does not break the bank.
Both the FX 2 and the FX 1 share the Bontrager Connection, alloy, double-wall, 32-hole, Schrader valve rims. They are inexpensive, strong, and support a wide variety of different tire sizes and types. While they are a tad heavier than the rims on the FX 3 they are excellent rims for any commuter. 
Who is FX 2 for?
The FX 2 takes what is great about the FX 1 and makes it better. The added disc brakes, better drivetrain, and higher quality materials make it a perfect bike for the beginner or an upgrade for the advanced commuter. 
The FX 2 has a lifetime warranty while offering the best components for its price point.
FX 3
Out of the three FX models that we are covering here the FX 3 is the most expensive at $850 but also has the highest quality features. 
Built on the same Alpha Gold aluminum frame that all the FX models share, it is lightweight and strong. Where the FX 3 differs is that it has a super-strong but flexible carbon fork. Carbon is well known for improving ride quality by being more "compliant" than both steel and aluminum.
The FX 3 is also equipped with a higher quality Shimano hydraulic disc brake for even more stopping power than the FX 2. On top of that, the 9 speed Shimano Alivio derailleur coupled with an 11-36 cassette makes the most difficult of commutes as easy as pie. 
Even though you have fewer gears, you have a pretty wider range of gear ratios, meaning that the lowest gear makes the uphill climb as easy as on the Fx 1 and highest gear the downhill rides almost as fast as on the FX 2.
In the lowest gear combo, the FX 3 only gets about 22 gear inches and in the highest gear combo the FX 3 gets 113 gear inches. 
The FX 3 is the lightest of those discussed today at 25 pounds but still supporting a combined load of up to 300 pounds. 
It can also install racks, fenders, accessories (DuoTrap and Blendr), and all that for under 1000 bucks! 
The FX 3 comes with a Bontrager Tubeless Ready Disc, 32-hole, Presta valve rim. These rims are lightweight and strong contributions to the overall speed increase of the FX 3. They are tubeless-ready for those looking to ditch the tubes on their commute. These are the perfect wheelset for an experienced cyclist looking to get top-notch accessories.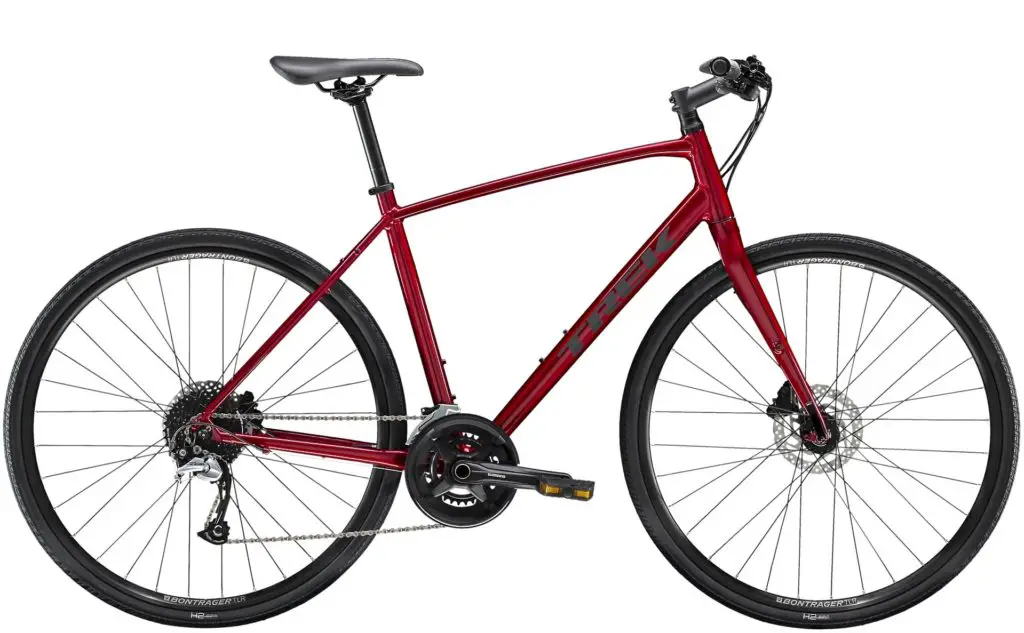 Who is FX 3 for?
While the FX 1 or FX 2 are great bikes in their own right the FX 3 takes it to the next level. With the best in class materials and components, it is an absolute steal at $850. 
Covered by the same lifetime warranty this is the perfect commuter for the beginner, the advanced, and the hardened veteran alike. The FX 3 is sure to please commuters of any level and tackle commutes of any length.
About the features more in detail
If you are not sure what some of the details mean in practice and you're wondering how they affect your ride, don't worry. We're going to explain it in simple practical terms. All the FX models from the FX 1 to the FX 3 are excellent riders and can handle simple commutes to the most rigorous. 
The general rule of thumb when it comes to an FX is the more you spend the higher the quality of the components and the ride. 
The key features to look out for that affect ride quality the most are the fork material, the drivetrain, the braking system, and the tire size.
FX 1
Steel Fork – is flexible and durable but heavy slowing you down just a bit.
7-Speed Shimano Altus Drivetrain – has a total of 21 gears making it easy to find the perfect one for the terrain.
Tektro Alloy Linear-Pull Rim Brakes – simple and reliable albeit not the best for all weather conditions. Rim brakes work best in dry conditions whereas rain, snow, and even fog can reduce their stopping power significantly.  (Disc available on certain models for $100 price increase.)
700X35c – are fast-rolling with a larger volume tire to smooth out the bumps.
FX 2
Aluminum Fork – lighter weight than steel and a bit stiffer meaning you can go faster.
8-Speed Shimano Acera Drivetrain – has a total of 24 gears with a wider range making it even easier to pick the perfect gear for both the uphill and downhill battles.
Tektro Hydraulic Disc Brakes – disc brakes are perfect for all weather and road conditions making them easy to stop with less handgrip strength.
700X35c – equipped with higher quality Bontrager H2 tires that offer low rolling resistance with better flat protection.
FX 3
Carbon Fork – lighter and stronger than both steel and aluminum, carbon is the go-to for veteran road riders. Carbon also helps to soften the bumps making the ride that much nicer.
9-Speed Shimano Alivio Drivetrain – while the FX 3 only has a total of 18 gears it makes up for it with a more robust drivetrain using the Shimano Alivio derailleur. This is a very smooth and reliable shifting system.
Shimano Hydraulic Disc Brakes – disc brakes are considered the best brakes in the bike industry with Shimano making some of the most loved ones. Hydraulics make it easy to stop and are confidence-inspiring in all weather and road conditions.
700X32c – slightly slimmer than the other models but do not fret. They offer the lowest rolling resistance while also providing the best flat protection with Bontrager H2 Hard-Case Lite tires.
Conclusion
If you are looking for a perfect commuter then you cannot go wrong with one from the FX series of bicycles brought to you by Trek. The truth is no matter which FX you decide to go with you will have one of the most loved commuters in your stable.
Happy Pedaling!