Cycling is often thought of as being suited for sunny afternoons. But what if I want to ride throughout the year in all types of weather, what do I need to know to prepare for this? Winter is the toughest season to cycle in as you need to prepare for the cold, perhaps snow and ice, plus salt on the roads, and it is generally darker and wetter.
Don't be put off though, cycling in the winter is common, enjoyable, and can be extremely comfortable, such as this example in Finland. Of course, it is worth preparing in advance, as the saying goes "there is no such thing as bad weather, only unsuitable clothing".
Winter cycling clothing
How do I keep warm and dry – but not get too sweaty?
The first aspect to consider is to keep your extremities warm as a necessity – you don't want your fingers or toes or ears getting frozen! Next keep direct wind from hitting your body and head, which can normally be done with the waterproof layer too meaning we can get two birds with one stone there. 
Of course, you need warm clothing, but not too warm. Remember, you will be cycling so your body will generate heat, and if you start to sweat too much, the sweat will evaporate and make you colder or it will even freeze, both of which are not great. Of course, breathable fabrics also help the sweat evaporate more quickly too.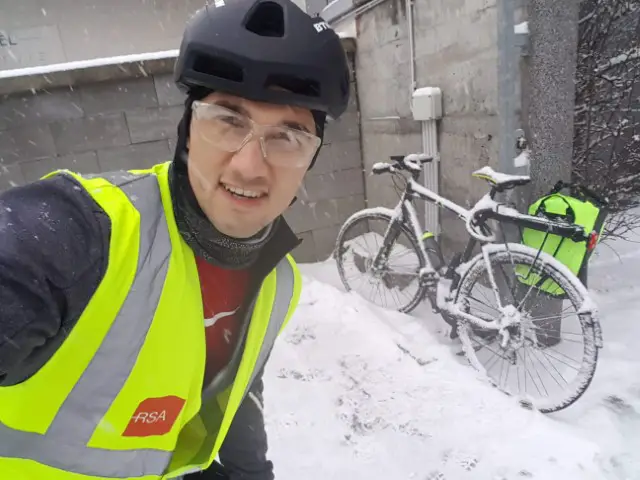 Guidelines for winter cycling clothing
Generally, these clothing items can be found widely in bike stores, department stores, outdoor stores or online. Of course, have a look around as different places have products with different pros and cons.
Also check the reflective features on the clothing. As you'll be cycling in dark conditions, the more visible you are, the safer you are.
Gloves
Waterproof and insulated cycling gloves – they often have a temperature rating, so try to find a pair of gloves that best suit your local conditions. Also make sure they feel comfortable and that you can actuate all your control levers properly and there are good rubber traction dots.
For gloves especially, it can pay to visit a store and try some different types on as there are many glove options and many different hand types.
Shoes
Wet conditions – It is very difficult to keep your feet dry in wet conditions, and you have two main options, which are;
Use hiking boots – they are generally waterproof, are warm, durable and have good traction
If you use clip-less pedals and shoes, or don't want to wear hiking boots, then you can use shoe covers. I personally have never found a good option for shoe covers, as eventually they seem to leak and then your foot is just in a pool of water…
Snow and Ice – Here hiking boots are the preferred solution as they simply keep your feet warmer, although some people prefer clip-less pedals and will simply use them anyway. that's fine, you have a pair of socks and a shoe, so normally that is enough.
Also, a great tip is to add removable ice cleats to your shoes if they don't have them already. When riding on ice with ice tires you may forget that it is so slippery, and then when you put your foot down, whooshhhh, and you fall on head… ice cleats can help stop this.
Jacket
Ise a waterproof "shell" jacket with hood. A thin, waterproof and breathable jacket is ideal. Make sure it fits well with your gloves and that it is not too bulky, especially if you carry a bag over your shoulders too. If you are concerned about being cold, wear an under layer such as a sweater or extra t-shirt that can be removed if you do get too warm or sweaty.
Bags
An important point is to have a waterproof bag or pannier with a folding closure like the Ortlieb panniers, which are pretty much the gold standard when it comes to waterproof panniers and can be picked up on Amazon. Of course, you have less pockets due to the single outer plastic design, but don't risk your laptop, books or phone in the wet – that would be costly.
I personally use a kite-surfing fold-over backpack that is submergible resistant, and then have an additional padded bag for my laptop that I put inside, where I can store and sort all my cables and papers separate from the other things in my bag.
If you want to take a change of clothes, and especially dress clothing, a great option is a product such as the Henty Wingman backpack. It has a water-resistant suit bag that wraps around a cylindrical bag for loose items and has a laptop section too. (There is a full review of the Henty Wingman on Bike Commuter Hero here).
If your bike has a rack that allows a pannier, or saddlebag, then this is a great option as it reduces the load on your shoulders and reduces the sweat on your back. There are fully waterproof options that match the benefits of a backpacks.
Trousers
Waterproof over-trousers: A must have for winter cycling. The parts of your body that get the wettest seem to be your thighs and lower legs. The thighs get wet as they are facing the rain directly and the lower legs as they also get spray from the front wheel.
Check the fit of the waterproof over-trousers over the top of your regular cycling trousers, and make sure they are long enough. In my case I have long legs, so I have to roll my jeans up so that they are not exposed and socking up water!
Here's an article on the best waterproof cycling pants you can get.
Beanie
Whether you wear a helmet or not (I strongly suggest you do!), a beanie helps keep your head and ears warm, and with a hood on your jacket you can stay dry too! I prefer a "skull cap" style which is thinner to better fit in my helmet and also so it won't soak up as much water. If it's really cold another option is to wear a balaclava to cover also your face so you nose and cheeks don't freeze.
Scarf
There are various scarfs available that are light yet stop wind and allow you to adjust them in different positions. For instance, if you are descending a hill the fast, cold wind may be tough on your nose, lungs and neck so covering your face with a scarf is a good option.
Glasses
A good idea to protect your eyes from the weather, dirt, snow, bugs, etc. In the winter a clear pair is all you need. I even wear decent looking safety glasses as they are cheaper than most cycling glasses!
Bicycle preparation
How do I best prepare my bike for winter cycling?
In fact, you don't necessarily need to do anything special with you bike before winter cycling, but there are several things that will make the ride easier – unless you ride on ice. If you ride on ice, winter tires are recommended.
Tires
Studded tires are now fairly common and they give traction in ice and snow, while also allowing you to still cycle on the road (although they will wear out more quickly than regular tires on dry road!). Also, some brands now offer winter tires similar to car tires that grip the snow. Any type of winter tire can help, though I personally just use normal road bike tires or mountain bike tires and be a bit more careful with stopping distances.
If you want to read more about studded tires, here's another article you can read on Bike Commuter Hero.
Fat tires also offer great traction, though they are heavier and have more drag so you will be slower. The bike will need to be made to fit these tires on, you cannot retro-fit them to a normal bike. In addition, fat tires smooth bumps out as they are thicker so give a more comfortable ride.
Fenders
Also known as mudguards are a great idea. They keep you drier and stop less dirt and debris from getting onto your bike and into the various mechanisms, which means less maintenance is required. Even if you have a road bike, there are options to attach full sized mudguards.
Lights
It is important to consider what type of light you need – visibility lights or lights for vision of the road.
Visibility lights are used to make others aware of you and are always recommended in low light conditions, and are actually legally required in most places.
There are a few options, and using a flashing mode helps make you more visible:
Removeable front and rear lights – these are light, though require battery changing / charging and must be taken off when you park in a shared space as they tend to get stolen as they are easily removed.
Mounted front and rear lights – these are great as you can use them either from your battery on an eBike or from a hub dynamo, so you don't have to think about any extra batteries than normal. And they are harder to steal.
Helmets with integrated lights (OK this falls under clothing, but it replaces a bike part!) are my preferred option. The visibility is much better as your head is high, and many models have full 360 light visibility. the battery does need charging, but you just bring your helmet inside and plug it into a usb cable.
Vision lights are more serious, and will need a large battery and to be mounted in a way that ensures you can see the road. One good option is to mount a smaller light on your helmet so you always have light where you are looking, then put a larger and more powerful light on the handlebars so for most of the time you have the road in front of you illuminated.
CATEYE - AMPP1100
This USB Rechargeable Bike Headlight is super powerful and it will illumuniate the path in front of you so you can ride with confidence on the darkest roads.
We earn a commission if you click this link and make a purchase at no additional cost to you.
Brakes
Hydraulic disc or hydraulic rim brakes are the best option. When it is wet or snowy poor brakes work even worse, and this can be dangerous. Also, be careful not to skid the wheels on the snow, as this can cause you to lose control of the bike
How do I maintain my bicycle in winter?
With the extra water, snow and ice your bike will collect large amount of debris and if the road is salted, extra salt which accelerates plastic and metal corrosion. This can collect around your gear system, brakes, and pedal cranks.
Be sure to quickly brush snow and ice from your bike, especially if road salt is used as this will speed up corrosion, and can degrade plastic parts quickly.
If you cycle daily it is worth making weekly brush downs of the main components – gear system, brakes and pedal cranks to prevent build-ups. Use water and a brush to clean away built-up debris too.
BONUS TIPS
Look to use routes that are prepared by snow ploughs as surprise ice patches in the morning will definitely get your heart rate up! Some locations offer apps that show this factor and many other, check them out.
Be visible to cars for your own safety! Ride where you can be seen, and use lights and reflective add-ons.
Use a weather app that has a live rain radar. This way you might be able to plan to ride before that torrential rain/hail/snow storm arrives and it will save you some trouble!
Happy pedaling!