If you commute to work by bike, running or even by public transport, carrying a suit or an ironed shirt as well as everything else you need (laptop, documents, shower kit) can be a challenge. For many people this hurdle alone is a good enough reason to rule out alternative ways of commuting. I have been there and I have failed a few times before too, but I didn't give up and decided to get to the bottom of this issue.
Several companies have come up with a solution to this problem. One such company is Henty from Australia.
They offer several messenger bags and backpacks that active commuters can use to carry their clothes and belongings. I reached out to Jeremy, who sent me a Wingman Backpack for reviewing.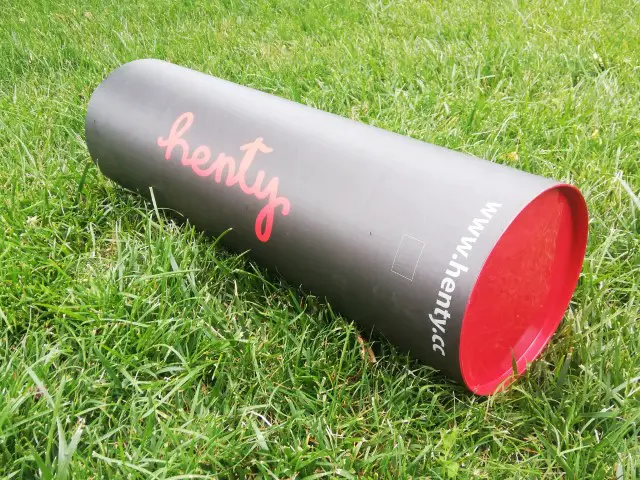 After having spent a few weeks with the backpack and thinking about its pros and cons, here's my detailed review.
If you decide to purchase the Henty Wingman, I'd appreciate if you used my affiliate link. It comes at no extra cost to you, and it enables me to create more content just like this to help people get into bike commuting. You can find the backpack on the Henty Website.
Who is the Wingman Backpack for?
For a long time I tried to find the perfect product that does everything for everyone. After having searched for weeks and months, I came to realize that such a product doesn't exist. Different products solve different problems for different people in unique ways.
The Henty Wingman Backpack is for those who want to commute by bike or running and are looking for a convenient way of carrying their clothes keeping them crease-free. It allows for transporting your suit, shirt, shoes, change of clothes, toiletries and your laptop on your back. It's best suited for those whose office dress code is shirt and tie.
Design and Quality 
The Henty Wingman is an attention-grabber because of its special design. It doesn't quite look like a backpack, but rather like some other musical instrument because of its cylindrical shape. It's sporty and casual at the same time, depending on how you're dressed. 
When you pick up the Wingman you feel that they carefully selected high-quality materials. The first contact with the backpack by the well-padded shoulder straps show that they placed a special emphasis on making the Wingman comfortable to wear. 
This backpack has been designed specifically with cycling, running and walking to work in mind, and it's also a great backpack for motorcyclists. It has some features that make it super commuter friendly:
reflective parts to draw attention at night when light hits them, 
loops to mount lights
comfortable shoulder straps 
sternum and a waist strap to maximize comfort when moving.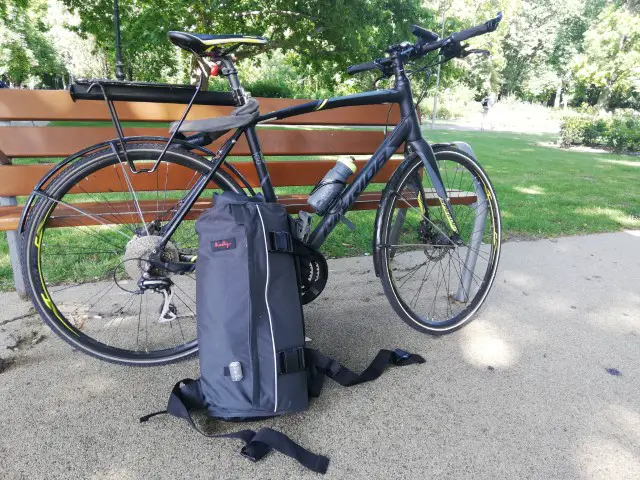 The contact area with your back is sufficiently firm, but well-padded. It doesn't offer too much ventilation, so you can expect to sweat when wearing it, but the mesh dries quickly once you take it off.
The Henty logo on the bag is tasteful and distinct, and it shows that the designers take pride in their work.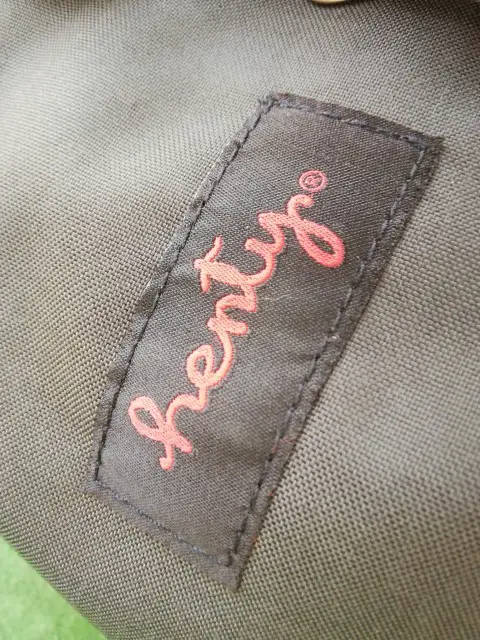 The unique approach of the Wingman is how it packs. When fully opened, it's just like any garment bag capable of holding a suit. When converted into a backpack, it wraps around the drybag, which holds your shoes, towels and other whatnots in a large pouch. After placing your suit in the garment bag, you roll it around the drybag like a burrito.
Another welcome feature of the Wingman is the fact that it's weatherproof without the need of an added cover. The rubber zips, weatherproof seams, and roll-top dry bag are capable of keeping the water out in moderate rain. Several backpacks and garment bags in the commuter range (even some other products made by Henty) require a cover for protection even against moderate water.
Organization
There are four main compartments for keeping your stuff: the garment bag, the laptop pocket, an extra pocket at the front, and the drybag.
The garment bag is large enough to hold a full suit and two shirts. There are a few plastic ribs inside the bag in order to minimize creasing when rolled. They do manage to keep the clothes crease-free during the commute, but for best results, you should keep them hanging before leaving and hang them after you arrive.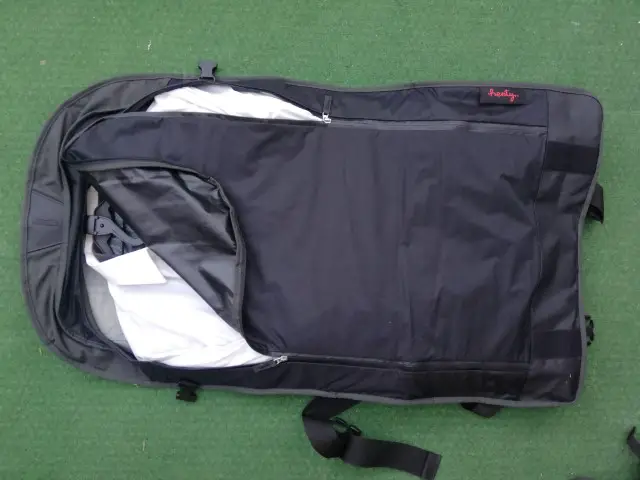 The laptop compartment is big enough for a 15" portable computer, and it's softly padded so you don't need to worry about scratching it. It's kept safe since it's in contact with your back. It doesn't rattle or move even if you run or ride on rough roads with your bag. It's quite difficult to get the computer in and out when the backpack is fully loaded and rolled up. If your laptop is large, you may need to insert it before you roll your clothes.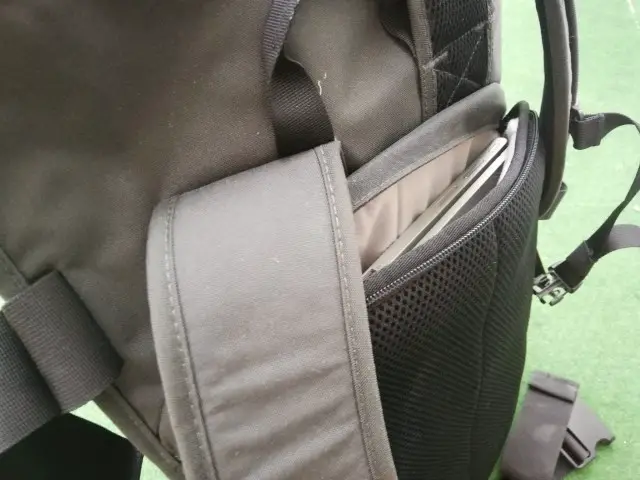 There's a zipper that runs across the bag front of the bag which lets you access the front pocket. It's pretty large and can hold documents or folders. Keep it in mind that loose papers will be bent and probably creased though. You will find a handy organizer pouch in this pocket for pens and other smaller items.
The drybag is a large single pocket bag, which keeps everything you place in it perfectly dry even in pouring rain. This part is not only weatherproof, but waterproof. It is a roll-top design, so you can access its contents without having to unroll the garment bag. Just open the buckle and reach in for whatever you need. Since it doesn't have further pockets inside to organize your stuff, and it's quite deep, you may struggle to find what you're searching for without removing other things as well.
The dry bag is also supposed to work as a standalone messenger style bag when you don't want to carry the entire backpack, but I wasn't able to figure out how to rearrange the straps to transform it. I don't consider this as a deal-breaker for a commuter since I would not think of using the drybag as a replacement of my backpack.
Comfort and practicality
I was very impressed by how comfortable the Wingman wears on the bicycle. Despite its size and what it's capable of, it's been designed to allow for freedom of movement when on the bike or when running. 
The only discomfort I experienced was when riding home in the afternoon with over 100°F (38°C). I guess you're bound to sweat no matter what backpack you ride with in such heat. Heck, you'll sweat even without a backpack. 
As a pro tip, I tried out the Mundo Air Pannier, which allows me to mount a host of things on my bike rack, and I got the benefits of both a garment bag and a pannier. It's an extra expense, sure, but it's a clever idea and well worth the investment (or you can make one yourself). 
As regards practicality, the Wingman is a garment bag, so you need to get it with the right expectations. Don't buy it as a backpack that you may use to carry your suit in every now and then. It's not a backpack for daily carry, but a product that solves a very specific problem, and for that it's perfect.
It's very practical because it allows you to be an active commuter whether you want to run or cycle to work, even if you have a formal dress code at your workplace. You can take it with you to the shower, and come out looking like you've just arrived from the tailor or from the dry cleaner.
How well does it keep your suit crease free?
Since the entire bag doubles as a garment bag, which has a built-in hanger you can prepare your clothes the night before your commute or departure, and leave them hanging. You can also hang your clothes as soon as you arrive at your destination. These features make sure that your suit spends as little time rolled as possible.
My shirts and my jacket are completely crease free after spending an hour in the Wingman, but to test just how long it would take before they got wrinkles, I left them in for two days. In my experience, this was just too much for the clothes to handle, so it's always recommended to keep them unrolled whenever possible.
Pros
An innovative way of combining a backpack and a garment bag
Separate laptop compartment
Details with the runner and cyclist in mind
Comfortable wear
Keeps suit and shirts crease-free
Can be used as a hanging garment bag when unrolled and while getting changed
It's very eye-catching
Cons
Pockets can be hard to access when fully loaded and rolled
Lack of organization pockets in the dry bag
Verdict
The clever design and the high-quality materials make the Henty Wingman a worthy consideration for any active commuter who wants to look professional at the workplace. 
Get the Wingman at the Henty Website.
Well done Henty!