If you're looking for a good bike to get started riding gravel, you may be wondering where to begin. An entry-level gravel bike will give you solid components, easy handling, and a great way to test the waters of gravel cycling before committing to an expensive or high-end bike.  
In this article, we'll compare the Poseidon Redwood, the Salsa Journeyman, and the State All Road. These three gravel bikes will give you the opportunity to test the trails without busting the budget. 
Here's the comparison in a nutshell (more on it towards the end).
If you are a mountain biker at heart and want to expand into the gravel scene, you may like the Poseidon Redwood best. If you're a road biker at heart and want to hit some gravel trails or you want a lot of mounts on the frame, consider Salsa Journeyman with its 2x setup. If you want a great all-around bike that can take you from your daily commute to work to your outdoor trail adventures, then you'll want to give the State All-Road a closer look.
How to Compare the Bikes 
We've listed information on the frame material, gearing, brakes, tires, and drivetrain for each bike. We'll also give you a rough idea about who might enjoy each bike. But, of course, every person and every bike is unique, and it's always best to give a bike a good test ride before you purchase it. 
Bike Comparison Chart
| | | | |
| --- | --- | --- | --- |
|   | Poseidon Redwood | Salsa Journeyman | State All-Road  |
| Frame  | Aluminum | Aluminum  | Steel |
| Speeds | 1 x 10 (Microshift Advent) | 2 x 9 (Shimano Sora) | 1 x 11 |
| Brakes  | Mechanical Disc | Mechanical Disc | Mechanical Disc |
| Tires | Up to 2.8 inches | 37mm | 38mm |
| Drivetrain | 38t Chainring and 11-48t cassette | 46-30t chainring11-34t cassette | 42t chainring11-42t cassette |
| Weight | 29 pounds | 27 pounds | 25 pounds14 ounces |
| Price | $949.99 | $1199 | $899.99 |
Let's get into the nitty-gritty to see how these three bikes compare against each other. 
Drop Bars
Most gravel bikes have drop bars instead of flat bars. These give you lots of different hand positions for long days in the saddle and more control when descending. 
All three bikes are available with drop bars. However, the State All-Road and the Poseidon Redwood are also available with flat bars, if that's what you prefer. Flat bars give you more leverage on difficult terrain. However, drop bars give you a lot more hand positions for comfort and control.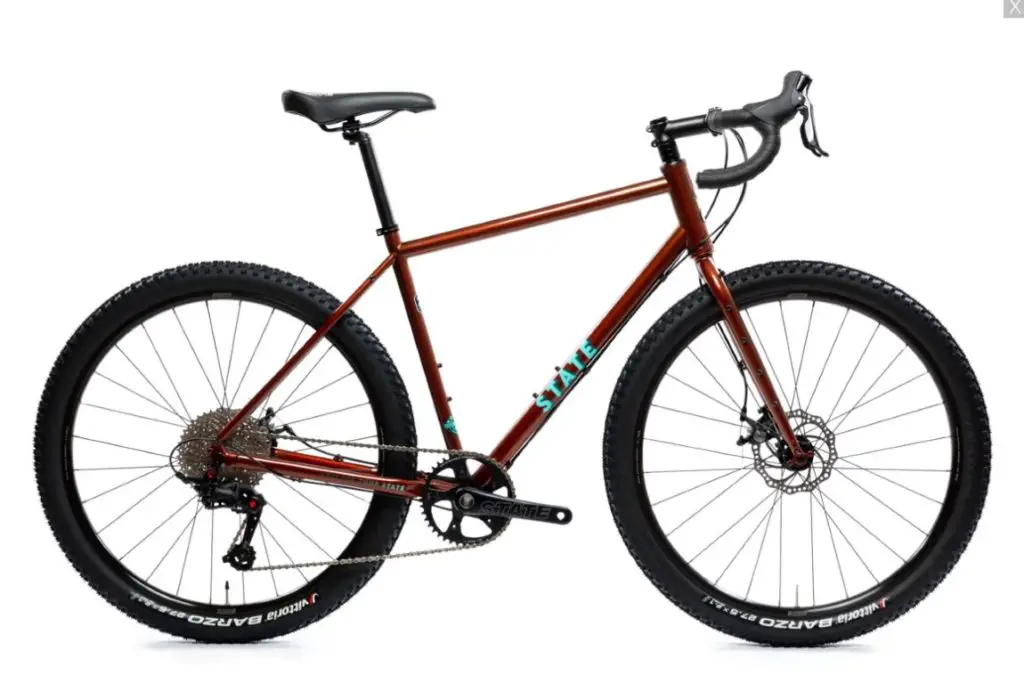 Geometry
Gravel bike geometry (unless it's a race bike) is typically a little more upright, longer, and more stable to help you comfortably ride through rough terrain. This type of geometry is great for long bumpy rides and confidence when the road gets rough. 
The State All-Road geometry is just a bit more upright, while the Journeyman has a little bit more angle in the front fork. So the All Road will be able to turn sharper, but the Journeyman would be more stable on rougher roads. The Poseidon Redwood falls somewhere in the middle. 
Frame Material
Gravel bikes can be made of aluminum, carbon, or steel. A steel bike will absorb some of the bumps in the road, will give you lots of tensile strength to hold your gear, and is reasonably priced. Steel is generally the heaviest of the three frame types. However, this won't be much of an issue if you aren't doing a lot of hill climbing (or if you have plenty of gears to climb with). 
On the other hand, carbon is much lighter than aluminum and steel, but it is significantly more expensive. None of these bikes are made of carbon, which helps keep the price low. 
Aluminum is a popular choice because it is both strong and inexpensive. The drawbacks to aluminum are that it gives a harsher ride feeling. Both the Poseidon Redwood and the Salsa Journeyman are made with aluminum. However, you can choose a carbon fork for the Salsa, which will increase the price and your ride comfort. 
Lastly, the State All Road is made of steel. Surprisingly, in this case, the steel frame is not significantly heavier than the other frames, but it is less expensive, making it a good choice for the budget-conscious and those looking for a smooth ride experience.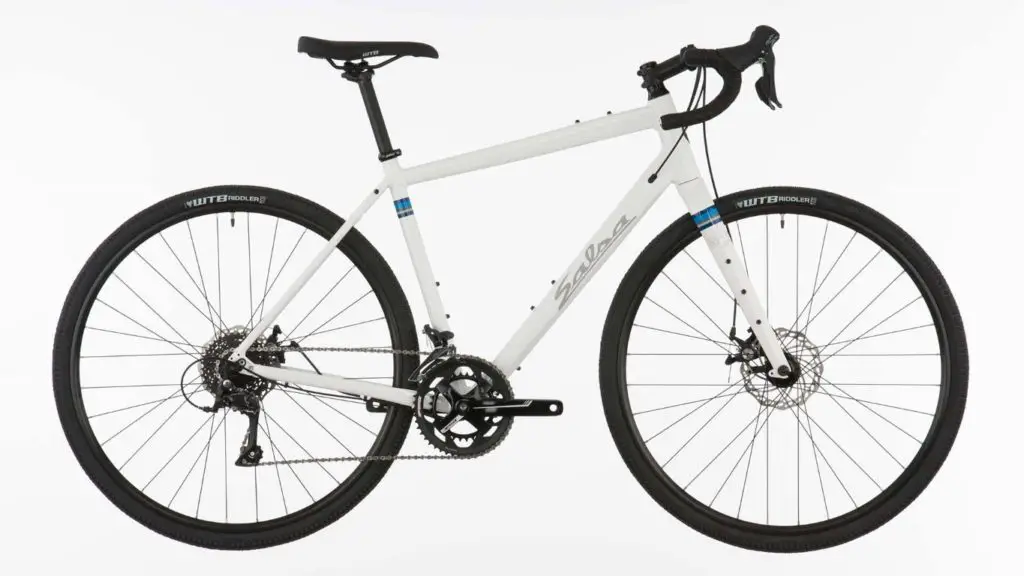 Gearing
Gearing on gravel bikes comes with a wide range of options, depending on the type of riding you'll be doing. 
Many gravel bikes will come with a 1x setup, which means you only have one chainring. You'll likely have a wide range of gears in the cassette to go uphill easily. However, this will affect your cadence. If you're coming from a mountain bike background, this won't bother you as much as if you were coming from a roadie background. 
On the other hand, many gravel bikes come with 2x drivetrains. This will give you a lot more options for being able to ride uphill, downhill, and speed along the flats. The downside of a 2x is that it is heavier and more likely to get jammed up with road debris than a 1x drivetrain. 
The Poseidon Redwood is a 10-speed bike with a Prowheel 38t chainring and 11-48t cassette. This means your easiest gear will have a gear ratio of .79, which is a pretty good gear for getting up hills easily. On the other hand, the hardest gear has a ratio of 3.45, which is reasonably fast on flats, but probably not as fast as road bikes. 
The Salsa Journeyman Sora is a 9-speed bike and comes with a Sunrace cassette. It has a 46/30t chainring and an 11-34t cassette. This brings the range of gear ratios from .88, which is nice for climbing, and 4.1, which is even better for flats. So even though the Journeyman is only a nine-speed, it has a wider range of gears. 
If you look at the State All-Road, it has a 42t chainring and an 11-42t cassette. The easy gear here is only a ratio of 1, which isn't great if you'll be hitting lots of hills, but the 3.8 is relatively fast on the flats, although not the fastest. State Bicycle makes its own cranks and cassettes.
The Poseidon is probably the best choice for lots of hills, and the Journeyman is perhaps the fastest on the flats. However, the State All Road is nice if speed and hills aren't your mission.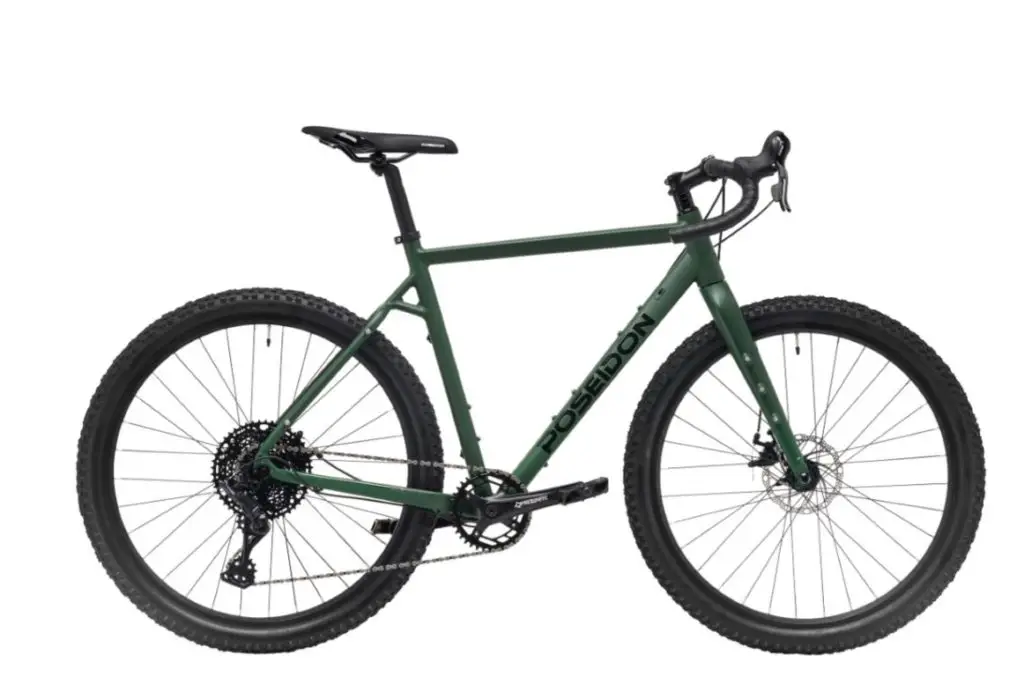 Wheels 
There is a lot of variety when it comes to wheel choices for gravel riding, although many people choose something around 38 to 40mm. If you are going on really rough terrain, you may want to look into 650bs or even mountain bike tires. You want knobby tread to give you a good grip on the road and rocks. 
Tubeless tires are a great choice for gravel bikes since you can run lower tire pressure, making the ride more comfortable and offering more puncture protection. 
The Poseidon comes with Kenda Kadre 27.5 x 2.35 Clincher tires and tubeless compatible 27.5" wheels. The Salsa Journeyman comes standard with 700 by 37mm tires. But the State All-Road gives you a choice of 700 x 38 Tubeless-ready tires for road riding or 650b by 53mm tires for graveling. Better yet, choose both and have great tires for both the road and gravel. 
The rougher the terrain, the wider tire you should choose. The Poseidon's tires are definitely set up for extra rough gravel, as are the State's 650bs. On the other hand, the Journeyman gives you tires that will work well for easy gravel roads.  
Brakes  
Every gravel bike needs good brakes. All three of these bikes come standard with mechanical disk brakes. These give you good stopping power under wet and muddy conditions. They may not be as powerful as hydraulic disc brakes in all conditions, but they are pretty inexpensive to service and spare parts are readily available.
Final Thoughts: Which Gravel Bike Should You Choose? 
These bikes are all in the same relative price range, so if you're buying a bike based on budget, any of these bikes will give you a safe, fun ride to try your hand or legs at a little bit of gravel. 
If you are a mountain biker at heart and want to expand into the gravel scene, you may like the Poseidon Redwood best. It has gearing you're familiar with and is designed to manage some pretty gnarly terrain (without the stump-jumping, of course.) 
On the other hand, if you're a road biker at heart and want to hit some gravel trails, you might want to lean towards the Salsa Journeyman with its 2x setup. It'll give you more control of your cadence while still getting you over the hills. 
If you're looking to get some bikepacking experience, the Salsa is also a great choice because it has plenty of room for all of your mounts. 
If you want a great all-around bike that can take you from your daily commute to work to your outdoor trail adventures, then you'll want to give the State All Road a closer look. This do-it-all bike is great on any terrain, and for a little extra cash, you can add on a reasonably priced set of road tires to give your gravel bike even more versatility.