In this post we're going to put two popular fitness bikes head-to-head. The Giand Escape 1 Disc vs the Trek FX 3 Disc. Which one is better and which one deserves to be your next bicycle?
Both of these bikes deserve some attention as they are both made by reputable manufacurers and appeal to the same crowd.
Both the Giant Escape 1 Disc and the Trek FX 3 Disc have more in common than there are differences. The Giant is going to give you a slightly comfier ride with its 38mm wide tires, while the Trek offers a tiny bit more upright riding position and slightly better components, albeit at a higher price. If you want to save some money, the Giant will serve you perfectly, but if you'd like to get higher specked components, the Trek is a better choice.
As of writing this comparison the Giant Escape 1 Disc comes in at $830, while the Trek FX x Disc will cost you $899.99 to own. The 70 dollar difference is not a huge amount, but if your budget is no more than 900 dollars for your cycling setup, the savings on the Giant can be put toward fenders, a helmet a and lights.
Let's take a quick glance at what you get for your money.
| | | |
| --- | --- | --- |
| | Giant Escape 1 Disc | Trek FX3 Disc |
| Frame | Aluminum with internal cable routing, rack and fender mounts | Aluminum with internal cable routing, rack and fender mounts |
| Fork | Carbon | Carbon |
| Crank | Shimano MT210, 46/30 | Shimano MT210, 46/30 |
| Chain | KMC X9 | KMC X9 |
| Shifters | Shimano Altus | Shimano Acera |
| Front derailleur | Shimano Acera | Shimano Acera |
| Rear derailleur | Shimano Alivio | Shimano Alivio |
| Rear cogs | Shimano, 11-36, 9 speed | Shimano, 11-36, 9 speed |
| Rims | Giant GX Disc, Double wall w/eyelet, 32h | Bontrager Tubeless Ready Disc, 32-hole, presta valve |
| Spokes | Stainless Steel 14g | Stainless steel 14g |
| Tire Size | 38 | 32 |
| Tires | Giant Crosscut Metro, Easy Ride Tubeless 700 x 38 | Bontrager H2 Comp, wire bead, 30tpi |
| Wheel size | 700c | 700c |
| Brake levers | Tektro HD-R280 | Shimano |
| Brakes | Tektro HD-R280 hydraulic | Shimano MT201 hydraulic, 160mm rotors |
| Handlebar | 6061 Alloy Double-butted, 25mm rise, 8 degree sweep, 6 degree rise, 640mm | Bontrager Satellite Plus IsoZone, alloy, 31.8mm, 15mm rise, 600mm or 660mm width |
| Saddle | Giant Sport Comfort | Bontrager H1 |
| Seatpost | Giant D-Fuse Alloy | Bontrager alloy, 27.2mm x 330mm |
| Stem | Giant Sport, 15-degree, 32.8mm | Bontrager Elite, 31.8mm, Blendr compatible, 7 degree 90mm/100mm/110mm |
| Weight | Not specified | 11.74kg / 25.88 lbs |
Of course, there's more to the story than the specs alone, so let's dive deeper.
If you take a look at the materials used for making both the Giant and the Trek, you will notice remarkable similarities. They both have aluminum frames and carbon forks, alloy seatposts, vibration absorbing handlebars, ergonomic grips, just to name the most important ones. The carbon forks are a nice addition and prove to be useful for dampening the buzz coming from the road.
Our Top Pick
Trek FX 3 Disc
FX 3 Disc is a versatile hybrid bike that's primed for performance, comfort, and utility. It has features like a lightweight aluminum frame, a carbon fork, and powerful disc brakes that stop in any weather. It's a commuting pro if you want it to be, or the perfect fitness companion on pavement and rail trails.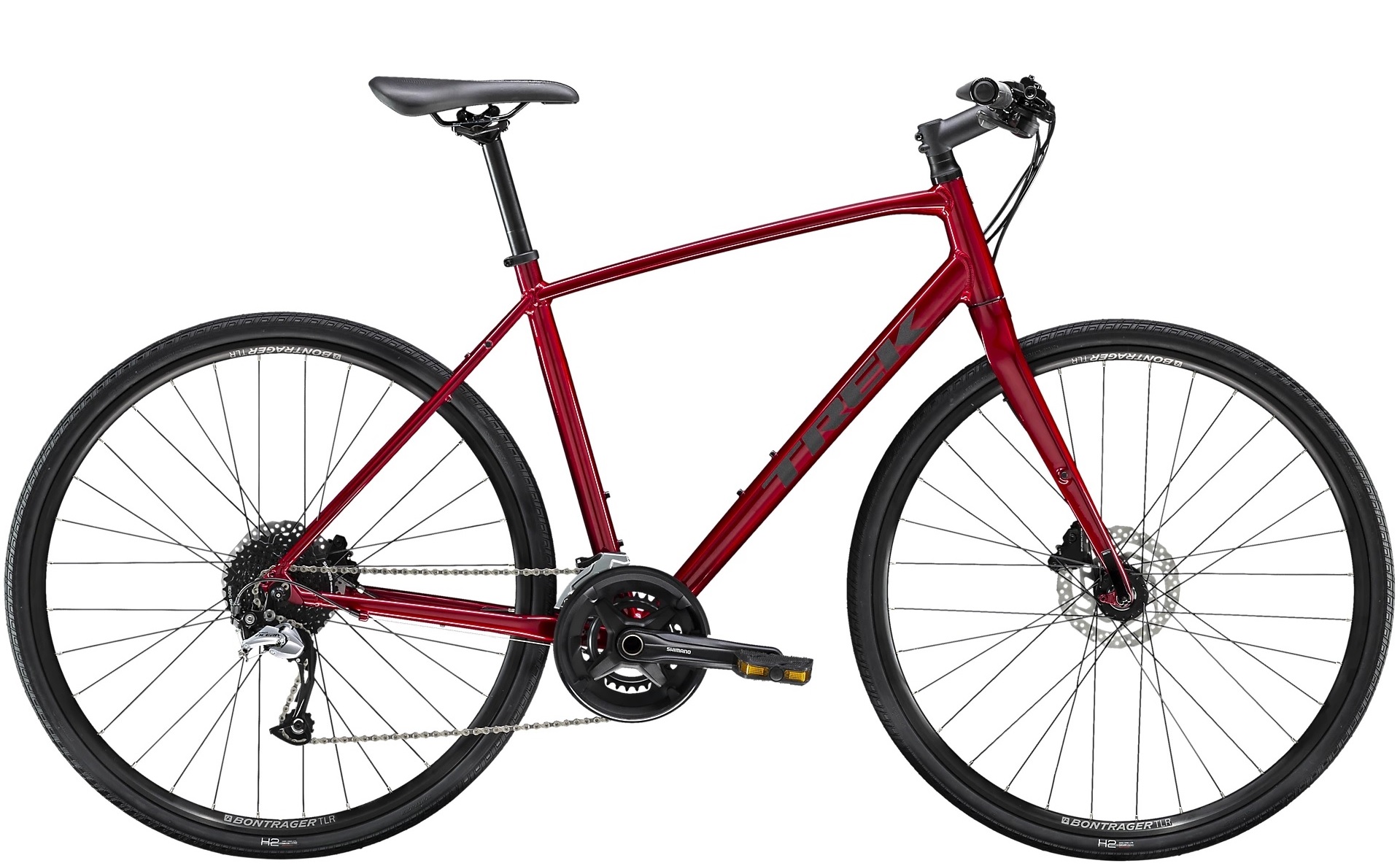 We earn a commission if you click this link and make a purchase at no additional cost to you.
Both the Escape and the FX have internal cable routing, which results in pretty sweet, clean looking lines. Not only that. If you painted both bikes the same color and removed the logo, untrained eyes would find it hard to distinghish one from the other because even their design is so similar.
They both look sporty and radiate dynamism, so either way you choose, you will get a nice looking bicycle.
Many people buy these bicycles for commuting or weekend touring, so the inclusion of mouting points is another important question. Both the Trek and the Giant have eyelets so you can mount fenders and rear racks on them. You can also find two bottle cage holders on both of them and an additional mounting hole on the front fork. Since the fork is made of carbon it isn't intended to carry heavy loads, but it's there if you want to attach something light to it.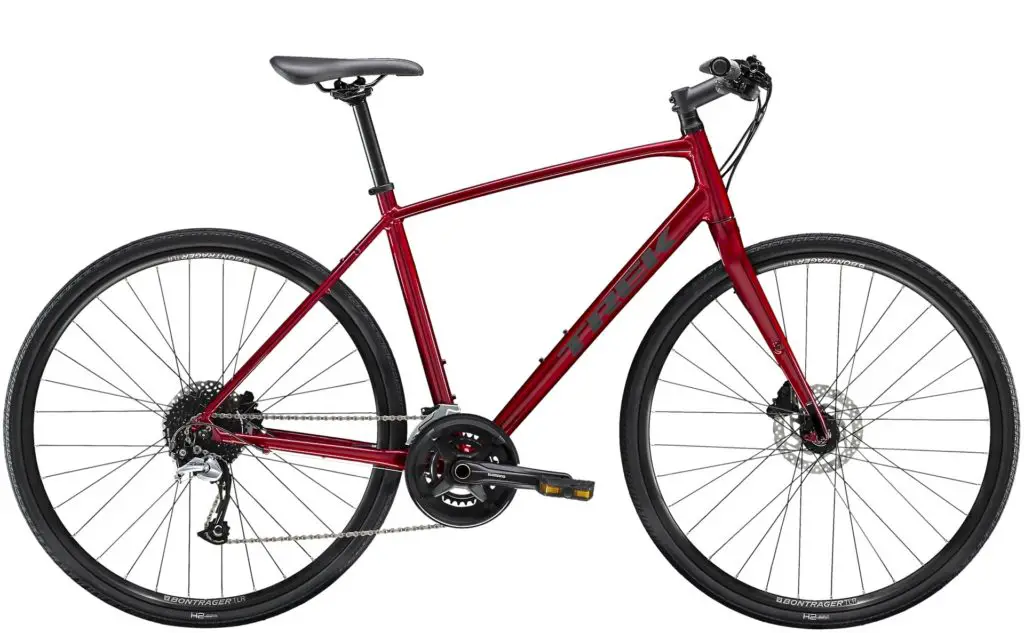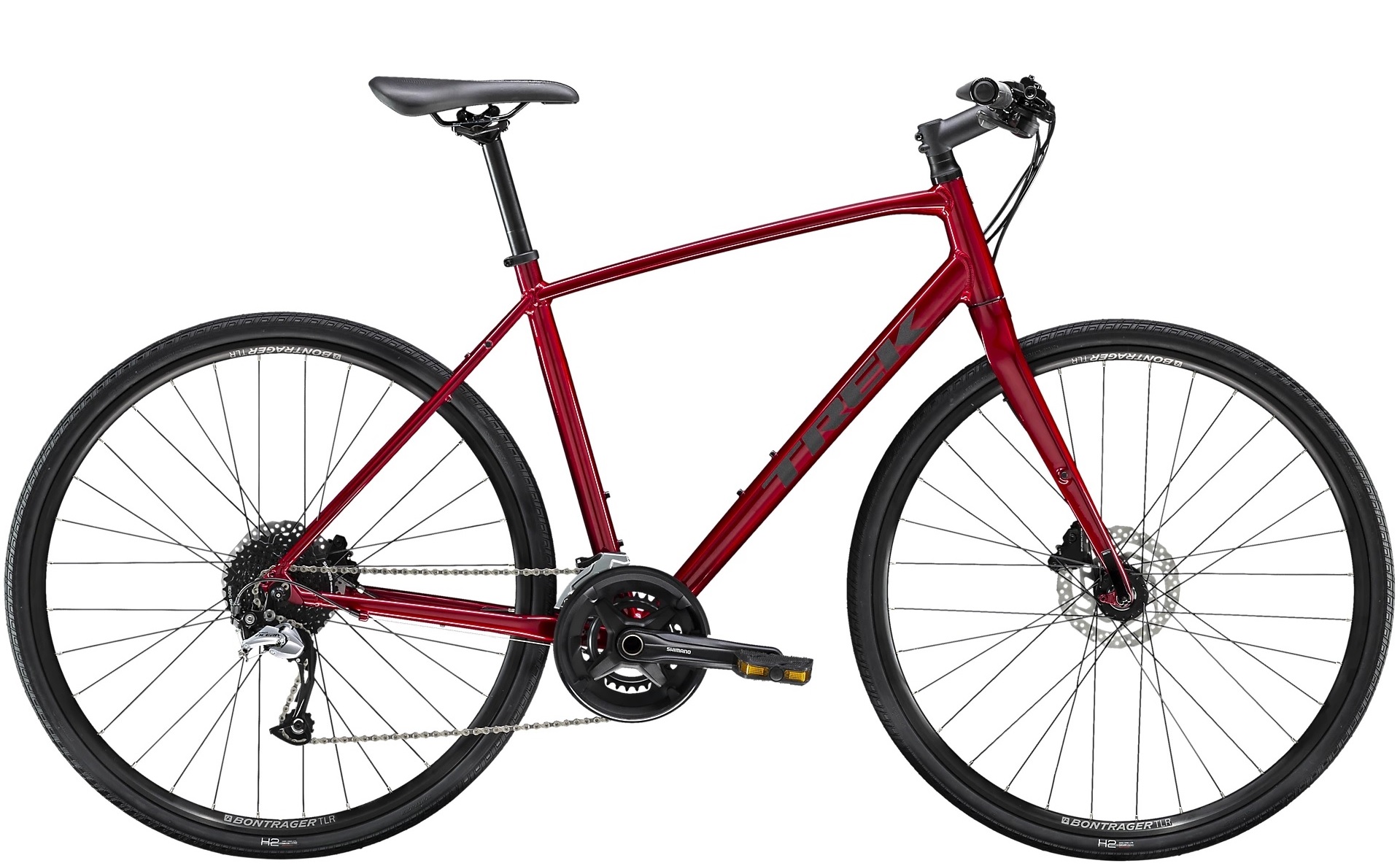 But you could never fully judge a bicycle by its looks and the materials. An equally important piece of the entire puzzle is the type of components used in the drivetrain and in the entire groupset.
When it comes to shifting, the similarities are still present, although with a small difference. Both the Escape 1 Disc and the FX 3 Disc use Shimano shifters and derailleurs. Giant opted for Altus shifters, while Trek included Acera, which is the next one up in the lineup. Both of these shifters are in the entry / enthusiast level MTB category. They are perfectly capable for a commuter or a fitness bike for the most of us, but they are not as heavy duty as their higher-end counterparts, so you should think twice before giving these bikes serious abuse.
Both the Giant and the Trek have Acera 2x front derailleurs with 46/30 teeth, and 9-speed Alivio rear derailleurs with 11-36 teeth. This means that both their lowest and highest gear ratios are identical. It's pretty easy to climb hills with both of them as they have plenty of low gears to tackle the steepest of hills, and you can get up to decently fasts speeds too. The gear range is very much what you would find on gravel bikes, but with the inclusion of a front derailleur.
As their names suggest, both the Escape 1 Disc and the FX 3 Disc have disc barkes, more specifically hydraulic ones. They provide plenty of stopping power both in wet and in dry conditions and can be operated with a single finger. Giant opted for Tektro shifters and brakes, while FX 3 comes with Shimano brakes and levers. I'm confident that the Tektro components work just fine, but Shimano has a reputation of making superb quality products, which gives some extra peace of mind and a potentially longer life-span.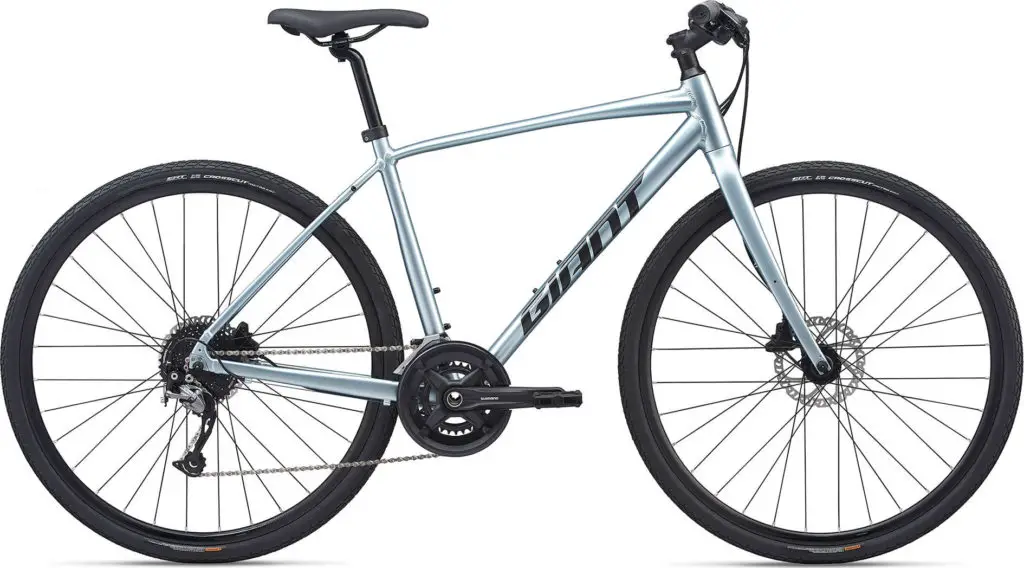 The FX 3's 32 mm tires are already quite cushy and offer good riding comfort, but this is an area where Giant treats the rider to an even superior riding experience with the inclusion of 38 mm wide tires. The extra air volume offers a noticeably smoother ride on uneven roads and reduces the chances of pinch flats even when inflated to a lower PSI. Since these are both fitness bikes without a front suspension and they aren't intended for racing, tire width is what gives more comfort. Giant's additional tire width also adds some bulk and a little extra rolling resistance, but you can still go plenty fast with it.
If you are after some more off-road gravel adventure with your bicycle, Giant has you covered with a tire clearance of up to 45 mm wide tires. That is insanely wide for a fitness bike and it is gravel bike territory. While Trek doesn't specify the maximum clearance, you can still fit 35 mm tires if you want, but it could probably not take 38 mm tires anymore. If you want to use fenders with your bike, you're probably maxed out at 32 mm.
| | | |
| --- | --- | --- |
| | Giant Escape 1 Disc | Trek FX 3 Disc |
| Seat tube | 53.5 cm | 50.8 cm |
| Seat tube angle | 73° | 73.5° |
| Head tube length | 16 cm | 16.0 cm |
| Head angle | 71° | 71.5° |
| Top tube | 59.5 cm | 57.1 cm |
| Bottom bracket height | 28.2 cm | 29.6 cm |
| Bottom bracket drop | 6 cm | 6.5 cm |
| Chainstay length | 44.5 cm | 45 cm |
| Offset | 5 cm | 5 cm |
| Trail | 6.94 cm | 6.8 cm |
| Wheelbase | 109.1 cm | 107 cm |
| Frame reach | 41.6 cm | 39.8 cm |
| Frame stack | 58.5 cm | 58.6 cm |
| Stack to reach ratio | 1.4 | 1.47 |
It's not a surprise that the geometry of both bikes is also very similar, although the Escape is slightly more agressive than the FX 3. With a stack to reach ratio of 1.4, you ride a little bit more stretched out on the Giant. The FX 3 is a tiny bit more upright with its stack to reach ratio of 1.47.
Here is an image showing the Giant Escape 1 Disc on top of the Trek FX 3 Disc.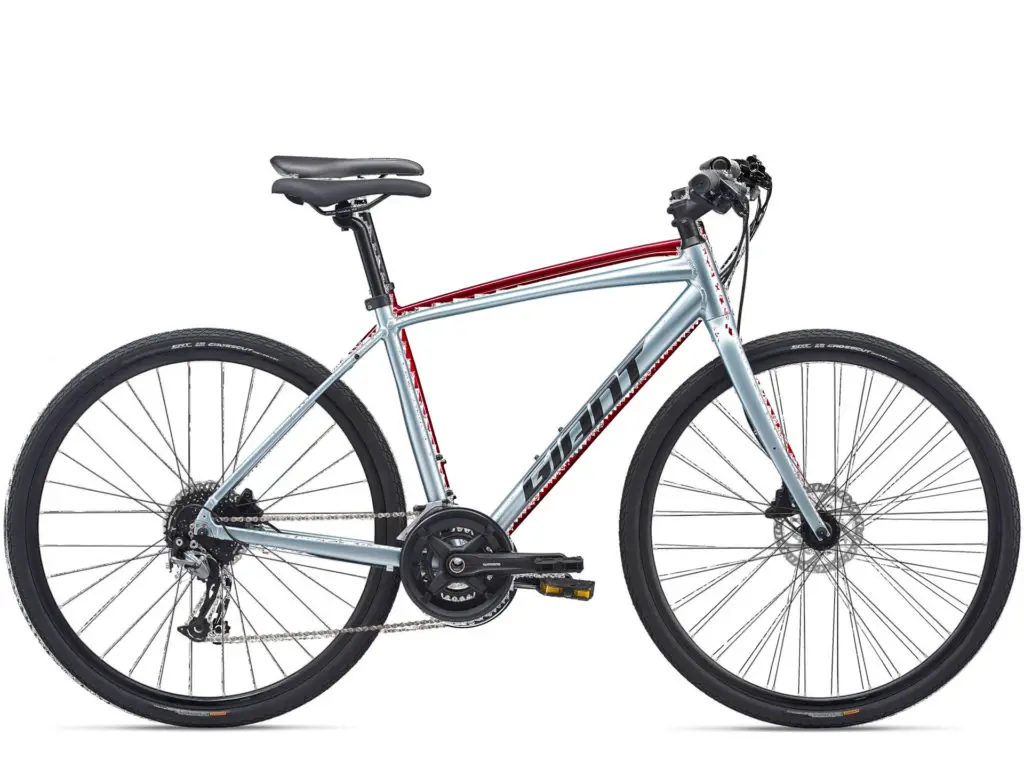 Giant's wheelbase is 21 mm longer, which could mean a slightly more balanced ride, but it will be barely noticeable to most people. Despite the shorter wheelbase, the FX 3 has a 5 mm longer chaingstay. This means that panniers are slightly less likely to cause heel clearance issues.
I would't worry about one being much more comfortable over the other, given that they are so remarkably similar.
Which one should you choose?
Let's see the main reasons why you would choose one over the other.
Reasons to choose the Giant Escape 1 Disc:
You're tight on budget
You want some extra riding comfort from wider tires
Reasons to choose the Trek FX 3 Disc:
Slightly better components
Slightly more upright riding position
If you like the idea of owning a Trek, but your budget doesn't allow you to spend 900 dollars, you can check out this post, in which I compare the Trek FX lineup (1 vs 2 vs 3).
Happy pedaling!