Pannier, pronounced Pan-yer or pann-ee-ur, is an English spin-off of a French word that initially meant breadbasket. So, to put it simply, if you can attach a rack to your bike, you can carry panniers on it. 
Panniers cannot be attached to the frame directly, they are attached to racks, and some bikes come without racks. On those bikes racks need to be mounted for a pannier to fit. Larger panniers might interfere with the rider's pedal stroke if the frame is small or has a shorter chainstay.
Panniers come in different sizes and shapes, depending on your needs. They attach to the rack on your bike using spring-loaded hooks or clips. This makes them easy to install but keeps them from flying off while you ride or if you should stop suddenly. 
In addition, most panniers are weather-resistant and water-proof to keep your contents safe and dry. 
Do you need a bike rack to mount a pannier?
Although you may be able to attach frame bags and saddle bags to your bike without a rack, you definitely need one to carry panniers. Without a rack, there is nothing for the bags to attach to. The rack also keeps the bags from swinging into your bike wheels or frame while riding. 
Touring, hybrid, commuter, and gravel bikes often have mounts built-in to the bike frame that you can easily attach a rack to. Some bikes, especially e-bikes, often come with a rack already installed. For many bikes, you can mount a rack on the front and the back of the bike and carry two sets of panniers, if desired. 
However, not all bikes have mounts built into the frame. Some bikes, such as folding bikes, aren't meant to hold racks at all. If this is the case, adding a rack could void your warranty because the manufacturer feels this would make the bike unsafe. 
Where can you mount a rack if you don't have one?
The most common place to mount a rack is in the eyelets on the rear of the bike and, sometimes, on the front of the bike as well. If your bike doesn't have a rack already, you can mount one yourself. However, the most common is a standard bike rack. 
Standard Bike Rack
Typical racks will have two sets of arms that attach to the bike. 
This will easily attach to my Jamis Renegade Exploit, which has two sets of mounts. One set is near the seatpost towards the top of the seat stays, and the other set is near the wheel hub towards the bottom of the seat stays. 
I can easily screw the rack into the mounts that are already on the bike. It's quick and easy to install the rack and remove it when I'm not using it. 
Since the Jamis is designed for gravel and touring, it has a longer chainstay which keeps the panniers toward the back of the bike. However, because it's such a small frame size, I still need to use smaller panniers since large ones would interfere with my pedal stroke. This isn't an issue on larger bikes. 
My Canyon Ultimate, however, doesn't have these eyelets. There's no spot to mount a rack on this bike since it was intended for racing and not touring. If I needed to put a rack on this bike, I'd have to choose a different type. 
If your bike frame doesn't have mounts, like mine, there are other ways to attach a rack to it. 
Not All Bike Racks Are the Same 
If your bike doesn't have mounts for a standard bike rack, don't worry. There are still ways to mount a rack. However, you might have to choose a different type or size rack depending on the type of bike you have. 
Seatpost Pannier Rack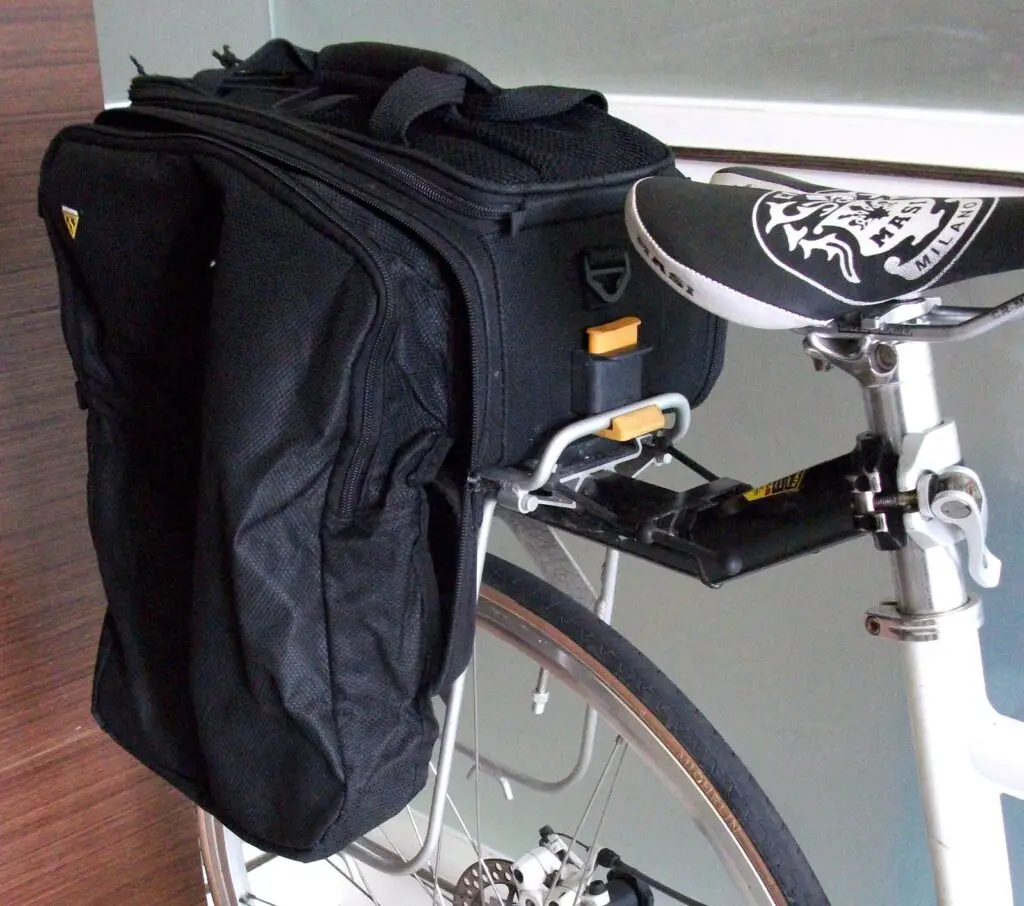 A rack such as the Comingfit Quick-release Seatpost Rear Biek Rack can attach to bikes without eyelets at all. The rack clamps around the seatpost. It has two arms that extend downwards from the rack, which clamp to the seat stay. 
This type of rack isn't quite as sturdy and rigid as one that uses eyelets, but it works very well on most bikes. 
However, this type of rack won't work with full-suspension bikes or dropper posts since the seatpost moves. 
Seatstay Pannier Rack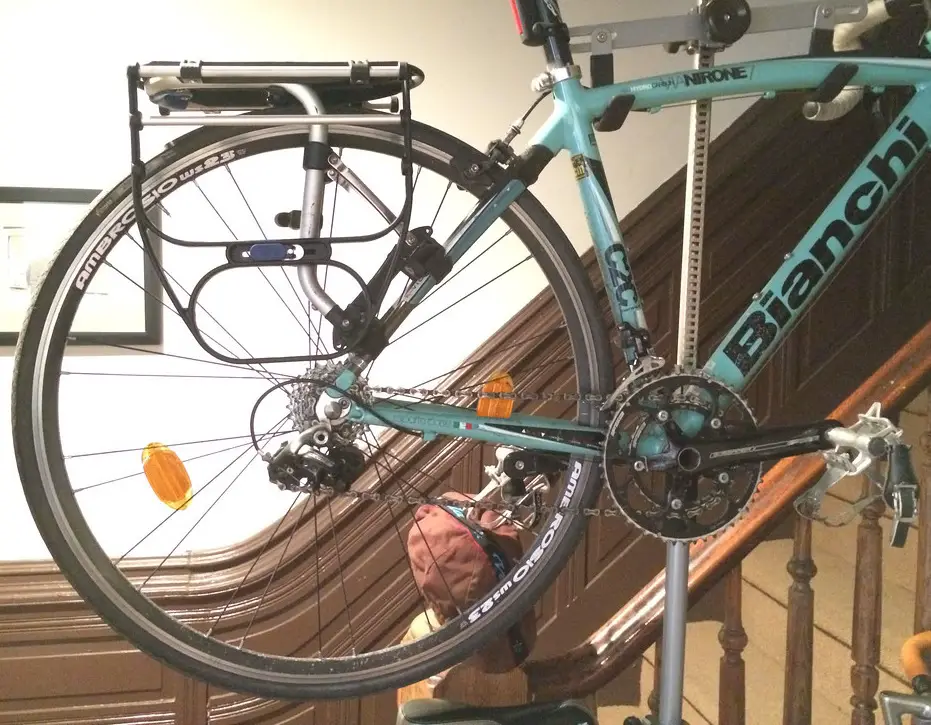 If you have a full-suspension bike, you might need a rack that attaches only to your seat stays, such as the Pan 'N Pedal Tour Rack made by Thule. It uses rubber grips to attach firmly to your seatstays so that it won't get in the way of suspension or dropper posts. 
In addition, it will fit on both the front and the rear of your bike if you want to move the panniers to the front instead. 
These types of racks make it possible to fit many different types of panniers to them. 
Do you need to have panniers on both sides?
If you're going on a long trip, you'll likely need both panniers to hold all your gear. However, you don't have to use both. You can use just one pannier if that's all you need. 
Using just one pannier will make your bike lighter and easier to mount and dismount since you won't have to swing your leg over both sets of panniers. 
I rather use panniers on both sides to evenly distribute the weight, but many cyclists are just as happy using one pannier. 
Cautions on Racks and Panniers 
First, make sure that adding a rack and panniers to your bike doesn't void the warranty or make it unsafe. 
Second, use caution so that you don't damage the frame of your bike, especially if you are using a rack that doesn't attach with mounts or eyelets. 
Third, test your setup before you go on a big journey. Make sure your heel isn't running into the panniers when you pedal, making it unsafe or impossible to ride. And make sure that everything is stable and secure so that it doesn't come loose while riding. 
Final Thoughts on Bike Racks and Panniers
There are so many different types of racks and panniers on the market today that no matter what bike you have, you will probably be able to find one that fits well.