So you've decided to give bike commuting a shot.
Congratulations!
There is something magical and liberating about getting around in your day-to-day life powered by your own two feet. You will quickly discover or rediscover the freedom and energy that bike commuting gives you.
Maybe you've just bought a bike, or maybe you own one already, and you want to upgrade it so it has all the essentials to be commuter friendly, or you want to go a little beyond the mere essentials and you're looking for the best upgrades. 
The good news is that you don't need too much gear to get started.
Let's concentrate on all the bike commuting basics so you can get off to a good start, and take the first steps to a long-lasting healthy habit.
The best upgrades for a commuter bike are those that enhance your safety, comfort and speed on the road.
Fenders (mudguards)
As a commuter, you will be on the road in a variety of weather conditions ranging from burning sunshine to snow and anything in between. There are very few things as annoying as getting wet on the bike.
I'm not even referring to the water from above, but the water from the ground.
A good fender keeps the water off your torso, back and face. It doesn't need to be fancy, but it needs to do the job.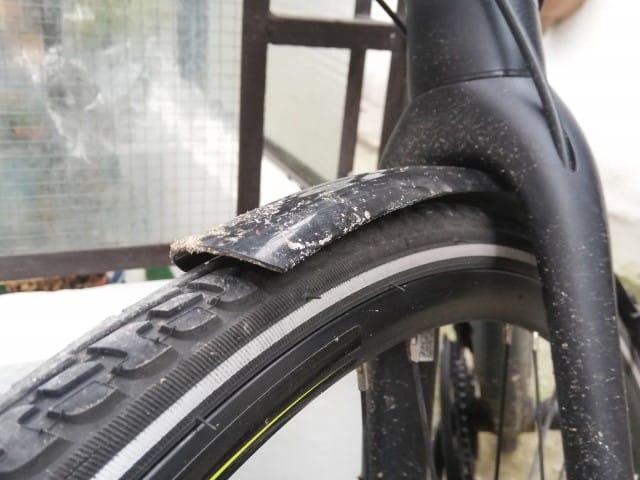 Don't worry. Contrary to popular belief or natural intuition, a fender won't slow you down. It will make your bike look more like a commuter bike, but hey, it's a commuter bike after all, isn't it?
A huge added benefit of fenders is that they keep much of the mud and grime not only off you, but off your bike as well, which extends the life-span of your commuter bike.
The SKS Bluemels Matte Bicycle Fender Set (available on Amazon) doesn't only look good, but it's also available in various widths and mounts on a wide range of commuter bikes. It's lightweight, durable and adjustable. If your tire is 25mm wide or narrower, then look for its narrow brother. 
Tires
Would you like to spend 15 minutes fixing a flat with frozen hands on your way to work on a cold winter morning?
Me neither.
My biggest gripe with most commuter bikes, especially in the entry-level category is the quality of the tires they come with. They offer little to no puncture resistance, which leaves you completely vulnerable to flats.
A good set of tires is a worthy investment in your safety as well as in the peace of mind that you won't have to worry much about flat tires. 
I have been using Continental Ride Tour (available on Amazon) tires as well as Schwalbe Marathon Plus tires (also available on Amazon) without any puncture for several thousand miles. They offer good puncture protection and excellent grip and they both come highly recommended.
Plus, they both have reflective sidewalls, which makes them extra secure at night.
Both offer good puncture protection and a strong grip…

… and they have reflective sidewalls.
Bell
This tiny, but mighty accessory is a real commuter's friend. It's easy to underestimate its usefulness, but anyone who has cycled in city traffic knows that a good bell is an absolute must-have when cycling to work.
A bell needs to be audible and easy to reach. The Trigger Bike Bell tops these requirements by being easily mountable to any type of bike handlebar while remaining accessible to the thumb, AND by being stylish in its simplicity.
Lights
As a commuter, you will ride your bike in bright sunshine, on poorly lit urban roads with potholes, on busy roads and on empty bike lanes.
Lights help you see in the dark and they indicate your presence to others. They keep you safe. 
A bike light is as much for others as it is for you. In fact, in some countries the use of bike lights is mandatory by law.
The best place to mount front lights is the handlebars of your bike, and your rear lights normally go on your seat post. 
There are lights to see with and lights to be seen with, the main difference being that the lights to see with are more directional lights pointed at the front, while lights to be seen with are visible from multiple angles. 
Look for lights that can be charged from a USB port, so you don't need to fiddle with batteries.
I like the Cateye Volt 800 for a front light because it's a light with multiple settings. It has a good directional beam, but it also offers good side visibility for those approaching from sideways. It has a long battery life, and I can ride with confidence at my normal commuting speed even in pitch dark because I can clearly see in advance what's ahead of me.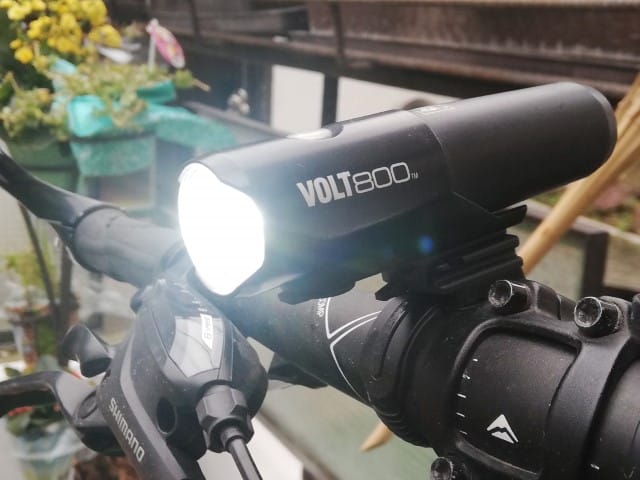 For a rear light, the Cateye Rapid X3 offers great visibility from far away and from all angles. It also has multiple modes ranging from steady on to pulse or vibration and has a long-lasting battery life. 
I wrote more about biking at night in this post. I think it's well worth reading.
Panniers
In the dilemma of backpack vs panniers, you need to weigh up the pros and cons of each. Personally, I'm a pannier guy (I used a backpack initially), because panniers enhance the comfort of your ride as a commuter.
A pannier does the heavy lifting for you…
Literally.
And your back won't be nearly as sweaty if you use panniers as when using a backpack.
When choosing a pannier, consider what you will carry in it and how much you want to protect your stuff.
If you transport a laptop or anything of high value, you need a waterproof and durable pannier that attaches to your rack securely. These Ortlieb panniers are the gold standard when it comes to panniers. Some people in the bike commuting community have been using the same Ortlieb pannier for over 10 years and still sing its praises.
Rack
Of course, it's no use getting panniers unless your bike has a rack.
This Ibera bike rack is designed to carry heavy loads and it keeps your pannier away from your wheel with its wheel guards. You can use it on most bikes with wheel sizes ranging from 26" to 29". 
Some bikes, especially road bikes, mountain bikes and cyclocross bikes, don't have mounting points (eyelets) for a rear rack. It's still possible to commute with panniers if you use a special rack attached to the seat post of your bike, such as this one available on Amazon. Don't worry, it doesn't damage your seat post, but don't mount it on a carbon post!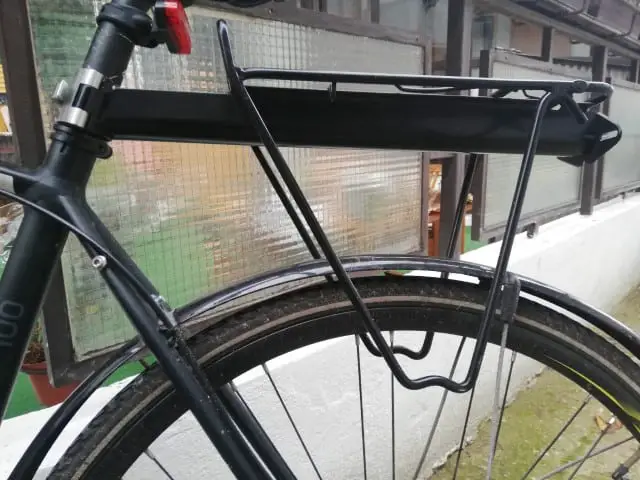 Lock
Your bike will not always be visible to you. You need to lock it up while working or running errands. A secure lock ensures that you will find your bike where you left it.
U-Locks strike a good balance of security, ease of use, weight, practicality and price. Kryptonite is at the cutting edge of innovation when it comes to bike locks.
The Kryptonite Evolution Mini-7 comes with an additional cable to secure your front wheel with, and with a frame bracket so you don't need to carry it in your bag or put it on your belt loop whilst riding.
Emergency kit
Flat tires, punctures, loose screws are always unwelcome. They are only a minor annoyance if you are prepared to deal with them, but they are a major problem if you're not.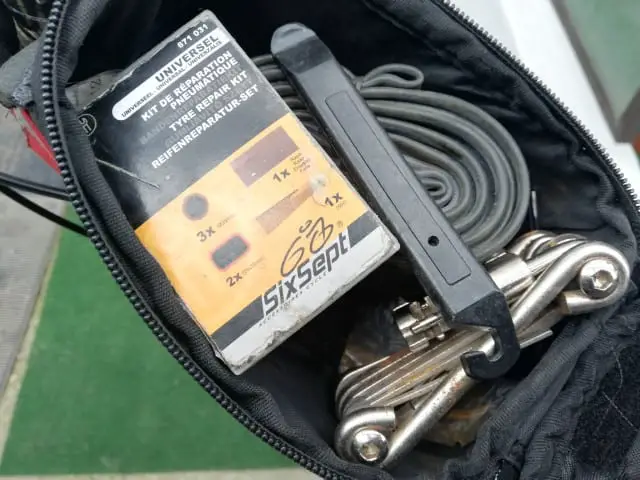 These tools will prepare you to deal with the most common problems you may encounter on the road.
This nifty little kit includes
Multi tool: it allows you to tighten loose bolts and screws on the fly and make road side adjustments easily.
Patch kit: you can fix pinch flats or flats from thorns or pins within minutes.
Tire levers: because some tires are just too hard to take off and would break your fingers.
Minipump rated to 210psi (that's more than any bike ever needs)
Frame bag to keep everything under the saddle
Spare tire
Even though I always have my patch kit with me, I also carry a spare tire with me all the time. It doesn't add much weight to my ride, but I prefer to throw on a new tire and fix the old tire once I get home.
Mirror
Having a good rearview mirror is like having a pair of eyes on the back of your head.
It multiplies your field of view and it helps you see if it's safe to pass another cyclist, a pedestrian, or if anyone is overtaking you when you want to avoid riding over a pothole.
It's a small item that comes in very handy for any commuter, especially those who ride in the city.
After having tried multiple mirror types, I have settled for those that mount on the handlebar end like the CatEye BM-45 Bar End Bike Mirror (see price of Amazon). It's easy to mount on most handlebar types (e.g. flat bar, drop bar) and is a sturdy mirror that doesn't add much bulk.
Saddle
Once you have everything else on the list and you want to ride in ultimate comfort, you can treat your backside to the Rolls Royce of saddles: a Brooks Saddle.
They come in various styles and colors, but they have one thing in common: once you've tried one, you will never want to get off your bike, they're that comfortable.
Conclusion
So, there you have it. These are the best upgrades to your bike if you want to get into bike commuting. Some of them, such as the lights and lock are essential, while others are just nice to have and translate into a comfortable riding experience.
Happy Riding!