Folding electric bikes have become very popular, especially among commuters, because they're lightweight, compact, and will provide you with some extra boost when needed. 
But not all of them are equally practical as they differ a great deal in size and weight. For some, a compact, small size is much more important even if the bike weighs more; for others, the weight is more important than the size.
Without further ado, let's take a look at the best lightweight bikes.
| | | |
| --- | --- | --- |
| Bike | Weight (lb/kg) | Folded dimensions (inch/cm) |
| CARBO Model X | 29.26 lbs / 13.30 kg | 31" x 23.5" x 13" / 80cm x 60cm x 33cm |
| Brompton C Line | 33.73 lbs / 15.33 kg | 23" x 22.3" x 10.6" / 58.5 x 56.5 x 27 cm |
| Hummingbird Electric | 22.70 lbs / 10.30 kg  | 46"x23.6"x7.9" / 117x60x20 cm |
| Lectric Lite | 46.00 lbs / 20.90 kg | 36" x 16" x 27" / 92x41x69 cm |
| Eelo 1885 | 36.52 lbs / 16.60 kg | 14.5"x24"x23" / 37 x 61 x 59 cm |
| Gocycle G4 | 38.72 lbs / 17.60 kg | 34.5"x15"x24" / 88 x 39 x 61cm |
CARBO Model X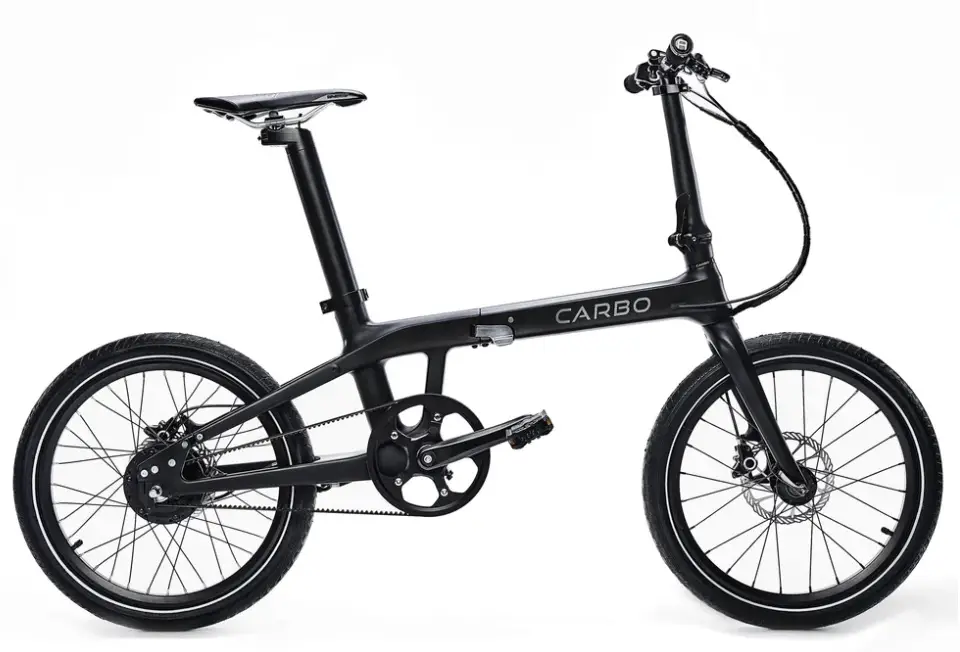 The Carbo Model X is a classy and powerful folding bike that guarantees a smooth and silent ride powered by a belt drive motor. The $2.700 isn't that much considering the engineering that went into this bike and how light it is.
It's got hydraulic disc brakes for extra stopping power and a maintenance-free single-speed carbon belt drive system. You can buy fenders and a rear rack for an extra $169.
The Carbo Model X uses a very solid Carbon Fiber Folding Frame and a powerful 250W Bafang motor (for an extra $150, you can get a 350W motor) and a 7Ah battery. At first sight, you won't notice the battery as it is integrated into the seatpost. For an extra $179, you can also boost the battery capacity to 10.5Ah.
The Carbo Model X can go up to 20 mph and can make 15-30 miles depending on the assist level and, to a large extent, on the terrain you use it. 
If you want to use it for somewhat longer hilly commutes, you might as well order the bike with the larger motor and battery, as hilly rides slow it down significantly and deplete the battery quite quickly.
The Carbo Model X comes with a thru-axle wheel system that offers safer and smoother handling of the bike. The 20" Schwalbe Big Apple tires are puncture-resistant and quite comfortable to ride. The bike has a folded dimension of31" x 23.5" x 13", making it fairly easy to carry.
If you need a really lightweight electric folding bike for shorter commutes in the city where you need the extra boost the electric motor can give, this is definitely a bike to check out. 
Brompton C Line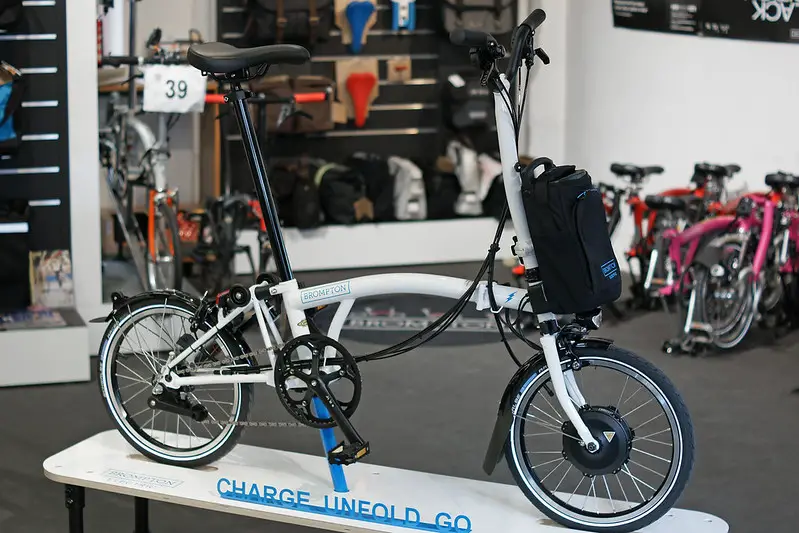 Brompton is the gold standard of folding bikes. Brompton bikes aren't cheap, but they take advantage of a unique folding mechanism that allows them to fold up smaller and deliver a smoother ride on mid-sized 16″ wheels.
Similar to the Carbo Model X, the Brompton C Line is highly suitable for city rides and commutes. A plethora of minor refinements to the folding bike paradigm, like cargo racks with luggage wheels to roll around bikes while they're folded, help make Bromptons sit a cut above the rest of the competition.
The Brompton C Line's frame is made of steel, making it durable and long-lasting. The bike weighs 13.1, and the battery adds another 2.33 kg weight.  The 350-watt rear hub motor pairs with the 8.3 amp-hour 36-volt battery, which assists you up to 15.5 mph, its max speed.
Like all Bromptons, the C Line is also highly customizable, you can decide which handlebar you want or if you want one with a rear rack or without one. The Brompton C Line comes with puncture-resistant and long-lasting Schwalbe Marathon Racer tires.
The Brompton C Line is a very flexible and portable bike that folds up to a third of its size a 23" x 22.3" x 10.6". The shape of the bike, when folded, makes it very easy to carry around in your hands.
Hummingbird Electric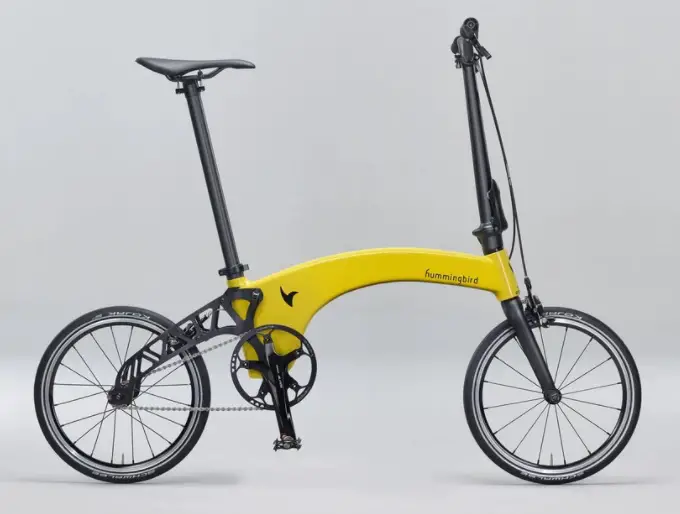 If you are looking for a fast and lightweight electric folding bike, you should consider Hummingbird Electric. It boasts of being the lightest folding electric bike in the world, weighing about 10.3kg – 22,7 pounds. With a durable and lightweight Flax frame, the Hummingbird Electric has a simple and unique design.
Rather than having a hinge in the middle, the back wheel folds vertically under the frame, which has an almost Nike-swoop-like design with a well to accommodate the wheel. The approximate folded dimension of the bike is 46"x23.6"x7.9", making it compact enough and easy for commuters to use anywhere. 
Although this bike is remarkably light and folds pretty small, it has an odd shape when folded. That makes it a bit harder to carry around and store in a locker or in small spaces. 
In addition to the light structure, the bike is very comfortable to ride and is ideal for city commuters. Powered by a 250W motor and 158Wh built-in battery, the Hummingbird Electric folding bike can reach speeds of 15.5mph. 
The battery charges pretty fast, in 2.5 hours, and has a range of around 15-30 miles, depending on the mode, your weight, the terrain… This single-speed bike has a smaller battery than the other bikes on this list, and that makes it the worst candidate for long rides. 
The narrow 16-inch wheels and puncture-resistant Schwalbe Kojak tires are designed to be ridden mainly in urban environments. 
If your primary and utmost concern is the weight and the hefty $ 6.000 price tag isn't an issue, then you should definitely check out this bike.
Lectric Lite
Lectric Lite is an inexpensive, though not super-light, electric folding bike. With 46 pounds, it is the heaviest bike on this list by far; nonetheless, it still has some remarkable characteristics that make the Lectric Lite a good choice for some. 
Lightest fat tire bike
Lectric XP Lite
A fun, foldable, fat tire, single-speed electric bike to get you around and in the suburbs.
This is a great choice if you have limited space or you don't want to lift a heavy, bulky bike when you want to take it with you in the car.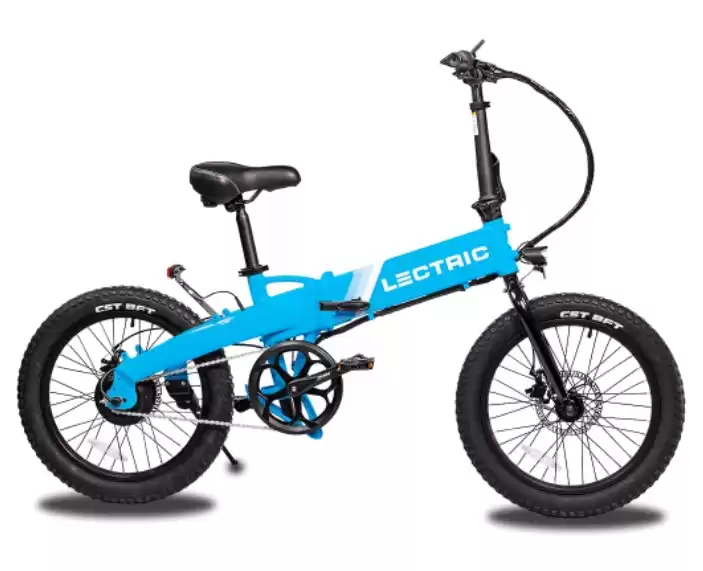 We earn a commission if you click this link and make a purchase at no additional cost to you.
It costs $799, which is significantly less than the others. Although cheaper than the average, it is a rugged and quality bike, and even if you have some issues with it, excellent customer support will help you to solve them. 
Although the Lectric Lite is a single-speed bike, it can offer you some extra comfort when going on steeper hills and longer rides thanks to its 300W (720W+ peak) rear hub motor and a 7.8 Ah Lithium-ion battery. In optimal riding conditions, you can reach 20 mph and have a range of 15 miles on a single charge. 
The big thick top tube of the bike folds lengthwise into 36" x 16" x 27" dimensions. Due to its larger dimensions and weight, it is not a bike that you just stow into your backpack and carry around when folded.
The 2.4" tires absorb the bumps of the road and make your riding experience smoother, even on rougher terrains.
The Lectric Lite can be a practical option for those on a budget looking for a folding electric bike that is easy to transport in the trunk of the car, and that is somewhat stronger for longer weekend rides, even on rougher terrains.
Eelo 1885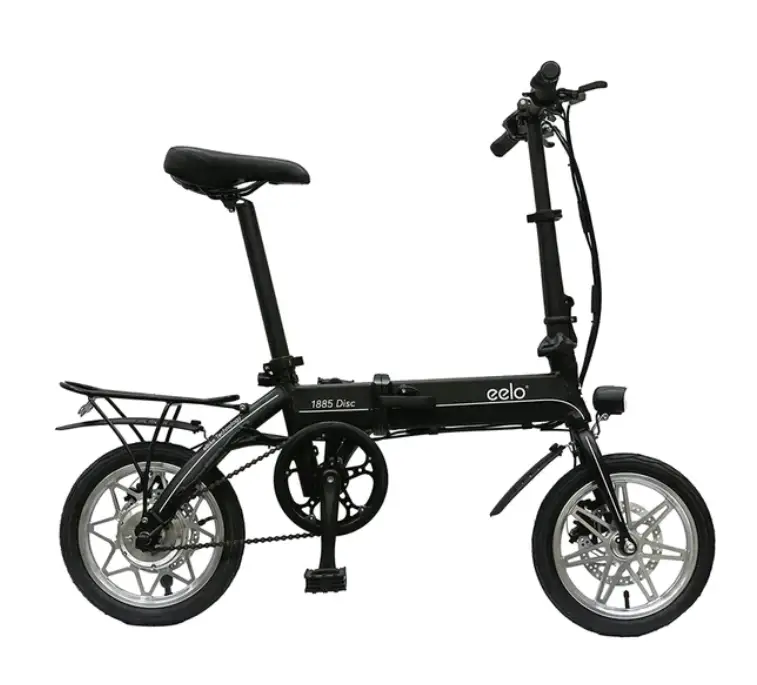 Fitted with a 250W custom rear hub motor and 7.8Ah LG branded lithium battery, the Eelo 1885 has a maximum speed of 15.5 mph and a range of 15-20 miles on a single charge, depending on the circumstances. The long-lasting batteries have a charging time of about 3-4 Hours.
At first sight, the 14" tires make the Eelo 1885 seem like the smallest and the lightest bike on this list. Although it is indeed lightweight, its 16.6 kg puts it in the mid-range. Because of its reasonably compact folded dimensions of 14.5"x24"x23", it is easy to carry around in your hand on short distances or store in small spaces.
It has a rugged well-fitted aluminum frame that guarantees durability and strength. The LED back-lit screen is fully waterproof and has a high-quality finish. 
The Eelo 1885 is an excellent choice for daily commuters looking for an entry-level electric folding bike. It's cheap, the cost of $ 1.250 won't make you bankrupt, and you get a budget, entry-level, small, and lightweight electric folding bike.
Gocycle G4
Gocycle G4 is powered by an in-house built, very compact, and lightweight 500W front hub motor and a powerful removable 8.1 Ah Lithium-Ion battery.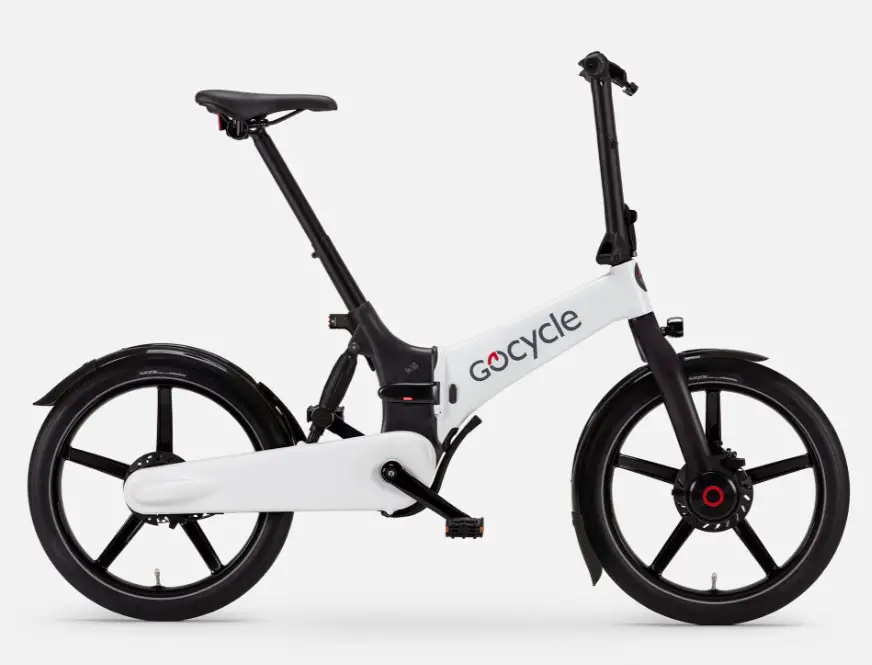 Although this bike is on the upper end of the spectrum on this list, both in size and weight, and the price of $ 3.799 is quite expensive, the engineering that went into this bike makes it incredibly functional and practical for urban commutes and makes it absolutely worth each penny. 
The Gocycle G4 can reach an impressive speed of about 20 mph. It has lightweight tires infused with silica to give the bike high stability and a solid grip; the 20" tires also make commuting in the city as comfortable and smooth as possible.
It has user-friendly 3-speed internal gearing and strong hydraulic disc brakes that make your ride safer and easier when you need to make a sudden stop or climb up a hill. 
The bike uses a fast-folding mechanism, which folds into 34.5"x15"x24", small enough to make storage and carrying around easy. Similarly to Brompton, the Gocycle G4 can be wheeled around when folded, and it's also fairly easy to carry around thanks to its 39 lbs weight. 
The drivetrain is hidden and protected from grime and dirt in the back of the bike in the so-called Cleandrive System. The advantages of this system are multiple: the drivetrain won't get your clothes dirty, it's also much more protected, and also maintenance-free.
The bike comes equipped with front and rear fenders and lights, and if you would like to purchase other accessories like the rear bike rack or a travel case, you need to pay some extra bucks. 
The older brother of Gocycle G4, the G4i+ is a pound lighter and comes with some cool features like an improved led display, power boost control, and electronic shifting. You can get all those features if you are willing to pay an extra $ 2.700.