Your bike has only two small points of contact with the road, so the quality of those connections is a big deal, especially if you rely on your bike daily. Your bike's tires determine the safety and comfort of your ride a great deal as well as your overall bike commuting experience.
When I bought my current commuter bike two years ago, the tires that came with it had a flat the very first week. It didn't even happen when I was riding, but at a bush where I parked my bike. I didn't have a repair kit with me to fix it (mistake!!), but luckily I was close to a local bike shop. I ran a web search for the tires (Maxxis Detonator) and quickly found out that poor puncture resistance is the main gripe of most users. 
After less than a week I felt the time had arrived for an upgrade, and I wanted to make sure I was getting good value and in a special way, good puncture protection. What are the best 700c commuter tires?
Among the 700c tires, the Schwalbe Marathon Plus and the Continental Ride Tour tires stand out as particularly good tires for commuting and they are the tires of choice of many bike commuters. I personally use both of them on two of my bikes and have had a very good experience with both. I haven't had a single flat in the past two years and 6000+ miles since I've owned them. What I like about them the most is their extra puncture protection, good grip on the road, and the reflective side walls for extra visibility. They both come highly recommended, although one of them stands out as particularly good.
Here's a summary of the tires mentioned:
Best 700c commuter tires in each category
Best slick tires
We earn a commission if you click this link and make a purchase at no additional cost to you.
These tires are pretty much the gold standard when it comes to slick commuter tires. They offer the least rolling resistance, which makes them suitable for speedy commutes on your road bike. Because they lack treads and good sidewall protection, they are only suitable for paved roads and urban riding.
Best versatile tires for urban and country roads
We earn a commission if you click this link and make a purchase at no additional cost to you.
This tire performs well on a variety of road surfaces: tarmac, gravel, countryside as well as forest trails thanks to its universal tread pattern. It offers low rolling resistance, which allows you to ride fast. It also has reflective sidewalls for extra visibility at night. 
Best puncture resistant tires and best all-rounder
Ultimate Puncture Resitance
SCHWALBE Marathon Plus
It doesn't get any better than the Schwalbe Marathon Plus when it comes to puncture resistance!
We earn a commission if you click this link and make a purchase at no additional cost to you.
I use this tire on my wife's ebike. It is pretty much the gold standard as far as general purpose urban commuter tires go. They are somewhat heavy, but the weight doesn't make them sluggish. They come with excellent puncture protection, reflective sidewalls and offer very good riding comfort. If you're looking for something you can put on your bike and not think about them for months or even years, they are the tires to get. 
Best budget tires
Best Budget Option
Continental Ride Tour
This is a solid tire from Continental if you don't want to spend a lot of money, but you want good puncture protection.
We earn a commission if you click this link and make a purchase at no additional cost to you.
I have this tire on one of my bikes. It's a reasonably fast tire that allows me to cruise at 18-20 mph on flat parts without any problem. It has a good grip even when riding off road. I've used it on forest trails and all kinds of surfaces. Snow isn't a problem either. It has reflective sidewalls for extra side visibility at night. It shows some signs of wear at the sidewalls (minor cracks), but it is a solid budget option.
Why 700c tires are great for commuting
Since almost every new bike comes with inner tubes and tires (aka clincher tires), and I believe that this is the best option for most bike commuters, I don't include tubular or tubeless tires in my recommendations. In other words, if you're a regular Joe, just like me, read on.
700c refers to the tire diameter of your wheel, and it is written on the sidewall of your tire. It is also referred to as a 28" tire. 
It is the most common tire size in hybrid, road, gravel and touring bikes and they are the perfect size for bike commuting too for a good reason. Wheels with 700c tires strike a good balance of speed, handling in corners, maneuverability, and comfort. 
However, not all 700c tires have been created equal, and some offer features that others lack. Let's focus on what you need to look out for as a commuter. 
Features of a good commuter tire
When you buy a commuter tire, these are the most important aspects you should consider, in my opinion. 
Good grip in all weather conditions on a variety of surfaces. Some tires are great on paved roads, but really suffer on cobbles or even light gravel. Most commuters don't benefit from slick tires, in my opinion.
A width of at least 28 mm. The wider a tire the better it absorbs road imperfections. This is important for city and urban riding where you come across potholes, bumps, rail tracks, road debris, uneven road surface etc. I suggest that if your bike frame allows it, go for a 32 mm wide tire.
Good puncture resistance. This is essential if you don't want to spend time on the roadside fixing flats.
Reflective sidewalls for extra visibility at night. Anything that makes you more visible is great!!!
Decent rolling resistance (avoid tires wider than 35mm, as they will be too heavy and feel sluggish)
Comfort, riding experience and safety
The most important thing is to get the width and the tread of the tire right. These have the biggest impact on your comfort and riding experience. The weight also plays a role, although for most commuters it needs to be only a secondary consideration. All the tires I recommend are light enough for commuters. 
Width:
Width is the most important factor that impacts your riding comfort. The wider a tire the more air volume it contains and the more comfortable it is to ride because the better it absorbs road imperfections. Wider tires don't need to run on such high pressures as narrow tires, which gives them a little bit of a cushiony feeling.
Tire width is measured in mm. Most 700c tires run from 23 mm to 50 mm. 
23 – 25 mm tires are regarded as narrow tires, and are used on road bikes for racing. They are fast-rolling tires. They need to be inflated to high pressure to avoid punctures, and therefore they are not very comfortable to ride.
28 – 35 mm tires are the most versatile tires. They offer superior comfort with no noticeable added rolling resistance (rolling resistance makes it harder to pedal). They can withstand some light off-road or gravel riding.
35+ mm tires are noticeably heavier and therefore slower. They are typically used for more heavy-duty off-road riding. This is typically the threshold beyond which extra cushioning becomes more hindrance than provides comfort for the typical commuter.
Before you decide to get a really wide tire, make sure that your bike has enough clearance. This means that there is enough room to fit your tire between the fork. Some road bikes can accommodate tires of maximum 28 mm  and cyclocross bikes usually have a tire clearance of 33 mm.
Tread pattern:
700c tires are either slick, semi-slick or treaded.
Slick tires have no tread patterns. They look like an inner tube on the rim. There is no extra rubber added for knobs or treads in order to keep the weight down to a minimum so they can maximize speed. Slick tires perform best on paved roads. They hug the road very well. Contrary to what your intuition may say, they provide a very good grip. 
Where slick tires come short in performance compared to their counterparts is in off-road riding. They lack knobs or treads that can interlock with anything other than a perfectly smooth road.
The Continental Gatorskin is one of the most popular slick tires among commuters. If you know you will never go off-road with your bike, they are a solid option for paved roads. 
Tires with treads come in a wide variety. Some treads are less aggressive, suitable for both road and light gravel (aka semi-slicks), others have more pronounced tread patterns for extra off-road grip. If you have a trekking bike, hybrid bike, gravel bike, cyclocross bike, or a touring bike, tires with treads make sense. The majority of commuters will find a tire with treads most useful for their ride. 
Mountain bikes and fat bikes have knobs, which allows them to ride even in muddy conditions. Unless you commute through muddy forest trails on an MTB you don't need knobby tires.
Weight:
Bike tires for commuting usually weigh between 200 and 1000 grams. The lighter end of the scale offers more speed, but often lacks the extra puncture protection that heavier tires can offer. 
A lighter tire is usually faster, but from an average bike commuter's perspective weight doesn't make a huge difference.
Reflective sidewall
I love this feature on my commuter tires because I know that I'm visible from to any car approaching me from the side in an intersection if it has the lights on.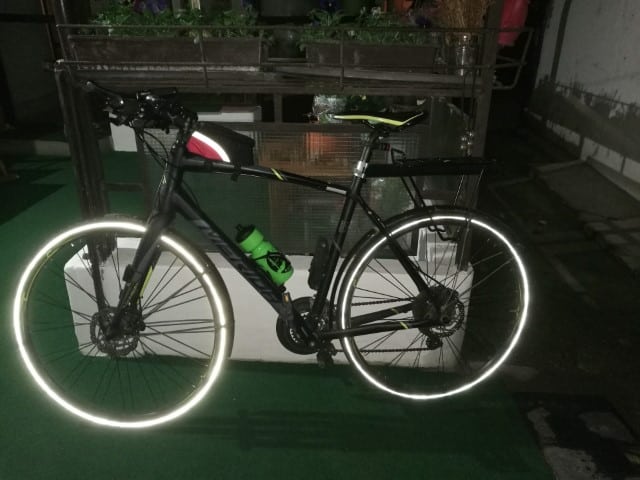 How to get the most mileage from your tire
In order to extend the lifespan of your tire, you should keep in mind two things:
Get the proper tire that suits your commute type, especially if you ride on gravel or poor quality roads. Slick tires tend to suffer when used on rocks or off-road. If you have any demanding segment on your commute, opt for tires with treads.
Check tire pressure regularly, maybe once a week or every two weeks. This is important, because low tire pressure can result in pinch flats when you hit potholes, cross tram tracks, get onto curbs, ride on cobble, etc. 
We earn a commission if you click this link and make a purchase at no additional cost to you.
The manufacturer specifies the tire pressure range within which it's safe to operate the tires. For best flat protection, aim for the higher end of the range. Don't just guess the pressure, but use a pump with a gauge. It's one of the best purchases you can make.
Conclusion
Choosing a good 700c commuter tire is relatively easy, and there are a few solid choices available. I recommend you not to cheap out on bike tires, as they not only affect your riding speed and comfort, but a poor quality bike tire can be a source of a lot of frustration and even accidents.
Happy Riding!