When you get into bike commuting you need to decide how you are going to carry your stuff to work. The two most obvious choices are backpacks or panniers. Really heated arguments rise among bike commuters about which one is better. 
Both a backpack and pannier can be an excellent way to transport your stuff. Whether you should use a backpack or a pannier for your commute depends on the type of bike you ride, the distance and type of your commute and your personal preferences. In this post I'm going to help you decide what's best for you. I have commuted both with panniers and with a backpack and to this day I use both, depending on how far I'm going, the time of year and how much stuff I need to carry.
What's better for a commuter in the backpack vs pannier dilemma?
Simply put, a backpack is more practical if you have a shorter commute, don't carry too much stuff, and if the climate is a bit cooler or you don't mind a sweaty back. A pannier is more practical for longer commutes, carrying lots of stuff and in warmer weather. A pannier is likely a better choice if you don't get changed for your commute. Convertible pannier backpacks offer the best of both worlds.
The Arkel Bug from Arkel Bike Bags combines the advantages of a backpack with that of a pannier.
Between a backpack and a pannier neither option is superior to the other, but each has its advantages and disadvantages, which can be summarized in a few key points. 
Backpack:
Pros:
No need for a rack, so it can be used on any type of bike
It's easier to find a stylish backpack that you will like and you can carry with you wherever you want to
Most backpacks have better compartment divisions for different items (laptop, keys, phone etc)
No need to attach anything to your bike. Just get on your the bike and go.
Easier to keep clean, because it's further from the wheel
Aerodynamically more favorable (although at commuting speeds you don't feel this advantage)
Cons:
Pushes your shirt against your back, thus blocking air ventilation. For some people this can lead to excessive sweating. This is a deal-breaker for most people.
You carry all the weight of your stuff in the backpack, which can lead to discomfort or back pain.
It's harder to carry bulky items or a lot of stuff in it.
Pannier:
Pros:
All the weight rests on the bike, which means that there is no discomfort to your back even if you carry heavy items
Air can ventilate freely at the back of your shirt, so you will sweat less, especially on longer rides
Some panniers are really large, and you can carry a lot of stuff in them. Also, the average pannier is slightly larger than the average backpack.
You can leave your pannier ready for the ride on your bike the night before, so all you need to do is just get on your bike and you're ready to go in the morning.
Cons: 
Some panniers are awkward to carry once you take them off the bike, although you can get some with straps.
Panniers change the way your bike handles. The degree of this change depends on how much weight you carry with you.
In rain and muck, panniers can get dirty given that they are closer to the ground and the wheel.
Aerodynamically less favorable (as I mentioned earlier, at normal commuting speeds, it doesn't become noticeable)
Some bikes don't have mounting points for a rear rack (if you want to attach a rear rack to your bike, which has no mounting points read this article)
Your commute and personal preferences
When deciding in what way you want to transport your belongings to and from work, it's a good idea to consider your commuting distance, terrain and if you ride in work clothes or get changed for the ride.
If you ride 3-4 miles or less on flat paved roads on your road bike, a backpack makes a lot of sense. You can't deny the practicality of a backpack when you arrive at your destination or run some errands on your way home. Since the backpack is attached to you, you don't need to put it on the rack or take it off. It's like being a turtle or a snail, that always has its house on its back.
If you cycle to work 10 miles or longer each way, and you travel on urban roads or in city traffic with a laptop, a change of clothes including a change of shoes, then a backpack can quickly become a source of discomfort and even back pain. On one hand, the weight of the backpack can cause your muscles to ache, and on the other, you build up too much sweat over such a long distance. For such a commute a pannier makes more sense. 
If you have a medium distance commute between 4 and 10 miles, then the best way to decide between a backpack and a pannier is to see the terrain and the speed you will be riding at. If you have challenging segments on your commute, such as steep hills or even slight inclines that stretch out long, then a pannier is the better option. If you pedal on relatively flat roads and you don't have much to carry then a backpack is good. 
Another good way to decide between a backpack and a pannier is to see whether you get changed for the commute or not. If you wear cycling specific clothes or sport clothes, then you may not mind getting sweaty so much, but if you wear your work clothes for the ride, you probably don't want to arrive at the office with a drenched t-shirt.
Of course, these are no rules set in stone, and you know yourself better than anyone else. Some people sweat easily and others are more sweat-proof or just tolerate it better. 
The third option: best of both worlds
If you want the best of both worlds, and you're looking for the perfect balance of comfort, practicality and ease of use of a backpack and a pannier, you can do it with a backpack or a messenger bag that doubles as a pannier and can be attached to the rack. 
With a backpack/pannier you get a truly unique blended experience, and you can transition between a backpack and a pannier within just a few seconds. There are some well-designed, stylish options available, which can be used even as standalone backpacks.
Another way of solving the problem is by attaching a basket to your rack. This way any backpack that you already own can be carried on the bike without its weight weighing down on your back. 
Recently I've also found the Mundo Air Pannier, which turns any backpack into a pannier, and it also allows you to carry musical instruments, such as guitars or other large items on your bike without the need of a permanently mounted basket. I can ride to work with my Slicks backpack without having to worry I really love it!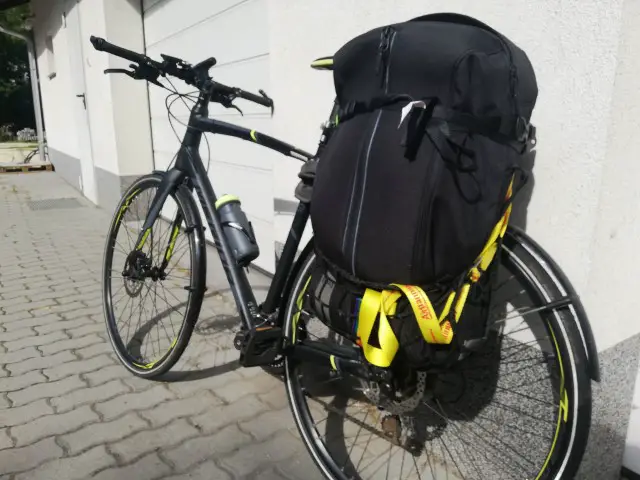 Some of the best products in each category
Best convertible pannier backpacks
Arkel Bug
The Arkel Bug from Arkel Bike Bags is one of my backpacks that ticks all boxes. It's a premium product at a premium price of around 180 dollars, but what you're getting is the most practical pannier/backpack and a product LITERALLY for life. They will replace your broken or worn backpacks without a time limit or even without a proof of purchase. They are probably the best company when it comes to warranty. You can read my full review of the Akel Bug here.
Craft Cadence Pannier Backpack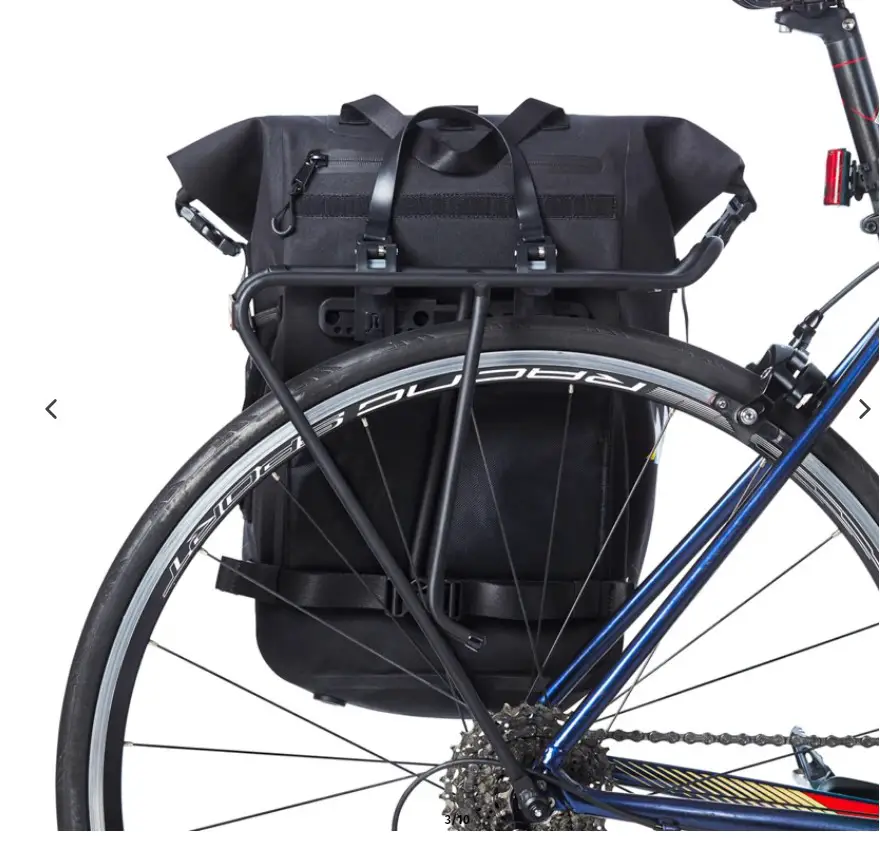 A newer, but very feature-packed convertible pannier backpack is the Craft Cadence Pannier Backpack. You are going to love the fact that it comes with a detachable laptop sleeve, which can also be used to store other items. Not only that, but it is also a waterproof bag, which means that you don't need to use any additional covers to keep your things dry inside. The conversion happens in a matter of seconds, and it is well-padded so it doesn't cause discomfort when you wear it as a backpack. It's also a very reasonably priced product.
Craft Cadence Convertible Pannier Backpack
Here are some things I love about this pannier backpack:
Converts between pannier and backpack in seconds
Waterproof design without additional covers
Detachable laptop sleeve
Dedicated water bottle holder
Dedicated lock holder
25l carry capacity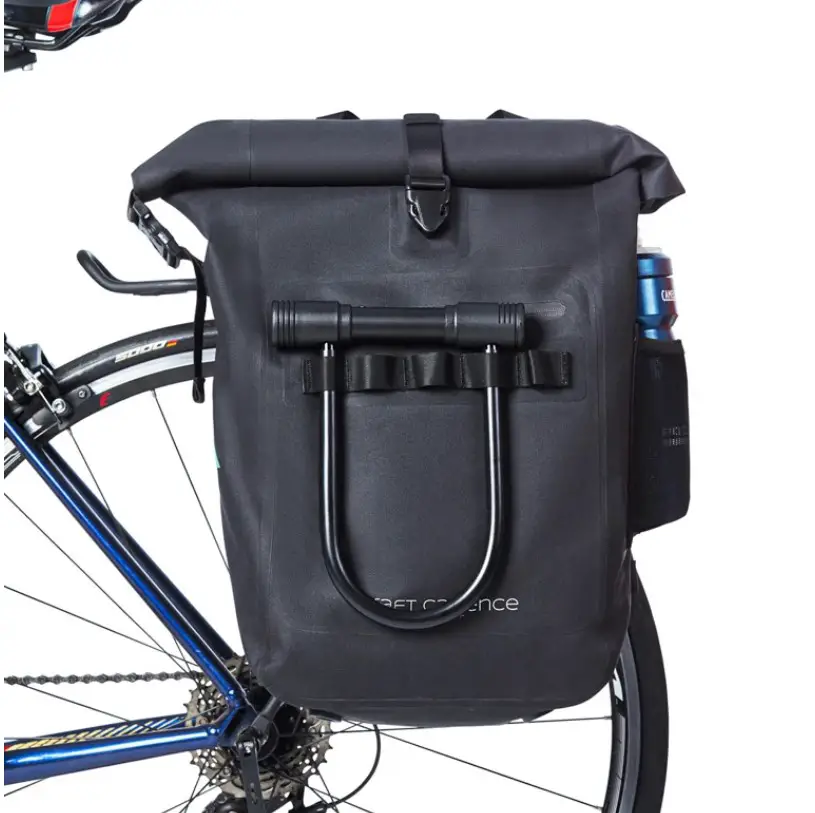 We earn a commission if you click this link and make a purchase at no additional cost to you.
Best bike commuter backpacks
A-LAB Bicycle & Messenger Backpack. It's well-built, roll-top backpack with a minimalist design that hits a good balance between style and functionality. It comes with a neoprene laptop sleeve for laptops up to 15.4". It has a large main compartment as well as a front pouch for smaller items. If you are looking for a backpack that's completely waterproof and withstands any amount of rain, this is a solid choice indeed.
Osprey Packs Radial 26 Daypack. If you're after a more sporty looking bike commuting backpack that offers some ventilation to your back, this is the backpack to get from Osprey.

Pannier
Ortlieb Back-Roller Classic QL2.1 Panniers. Ortlieb panniers are among the most durable, indestructible and waterproof panniers money can buy. Some people have used them in all kinds of weather conditions without a single issue for over a decade. They come in a pair, so you can really fit a lot of stuff in them without any weight on your shoulders. 
Timbuk2 Tandem Pannier. When taken off the bike, this pannier actually looks like a messenger bag as opposed to a bike pannier, which makes it a stylish option if you're after a pannier. It's water resistant and it can hold a lot of stuff. Laptop, clothes, shoes, books… throw anything at it, and it'll take it.
Type of bike
If you've decided that a pannier or a pannier backpack is the better option for you, one last thing remains before you make a purchase: if your bike hasn't got a rear rack yet, make sure that it's compatible with one. Here's what you need to know.
In order to carry one you need a rear rack for your bike, which attaches to the frame of your bike. 
Touring bikes, city bikes, cargo bikes are built with commuting or hauling stuff in mind, and they are sold with a rear rack. If you own one of these, all you need is a pannier and you're ready to go.
Hybrid bikes, gravel bikes and certain road bikes don't come with a rack, but they come with mounting points, aka eyelets that you can attach a rack to. You need to buy a rear rack separately and fix it to the bike frame. This is a good, sturdy and permanent solution.
Cyclocross bikes, hardtail MTBs and most road bikes don't have mounting points for a rack. You can't attach a traditional bike rack to their frame. In order to use panniers, you can buy a rack that attaches to the saddle post. Saddle post mounted bike racks can be put on and removed easily.
Full suspension MTBs are constructed in a way that even saddle post mounted racks can't be fixed on them, so the only option you're left with is a backpack. Of course, a full suspension MTB is not a commuter-friendly bike to begin with. You really have to be a hardcore mountain biker to use it for your commute.
Conclusion
As a rule of thumb, choose a backpack for short and easy rides, and a pannier for long and/or harder commutes. If you can't decide between them, you can always opt for a pannier/backpack or mount a basket on your rack to enjoy the freedom from a backpack while you're riding, and its advantages when you've arrived.
Whether you use one or the other the main thing is that you're out there doing some exercise.
Happy Riding!