To say that there's no shortage of e-bikes nowadays is a little bit of an understatement. They are becoming increasingly popular, and to choose the one that best suits your needs may seem like a daunting task. Two popular bikes on the market that offer a lot of value for money are Lectric Ebikes and Rad Power Bikes. We're going to put the Lectric XP Step-Thru 2.0 and the RadMini Step-Tru 2 head-to-head against each other so you can decide which is the one that best suits your needs.
The RadMini Step-Thru 2 is a bicycle with better overall specifications and costs 200 dollars more than the Lectric Step-Thru 2.0. The Lectric still offers a lot of value for the money, has a more modern appearance, and it also beats the RadMini in carrying capacity by 55 lbs. 
| | | |
| --- | --- | --- |
| Model | XP Step-Thru 2.0 | RadMini Step-Thru 2 |
| Motor power | 500W (800 Peak) Hub motor | 750W Hub motor |
| Max speed | 20 MPH (28 MPH in class 3 mode) | 20 MPH (28 MPH in class 3 mode) |
| Battery | 48V 9.6ah integrated | 48V 14ah non-integrated |
| Carry capacity | 330 lbs | 275 lbs |
| Bicycle weight | 64 lbs | 69 lbs |
| Max Range | 45 Mi | 45 Mi |
| Charge time hours | 4-6 | 7 |
| Throttle type | Twist | Twist |
| Tire size | 3″ x 20″ | 3″ x 20″ |
| Front suspension | 40 mm | 80 mm |
| Brakes | Mechanical disc | Mechanical disc |
| Rotor size | 160mm | 180mm |
| Chainring | 52 | 48 |
| Cassette/freewheel | 14-28 freewheel | 11 – 34 freewheel |
| Number of gears | Shimano Tourney 7 speed | Shimano Altus 7 speed |
| Frame sizes | One size | One size |
| Integrated lights | Yes | Yes |
| Fenders | Yes | Yes |
| Price | $1,099 | $1,299 |
Appearance
Both the Lectric and the RadMini are folding e-bikes with 20″ fat tires. Both of them are available in regular folding versions too, and they come in at the same price point. The low-step version makes it easier for the rider to get on and off and makes these bikes accessible to people with mobility issues. The RadMini's standover height is slightly lower than the XP 2.0's (16″ vs 18.5″), which may be a dealbreaker if lifting your legs causes you difficulty. It also offers a slightly more upright riding position by bringing the handlebar closer to you.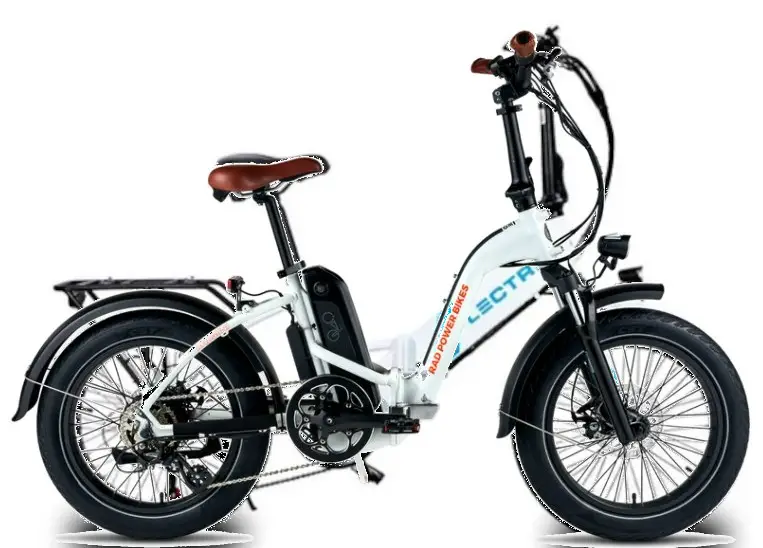 Judging the appearance, the Lectric is a more modern-looking bicycle than the RadMini. It comes in two colors (white and black) and it's also available in a regular (non-step-thru) version. What adds to the looks of the bike is that the battery is fully integrated into the folding frame, and in order to access the battery, you need to fold the bicycle. It also means that the battery isn't going to get in the way of your legs when riding.
The more forward-leaning position of the XP makes it a little bit more sporty. It's not going to give you an aerodynamic advantage, but it's probably better suited if you have longer arms.
While the XP looks more modern, it still uses external cable routing, which is not as clean-looking as the RadMini's partially internal routing on the downtube, which also offers some extra protection.
The RadMini is not a bad-looking bike either with its curved tube and rounded lines. The brown access on the white and black frame makes it easily recognizable and quite pleasing to the eye.
Both bikes come stock with fenders and lights, and you may opt for accessories, such as baskets and racks. The addition of the stock rear rack of the XP is a nice extra you don't need to pay for.
Lectric XP Step-Thru 2.0
This fat tire folding e-bike offers a lot of adventure at a very appealing price point. It's a great first e-bike for people with limited mobility, recovering from injuries or for anyone who wants to have some fun.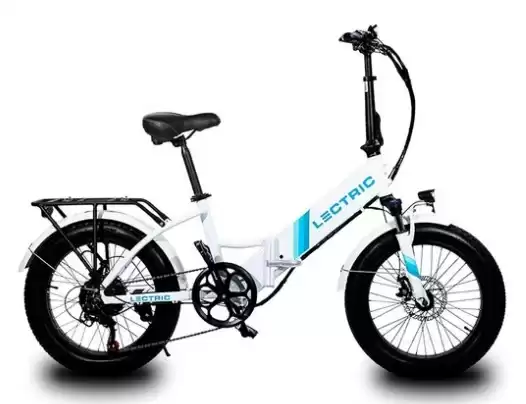 We earn a commission if you click this link and make a purchase at no additional cost to you.
Range and performance
When it comes to specifications there are some very obvious differences: the RadMini offers a more powerful hub motor and a larger battery pack than the XP, yet the performances are similar in terms of top speed: 20 mph for both, which can be increased to 28 mph if the bikes are unlocked to class 3, which is possible on both. The claimed maximum range is also 45 miles on both bicycles, which is due to the fact that the RadMini's larger motor draws more power from the battery.
Where you will probably see some differences is in acceleration and in climbing capabilities, especially after the batteries have lost some charge. The RadMini is going to pick up speed faster and is going to climb hills better even if you're a heavier rider.
In real life, the range is going to depend on the rider's weight, riding speed, terrain, and weather conditions, but you can expect to run your daily errands within a 10-mile radius easily. Just plug them to charge at the end of the day.
Speaking of weight, at 64 lbs the XP is 5 lbs lighter than the RadMini, which is in part due to the larger battery pack and is not a considerable difference. Despite being folding bikes, they are both heavy, and most people won't put grab and climb stairs with, especially not the intended users.
The good news is that both bikes are quite capable of carrying heavy weights: the RadMini is rated up to 275 lbs (not including the bike's weight), while the XP claims a maximum cargo capacity of 330 lbs, which is very impressive. Don't expect either of them to perform very well under maximum load, but it's nice to know that they both welcome heavier riders and a lot of cargo.
RadMini Step-Thru
This is a solid fat tire folding e-bike from a reputable seller. It brings the same smile to your face as when you were a child.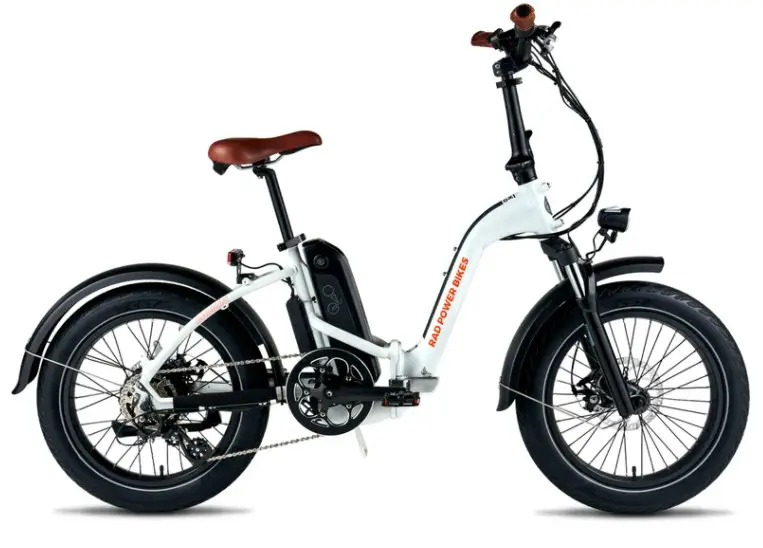 We earn a commission if you click this link and make a purchase at no additional cost to you.
Components
When it comes to components, the RadMini is the clear winner here. It has better brakes, it offers a larger gear ratio as well as a better shifter system than the XP.
You probably don't buy these bikes to win cycling races, but the easier low gears, the faster high gears of the RadMini make it easier for you to pedal both up and downhill. Uphill, you will be able to assist the motor better because of the low gears, and downhill, you will not spin out of gears as easily (you don't need to turn the pedals so fast to go fast).
Braking is also kind of important when you ride a bike, and both of these bikes offer mechanical disc brakes, but the RadMini's 180 mm rotor is larger than the 160 mm rotor of the XP. This results in superior stopping power that becomes more apparent when you have the bike fully loaded and you want to come to a full stop riding at 20+ mph.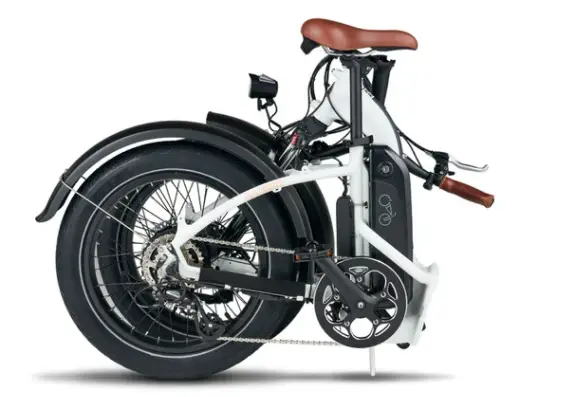 The front fork of both bikes has built-in suspension in order to make your ride more comfortable, but the RadMini scores against the XP again because of its 80 mm travel, which is twice the distance of the XP's 40 mm suspension.
You should expect good grip from both bikes because they both sport 3″ wide tires. The RadMini's tires are more geared to riding on paved roads and maybe some light gravel, while the XP's knobby tires are going to be a little bit more capable off-road.
Brand and Customer Service
Every time I tried to save money on anything expensive by not purchasing from a reputable seller, it backfired on me: I paid the price in a laptop, in a camera as well as in several bicycles. It's no different with these electric bikes either.
You need to make sure that you're not left without parts, and have a good customer service background in case anything goes wrong.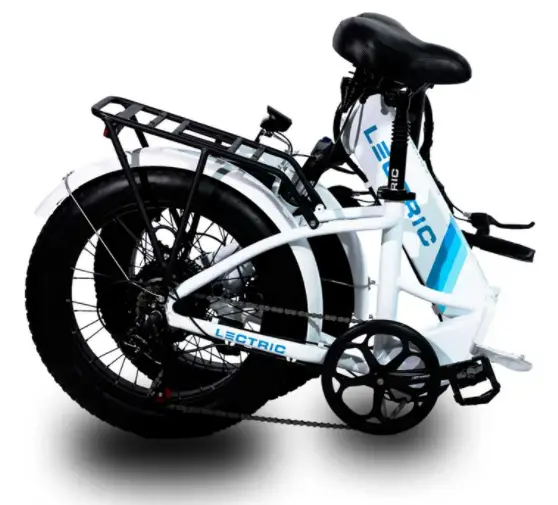 Radrover is a reputable company with a long history of excellent customer service. They have an ever-expanding mobile service you can rely on in case anything goes wrong. They have thousands of loyal customers just because they take good care of them.
Lectric doesn't have such a long track record of customer care, but in their short history, customers have been very satisfied with how they were looked after. In fact, customers rave about how well they are treated. The question is if they can keep up with the high standard they set at the beginning as they grow into a mature company.
Which is for you
If you still haven't decided which is better for you, let's distill it into a few sentences:
If you have the money, and you don't mind the external battery of the RadMini, it is a better choice overall. It has better components and demonstrated customer service.
If spending some extra money is a problem and you can live with slightly lower specs, the XP won't disappoint.