If someone in your family or a good friend cycles to work regularly or he or she takes riding seriously, you know how passionate they are about their bikes. They can talk about it for hours on end and whether you see it or not, they always think of how they can make it faster, more comfy or stylish. Buying a gift for them is a daunting task for someone not interested in bikes, so here are a couple of gift ideas for all kinds of budgets that will surely bring that special someone joy. 
Cyclist gifts under 20 dollars
The safest bell
A tiny accessory, yet hugely important part for a bike used among other cyclists and pedestrians that has prevented many riders from having an accident. There are two important aspects you should pay attention to: it should be sufficiently loud and that it can be mounted within thumb's reach for quick and easy use. If the bell is stylish, it's the cherry on the top.
The Trigger Bike Bell has a clear and distinct yet discrete sound that can be heard from a long distance even with a lot of background noise. What's particular about it is that it's mounted in a position that you don't need to lift your hand off the handlebar to ring it, so you can break and ring the bell at the same time. It can be easily mounted on any type of bike with any type of handlebar. You can get it on Amazon for about 10 dollars.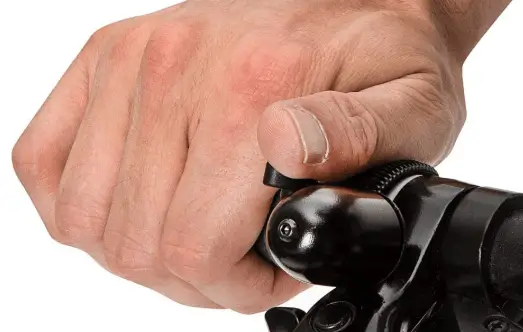 Funky valve caps
OK, I admit. This is not a useful gift idea, but it's definitely cool.
A cheap way to give a bike a personalized look is by putting on unique looking tire valve caps. They look cool and they prevent gunk from getting into the valve stem. Pay attention that you get the right type though. There are two main types of valves used nowadays: mountain bikes and some hybrid bikes use Schrader valves, while racy hybrids and road bikes use Presta valves. Most unique looking caps are made for Schrader valves, but there are some for Presta owners too.

Multi-tool
Every bike commuter has to be prepared to deal with some unexpected situations, such as changing a flat tire or make adjustments on his bike when on the road. A multi-tool has all the tools in a neat little package that can be carried easily without having to bring an entire toolbox. Even if that special someone owns a whole garage full of precision tools, a good multi-tool is always a welcome addition to a cyclist's arsenal.
There are many multi-tools available, and having gone through a few of them personally, I find that Topeak Mini 20 Pro Mini Tool is excellent value for the money. It has all the necessary functions to deal with any situation that might occur during a commute. It has 23 functions in total, and it comes in a light (150 g) package. It is made of high-quality, durable materials. Your cyclist friend or relative will remember you every time (s)he uses it. 
The functions:
secondary chain link fence, chain pin breaker, self-tightening tool
hex key: 2-L, 2.5, 3, 4, 5, 6, 8, 10
bottle opener
chain tool compatible with single and multi-speed chains up to 12 speed
#2 Phillips, flathead screwdrivers
spoke wrenches: 14G, 15G, Mavic® M7, Shimano compatible
tire lever
torx® wrenches T10, T25
Mirror
If someone rides the bike in traffic regularly then seeing the traffic behind is a must. A mirror is a small and easily mountable item on the bike.
The Hafny Bar End Bike Rearview Mirror is made of stainless steel lens, its diameter is 62mm. It can be mounted on a variety of handlebars, including that of hybrid bikes with flat handlebars, road bikes with drop bars and everything in between. It is adjustable 360° and can be used on both the left and right sides. The mirror has a convex surface for a wider view.

Cyclist gifts under 50 dollars
Chain cleaner and scrub
Cleaning a filthy chain is one of the nastiest jobs of a bike owner, yet in order to keep the bike running smoothly, it is a necessary task. A chain cleaner is the perfect gift for someone who rides the bike in all weather conditions, especially those who cycle to work all year-round. A chain cleaner makes this messy operation so much cleaner because it contains the junk and the gunk in its body. The Park Tool CM-5.2 Cyclone Chain Cleaner is really easy to use for all multi-speed bikes and single speed bikes alike. It comes with clear and simple instructions. Park Tool is a reliable brand with over half a century history producing bicycle repair tools.
The tool comes with a scrub that cleans the sprockets and derailleurs as well. The entire package costs less than 50 dollars on Amazon, and it comes with a bottle of solvent liquid.

Pump 
If your loved one only has a small hand pump or an old floor pump, he will be delighted to inflate the tires with a quality floor pump. A hand pump gets him out of trouble when fixing a flat on the roadside, but a proper floor pump with a gauge is a joy to use.
The BV Floor Pump is a great pump that can serve its user well. As it is a floor pump it is not supposed to be part of the emergency kit that the biker carries around, rather it is for home use. It can be used on mountain bike tires as well as road tires (Presta and Schrader valves). It locks onto the valve when in use to not let any air escape. It has a long hose to comfortably reach the valve. The large gauge is accurate and easy to read. The barrel is made of steel so it is durable. It comes with a bonus sport ball needle and an inflatable device. It costs around 30 dollars. 

Under 100 dollars
Lights 
A regular cyclist needs to have a reliable light, which enhances visibility on the road. For bike commuters a light is recommended even during the daytime, because it increases visibility and safety. A good light will make you visible on the road and it lights up the road ahead of you during dark hours so you can notice potholes, unlit pedestrians well in advance so you can react. 
The Cateye Volt 800 is a superb light that's built like a tank. It is USB rechargeable, so it can be charged anywhere there's a laptop or a phone charger. It has multiple light levels and flash modes and it can be used on dark roads at a relatively high speed giving you plenty of visibility. If you use it on the highest light level the Cateye headlight has a 2 hours long runtime, while in flashing mode it needs to be charged only every 100 hours! It's not the cheapest, coming in at around 100 dollars, but it's worth its weight in gold.
Under 200 dollars
Pannier
A pannier is a great gift for a bike commuter who needs to carry stuff such as a laptop, change of clothes, books etc. to work, but prefers not to have a backpack on his back. A pannier can also be used for weekend bike tours to carry food, clothes or a picnic blanket. 
The "swiss knife" of panniers is Ortlieb. It is super durable and some people report having used it for nearly two decades. It is the best waterproof pannier on the market, which makes it great for carrying valuables such a laptop in it. You can have the peace of mind that everything inside will remain dry even in the pouring rain. 
The Ortlieb Back Roller Classic Black Pannier comes in pairs with 20 l volume each. It has a large compartment with a small inner pocket with a zipper inside, where you can keep smaller items easily accessible. The quick-lock system allows you to mount and remove the panniers quickly and easily, its clips are easily adjustable. It has a shoulder strap so upon removal you can just hang it on your shoulder. They come in all various colors, but in my experience, brighter ones tend to get dirty easily, so my personal recommendation is a dark color.

Backpack
If that special someone doesn't have a rear rack on his bike, a backpack is an alternative way of carrying all the whatnots. It is less comfortable, but in certain cases more practical (especially for shorter rides, if the person doesn't sweat too much).
The Ortlieb Velocity Backpack offers the same level of protection against rain as the pannier. It's designed in a way to allow airflow to the rider's back. It's large enough to hold everything a regular commuter needs, including some groceries on the way home.