So you'd love to give bike commuting a shot, but you need to look professional when you get to work. Plus, you want to be able to transport your laptop, toiletries, and maybe even a pair of shoes all in the same bag.
Here at Bike Commuter Hero we're all about finding the best solutions for each situation. For some people, the Slicks Travel System could just be the answer. 
Slicks offers a modular backpack that can be used either as a backpack, a suit carrier, or a garment bag. 
Its power lies in how you can combine its modules according to your needs. 
The company is based in Switzerland, and the multi-purpose use is very similar to a Swiss knife: it's a compact size product with a wide array of features.
If you need to carry a suit, you can use the suit cover; if you need to carry an ironed shirt without creasing it, it has a rigid shirt holder; if you need to bring shoes with you, it has a large compartment that can be used for shoes; if you travel for a couple of days and you want to bring just a carry on for your clothes and your documents and devices, you can do that too.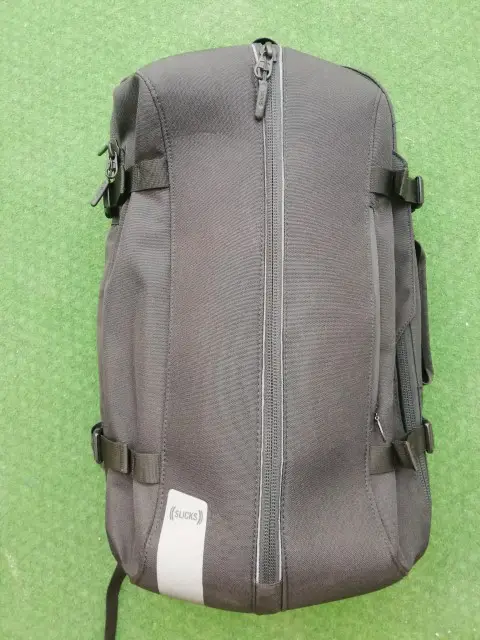 Depending on your needs, you can purchase the Slicks as a:
PACK: Standalone backpack with rain cover
SUIT bundle: Backpack with rain cover + Suit cover
TRIP bundle: Backpack with rain cover + Trip cover 
BIZ bundle: Backpack with rain cover + Trip cover + Suit cover
I reached out to Slicks, and they sent me a BIZ bundle for review so I can show you what it can do and whether you should consider it for your bike commuting needs. Of course, the backpack serves more than just bike commuters, but here we consider it from the viewpoint of a cyclist.
In a nutshell, it's best for those who want a large capacity, stylish way of  transporting their laptop and change of clothes, including their shoes, and want to make sure that their suit remains dry and crease free even if it rains.
If you decide to purchase this backpack, the Slicks team agreed to knock 15% off the purchase price by using the coupon code 'HERO' at the checkout.. Full disclosure, I also get a small commission from each purchase, so it's a win-win-win situation for the three of us, including Slicks. 
Look and quality
The Slicks backpack's appearance is quite minimalist on the outside, and it manages to conceal quite well the many clever organization features on the inside. 
I have the all black version, which is tastefully understated in my opinion.
By looking at the bag the first thing you notice on it is the two reflective stripes on either side of the zipper running down the middle, hiding the shoe compartment. This tasteful feature is a handy one when you pedal at night, offering better visibility. The Slicks logo is also reflective, but it blends in well with the black material of the backpack.
For some people, this dividing line in the middle is a deal-breaker simply because of how it looks, but I believe that it gives the backpack a tastefully unique look.
The backpack's outer shell is a firm fabric, which keeps the same shape whether it's fully loaded or empty. I like the fact that it doesn't collapse and sag when empty.
On the side there are four compression straps; two on each side. These are neither detachable nor can they be hidden. These need to be kept buckled to make the backpack look neat and tidy. Reflective details can be found on the sides too.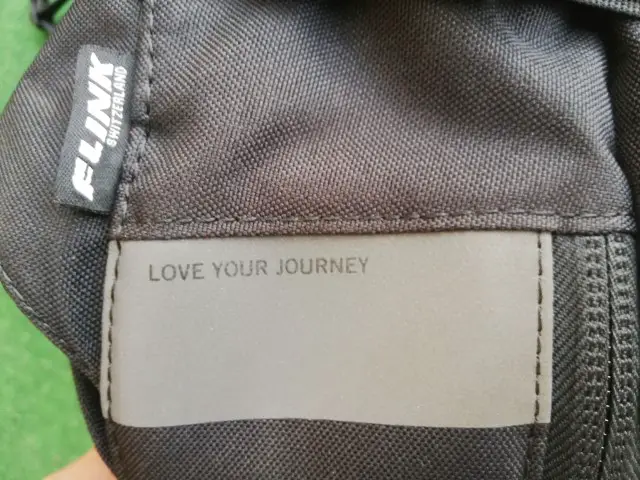 On the right side there's a handle, which is used when the Slicks acts as a small luggage. You can hide away the shoulder straps, and convert the backpack into a small carry-on. As a bike commuter, I don't really need this feature, but it's nice to have it for travelling.
The shoulder straps are firm, and rather narrow. They too have some reflective details on them, and they also have a chest and a waist strap so you can adjust the backpack to enhance comfort when wearing it. These can be detached or tucked away if you don't want to use them, or you're after a completely minimalist look.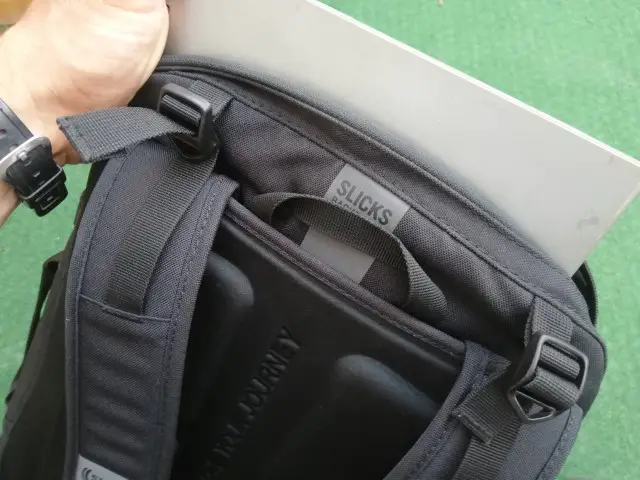 I would have liked to see a bit more padding on the shoulder straps, and I also miss some padding from the handles. Holding a fully loaded backpack by the handles can become uncomfortable for the hands.
The backpack is made of quality materials. The sowing is done with precision, the zippers work smoothly. The bag is going to last for years to come. In fact, I have read that some people still use it just like when it was new after 6 years of regular use.
Organization inside the bag
The Slicks has an impressive array of pockets and organization features. 
At the back there's a laptop compartment, which can easily take a 15" laptop. It's designed in a way that it doesn't reach to the very bottom of the backpack, so even if you were to drop it, your computer won't hit the ground directly.
On the right side there's a small quick access pocket, where you can keep items that you need to be able to grab quickly: phone, wallet, keys, etc. This is a handy feature to have, especially when you're on the bike since nobody can open it while you're riding. I would be hesitant to keep valuables in it when wearing it in crowded places, since the zipper is easy to open and there is no way of securely locking it.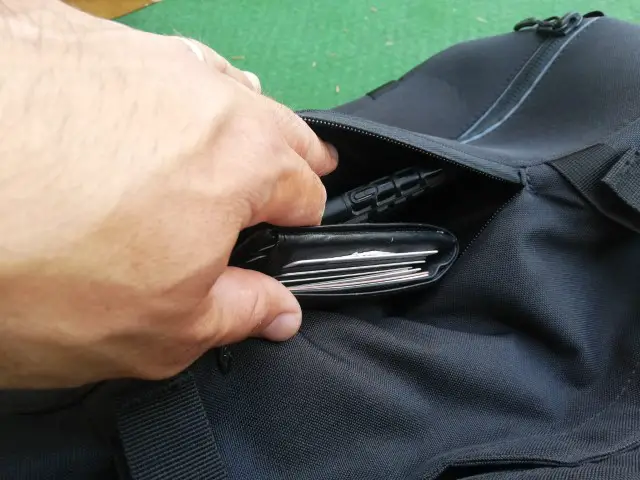 Under the quick access pocket there's another large pocket, which can hold a tablet or a folder. You can easily put a large iPad Pro in it. Since the zipper is hidden and it's located under the compression straps, it seems like a safe pocket for a tablet even when walking on the street.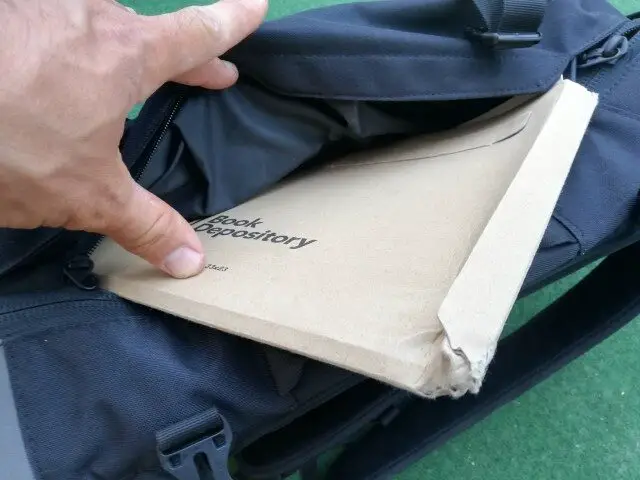 On the opposite side of the bag there's another small pocket, which contains the yellow rain cover to make the bag fully waterproof. It's easy to access in case you get caught in a sudden downpour. As an added bonus, the bright yellow color of the cover enhances your visibility, and it has a reflective logo and two large reflective stripes too.
To open the main compartment, you need to undo the compression straps on the right side of the bag. Here, you're greeted with a large, but well-organized packing area. 
The main part can hold your clothes directly, or if you have purchased a bundle, this is where the optional inserts belong.
The suit cover gets me excited, since the reason the Slicks is interesting for bike commuters is because it enables them to transport their suit to work easily. 
This suit cover has a dedicated buckle, which prevents it from slipping or falling out when the backpack is opened. It fits into the main compartment like a glove even with a suit, a shirt and dress pants, and since it comes with a clever hanger, you can hang your suit as soon as you arrive at your destination. This is a welcome feature, since you need to minimize the time your clothes spend folded in the suit cover. More on this later.
The TRIP and the BIZ bundles also come with a trip cover, which allows you to organize your clothes even further. There is room for socks, underwear, toiletries and it even has a clever shirt folder in which you can place your ironed shirt without creasing the collar. You also get a small laundry bag for further organizing your clothes.
Still on the inside of the main compartment there is a mesh pocket for other clothing items and a large pocket with a velcro for holding documents. 
There's also a small semi-quick access pocket on top for small items, located conveniently close to the top of the zipper. Unlike the quick access pocket on the front, this one is much safer to keep valuable items in, and you still get access to everything relatively easily, since you only need to open the zip on the top of the bag to be able to reach it.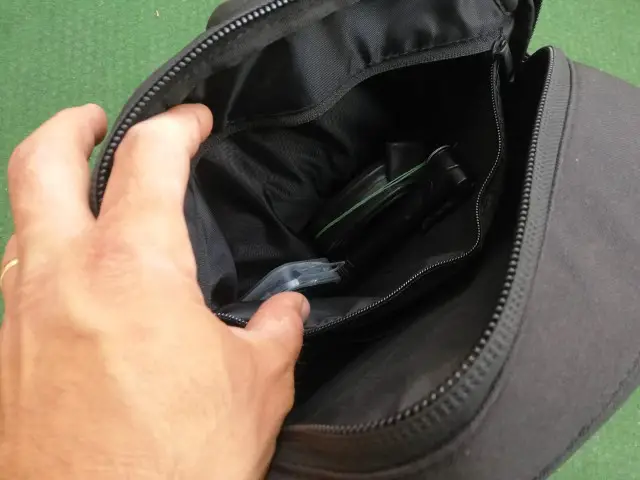 How Does It Wear? Comfort
The Slicks is larger than an average backpack for daily carry since its intended use is different. It enables you to travel light if you go on a short, multi-day trip, or to carry a suit or a dress even if you're a bike commuter.
However, in my experience as an average size guy (5'11" or 180 cm), the large-ish size of the Slicks doesn't make wearing it uncomfortable. The size could be an issue for a smaller lady riding a bike, as the bottom may touch the rear side of the saddle.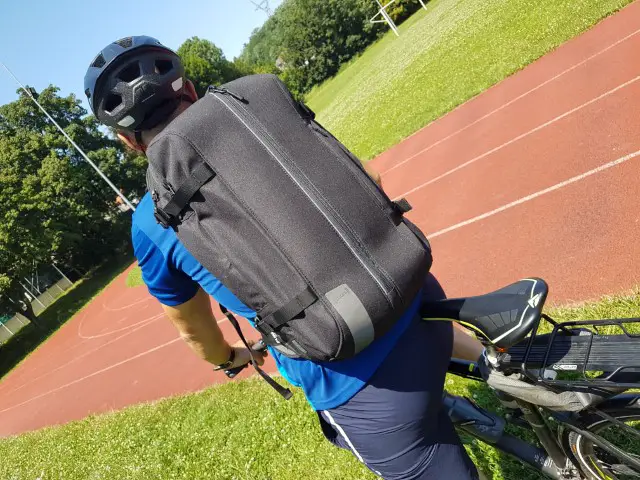 Thanks to its firm, but padded back, the chest and waist straps, the Slicks feels comfortable to wear even when fully loaded. With all the added covers and extras, the empty weight of about 5.5lbs (3kg).
Although the backpack has some cooling channels to allow for some air flow, pedaling with the Slicks means that you can expect to sweat some depending on the weather, the intensity and duration of your ride, and your genetic disposition to sweat. The mesh of a dedicated cycling backpack works better to reduce sweat, but if you've decided for a backpack, you've embraced the fact that you're going to perspire more than using a pannier anyways.
If you like the design and the functions of the Slicks, but you prefer carrying it as a pannier, I recommend you check out the Mundo Air Pannier, which allows you to carry bulky items on the bike. It's a small price to pay for a huge convenience.
How well does it keep your suit crease free?
For anyone considering the Slicks, I believe this is a key point.
I carried my suit in it to work without any problem and without causing my jacket or trousers to crease. The shirt insert is a really clever way of taking this feature to the next level. Both the suit cover and the trip cover do a great job.
However, don't expect to use this bag as a wardrobe. You can't put your suit in it and forget about it for days. I once left my jacket in it for 48 hours, and it needed serious ironing. 
The good thing about the suit cover is that it comes with a hanger, so you can prepare your clothes the night before your commute or departure, leave them hanging, and place them in just before leaving. You can also hang your clothes as soon as you arrive at your destination. This way, you will minimize the amount of time your suit spends in the bag, and you can dress up sharp in the office.
Practicality
The Slicks is designed to carry your clothes and electronics in an organized and stylish fashion. It's a travel bag and when we judge its practicality we need to keep this in mind. 
Initially I thought that it was only practical for commuting and travel, which are its primary intended uses. But the Slicks has grown on me over time, and it has proven to be practical for hikes and as a backpack for daily use as well when used as a standalone backpack. It's not limited to specific uses as are some other solutions that allow you to carry a suit, but it's useful in a wide range of scenarios.
It's easy to transform it from a suit carrier into a hiking backpack or a carry on for a flight and super comfortable to wear.
Pros of the Slicks
Ample room to carry your clothes for three days or
Enough room to carry a suit and gym clothes, including shoes
Good organization for laptop, tablet, folders etc.
Comes with fully waterproof rain cover
Reflective details around for enhanced visibility in the dark
Quick access pockets so you don't need to hunt for stuff at the bottom of a large bag
Solid build quality
Looks professional
Can be used as a carry on luggage
Good for daily use
Cons
Lack of padded handle grips and thin-ish shoulder strap
Lack of water bottle holder can be an issue for some
It can be tricky to put your shoes or access side pockets when the bag is fully loaded.
Final thoughts
Can you justify paying a premium price for the Slicks? 
For some people, this is the perfect bag. Who are those few that should consider getting one?
Business people who regularly get on the plane for 2-3 day trips and need to look smart
Adventurers who love short, weekend getaways and want to carry a small convertible wardrobe and backpack all in one
Professionals who would like to bike commute, and are looking for a way to carry their suit to work crease free
I'm confident that if you feel that you fall in this group of people and decide to get a Slicks backpack for yourself, you will not be disappointed. Shipping and handling is fast, and they offer very good customer support too.
If you consider purchasing a bag, you can grab one at a 15% discount by using the promo code 'HERO' at the checkout. This will let the guys from Slicks know that I sent you.
Happy Pedaling!