We face some challenges we need to overcome as bike commuters. One of them is figuring out how to dress and transport our clothes. 
At my workplace we occasionally have company events where the dress code is suit and tie. For a long time I didn't have a reliable way of transporting my suit on my bike without leaving crease marks on it. In fact, a few months ago we had a team building getaway with a gala dinner and despite my best efforts of packing the jacket as neatly as possible my suit ended up a ball of wrinkled mess in my pannier.
I decided that I'd never show up for a gala event with creases on my suit again and I've found some interesting solutions. One of them was the Rollor Premium product.
I reached out to Rollor in the Netherlands, who sent me one of their products that solves this problem. No frills, no bells, no whistles… Just a simple solution to a concrete problem: transport your suit crease free. 
Oh yeah, and it does so in style!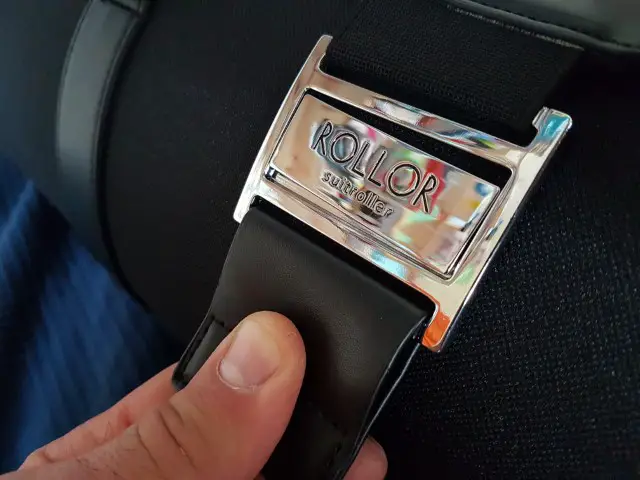 The Rollor Premium is definitely a head-turner. Whenever I bring it to the office I get comments on how great it looks. The shoulder strap and the handle are made out of leather, the body is a strong type of canvass. The silver middle piece complements the black perfectly. If you own a classy bike, such as a Brompton, for example, you will definitely look the business.
You can use promo code 'HERO' at the checkout to get 25% off the purchase price of the Rollor. If you decide to purchase the product, you also support Bike Commuter Hero, so it's a win-win for both of us.
How does it work?
Rollor works based on two simple principles:
Rolling your clothes creates less creases on the tissue than folding it
Creating a gap between the rolling layers prevents pressure between those layers
Here is how it's done in pictures.
The result? A neatly rolled package that can be transported by its handles or by the shoulder strap attached to the ends. 
Packing your suit in the Rollor is very easy: you need to pay attention that you put it flat, reasonably crease free and without any parts getting pinched by the edges on the sides. You're ready to start rolling. 
There is a heavy-ish middle part that keeps the product stretched when it's open. It makes the product heavier than you'd expect just by looking at it: when empty, the Rollor weighs 6.5lbs (3 kg).
The first few times I felt like I was destroying my suit with every roll, but to my surprise, when taking out the jacket and the pants, there was
NOT A SINGLE CREASE AT ALL.
In fact, it does its job so well that even after being left in the box 72 hours straight (I forgot to take it out), I couldn't see wrinkles. However, keep in mind that Rollor recommend not leaving anything in it for more than 24 hours. 
Quality and waterproofing
The Rollor Premium, as its name suggests, is made of premium materials, and every detail on the outside screams quality. I'm not a huge fan of the foam edges on the sides, but I understand that in order to achieve the goal, they needed a material that could bend, had waterproof qualities and looked well.
The inside of the Rollor has a blue felt fabric, which prevents the suit from moving around once rolled up. The felt hanger with a folding hook is a nice detail too, and it's very useful indeed if you want to hang your suit at your destination. The black-blue color combination is very classy, again.
I can testify that the Rollor can withstand rain also. The very first day I rode my bike to work with it on my back, it was a heavy downpour. 
I spent about 50 minutes of non-stop torrential rain. I tried to protect it with my poncho, but it was too big to stay completely under cover and the lower third got completely soaking wet. To my biggest surprise, everything inside the giant sushi remained bone dry.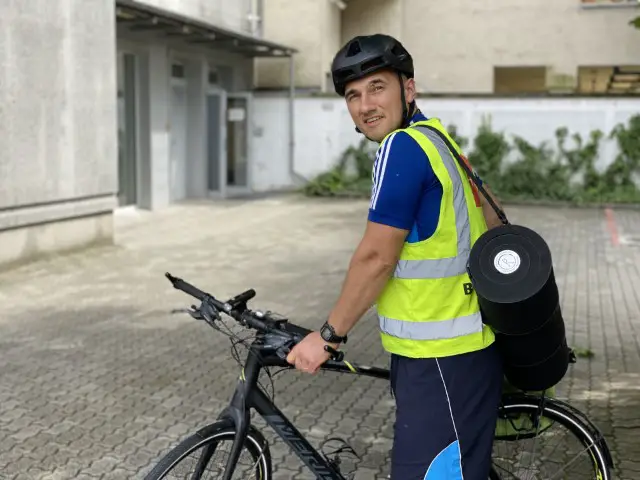 I'm not sure if some water could have seeped through if it had fallen on the top (which was covered by the poncho), but it's good to know that with some care, you don't need to worry about water stains on your clothes.
Rollor are so confident that you will be happy with your purchase that they offer a money back guarantee if you don't like the product for whatever reason. Try it, and if you don't like it, return it.
They also offer a 2 year warranty, which means that they will fix/replace products cost-free that suffer from defects caused by faulty manufacturing.
How does it carry?
There are two main ways to carry the Rollor: either by the handles or on the shoulders by the strap.
If you have a bike rack, there is a third possible way too: you can clamp it down with the spring clamp or a bungee cord. I figured that this may not be a very practical way of transporting it, since the outer shell is flexible, which makes me think that you will leave a dent on it if you press on it for too long. I wish there was a product that would allow me to put it on the bike securely and without damaging it.
As a cyclist, carrying it in the hands is out of question, so you'll most likely end up throwing it over your shoulder.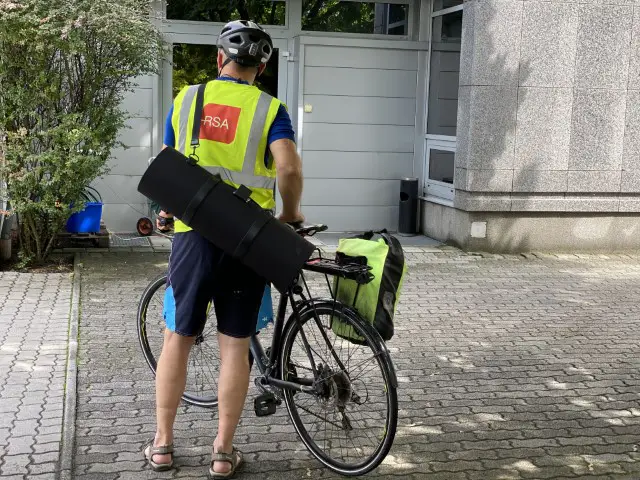 The leather strap of the Rollor is quite narrow, but I didn't feel it cutting in my shoulder even after 10 miles of cycling. You can expect to feel the extra weight, but it's not unbearably heavy since most of the load was resting on my back.
Limitations
When it comes to what the Rollor can't do for you as a bike commuter, they all come down to the fact that this product is only designed to carry your suit:
You won't be able to transport shoes in it.
To carry your other belongings such as your laptop, keys and other whatnots, you're limited to panniers.
For me limitations are not deal breakers since I use panniers anyway. The odd time I do have to bring a jacket and dress pants, it's well worth the 'sacrifice' of having to carry another thing with me.
Would I use the Rollor on a daily basis as a bike commuter? If I had to wear immaculately ironed suit, shirts and pants, it's the best solution available right now. Folding clothes, even if you're completely gentle, will always lead to creases after a while. 
Something else to keep in mind is that you can only pack your suit in the Rollor if you have a flat surface where you can fully roll it out: on a bed, on the floor/carpet or on a desk if it's big enough. 
Who is it best for?
I'm a big fan of its looks and of how well it does what it's supposed to do, but if there was a way of transporting it directly on the bike, it would take the whole experience to the next level and I would rate it 10/10.
The Rollor is a fantastic solution to anyone who wants to carry a neatly ironed suit and wants to be 100% certain that it'll come out just the way it was put in.
It's great for bike commuters who don't mind carrying some weight on their shoulders. 
If you own a slick bike and care about how you're perceived, the Rollor is definitely a great solution.
Not just bike commuters…
The really cool thing about the Rollor is that it's not only for bike commuting, but for a car, plane, motorbike, public transport… You can carry your suit on any means of transportation, really.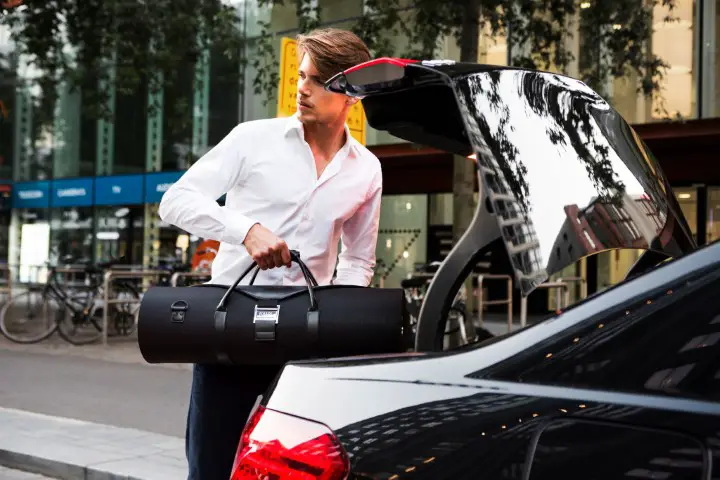 Anyone who wants to dress to impress when getting the suit out of the bag will be happy to have purchased one.
Remember that the folks at Rollor offer friends of Bike Commuter Hero a 25% discount on the purchase price by using promo code 'HERO' on the checkout.
Happy Riding!