A very real concern when using your bicycle is how long are my tires going to last? When commuting this question only magnifies as your tires can easily become the most important component of your entire commuting rig.
In many ways, it is a good idea to treat your tires as you would for your shoes. You wouldn't leave the house with worn-out shoes that could get your feet wet or pose a safety hazard, would you?  
How long do bike tires last? Bicycle tires typically last between 2000 to 3500 miles. Lightweight racing tires last from 800 to 1000 miles. Touring tires are rugged and can last 3500 to 4500 miles. The quality of the tire, road conditions, and how you take care of it all play a role in how long it is going to last.
Why ride around on beat-up tires that could go flat and get you stranded? Read on to find out more about your tires, how long they should last, and what to look out for when it comes time to replace them.
Signs To Look For When It Comes To Replacing
A good set of tires can usually last the user a year or two. Unless you ride more than 20 miles a day you can reasonably expect them to last more than one season. People with a shorter commute can often get as much as 3 or 4 years out of a good set of tires. 
However here are some things to watch out for when it comes to your tires and warning signs letting you know that it is time to replace them. 
One of the most obvious is the wearing down of the tread pattern. With mountain bike tires, gravel tires, or touring tires there is often a tread pattern on the main portion of the rubber that contacts the road surface. It is pretty easy to visually look and see when the tread pattern is wearing away. 
Some tires even have wear bars just like the tires for your car so keep an eye out for those and if they start to appear it is a good idea to replace them. 
A special note about road tires is they are sometimes slick without the appearance of a tread pattern. When it comes to checking these for wear visually inspect them and if they appear to be getting less rounded it could indicate that they need replacing.
No matter what tires you use it is always a great idea to inspect your tires every few rides for wear. 
Look for any cracking in the sidewalls, gouging in the rubber, bubbles, or threads showing through. If you ever find these it is advised that you replace your tires immediately.  These can be relatively serious issues and can lead to a blowout which could make you not only late to work but also could be potentially dangerous.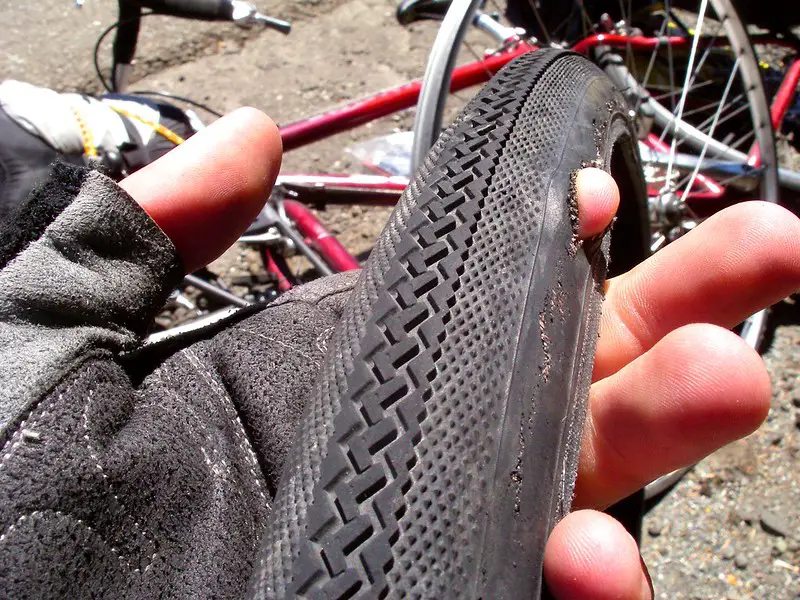 In a nutshell:
Inspect tires about once every two weeks to look for signs of damage or wear.
Make a mental note of tread pattern when new and look for visible signs of wear while inspecting your tires.
Be particularly careful to look over tires for any signs of cracking, gouging, bubbling, thread exposure, strange wear patterns, or anything else troubling. When in doubt replace them immediately.
See below for a handy dandy list to help you care for your tires as well as what to look for indicating it is time to replace them.
How to make your bicycle tire last long?
Ensure proper inflation every few days, especially when temperature changes are dramatic.
Rotate your tires, back to front, front to back about every 4 to 6 months. This will make sure you are getting the most out of your tires as the rear one will usually wear faster than the front.
Avoid hitting potholes and curbs as much as you can
Don't ride with a flat tire
Should I Replace Both Front and Rear and Inner Tube at The Same Time?
I always recommend that when you replace one tire you should go ahead and replace the other. This allows you to know the life of each tire and also prevents you from having a mismatched set. 
I also usually recommend that when replacing your tires it is a good idea to replace the inner tube at the same time. This ensures that your tires and tubes are brand new allowing you to have some relative peace of mind.
The Best and Most Resistant Tires For Commuting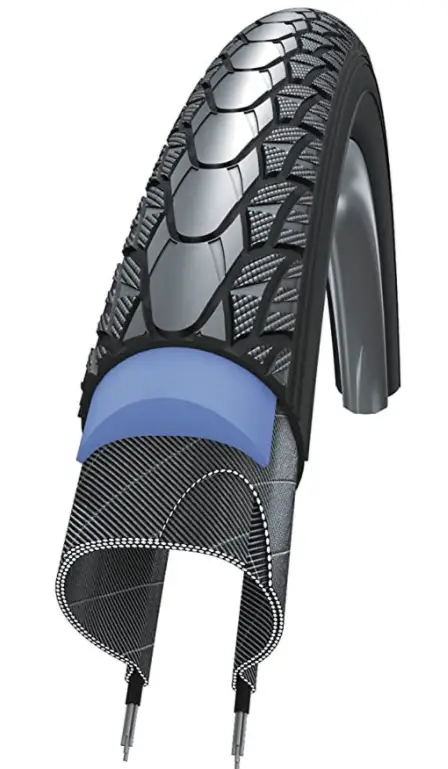 Schwalbe Marathon Plus Smart Guard: These are considered the gold standard for commuting and are an awesome option for the daily commuter. 
They have a durable wire bead, come in a variety of sizes from 16in to 700c, widths from 25c to 45c, and offer excellent puncture protection. 
The only drawback to these guys is that they are relatively slow rolling. 50 bucks a tire isn't the cheapest but you can't complain too much especially how hard it takes to get a flat with the extra 5mm of rubber between the tread and tire carcass. Slap on a set of these if you are looking for serious flat protection.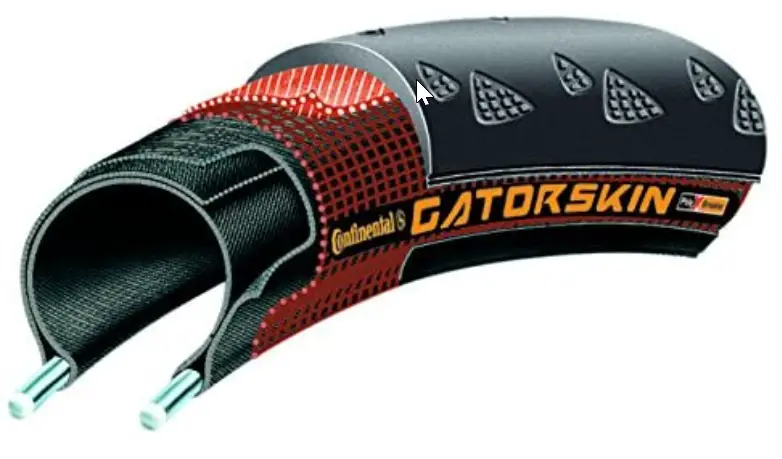 Continental Gatorskin: Looking for great flat protection with minimal rolling resistance? Look no further than Gatorskins. A favorite of commuters for years Gatorskins offers a perfect balance between flat protection and speed. 
They will not protect you as much as the Schwalbes mentioned above but you will get to where you are headed faster. 
They come in a variety of sizes such as 26in, 27in, and 700c with widths from 23c to 32c. They come in a durable wire bead or a lightweight folding bead style saving storage space when not on the bike. 
At about $40 per tire, these are a favorite of commuters around the world.
Specialized Crossroads Armadillo: If your commute takes you across a variety of terrains other than regular asphalt then these are your best choice.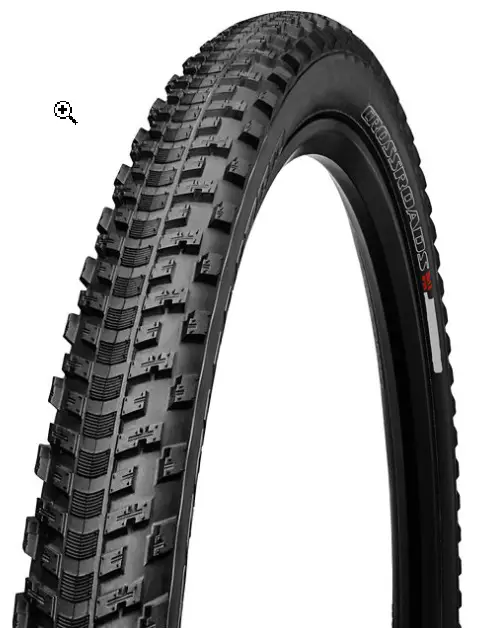 With rugged casing, aggressive tread, and well-supported side knobs these guys are ready to tackle gravel, dirt, and pavement all in one ride. Sure you will increase your rolling resistance but the traction gained in slippery mud or on icy road conditions can be worth the trade-off. 
These make a great option for winter commuting and come in a variety of sizes such as 26in, 650b, and 700c. Their wide stance at 38c and rugged wire bead will not only ensure great traction but lasting reliability. 
At $40 per tire, they are also a great deal the only drawback is they are only available through Specialized and authorized Specialized dealers.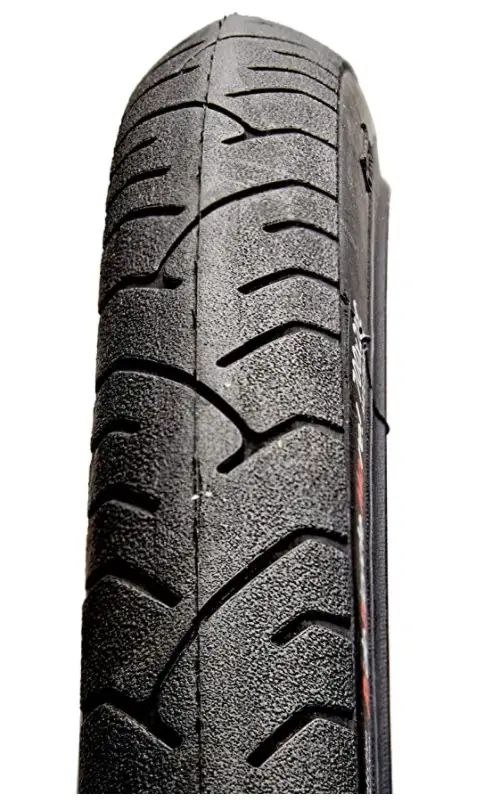 Panaracer Ribmo: The name Ribmo stands for Ride Bike More and these certainly do a great job at that. With excellent flat protection and minimal rolling resistance, these are a great competitor or alternative to the famed Gatorskins. 
They are extremely tough and long-lasting using a special compound from Panracer called Mile Cruncher. This is one of the hardest compounds used by the company providing excellent flat protection while also increasing the lifespan of the tires. 
They come in folding and wire bead models with 26in, 650b, and 700c sizes with widths of 23c -36c. 
If you are seeking a long-lasting tire that won't break the bank at around $35 per tire then look no further.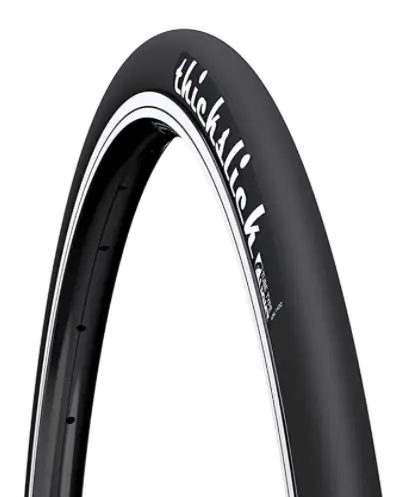 WTB Thickslick: Looking for a purely slick tire to minimize rolling resistance to the max? Then you should consider a pair of WTB Thickslicks. 
These tough tires offer a fair amount of puncture protection while also allowing you to roll fast. They also look super cool while doing so and are available in 26in, 650b, 700c, and 29in options. On top of that, they have widths from 23c to 50c to fit all of your commuting needs. 
Best of all they are super affordable and come in two models: the Comp ($33) and Flat Guard ($37) offering a bit more protection.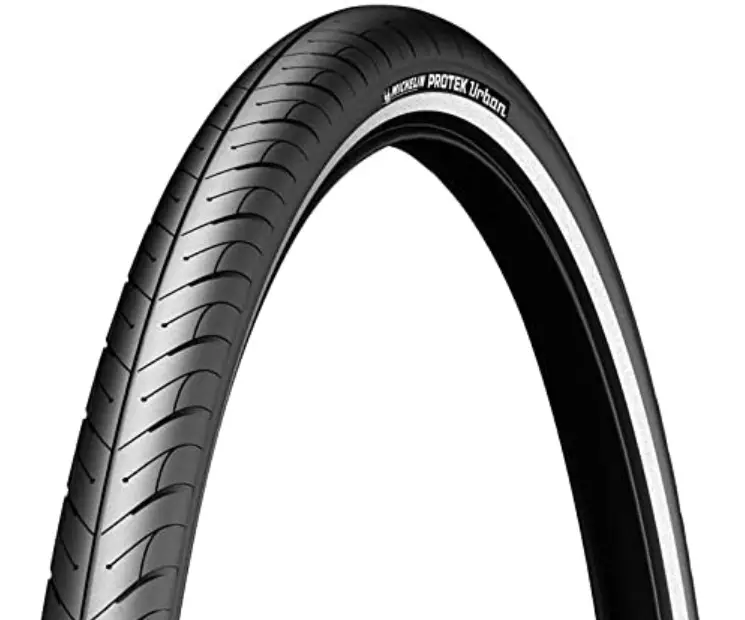 Michelin Protek Urban: If you live in an area that experiences extremely wet conditions then these are probably going to be your best choice. 
Made from Michelin's proprietary compound that is borrowed from the Pro 4 Grip Service Course road tires they stick to wet ground like velcro. 
They excel in the rain while also affording superior flat protection with minimal rolling resistance. They come with a durable wire bead in 20in, 26in, and 700c options with widths from 28c to 40c. 
The cherry on top is their affordability at $32 per tire.
Beware of Cheap Tires!
When looking to put on new or replace the tires on your bicycle it is a great idea to ensure that you are buying the best that you can reasonably afford. This is especially true when putting tires on your commuter bike as you do not want to be constantly dealing with flats on the way to work. 
There are cheap tires out there that will run you less than $20 but these should not be used as a long-term option. They are great for a temporary fix until you can save up for a nice pair of tires but do not rely on them for the long term. 
Generally, the build quality is terrible on cheap tires using inferior rubber in the process. This leads to them wearing out much quicker and they are more prone to flats as they are often more tender than a nicely cooked chicken breast.
Happy riding!