Over time, the line between gravel bikes and XC bikes has become a bit blurred, so it isn't always clear which bike you need, especially if you are considering, for instance, commuting and bikepacking. 
A gravel bike is built for long rides down hard-pack dirt and smoother gravel roads. An XC bike is built for technical trails and long distances. The XC bikes have slacker head angles and longer wheelbases, gravel bikes have plenty of eyelets for accessories, and they cannot climb up hills as well.
In this article, we're going to discuss the difference between XC bikes and gravel bikes. First, we'll go over the basic differences. Then we'll talk about if it is equally easy to carry stuff on both bikes. And we'll tell you which one to use and when. Let's get started. 
What's the Difference Between a Flat Bar Gravel Bike and an XC Bike? 
The biggest difference between a Flat Bar Gravel Bike and an XC Bike is the intended terrain.
A gravel bike is more similar to a road bike than an XC bike is, so it can also perform well on pavement. 
Geometry 
The head angle on an XC bike will be a little slacker, while the gravel bike will be slightly more upright. This gives the XC bike more stability, while the gravel bike will be more responsive to steering. 
Also, the XC bike will have a longer wheelbase to give more stability and a higher bottom bracket to get over obstacles in the road. 
The gravel bike will do a little better with steep climbs, while the XC bike will do a little better with descents. 
Handlebars
Both types of bikes have flat bars. However, gravel bikes with flat bars tend to have a shorter reach than XC bikes. This may make the bike feel slightly twitchy than an XC bike. 
Gearing 
You may find similar gearing on both types of bikes. 1 x gearing is popular on both gravel and mountain bikes. However, many gravel riders prefer the 2x gearing that resembles a road bike. This gives you more options to keep a consistent cadence, while mountain bikes don't typically worry about cadence because it has to adjust as they go over roots, rocks, and obstacles. 
An XC bike may have easier gears for hills than a gravel bike.  
Eyelets 
Both types of bikes have mounts for water bottle cages, but you'll typically find many more on a gravel bike. Gravel bikes are made to carry stuff, so you're more likely to find mounts for a rack, fenders, extra water bottles, and even downtube mounts to carry tools. 
Many XC bikes only have mounts to carry water bottles, which makes it complicated if you wanted to use an XC bike for commuting. 
Suspension 
Most gravel bikes don't have suspension, although its front suspension is creeping into a few models. 
On the other hand, XC bikes are usually called hardtails, which means they don't have a rear suspension. Instead, they may have a little bit of front suspension – up to 100mm of travel for extra grip and comfort on rough roads. 
Wheels and Tires 
A gravel bike will have 650b wheels or 700c wheels, while an XC bike will have 27.5-inch or 29-inch wheels. Don't let this fool you! These sizes are essentially the same. 
However, although gravel bikes tend to have thick, chunky tires, XC bikes have thicker and chunkier tires because it is used on tougher terrain. 
Are both good for bikepacking and commuting? Can you carry stuff easily on them? 
With a few considerations, you can use either bike for bikepacking and commuting. Both types of bikes have long wheelbases and slack head tubes for stability, but the XC bike will be longer and slacker.  
First of all, gravel bikes tend to have more mounts to carry your stuff. They're intended for all kinds of adventures, short and long, so you'll be able to attach more bags to the mounts. Also, XC bikes have less room in the frame for frame bags. 
That being said, there are plenty of bags that can attach without using mounts, such as rocket saddle bags, handlebar bags, and small frame bags. 
In addition, most gravel bikes will have a spot for a rack and panniers, while most XC bikes do not. However, if you are creative, you can find ways to attach a rack to the seat post and attach your panniers to the rack. 
It's definitely easier to attach bags to your gravel bike because it's more likely to have the mounts you need, and it will have more space in the frame. However, because the XC bike is longer and more stable, you might find it easier to ride an XC bike with panniers than a gravel bike. 
What's the best use of each?
Mountain bikes don't usually haul a lot of gear because of the terrain that they cover. But that doesn't mean you can't. 
The wider tires, longer wheelbase, and more upright position will make the XC bike feel more comfortable on rougher roads. However, the same characteristics will make the bike feel a little bit slower and a little bit less responsive to hard turns. 
On the other hand, the gravel bike will feel a little bit faster and more responsive since it has a little bit shorter wheelbase, more aggressive position, and slimmer tires. 
If you're going to be commuting or riding on paved or smoother gravel roads, you'll likely want to use a gravel bike. It'll go a little bit faster, and it will easily carry much more gear. If you need to carry equipment like a laptop, you'll want it to be in bags attached via mounts, so there's less chance of it falling. 
Also, you'll be able to go faster and further with less effort since the bike is a little lighter. If you tend to ride more gravel than XC for fun, you can use your gravel bike for both commuting and bikepacking. 
On the other hand, if you're riding on rougher roads, are a larger rider, or don't feel confident in your bike handling skills, you may want to try an XC bike. It can handle a lot more roughness on the roads, and it will give you a lot more stability and comfort as you ride.
But it will feel much more sluggish if you need to take it on paved roads. And if you prefer XC riding on your fun days, you can just use your XC bike for commuting and bikepacking, provided you find the right gear that will fit and attach to your bike.
Final Thoughts 
If you're looking for a flat bar gravel bike, you'll want to explore the Specialized Diverge Expert E5 Evo. This popular gravel bike really blurs the line between gravel and XC.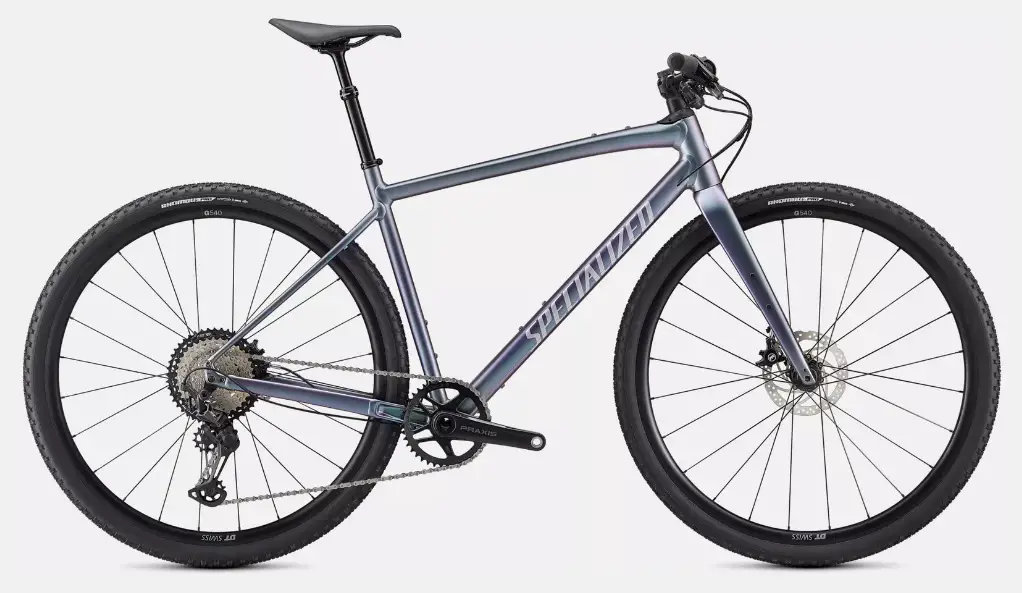 On the other hand, if you lean more towards XC than gravel, you'll want to take a look at the Cannondale Scalpel HT Carbon 4.