Unfortunately, e-bikes can get pretty pricey. Bikes have generally shot up in price in recent years thanks to a surge of increased interest in bicycles and complex global economic conditions. As nice as e-bikes are, their prices can be out of reach for some wallets.
If you're sold on the idea of an e-bike, but you're having trouble affording one, we might be able to present a perfect opportunity for you. DYU is a Shenzen-based e-bike manufacturer that's been making waves internationally since 2014. Their 2023 lineup includes four budget-friendly e-bikes that compete with some of the most popular offerings from American direct-to-consumer brands. 
Not only do these bikes retail for a couple of hundred dollars less than most of their competitors, but DYU is also running a time-limited sale that will save you another $200 on these bikes. 
This means that you're potentially saving up to $500 by choosing DYU instead of a US direct-to-consumer brand.
Quality, Price, and Savings
We're normally pretty relaxed when it comes to promotion here at Bike Commuter Hero. While we think that DYU is presenting an excellent deal this spring, we'd like to take a moment to peel back the curtain and explain a little bit of behind-the-scenes happenings in the DTC e-bike world. 
The truth is most direct-to-consumer e-bikes are very similar. You might have noticed that you see the same set of budget-friendly midrange components on just about every bike (like Shimano Tourney/Altus derailleurs and Tektro Ares brakes). What's a bit more subtle is that many of the bikes have virtually identical frames. 
To save money, United States-based brands will purchase bike parts from various overseas manufacturers. It's not uncommon to see two or more brands get their frames from the same foreign factory, leading to bikes that are pretty much the same other than branding and a few minor details.
This means that the big difference between DYU and American brands isn't where the bike's parts are made but rather where they're assembled and shipped from. 
US brands get parts shipped to them, perform final assembly in the States, and then ship you the bike domestically. DYU simply skips some of the middlemen involved in this operation. 
As a Shenzen-based brand, they're better able to navigate the complexities of Chinese manufacturing and give you the best possible price on an e-bike. 
You still see most of the same parts, right down to the frame. You just pay less for them.
DYU's current promotion lasts until March 6th, 2023. You'll still be able to buy these bikes after that date, but there's a good chance that the price will go back up.
Overview of The Bikes:
T1
DYU T1
The DYU T1 is an incredibly affordable and quite light folding e-bike with a 250W motor and a torque sensor.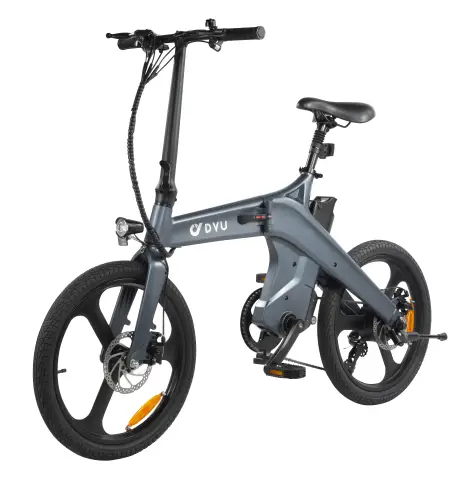 We earn a commission if you click this link and make a purchase at no additional cost to you.
The DYU T1 is an incredibly affordable folding e-bike with a modest 250W motor. It's not going to break any speed records, but it's quite light (under 50 lbs), it's fun to ride, and the battery is super easy to remove. 
This makes it a great option for anyone who needs a transport solution on-the-go – or someone who just wants to take their e-bikes on their weekend excursions.
V8
DYU V8
With the strong 750W high-power motor and the SHIMANO 7-speed cassette, DYU V8 eBike is highly capable of taking you to any destination across complex terrains.
We earn a commission if you click this link and make a purchase at no additional cost to you.
The DYU V8 is an unconventional, fun-sized dual-suspension bike with a powerful 750W motor. More dirtbike than a mountain bike, its cushy suspension and oversized motor are perfect for tearing down trails on a wilderness excursion. It's a wonderfully wallet-friendly way to have fun.
KING750
DYU King750
King750 uses a 48V 20AH LG battery, providing reliable and durable electric output. Utilizing a front shock absorbing system, King750 riders can conquer different surfaces, including mountain roads and snow roads.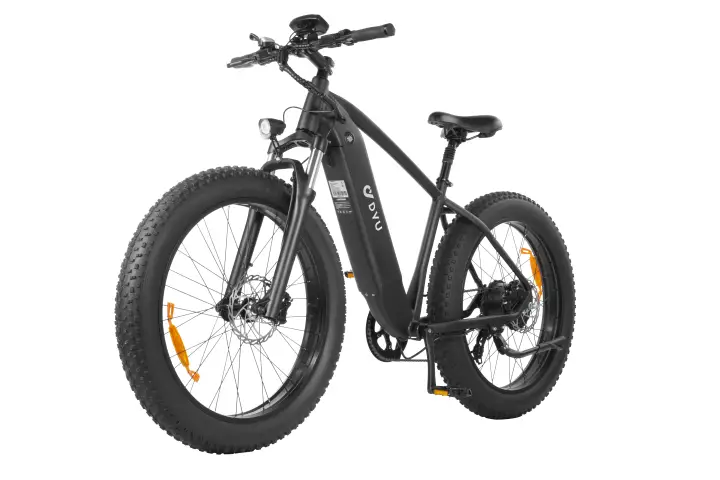 We earn a commission if you click this link and make a purchase at no additional cost to you.
A conventional, full-sized fat-tire ebike with a big 20 amp-hour battery and a very low price, the KING750 will let you conquer your daily commute and country trails with equal ease. 
On top of the tremendous range afforded by the gigantic battery, it's got regular-bike comfort and stability for longer rides. While it's somewhat on the heavy side, the big 750-watt motor will let you zoom around at the local speed limit with ease.
FF500
DYU FF500
An affordable folding fat-tire bike that's designed to be versatile, the FF500 is equipped to serve as a city commuter while giving you the freedom to explore.
We earn a commission if you click this link and make a purchase at no additional cost to you.
An affordable folding fat-tire bike that's designed to be versatile, the FF500 is equipped to serve as a city commuter while giving you the freedom to explore. The 500-watt motor ensures that you can go as fast as you'd like without breaking a sweat, while the built-in rack makes the FF500 perfect for running errands or commuting to work. 
As a folding bike, the FF500 can be placed in a trunk or tucked under a desk with ease. It's fantastically cheap, too.
Detailed Reviews:
DYU T1
The DYU T1 is a fairly well-equipped folding e-bike. It's not the most powerful bike in the lineup, but it's fairly light, very versatile, and incredibly inexpensive. If you're looking for something budget-friendly to store under your desk at work, the T1 is definitely one of your better options.
To be clear, like other folding e-bikes, the T1 is a bit too heavy to casually stuff into a backpack.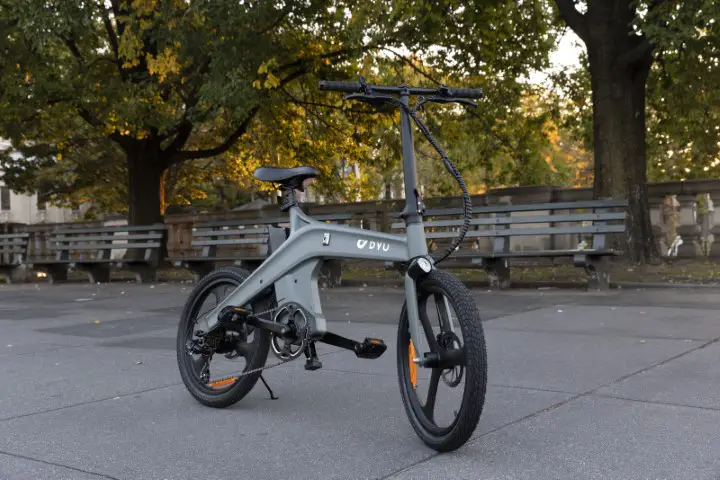 While its sub-50-pound weight is much, much lower than many other folding e-bikes, it's still too much to go into an overhead bin on public transport. Instead, this bike is perfect for fitting in a trunk, storing in an apartment, or sitting inside at your workplace. This makes the T1 ideal for people who don't have a good place to lock their bikes up at one end of their commute.
In terms of power and options, the T1 offers a good blend of the basics. It's got disc brakes, a small removable battery, and an entry-level 7-speed cassette from Shimano. When combined with the low weight, this bike is quite fun to pedal around on lower assist levels.
The motor on the T1 is quite small, putting out 250 watts of nominal output. This is a fairly light bike, however, so you'll get more out of this motor than you might think. A very fit cyclist might average 350 watts of human output over a 1-hour ride. This means that the T1's electronic assistance will turn a normal cyclist into a super-athlete.
The T1 is one of only a few bikes in its price range with a torque sensor instead of a standard cadence sensor. This means that the bike will respond to how hard you're pedaling and assist accordingly. This goes a long way towards making the 250-watt motor feel more powerful than it really is since you'll get more boost when you start to put in more effort.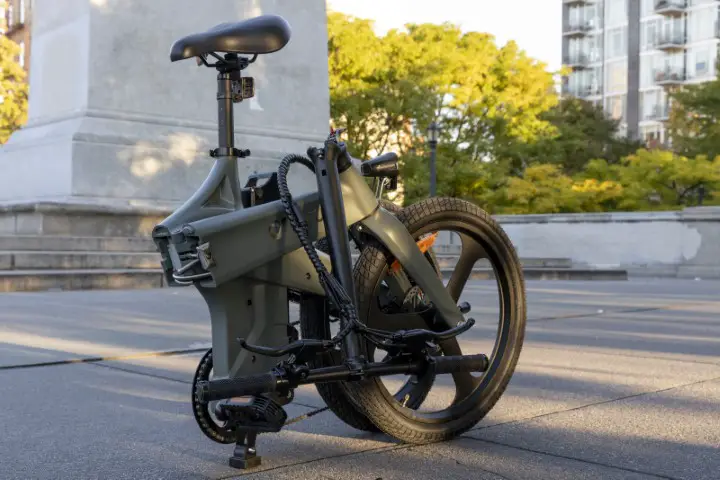 The biggest downside of the T1 is the lack of a front suspension fork. While the bike has a bit of suspension built into the seat, the small wheels tend to feel rough when riding over less-than-perfect terrain. 
Still, given the incredibly low price and the other solid features, it's easy to overlook this downside – as long as you're mostly riding on pavement. If you're planning on taking your e-bikes offroad, look at the V8 and FF500 below.
DYU V8
If the T1 is perfect for budget-conscious city riders with space constraints, the DYU V8 is DYU's option for off-road enthusiasts. It's got a very unconventional frame design, full suspension, and a powerful 750-watt motor – but it's also a fun-sized bike with 20" fat-tire wheels. This means that it can easily fit in the back of a pickup truck or even a hatchback for weekend excursions.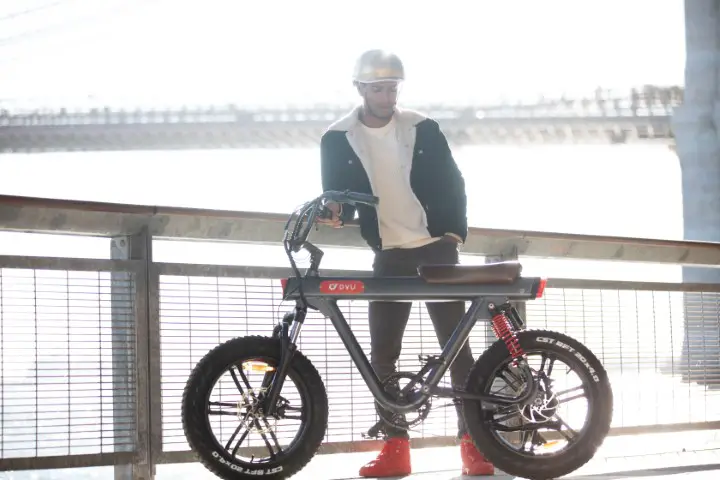 To be clear, this is not a normal bike in terms of form or function. In many ways, the V8 is more motorbike than e-bike. Sure, it has pedals, but the super powerful 750-watt motor means that you never need to use these. Instead, you can zoom down trails or streets alike on the throttle alone. 
The long, rack-like seat makes the bike feel like you're sitting on a motorcycle, should you choose to sit. You'll probably find yourself standing up a lot on the bike's tiny frame.
The V8 offers more than just power. It's one of a very small handful of bikes near its price range with rear suspension, for one. The reasonably large 15 amp-hour battery gives this miniature bike a full-sized range, and the bike's rear derailleur means that pedaling is comfortable and fun when you feel like helping out the bike's colossal motor.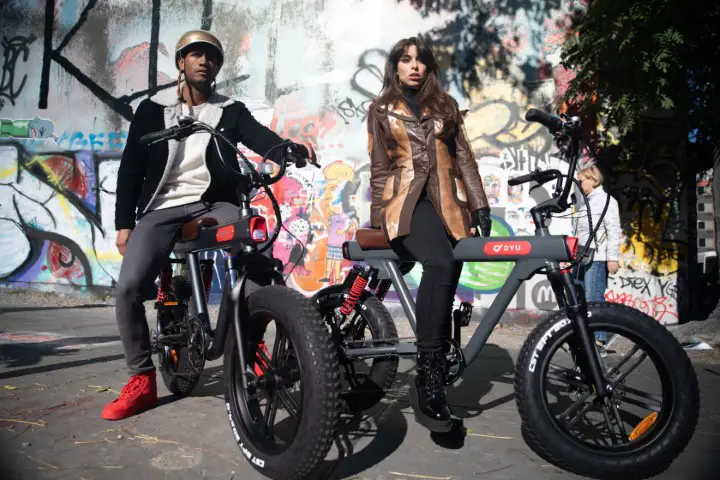 Hydraulic disc brakes combined with the bike's 20" fat tires mean that it can come to a stop with ease, no matter how fast you choose to go.
Like the T1, the V8 is incredibly affordable. If you're after a bike you can take on a camping trip or a drive to the lake, the V8 is one of the most budget-friendly options on the market. It's powerful, versatile, and packed with a good set of features for safety, comfort, and fun.
DYU KING750
The DYU King750 is a full-sized fat-tire e-bike. It's heavy and powerful, with a 750-watt motor that can't get any bigger while remaining street-legal in the US. 
Most importantly, it's got a 20 amp-hour battery tucked away in its down tube, giving you huge amounts of range per charge. The King750 can do 35 miles in between charges without pedaling, making it one of the longer-ranged fat-tire bikes on the market.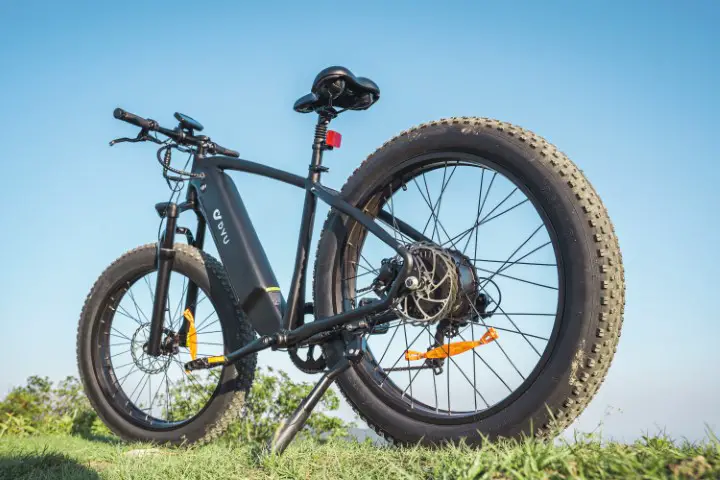 Like its other DYU brethren, the King750 is incredibly affordable. Unlike the other bikes here, it might not be as well-featured as you'd like. As a full-sized bike with an upright riding style, the King750 is very well-suited for casual commutes in the city. 
Without fenders or a rack, however, you won't have an easy way place to store a briefcase or some takeout. You'll also be liable to get your pants dirty as you blast through the city streets at 20+ miles an hour. Although recently, we got word back from the brand saying that they would equip this model with a fender.
You're saving more than enough money to pick up these accessories separately, however, and the bike's other features stack up well against the competition. 
You get a fairly standard set of hydraulic disc brakes (arguably necessary given the ~80 lb weight of the bike), a front suspension fork, and a modest rear derailleur and cassette that help you manage your level of effort while you ride. 
There's nothing fancy going on here. Instead, you just get a set of standard components for a fantastic price.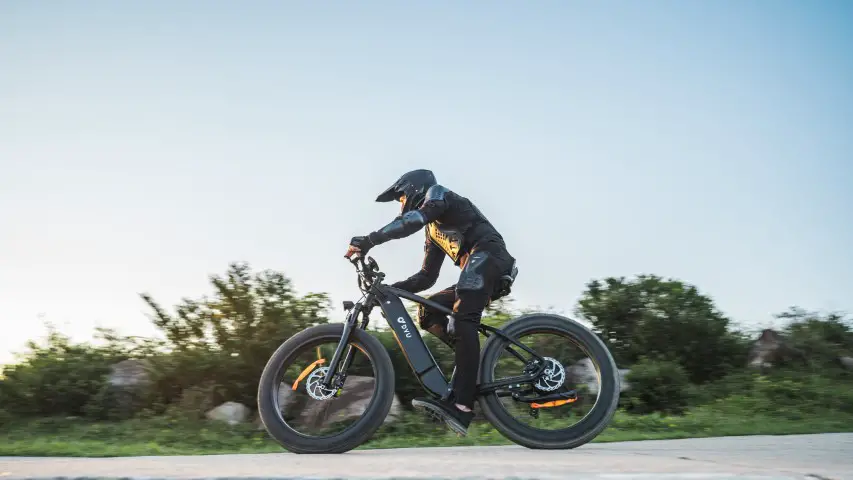 The King750 is a flexible bike. Its big, fat tires and front suspension keep it comfortable on dirt roads, while the big motor offsets the increased rolling resistance and lets you go fast.
While it's perfect for long rides on the beach, it's a serviceable city commuter, a great excuse to get in some regular exercise, or a perfect vehicle for exploring less technical trails outdoors. If you're after a long-range e-bike that can do it all, look no further.
DYU FF500
If you thought the King750 wasn't flexible enough, the FF500 has you covered. This is a folding fat-tire e-bike with a rack and a front-suspension fork. While it's not a dedicated off-road beast like the V8, it's quite comfortable to ride on dirt roads. 
When you combine this with the easy storage of a folding bike and the built-in rear rack for cargo, you get a bike that can do just about anything – while remaining incredibly cheap.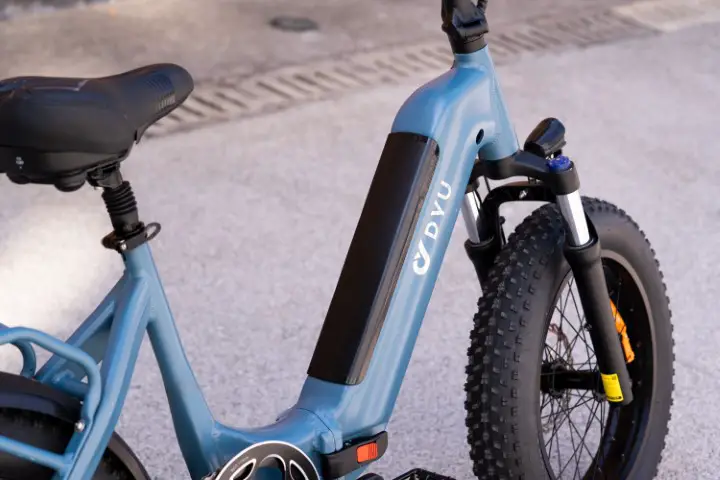 In terms of specs, the FF500 has a fairly standard 500-watt rear motor and a 14 amp-hour battery. It's a bit less powerful than the two bikes above, but you still get more than enough power to propel yourself, the bike, and some cargo on the throttle alone. 
The FF500 has a modest Shimano Tourney 7-speed derailleur and unassuming disc brakes that help with stopping power.
While it's pretty normal to see fat-tire bikes with front suspension forks these days, it's worth pointing out that these features are a godsend on smaller bikes, especially folding ones. Letting a bit of air out of the tires and running them at low PSI absorbs bumps in the road, which is especially helpful when you've got compact 20" tires. As a result of these features, the FF500 is very comfortable to ride, even on poorly maintained or dirt roads.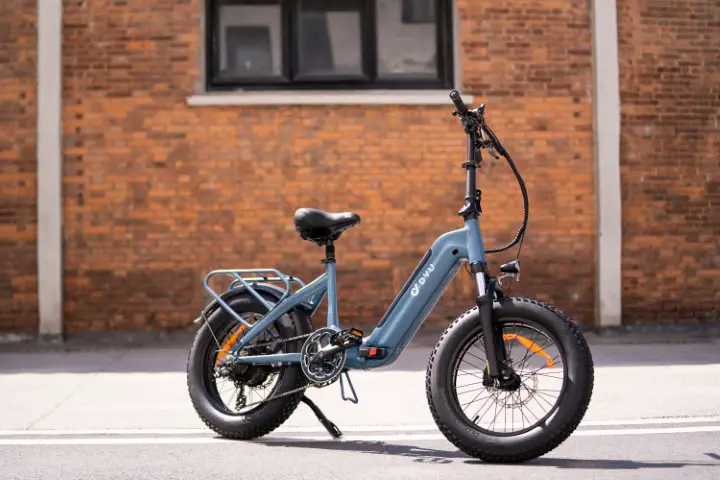 In addition to the other standard specs, the FF500 comes with a small rear rack and includes mudguards. This helps contribute to the bike's incredible versatility. 
You can use the FF500 for your daily commute, for outdoor exploration, or just as a fun way to get in some riding for exercise. It's cheap and easy to store, too, allowing it to fit easily in your trunk, apartment, and budget.