As a hobby cyclist and a bike commuter, I'm always interested in making my rides as comfortable and fun as possible. One of the ways you can optimize your comfort and speed on the bicycle is by picking the right type of handlebar. 
Drop bars are popular because they offer several hand positions, but unless you own a road bike and you ride it exclusively on paved roads, you may want to consider some alternatives. Below are some alternatives to drop bars, which I have either tried personally or are on my bucket list.
Surly Moloko Bar
When I first saw the Surly Moloko handlebar, I didn't know if I loved it or hated it, but it certainly piqued my interest, and I wanted to test them out if I could use them to get multiple hand positions without installing drop bars.
I ended up mounting it on my trekking hybrid bike that had a riser bar. The installation was a straightforward process.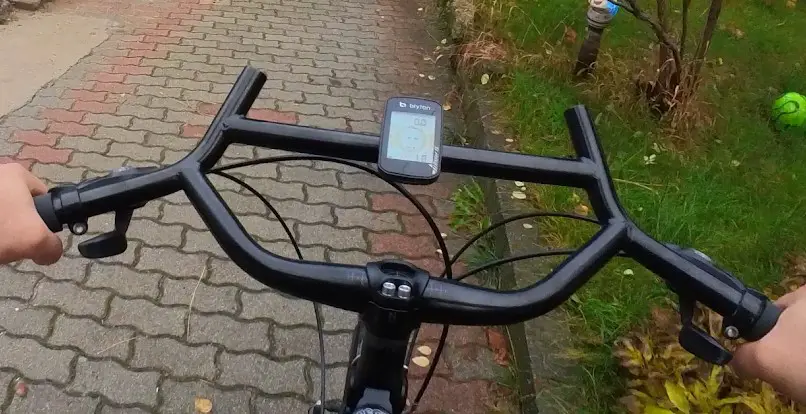 I needed a new stem suitable for 31.8 mm size bars (the old one was for 25.4 mm). I opted for an adjustable stem because I knew that I would lose the rise of the handlebar, and I could compensate for it by adjusting the angle of the stem.
The installation took 10 minutes, and I love the result.
Since the handlebar has a 34-degree angle back sweep, your hand is in a much more natural position when you're holding the grip than it is on a flat handlebar or on a riser bar with no back sweep. 
Here's what I love about the Moloko bar:
3 comfortable hand positions
Plenty of space to mount accessories on the handlebar.
Wide handlebar for great control
Excellent alternative position to ride in the drops
Top Pick For Touring
Surly Moloko Bar
This alternative handlebar packs a lot of punch. It offers numerous hand positions and a ton of real estate to mount your accessories on.
We earn a commission if you click this link and make a purchase at no additional cost to you.
The Moloko bar is quite wide out of the box (735 mm) but can be cut shorter. It is a well-suited handlebar for bike touring and bike packing. You can also use it for commuting, although its width makes it most usable for long-distance commutes with little traffic. It is quite difficult to maneuver it among cars.
When you ride grabbing the horns you can get into a good aerodynamic position, ideal for long stretches of paved roads where you don't require superior control or frequent use of breaks.
Ergon GP5 Bar End Grips
After trying several bar end grips to make my flat-bar road bike more comfortable, I eventually settled on the Ergon GP5 (which you can pick up here on REI). I use it all the time, even to this day. 
I use a road bike with a drop bar from time to time, but I keep finding myself riding my flat-bar road bike with the GP5 grips, it's that great of an alternative.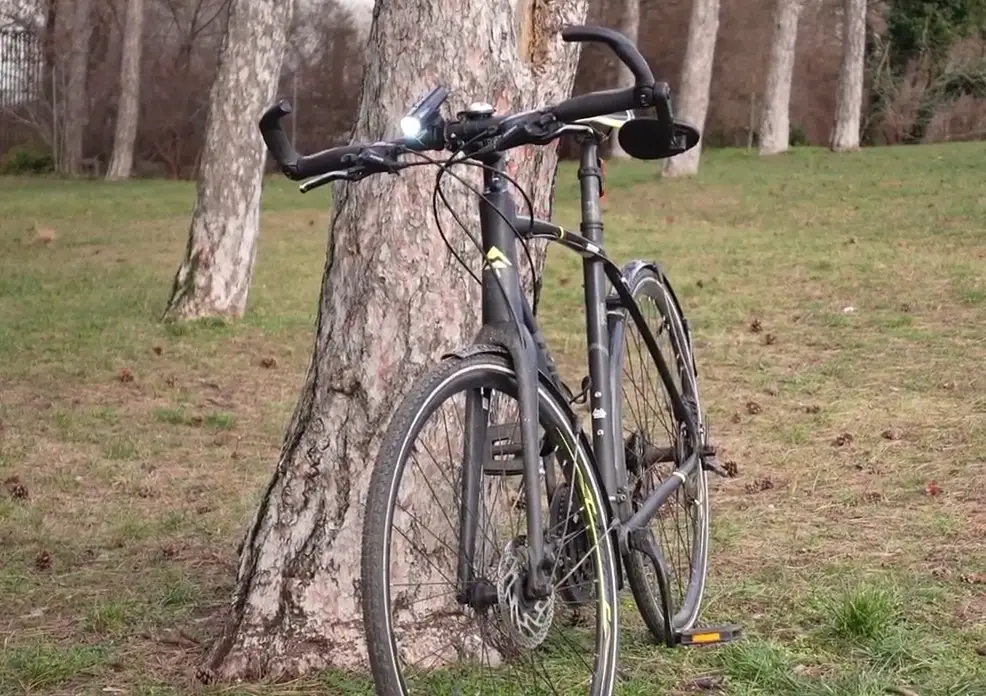 It doesn't give me all the advantages of a drop handlebar because I can't get as aero as riding in the drops, but it certainly matches its comfort level, and it also allows me to have more control over the bike than with drop bars.
It takes 3 minutes to install them, and you don't need to worry about cable lengths, brake compatibility, stem size. You take off your old grip, put these on and you're ready to go. All you need is a 5 mm hex key.
I tested the entire GP lineup, and I love the approach Ergon took with their bar-end grips. 
Super comfy ergonomic grip
3 extra hand positions (only the GP5)
Grip and stem are independently adjustable
My favorite of them all is the GP5 because it offers me 3 hand positions:
Since the GP lineup comes not only with a stem but also with super comfortable grips, I find that I can ride for longer without my hands getting tired even if I don't change my hand position. It's an absolute game-changer. My weight is more evenly distributed on a larger surface area of my entire palm, and this allows for better circulation.
Available on REI
Ergon GP5
The Ergon GP5 is great for commuting or bike touring. If you suffer from numb hands or you want a more relaxed riding position, this will surely do the trick.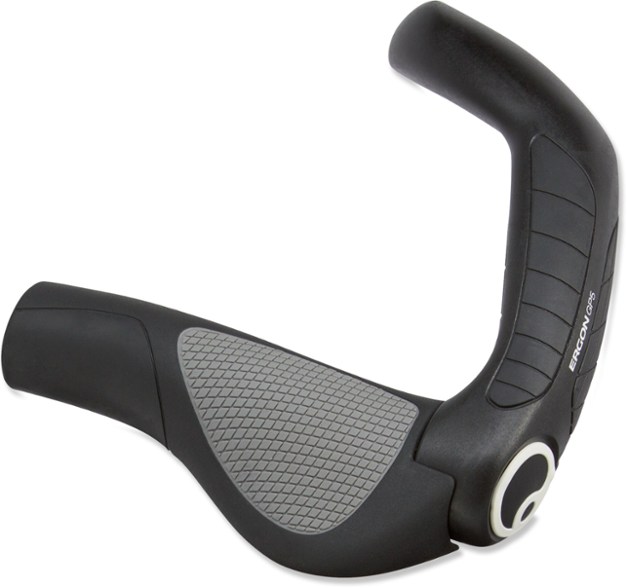 We earn a commission if you click this link and make a purchase at no additional cost to you.
When my hands do get tired, or if I want to climb, I can use the stems. Since they're located on the ends of the handlebar, they give me extra leverage when I have to step out of the saddle to put out more power. I love them.
I have the stem set up at an angle that allows for quite an upright riding position when I grab the end of the stem. If I want to be more aero, I can lower them since the stem and the grips are independently adjustable. 
The GP5 is a worthy alternative to a drop bar.
SQlab Innerbarends
I haven't tried these personally, but I'm really keen to get my hands on a pair to test them against the Ergon GP5.
If you have a flat handlebar that you don't want to replace and the idea of adding bar-ends doesn't appeal to you, then the Innerbarends from SQ lab may be a good solution.
SQlab Bicycle Innerbarends
These innerbarends fit on your existing handlebar and add an extra, more comfortable, and aerodynamic hand position to it.
We earn a commission if you click this link and make a purchase at no additional cost to you.
What you're getting is a set of bullhorns that you can set up on your bicycle handlebar in the position that best fits your riding style. They will allow you to get in a more aerodynamic position and also to alleviate hand pain by changing up your grip. 
Since you're installing them on your already existing handlebar, you don't need to worry about getting used to a new handlebar, but you will take yours to the next level both in terms of comfort and of speed.
Jones Loop Bar
Similar in style to the Moloko bar, the Jones Loop Bar, aka. Jones H Bar gives you plenty of mounting options and puts your hand in a more relaxed position. I haven't had the pleasure to test it out personally, but what I like about the design is that the grips are closer to the stem, which, combined with a 13 mm rise, makes the Jones Loop Bar a more upright sitting bar. 
You sacrifice the hand position on the horns, but since the grips are very long, you can find the perfect riding position quite easily. At 710 mm wide, it's slightly narrower than the Moloko bar, and it also comes in a 660 mm version, which can be a more viable option if you want to use it for commuting.
Velo Orange Crazy Bars
The Velo Orange Crazy Bars are more minimalistic and offer less mouthing real estate than the Moloko or the Jones bar. These bars are swept-back bars with bullhorns attached but without the loop.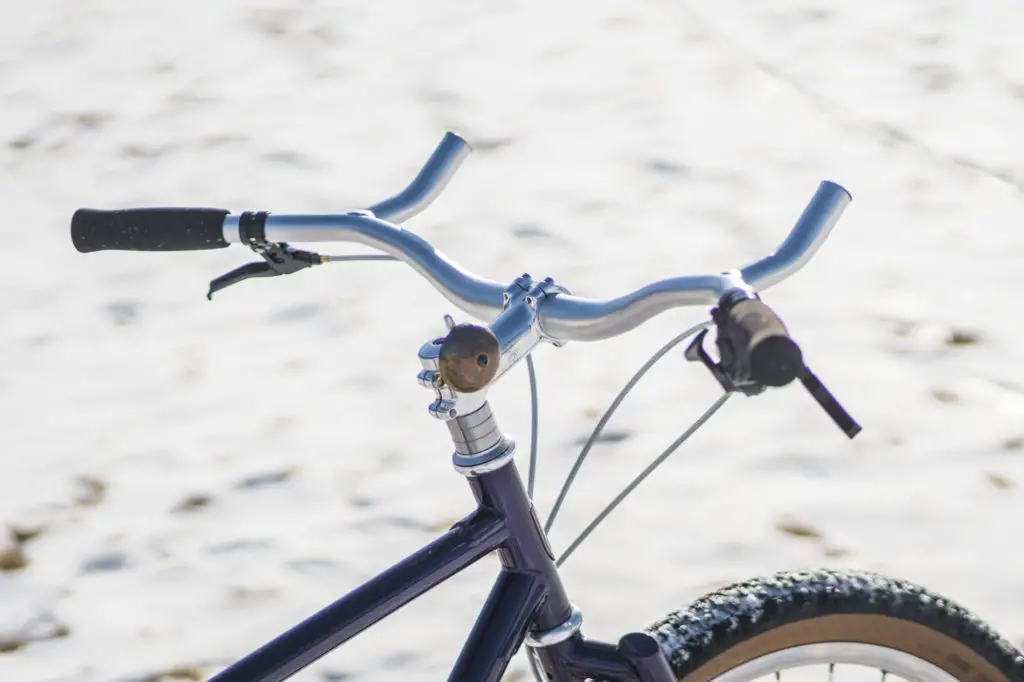 It's clean and functional, and a big pro of these bars is that you can fit a larger bag on your handlebar with these since the horns are set 420 mm apart from each other.
The original Crazy Bars got updated in 2021. The new iteration became wider (780 mm), the sweep has been decreased to 35-degrees, and a rise of 40 mm has been added to the bar.