I've recently been in the market for new wireless earbuds. I bike commute year-round so I needed something that would fulfil some specific needs. I've used several earbuds over the years. Some were good but didn't last long, while others caused too much frustration in the first place. After some deliberation, I settled for the Sony WI-310 (check it on Amazon), which has lived up to my expectations pretty well so far.
Things I have been impressed with include:
Good build quality
Buds sit well in the ear
Good audio quality
Forever lasting battery (15 hours confirmed by experience!!)
Two batteries on the cable provide a good balance
Decent microphone to take calls (even in strong winds when it's tucked under your shirt)
Design and build quality
In order to achieve an outstanding battery life, Sony placed two batteries on the chord, one of which also contains the volume controls and a multi-function button. These provide a 15 hour playback time, which is quite impressive. 
The symmetrical design balances out the left and right sides in a way that you don't end up with all the chord on one side. Most behind-the-neck earphones have an asymmetrical design with the battery and controls placed in a single unit on one side, and they end up pulling one earpiece out of your ear as you move. This is a big plus for me because I don't need to reach to adjust the chord constantly.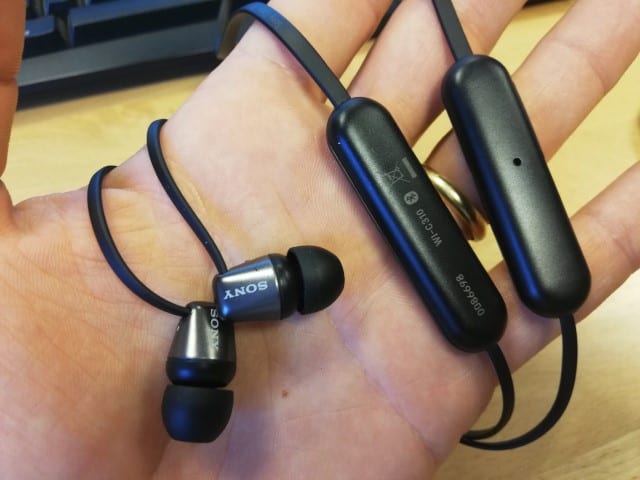 I usually have trouble preventing earbuds from falling out from my ears since my ear canals are pretty narrow, but I like how these buds sit snug in my ears during my rides even as I turn around to look behind me, stand out of the saddle and move around. If you want to use them in the gym for vigorous movement, they may fall out, but they are great for cycling, walking or maybe even running. The package contains a small, a medium and a large size rubber for different ear sizes.
Both buds have a tiny built-in magnet, which can hold them together when not in use. This prevents tangling and loss.
These earphones aren't waterproof, but they offer sufficient protection for cycling in rain. I couldn't find their IP rating, but they withstand sweat and rain you may encounter on your rides and commute. The charging port has a cover which closes tight without letting water seep in.
Everyday user experience
Pairing the earphones with my phone, tablet and PC is quick and easy. As soon as you enter Bluetooth pairing mode with a long press of the power button, it is immediately visible to other devices. I had some pairing difficulties with some of my previous wireless headphones, but the WI-310 has been quick and painless every time.
Once the devices have been paired, the connection is stable. I haven't noticed any lag or loss of signal. 
When you turn the earbuds on or off, a female voice announces the status and the approximate battery charge. Don't expect it to be very accurate. These are the only three I've ever heard:
Battery fully charged
About 70% left
About 50% left
Battery needs charging
It may be a bit more nuanced than this, but I haven't come across it.
Unlike some other earphones I owned, which died within minutes of giving the low battery warning, the WI-310 still has enough charge left for at least 45 minutes at that point (maybe even more, but I didn't wait for it to die completely).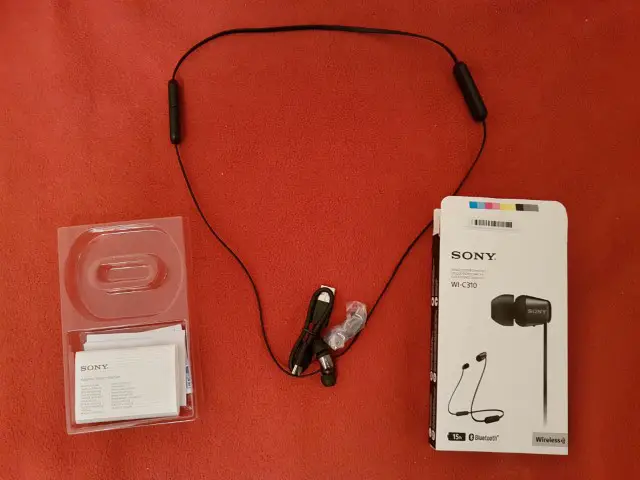 I should also mention that the battery charges up really fast, through its USB-C port. A short charging cable is included in the box. By plugging it in for just 10 minutes, you can get 60 minutes of playback time in return, and a full charge only takes slightly less than 3 hours.
Audio quality
The sound quality of these buds is very good. I don't have very sophisticated ears when it comes to judging the balance of treble, mids and bass, but the music it plays is enjoyable, and spoken words are very crisp and clear. Some people complain about the lack of deeper sounds, but I haven't felt it lacking in the bass department. 
I can vouch for the outstanding audio quality for spoken words. If the intended use is mainly listening to podcasts or audiobooks, you will definitely not be disappointed, but you can definitely enjoy listening to your music playlists too.
The volume is loud enough so you can hear the buds even when riding against a strong headwind. There's no active noise cancelling, but they block out a considerable amount of ambient noise. This could compromise your situational awareness, so it's wise to consider whether you should listen to music in the first place when riding on busy streets.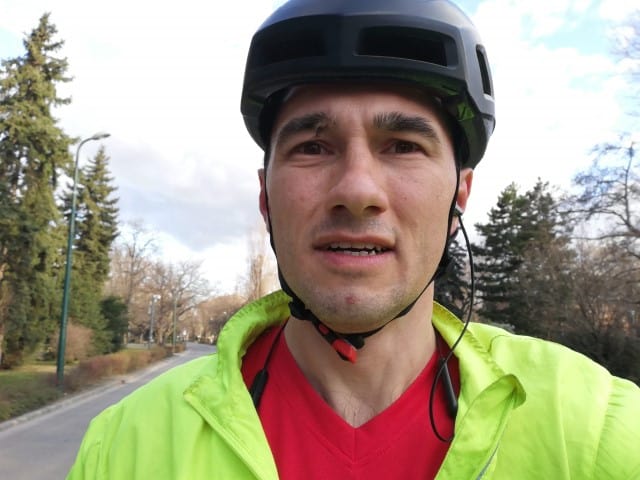 A happy middle-way is to use only one earbud and to listen at a moderate volume. You just place one earbud in your ear and let the other one hang. You will still be able to hear what's happening around you as well as the music, podcast or phone call streaming from your device. This is when I find the two-battery design very useful because even with only one bud in the ear, the set sits stable in your neck.
Phone calls
The WI-310 has a built-in microphone that allows you to make and take phone calls. The audio picked up by the mic is good: people on the other side haven't complained of not being able to hear what I'm saying (or maybe they're not interested in it). It picks up some ambient noise, but it doesn't ruin the call quality. 
Since the microphone is built into the battery, which rests on your neck, you can tuck it under your shirt, which acts as a windsock, cancelling out wind noise. This comes in very handy indeed when you're riding fast or when you're riding against a strong headwind.
During phone calls, you get some feedback of your own voice as if you were part of the conversation in the earpiece. It's not an echo, but immediate simultaneous feedback as if you were in a studio. This was new to me initially, and I needed to get used to it. It doesn't sound bothering anymore, and at least I can hear what the other side hears from what I'm saying too. This audio issue and the sensitive microphone could bother some people, but I don't find it annoying.
Overall
Pros:
Good build quality
Comfortable to wear, physically well-balanced product
Good sound quality
Great price point
Cons:
Microphone feedback
Battery percentage announced is only approximate
Conclusion
These earbuds are great value for money if you're looking for an easy to use option for around 40 dollars. You can grab a pair of them from Amazon here.
If you are looking for the best earbuds for cycling with a long-lasting battery, good audio quality for listening to music and podcasts and at the same time having the option of taking and making calls while you're in the saddle, the Sony WI-310 won't disappoint. 
Happy Riding!