If you love gravel bikes, you're not alone. They are the most versatile bicycle type money can buy. A gravel bike is a great commuter, it's great for touring, adventure riding, off-roading. It's a nimble machine, but at the same time, it can take a lot of beating. 
A bike with so many possible applications will be used in many different scenarios, weather conditions and a variety of terrains. Rain, mud, grime and all that good stuff don't scare a gravel bike away from being ridden, and neither should they scare you. 
I ride my bike to work year-round and I love going on weekend rides. I know from experience how important fenders/mudguards are. They keep the water and mud away from my back and belly. Of course, in heavy rain, you're going to get wet anyway, but if you're anything like me, you prefer water from the sky than from the ground.
A fender also keeps the mud off the bike frame itself, extending the life of your steed, so it makes a lot of sense to install fenders on a gravel bike. 
Below I've collected the best fenders for your gravel bike whether you are a commuter, a tourer or a weekend gravel warrior.
Types of fenders for gravel bikes
There are three main fender types that you can mount on your gravel bike. 
Minimalist fenders. These are portable and easy to pop on and off the bike. You can carry them in your pocket when not in use and put it on just when needed. Whenever it's not raining, your bike's appearance is just as it was when you bought it and it looks as it was intended by the designer.
Regular fenders are mounted on the bike with bolts. These offer much better protection against mud and water. They change the way your bike looks and can customize your bike to compliment your riding style and intended use.
Extra-long fenders reach closer to the ground and often come with an additional rubber or plastic flap nearly touching the ground. They are very efficient at keeping the water away not just your belly and back, but even from your feet. They are very practical if your gravel bike is your commuter bike.
Best bike fenders for your gravel bike
Ass Savers
This is the best fender if you hate fenders. If you don't like the idea of having a fender attached to your bike because you live in a dry climate or because you don't mind some water splashing up, the Ass Savers can get you out of trouble.
This fender will do nothing else but what its name suggests: it keeps the mud away from your butt and saves your ass. It's a single piece of plastic, which attaches to your saddle. It's not a permanent solution, but it's something you can keep in your pocket and pop in when needed since it doesn't require any tool for mounting.
It's probably not the best solution if you use your gravel bike primarily for commuting, but it's great if you're a dedicated sport rider.
For tires 23-35mm wide.
Ass Savers Fendor Bendor
These fenders are easy to mount get-me-out-of-trouble fenders, just like their previously mentioned little brothers. They are slightly bigger, however, which makes them suitable for wider tires. Instead of being carried in your pocket, they can be put in a backpack or kept at home, and only used on rainy days. They lend your bike an aggressive, sporty look.
For tire widths 32-55 mm.
SKS Bluemels Reflective Bicycle Fender Set
If safety is your number one concern then you will love these fenders. They are the safest option on the market right now.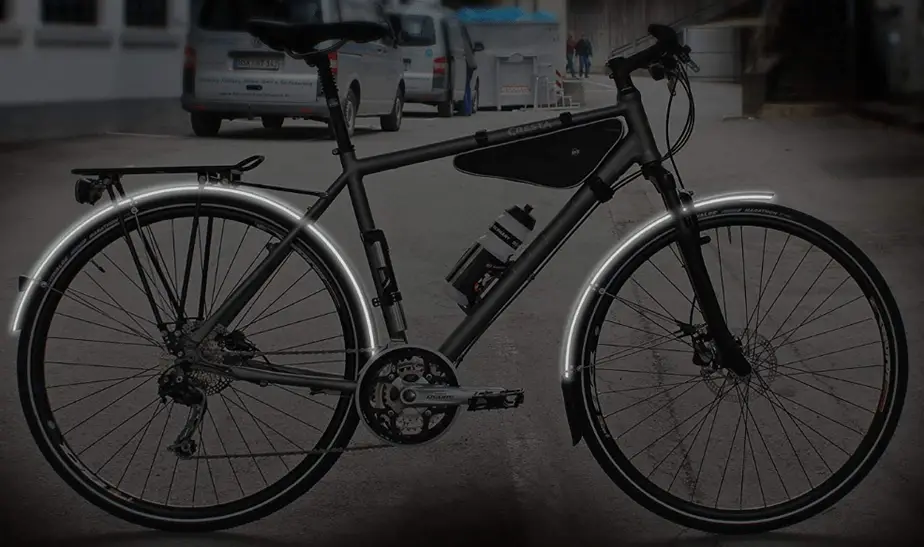 They are long and offer plenty of protection from any nasty substance splashing on you or your bike, but they also feature reflective stripes on the sides, which makes you immediately stand out as soon as light shines on them in the dark. 
The reflective stripes also lend an elegant look to your bike in daytime.
For tires 700 x 28-38.
SKS-Germany Stingray Fender Set Red 
This is a pair of clean and stylish matte black fenders with red accents. They lend a dynamic yet elegant look to any black or red gravel bike, making your bike look like the boss.
They are super-sturdy, good quality mudguards made of aluminum with plastic coating. 

For tires 700 x 28-38.


Velo Orange Hammered Alloy Fender Set 
These are probably the classiest looking fenders available. Hammered alloy looks classy both in black and in white. These fenders give a distinct look to any bike. If you converted an older bike into a gravel commuter or you are after a unique look for your steed, these Velo Orange fenders are worth looking into. 
Instead of cheap plastic with a coating they are genuine alloy fenders, which makes them a long-lasting option.
The black version is more understated, and the silver evokes a classic 50's and 60's feeling with chrome details.

For tires sized 700c x 25-35.


SKS P45 Black Chromoplastic Longboard
These fenders are extra long. The flaps nearly touch the ground so you can be sure that they will keep the water, mud and grime away from your bike, back and feet as well. They are available in silver and black. 
If you are a regular commuter who lives in a wet climate, these are the best fenders you can buy to keep as dry as possible.
Recommended for Tires Sized 700 x 28-37.
How to decide which fenders to buy?
Check if your bike has eyelets
Most gravel bikes come with eyelets, which are mounting points that you can attach the fenders or bike racks to. Check your bike to know if yours has them too. If it doesn't, panic not because there are some fenders that can be mounted to the bike frame without the need for eyelets.
Check tire clearance
Tire clearance is the gap between the tire and the frame. If this gap is 30mm or more, fitting fenders is an easy task. With a 20mm clearance, it's still possible to fit them. In fact, you may be able to fit fenders with less clearance too, but it may not be an easy task.
Since gravel bikes are often used for touring and commuting, manufacturers usually pay attention to this detail, and leave a large enough gap for fenders to be installed.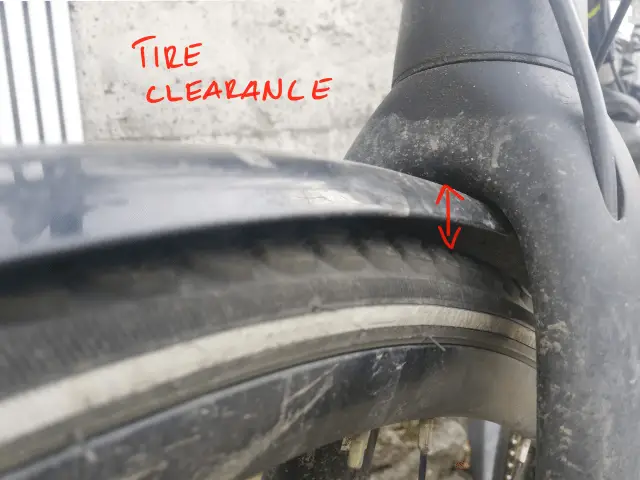 Personal preference
The last consideration is your personal preference. If your bike has eyelets and enough tire clearance, then you can go for any fender you like.

Don't just think about the aesthetics though, because some fenders are more practical for a certain type of use than others. 

For example, if you don't fancy a permanent solution, and you only want to keep the mud off your back but care little about your belly, then the Ass Savers are sufficient. They are quite insufficient if you use your gravel bike for commuting. 

For cycling to work in work clothes, you want a more permanent and longer solution like the SKS Longboard, which keeps the water and mud away not only from your torso and arso, bit from your feet as well as much as possible. 

Related questions
Does wheel size matter? 
Tire sizes can be a little bit confusing. Most gravel bikes have 700c, 650b tires, which is written on the tire's sidewall. 700c tires are also referred to as 28". 
The 650b has gained some popularity recently, but the most common gravel bike tire size is 700c. Since it is a larger wheel diameter, fenders that you can fit on 700c tires also work with 650b, but leave a larger gap between the tire and the fender.
Will fenders fit bikes with disc brakes?
Almost all gravel bikes come with disc brakes nowadays. Even if the question has never crossed your mind, you don't need to worry because all of the fenders can be fitted over disc brakes. 
Conclusion
Finding fenders for your gravel bike is not difficult. Once you have a good understanding of your specific climate, type of use and how it will affect your bike's aesthetics, you can easily pick one that suits your needs and allows you to ride like a boss.

Happy Riding!